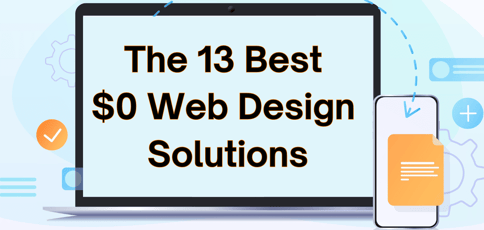 For small business owners, self-publishers, bloggers, and eCommerce stores, the best free web design solutions are cloud hosting plans that come with a free website builder. Shared, dedicated, and VPS hosting plans will come with a monthly or annual subscription fee. Some web hosts distinguish themselves by including free site builder tools for design and website maintenance.
Web hosts with $0 website design cost deals that include free site builder solutions for WordPress deliver the best value for small business owners and startup entrepreneurs with eCommerce.
WooCommerce hosting extends the WordPress CMS with everything required to operate an eCommerce store. Finding a web host that provides extra plugins for WordPress and free SSL certificates on unlimited domain plans is ideal. Here, we review the best free WordPress and WooCommerce site builders.
Best Overall Hosts With Free Web Design
Web hosts with $0 website design cost structures still require a monthly hosting fee, but they include a free website builder that allows you to design a site at no cost. Some companies offer AI site builder solutions that are an alternative to WordPress and its high website maintenance costs.
The web hosts we have reviewed all come with a free site builder for WordPress — bundled with a monthly or annual hosting subscription. The best hosts include stand-alone site builder solutions with AI-driven design tools that allow customers to deploy new websites quickly and easily.
FREE site transfer or new site setup
FREE daily backups, CDN, email, and SSL
24/7 expert support with no wait on phone or chat
Recommended by WordPress as a top host
Ideal for business email hosting
BEST OVERALL
RATING 5.0 ★★★★★ Our Review
SiteGround: Our Expert's Review
Alexandra Anderson (HostingAdvice.com): With an impressive breadth of overall hosting services offered, SiteGround is a leading innovator in the hosting space — from custom software solutions to premier customer support. The company offers the full range of web hosting features, including a free Cloudflare CDN, cPanel with SSH access, and unlimited MySQL databases and bandwidth — not to mention prize-worthy customer support. Go to full review »
| Money Back Guarantee | Disk Space | Domain Name | Setup Time |
| --- | --- | --- | --- |
| 30 days | 10 GB SSD – 40 GB SSD | New or Transfer | 6 minutes |
SiteGround is one of the best values for web hosting. It offers managed WordPress plans and industry-leading datacenter engineering techniques.
SiteGround is one of the best choices in the budget host category if you are looking for high-performance WordPress hosting. Single site plans start at $2.99 per month on shared Linux servers, while unlimited domain accounts are also priced reasonably. That includes managed WordPress options on every plan.
SiteGround offers out-of-the-box caching for WordPress, Drupal, Joomla, Magento, and other open-source CMS websites. It also includes free Cloudflare CDN integration with every site. SiteGround's multi-domain publishing is cheap and reliable, with customer support requests usually managed in a matter of minutes rather than hours or days. You can get started at SiteGround with a 30-day risk-free money-back guarantee.
FREE SSD drives included with all hosting plans
Zero-downtime website transfers and migrations
FREE backups, SSL, and DDoS protection
Choice of East Coast or West Coast datacenter
Multi-language support for PHP, Ruby, and Perl
BEST OVERALL
RATING 4.9 ★★★★★ Our Review
InMotion: Our Expert's Review
PJ Fancher (HostingAdvice.com): Offering a wider range of services than most — including shared, dedicated, VPS, and even WordPress-specific plans — InMotion Hosting features a great combination of industry-leading hardware, always-there support, and mass scalability for all hosting needs. InMotion Hosting has ultra-modern SSD drives on its shared plans, which give an added speed boost to your site. Go to full review »
| Money Back Guarantee | Disk Space | Domain Name | Setup Time |
| --- | --- | --- | --- |
| 90 days | Unlimited | FREE (1 year) | 4 minutes |
InMotion Hosting delivers a cheap shared hosting solution for web developers that is based on elite NVMe SSD hardware and advanced datacenter engineering. Shared hosting plans for two domains come with a free cPanel license. By upgrading to a Pro plan, web publishers can get up to 20x faster performance speeds for websites, scripts, and databases on UltraStack web servers.
InMotion Hosting has custom AMP and cPanel administration sections that are packed with bonus offers for web design, software programming, and web server configuration.
Every plan includes the BoldGrid site builder solution as a WordPress plugin. Customers get one free domain name registration, free SSL certificates, and a suite of marketing tools. Develop on PHP, Python, Ruby, or Node.js with a choice of global datacenters locations. InMotion Hosting also offers WordPress and WooCommerce plans. And you can get a 75% discount on a new account by using our coupon.
Up to unlimited website domain and email hosting
1-click WordPress installs and software updates
Support for popular shopping carts with FREE SSL
Up to $200 in Microsoft and Google Ad credit
Industry-leading hardware and uptime rates
BEST OVERALL
RATING 4.9 ★★★★★ Our Review
Bluehost: Our Expert's Review
Ryan Frankel (HostingAdvice.com): Bluehost has long been a favorite of mine in the shared and WordPress hosting spaces. The company adheres to modern standards for hardware, and its customer service resources are now backed by hosting industry titan Newfold Digital. Go to full review »
| Money Back Guarantee | Disk Space | Domain Name | Setup Time |
| --- | --- | --- | --- |
| 30 days | 10 GB SSD – 100 GB SSD | FREE (1 year) | 5 minutes |
Bluehost is one of the top three web hosting companies recommended by Automattic for WordPress website requirements. The company runs a canonical cPanel hosting platform at mid-range pricing. You can easily build single sites or stage multiple domains on shared Linux servers with built-in support for MySQL and PHP. The cPanel options make it easy to add email addresses and FTP connections, manage file storage, and back up sites.
Bluehost has two specialized hosting options for WordPress and WooCommerce web development. The platform tools bundled with these plans include custom WordPress themes, free SSL certificates for TLS encryption, CDN integration, and one free domain name registration.
For eCommerce sites, Bluehost customers receive an exclusive WordPress store theme with an advanced set of plugins for platform metrics and logistics — valued at around $450.
24/7/365 ticket and live chat support
99.9% network uptime guarantee
FREE domain, site builder, backups, and SSL certificate
Unlimited bandwidth, databases, and email accounts
Speedy SSDs optimize performance
BEST OVERALL
RATING 4.8 ★★★★★ Our Review
Hostinger: Our Expert's Review
Laura Bernheim (HostingAdvice.com): Behind a mission to make life easier for website developers and their customers, Hostinger provides fast, stable, and streamlined services at a price that is very hard to beat. Founded in 2004, the bootstrapped company hit the 10 million users mark a decade later, achieving ICANN accreditation and localizing services in 39 countries. Go to full review »
| Money Back Guarantee | Disk Space | Domain Name | Setup Time |
| --- | --- | --- | --- |
| 30 days | 50 GB SSD – 200 GB SSD | FREE (1 year) | 3 minutes |
Hostinger offers cheap WordPress shared hosting plans for single and multi-domain publishers and a free AI-driven site builder. Hosting plans start at $2.99 per month and support up to 100 websites. Its AI site builder converts text to design with more than 150 pre-built themes for various business requirements.
Hostinger can save you money on cPanel site licensing fees by using hPanel for domain name, database administration, email addresses, FTP, file storage, and web server configurations. Upgrade from cheap shared hosting plans to VPS and cloud servers for better performance on high-traffic websites, mobile applications, and eCommerce stores.
FREE website optimization with enhanced caching
Upgrade quickly with scalable cloud servers
Easy-to-navigate cPanel integration
FREE web security suite with DDoS protection
24/7 technical support and ticketing 
BEST OVERALL
RATING 4.6 ★★★★★ Our Review
HostArmada: Our Expert's Review
Lynn Cadet (HostingAdvice.com): Launched in 2019, HostArmada offers cloud-based hosting plans that range from shared to dedicated server services. The web hosting provider cements its services on three pillars: speed, security, and stability. Go to full review »
| Money Back Guarantee | Disk Space | Domain Name | Setup Time |
| --- | --- | --- | --- |
| 45 days | 15 GB SSD – 40 GB SSD | FREE (1 year) | 3 minutes |
HostArmada is one of the best choices for professional development tools bundled with a monthly or annual hosting plan. You can develop on PHP, Python, Ruby, Node.js, and ASP.NET on the platform with a unified dashboard for domain resource management. The HostArmada AMP allows you to create email addresses and manage FTP, Git, SSH connections, and SSL certificates. You can set unique values on every domain for database script installation.
Running open-source scripts and custom code at HostArmada includes support for NGINX servers, LiteSpeed servers, or Cloud Linux + cPanel with a free WHM license. Publishers can deploy to more than 10 datacenter locations worldwide or host domains with fee Cloudflare CDN global caching. When you need to upgrade, HostArmada provides reseller, VPS, and dedicated CPU plans that guarantee elite hardware configurations for web servers. New accounts can get up to a 79% discount by using our coupon.
Best WordPress Hosts With Free Web Design
The best WordPress hosts offer managed platform services with one-click installations, staging environments for sandbox code testing, developer tools, and pre-built caching solutions. Some companies also offer free plugins and themes for WordPress, such as JetPack, BoldGrid, Yoast, or W3 Total Cache. The value of bundled free plugins for WooCommerce with managed hosting found in bonus offers may be up to $500.
A web hosting service with WordPress can lower your website development cost. The web hosts reviewed below all come with a free website builder for WordPress included for free with the hosting plan. These companies are known for platform security, managed WordPress solutions, cloud hosting innovation, and datacenter optimization for faster script performance. Each company offers a specific bundle of free web design tools to lower your web design cost.
Recommended by WordPress.org since 2005
Automatic WordPress updates and initial install
FREE WordPress themes in the Bluehost Marketplace
24/7 support via live chat, phone, and email
Get exclusive discounts on WordPress plans
WORDPRESS
RATING 4.9 ★★★★★ Our Review
Bluehost: Our Expert's Review
Ryan Frankel (HostingAdvice.com): Bluehost's WordPress hosting packages are aimed at first-time site owners and personal bloggers. These services come at a premium compared to the standard Bluehost web hosting (basic shared hosting) plans, but the WordPress optimization and platform-specific resources are arguably worth the cost. Go to full review »
| Money Back Guarantee | Disk Space | Domain Name | Setup Time |
| --- | --- | --- | --- |
| 30 days | 50 GB SSD – 100 GB SSD | FREE (1 year) | 7 minutes |
Bluehost combines the best features of managed WordPress platforms with the ease of use that cPanel hosting is famous for. The company has WordPress hosting plans with support from one to five websites starting at $2.95 per month. Bluehost also offers a unique WordPress store plan for a single site.
Bluehost's WooCommerce plans empower WordPress with all of the aspects required to run an eCommerce store online.
This includes product design templates, theme catalog views, searchable inventory, record keeping, accounting, shipping, logistics, and tax tools. All values can be customized to the requirements of your business. WordPress hosting at Bluehost includes free themes, platform optimization, and options for WooCommerce upgrades.
Officially endorsed by WordPress.org
FREE migration plugin or automated installation
Pre-installed Git, 3 caching levels, and FREE CDN
FREE WP setup wizard, staging, and auto-updates
Fast, 24/7 support via custom chat system
WORDPRESS
RATING 4.9 ★★★★★ Our Review
SiteGround: Our Expert's Review
Alexandra Anderson (HostingAdvice.com): Want a hassle-free, WordPress-optimized hosting service. SiteGround has thought of everything you need to get your site up and running. Go to full review »
| Money Back Guarantee | Disk Space | Domain Name | Setup Time |
| --- | --- | --- | --- |
| 30 days | 10 GB SSD – 40 GB SSD | New or Transfer | 6 minutes |
SiteGround shared hosting plans are engineered for the most demanding requirements of open-source CMS website hosting. If you are running WordPress, Drupal, Joomla, or Magento sites, the pre-configured caching on the platform will save significant system administration costs compared to unmanaged VPS plans. WordPress hosting at SiteGround starts at $2.99 per month for a single site.
The host's Managed WordPress hosting plan includes pre-installation of website scripts with database optimization.
The webpage caching service is pre-configured to work through the /wp-admin section as a plugin. You get hardened platform security features for WordPress, free SSL certificates, and SSH connections for Git version control. SiteGround also includes a free website migration service to transfer sites from other service providers to its cloud servers. Free web hosting cannot match the performance of SiteGround dedicated hosting plans.
1-click WP install, PHP 7+, HTTP/2, and NGINX
All-in-one security protections from BitNinja
WordPress optimizations boost performance
No price markup for WordPress services
Daily backups and FREE SSL certificate
WORDPRESS
RATING 4.9 ★★★★★ Our Review
Hostinger: Our Expert's Review
Laura Bernheim (HostingAdvice.com): As much as we love WordPress, one of our biggest pet peeves is when hosting providers exploit the popularity of the world's most-used content management system by offering so-called WordPress hosting that, in reality, is exactly the same as the host's shared server plans. Fortunately, Hostinger's ultra-fast infrastructure and easy access to SSL certificates and backups sets up the company to outperform the vast majority of the violators of our admittedly made-up rule. Go to full review »
| Money Back Guarantee | Disk Space | Domain Name | Setup Time |
| --- | --- | --- | --- |
| 30 days | 50 GB SSD – 200 GB SSD | FREE (1 year) | 4 minutes |
Hostinger WordPress hosting plans include one free domain registration for a year and start at prices as low as $2.99 per month for support of up to 100 websites.
Publishers of media, blogs, business, and eCommerce sites receive a free SSL certificate for every domain. Hostinger includes a suite of professional WordPress development tools not found on other sites. It also offers hardened security, including firewall protection with anti-virus, anti-malware, and anti-DDoS scanning.
The Hostinger one-click WordPress installation provides automatic updates for ongoing website maintenance. Advanced plans include AI design tools that are still continually adding new features. WordPress sites are accelerated with LiteSpeed servers, caching, and free Cloudflare CDN integration for the fastest page load speeds. Hostinger includes WP-CLI, Git version control, and staging environments for WordPress to expand your eCommerce functionality. hPanel provides similar functionality to cPanel for free.
Up to 12x faster WordPress hosting
FREE SSL certificate and SSD storage
Automatic WordPress plugin, theme, and core updates
Features a FREE drag-and-drop WP page editor
Premium themes and plugin subscriptions
WORDPRESS
RATING 4.9 ★★★★★ Our Review
InMotion: Our Expert's Review
PJ Fancher (HostingAdvice.com): InMotion Hosting, long known for affordable and high-performance shared hosting options, entered the WordPress space with a solid option built upon the company's reputation for great support and reliability. Build on an all-SSD infrastructure, InMotion's inherently quick speeds make the infrastructure a perfect fit for delivering rapid WordPress page loads. Go to full review »
| Money Back Guarantee | Disk Space | Domain Name | Setup Time |
| --- | --- | --- | --- |
| 90 days | 100 GB – Unlimited NVMe SSD | FREE (1 year) | 5 minutes |
WordPress websites will perform at top speeds on InMotion Hosting's NVME SSD hardware. You can get up to 40x faster WordPress performance using W3 Total Cache on InMotion Hosting's Pro plans. Web servers support custom PHP, Python, Ruby, and Node.js development teams.
Advanced caching with OPcode and PHP worker optimization operate behind the scenes to make your WordPress and WooCommerce scripts perform with better page load speeds. InMotion plans support two sites starting at only $2.99 per month with a cPanel license.
If you need unlimited domain name support for multi-site publishing, InMotion offers a WP Power plan. All plans include managed WordPress features and prebuilt caching optimization. WooCommerce plans are also available on InMotion Hosting's new Platform-i service. This includes pre-configured NGINX, Redis, and PHP FPM caching.
WordPress hosting for up to unlimited sites
FREE WordPress website migration
Fully managed hosting with DreamPress plan
NEW WordPress website builder tool
1 of 3 providers endorsed by WordPress.org
WORDPRESS
RATING 4.9 ★★★★★ Our Review
DreamHost: Our Expert's Review
Laura Bernheim (HostingAdvice.com): One of only three hosting providers recommended by the WordPress Core team, DreamHost has actively contributed to the WordPress community for more than a decade. The company's platform is optimized for the incredibly popular content management system, and plans include easy setup, automated updates and backups, unlimited bandwidth, and 24/7 specialized support. Go to full review »
| Money Back Guarantee | Disk Space | Domain Name | Setup Time |
| --- | --- | --- | --- |
| 97 days | unlimited | FREE (1 year) | 4 minutes |
DreamHost has led the development of managed WordPress hosting with its DreamPress distribution of the CMS. The company offers WordPress basic hosting at cheap prices starting at $2.59 per month. For power users, the DreamPress upgrade is one of the best options for Managed WordPress hosting in the industry with an extensive suite of the most widely used developer tools. You also have access to free WordPress plugins, themes, and Jetpack. Self-publishers can use the site builder with DreamPress to create a better UX design.
DreamPress offers site administrators a custom control panel for managing system resources in real time. With DreamPress plans, you pay for expert engineering, WordPress runtime optimization, advanced caching, and 24/7 customer support. Other bonus offers include command line tools, Git version control, staging environments, free SSL certificates, and a free website builder solution for WordPress themes.
Best WooCommerce Hosts With Free Web Design
The best WooCommerce hosts come with managed WordPress services pre-installed on cloud servers for free. eCommerce store owners can build their sites using these web hosting solutions with the convenience and simplicity of WooCommerce. Business owners, entrepreneurs, startups, and self-publishers don't need to pay anything extra for the service to run an eCommerce website. This levels the playing field with major brands and market leaders.
WooCommerce was developed by Automattic, the steward company behind the development of the open-source WordPress CMS. The best WooCommerce hosts include free SSL certificates for multi-domain publishing on cheap shared hosting plans. High-performance WooCommerce hosts offer more tools for developers with prebuilt caching and multi-cluster load balancing for dedicated hosting solutions. Managed WooCommerce plans allow you to launch faster with better web design.
Fully managed WordPress hosting with WooCommerce preinstalled
FREE website migrations and staging area
Multiple currencies and payment processors
Premium firewalls, DDoS protection, and FREE SSL
PCI-compliant with Stripe and PayPal preinstalled
WOOCOMMERCE
RATING 4.7 ★★★★★ Our Review
Nexcess: Our Expert's Review
Laura Bernheim (HostingAdvice.com): We get it, many new WordPress users simply opt for an affordable one-size-fits-all shared hosting package for their new website. Given the worldwide popularity of the content management system, web hosting companies will make sure all the basics are covered for a very low cost. Go to full review »
| Money Back Guarantee | Disk Space | Domain Name | Setup Time |
| --- | --- | --- | --- |
| 30 days | 15 GB – 800 GB | New or Transfer | 6 minutes |
Nexcess began as a high-performance hosting solution for Magento eCommerce websites and now specializes in platform optimization for WooCommerce solutions. Nexcess was acquired by Liquid Web in 2019. Both companies are famous for elite hardware configurations on low-cost hosting plans.
Adding WooCommerce optimization with Nexcess gives site publishers access to a suite of performance optimization tools they won't find on other websites or online platforms. Sites hosted on Nexcess regularly outperform eCommerce stores on social media profiles.
Fully managed WooCommerce hosting at Nexcess includes SEO optimization for Google PageSpeed reports, shopping cart plugins for WooCommerce, and a page builder for WordPress site development. Nexcess clients receive an integrated staging environment for version control and testing code before going live on domains.
Nexcess also provides website metrics for sales and marketing with anti-fraud monitoring on shopping cart purchases. These website hosting features allow for data-driven approaches to marketing.
All-SSD WooCommerce hosting built for speed
Pre-installed plugins and 300+ extensions
Sell unlimited physical and digital products
Daily backups plus DDos and malware protection
Upgrade to WP Pro for dedicated resources
WOOCOMMERCE
RATING 4.6 ★★★★★ Our Review
1&1 IONOS: Our Expert's Review
Alexandra Anderson (HostingAdvice.com): Thanks to all-SSD storage and optimized databases, 1&1 IONOS built its WooCommerce hosting platform for speed and sales. The plan comes with several built-in plugins to track store analytics. Go to full review »
| Money Back Guarantee | Disk Space | Domain Name | Setup Time |
| --- | --- | --- | --- |
| 30 days | 100 GB SSD | FREE (1 year) | 5 minutes |
IONOS WooCommerce hosting plans start at $10 per month and include more than 300 extensions for WordPress customization. Web servers are pre-configured with database optimization for faster performance speeds on eCommerce websites.
With WooCommerce hosting at IONOS, developers get free backups for websites with Jetpack, free SSL certificates for every domain, and SSH access for Git version control in staging environments. They also have dedicated server plans or VPS upgrade options when your traffic increases.
The pre-installed shopping cart and payment gateway for WooCommerce at IONOS will support Apple Pay, Google Pay, and all other major credit cards, including Visa, Mastercard, Discover, and American Express.
You can also add PayPal and Venmo support. The checkout settings allow you to set shipping and tax rates for checkout. You can support unlimited products and categories with integrated platform analytics. Metrics track user time on your site and activity for better sales with VPS hosting.
Supercharged servers optimized for sales
Accelerate your store with FREE SSDs and caching
Custom control panel with enhanced security
FREE domain name and SSL certificate
Sign up now for 75% OFF
WOOCOMMERCE
RATING 4.5 ★★★★★ Our Review
Hostinger: Our Expert's Review
Laura Bernheim (HostingAdvice.com): Hostinger matches up perfectly with optimized WordPress and WooCommerce hosting thanks to powerful SSD storage and multiple layers of caching to boost your online store performance. The company's always-available support teams will be ready to help with any concerns entrepreneurs may have. Go to full review »
| Money Back Guarantee | Disk Space | Domain Name | Setup Time |
| --- | --- | --- | --- |
| 30 days | 100 GB SSD – 250 GB SSD | FREE (1 year) | 4 minutes |
Hostinger provides three tiers of managed WooCommerce hosting services with advanced features for multi-domain publishing at affordable rates. Platform optimization includes hardened WordPress security, privacy management, team collaboration tools for developers, and a cache booster, all under a custom control panel.
Some companies charge as much as $12.95 for a single SSL certificate. With WooCommerce, you can publish 100 to 300 sites with TLS encryption.
Pricing on the Woo Starter plan with 1 vCPU + 1GB RAM starts at $3.99 per month. You can access team collaboration tools for WooCommerce site development with SSH access, WP-CLI for WordPress administration, and Git version control.
Use subdomains for testing code in staging environments before going live. Advanced plans scale from 3GB to 6GB RAM with dual-core and quad-core web servers. Hostinger WordPress plans are recommended for WooCommerce.
How Much Does a Website Cost?
It depends on your experience in website hosting and web development as to the total amount a website will cost. Building new websites requires an upfront cost for hosting, web servers, and datacenter facilities which provide services for the database, scripts, and file storage.
You can choose between building a website with a site builder, with managed hosting providers such as WordPress with WooCommerce, or hiring a professional web designer.

Citizen developers and knowledge workers can use the same tools as professional web developers and programmers with a web hosting plan or cloud platform. After installing a web script on a server with a cloud hosting plan, web publishers and business owners need to create a unique design. PHP, ASP.NET, Python, and Ruby work with HTML, CSS, and JavaScript to serve web pages to users over HTTP(S) protocols.
You need a valid SSL certificate for TLS encryptions with a registered domain name and IP address for web development with a hosting provider. You should budget monthly or annually for website maintenance costs. You may find the best deals by locking in discount pricing on a long-term hosting contract.
How Much Does It Cost to Build a Website? >>
Site Builders: $0 to $5 Per Month
In addition to the web server, database, and domain services, many web hosting plans come with a free site builder option. Some solutions are limited to static HTML websites, while others can support dynamic content driven by database integration. The best site builder solutions now have AI design integration. You can buy more expensive ones, but the average is $5 per month for a WordPress website with social media integration.

A hosting provider and web designer can combine total costs to reduce the price of launching a new website to as low as $1 on platforms such as IONOS, InMotion Hosting, Nexcess, Bluehost, SiteGround, and Hostinger.
Site builders allow small businesses, bloggers, and self-publishers to avoid $50 per hour web design costs for WordPress web design. You can save the costs of a $50 professional theme for WordPress purchased at a design marketplace. You can save the annual $50 subscription fee on site builder solutions such as Elementor. Free solutions are often bundled with budget hosting plans.
WordPress and WooCommerce: $0 to $50 Per Month
When you bootstrap your business through free web design tools using WordPress and a site builder, you can invest up to $50 per month in managed WordPress plans with WooCommerce optimization. This can involve transitioning from shared servers to VPS hosting plans. This way, you receive more vCPUs, RAM, SSD storage, and monthly bandwidth for eCommerce sites.

Although WordPress and WooCommerce are available for free to build your eCommerce site, the design requirements are significant for custom themes and plugins. Free site builder solutions, free themes from web hosting companies, and prebuilt caching solutions save you the most money. You can purchase subscription plugins that may allow you to save on the website cost. For example, a professional theme at $50 cost will save hours of development time.
Professional Web Design: $2,000 to $10,000+ Total
If you want to build a professional WordPress website with a custom theme, a catalog of products with WooCommerce, and add the plugins required, the professional development cost will likely be between $2,000 and $10,000. You can work with freelancers to start up sites or contact boutique design agencies on a regional basis.

For the upper range of professional WordPress development, a major cost is professional PHP programming services for plugins. These specialists can bill up to $80 per hour. Frontend CSS specialists, graphic designers, WordPress administrators, and content creators are required to complete the team to publish a new website.
You also need DevOps, CI/CD, and Cybersecurity to calculate website costs — which require expert staff on payroll. Managed hosting is the best way to save on cloud systems administration, as the staff is on call 24/7/365 in a datacenter.
What Is a Website Builder?
A website builder offers a quick way to create a web presence with prebuilt templates and site designs. This allows designers to assemble landing pages, WordPress blog content, product listings, and forms seamlessly using responsive mobile themes. Citizen developers can adopt site builders for ease of use and deploy them alongside managed hosting services. A large number of low-code web design tools also exist.


If you use WordPress and WooCommerce to launch your store, a site builder allows you to create a custom design for every page. You can add text, images, forms, blocks, menus, and other dynamic content to pages using the templates provided by site builders. The templates integrate with the programming and structure of the overall WordPress theme with managed hosting. Popular site builders for WordPress include Elementor, Divi, and BoldGrid.
What Is WordPress?
WordPress is an open-source content management system (CMS) that is the world's most popular web publishing solution. WordPress runs on Linux or Windows servers with a MySQL-compatible database. The CMS core, plugins, and themes are coded in PHP with extensibility that adds new features to sites. Free and paid subscription options are available across the third-party developer ecosystem.

The main components of WordPress are its core functionality, themes installed for design, and plugins that add features to apps. WooCommerce is one of the most popular eCommerce store solutions offered as a suite of plugins for WordPress. On WordPress blogs, Yoast is popular for SEO, and Jetpack is a favorite for automated website data backup. W3 Total Cache is a popular plugin solution. These are just a few of the thousands of free plugins and themes offered online.
WordPress themes are available for free from open-source developers or as paid solutions from third-party companies. A large ecosystem of third-party WordPress developers offers site builder, eCommerce, blogging, SEO, forums, social networking, LMS, CRM, portfolio, and gallery solutions to small business publishers that don't require dedicated hosting.
What Is WooCommerce?
WooCommerce is the most popular eCommerce plugin suite for WordPress website publishing. The WooCommerce suite is developed by Automattic, the same company that develops and maintains the programming of the WordPress core distribution. Plugins allow eCommerce publishers to add features, payment gateways, product catalogs, inventories, and shopping cart elements with other options for platform metrics, shipping, tracking, and logistics.

WooCommerce allows small businesses, independent publishers, startups, and entrepreneurs to level the playing field with free access to all of the eCommerce tools required to compete with established brands. Many enterprise companies use WooCommerce for their online stores due to its open-source licensing costs, features, security, and other advantages. Some web hosting companies offer additional plugins for WooCommerce site optimization.
Can I Create and Host a Website for Free?
For more than two decades, WordPress has empowered individual bloggers to create and host their websites for free online. It takes extra time, investment, and teams to compete with well-known sites using WordPress for publishing, but a large suite of major brands use the CMS to their advantage. Managed WordPress plans require subscription fees and are designed for enterprise traffic.

Some web hosts, such as 000webhost, InfinityFree, or ByetHOST, offer free plans that do not expire. But generally, you are better off paying for a cheap hosting plan with unlimited domain support and better features with a Managed WordPress platform.
Website builder solutions allow you to build a site for free with AI design tools as a technical alternative to WordPress and WooCommerce for easier maintenance. cPanel hosting plans are the best choice for cheap WordPress sites.
WordPress & WooCommerce: $0 Website Design Costs
The best way to achieve a $0 web design cost is to adopt a DIY approach and invest time in the project to bring it to life. For small businesses, the stability of a long-term web presence and requirements for daily eCommerce store operation should be balanced with the cost of launching a new site. WordPress and WooCommerce are the most popular free solutions that deliver enterprise-grade features to entrepreneurs and startups.
WordPress is most famous for blogs and media sites, while WooCommerce is specifically designed for professional eCommerce stores. Managed WordPress hosting plans often include free themes, additional plugins, prebuilt caching, and CDN integration for sites as bonus offers. These free ad credits on hosting plans can be worth more than $500. Look for site builder plans with AI-design tools and managed WordPress platforms with developer tools for the best deals.
See Our Full Review of SiteGround
Whatever type of hosting plan you're looking for, SiteGround is a solid choice no matter the scale. Our reviewer Alexandra Anderson recently took SiteGround for a spin, and rated the popular host a 5.0 in the Best Overall Hosting category out of a perfect score of 5.0. Here's what Alexandra had to say about SiteGround:
With a reputation for reliable customer support and the leading-edge tech innovations, SiteGround needs to be near the top of your list of potential hosting providers. The premium host enables site owners and WordPress users to operate with performance and reliability in fluidly scalable cloud-powered environments.
Before signing up for SiteGround, it's a good idea to read through Alexandra's full review to learn about all the features SiteGround offers. You can also compare it to other web hosts to ensure you're getting the best deal possible:
If you decide SiteGround is the right choice, keep in mind that it takes just minutes to deploy your SiteGround server space. And at $2.99 per month, it's a bargain considering the many great features that come in any SiteGround plan.
Advertiser Disclosure
HostingAdvice.com is a free online resource that offers valuable content and comparison services to users. To keep this resource 100% free, we receive compensation from many of the offers listed on the site. Along with key review factors, this compensation may impact how and where products appear across the site (including, for example, the order in which they appear). HostingAdvice.com does not include the entire universe of available offers. Editorial opinions expressed on the site are strictly our own and are not provided, endorsed, or approved by advertisers.
Our Editorial Review Policy
Our site is committed to publishing independent, accurate content guided by strict editorial guidelines. Before articles and reviews are published on our site, they undergo a thorough review process performed by a team of independent editors and subject-matter experts to ensure the content's accuracy, timeliness, and impartiality. Our editorial team is separate and independent of our site's advertisers, and the opinions they express on our site are their own. To read more about our team members and their editorial backgrounds, please visit our site's About page.