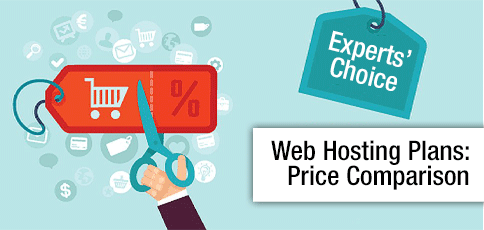 Comparing web hosting prices is a lot like choosing a restaurant. You can spend $8 on a straightforward burger with all the fixings you enjoy — or you can pay $30 for all the fanciest ingredients that make your burger almost unrecognizable.
In my view, a good burger (and shared hosting plan) should offer simplicity, with all the elements working toward the overall goal of the perfect bite. Web hosting is similar; expensive options are popular because the price tags come with brand names whose reputations promise a five-star menu of web hosting options.
But some of the lesser-known hosting providers offer similar performance and functionality compared with bigger competitors at much more reasonable prices. Let's compare!
1. Hostinger Web Hosting Prices — Starting at $1.99 / Month
As the competition in the affordable shared hosting industry continues to tighten, Hostinger somehow manages to give customers tons of extra features while still keeping its website hosting cost among the lowest around.
While unlimited storage and bandwidth are the norms elsewhere, Hostinger also throws in limitless websites, databases, FTP users, subdomains, and parked domain names for most customers.
Unlimited everything, from storage to databases
FREE site builder & WP performance upgrades
FREE daily or weekly backups
Custom control panel and auto-installation scripts
SSH access & unlimited FREE SSL certificates
CHEAP
RATING 4.8 ★★★★★ Our Review
Hostinger: Our Expert's Review
Laura Bernheim (HostingAdvice.com): As the shared hosting market becomes increasingly saturated, unlimited storage, bandwidth, and email accounts have become surprisingly average. Hostinger, however, extends the routine, expected metrics to greater lengths — the number of websites, databases, FTP users, subdomains, and parked domains are all unrestricted for most customers. Go to full review »
| Money Back Guarantee | Disk Space | Domain Name | Setup Time |
| --- | --- | --- | --- |
| 30 days | 50 GB to 200 GB SSD | FREE (1 year) | 3 minutes |
Hostinger users can choose a weekly or daily backup and an optional SSL certificate for added security protections.
We especially appreciate the growth potential Hostinger affords site owners. You can start with a no-frills, stripped-down plan for one site.
Or, you can quickly add and customize your options to include domain and email hosting, with optimized configurations for WordPress before scaling to an equally affordable cloud or VPS hosting plan.
If you're interested in seeing what the industry's upstart hosting option is all about, click here to learn more about Hostinger.
2. Bluehost Web Hosting Prices — Starting at $2.95 / Month
When you think of Bluehost, the first thing that comes to mind should be big value at a low premium. The host's shared web hosting service is a great way to get the most bang for your buck.
Bluehost allows for simple domain management, allowing users to track, transfer, or update domains in a centralized location. Unlimited email accounts are also included and come with filters, secure POP3, and third-party client compatibility, among other features.
Cheap shared hosting from a trusted provider
Ideal for hosting a WordPress website
FREE Weebly website builder and Cloudflare CDN
Unlimited traffic and 24/7 live chat support
Get 63% off today with our Bluehost coupon
CHEAP
RATING 4.8 ★★★★★ Our Review
Bluehost: Our Expert's Review
Ryan Frankel (HostingAdvice.com): Bluehost pricing is about as competitive as the industry offers. Sign up for a shared hosting plan for as little as $2.95 per month, and WordPress hosting packages are consistently priced; a VPS plan starts at around $18.99 per month; and the dedicated hosting rates are as little as $79.99 per month. Go to full review »
| Money Back Guarantee | Disk Space | Domain Name | Setup Time |
| --- | --- | --- | --- |
| 30 days | 50 GB SSD – unlimited | FREE (1 year) | 5 minutes |
Site owners can rest assured their sites and content are safe, as Bluehost creates hosting account backups daily.
Bluehost also ensures optimal site performance — even in a shared server environment — by recognizing sites that are consuming a lot of resources and temporarily reassigning them to another web server.
If you're looking for a cheap, scalable website hosting solution, Bluehost may be for you.
3. iPage Web Hosting Prices — Starting at $1.99 / Month
Don't be fooled by the price. Though it's one of the cheapest hosting options out there, iPage has a long list of add-ons that regularly put it at the top of our reviews.
With a free web builder and thousands of responsive templates, iPage users can get professional-looking sites up and running in no time. Some of iPage's core features include unlimited disk space, scalable bandwidth, and a free domain name for one year.
Easy setup and superb reliability since 1998
FREE domain and Google marketing included
Unlimited bandwidth, storage, and emails
FREE site builder and shopping cart
Get more than 75% off today (was $7.99/month)
CHEAP
RATING 4.6 ★★★★★ Our Review
iPage: Our Expert's Review
PJ Fancher (HostingAdvice.com): Whether you're a first-time website owner or a web veteran, iPage's excellent hosting services and a fantastic list of extras make the brand one of the best values in web hosting. Unlimited disk space, scalable bandwidth, and emails are just a part of what makes iPage's shared hosting plan a great deal. Go to full review »
| Money Back Guarantee | Disk Space | Domain Name | Setup Time |
| --- | --- | --- | --- |
| 30 days | Unlimited | FREE (1 year) | 5 minutes |
Sites hosted with iPage enjoy high availability, and the cheap host provides effective backup software to protect data and get sites back online in the event of a catastrophe. Other hosting utilities include file and FTP managers, custom error pages, audio and video support, among others.
With iPage's free online store, PayPal integration, and easy-to-use shopping carts, eCommerce is a less daunting undertaking. If you're interested in top-tier hosting from iPage, read more in our review.
4. InMotion Hosting Prices — Starting at $2.29 / Month
Geared toward site owners looking for quality in their cheap web hosting provider, InMotion Hosting perfectly blends upgraded infrastructure with attractive prices and features.
The hosting company packs in the freebies right from the start, giving users a drag-and-drop site builder with hundreds of design templates, along with free domain registration, SSL certificate, and hassle-free site migration.
FREE BoldGrid site builder and templates
FREE website, domain, and cPanel migrations
SSD storage makes your site load up to 20x faster
Security suite includes SSL and hack protection
Unlimited bandwidth and email accounts
CHEAP
RATING 4.6 ★★★★★ Our Review
InMotion: Our Expert's Review
PJ Fancher (HostingAdvice.com): InMotion Hosting offers an excellent business-class shared hosting plan. While carrying a higher price tag than some other cheap hosts, it has a very nice list of features to help justify the extra cost. Go to full review »
| Money Back Guarantee | Disk Space | Domain Name | Setup Time |
| --- | --- | --- | --- |
| 90 days | 100 GB SSD – unlimited | FREE (1 year) | 5 minutes |
Even better, InMotion has among the best customer service teams in the business, with 24/7 support available via chat, phone, and email.
Right off the bat, InMotion Hosting customers are set up to create their perfect blog, online store, portfolio, or appointment-booking service to boost their business profile. Plus, a lengthy 90-day money-back guarantee gives you ample time to see if the web hosting company is the best fit for you.
If powerful yet affordable and user-friendly web hosting is what you seek, look no further than InMotion Hosting.
5. HostGator Web Hosting Prices – Starting at $2.64
HostGator hit the scene in 2002 when Founder Brent Oxley knew he could offer site owners top-tier hosting at a fraction of what the competition was charging. He devised a business plan in his dorm room and, within a year, was welcoming thousands of customers.
HostGator is known for its budget-friendly web hosting plan that web entrepreneurs and businesses leverage to build an online presence.
Host up to unlimited websites on a single plan
FREE SSL certificate included on all plans
Unlimited bandwidth & email addresses
1-click WordPress installs & FREE blog tools
Get 76% OFF by buying 36 months upfront
CHEAP
RATING 4.7 ★★★★★ Our Review
HostGator: Our Expert's Review
Ryan Frankel (HostingAdvice.com): HostGator is a great compromise between performance and price. The company offers unlimited emails, MySQL databases, disk space, and bandwidth, plus one-click installs of popular open-source projects, in addition to a 99. Go to full review »
| Money Back Guarantee | Disk Space | Domain Name | Setup Time |
| --- | --- | --- | --- |
| 45 days | Unlimited | FREE (1 year) | 4 minutes |
The host's proprietary website builder provides a drag-and-drop environment and a wide range of templates that make getting a site up and running a cinch.
HostGator also gives customers access to a number of CMS and eCommerce platforms, including WordPress, Joomla, Drupal, and Magento, among others.
At a starting price of just $2.64 per month and a 45-day money-back guarantee, there's not much to lose by signing up for services with HostGator.
To learn about all the perks HostGator customers enjoy, be sure to read our full review.
6. SiteGround Web Hosting Prices — Starting at $2.99 / Month
Disclaimer: The SiteGround monthly rate is noticeably higher than others on our price comparison list. Why include them?
Because, with SiteGround, you'll get a world-class cloud hosting experience powered by Google Cloud Platform. That means incredibly fast performance, unmetered bandwidth, and unrivaled uptime.
FREE website transfer service to get started
99.9% uptime guarantee and unlimited traffic
User-friendly WordPress installation
24/7 support featuring custom systems
4 caching options plus staging and Git
CHEAP
RATING 4.5 ★★★★★ Our Review
SiteGround: Our Expert's Review
Alexandra Anderson (HostingAdvice.com): Providing hosting with the perfect balance of technological innovation and superior customer support, SiteGround offers a range of affordable hosting services to meet your needs. In addition to the expected cheap web hosting perks — a free website builder and unlimited bandwidth — the company specializes in custom-built tools to deliver strong and positive user experiences. Go to full review »
| Money Back Guarantee | Disk Space | Domain Name | Setup Time |
| --- | --- | --- | --- |
| 30 days | 10 GB SSD – 40 GB SSD | New or Transfer | 6 minutes |
The hosting company is known for creating custom solutions for customer support, promising sky-high satisfaction rates and customer retention.
SiteGround is perfect for those with a burgeoning WordPress website, as the web host's services are recommended by the content management system's leadership team.
The hosting company's reliance on the cloud means services aren't broken down into shared, VPS, or dedicated hosting plans. Rather, you can tailor your plan to your specific needs.
7. A2 Hosting Prices — Starting at $2.99 / Month
If you're seeking a powerful engine to rev up your site and optimize loading time, look no further than A2 Hosting. The host prides itself on the reliable, high-performing hosting service it provides.
A2 Hosting's Starter hosting package will get you one website, five databases, unlimited storage and transfer, and the popular cPanel control panel. Higher-tiered plans come with unlimited sites, databases, storage, and transfer, and free SSL and SSD.
FREE Cloudflare CDN and SSD speed boost
Optimized caching and 1-click installs
Unlimited email, domains, and databases
Advanced security and FREE HackScan
24/7 support via phone, chat & tickets
CHEAP
RATING 4.6 ★★★★★ Our Review
A2 Hosting: Our Expert's Review
Alexandra Anderson (HostingAdvice.com): There are plenty of excellent cPanel shared hosting providers out there, so what sets A2 Hosting apart from the rest. Not only does the company offer a ton of features, but it has custom-built its packages for enhanced performance, speed, and security — putting your priorities above pricing. Go to full review »
| Money Back Guarantee | Disk Space | Domain Name | Setup Time |
| --- | --- | --- | --- |
| 30 days | 60 GB SSD – Unlimited SSD | New or Transfer | 4 minutes |
The host's Turbo package does just what its name implies. With Turbo, sites run up to 20 times faster because of A2's fine-tuned server. This package also comes with a site accelerator, boosting speeds even more.
Extending its reputation for performance to professional email hosting services, A2 Hosting is one of our favorites to recommend for growing businesses (where money and milliseconds matter!). While one may start with a shared server plan, business owners can confidently scale and advance to one of the company's VPS hosting or dedicated server options. The competitive pricing, performance, and support will scale with you.
With this kind of performance optimization and a support team ready to help around the clock, A2 Hosting might be a great choice for your site.
If you're still on the fence, read our comprehensive take on A2 Hosting.
Other Popular Web Hosting Service Prices
Google Cloud Platform, Amazon Web Services, and Rackspace are three recognizable names that offer stellar web hosting services (we're skipping Microsoft Azure for now).
But the prices and advanced technologies can be a tough pill for beginners to swallow — and understand.
Each service computes its hosting prices differently, based on different sets of included features, and often requires customers to custom-build their environments.
On the bright side, you'll get exactly the amount of resources you need. However, building and operating cloud instances is not for beginners or the faint of heart.
That's why we're also highlighting Cloudways, which offers hands-on managed services powered by the other companies' premium infrastructure.
The cost of entry into all three providers' can be exorbitant depending on the nature of your site. The price of the hosting packages can go up with increased traffic and the type of solution you're looking to employ.
8. Cloudways — Starting at $10.00 / Month
We know Google and Amazon have incredible cloud services — as do industry leaders such as Digital Ocean, Linode, and Vultr. However, these ala carte services can be hard for rookies to set up, configure, and maintain.
That's where Cloudways comes in. The cloud hosting provider connects customers to all the modern technologies and capabilities of the cloud titans — as well as the hands-on support and technical experience to make your move to the cloud as stress-free as possible.
You can try the provider's cloud web hosting services for free for a short period of time.
Managed cloud hosting with 24/7/365 monitoring
Choose from 5 popular cloud providers
Auto-healing cloud servers with FREE backups
1-click server cloning and easy management
Host unlimited apps with no contract lock-in
CLOUD
RATING 4.8 ★★★★★ Our Review
Cloudways: Our Expert's Review
Alexandra Anderson (HostingAdvice.com): If you can't beat the cloud provider behemoths, offer their infrastructure as a service. Cloudways gives customers their choice of cloud platform: AWS, Google, Linode, Digital Ocean, or Vultr. Go to full review »
| Money Back Guarantee | Disk Space | Domain Name | Setup Time |
| --- | --- | --- | --- |
| 3-Day FREE Trial | 1 GB SSD – 192 GB SSD | N/A | 8 minutes |
Simply choose which provider and geographic regions you wish to host your website or application through, and Cloudways handles the rest.
You'll still enjoy the same pay-as-you-go cloud pricing model, which starts out remarkably affordable and scales as high as your traffic demands.
Sure, Cloudways is often a touch more expensive than if you go to the cloud services providers directly, but we've found that the time savings more than offset any additional costs.
You'll be much happier with the 24/7/365 responsive support, user-friendly account dashboards, automated offsite backups, and free SSL certificates and site migrations.
9. Amazon Web Hosting Pricing — Starting at $12.00 / Month

Although Amazon Web Services does include a free web hosting tier with many popular services, it's not a permanent solution. Let's take the time to examine the pricing surrounding their full-strength, premium services.
Similar to Google Cloud Platform, AWS offers enterprise-grade scalable environments in which to deliver their sites and apps.
We published an article covering the AWS flexible, pay-as-you-go model for its cloud infrastructure service. For businesses that don't want to commit large chunks of their budgets to hosting services in the long term, AWS might be a good fit.
AWS does come in as one of the more confusing options on our list, though, as the organization offers dozens of specialized services to run your website or application.
If you're looking at AWS for hosting your business website, you'll probably want to go with EC2. A cloud server with the same specs as our Google Cloud machine (2 vCPUs and 8GB memory) will cost $0.0168 per hour or a touch over $12 per month.
We found that Lightsail, a more recent (and affordable) offering that enables users to simply deploy a virtual server, doesn't quite have the oomph to live up to the rigorous demands of a larger audience. This service is best for personal sites and side projects.
All in all, your AWS costs can vary based on features and how much traffic your site gets. So, if your online business is scaling rapidly, AWS's hosting costs might impact your bottom line.
10. Google Web Hosting Pricing — Starting at $49.00 / Month


The newest of the major providers, Google Cloud Platform's pricing model is more straightforward than competitors. The web host certainly isn't the cheapest, but we appreciate the familiar interfaces and streamlined approach to hosting.
Site owners can expect to pay roughly $50 per month for Google's most basic cloud server, which comes with 2 vCPUs and 8GB of memory.
As a highly configurable cloud service, Google bills customers by the gigabyte of storage used. Last we checked, customers will spend $0.040 per month for standard disk space, $0.170 for high-speed SSD storage, and up to $0.340 for regionally optimized SSD space.
TechRepublic published a great breakdown of Google's pricing when compared with AWS, which showed the former was cheaper by 15 to 41% a few years ago. Prices fluctuate pretty widely, so be sure to do your research when you're ready to sign up.
All in all, Google fares pretty well when it comes to the war on price and performance among the big cloud providers — though it might not seem like it after learning about the cheaper alternatives above.
11. Rackspace Web Hosting Pricing — Starting at $74.00 / Month

Rackspace offers a number of hosting solutions and managed services. The company's premium brand means you'll see superior hardware and infrastructure and some of the industry's best support and managed services.
However, hosting your site in a cloud environment with Rackspace will cost quite a few pretty pennies. Rackspace offers a price calculator to provide estimates on this. For our purposes, let's see how low we can get the cost.
The host's base, general-purpose server — significantly smaller than those we compared with AWS and Google — comes with 1 vCPU and 1GB of RAM. Fortunately, Rackspace does charge for storage separately; our configuration comes with 20GB SSD.
This bare-bones configuration costs a little more than $24 per month. However, you'll need to add the company's required managed services for a monthly charge of $50, bringing the total to $74.56 last we checked.
The managed support add-on seems extreme, but this is what sets Rackspace apart.
Helpful support agents can be tough to come by with AWS and Google, but the friendly staffers at Rackspace will take on all the tedious server management tasks, leaving you more time to create and run your business.
The online magazine Ecommerce Guide gave a pretty good overview of Rackspace's different hosting options and broke down the company's dedicated hosting costs. Going to this option increases prices exponentially.
What Are the Average Web Hosting Prices for Each Plan Type?
As evidenced in this post, the cost of web hosting can vary wildly — from $2 to upward of $200 per month. Of course, the cost of the service correlates to the server resources, third-party integrations, and support personnel promised in the package.
On average:
shared server hosting plans cost less than $10 per month
WordPress hosting plan prices hover around the cost of standard shared hosting packages
virtual private servers or VPS hosting plans go for $5 to $17 per month
dedicated server prices run the gamut, from a $50 monthly price tag to hundreds or thousands spent on custom-configured machines
Note: Anywhere you see the word "managed," expect an inflated price. Managed hosting providers, including those offering managed WordPress hosting, charge higher rates due to the added peace of mind of hands-off server maintenance, advanced troubleshooting support, and increased access to support staff (e.g., live chat or even a personal account representative).
Which Web Hosting Provider Offers the Lowest Price?
At the time this article was last updated, 1&1 IONOS is in the lead for the lowest hosting price tag. At $1.00 per month, the company's shared hosting plans lower the financial barrier to entry for first-time website owners. As the web host continues to capture more market share, we suspect the price-for-performance value is paying off.
$1/month for six or 12 months
No hidden costs – pay just $6 or $12 at checkout
Easy setup and 24/7 expert support
FREE domain or transfer, plus FREE SSL certificate
Unlimited storage and databases with most plans
CHEAP
RATING 5.0 ★★★★★ Our Review
1&1 IONOS: Our Expert's Review
Alexandra Anderson (HostingAdvice.com): If budget is the main factor on your mind when searching for your next web host, search no more. 1&1 IONOS has an impressive range of robust web hosting and website building packages for what may be the best price we've ever seen in the world of hosting. Go to full review »
| Money Back Guarantee | Disk Space | Domain Name | Setup Time |
| --- | --- | --- | --- |
| 30 days | 10 GB – Unlimited | FREE (1 year) | 4 minutes |
Hostinger presents a close second with shared hosting plans starting at $1.99 per month; coming in third is iPage ($1.99/month), and the remaining budget web hosting providers tend to offer packages in the less-than-$5 range.
Consider one of our favorite low-cost, high-value hosts for the best web hosting service offered at the lowest rates. You'll notice some familiar brand names.
Use Promo Codes and Get Rewards for the Best Server Deals
So, here's the skinny: As is the case with hamburgers, the most expensive hosting options with all the bells and whistles may not necessarily provide the perfect bite (byte?).
Rackspace, Google, and AWS might be good fits for large, enterprise-level organizations, but cheaper alternatives provide a similar level of service at a fraction of the web hosting cost.
Until you're ready to graduate to the likes of Google's Cloud Platform or an Amazon cluster in the cloud, consider campaigns a budget host whose service menu is packed with competitive features. Better yet, use one of our discount codes to earn up to 70% off popular plans.
Advertiser Disclosure
HostingAdvice.com is a free online resource that offers valuable content and comparison services to users. To keep this resource 100% free, we receive compensation from many of the offers listed on the site. Along with key review factors, this compensation may impact how and where products appear across the site (including, for example, the order in which they appear). HostingAdvice.com does not include the entire universe of available offers. Editorial opinions expressed on the site are strictly our own and are not provided, endorsed, or approved by advertisers.
Our Editorial Review Policy
Our site is committed to publishing independent, accurate content guided by strict editorial guidelines. Before articles and reviews are published on our site, they undergo a thorough review process performed by a team of independent editors and subject-matter experts to ensure the content's accuracy, timeliness, and impartiality. Our editorial team is separate and independent of our site's advertisers, and the opinions they express on our site are their own. To read more about our team members and their editorial backgrounds, please visit our site's About page.