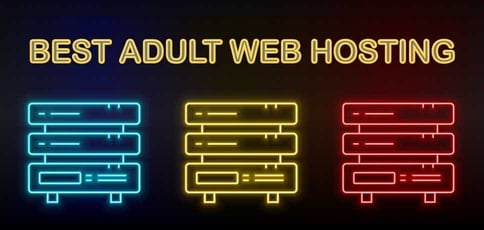 Despite the common perceptions, the best adult web hosting is not restricted to online porn or similarly graphic adult website content. Any site dealing with goods and services available only to those older than 18 or 21 years old, including tobacco, alcohol, gambling, and firearms, is considered an adult website with mature content.
In addition to the myriad of state, federal, and international laws regulating the distribution, purchase, or possession of pornography, for example, several hosts opt to avoid the potential added security risks and moral implications among other customers.
Given the tricky nature of finding a hosting service that will let you erect an adult website that will never go down, we've pulled together a list of the best hosting options. Some are full-service, mainstream hosts, while others on top specialize in serving the adult industry.
Most Reliable Adult Web Hosting Reviews
Just as bloggers have different hosting needs than a photography studio or financial consulting service, the best adult web hosting service providers offer up features that resonate within the particular industry.
For sites with mature content, bandwidth and storage space are extremely important for housing and rapidly loading various images and videos. Ironclad security is critical, both for enabling online payments and protecting sensitive customer data from malicious attacks.
Three hosts we commonly recommend to site owners for reliability, performance, and usability also allow customers to host mature content. Read on for our in-depth review of the excellent options for hosting your adult website:
$0.01 for the first month using code HOSTINGADV
Then $6 monthly with no contracts, no changes
Latest of PHP, MySQL, Perl, Python, and Ruby
7 operating system options for Linux or Windows
Full root access and choice of datacenter
VPS
RATING 4.8 ★★★★★ Our Review
InterServer: Our Expert's Review
Laura Bernheim (HostingAdvice.com): InterServer's on-site datacenter and hands-on involvement with configuring and provisioning virtual private servers give customers a level of flexibility not seen with many other hosting providers. InterServer rations VPS and cloud resources through slices. Go to full review »
| Setup Time | Disk Space | CPU | RAM |
| --- | --- | --- | --- |
| 6 minutes | 30 GB SSD – 480 GB SSD | 1 – 16 CPUs | 2 – 32 GB |
Not only does InterServer provide reliable, secure, and affordable services, the hosting company fully supports adult websites on its cloud, VPS, and dediated server plans. In fact, Co-Founder Mike Lavrik wrote this informative guide to affordable adult website hosting.
The host's highly customizable plans come with the Webuzo control panel and hundreds of one-click software installation scripts. Customers who purchase a configuration of at least 4 vCPU will receive fully managed support, as well. InterServer's hardware is equipped with lightning-quick SSD storage, mirrored in a RAID-10 array with optional remote backups.
Even better, InterServer won't lock you into long-term contracts. All billing is done on a month-by-month basis, enabling you to try the adult hosting provider for very low risk. Read the company's terms of service for more information.
Unlimited everything, from storage to databases
FREE site builder & WP performance upgrades
FREE daily or weekly backups
Custom control panel and auto-installation scripts
SSH access & unlimited FREE SSL certificates
CHEAP
RATING 4.9 ★★★★★ Our Review
Hostinger: Our Expert's Review
Laura Bernheim (HostingAdvice.com): As the shared hosting market becomes increasingly saturated, unlimited storage, bandwidth, and email accounts have become surprisingly average. Hostinger, however, extends the routine, expected metrics to greater lengths — the number of websites, databases, FTP users, subdomains, and parked domains are all unrestricted for most customers. Go to full review »
| Money Back Guarantee | Disk Space | Domain Name | Setup Time |
| --- | --- | --- | --- |
| 30 days | 50 GB SSD – 200 GB SSD | FREE (1 year) | 3 minutes |
For many years, we've declared Hostinger as one of the top affordable shared hosting platforms. The company offers unlimited bandwidth and storage, in addition to around-the-clock server monitoring, support, and automated weekly backups.
The hosting provider supports mature content on all of its services but recommends customers opt for cloud or VPS plans for the best performance.
Whichever plan you choose, you'll find a ton of features to help launch your adult site, including a website builder, malware scanner, and CloudFlare content delivery network.
Automated malware scans
Unlimited domain hosting
Unlimited email accounts with POP/IMAP/SMTP
FREE eCommerce store tools and PCI compliance
Streamlined proprietary control panel
CHEAP
RATING 4.3 ★★★★★ Our Review
DreamHost: Our Expert's Review
Laura Bernheim (HostingAdvice.com): While DreamHost's price might be a little steep compared to other high-value hosting providers, the company gives customers ample time and reasons to get hooked and stick around. The company, which started in the founders' dorm room in 1997, offers an industry-leading 97-day money-back guarantee. Go to full review »
| Money Back Guarantee | Disk Space | Domain Name | Setup Time |
| --- | --- | --- | --- |
| 97 days | Unlimited | FREE (1 year) | 4 minutes |
Known for its extremely popular WordPress hosting service, DreamHost also allows mature content on all of its hosting plans — as long as the material is legal within the U.S.
DreamHost is famous for its industry-leading 97-day money-back guarantee, giving site owners plenty of time to test the host's fast network and unlimited storage optimized with high-powered solid-state drives.
Cloud VPS that's more flexible and affordable
Load balancer, firewall, and managed services
Premium Intel CPUs with 300% more power
Choose between monthly or hourly billing
Sign up today for a 30-day FREE trial
VPS
RATING 4.9 ★★★★★ Our Review
Kamatera: Our Expert's Review
Laura Bernheim (HostingAdvice.com): Backed by cutting-edge cloud computing technology, Kamatera adds instant and limitless scalability to the VPS hosting marketplace. Each cloud or virtual server is equipped with blazing-fast SSD storage and Intel Xeon Platinum CPUs. Go to full review »
| Setup Time | Disk Space | CPU | RAM |
| --- | --- | --- | --- |
| 5 minutes | 20 GB SSD – 4 TB SSD | 1 – 104 cores | 1 GB – 525 GB |
If you're looking for flexibility and room to grow, Kamatera is your best bet. Enjoy a 30-day FREE trial when you get start, thanks to a $100 credit to build exactly the cloud server instance your adult website requires.
Choose from dozens of operating systems, computing resource configurations, and datacenter locations, and your cloud VPS server will deploy in less than 60 seconds.
Host up to unlimited websites on a single plan
FREE SSL certificate included on all plans
Unlimited bandwidth & email addresses
1-click WordPress installs & FREE blog tools
Get 67% OFF by buying 36 months upfront
CHEAP
RATING 4.6 ★★★★★ Our Review
HostGator: Our Expert's Review
Ryan Frankel (HostingAdvice.com): HostGator is a great compromise between performance and price. The company offers unlimited emails, MySQL databases, disk space, and bandwidth, plus one-click installs of popular open-source projects, in addition to a 99. Go to full review »
| Money Back Guarantee | Disk Space | Domain Name | Setup Time |
| --- | --- | --- | --- |
| 30 days | Unlimited | FREE (1 year) | 4 minutes |
HostGator allows mature content that is legal in the United States, with the added caveat that the material must also be legal in Texas, where the hosting company is headquartered.
We love HostGator for its reliable customer service and wide array of plans — most of which come with a free domain registration, unlimited bandwidth, and up to $600 in online advertising credits.
High-speed hosting that's faster than AWS, Rackspace, and Digital Ocean
FREE backups, CDN, and DDoS protection
Up to 16 processors with all-SSD storage
Choice between cPanel, Plesk, or InterWorx
Real-time monitoring and 100% uptime guarantee
VPS
RATING 4.5 ★★★★★ Our Review
Liquid Web: Our Expert's Review
Alexandra Anderson (HostingAdvice.com): It's no secret by now that Liquid Web is known for best-in-class technology and reliability that exceeds expectations. The company's cloud VPS environments embody that reputation to its fullest — including managed WordPress and WooCommerce products. Go to full review »
| Setup Time | Disk Space | CPU | RAM |
| --- | --- | --- | --- |
| 7 minutes | 40 GB SSD – 200 GB SSD | 2 – 8 cores | 2 GB – 16 GB |
Although mature content can sometimes bring about an increased number of malicious actors or untrustworthy characters, Liquid Web is the ultimate high-class service. The price tag may be a little higher, but the 100% uptime guarantee and cutting-edge hardware add more than enough value.
Liquid Web has long been the industry leader in attentive, high-touch customer service. The host's cloud service has even been clocked with faster page loads than many top competitors.
All plans come with DDoS protection, real-time server monitoring, and an integrated firewall to boost your security and protect your visitors' sensitive information.
Other Adult Web Hosting Websites
Don't fret if none of those options wet your whistle. We've pulled in three more options for you to consider, including one that has concentrated on hosting mature content for more than 20 years.
7. AdultHosting.com
A longtime force in Canada, AdultHosting.com started in 1997 by managing dedicated and colocated servers. The adult hosting company has since scaled services to include cloud, VPS, and shared offerings. Shared hosting plans start at less than $4 per month, but users are restricted to only one domain and 50GB of storage. Upgrading to a plan that costs between $6 and $12 secures customers more domains and disk space.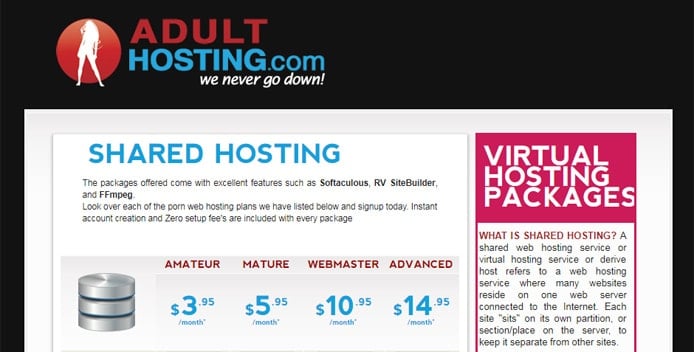 AdultHosting.com has served the industry for more than two decades behind a powerful, reliable network.
In addition to registering or transferring domain names, customers can install private SSL certificates and reach out to the company's 24/7/365 support staff. AdultHosting.com's redundant network is built with Cisco and Juniper hardware to ensure an impressive 99.99% uptime, above the industry average.
8. TMDHosting.com
Boasting free SSDs and 20-times faster site performance, TMD Hosting provides above-market features for incredibly affordable rates. Shared hosting comes with a 99.99% uptime guarantee, a free domain name, and unlimited bandwidth and storage for less than $3 per month. Performance and security scale as your site grows, as the company adds SSL certificates, upgraded performance, and backups. TMD Hosting also offers cloud, VPS, dedicated, and managed WordPress hosting plans.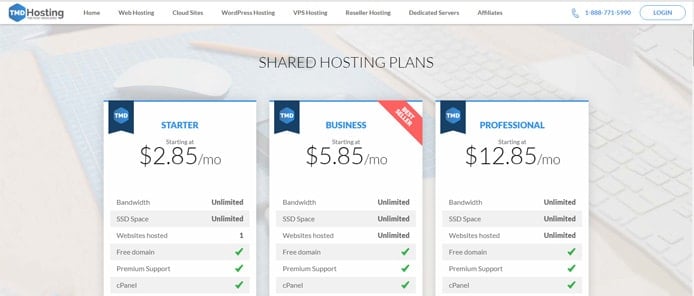 TMD Hosting is a full-service host offering a wide array of services that come with a 99.99% uptime guarantee.
As with many providers, TMD Hosting touts 24/7 phone, live chat, and email-based support, backed up by an average response time of fewer than 15 minutes. The company operates seven datacenters around the world, ensuring your content will be as close to your visitors as possible.
9. Web750.com
Founded by three adult industry veterans who had run their own marketing and entertainment websites since the early 1990s, Web750 impressively blends high-powered technology and industry expertise to craft load-balanced hosting plans that can withstand rapid growth and massive bandwidth consumption. Shared hosting, powered by cloud infrastructure and available for Windows or Linux, comes with an incredible 100% uptime guarantee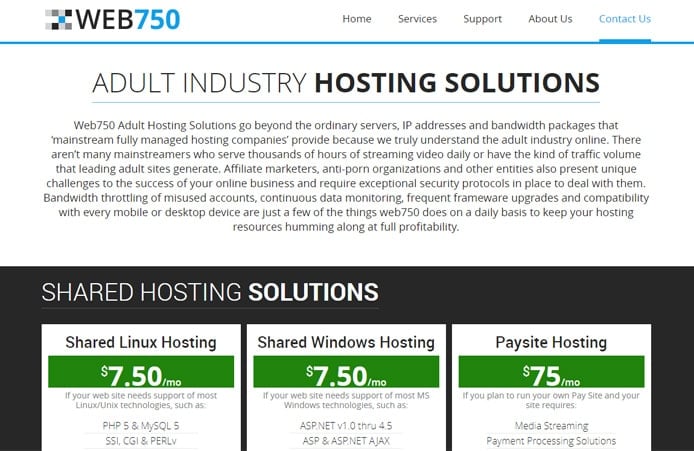 Industry veteran Web750 offers cloud-powered shared hosting and dedicated servers with 100% uptime guarantees.
Web750's name comes from the Founders' beliefs they can deliver seven keys to customer success while providing five-star service with zero hidden fees. The seven tenets to a quality hosting plan, according to the company: strong servers, proactive support, a self-healing network, endless customizations, experienced staff, add-on services, and affordable prices.
Do All Hosts Allow Adult Website Content?
Due to the common misconception stated above, not all hosts proudly market themselves as adult hosting providers welcoming mature content. Adult websites can be resource-intensive and often come with innate security risks that, when left unaddressed, could lead to devastating data breaches or vulnerabilities that could be exploited to infect visitors' computers with malware.
Many providers steer clear of hosting adult content often formalizing the restriction for a variety of reasons in the terms of service document with which customers agree to comply when signing up for server space.
According to our research, the following popular service providers will host adult website content:
A web hosting provider that does allow adult content typically requires customers to comply with several age verification steps to ensure only those of legal age are accessing the site.
Even if the site doesn't sell age-restricted products, the content and advertising require administrators to seek out a hosting solution that allows adult site content.
Depending on the country in which the server is located, the provider may also be subject to certain laws and regulations, such as the General Data Protection Regulation (GDPR) in the European Union.
It's important to confirm that a potential web host will allow your site's content before signing up for an account. Many hosts don't explicitly advertise adult hosting services in their marketing materials but still allow mature content as long as the site abides by certain rules such as not featuring illegal content, not being involved in the production of the content, and not profiting from the sale of age-restricted products. Other hosting companies, such as A2 Hosting, explicitly forbid adult website content.
Do I Need a Dedicated IP Address for My Adult Website?
A dedicated IP is an Internet Protocol (IP) address that's not shared with any other customers. Not all hosting companies offer them, particularly to shared hosting plan customers, and not all plans include a dedicated IP address, even with hosts that do offer them. A dedicated IP can be beneficial for email deliverability because it can help your messages avoid spam filters.
While a dedicated IP address can be beneficial, it's not a requirement for all websites, including adult website hosting. In most cases, it's unnecessary unless you're running an eCommerce site or need to send email newsletters to a large list of subscribers. If you're not sure whether a dedicated IP address is right for your site, reach out to your potential host's customer support team to get more information.
What Are the Best Adult Website Builders?
The best adult website builders are those that are easy to use and allow you to create a professional-looking website with minimal effort. Additionally, the best builders will offer features that are specifically designed for adult websites, such as the ability to password-protect pages and integrate with secure payment processors.
While traditionally marketed as the website builder for self-creators, Wix also happens to allow mature content, provided it doesn't cross any legal boundaries. Head over to our expert review to determine whether Wix is the right adult hosting plan and website creation platform for your purposes.
Final Things to Consider Before Choosing an Adult Content-Friendly Host
As the great musical Avenue Q imparts, the internet is really, really great — for porn. Fast connections mean you don't have to wait (for porn). There's always some new site (for porn) when you browse all day and night (you get the picture).
Early research estimated the amount of pornographic material online climaxed at 37% of the internet a decade or two ago, with more recent studies now placing the range much lower, at 4% to 15%. According to internet accountability and filtering company Covenant Eyes, however, erotic adult content generates $3 billion each year and continues to grow. The company also predicts the virtual reality (VR) porn industry to be a $1 billion business by 2025. People have searched for pornographic content almost 6 million times since 2015, with about one of every five mobile searches seeking adult content.
Even better, motivated professionals can get online rather quickly once they find adult hosting providers willing to welcome them in. From there, you'll need the speed, security, and scalability needed to grow your audience and turn a profit.
To tap into this lucrative and high-demand market, find a reliable web hosting company with an upstanding reputation and deep technical experience hosting especially resource-intensive websites. Upgraded features, such as SSDs, responsive support, and a premium uptime guarantee, help your mature adult content site have a happy ending.
Further Reading: "9 Best Adult Web Hosting (Oct. 2023): Top Hosts for Adult Content"
Hopefully, our recommendation of InterServer fulfills all your web hosting needs. Starting at just $6.00 per month and rated 4.8 overall, InterServer gives users plenty of bang for the buck. Among our favorite features:
$0.01 for the first month using code HOSTINGADV
Then $6 monthly with no contracts, no changes
Latest of PHP, MySQL, Perl, Python, and Ruby
7 operating system options for Linux or Windows
Full root access and choice of datacenter
If you'd like recommendations similar to InterServer and others in 9 Best Adult Web Hosting (Oct. 2023): Top Hosts for Adult Content, check out these popular guides. You'll find comparisons of InterServer to other hosts on pricing, features, support and more:
And of course, if InterServer is your top choice, you can get started now at just $6.00/month. InterServer is easy to set up and scale, no matter the size of your next project.
Advertiser Disclosure
HostingAdvice.com is a free online resource that offers valuable content and comparison services to users. To keep this resource 100% free, we receive compensation from many of the offers listed on the site. Along with key review factors, this compensation may impact how and where products appear across the site (including, for example, the order in which they appear). HostingAdvice.com does not include the entire universe of available offers. Editorial opinions expressed on the site are strictly our own and are not provided, endorsed, or approved by advertisers.
Our Editorial Review Policy
Our site is committed to publishing independent, accurate content guided by strict editorial guidelines. Before articles and reviews are published on our site, they undergo a thorough review process performed by a team of independent editors and subject-matter experts to ensure the content's accuracy, timeliness, and impartiality. Our editorial team is separate and independent of our site's advertisers, and the opinions they express on our site are their own. To read more about our team members and their editorial backgrounds, please visit our site's About page.