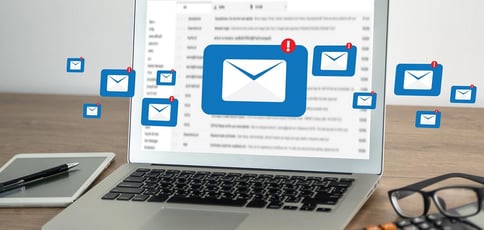 The best email hosting providers deliver a critical service with speed and reliability. Given the communication method's widespread popularity and massive convenience, it can be easy to underestimate emails and the importance of finding the perfect platform.
When it comes time to create a professional email address and build the credibility needed to have your messages stand out from the crowd, you'll want to invest in a powerful — yet still affordable — hosting provider.
Whether you're looking for unlimited email accounts, tremendous customer support, or the double whammy of email and website hosting, we'll show you the best when it comes to email hosting services.
As the kings of speed, A2 Hosting tops the list as our favorite email host. Each user account is loaded up with all the popular features you'd expect, like POP3, IMAP, and SMTP support, as well as spam protection, filters, and autoresponders.
Coupled with the company's ultra-fast Turbo Server configuration, A2 Hosting's web and email hosting plans boast loading and delivery times up to 20 times faster than those of competitors.
Unlimited accounts and the choice of datacenter come standard with every plan; upgraded plans introduce backups and enhanced performance.
Price: $2.99 per month for email and web hosting
Inboxes: Base plan comes with 25 email accounts, others are unlimited
Attachments: 50MB maximum from shared and reseller servers
Custom domain: Transfer or new domains available for $14.95 per year
Other features: Pre-installed webmail clients, SpamAssassin protection, plus more than 20 choices for an email client, newsletter managers, and other available software applications
In addition to A2 Hosting's 99.9% uptime guarantee and around-the-clock customer support, the hosting provider goes above and beyond when it comes to the software needed to check, read, and send emails.
Users can choose from three pre-installed webmail clients or choose to add one of several others. Businesses will want to check out the applications contact forms, newsletters, and subscriber management, all of which are available via one-click installation.
When you're looking for the best email hosting, A2 Hosting should be near the top of your list thanks to the comprehensive approach the company takes toward protecting, improving, and growing your online presence.
One of the most trusted brands in web hosting, Bluehost gives customers several email hosting solutions from which to choose. As do many providers on this list, Bluehost includes unlimited email inboxes for free as part of its web hosting plans.
Those looking for business email hosting may prefer to add Microsoft Office 365 to their plan. Bluehost gives most shared hosting customers a free 30-day trial license to see if the upgrade is worthwhile, but don't forget to opt out of any renewals if you don't want the extra fee.
Learn more about Bluehost's email offerings here:
Price: $2.95/month for email and web hosting; $2.99/user per month for Microsoft Office 365
Inboxes: Starts with five email accounts and 100MB inboxes, most plans are unlimited; Office 365 accounts come with 15-50GB mailboxes
Attachments: 50MB (35MB is recommended); Office 365 limit is 25MB
Custom domain: Included FREE for one year of web hosting services or connect your own
Other features: SpamAssassin and Postini filters, malware protection,
We love Office 365 for the added productivity and collaboration tools like calendars, spreadsheets, and task lists, but recognize it's not for everyone.
With each hosting plan, Bluehost offers unlimited and secure IMAP and POP3 support, along with three webmail clients ready to send and receive your emails. Customers can create unlimited forwarding accounts and rely on the always-trustworthy SpamAssassin protection.
More generally, Bluehost accounts come with unlimited SSD storage, bandwidth, and domains, plus an SSL certificate and reliable 24/7 support. The highly regarded web host is always worthy of consideration, especially for WordPress users.
Known for budget-friendly services, iPage boasts a surprising range of email hosting options. The web host's lone shared hosting plan comes with unlimited email addresses and the Roundcube webmail client.
We usually think of iPage as being a great starting point for beginners, but the company actually provides a lot of hidden value for business users. The feature-laden shared plans scale up to VPS and dedicated servers.
Most inboxes automatically max out at 500MB, but customers can pay to upgrade all the way to 10 GB mailboxes. As one of our favorite domain name hosting providers, iPage is a natural pairing for custom email addresses.
Price: $1.99/month for email and web hosting
Inboxes: Unlimited addresses with 500MB mailboxes (about 10,000 emails)
Attachments: 32MB maximum
Custom domain: FREE registration or transfer with an annual hosting plan
Other features: Hosted Exchange servers, G Suite subscription upgrade, plus unlimited disk space and domains, customizable spam filters, and virus scans
For those looking for more advanced or complex solutions, iPage also offers separate upgrades for a hosted Microsoft Exchange mail server and G Suite integrations.
In fact, iPage is our top choice for hosted Exchange, which comes with mailboxes ranging from 5GB to 25GB. A Microsoft Exchange server covers all the functionality of IMAP (the protocol for accessing your emails from various devices) but includes more business-friendly features.
G Suite, which takes the Gmail Google app to a professional level with programs for word processing, spreadsheets, presentations, and others, emphasizes usability across all devices and comes with 30GB mailboxes.
The business email options, which we'll cover separately later in our list, give organizations much more sending power. If you're looking for options and flexibility, give iPage a look.
Featuring advanced technologies wrapped in user-friendly packaging, InMotion Hosting excels at providing loads of value for customers at affordable rates.
All of the company's hosting plans include its proprietary and real-time SpamSafe protection, which monitors an immense portion of the world's email traffic to identify sources of spam before it comes into InMotion Hosting's network.
Price: $2.49 per month
Inboxes: Base plan comes with one email account but plans scale to unlimited inboxes ranging from 100MB to 20GB
Attachments: 50MB maximum
Custom domain: Connect your own, FREE transfer, or get a new domain name for $12.99
Other features: 90-day money-back guarantee, SpamSafe protection, malware protection, easy Google Apps integration
Even better, InMotion Hosting is among the best when it comes to providing earnest and thorough support. Customers will get a personalized call from an employee to assist with account setup and customizations, and the team is available 24/7 via live chat, phone, and email tickets.
In addition to a hassle-free zero-downtime website transfer, the host's knowledge base is full of helpful guides for changing your MX record, setting up an email client, and other communication settings.
Unfortunately, customers won't unlock unlimited email addresses unless they pay for the highest-tier shared hosting plan, but all Pro Plan subscribers receive an enhanced service-level agreement of 99.999% uptime.
Regardless of which plan you choose, we expect you'll be happy with InMotion Hosting's constantly innovating technologies and services. If not, you'll have an industry-leading 90-day money-back guarantee at your disposal.
Beyond delivering top-notch hosting hardware and stellar support, SiteGround promises speedy and secure SMTP, POP3, and IMAP messages.
The company ranks among the best email hosting providers particularly thanks to its custom-built technologies for speed, security, and efficient troubleshooting.
Even though SiteGround had developed its own automated spam protection platform to prevent emails being sent from a compromised account, the hosting provider partnered with SpamExperts to further improve its services.
Price: $6.99 per month for email and web hosting
Inboxes: Unlimited accounts with mailbox quotas that max out between 2GB and 6GB
Attachments: 80MB maximum, or 50MB when sending through a webmail client
Custom domain: Connect your own, transfer, or register a new one for $15.95
Other features: Pre-installed Roundcube and Horde, cloud storage, cPanel management for forwarding and aliases, plus SpamExperts protection and free CloudFlare CDN
SiteGround operates its platform via Google Cloud hosting to provide additional redundancy and scalability. Each hosting account comes with SSD disk space, automatic daily backups, and the user-friendly cPanel interface for setting up inboxes, filters, autoresponders, and aliases.
We also appreciate how the partnership with Google echoes a commitment to carbon neutrality and 100% renewable energy returns.
Everything goes in hand with SiteGround's long-standing reputation as a web hosting provider that balances cutting-edge infrastructure with incredibly responsive and helpful support channels.
About 90% of all customer support issues are resolved at first contact, with SiteGround promising prompt responses to all chat, phone, or email ticket inquiries — often in less than a minute.
Already offering a solid web-and-email hosting combination, Hostinger partnered with Flock in late 2019 to better serve small businesses and power users.
As a business productivity app creator, Flock delivers a collaboration platform with advanced search functionality, videoconferencing, and calendars. These email plans, priced per user, come with huge mailboxes, at least two mail filters, antivirus scans, and up to 50 email aliases.
Price: $0.99/month for email and web hosting; $0.99 to $2.49/month per mailbox for business email hosting
Inboxes: Base plan comes with one inbox, other hosting plans come with unlimited accounts; business email service comes with 10GB-30GB mailboxes
Attachments: 25MB maximum
Custom domain: FREE domain name registration with annual plan
Other features: Built-in email migration tool, Flock apps integrations, multi-device support, SSD storage, custom control panel, 24/7 support, and weekly backups
For those looking for more straightforward email service, Hostinger represents another remarkably affordable option that resonates with more than 29 million customers worldwide.
We are especially intrigued by the dozens of one-click productivity and collaboration integrations, covering the likes of Asana, Twitter, Todoist, and Google Drive.
The base plan, which is regularly priced at less than $1 per month, restricts site owners to just one email account. Whichever plan you choose, though, you'll be well served with high-performance hardware and surprisingly attentive support.
As the world's largest web hosting company, GoDaddy is responsible for more than 77 million domain names. So, it stands to reason the leading domain registrar is a popular choice for providing among the best email hosting plans, as well.
In addition to the standard webmail-driven email accounts that come with web hosting plans, GoDaddy also offers professional email plans and Microsoft Office 365 hosting services.
Price: $1.00/month for web and email hosting; $1.99/month per user for professional email; or $7.99/month per user for Office 365
Inboxes: Unlimited email accounts; professional mailboxes start at 10GB of storage
Attachments: 20MB maximum
Custom domain: FREE domain name or transfer with annual plan
Other features: Fraud, spam, and virus protection, along with 256-bit encryption, webmail or Microsoft Exchange mailboxes, and optional HIPAA compliance via Office 365
Interestingly, GoDaddy provides new web hosting customers with a full year of a 5GB Office 365 mailbox, more than the one-month trial that Bluehost offers.
We love the idea of giving communicators a glimpse into Microsoft's email and productivity platform, but those not wanting to spend the high renewal rates will want to make sure to cancel the service within the year.
Given the GoDaddy's strong in-house business email service, which can also be paired with an online bookkeeping package, many customers won't need to stick with Office 365 for long.
Businesses especially will appreciate GoDaddy's scalable and secure email services, which sync across multiple devices and support hundreds of aliases.

As champions of unlimited hosting, HostGator doesn't track how much server storage or bandwidth a user consumes. That luxury naturally extends to unlimited email hosting, where customers can create unlimited POP3 email accounts with SMTP and IMAP support.
Check your mail from anywhere with any device, or enjoy the ready-to-go Roundcube and Horde webmail clients.
Price: $2.64 per month for email and web hosting
Inboxes: Unlimited addresses with unmetered storage
Attachments: 50MB for Linux servers, 35MB for Windows users
Custom domain: FREE domain name registration or transfer with annual plans
Other features: SpamAssassin protection, unlimited aliases, autoresponders, and forwarding, along with a 45-day money-back guarantee
Given the company's expertise in providing high-grade hosting environments, HostGator represents the first email hosting service on our list that also accommodates Windows aficionados and fans of entry-level managed WordPress services.
The email host offers all the services you'd expect, including weekly off-site backups, and even offers an upgraded integration with G Suite for those who want the familiar Gmail interface.
Otherwise, HostGator customers can set up and manage their e mail hosting services through the familiar and comfortable cPanel interface. Beware of higher-than-normal renewal fees with HostGator, but the high-quality infrastructure remains a good value.

As the hosting provider of choice for more than 60% of the Fortune 100 and one of the most trusted brands for business-grade hosting, Rackspace is clearly a top choice for those serious about their sending power.
The service provider's in-house email hosting solutions are among the best you'll find anywhere, with Rackspace's massive 25GB mailboxes, unlimited aliases and forwarding, and a 100% uptime guarantee.
Price: Starts at $2.99/month per user and comes with a 14-day FREE trial; Office 365 plans begin at $5/month per user, and hosted Exchange begins at $10.99/month per user
Inboxes: 25GB mailboxes with unlimited aliases
Attachments: 50MB maximum
Custom domain: Connect you own or register a new domain name for $10
Other features: IMAP support for Outlook, mobile, and webmail access, plus free migrations, 100% uptime guarantee, and premium spam and virus protection
In addition to the user-friendly Rackspace email server, the company offers both Microsoft Office 365 and a hosted Exchange service for businesses seeking additional collaboration and productivity.
By helping businesses move their Exchange server into the cloud, Rackspace alleviates the extra cost and headaches associated with managing the complicated on-premises architecture.
We're a little surprised Rackspace doesn't provide more integrations for those with a Gmail account or G Suite license. But the company, listed in the Gartner's 2020 Magic Quadrant for public cloud infrastructure and managed services, is more than ready to wow you with an incredible experience backed by Rackspace's legendary Fanatical Support crew.
Get started on Rackspace now »

When it comes to cheap email hosting that still provides all the features and scalability site owners need, look no further than InterServer. The company's email service, which comes with all the standard web hosting tools, includes unlimited storage, spam and virus protection, and a stellar 100% uptime guarantee.
InterServer takes a hands-on, user-friendly approach to innovative technologies that deliver results without breaking the bank.
Price: $0.01 for the first month, then $0.01 monthly
Inboxes: Unlimited accounts with massive 25GB mailboxes
Attachments: 50MB maximum (35MB recommended)
Custom domain: FREE transfer, new domain name for $7.99, or connect your own
Other features: Guaranteed email delivery, free migration, unlimited aliases, group lists, and forwarding, plus available upgrades for archiving and file storage
In addition to the massive mailboxes, we appreciate InterServer for its end-to-end encrypted emails and anonymous email service, plus custom-built malware and brute-force protection programs.
We wish the hosting package came with automated backups and a free domain, but the $7.99 registration fee is significantly less than you'll typically find among competitors.
The company is a rare email provider compared to the many hosts that typically look to lock new customers into long-term deals; the web hosting service instead operates solely on month-to-month hosting contracts without price increases.
Sound appealing? Sign up by clicking the button below:

As one of the industry's most eco-friendly web hosting providers, GreenGeeks returns three times the energy its servers consume back to the power grid in the form of renewable energy credits.
That feel-good story aside, though, GreenGeeks offers strong service in the form of SSD storage and unlimited inboxes, forwarders, and aliases.
With GreenGeeks, each user can send his or her emails securely via sendmail or SMTP and access inboxes through IMAP, SMTP, or POP3.
Price: $2.95 per month for web and email hosting
Inboxes: Unlimited mailboxes are set to 250MB by default but can be set to unlimited
Attachments: 50MB maximum
Custom domain: FREE domain name registration or transfer with annual plan
Other features: Free daily backups, built-in spam filtering, real-time virus and malware scanning, and proactive server monitoring
A full-featured and affordable GreenGeeks shared hosting plan comes with all the email and domain name services needed to power small business communications. Add in the free website builder and WordPress hosting services, and GreenGeeks is a well-rounded service provider to get your idea off the ground.
The email host relies on familiar technologies like cPanel to enable you to easily manage and scale your inboxes as needed. If you get stuck, you can always turn to the team's always-available support agents.

As is evident by the number of top email hosting providers offering premium upgrades to Microsoft Office 365, the cloud-based software suite is a go-to email hosting service for those looking to move beyond basic hosting services.
Communicators can cut out the middleman and go straight to the source for high-quality Office 365 service, which comes with the full suite of familiar productivity software programs.
Price: $69.99/year for personal use or starting at $8.25/user per month for businesses
Inboxes: One 50GB mailbox per license
Attachments: 150MB maximum (but be careful: many other email clients only accept 50MB attachments)
Custom domain: Connect your own (or find a top domain name registrar)
Other features: Enjoy Microsoft Word, Excel, Outlook, and PowerPoint, plus 60 minutes of Skype calls per month and 1TB of file storage in OneDrive
As you can see, Microsoft Office 365 goes far beyond just the Microsoft Outlook email client. The comprehensive service is perfectly suited for both individual users, small businesses, and even large-scale operations.
We found the cloud storage to be exceptionally fast — if perhaps a little limited when it comes to growing your plan. Unlimited storage for your emails is only possible by upgrading to the enterprise-level packages.
Even though Office 365 isn't your typical email hosting service, the platform is still backed by a 99.9% uptime guarantee and 24/7 support.
Get started on Microsoft Office 365 now »

Google's answer to cloud-based productivity, collaboration, and communication, G Suite extends the ever-popular Gmail email client into instant messaging, videoconferencing, and scheduling for individuals and businesses.
The free plan associated with Gmail is great, but it doesn't enable users to connect a custom domain or leverage any of the stellar platform's other programs.
The email host's entry-level plan allocates an impressive 30GB of mailbox space to each user, which becomes unlimited as you upgrade your service.
Price: $6.00 per user per month, up to $25 per user per month for enterprise organizations
Inboxes: Basic plan comes with a 30GB mailbox, otherwise storage is unlimited
Attachments: 25MB sending maximum, 50MB for receiving
Custom domain: Connect your own or register a new domain name for $12 per year
Other features: Spam filtering and virus blocking tools, IMAP and POP support, offline editor, built-in migration tools, plus video conferencing, shared calendars, and Google Docs, Sheets, Slides, Forms, and a site builder
G Suite, which is a little cheaper than Office 365, also offers a more cohesive and seamless domain name registration experience for those looking to create a new custom address.
We're especially fond of the administrative controls users can have over their email server, as well: two-step verification, single sign-on, and endpoint management all enable businesses to keep their data secure.
However, Gmail is oddly one of the few platforms to not enable users to sort their emails into folders. Although labels ultimately allow for more flexibility, the change is a noticeable departure from the norm.

The emailing specialists concentrate on the core functions and workflows of online communication. There is plenty of collaboration on contacts, group emails, and calendars, but Fastmail doesn't get bogged down in other productivity programs.
Instead, you get a thoughtful, streamlined inbox available on browsers, mobile, and desktop that prioritizes privacy and usability. Senders can import their inboxes from other services, search messages' full text, and create threaded emails to stay organized.
Price: $3/month per user for email hosting service that starts with a 30-day FREE trial
Inboxes: 2-100GB mail storage per user, depending on which plan you choose
Attachments: 50MB maximum for most customers
Custom domain: Connect your own as part of the Standard or Professional packages
Other features: Integrated calendars, contact lists, and groups, along with a mail import tool and expert support. Robust, ad-free, and private mail service aimed at improving your workflows
As the flagship organization of a trio of companies, Fastmail leads a pair of sister organizations in Topicbox and Pobox that enable customers to extend their experience with emails. (Fastmail customers get a discount if they sign up for the other services.)
We especially appreciate that Fastmail, as the world's largest independent email service provider, also leads the way on a few open-source projects aimed at improving overall email performance: Cyrus IMAP and JMAP.
The Australian hosting service has spent more than two decades refining its platform, but we'd like to see more message-level or end-to-end encryption. However, Fastmail keeps your data private and will not scan your messages for marketing purposes.

Closing out our list of the best email hosting providers is another cloud-based alternative to the powerhouses from Microsoft and Google.
Zoho may not enjoy the same name recognition or clout as the others, but more than 50 million global users can vouch for the effectiveness of Zoho Mail and the Zoho Workplace suite of apps, including services for file management, chatting, online training, and virtual meetings.
Price: $1/month per user for just email hosting service; $3/month per user for the complete suite of applications
Inboxes: 30GB mail storage per user
Attachments: 20MB maximum for most customers; advanced plans enable users to attach a file of up to 250MB to send as a link
Custom domain: Connect your own or register a new domain name for $10 per year
Other features: Email routing, folder sharing, offline access, message recall, hosted Exchange ActiveSync, mobile applications, and developer tools for custom integrations
Zoho Workplace goes beyond email to include tools for file management and storage, spreadsheets, presentations, and online meetings and training.
In addition to the standard IMAP and POP support you'd expect from an email client, Zoho Mail comes with support for Windows and Android devices, along with developer-friendly tools to extend functionality even further.
When you add in Zoho Workplace's full suite of word processing, social intranet, and other software programs, Zoho quickly becomes a more cost-effective option for cost-conscious organizations.
Still not sure what you're looking for? Email vs. web hosting plans are fairly similar, but the comparison can get a little confusing at times.
Generally speaking, all hosting services entail renting space on a server to store files and securely transmit that information to your audience — whether it's website files or emails.
Definition: Email hosting involves renting space on an email server and relying on the service to send and receive messages, usually with a custom domain name
Most website hosting plans include at least one free email hosting account and the basic spam filter, virus protection, and free domain registration — but they can be a bit too simple for large businesses.
Organizations that require a bit more sending power will want to separate their mail server from the computer that stores and processes its website files. That email server can be a separate shared hosting environment or even an entire dedicated server.
Regardless, be sure to find web and email hosting providers that support an IMAP mail server, which enables you to send and retrieve your emails from any device or location.
The older protocol, POP, deletes messages from the server once they're retrieved and restricts communicators to using only one device.
For those who need a little more firepower with their email server, hosting services like Office 365, G Suite, and Zoho typically offer larger mailboxes, more protections, and software to help you manage projects and collaborate with others.
Plus, they each come with a popular and familiar email client: Outlook, Gmail, or Zoho Mail. These options will be more expensive but can bring even greater value than consolidating all your hosting services with one provider.
Business emails currently make up nearly 140 billion of the messages sent and received each day, with each person opening, reading, and responding to roughly 120 emails daily.
Professionals and marketers consistently rank email as the preferred communication method for business-oriented emails, identifying the messages as the most effective tactic for growing awareness, acquisition, conversion, and retention.
Even though emailing may seem relatively outdated when compared with services like video conferencing and chat solutions, there are still tons of reasons why you'll want the service:
Professionalism: A custom domain name immediately lends your emails more authority. Show customers you're willing to make meager investments in your brand.
Control of your data: Backups are much more available and accessible, and you can oversee any potential storage or compliance requirements.
Additional features: Emails go beyond inboxes. What about forwarding, autoresponders, newsletters, and marketing or customer relations communications? Professional-grade email hosting also comes with productivity and collaboration software.
Searching for the best email hosting service is bound to pay dividends when it comes to your brand's credibility and your own peace of mind.
Think of it from your visitors' or customers' point of view: would they want to trust an organization that emails from a free Yahoo or Hotmail account? Or from an address that matches their website that can't be spoofed or imitated? Which sounds more legit?
Three-quarters of customers surveyed by GoDaddy in 2016 responded that an organization that used a domain-based email address that matched its website was a very important factor when it comes to trusting an online small business.
On the other hand, if a company uses a generic, free email address, customers are 35% more likely to research the brand further through online reviews.
More than a third of the world's population operates an active email account, with business addresses accounting for roughly 25% of all inboxes.
As you may imagine, the best email hosting enables you to maximize your success by connecting with potential clients and customers.
Reliable communications, courtesy of your email host, helps you build trust, troubleshoot any problems, and build brand loyalty. Here are some key metrics to look for, and the specific features you'll need:
Security: Virus scans, anti-malware measures, and spam filters are a start. Automatic daily backups and HIPAA or FISMA compliance are even better.
Ease of use: 24/7 customer service via phone, chat, and email, plus an intuitive online interface and pre-configured webmail clients.
Storage: Unlimited is always good, scalable plans are even better. Look for hosts that offer archiving services.
Compatibility: Email users' four favorite letters: IMAP. That protocol enables you to check your inbox from phones, tablets, and computers from anywhere. Keep an eye out for providers that explain how to set up your mail clients or mobile apps.
When searching for the best server for your email accounts, pay attention to the features and functionalities associated with custom domain names.
Whether you're an individual seeking a new job or starting a small business, a professional email address lends you more credibility and authority — meaning your emails will be more likely to be opened, read, and responded to. Happy sending!
Considering nearly 60% of adults check their email first thing in the morning, email communications represent a major part of your online presence — it's not worth screwing up.
That's why we typically recommend spending at least a few dollars on an email service that comes with everything you need to succeed.
That being said, you'll see a few different pricing formats when you shop for email hosting. Similar to how cloud hosting can be billed either monthly or by-the-minute consumption, professional email plans typically either come in a flat monthly rate or on a per user, per month basis.
All-in-One Plans: $5 or Less per Month
For basic emailing needs, the free email accounts that come as part of web hosting services are perfect solutions. You'll get one bill to pay for all your online needs.
You may not get all the productivity and collaboration tools as you would with services that offer per-inbox pricing, but most hosting providers include hundreds of free one-click installation scripts for things like subscription forms, newsletters, and email marketing.
For the lowest prices, be sure to check out email accounts and hosting from Hostinger and GoDaddy, which offer basic plans for just around $1 per month.
If you want to step up your game, providers like Bluehost, A2 Hosting, and SiteGround give customers loads of sending power for roughly $5 per month.
Per-Inbox Pricing: $1 to $10 per User
Professional email hosting providers lend your inbox a sense of legitimacy by replacing Google, Zoho, or Yahoo's name with your custom domain.
Instead of widespread, one-size-fits-all web and email hosting, organizations can take a little more control over their costs and technology footprint by finding a host or cloud service that charges per user or account.
Zoho carries an intriguing entry-level plan that costs just $1 per month per user, about the same cost as Hostinger's upgraded business email inboxes.
At this price scheme, however, you'll mostly be looking at more expensive services from Office 365, G Suite, Zoho, and the like.
Basic Office 365 accounts start at $3 per month per license if you go through Microsoft, but the platform frequently shows up as an add-on to web hosting plans. That perk, which comes with the added convenience of consolidating your billings, can range anywhere from $6 to $10 per inbox.
Host Exchange mail servers represent the most expensive per-user email option given the specialized hardware and support needed. Expect to pay $10 or more for the harder-to-find service.
What About Free?
It's hard to argue with a free plan. Unlike web hosting, zero-cost email services are generally a surprisingly good bet, considering the storage and sending capacities you get with Gmail, Yahoo, and Hotmail accounts.
For those willing to stray from the traditional free email account, Zoho actually offers an impressive service for up to five users on a custom domain.
Email accounts come with 5GB per inbox and 25MB attachment limit. You'll be limited to webmail access only, but Zoho offers an intriguing and cost-effective glimpse into business-class email hosting.
While combining your email service with a web hosting plan works great for individuals, freelancers, bloggers, and small businesses, larger organizations will probably want to opt for one of the best email hosting plans for businesses.
Email hosting providers, including Rackspace, Office 365, G Suite, Rackspace, and even Zoho, will likely be a more expensive route, but you can expect to receive premium IMAP support, spam and virus protection, server monitoring, and stellar uptime.
Determining which service works best depends on each organization's requirements, budget, and familiarity. Here's our breakdown:
When breaking down the best email hosting for businesses, G Suite holds a pretty clear lead over Office 365 when it comes to popularity, with about 57% of the market choosing Google's service. However, Zoho is a more cost-effective option that still has all the same features.
Freelancers and smaller businesses, however, will likely appreciate the efficiency and savings associated with adding an email hosting service and email marketing tools through their web host.
With their low-cost, high-value plans, Zoho, SiteGround, and Bluehost meet these needs with aplomb.
Great! By now, you've probably got a good idea of where you want to set up your inboxes.
Now what?
From here, it's time to figure out the best ways to leverage this communication method to your biggest benefit.
For personal users, that may simply mean organizing your inbox or simply starting over on a custom domain to escape the mountain of subscriptions and unread emails.
Businesses, however, may even reinvent their workflows to incorporate collaboration, tasklists, and other efficiencies to reach Inbox Zero. (Interestingly, Inbox Zero is not meant to keep your account clear of clutter and unread messages. Instead, the concept targets how much time, energy, and stress you spend with emails.)
According to a 2019 study from Adobe, consumers spend almost six hours each day checking their work and personal email accounts.
With so much time spent interacting with email software, users expect the platforms to be fast, efficient, and easy to understand.
A quick distinction: Email hosting refers to the infrastructure associated with storing and processing of messages, while email clients represent the software interface that lets you read, compose, and send information.
Be sure to spend time with the most popular email clients and webmail programs to figure out which fits your usage style best. The internet is full of free and open-source options for you to try.
While you're at it, take a look at programs for email marketing, which covers newletter creation and subscriber list management, along with customer relationship and helpdesk platforms that use email to improve your brand's communications with customers.
In addition to the scores of options you'll find independently, cPanel and script libraries have collected many of the most popular options right in your web hosting control panel.
Happy sending!