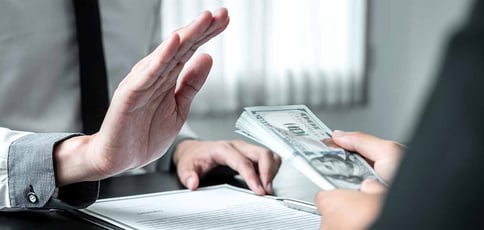 Who doesn't love free stuff? The best free website hosting services enable you to publish online quickly with popular web technologies, all without having to pull out your wallet.
You can find a ton of freebies if you know where to look — and some will be much better suited for your site in the long run. Here, we've compiled a list of the top free web hosting sites along with a few super-cheap alternatives that offer much better service and support.
Read on to figure out the best way to save money on your blog, online store, portfolio, or side project, while still getting all the features and support you need.
Best Almost-Free Website Hosting Plans
Before committing to a free hosting plan for a blog or website, you should review the available options from low-cost web hosting companies offering budget-friendly shared Linux plans.
Economical hosts like Hostinger and other providers listed in this section reduce the price for a single-domain hosting account to as low as $1.99 per month.
Website owners have more options for building their online presence with cheap hosting in this price range when compared to the free services we'll cover later. These hosts provide all of the advantages of independent web publishing, plus support for more than 400 open-source applications.
1. Hostinger – Best Overall Value
For the fundamentals of a database-driven website, blog, or ecommerce store on LAMP servers with cPanel management, we wholeheartedly recommend Hostinger's single-domain plan over most free website hosting plans.
With Hostinger, publishers can run a managed WordPress site with a free SSL certificate for HTTPS security and an optimized LiteSpeed cache for faster performance.
Unlimited everything, from storage to databases
FREE site builder & WP performance upgrades
FREE daily or weekly backups
Custom control panel and auto-installation scripts
SSH access & unlimited FREE SSL certificates
CHEAP
RATING 4.9 ★★★★★ Our Review
Hostinger: Our Expert's Review
Laura Bernheim (HostingAdvice.com): As the shared hosting market becomes increasingly saturated, unlimited storage, bandwidth, and email accounts have become surprisingly average. Hostinger, however, extends the routine, expected metrics to greater lengths — the number of websites, databases, FTP users, subdomains, and parked domains are all unrestricted for most customers. Go to full review »
| Money Back Guarantee | Disk Space | Domain Name | Setup Time |
| --- | --- | --- | --- |
| 30 days | 50 GB SSD – 200 GB SSD | FREE (1 year) | 3 minutes |
Bloggers can publish with their own Google AdSense campaign to cover hosting costs or use WooCommerce to operate an online ecommerce store.
With Hostinger's single-domain plan, developers can create a subdomain for staging, use Git for version control, and enjoy the fastest load times for web pages using the free Cloudflare CDN integration.
At only $1.99 per month, this combination can't be beaten and represents the best web hosting in terms of sheer long-term value. Choose Hostinger over free hosting for most projects.
2. Bluehost – Best for WordPress Hosting
Bluehost exemplifies what happens when you merge high-powered hosting with free software — an intriguing and affordable combination that lets you run the world's most popular content management system efficiently and securely.
One of just three hosting providers to earn the coveted seal of approval from WordPress leadership (the others being SiteGround and DreamHost), Bluehost has supported the platform for more than a decade.
Cheap shared hosting from a trusted provider
Ideal for hosting a WordPress website
FREE Weebly website builder and Cloudflare CDN
Unlimited traffic and 24/7 live chat support
Get 70% off today with our Bluehost coupon
CHEAP
RATING 4.7 ★★★★★ Our Review
Bluehost: Our Expert's Review
Ryan Frankel (HostingAdvice.com): Bluehost pricing is about as competitive as the industry offers. Sign up for a shared hosting plan for as little as $2.95 per month, and WordPress hosting packages are consistently priced; a VPS plan starts at around $19.99 per month; and the dedicated hosting rates are as little as $79.99 per month. Go to full review »
| Money Back Guarantee | Disk Space | Domain Name | Setup Time |
| --- | --- | --- | --- |
| 30 days | 10 GB SSD – 100 GB SSD | FREE (1 year) | 5 minutes |
In addition to staffing support teams with in-house WordPress experts, the company even assigns its engineers to develop and contribute full time to the WordPress core code.
Customers can choose to develop their site with a traditional website builder or through the building blocks style of Gutenberg, the new WordPress editing interface. Either way, you'll experience drag-and-drop functionality and work with AI-powered templates that drastically reduce your time to launch.
Bluehost's single-domain plan comes with 50GB of high-performance SSD storage, plus a free SSL certificate, domain name registration, and content delivery network. WordPress users will especially appreciate the dozens of optimized free themes included with all Bluehost packages.
If your website or online business relies on WordPress hosting, use Bluehost for the best performance speeds in production at the price of a budget hosting plan.
3. iPage – Best Unlimited Hosting
With a price tag of just $4.99 per month, iPage's shared hosting plan comes with all the features of typical shared hosting, including unlimited storage, unmetered bandwidth, and MySQL database usage.
The company's web hosting plans include a free domain name registration, which typically costs between $10 and $15 at other registrars.
Easy setup and superb reliability since 1998
FREE domain and Google marketing included
Unlimited bandwidth, storage, and emails
FREE site builder and shopping cart
Get more than 38% off today (was $7.99/month)
CHEAP
RATING 4.7 ★★★★★ Our Review
iPage: Our Expert's Review
PJ Fancher (HostingAdvice.com): Whether you're a first-time website owner or a web veteran, iPage's excellent hosting services and a fantastic list of extras make the brand one of the best values in web hosting. Unlimited disk space, scalable bandwidth, and emails are just a part of what makes iPage's shared hosting plan a great deal. Go to full review »
| Money Back Guarantee | Disk Space | Domain Name | Setup Time |
| --- | --- | --- | --- |
| 30 days | Unlimited | FREE (1 year) | 5 minutes |
The iPage Go plan will be sufficient for most users who self-publish blogs, wikis, and forums, or for small business ecommerce support. The provider includes Softaculous on all shared hosting plans with one-click installation of over 400 open-source scripts.
All in all, iPage offers a remarkably complete hosting service with ample resources for less than $2 per month. Website owners will have everything they need to build an online brand without restrictions on disk space, bandwidth, databases, domains, or email.
4. A2 Hosting – Fastest Hosting Service
A2 Hosting is a highly recommended web host with high-performance hardware, a commitment to datacenter innovation, and strong platform security.
A2 Hosting has been a favorite of programmers and developers for nearly 20 years, offering Linux servers with integrated database support.
FREE Cloudflare CDN and SSD speed boost
Optimized caching and 1-click installs
Unlimited email, domains, and databases
Advanced security and FREE HackScan
24/7 support via phone, chat & tickets
CHEAP
RATING 4.5 ★★★★★ Our Review
A2 Hosting: Our Expert's Review
Alexandra Anderson (HostingAdvice.com): There are plenty of excellent cPanel shared hosting providers out there, so what sets A2 Hosting apart from the rest. Not only does the company offer a ton of features, but it has custom-built its packages for enhanced performance, speed, and security — putting your priorities above pricing. Go to full review »
| Money Back Guarantee | Disk Space | Domain Name | Setup Time |
| --- | --- | --- | --- |
| 30 days | 100 GB SSD – Unlimited SSD | New or Transfer | 4 minutes |
We find it exceptionally easy to scale across different hosting plans and platforms at A2 Hosting, as web traffic and development requirements change for a project over time. A2 Optimized websites load pages more than six times faster than other sites that tout high performance.
The single-domain plan at A2 Hosting costs $2.99 per month. For unlimited domain name support, you'll only have to pay about $5 per month.
A2 Hosting offers options for shared web servers with low-density provisioning and elite hardware configurations that include more advanced options for load balancing and web page caching.
These Turbo servers perform up to 20 times faster than most competitors and range from roughly $10 to $15 per month.
Many users seek out free hosting to escape from high renewal costs at companies like A2 Hosting, but these services cannot compete with the developer options and performance of the Turbo server platform.
5. InMotion Hosting – Free Domain With Web Hosting
For web publishers seeking a balance of low costs and high performance, InMotion Hosting is a perfect choice with plans starting at $2.29 per month.
In addition to modern technology and an industry-leading money-back guarantee, nearly every hosting plan comes with a free domain name registration.
Free hosting services generally do not provide custom domain name registration or customer support, which means InMotion Hosting resolves a main issue right off the bat.
FREE BoldGrid site builder and templates
FREE website, domain, and cPanel migrations
SSD storage makes your site load up to 20x faster
Security suite includes SSL and hack protection
Unlimited bandwidth and email accounts
CHEAP
RATING 4.7 ★★★★★ Our Review
InMotion: Our Expert's Review
PJ Fancher (HostingAdvice.com): InMotion Hosting offers an excellent business-class shared hosting plan — with a price tag lower than several other budget hosts. For the IT crowd in the audience, you'll appreciate SSH access, as well as support for PHP, Ruby, Perl, Python, WP-CLI, and other popular languages. Go to full review »
| Money Back Guarantee | Disk Space | Domain Name | Setup Time |
| --- | --- | --- | --- |
| 90 days | 100 GB SSD – Unlimited | FREE (1 year) | 5 minutes |
InMotion Hosting's Launch plan includes everything developers need for building websites on LAMP with cPanel configuration of server settings and domains. Even better, new customers can try the service for up to three months and still get a full refund.
Customers get 10 custom email addresses, marketing tools, and a security suite on high-performance hardware that benchmarks three times faster than other platforms. The plan includes 50GB SSD storage and unlimited monthly bandwidth.
InMotion Hosting developed the UltraStack platform for its shared Linux platform, which includes NGINX for reverse-proxy caching that improves the performance of websites even more.
With a free domain name and SSL/TLS certificate plus PostgreSQL and MySQL support, InMotion Hosting has many professional development options not found on free service plans.
Best Free Web Hosting Services
Free web hosting services come with a mixed reputation. The worst services can be magnets for spam, with slow loading web pages and pay-per-click advertising that dominates the message of the content.
The best services tend to be online communities associated with brands like Wix, WordPress, or GoDaddy that offer free versions of products to get you in the door. Features may be limited to encourage site owners to upgrade to a paid service.
Some providers, such as SiteGround, InMotion Hosting, and AccuWeb Hosting, offer special discounts or a free plan to students, teachers, or nonprofit organizations.
We selected the free hosting platforms below on the basis of popularity and the value of the available technological services for web publishers.
Don't expect free web hosting sites to compete with high-performance cloud platforms or high-volume file storage services for downloads.
Rather, they provide an excellent resource for independent publishers to build niche content that supports small business brands and services. Hobbyists and students can also make use of free hosting platforms for web publishing requirements.
Most free hosting provider services do not permit custom database installation or web server configuration, but you can use these platforms to save time and build your brand identity.
6. Kamatera – Free Cloud Hosting
Offering the most computing power and flexibility, Kamatera gives new customers 30 days of free hosting credit at signup to use on any of the company's web server platforms.
Kamatera offers an advanced cloud hosting platform with high-performance hardware and support for the requirements of programming teams.
Customize your cloud environment for FREE
Work with a dedicated account manager
Dozens of Windows & Linux OS choices
Complimentary live chat support open 24/7
Launch in less than 60 seconds
CHEAP
RATING 4.9 ★★★★★ Our Review
Kamatera: Our Expert's Review
Laura Bernheim (HostingAdvice.com): That's right, Kamatera gives new customers FREE access to high-quality VPS hosting for 30 days. Upgrade your bargain-basement shared hosting to a cloud server configured to your exact specifications for no cost. Go to full review »
| Money Back Guarantee | Disk Space | Domain Name | Setup Time |
| --- | --- | --- | --- |
| 30-day FREE trial | 20 GB SSD – 4 TB SSD | New or Transfer | 3 minutes |
Although Kamatera is not a long-term free solution, you can't find better hosting resources to try for free without any commitment.
Kamatera's free hosting offer allows developers to configure their own cloud computing environment, VPS partition, or dedicated hosting exactly as they see fit.
Customers can install their choice of any operating system, database, and programming language. Kamatera provides more than 40 operating system configurations, plus the option to upload your own.
We recommend using the month of free hosting at Kamatera to develop your websites and mobile applications, then move them into production.
7. Wix – Best Free Website Builder
More than 180 million people worldwide have chosen Wix to create a free website, so why not you?
The popular, free website builder boasts more than 500 customizable templates, making it easy to launch a new website for most professional requirements. Each theme includes demo website content and is optimized for responsive mobile displays.
Start designing for FREE
FREE domain with most plans
Drag-and-drop templates, specific to industry
Exhaustive knowledgebase of articles
Huge app market available
CHEAP
RATING 4.8 ★★★★★ Our Review
Alexandra Anderson (HostingAdvice.com): Wix is known as a web-leading site builder service that's one of the most affordable — because getting started is absolutely free and about as easy as processes get. You can log in via Facebook or your Gmail account and be editing your new web property within minutes. Go to full review »
| Money Back Guarantee | Disk Space | Domain Name | Setup Time |
| --- | --- | --- | --- |
| 14-day FREE trial | 2 GB – Unlimited | FREE (1 year) | 4 minutes |
Wix offers completely free web hosting for sites built on its platform, only charging customers if they prefer to use a custom domain name or need more disk space.
The drag-and-drop builder, which is easier for beginners than WordPress, is a strong challenger when it comes to web publishing. Wix even launched a campaign targeting WordPress in an attempt to lure more users.
Wix's cloud-based service includes managed HTTPS encryption and database support. The free hosting service at Wix does not force external paid advertisements on web pages, which are hosted on a branded subdomain.
Small business owners and independent web publishers can save a lot of money on development costs by adopting a low-code solution like Wix.
Websites hosted on the free Wix platform will resolve to username.wixsite.com, and upgrading to use a personal or business domain starts at $14 per month.
8. Cloudways – Managed Cloud Hosting Free Trial
You won't get much free web hosting, but the three-day free trial from Cloudways may just be enough to convince you to spring for the elevated services and customer support the company offers.
Cloudways enables aspiring site owners to leverage the power of Amazon Web Service, DigitalOcean, Linode, Vultr, Google Cloud hosting plans without the time and aggravation of configuring and maintaining the complex infrastructure
Try managed cloud hosting for FREE for 3 days
Optimize costs with custom server configurations
Scale server resources up and down as needed
FREE SSL certificates, site migrations, and CDN
Use code HOSTINGADVICE for 25% OFF
CHEAP
RATING 4.7 ★★★★★ Our Review
Cloudways: Our Expert's Review
Alexandra Anderson (HostingAdvice.com): Cloudways doesn't offer a dollars-per-month shared hosting plan. But the company still brings a significant bargain to the table, thanks to a (short) free trial. Go to full review »
| Money Back Guarantee | Disk Space | Domain Name | Setup Time |
| --- | --- | --- | --- |
| 3-day FREE trial | 20 GB SSD – 4 TB SSD | New or Transfer | 8 minutes |
In addition to user-friendly interfaces and management portals, the hosting provider can deploy technology stacks especially configured for many of the top publishing applications.
As such, Cloudways makes for a strong WordPress host for rapidly growing business websites that have outgrown cheap web hosting. Consider Cloudways a fairly cheaper version of WP Engine.
As a cloud services provider, the company's plans are more flexible than other providers on this list. Cloudways follows the pay-as-you-go pricing model common with other cloud providers, meaning you'll pay only for the computing resources used each month.
Each plan comes with dedicated firewalls and 24/7 monitoring, along with automated backups, staging environments, and advanced caching tools.
The best free blog hosting option for those looking to scale to larger audiences is undoubtedly WordPress.com.
Managed by Automattic, the development company behind the open-source CMS you see with seemingly any hosting plan, WordPress.com allows users to publish a free blog or ecommerce site on a subdomain as part of a wider community.
Optimized hosting from the team behind the world's #1 CMS
FREE subdomain and dozens of free themes
SEO, site stats, and social media sharing tools
Easy updates and community support
Free forever — no credit card required
To use a registered domain name for your site, however, you'll need to upgrade to a $4-per-month managed WordPress hosting plan (or check out our recommendations for best WordPress hosts).
Many niche bloggers and hobbyists are still able to build successfully on this platform, which also supports sales, marketing, and SEO campaigns.
Because the full WordPress.org application is more difficult to pick up than a drag-and-drop site builder, we recommend using the free WordPress hosting service to learn the CMS and prepare for a move to a paid hosting plan.
With the free WordPress site, you'll have to deal with third-party advertisements and limitations on which plugins and themes you can use.
Upgrade your WordPress website to budget hosting for professional projects like business websites, galleries, forums, and ecommerce stores.
10. GoDaddy – Free Website Builder
GoDaddy is known for domain registrations and beginner-friendly hosting, but the famous brand also offers website builder service with free hosting integrated into the company's wider portfolio of tools.
The site builder functions similarly to Wix with an onboarding process that allows publishers to choose themes based on the requirements of their business. Each theme populates with demo content, including menus, blocks, and images.
Get started for FREE, no credit-card required
Easy-to-use interface with tons of customization
GoDaddy InSight™ provides tailored action plans
99.9% uptime with an award-winning support team
Built-in marketing tools and expertise
WEBSITE BUILDER
RATING 4.8 ★★★★★ Our Review
GoDaddy: Our Expert's Review
Ryan Frankel (HostingAdvice.com): GoDaddy uses a custom website builder and easy access to dozens of content management systems to offer a user-friendly site-building solution to customers. Most of GoDaddy's hosting plans include these options at no additional cost. Go to full review »
| Money Back Guarantee | Disk Space | Domain Name | Setup Time |
| --- | --- | --- | --- |
| 30 days | Unlimited | New or Transfer | 5 minutes |
The themes are mobile-friendly and professional, allowing beginners to launch new websites in only a few hours.
GoDaddy's site builder offers completely free hosting under a subdomain on godaddysites.com. If you prefer to use your own business, brand, or personal domain name, you'll spend only $2.99 per month to upgrade.
The GoDaddy site builder is available on full-strength shared Linux web hosting plans, but a credit card is not required to sign up for the free hosting service.
The themes and website templates included with the GoDaddy site builder are surprisingly good, even when compared to pro themes for WordPress and Drupal.
GoDaddy's free hosting service makes it easy to experiment with web design. Freelance developers can use the website templates to speed up the deployment of professional business solutions for clients.
11. Weebly – Free Online Store
Weebly is the best free hosting solution for building a complete ecommerce website with unlimited products and a shopping cart.
Weebly offers professional website templates ready-made for design professionals, online shops for product sales, food pickup and delivery apps, travel reservation websites, and other common business ventures.
All-in-one hosting and drag-and-drop builder
Start designing for FREE, upgrade whenever
Easily build a blog, personal site, or online store
100s of FREE templates for websites
$100 credit toward Google advertising
CHEAP
RATING 4.6 ★★★★★ Our Review
Weebly: Our Expert's Review
Alexandra Anderson (HostingAdvice.com): Weebly is a well-known name in the cheap shared hosting space — not necessarily due to competitive pricing but because several of the web's leading low-cost hosting providers have opted to include Weebly software for free, adding value to their existing offerings. It's worth noting Weebly does offer a free plan, but websites are found on a Weebly subdomain and display Weebly advertising. Go to full review »
| Money Back Guarantee | Disk Space | Domain Name | Setup Time |
| --- | --- | --- | --- |
| 30 days | 500 MB – Unlimited | FREE (w/ paid plans) | 3 minutes |
Payment processing company Square purchased Weebly in 2008, further connecting entrepreneurs with business-critical tools for ecommerce. Every Weebly site includes options for Instagram integration and free use of a Square payment gateway for checkout.
Free hosting accounts receive free SSL security and marketing components for SEO and lead capture. Upgrade to use your own domain for $5 per month or choose a business plan for more extensive ecommerce features on the platform.
The Weebly site builder and ecommerce administration panel make it easy to manage web design. The free account is limited to access on a subdomain at the .square.site address.
12. AtSpace – Best Free Hosting for Developers
AtSpace is one of the most professional free hosting services in the marketplace. The free hosting plan at AtSpace supports one domain name with a single MySQL database, 1GB of storage space, and unmetered bandwidth.
Site owners can use custom domain names from any registrar, and AtSpace lends support for three subdomains and one email account.

AtSpace is one of the few free hosting companies where users have access to database developer tools. The AtSpace platform offers the Zacky installer — instead of Softaculous or Fantastico — with similar functionality for one-click MySQL database installations.
The owners of more than 2 million domain names trust the AtSpace free hosting service, which comes with a proprietary control panel.
Unlike other companies, AtSpace does not pressure customers to upgrade to more expensive plans for services (although shared hosting plans start at just $0.08 per month).
13. FreeHosting – Free cPanel Hosting
FreeHosting.com offers what none of the other competitors in the industry provide — free cPanel hosting accounts.
Rather than offering a gimmick plan or upsell path, FreeHosting promises a free hosting plan for the life of the domain registration. The FreeHosting plan includes shared LAMP servers with 10GB of disk space for storage and unlimited bandwidth.

Users will be limited to a single domain with just one MySQL database and one email account. With FreeHosting, however, site owners receive a full-service hosting platform complete with free cPanel hosting and Softaculous script options.
The hosting company generates income by selling one-time upgrades to the free domain plan. Customers will have to pay an additional fee if they require another subdomain, shell access, multiple PHP versions, an advanced TLS certificate, or crontab support, they will have to .
Users can sign up for a FreeHosting account without a credit card but will need to have their own domain name to use the service. The paid hosting package costs $8 per month.
AwardSpace is a rare hosting service where users can receive free hosting with full PHP and MySQL support.
The free account at AwardSpace includes one MySQL database, 250MB of disk space, and 5GB of monthly bandwidth. The company uses a custom administration panel where you can add support for registered domain names.

AwardSpace's free hosting account includes email, FTP, Zacky Tools Installer, SSL certificate, and a website builder. The paid service, which costs $2.99 per month, also supports PostgreSQL and ASP.NET.
The free hosting at AwardSpace is designed as a service tier one level below its budget hosting plans, making the upgrade to personal or business accounts seamless. Small businesses and independent publishers can grow their web presence on the platform with ease.
The free host options at AwardSpace offer a near equivalent to cPanel services but can be used without a credit card or proof of identification.
This makes AwardSpace a great option for international users who need a free hosting platform that supports developer requirements.
Bravenet is a budget-friendly web hosting company that offers a bevy of free tools and hosting services.
With Bravenet, web publishers can access a large collection of free themes to choose the design for their website. The themes are made with HTML and CSS and do not require database support.

The Bravenet free website hosting and site builder comes with 150,000 free stock images and online store functionality. The company provides full PHP and MySQL support, plus plenty of one-click software installations.
All of the content hosted on the free service will be published on the subdomain username.bravesites.com unless you upgrade to a Pro plan, which starts at less than $2 per month..
Beginners and professionals alike can use the multistep onboarding process to save time and publish content to the web quickly.
Bravenet offers a suite of cloud hosting services that also support web programming languages, databases, email servers, and script management.
All in all, Bravenet makes it easy to be productive using its free website builder platform. Save money by publishing niche and hobby content on Bravenet.
Freehostia is full of delicious hosting options and differs from many other free hosting solutions because it provides a higher level of independent functionality.
The no-cost Freehostia Chocolate plan supports up to five domain names with 250MB of storage and 6GB of monthly bandwidth.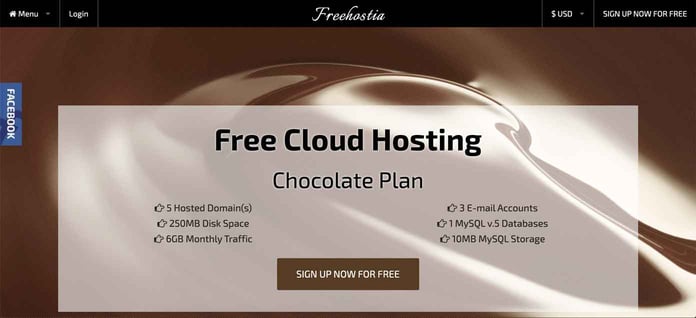 When signing up for a free account, the service allows users to select the web script they would like to install and register or transfer a domain name. The list includes options for ecommerce stores, blogs, CMS websites, wikis, forums, and other open-source scripts that run on MySQL and PHP.
The free hosting service from Freehostia is part of a cloud platform that includes paid subscription options for dedicated server plans and VPS partitions. Upgrading to a VPS environment comes with a $14-per-month price tag.
Aside from the price and a few limited resources, there is not a major difference between budget cPanel hosting accounts and the free service offered by Freehostia. The MySQL database storage is limited to 10MB and email accounts are restricted to three per domain.
For a free hosting plan that supports WordPress, Drupal, and Joomla development, however, Freehostia is a good place to start.
ByetHost currently hosts more than 1 million domains and is seeking to scale into the web hosting sector by offering customers free hosting on high-performance web servers.
Each free hosting account at ByetHost includes 1GB SSD storage on 24-core Intel Xeon CPU servers with 50GB monthly bandwidth. Clients can use the VistaPanel to host up to five add-on domains.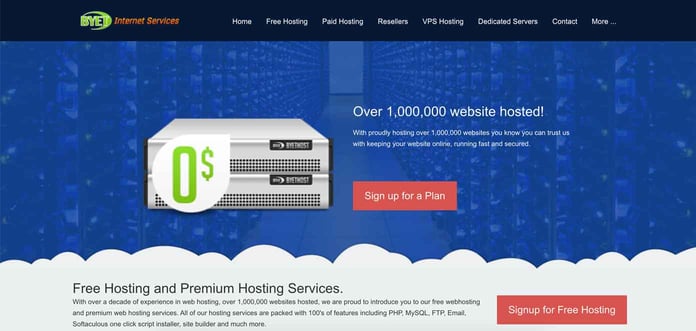 As with most other free web hosting providers, service is limited to subdomains on a ByetHost domain. However, the company gives users 20 domain options to choose from.
The main advantage of ByetHost's free service is the support for more than 400 open-source scripts. Developers can build on the free account at ByetHost to experiment with scripts or sandbox apps for staging and testing.
ByetHost does not require ads on web pages or require any identity verification to get started. ByetHost also has an active community forum to get support for web development and server configuration issues.
FreeHostingNoAds provides no-cost LAMP hosting with support for PHP and Perl scripts and a MySQL database with a limit of three subdomains.
FreeHostingNoAds solves a problem that annoys many users of free website publishing services, putting the service's biggest strength right in the company name.

Publishers can run WordPress, Drupal, Joomla, or other open-source scripts and monetize with their own Google Adsense code.
An extra domain is less than $1 per month per month and customers can host unlimited websites on the platform for a fixed fee of $5.99 per month.
Web publishers can use an open-source control panel for server management, which saves money on cPanel licensing costs and enables the company to offer the free service.
With allocations of 1GB disk space and 5GB monthly bandwidth on the free plan, customers can also set up an email address and FTP account for their domain.
Avoid SPAM by using a service like FreeHostingNoAds to deploy PHP and Perl scripts that run on MySQL databases in support of low-traffic publishing projects.
GoogieHost offers a guaranteed 1GB of SSD storage space with unlimited monthly bandwidth on its free hosting plans.
Many free web hosting companies save money by using older hardware with hard-disk storage on their platforms. Solid-state storage platforms like GoogieHost's perform 10 to 20 times faster than HDD equipment for I/O transfers on multicore web servers.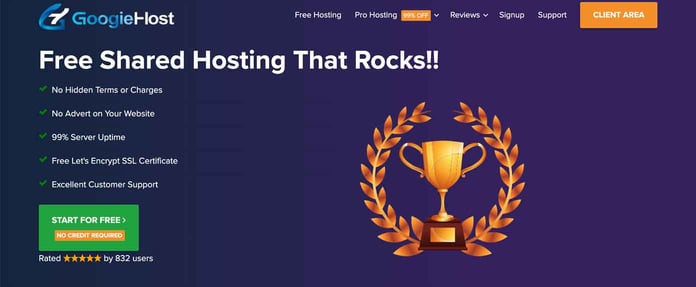 The free service comes with fully licensed cPanel servers running CloudLinux for the best performance. GoogieHost plans also include free use of the Cloudflare CDN service, which is also commonly included with paid hosting services.
The free plan at GoogieHost supports two domain names, email addresses, FTP accounts, and MySQL databases.
Developers will also get Softaculous integration to deploy their choice of more than 400 open-source scripts with automated MySQL database installation, security updates, and website backups.
With no ads on pages and a full cPanel distribution, GoogieHost outperforms many of the most popular paid hosting services with their free shared Linux server platform options.
Free Web Hosting Area has been providing free top-level domain and subdomain plans to clients on Linux web servers since 2005.
Although the platform is slightly outdated, accounts now run on allocations of 1.5GB of SSD storage per account with support for PHP 7 and MariaDB.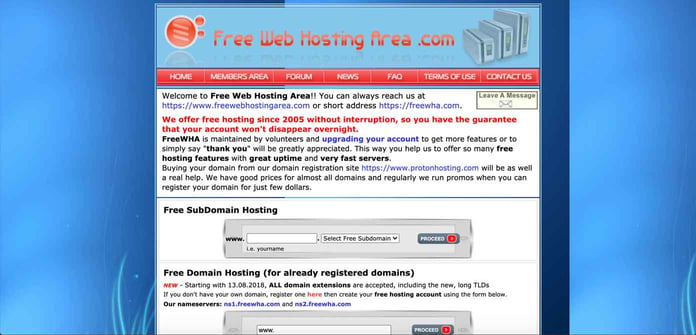 Free Web Hosting Area offers a set of 10 domain names that anyone can use with a custom subdomain. Otherwise, simply change the DNS settings on registered domains to point them to Free Web Hosting Area's servers.
Free hosting accounts are activated instantly with no identification verification requirements. Subdomain plans may include ads or restrict various types of content.
Free Web Hosting Area also operates the ProtonHosting service for domain name registrations and paid hosting packages if you choose to upgrade.
What is Free Website Hosting?
Free website hosting is a zero-cost option for web developers to access server hardware in remote datacenters to support applications, files, databases, and code.
Developers can build simple websites with HTML, CSS, and JavaScript. They can often code more complex applications with web programming languages like PHP, Python, Ruby, and ASP.NET, utilizing SQL or NoSQL databases for dynamic query and storage functionality.
Web servers typically come configured with operating systems and other software required by websites and mobile apps to function. Free hosting makes all or part of these services available for use at no cost.
Paid shared hosting plans are usually available on Linux or Windows servers and allow users to host unlimited domains with cPanel or another administration solution for configuration management.
We're used to comparing the price tag of a shared hosting plan vs. dedicated servers, VPS platforms, and cloud hosting services. Free website hosting operates at a tier below budget hosting plans and is not common on the platforms of the largest brands.
Some cloud hosting companies, including Amazon Web Services, Microsoft Azure, and Google Cloud Platform, offer free website hosting for a limited time as a trial offer.
Key characteristics of free hosting providers:
Websites are restricted to a free subdomain without support for domain registration.
Web hosting sites lack options for advanced web server configuration for database support or programming languages.
Use of a custom domain, SSL certificate, unmetered bandwidth, or dedicated server is generally not available.
Very few companies offer completely free hosting for custom domain names on a long-term basis. Some established brands offer free hosting on blogging, ecommerce, or website builder platforms.
These services include free themes that expedite the web design process and minimize the need for customer support. Most of these platforms do not allow users to install and manage their own databases or host code.
Only a small niche of web hosting service providers offer completely free hosting plans. Some web hosting brands offer free hosting plans as an upsell to more expensive products on their platforms.
Why Do I Need Free Web Hosting?
Some budget hosting companies offer cheap plans with support for unlimited domains for about $3 to $5 per month with a long-term subscription. But it is not uncommon for similar services to renew at upward of $10 to $20 each month.
Web hosting can be expensive for projects like blogs, galleries, wikis, and forums. SEO specialists, web promoters, and marketing pros can use free hosting services to highlight their brands or domain properties.
Students can learn web design, programming, or DevOps with free hosting plans, and hobbyists can launch new projects on no budget. There are almost unlimited uses for free web hosting online.
Reasons for a free web hosting plan:
Learning how to operate a website or code using HTML and CSS
Saving costs for nonprofit, hobbyist, or niche publishing sites
Learning to use WordPress or other publishing programs
Simplify site creation using a drag-and-drop website builder
Experiment with new programming languages, SEO techniques, and similar ideas
Avoiding identity verification problems or wishing to remain anonymous
Not having to worry about unsupported payment methods
Many small business owners and independent publishers do not want the time and effort of installing a database or theme. A free web hosting service that offers site builders, free themes, and ecommerce stores often has free plans that make it easy to get started.
A website builder like Wix, Weebly, or Bravenet competes with open-source scripts like content management systems and ecommerce stores as a solution.
These free hosting services compete with developer-oriented solutions like cPanel that make it easy to manage MySQL and PHP scripts with Softaculous and Fantastico.
The success of websites like Geocities and MySpace in the early days of the internet show the popularity of free web hosting services, as well as the wide level of creativity they inspire.
How Do I Choose the Best Free Website Hosting Service?
The best free web hosting service depends on the project's requirements and user preferences.
Small businesses and independent publishers often look for a free platform that simplifies the process of building a website or launching an ecommerce store.
Developers need free website hosting that includes configuration options for the web server, programming language, and database.
The best web hosting services offer free cPanel plans that compete on an equal basis with the functionality of paid plans for a custom domain name.
When choosing a free web hosting service, consider your brand preference and evaluate the service you will need. Sometimes a free web host may appear untrustworthy.
Business owners may also have major questions about the long-term sustainability of a free host and concerns about data security.
The major brands in the industry, like the first ones mentioned in this article, do not typically offer free hosting plans on their platforms. Platforms with support from major cloud IT companies stand out from the pack.
It makes sense to sign up and test different free hosting services directly. Choose the platform solution that best supports the unique requirements of your project, whether it's a site builder, CMS, or cPanel hosting.
What's the Difference Between Paid and Free Hosting?
Aside from the price tag, scalability is the most significant difference between free and paid hosting services.
The largest cloud platforms operated by Microsoft, Amazon, and Google scale to support the datacenter requirements of some of the biggest companies in the world.
Enterprise corporations pay hundreds of millions of dollars per year to cloud hosting companies for hardware and software services for their operations.
Differences between a paid shared hosting plan and free services (other than price):
Computing resources: A free plan will normally include less storage, bandwidth, and CPU capacity to host site files than do shared plans.
Domains and databases: Shared plans support unlimited domains and databases, while free plans are limited to one site or a subdomain.
Bandwidth: Free plans support a reduced amount of web traffic compared with the unlimited bandwidth available from cPanel services.
Advertising: Shared hosting lets you display (mostly) whatever you want on your website, while free services may run third-party ads on your site or put their own branding in the footer.
In contrast, free hosting services are designed for low-traffic websites. Free services save on costs by pooling resources on often outdated hardware, similar to how shared hosting solutionsm operate.
Ultimately, the main difference, or sticking point, between free hosting plans is the support of custom domain names versus platforms that restrict accounts to subdomain usage.
Is Free Web Hosting Secure?
Security is traditionally the biggest issue with free hosting plans. Small companies offering free hosting may cut corners on software licensing or staff, leading to unsecure platforms that are more easily penetrated by attacks.
Websites that collect user information are subject to strict data privacy laws in the U.S. and E.U. Businesses need to use audited cloud hardware and platforms for legal compliance.
Site builder platforms like Weebly, Wix, and GoDaddy have larger budgets to employ more experienced security technicians on their datacenter teams, and they can also invest more in testing their platforms for security holes.
Users that publish on free hosting platforms need to follow strict security measures with passwords, file permissions, web application firewalls, and antivirus scans.
Developers who manage their own custom database installations or application code need to take additional measures to protect private user data.
Is Free Website Hosting Worth It?
Free website hosting is a great option for students, hobbyists, and independent web publishers, but with shared hosting plans available so cheaply, it is hard for us to recommend the downgrade.
There are many niche publishing uses for free hosting services. As a general rule of thumb when comparing free vs. paid web hosting, the higher the quality of the free service, the more people will be interested in it.
Free hosting is not designed to scale or support enterprise business operations, and people using free web hosting products for their blog sites, forums, ecommerce stores, or business sites need to determine if the performance is sufficient for their requirements.
Why you might want to choose free hosting:
You have niche content that does not require a custom domain name.
You want to learn web development and gain experience with different services.
Your website performance is not a major concern to your project's success.
You can't afford a low-cost shared hosting plan or don't have an approved payment method.
If the service is slow, or will not support the advanced functionality required on modern websites and mobile apps, your business may fail to compete.
Ecommerce websites lose customers for every second of lag on page loads and for every minute of downtime. Professional business owners should seek out reliable, high-performance solutions that are more robust than free plans.
There are definite advantages to using cPanel or similar services for building websites with MySQL, PHP, and open-source scripts. Most free web hosting services do not give developers the power of flexibility they need to build complex solutions.
Premium shared hosting products are better for people looking for a simplified or expedited process of web development. Use professional web builder solutions to save time when launching new sites, and use free themes for support.
Find Trustworthy Free Website Hosting Options for Your Projects
With the web hosting industry in the midst of a major transition to cloud platforms, free website hosting services run the gamut from outdated scams to global cloud networks.
New users can usually receive a free site credit at the largest cloud services like Microsoft Azure, Amazon Web Services, and Google Cloud Platform to get started. However, when these free credits expire, cloud products can be quite expensive and out of the price range of many projects.
Services like Netlify, Vercel, Render, and GitHub recently became popular free hosting providers for static HTML sites that do not require the use of a database.
Users may find it difficult to find a high-quality free web host outside of established brands and the providers listed above.
While our list of free hosts covers the best free web hosting platforms currently on the market, many other free hosting sites have stopped offering services or resort to untrustworthy practices.
We recommend steering clear of these free website hosting providers:
For the best value in a free hosting service, look for a plan that allows for a custom domain and MySQL database support, along with integrated email, FTP, SSL/TLS certificates, and PHP 8 support.
Otherwise, choose from the list of free hosting providers that offer a professional site builder; this will help to launch a new site quickly with free themes and managed platform security.
Our recommended best practice is to use a free web hosting provider to manage niche, hobbyist, and startup side projects that you don't have a budget for. But don't hesitate to pay a few dollars more to upgrade to a professional service for ecommerce or business websites.
See Our Full Review of Hostinger
Whatever type of hosting plan you're looking for, Hostinger is a solid choice no matter the scale. Our reviewer Laura Bernheim recently took Hostinger for a spin, and rated the popular host a 4.9 in the Cheap Hosting category out of a perfect score of 5.0. Here's what Laura had to say about Hostinger:
A champion of affordable hosting, Hostinger is a popular pick for site owners looking for beginner-friendly shared servers. More than 29 million customers call Hostinger home as they scale websites through site builder, VPS, and WordPress hosting plans. When searching for a new plan, Hostinger is among the best at balancing high quality with low prices.
Before signing up for Hostinger, it's a good idea to read through Laura's full review to learn about all the features Hostinger offers. You can also compare it to other web hosts to ensure you're getting the best deal possible:
If you decide Hostinger is the right choice, keep in mind that it takes just minutes to deploy your Hostinger server space. And at $1.99 per month, it's a bargain considering the many great features that come in any Hostinger plan.
Advertiser Disclosure
HostingAdvice.com is a free online resource that offers valuable content and comparison services to users. To keep this resource 100% free, we receive compensation from many of the offers listed on the site. Along with key review factors, this compensation may impact how and where products appear across the site (including, for example, the order in which they appear). HostingAdvice.com does not include the entire universe of available offers. Editorial opinions expressed on the site are strictly our own and are not provided, endorsed, or approved by advertisers.
Our Editorial Review Policy
Our site is committed to publishing independent, accurate content guided by strict editorial guidelines. Before articles and reviews are published on our site, they undergo a thorough review process performed by a team of independent editors and subject-matter experts to ensure the content's accuracy, timeliness, and impartiality. Our editorial team is separate and independent of our site's advertisers, and the opinions they express on our site are their own. To read more about our team members and their editorial backgrounds, please visit our site's About page.