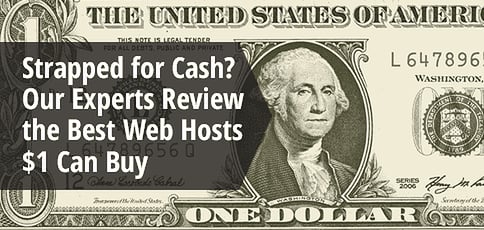 One dollar web hosting? A dollar won't even get you something in most vending machines, how can you expect to find a high-tech cheap web hosting plan at that price?
Surprisingly, several providers offer a turnkey web hosting service at dollar-store costs. The $1 price tag is still pretty elusive, but you don't need to invest much more to take advantage of top-tier web hosting.
Here, we'll take a look at some of the best cheap web hosting companies that deliver high-value packages at bargain-basement prices. Whether you're looking to build a personal site or launch an eCommerce store, the web hosts below can help you do it for $1 (or just a bit more).
1&1 IONOS is not only one of our top-rated hosts — the company is also one of the most budget-friendly providers in the industry with monthly prices for a shared hosting plan starting at just $1.00 per month.
But don't let the low price fool you. The 1&1 IONOS Business plan comes with a wide array of features, including a free domain name and unlimited bandwidth and storage, plus a professional email account. The host also ensures speed with a globally distributed content delivery network and peak loading times.
$1/month for 12 months
No hidden fees, pay just $12 at checkout
Easy setup and 24/7 expert support
FREE domain or transfer, plus FREE SSL certificate
Unlimited storage and databases with most plans
CHEAP
RATING 4.8 ★★★★★ Our Review
1&1 IONOS: Our Expert's Review
Alexandra Anderson (HostingAdvice.com): If budget is the main factor on your mind when searching for your next web host, search no more. 1&1 IONOS has an impressive range of robust web hosting and website building packages for what may be the best price we've ever seen in the world of hosting. Go to full review »
| Money Back Guarantee | Disk Space | Domain Name | Setup Time |
| --- | --- | --- | --- |
| 30 days | 10 GB – Unlimited | FREE (1 year) | 4 minutes |
Adding to this high-value toolset, 1&1 IONOS also delivers around-the-clock customer support via live chat and gives website owners access to a knowledge base for self-troubleshooting.
As with most hosting providers, be prepared for price hikes after the 1&1 IONOS introductory period. But the web host brings more than enough value to be a worthy long-term investment that saves money and headaches for years.
When weighed against the competition's packages with similar features, the 1&1 IONOS Business hosting is tough to beat. Add in a 30-day money-back guarantee, and there's not much to lose by signing up.
Best of the Rest: Cheap Web Hosting
Sure, 1 dollar web hosting isn't quite the norm. But expanding your budget by just fifty cents or another dollar unlocks a ton of opportunities for low-cost, high-quality services.
The key to avoiding the bitter taste of a subpar hosting package is to seek value instead of a bargain. Instead of just chasing the lowest price tag, be sure to examine each hosting provider's list of included features and compare hosting reviews to find hidden treasures.
We've tested and compiled a list of the best cheap web hosting providers below. Although their prices come in at just a bit more than 1 dollar, these hosts more than make up the extra expense.
Unlimited everything, from storage to databases
FREE site builder & WP performance upgrades
FREE daily or weekly backups
Custom control panel and auto-installation scripts
SSH access & unlimited FREE SSL certificates
CHEAP
RATING 4.9 ★★★★★ Our Review
Hostinger: Our Expert's Review
Laura Bernheim (HostingAdvice.com): As the shared hosting market becomes increasingly saturated, unlimited storage, bandwidth, and email accounts have become surprisingly average. Hostinger, however, extends the routine, expected metrics to greater lengths — the number of websites, databases, FTP users, subdomains, and parked domains are all unrestricted for most customers. Go to full review »
| Money Back Guarantee | Disk Space | Domain Name | Setup Time |
| --- | --- | --- | --- |
| 30 days | 50 GB SSD – 200 GB SSD | FREE (1 year) | 3 minutes |
If you're strapped for cash or just want to get a site up and running quickly, Hostinger is a great option.
The web hosting provider regularly tops our lists for affordability, even earning the distinction of the best long-term hosting value.
Even better, watch out for the regular sales and discounts Hostinger provides; the host should be a prime destination for Cyber Monday deals.
Whether you choose the cheapest plan or one that supports unlimited website hosting, you'll enjoy high-performance SSD storage, a free email account, unlimited bandwidth, and managed WordPress hosting environments.
Thanks to its low prices, Hostinger resonates strongly with beginners. Zyro, the company's drag-and-drop website builder, allows users without coding knowledge to easily create professional-grade web properties in less than an hour.
FREE website transfer service to get started
99.9% uptime guarantee and unlimited traffic
User-friendly WordPress installation
24/7 support featuring custom systems
4 caching options plus staging and Git
CHEAP
RATING 4.6 ★★★★★ Our Review
SiteGround: Our Expert's Review
Alexandra Anderson (HostingAdvice.com): Providing hosting with the perfect balance of technological innovation and superior customer support, SiteGround offers a range of affordable hosting services to meet your needs. In addition to the expected cheap web hosting perks — a free website builder and unlimited bandwidth — the company specializes in custom-built tools to deliver strong and positive user experiences. Go to full review »
| Money Back Guarantee | Disk Space | Domain Name | Setup Time |
| --- | --- | --- | --- |
| 30 days | 10 GB SSD – 40 GB SSD | New or Transfer | 6 minutes |
Not all WordPress hosting packages are created equally.
Some providers claim to offer managed WordPress plans for super-low monthly premiums, but on closer inspection, many of these packages turn out to be glorified versions of the hosts' basic shared hosting plans without any true managed services included.
But SiteGround offers truly managed WordPress packages that include automatic software updates and security patches for just a few dollars per month.
Even better, the cheap hosting experts leverage Google Cloud Platform infrastructure to power blazing-fast page loads and impressive uptime rates — all backed by world-class support teams.
FREE BoldGrid site builder and templates
FREE website, domain, and cPanel migrations
SSD storage makes your site load up to 20x faster
Security suite includes SSL and hack protection
Unlimited bandwidth and email accounts
CHEAP
RATING 4.7 ★★★★★ Our Review
InMotion: Our Expert's Review
PJ Fancher (HostingAdvice.com): InMotion Hosting offers an excellent business-class shared hosting plan — with a price tag lower than several other budget hosts. For the IT crowd in the audience, you'll appreciate SSH access, as well as support for PHP, Ruby, Perl, Python, WP-CLI, and other popular languages. Go to full review »
| Money Back Guarantee | Disk Space | Domain Name | Setup Time |
| --- | --- | --- | --- |
| 90 days | 100 GB SSD – Unlimited | FREE (1 year) | 5 minutes |
A prime choice for developers, WordPress enthusiasts, and small business owners looking for a hosting provider to grow with, InMotion Hosting offers surprising value for its impressively modern hosting platform.
The company regularly innovates with its datacenter optimizations, even going as far as to craft the custom UltraStack caching system to eke more performance out of the company's NGINX-powered shared hosting and WordPress hosting plans.
We love InMotion Hosting for its enhanced SSD storage and WP Engine-level support for WordPress performance. The web host developed one of the first drag-and-drop website builders for WordPress, adding an intuitive user experience to what can be a daunting platform for beginners.
Most shared plans come with unlimited email accounts and extremely easy integration with Google Workspace productivity tools as an added bonus.
Automated malware scans
Unlimited domain hosting
Unlimited email accounts with POP/IMAP/SMTP
FREE eCommerce store tools and PCI compliance
Streamlined proprietary control panel
CHEAP
RATING 4.6 ★★★★★ Our Review
DreamHost: Our Expert's Review
Laura Bernheim (HostingAdvice.com): While DreamHost's price might be a little steep compared to other high-value hosting providers, the company gives customers ample time and reasons to get hooked and stick around. The company, which started in the founders' dorm room in 1997, offers an industry-leading 97-day money-back guarantee. Go to full review »
| Money Back Guarantee | Disk Space | Domain Name | Setup Time |
| --- | --- | --- | --- |
| 97 days | Unlimited | FREE (1 year) | 4 minutes |
DreamHost is another trusted brand that impresses us with the price-to-performance ratio. For less than $3 per month, site owners can enjoy all-SSD infrastructure and an industry-leading 97-day money-back guarantee.
The WordPress experts also tout 100% uptime guarantee and friendly, readily-available customer support staff ready to help you troubleshoot any issues that may arise.
DreamHost plans come with tons of added value and freebies, such as a free domain registration, pre-installed WordPress, and unlimited bandwidth.
Host up to unlimited websites on a single plan
FREE SSL certificate included on all plans
Unlimited bandwidth & email addresses
1-click WordPress installs & FREE blog tools
Get 67% OFF by buying 36 months upfront
CHEAP
RATING 4.6 ★★★★★ Our Review
HostGator: Our Expert's Review
Ryan Frankel (HostingAdvice.com): HostGator is a great compromise between performance and price. The company offers unlimited emails, MySQL databases, disk space, and bandwidth, plus one-click installs of popular open-source projects, in addition to a 99. Go to full review »
| Money Back Guarantee | Disk Space | Domain Name | Setup Time |
| --- | --- | --- | --- |
| 30 days | Unlimited | FREE (1 year) | 4 minutes |
An all-around leader in forward-thinking website hosting solutions, HostGator brings value to everything from its shared hosting plan to each dedicated server.
We regularly recommend the hosting company as a prime partner to help you grow your online presence, thanks to the wide range of customer support and compatibility with advanced technologies.
Every shared web hosting plan comes with unlimited bandwidth and storage, along with a free SSL certificate and domain name registration.
For just a couple of dollars per month, HostGator supplies a wide array of features, including access to industry-leading plugins and applications, PCI-compliant shopping carts, and drag-and-drop website editors.
Cheap shared hosting from a trusted provider
Ideal for hosting a WordPress website
FREE Weebly website builder and Cloudflare CDN
Unlimited traffic and 24/7 live chat support
Get 70% off today with our Bluehost coupon
CHEAP
RATING 4.7 ★★★★★ Our Review
Bluehost: Our Expert's Review
Ryan Frankel (HostingAdvice.com): Bluehost pricing is about as competitive as the industry offers. Sign up for a shared hosting plan for as little as $2.95 per month, and WordPress hosting packages are consistently priced; a VPS plan starts at around $19.99 per month; and the dedicated hosting rates are as little as $79.99 per month. Go to full review »
| Money Back Guarantee | Disk Space | Domain Name | Setup Time |
| --- | --- | --- | --- |
| 30 days | 10 GB SSD – 100 GB SSD | FREE (1 year) | 5 minutes |
We're not the only folks who love WordPress. The open-source content management system is easy to use and — best of all — free.
To get the most out of your WordPress website, however, you'll need a robust hosting package built specifically to run the software.
That's where Bluehost comes in.
Although the longtime hosting company offers more than 1 dollar hosting, the extra few bucks go a long way to ensure peace of mind that the complexities of WordPress hosting are taken care of — granting you the ability to focus on your business mission.
FREE Cloudflare CDN and SSD speed boost
Optimized caching and 1-click installs
Unlimited email, domains, and databases
Advanced security and FREE HackScan
24/7 support via phone, chat & tickets
CHEAP
RATING 4.5 ★★★★★ Our Review
A2 Hosting: Our Expert's Review
Alexandra Anderson (HostingAdvice.com): There are plenty of excellent cPanel shared hosting providers out there, so what sets A2 Hosting apart from the rest. Not only does the company offer a ton of features, but it has custom-built its packages for enhanced performance, speed, and security — putting your priorities above pricing. Go to full review »
| Money Back Guarantee | Disk Space | Domain Name | Setup Time |
| --- | --- | --- | --- |
| 30 days | 100 GB SSD – Unlimited SSD | New or Transfer | 4 minutes |
Those who value high-speed web hosting will definitely want to check out an A2 Hosting plan.
The web host is regularly at the forefront of performance enhancements, ranging from NVMe solid-state drives to a Turbo server configuration that automatically helps websites load up to 20 times faster.
Be sure to check out A2 Hosting's automatic backups, free website migrations, and easy staging sites for a complete and affordable web hosting experience.
Cloud VPS that's more flexible and affordable
Load balancer, firewall, and managed services
Premium Intel CPUs with 300% more power
Choose between monthly or hourly billing
Sign up today for a 30-day FREE trial
VPS
RATING 4.9 ★★★★★ Our Review
Kamatera: Our Expert's Review
Laura Bernheim (HostingAdvice.com): Backed by cutting-edge cloud computing technology, Kamatera adds instant and limitless scalability to the VPS hosting marketplace. Each cloud or virtual server is equipped with blazing-fast SSD storage and Intel Xeon Platinum CPUs. Go to full review »
| Setup Time | Disk Space | CPU | RAM |
| --- | --- | --- | --- |
| 5 minutes | 20 GB SSD – 4 TB SSD | 1 – 104 cores | 1 GB – 525 GB |
So far, the price structures of the hosting plans we've presented have all been based on running sites in a shared server environment.
While this is economical, the shared hosting environment can create problems with the website's performance once it grows beyond 100,000 monthly visitors — leading to detrimental effects on conversion rates, customer engagement, and bounce rates.
Moving to an affordable VPS or cloud hosting solution like Kamatera represents an additional opportunity for savings. You'll get much more computing power for similar rates to shared hosting.
Kamatera is an especially intriguing option, as it comes with a 30-day FREE trial. The cloud host gives new customers a $100 credit to configure exactly the server environments their sites need.
Managed or unmanaged, in Windows or Linux
Cloud hosting with hourly or monthly billing
Instant upgrades without downtime
FREE around-the-clock monitoring
Automatic nightly backups available
VPS
RATING 4.8 ★★★★★ Our Review
Hostwinds: Our Expert's Review
Laura Bernheim (HostingAdvice.com): Does any hosting provider have more virtual private server packages than Hostwinds. The company offers 10 configurations — and that's just for managed Linux server partitions. Go to full review »
| Setup Time | Disk Space | CPU | RAM |
| --- | --- | --- | --- |
| 6 minutes | 30 GB SSD – 750 GB SSD | 1 – 16 cores | 1 – 96 GB |
If your business has outgrown basic web hosting, migrating to Hostwinds could be a great business decision. The company offers a full range of shared, cloud, VPS, and dedicated server hosting plans to usher your online business through multiple stages of growth.
We especially appreciate that Hostwinds caters to both Linux and Windows users, with VPS hosting plans carrying an astounding 99.9999% uptime guarantee.
The company's Windows hosting plan comes in managed and unmanaged varieties, depending on how much time and money you're wanting to spend on your website or application.
$0.01 for the first month using code HOSTINGADV
Then $6 monthly with no contracts, no changes
Latest of PHP, MySQL, Perl, Python, and Ruby
7 operating system options for Linux or Windows
Full root access and choice of datacenter
VPS
RATING 4.8 ★★★★★ Our Review
InterServer: Our Expert's Review
Laura Bernheim (HostingAdvice.com): InterServer's on-site datacenter and hands-on involvement with configuring and provisioning virtual private servers give customers a level of flexibility not seen with many other hosting providers. InterServer rations VPS and cloud resources through slices. Go to full review »
| Setup Time | Disk Space | CPU | RAM |
| --- | --- | --- | --- |
| 6 minutes | 30 GB SSD – 480 GB SSD | 1 – 16 CPUs | 2 – 32 GB |
Despite closing our list of the best (roughly) one dollar web hosting services, InterServer offers the best short-term pricing — especially for shared hosting.
New customers can try out InterServer's basic web hosting plans for just $0.01 for the first month. From there, the company's month-to-month plans won't lock you into an unfavorable deal. (Naturally, you'll get better deals when you commit to a long-term hosting package.)
Here, however, we're highlighting the provider's VPS hosting service.
With a virtual private server, also known as VPS hosting, larger portions of a server are partitioned for individual site owners.
Although the price tag for VPS may seem high at first glance, the returns on investment are huge if you consider how page load times can affect revenue streams.
Got $1 or a Bit More? Get Up and Running With These Hosts
Sure, you could spend $1 on a scratch-off lottery ticket, but that would be gambling with your money.
If you're a web entrepreneur looking for returns online, the budget-friendly hosts presented here are sure bets. Plus, if your site grows beyond the constraints of a cheap web hosting service, most hosts will let your seamlessly upgrade to a VPS or dedicated hosting plan.
For a comprehensive overview of all our recommended high-value, low-cost hosting providers, see our top 10 cheap hosting reviews.
Your wallet and your site's visitors will thank you.
See Our Full Review of 1&1 IONOS
Whatever type of hosting plan you're looking for, 1&1 IONOS is a solid choice no matter the scale. Our reviewer Alexandra Anderson recently took 1&1 IONOS for a spin, and rated the popular host a 4.8 in the Cheap Hosting category out of a perfect score of 5.0. Here's what Alexandra had to say about 1&1 IONOS:
A leading web host across the board, 1&1 IONOS offers solutions to meet the needs of all customers. Following a 2018 rebrand, the company focused its priorities on customer support and transparent pricing. Thanks to dedicated personal consultants, numerous site builder options, and a variety of cloud offerings, customers can trust 1&1 IONOS for the long haul.
Before signing up for 1&1 IONOS, it's a good idea to read through Alexandra's full review to learn about all the features 1&1 IONOS offers. You can also compare it to other web hosts to ensure you're getting the best deal possible:
If you decide 1&1 IONOS is the right choice, keep in mind that it takes just minutes to deploy your 1&1 IONOS server space. And at $1.00 per month, it's a bargain considering the many great features that come in any 1&1 IONOS plan.
Advertiser Disclosure
HostingAdvice.com is a free online resource that offers valuable content and comparison services to users. To keep this resource 100% free, we receive compensation from many of the offers listed on the site. Along with key review factors, this compensation may impact how and where products appear across the site (including, for example, the order in which they appear). HostingAdvice.com does not include the entire universe of available offers. Editorial opinions expressed on the site are strictly our own and are not provided, endorsed, or approved by advertisers.
Our Editorial Review Policy
Our site is committed to publishing independent, accurate content guided by strict editorial guidelines. Before articles and reviews are published on our site, they undergo a thorough review process performed by a team of independent editors and subject-matter experts to ensure the content's accuracy, timeliness, and impartiality. Our editorial team is separate and independent of our site's advertisers, and the opinions they express on our site are their own. To read more about our team members and their editorial backgrounds, please visit our site's About page.