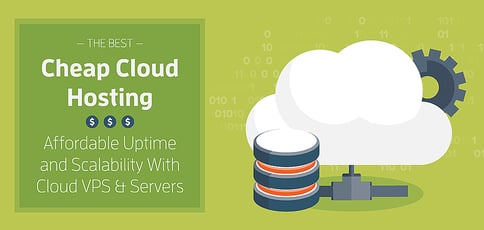 With all the hype surrounding the hot technology, you might be surprised to know that the best cheap cloud hosting plans still deliver the supreme scalability and full range of features at a price that doesn't break the bank.
While you can find coupons and other ways to save money on items like clothes and groceries, saving on technology often tends to be a different story. When something gets popular and trendy, the price tag tends to skyrocket to meet demand. In fact, spending on the cloud hosting services has been growing at almost five times the rate of other IT expenditures since 2009.
Even better, cloud hosting comes in a variety of flavors and features that will appeal to everyone from beginners to experienced developers. Here, we've laid out the best cheap cloud hosting providers, ranging from the ultrabargains to the superior price-for-performance experiences.
Best Cheap Cloud Web Hosting
Here at HostingAdvice, we regularly talk about the difference between cheap and value. Primarily in the shared hosting world, the cheapest services often mean shoddy infrastructure, nonexistent support, privacy scams, and utterly terrible user experiences, while the hosting providers that bring value pack a ton of features into a surprisingly affordable package.
With an upgraded hosting platform like cloud hosting, however, it's actually possible to find high-quality services among the cheapest plans. For less than $10, site owners can take a sizeable step up from shared hosting without introducing massive headaches about cloud server configuration and management. The cheapest cloud hosting packages listed below range from super-charged shared hosting to unmanaged object or block storage.
When it comes to cheap web hosting of any variety, the host's industry reputation is the key factor. Be sure to do your research if you find yourself considering a cheap cloud hosting plan outside of this list. We can certainly vouch for the four providers listed here next to their signature differentiator.
1. InterServer – Cheap "Cloud VPS" Hosting
InterServer pushes massive scaling and customization in its highly configurable cloud environments. Each building block of computing resources, essentially one CPU core, 2048MB of memory, 30GB of SSD storage, and 1TB of data transfer, is called a slice; once your website or application scales to require four or more slices, the company will pitch in with managed support for security patches, diagnosis, and help with control panels.
Perhaps most importantly for those looking for cheap cloud hosting, new customers pay only $0.01 for their first month if you use our exclusive coupon code at checkout: HOSTINGADV. Your cloud hosting will renew at the full, yet still affordable, price after that period, but we love that InterServer strictly operates on a month-by-month basis — meaning you won't be locked into any long-term plans.


Monthly Starting Price $6.00
Choose Linux or Windows cloud hosting
Up to 16 cores and 16TB of data transfer
Plenty of RAM and redundant cloud storage
FREE control panel and several OS options
Pay $.01 the first month with HOSTINGADV coupon code
CLOUD
RATING 4.5 ★★★★★ Our Review
InterServer: Our Expert's Review
Setup time: 6 minutes
Laura Bernheim (HostingAdvice.com): InterServer's on-site datacenter and hands-on involvement with configuring and provisioning cloud servers give customers a level of flexibility not seen with many other hosting providers. InterServer rations its VPS and cloud resources through slices. Go to full review »
| Money Back Guarantee | Disk Space | Domain Name | Cloud Hosting Plans |
| --- | --- | --- | --- |
| N/A | 30 GB SSD - 480 GB SSD | New or Transfer | www.interserver.net/cloud |
2. InMotion Hosting – Cheap "Cloud VPS" Hosting
Always at the forefront of high-powered hardware and affordability, InMotion Hosting's entire VPS offering is powered by cloud-based infrastructure. We're focusing on the company's unmanaged cloud platform here, as it gives developers and system administrators maximum flexibility, but you can find InMotion's managed cloud hosting options here.
Whichever service level you choose, InMotion cloud VPS prioritizes high availability to maximize uptime and performance. Automatic backups and real-time server snapshots are included for free, along with DDoS protection and a top-notch resource-monitoring dashboard. We especially appreciate the minimum of three dedicated IP addresses.


Monthly Starting Price $5.00
Ranked #1 for cloud VPS hosting
Fault-tolerant SSD storage and up to 8GB of RAM
FREE control panel with choice of Linux OS
Full root access or managed servers available
FREE live-state or scheduled snapshots
CLOUD
RATING 4.9 ★★★★★ Our Review
InMotion: Our Expert's Review
Setup time: 6 minutes
PJ Fancher (HostingAdvice.com): With leading-edge cloud technology, InMotion offers free site transfer, setup, and SSD drives for the ultimate cloud solution offerings. They include free data backups and offer unmanaged or fully managed servers to help you scale your site with cloud-based hosting…. Go to full review »
| Money Back Guarantee | Disk Space | Domain Name | Cloud Hosting Plans |
| --- | --- | --- | --- |
| 90 days | 45 GB SSD - 300 GB SSD | FREE (1 year) | www.inmotion.com/cloud |
3. HostGator – Cheapest Cloud Hosting
Already among the champions of unlimited web hosting, HostGator doubled down in 2016 when it unveiled a cloud hosting platform that boasts an obscene amount of computing power. Customers will start out with at least two CPU cores and 2GB of RAM to go along with unlimited storage, bandwidth, email, and subdomains.
The only thing folks may miss with HostGator are solid-state drives — another trendy feature in web hosting — but the low-density servers and local caching via Varnish provide ample firepower to load your site in the blink of an eye. In addition to around-the-clock monitoring, HostGator distributes three mirrored copies of cloud customers' data across different devices to ensure their website is always available.


Monthly Starting Price $4.95
2x as fast and 4x the computing resources
Tons of storage with the scalability of the cloud
Low-density servers and multiple caching layers
Unlimited domains and MySQL databases
Upgrades available for security, backups, productivity, and domain privacy
CLOUD
RATING 4.8 ★★★★★ Our Review
HostGator: Our Expert's Review
Setup time: 7 minutes
Ryan Frankel (HostingAdvice.com): For those ready to expand beyond shared hosting, HostGator offers a fully featured step into the cloud. With scalable, high-powered resources, customers can easily monitor resources and caching from an intuitive dashboard. Go to full review »
| Money Back Guarantee | Disk Space | Domain Name | Cloud Hosting Plans |
| --- | --- | --- | --- |
| 45 days | 120 GB - 240 GB | New or Transfer | www.hostgator.com/cloud |
4. Hostwinds – Cheap "Cloud Server" Hosting
Offering an hourly billing option that enables customers to pay for only the computing resources they use, Hostwinds introduces an extra layer of cloud sophistication akin to what you might see with Amazon Web Services, Microsoft Azure, or Google Cloud Platform. The supremely scalable and customizable options guarantee your cloud infrastructure will grow to match whatever traffic needs arise.
Customers can configure seemingly any combination of storage, bandwidth, and memory resources or opt for one of the easy-to-use, optimized templates already created by Hostwinds. Scaling happens instantly and without downtime, and each cloud server is ensured 1Gbps port speed via the company's automatic route optimization. If all that jargon made your eyes glaze over, never fear — Hostwinds also offers fully managed services and numerous methods for backups and storage.


Monthly Starting Price $4.99
Choose your OS or application configuration
Hourly or monthly billing for convenience
Optional upgrades for cPanel, backups, and more
Managed services, SSDs, and HDDs available
Block and object storage, plus enterprise firewall
CLOUD
RATING 4.7 ★★★★★ Our Review
Hostwinds: Our Expert's Review
Setup time: 6 minutes
Laura Bernheim (HostingAdvice.com): Hostwinds provides supremely scalable and customizable options for the savvy developer or site owner. Customers can customize their cloud environment or choose pre-built configurations optimized to run apps like WordPress, Drupal, and others. Go to full review »
| Money Back Guarantee | Disk Space | Domain Name | Cloud Hosting Plans |
| --- | --- | --- | --- |
| N/A | 30 GB - 750 GB SSD | New or Transfer | www.hostwinds.com/cloud |
5. A2 Hosting – Cheap "SSD Cloud" Web Hosting
Back to the simplified version of cloud hosting, we close this section of our list with A2 Hosting, which prioritizes blazing-fast speeds in its cloud VPS platform. The amount of available storage is a bit less than that of many competitors, but the company more than makes up for it with high-powered SSDs that load pages up to 300% faster than traditional drives. Plus, by choosing A2 Hosting's upgraded Turbo Servers, your visitors can still see up to 20 times faster page loads.
But A2 Hosting isn't all flash and speed; the Ann Arbor, Michigan, company provides full root access and server control, along with the usual 99.9% uptime guarantee. Customers can either start with pre-configured cloud environments or choose from six different Linux operating systems and go from there.


Monthly Starting Price $5.00
Ultra-fast SwiftServer platform with FREE SSDs
Quick Start Cloud configures servers in minutes
Root access and on-demand server controls
Optional Cloudflare web application firewall for added speed and security
Softaculous and cPanel upgrades available
CLOUD
RATING 4.6 ★★★★★ Our Review
A2 Hosting: Our Expert's Review
Setup time: 7 minutes
Alexandra Leslie (HostingAdvice.com): Champions of blazing-fast web performance, A2 Hosting pairs its high-powered infrastructure with cloud-based redundancy and scalability. Although computing resources are a bit less than competitors, each component is fine-tuned and optimized to the nth degree. Go to full review »
| Money Back Guarantee | Disk Space | Domain Name | Cloud Hosting Plans |
| --- | --- | --- | --- |
| 30 days | 75 GB SSD - 150 GB SSD | New or Transfer | www.a2hosting.com/cloud |
Best Value in Cloud Web Hosting
As you can probably tell, shopping for cloud hosting is quite a bit different than shopping for other web hosting services. Whereas shared, virtual, and dedicated servers all reside in roughly the same neighborhood when it comes to features and prices, cloud hosting options fall into a handful of different camps.
First, there's the super-cheap level of cloud services that blend stronger hardware with shared hosting simplicity; then come the middle tier of services (coming up soon) that introduce more complex systems and capabilities. From there, there are the enterprise-grade clouds that cost upward of $50 per month and include luxurious managed services, plus the "who the heck knows what they'll cost" solutions from Amazon Web Services, Microsoft Azure, Google Cloud Platform, and others that bill by the minute of usage for each building block service.
Here, we're focusing on that second level of hosting that sometimes gets called cloud VPS hosting. You'll get the performance boost of dedicated resources but the stability and scalability of virtualized, redundant machines — all for basically $20 or less.
6. Bluehost – $18.99/month
Especially known for innovative WordPress hosting solutions, Bluehost pairs remarkable computing power with convenient, instant provisioning, and a stellar reputation for service. The amount of available storage is a bit lower than that of other competitors in this category, but the solid-state drives ensure that files, websites, and applications load quickly and effectively.
We found Bluehost's RAM and bandwidth offerings to be plenty sufficient, and the implementation of open-source technologies like OpenStack and KVM ensure your virtual environment is always available and performing at optimum speed. Take a look at our review of Bluehost below: The company doesn't tout its cloud infrastructure, but rest assured that your VPS will feature the same reliability, scalability, and performance you've come to expect.


Monthly Starting Price $18.99
Top hardware powered by OpenStack and KVM
Instant provisioning and guaranteed resources
Options for 2-4 CPU cores and up to 8GB of RAM
Quickly manage and scale resources
Dedicated IP and domain privacy available
CLOUD
RATING 4.5 ★★★★★ Our Review
Bluehost: Our Expert's Review
Setup time: 6 minutes
Ryan Frankel (HostingAdvice.com): If you've outgrown shared hosting, Bluehost's platform is a great option. The company makes the transition from its own shared plans seamless. Go to full review »
| Money Back Guarantee | Disk Space | Domain Name | Cloud Hosting Plans |
| --- | --- | --- | --- |
| 30 days | 30 GB SSD - 120 GB SSD | FREE (1 year) | www.bluehost.com/cloud |
7. Liquid Web – $39.99/month
When it comes to the best overall deal for cloud hosting, Liquid Web clearly takes the cake. We've secured special pricing for our loyal readers who sign up for services after clicking on the review below. The luxury hosting company entirely skips over the shared hosting service level to focus on the high-powered environments of cloud, VPS, and dedicated servers.
Right off the bat, cloud hosting customers can enjoy ridiculous numbers of virtualized CPUs and amounts of storage, bandwidth, and memory. Plus, Liquid Web's customer support teams are known across the industry for being available at the drop of a hat; the company guarantees you'll be able to speak with a certified systems administrator within 59 seconds.


Monthly Starting Price $15.00
50% off the first month for HostingAdvice users
Cloudflare CDN, DDoS protection, and backups
Performance-boosting SSDs and cloud flexibility
Rock-solid reliability with 100% uptime guarantees
24/7 Heroic Support

®

via phone, chat, and email
CLOUD
RATING 4.5 ★★★★★ Our Review
Liquid Web: Our Expert's Review
Setup time: 7 minutes
Alexandra Leslie (HostingAdvice.com): Liquid Web balances managed services and hardware power with cloud flexibility — a brilliant solution in cloud hosting. The company's packages include instant provisioning, CloudFlare CDN, built-in backups, and, of course, the reliability of the Heroic Support team. Go to full review »
| Money Back Guarantee | Disk Space | Domain Name | Cloud Hosting Plans |
| --- | --- | --- | --- |
| N/A | 30 GB SSD - 150 GB SSD | New or Transfer | www.liquidweb.com/cloud |
8. iPage – $19.99/month
As a sister company to Bluehost, iPage echoes the same focus on affordability and customer service with its cloud-based VPS offerings. Experienced developers and site administrators may miss out on some elements of control and customization, but iPage's pre-installed scripts, free domain name, and managed support mean beginners can get started with ease.
Root access is optional for those who want to fine-tune their environments, but those taking their first steps into cloud VPS hosting will particularly appreciate the simple scalability that is unlocked with the company's instant provisioning and seamless migration options.


Monthly Starting Price $19.99
Custom configurations and instant deployment
Unlimited domains, databases, and FTP accounts
High-speed SAN storage and guaranteed memory
Up to 4TB of bandwidth and 8GB of RAM
Seamless migration options via cPanel
CLOUD
RATING 4.4 ★★★★★ Our Review
iPage: Our Expert's Review
Setup time: 6 minutes
PJ Fancher (HostingAdvice.com): With instant provisioning of semi-private resources, iPage offers an excellent cloud-based VPS solution for those looking for a step up from shared hosting. The company includes fully managed services and support, plus customizable configuration options…. Go to full review »
| Money Back Guarantee | Disk Space | Domain Name | Cloud Hosting Plans |
| --- | --- | --- | --- |
| 30 days | 40 GB - 120 GB | FREE (1 year) | www.ipage.com/cloud |
"Best of the Rest:" Cloud Hosting Options by Price
We've shown you our clear favorites for the industry's best cheap cloud hosting — still, seemingly endless options abound when it comes to this popular service. If our top picks above haven't convinced you, take a look at these next few choices.
Just because the companies listed below tend to offer services that appeal to specialized audiences doesn't mean they won't work for you. Whether you're looking for developer-friendly automation, application-specific optimizations, Windows-based cloud hosting, or some help getting started with the giants of AWS, Azure, or Google Cloud, these next companies are sure to steer you in the right direction.
9. Vultr – $2.50/month
In just four years, Vultr has deployed more than 20 million cloud server instances. The company's mission to empower developers and businesses by simplifying cloud infrastructure clearly resonates with its customer base, which has grown to more than 100,000 customers around the world. Vultr enables users to spin up public cloud, storage, and single-tenant bare metal servers in 16 datacenters.
Vultr allows for monthly or hourly billing instead of long-term contracts, and the highly customizable server configurations enable developers to quickly launch, test, and scale environments perfectly sized for each particular application or website. The company's Intel cores, unlimited operating system choices, and feature-rich control panel is sure to resonate with admins looking for a fast, affordable, and efficient cloud service.
10. AccuWebHosting – $4.79/month
A much more simplified introduction to the cloud, AccuWebHosting has moved some of its shared hosting services to cloud-based infrastructure to alleviate the common stability and security issues found with crowded shared servers. Even better, the company relies on the redundancy of its cloud network to promise 100% uptime to its cloud hosting customers — far better than what you typically encounter with traditional shared hosting.
Most notably, AccuWebHosting offers a Windows flavor of cloud hosting for those preferring to work in ASP.NET, VisualBasic, or C++. We particularly appreciate the company's well-rounded service portfolio, enabling customers to start with cloud-based shared hosting and seamlessly migrate to similarly affordable Windows or Linux cloud VPS plans.
11. DigitalOcean – $5.00/month
A particularly favorite pick among developers, DigitalOcean is a trusted, reputable cloud hosting provider that has been around since 2011. The company impressively emphasizes simplicity without scrimping on any technical features for cloud computing, block or object storage, managed Kubernetes clusters, or load balancers.
Innovative companies, including Docker, GitLab, Slack, and WeWork, trust Digital Ocean to host and secure their apps. DigitalOcean's standard cloud instances, or droplets, start with a modest 25GB of SSD storage, 1TB of data transfer, and 1GB of memory, but CPU optimized configurations for video encoding, machine learning, ad serving, and other resource-intense operations give customers four times more bandwidth and RAM.
12. Linode – $5.00/month
Helping to define the cloud hosting industry in 2003, Linode launched as one of the earlier providers and continues to lead the way in virtualized environments and innovations. The company's high-performance SSDs, Intel E5 processors, and a 40Gbps network mean your website or application will simply fly.
The ultra-simple management interface allows users to easily deploy, boot, resize, and clone cloud environments in just a few clicks, but you'll have to add upgrades for backups, load balancing, system metrics, and managed services. Linode's nine datacenters on three continents lag slightly behind the competitors in this section but will provide more than enough global presence for most cloud customers.
13. Cloudways – $10.00/month
Offering a different type of cloud hosting service, Cloudways empowers customers to choose exactly the network, infrastructure, and cloud provider of their choice — all with the expert oversight and support to streamline all technical aspects and manage costs. The company's platform removes the complexity of spinning up servers on AWS, Google Cloud Platform, and several competitors in this section: Digital Ocean, Linode, and Vultr.
Cloudways stands out by combining Infrastructure-as-a-Service providers' high-performance infrastructure with the support and services more common to more traditional hosting experiences: access to a content delivery network and staging areas, PHP 7, firewalls, DNS management, free SSL certificates, managed backups, and monitoring.
14. CloudSigma – $14.00/month
Rounding out our list of the best cheap cloud hosting providers of 2021 is CloudSigma, a Swiss company that has cultivated a global presence after more than a decade in business. The company prioritizes a transparent billing system that enables customers to build and scale environments using the specific resources they desire instead of preconfigured packages.

CloudSigma provides completely unbundled computing options, or users can use pre-built, optimized configurations. At CloudSigma, every customer who spends at least $10 per month receives 1GB of RAM, 50GB of SSD storage, and 5TB of outbound data transfer — for free. For those who may need a little more enticement, you can try CloudSigma's platform at no cost thanks to a seven-day free trial.
Cloud Hosting Providers Boost Uptime Without Breaking Your Budget
The first few months or years of a new small business are the leanest. A company's limited budget is often allocated to build inventory and marketing, along with simply setting up shop and surviving. You may think a service like cloud hosting is a luxury, but it's well worth the investment — especially in one of the high-value providers listed above.
Cheap cloud hosting unlocks a ton of professional-grade features sure to resonate with online customers for not much more than budget-friendly shared web hosting. The redundancy of cloud servers means your website or application will always be on and performing at its best.
The added performance and reliability will have tremendously positive impacts on your business: For just a 1% delay in page load times, companies can expect to lose up to 7% of sales conversions. More than half of online shoppers say website speed is important, and nearly two-thirds will go elsewhere to buy if they have a negative online experience.
Startups, entrepreneurs, and developers can easily capitalize on the benefits of cloud hosting without getting bogged down in the cost, management, and headaches of complicated pay-as-you-go solutions. By lowering costs, increasing productivity, and optimizing infrastructure efficiency, cloud hosting services can provide a shorter path to profitability.
As cloud services continue to grow in popularity, the challenges have increasingly disappeared. The platform is becoming increasingly friendly to individuals and small businesses without much tech experience, making it the perfect fit for any business aspiring to grow. Save yourself the time, money, and resources by moving to the cloud.
Advertiser Disclosure
HostingAdvice.com is a free online resource that offers valuable content and comparison services to users. To keep this resource 100% free, we receive compensation from many of the offers listed on the site. Along with key review factors, this compensation may impact how and where products appear across the site (including, for example, the order in which they appear). HostingAdvice.com does not include the entire universe of available offers. Editorial opinions expressed on the site are strictly our own and are not provided, endorsed, or approved by advertisers.
Our Editorial Review Policy
Our site is committed to publishing independent, accurate content guided by strict editorial guidelines. Before articles and reviews are published on our site, they undergo a thorough review process performed by a team of independent editors and subject-matter experts to ensure the content's accuracy, timeliness, and impartiality. Our editorial team is separate and independent of our site's advertisers, and the opinions they express on our site are their own. To read more about our team members and their editorial backgrounds, please visit our site's About page.