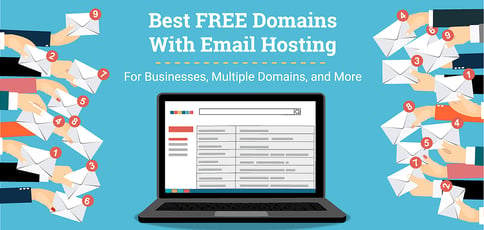 Finding that free domain with email hosting plans is a boon for those looking to make a strong first impression, as the email address you use helps consumers gauge how much they should trust your brand. Sure, a Gmail address is free and easy to set up, but 75% of consumers think having a custom email that matches your website is an important factor for building confidence.
Think of meeting someone new. In addition to physical attributes like a smile or an outfit, the all-important handshake goes a long way toward shaping an opinion — a firm, solid grasp is a sign of confidence and competence. However, some would argue that the limp-wristed, weak handshake can be a sign of submissiveness or an overly delicate nature.
Luckily for small business owners, a free domain with email hosting is a common feature included with most plans. Learn how to pair your mailbox with your domain name and which companies make the brand experience enjoyable for both you and your email recipients.
Best Overall for Free Domain and Email Hosting
Simply put, customers flat-out expect your business to have a domain name and a website. Even if you run a brick-and-mortar shop, customers will turn to your online presence to learn about your brand's location, hours, products, and prices. An email address that uses your domain name instead of the generic Gmail, Yahoo, or — gasp — Hotmail domain echoes your branding and oozes professionalism. A custom domain shows you're serious about your company and that it's not just some part-time hobby in which you're unwilling to invest modest amounts of time or money.
Registering a domain name typically costs about $10 to $15 per year. However, the vast majority of hosts will include the first year of your custom domain as a free perk for signing up for a long-term plan. When shopping for a new email hosting provider, be sure to keep an eye out for this feature.
Our clear favorite company that provides the perfect balance between email hosting services and free domain management tools is Bluehost. The well-known provider has long built a reputation as a WordPress host, but any company powering more than 2 million websites has to know what it's doing across the hosting spectrum.
For an affordable rate, Bluehost gives customers unlimited email and forwarding accounts, and three webmail solutions, plus supports POP3 and IMAP secure protocols for retrieving and accessing messages. In addition to boosting your credibility with a custom domain name and professional-grade email hosting, Bluehost is a trusted partner to help your business grow online. Read through and click on our review of the company below for more information:
FREE domain and unlimited emails
Secure email with 3 webmail solutions
$200 in advertising credits with Google and Bing
Google app integration available
FREE Office 365 mailbox for your first 30 days
Bluehost: Our Expert's Review
Setup time: 4 minutes
Go to full review

»
For email hosting with security and tons of available features, Bluehost is one of our favorites. The company includes a free domain name for a year, POP3 and IMAP security for unlimited emails, plus email forwarding and three web-based email solutions….
| Money Back Guarantee | Disk Space | Domain Name | Email Hosting Plans |
| --- | --- | --- | --- |
| 30 days | 50 GB - Unlimited | FREE (1 year) | www.bluehost.com/email |
Best "Cheap" Email Hosting With Free Domain
Of course, starting up a new business means there will be some lean times as you establish a customer base and steady profits. But just because you need to save money doesn't mean you have to accept shoddy and unreliable products. Because fast and secure email services are so critical to your business, don't sacrifice features or performance when selecting a host.
Whether you're communicating directly with customers about individual orders or using it to power ambitious email marketing campaigns, look for a professional email host that emphasizes performance, security, and reliability. What's more, many top and affordable providers combine email and web hosting into one plan, further streamlining your investment into your online presence.
You'll want to measure hosts based on their virus and spam filters, number of accounts, amount of storage space, and the ability to create aliases and forwarding accounts. Free migrations are always helpful, and IMAP support means you'll be able to access your messages from any device. As a bonus, look for compatibility with familiar programs like Office 365 or G Suite; incorporating your custom domain name with familiar software will help you work and communicate more effectively. Of course, the final cherry on top of the email hosting sundae is friendly, personal support. Look for a company that provides a thorough and helpful knowledgebase, as well as 24/7 support via live chat, phone, and email tickets.
For us, no one checks all the boxes for a more affordable price than iPage. By seamlessly pairing custom domain names and robust email hosting features — along with scalable and high-performance web hosting — iPage is a great full-service option for those on a budget.
FREE site transfers and 1-year domain registration
Unlimited domains, storage, and email addresses
Email forwarding, autoresponders, and webmai
Market your site with $200 in ad credits
FREE online store and site-building tools
iPage: Our Expert's Review
Setup time: 5 minutes
Go to full review

»
With iPage, users get a free domain name and email account, plus unlimited bandwidth, disk space, domains, and MySQL databases. The brand offers POP3/IMAP support for unlimited emails, plus autoresponders, virus checking, and spam filters….
| Money Back Guarantee | Disk Space | Domain Name | Email Hosting Plans |
| --- | --- | --- | --- |
| 30 days | Unlimited | FREE (1 year) | www.ipage.com/email |
Best "Business" Email Hosting With Free Domain
Although social media and texting have surpassed email in terms of popularity and staying in touch with friends, email remains an essential top choice for communicating about business and transactions. Well-crafted emails are a great way to communicate with your customers or potential clients, all around the world. Phone calls can be daunting, labor-intensive, and tough to schedule, while social media is often too fleeting and unprofessional. Email messages introduce a level of sophistication and importance, and allow recipients time to absorb and act upon the information when it's convenient for them.
Although email may seem outdated when compared with newer communication strategies, technologies, and platforms, entrepreneurs can act more efficiently and see much greater success. Numerous studies tout the effectiveness of the email marketing channel in building sales and customer engagement. According to the Direct Marketing Association and Demand Metric, email carries an average return on investment of 122% — more than four times higher than other marketing formats like social media, direct mail, paid search, and online display ads. Another study discovered that, while many businesses designate about 16% of their marketing budget to email campaigns, the messages contributed to 23% of total sales.
As your brand becomes more established and your messaging starts to resonate with your customer base, you'll need larger storage capacities, more email addresses, and more tools for collaboration and productivity. Fortunately, several top-tier email hosts remove these restrictions for customers from the get-go. No matter which plan you choose with our favorite business email hosting provider, InMotion Hosting, you'll receive unlimited email accounts and storage — and, of course, a free domain name. The company's helpful support teams will seamlessly transfer your contacts and messages to their servers for free, and InMotion's proprietary SpamSafe filtering service saves customers time and money by weeding out junk mail. Learn more about InMotion in our review, below:
FREE domain registration or no-downtime transfer
Unlimited SPAM Safe™ email with IMAP
1-click app installer and FREE marketing tools
Business-class hardware and ecommerce-ready
SSD storage plus FREE data backups and SSL security
InMotion: Our Expert's Review
Setup time: 5 minutes
Go to full review

»
For business-class email hosting, look no further than InMotion. They offer a free domain name, SSD drive, and secure IMAP email.
Best for "Multiple Domains" and Email Hosting
Your business only has one name, so it's completely natural to register one domain when you decide to move your brand online. That short-sighted approach, however, can majorly affect your company's future growth and effectiveness as it expands. Perhaps you chose a domain name based on your localized business — what happens when you grow beyond your town to serve a statewide or even national audience? Effective online marketing means consumers will find your website or subscribe to your email lists from all over the world. Be ready to take advantage of the new revenue opportunities by developing a strong, forward-thinking domain portfolio.
Instead of just yourname.com, consider the .org, .net, and other domain extensions; you'll be able to redirect any web traffic to your main site and email addresses, ensuring no potential customers will slip through the cracks. Also look for common misspellings or domain names similar to your brand to make sure competitors don't give you any headaches.
To be fair, most email hosting providers only hand out one free domain registration with their services. That said, domain names are an easy investment to make: At the cost of roughly $1 per month per domain, you'll be protecting and boosting your brand presence.
Some hosts, however, limit customers to the number of domains that can be hosted on one account. Instead of throwing in the towel, sign up with a provider like iPage that gives you unlimited disk space, scalable bandwidth, and enables you to host as many domains and email addresses as you want. In addition to webmail, forwarding services, and autoresponders, iPage provides customizable spam filters and virus scans at a surprisingly low rate. The company streamlines the hosting experience with its one-size-fits-all approach to email, web, and domain hosting:
FREE site transfers and 1-year domain registration
Unlimited domains, storage, and email addresses
Email forwarding, autoresponders, and webmai
Market your site with $200 in ad credits
FREE online store and site-building tools
iPage: Our Expert's Review
Setup time: 5 minutes
Go to full review

»
With iPage, users get a free domain name and email account, plus unlimited bandwidth, disk space, domains, and MySQL databases. The brand offers POP3/IMAP support for unlimited emails, plus autoresponders, virus checking, and spam filters….
| Money Back Guarantee | Disk Space | Domain Name | Email Hosting Plans |
| --- | --- | --- | --- |
| 30 days | Unlimited | FREE (1 year) | www.ipage.com/email |
Best of the Rest: Free Domain Registration With Email Hosting
We've described the best email hosting providers that include a free domain name in four categories, covering price, scale, and functionality, but there are countless other options to explore. Which company is the best for, say, WordPress? Windows hosting? Scalability?
Because the free domain registration tends to be the first included perk of signing up for an annual email or web hosting package, we're covering all the bases below by giving you nine more options to compare. These hosts represent the cream of the crop when it comes to domain management, email performance, marketing tools, productivity add-ons, and security features.
5. HostGator
A leading host founded in Florida in 2002, HostGator has expanded beyond the southeast to serve millions of customers worldwide. The company's 24/7 support teams have answered more than 5 million chat messages, meaning they'll quickly help you resolve any issues you manage to uncover.
For less than $5 per month, HostGator represents a one-stop shop for building a comprehensive web presence that incorporates strong design, reliable email, and secure domain tools. The company's proprietary site builder pairs well with personalized, professional email and calendar systems. Customers can create unlimited accounts, all with built-in spam filters and virus scanners.
Get 62% off by buying 36 months up front
Unmetered disk space & bandwidth
Unlimited email addresses & free SSL certificate
One-click WordPress install & free blog tools
Free 1-year domain registration on select plans
HostGator: Our Expert's Review
Setup time: 4 minutes
Go to full review

»
HostGator is a great compromise between performance and price. The company offers unlimited emails, MySQL databases, disk space, and bandwidth, plus one-click installs of popular open-source projects, in addition to a 99.
| Money Back Guarantee | Disk Space | Domain Name | Cheap Hosting Plans |
| --- | --- | --- | --- |
| 45 days | Unlimited | FREE (1 year) | www.hostgator.com/shared |
6. Hostinger
As a relative newcomer to the affordable hosting industry, Hostinger is a full-service provider that covers the gamut of hosting solutions. The company takes a refreshing approach to building an infrastructure driven by open-source solutions and friendly, personable customer support.
In addition to the unlimited email accounts and free domain registration included with the company's upgraded packages, customers can leverage performance-minded technologies like LiteSpeed and CloudFlare. Compare Hostinger's email and domain hosting options by clicking on our review below:
Unlimited everything, from storage to databases
FREE site builder & WP performance upgrades
FREE daily or weekly backups
Custom control panel and auto-installation scripts
SSH access & SSL certificates
Hostinger: Our Expert's Review
Setup time: 3 minutes
Go to full review

»
As the shared hosting market becomes increasingly saturated, unlimited storage, bandwidth, and email accounts have become surprisingly average. Hostinger, however, extends the routine, expected metrics to greater lengths — the number of websites, databases, FTP users, subdomains, and parked domains are all unrestricted for most customers.
| Money Back Guarantee | Disk Space | Domain Name | Cheap Hosting Plans |
| --- | --- | --- | --- |
| 30 days | 10 GB SSD - 30 GB SSD | FREE (1 year) | www.hostinger.com/shared |
7. Hostwinds
Perfect for slightly more knowledgeable site owners or developers looking for a bit more nuance and performance, Hostwinds is a newer company launched in 2010 to provide modern infrastructure and top-notch customer support. The standard shared hosting plans merge the best of email, web, and domain hosting into affordable packages that emphasize usability with one-click software installations, cPanel, and the Weebly website builder.
Upgrading to the business level of shared hosting packages, however, introduces high-speed SSDs and LiteSpeed web servers that load pages up to 500% faster. Hostwinds boasts an impressive 99.999% uptime guarantee at this level, as well, making the company a strong partner for your online success.
Shared hosting plans offer the ultimate affordability
Upgraded business plans give users more control
Unlimited bandwidth, email, and subdomains
FREE site transfers and domain name registration
Softaculous auto-installation scripts
Hostwinds: Our Expert's Review
Setup time: 5 minutes
Go to full review

»
A recurring theme in the Hostwinds product lineup, the company offers multiple configurations to ensure every customer's needs are perfectly met. The standard shared hosting services compete with the likes of InMotion Hosting, SiteGround, and A2 Hosting.
| Money Back Guarantee | Disk Space | Domain Name | Cheap Hosting Plans |
| --- | --- | --- | --- |
| 60 days | Unlimited SSD | FREE (1 year) | www.hostwinds.com/shared |
8. GoDaddy
With more than 77 million domains under management, GoDaddy is a clear first choice for all things domain name registrations. The beginner-friendly host offers a growing number of advanced features to usher customers and their brands across the full spectrum of hosting needs. Affordability is a top perk with GoDaddy, which has been trusted since 1997 to deliver well-supported hosting, design, and productivity services.
While GoDaddy is a superb all-around host, its email offerings are more sparse than other competitors. The company focuses more on website builders and design tools, opting to give web hosting customers a free domain name and one year of free email hosting via Microsoft Office 365. The perk enables site owners to get a sneak peek into a premium email experience, for sure, but they will need to renew and pay for the service annually.
World's top registrar offers a FREE domain with hosting
Industry-leading page load times for your site
Unlimited bandwidth with up to unlimited storage space
Choose between cPanel or Plesk control panels
Award-winning support on hand 24/7
GoDaddy: Our Expert's Review
Setup time: 4 minutes
Go to full review

»
A major pull factor for GoDaddy's hosting services is certainly the cost. It's hard to beat web hosting for a dollar per month, especially when the company includes a free domain name, control panel, and impressively fast load times.
| Money Back Guarantee | Disk Space | Domain Name | Cheap Hosting Plans |
| --- | --- | --- | --- |
| 30 days | 100 GB - Unlimited | FREE (1 year) | www.godaddy.com/shared |
9. GreenGeeks
For those website owners focused on saving the world, GreenGeeks is an excellent route to explore. The company returns into the power grid more than three times the energy its datacenters consume in terms of renewable energy credits. GreenGeeks removes seemingly all restrictions on customers' computing resources, giving them unlimited SSD storage, email accounts, bandwidth, and domain names, and includes a free website builder, domain registration, and SSL certificate for free.
GreenGeeks offers complete scalability and security at all levels of service, making notoriously difficult PCI compliance available with a simple add-on. The company does enforce sent email quotas, but they're in line with industry standards.
Unlimited and scalable computing resources with RAID-10 storage
Proactive server monitoring and real-time security scans
1-click installations of 150+ apps
Unlimited domains & email accounts
Around-the-clock expert support via phone, chat, and email
GreenGeeks: Our Expert's Review
Setup time: 4 minutes
Go to full review

»
Perfect for small business owners, bloggers, or web developers, GreenGeeks offers an impressive blend of features that appeal to all types of site owners. More experienced customers will appreciate the unlimited domain names, SSD RAID-10 storage, and unmetered data transfers, along with nightly backups and built-in caching programs.
| Money Back Guarantee | Disk Space | Domain Name | Cheap Hosting Plans |
| --- | --- | --- | --- |
| 30 days | Unlimited SSD | FREE (1 year) | www.greengeeks.com/shared |
10. AccuWebHosting
Equally serving high-performance Windows and Linux hosting plans, AccuWebHosting's offerings will particularly resonate with Windows aficionados with ultra-fast SSD storage, the latest ASP.NET core, Windows Server 2016, and SQL Server 2017. Linux customers will appreciate the CloudLinux operating system and LiteSpeed servers; in addition to the relevant cPanel or Plesk control panel, site owners can enjoy daily backups, free migrations, and several other perks.
The company limits email accounts to 150, which should still be enough to serve the vast majority of customers. AccuWebHosting supports the POP3, SMTP, and IMAP protocols and provides an AJAX-powered webmail, calendar, and tasklist interface. An optional, cloud-based SpamExperts add-on further protects your inboxes and time.
FREE RVsitebuilder & 400 templates
Unlimited domains and databases
Scalable shared cloud server option
CloudLinux OS and LiteSpeed server
Multiple DDoS protections
AccuWebHosting: Our Expert's Review
Setup time: 4 minutes
Go to full review

»
The Swiss Army knife of shared hosting providers, AccuWebHosting showcases diversity and flexibility at the basic level of hosting. The provider offers three flavors each of Windows and Linux hosting services, plus additional configurations for applications such as WordPress, Node.
11. Web Hosting Hub
As shared hosting specialists, Web Hosting Hub specializes in serving small business owners, individual developers, and first-time site owners with scalable and affordable services. The company's plans have a slight skew toward WordPress and eCommerce functionality, though Web Hosting Hub will flawlessly serve a wide range of needs.
The company gives customers unlimited storage, bandwidth, and email accounts, and an above-average 90-day money-back guarantee. Along with 20-times-faster SSDs, Web Hosting Hub supports POP3 and IMAP email protocols and includes both email forwarding tools and SpamSafe protection. On the domain name front, customers can enjoy free and secure domain locking and automatic renewals.
Unlimited storage, bandwidth, and email accounts
FREE website builder with ecommerce tools
Included site transfers and personalized onboarding
$150 in Facebook, Google, and Bing ad credits
400+ Softaculous 1-click app installers
Web Hosting Hub: Our Expert's Review
Setup time: 6 minutes
Go to full review

»
For those on a budget looking for a first-time host, and for those who would like a few extras to go along with it, Web Hosting Hub has a plan for you. With a whole lot of features, the company is a great value — so long as you are willing to sign up for a longer plan.
12. HostPapa
By offering customers a one-on-one consultation and training session with a hosting expert, HostPapa ensures new customers will feel comfortable with the various domain and email hosting tools, while more advanced users can discover new ways to work more effectively and efficiently. Customers can host unlimited domains and email accounts with HostPapa's Business and Business Pro packages, with the latter also including domain privacy to protect the personal information attached to your registration.
For an upgraded email experience, the company offers integrations with Microsoft Office 365 and G Suite, as well as basic and advanced email packages. We particularly appreciate HostPapa's larger-than-average 5GB of email storage and generous attachment size limits. Advanced email customers also have access to a file sharing system to deliver files that exceed limits with most other services.
FREE drag-and-drop HostPapa website builder
Host unlimited WordPress sites on one account
24/7 support via phone, email, and live chat
FREE domain registration and email accounts
99.9% uptime guarantee and unlimited bandwidth
HostPapa: Our Expert's Review
Setup time: 5 minutes
Go to full review

»
Where HostPapa shines is with its shared hosting, which offers affordable and feature-rich plans geared toward helping both website and small business owners grow their online presence. HostPapa wants to be more than just a web host, according to CEO Jamie Opalchuck, who told us that the company aims to be a 1-stop shop for small businesses looking for a seamless and simple experience to help them grow.
| Money Back Guarantee | Disk Space | Domain Name | Cheap Hosting Plans |
| --- | --- | --- | --- |
| 30 days | 100 GB - Unlimited | FREE (1 year) | www.hostpapa.com/shared |
13. JustHost
As a full-service host particularly tuned to a customer's marketing needs, JustHost combines free domain and email hosting with a drag-and-drop website builder, site analytics, and eCommerce functionality. Despite the vast number of features, the veteran hosting company simplifies the signup and onboarding process by including everything in just one package.
In addition to unlimited support for email forwarding, add-on or parked domains, and the IMAP or POP3 protocols, JustHost provides three different webmail solutions, autoresponders, and SpamAssassin protection. The company's 24/7 network monitoring can alert customers to potential security vulnerabilities, while free one-click installation scripts can cover your needs for mailing lists.
Unlimited email accounts and FREE site builder
$200 in Facebook, Google, and Bing advertising credits
24/7 support via phone, email, and chat
Website builder, marketing tools, and SEO tips included
FREE domain name registration
JustHost: Our Expert's Review
Setup time: 4 minutes
Go to full review

»
A lot of freebies come along with JustHost, making the shared hosting brand a great value. The basic plan is very affordable, and the best deals are saved for those customers who sign up for multiple years.
| Money Back Guarantee | Disk Space | Domain Name | Cheap Hosting Plans |
| --- | --- | --- | --- |
| 30 days | 50 GB - Unlimited | FREE (1 year) | www.justhost.com/shared |
Perks of Pairing a Custom Domain and Hosting With Google or Microsoft
As Robert Frost once wrote, "Two roads diverged in a yellow wood, and sorry I could not travel both." Such represents the two paths facing your domain and email experience once you've signed up for hosting and registered a name. Are you happy with your host's webmail interface, or would you rather work with something more familiar? Does your host provide all the calendar, collaboration, and productivity tools you desire? If your email host checks all the boxes with its in-house services, you're free to get to work setting up and configuring your accounts and inboxes.
Many customers, however, prefer to work with well-known software like Gmail or Outlook. Aside from the iOS and macOS mail programs, Gmail and Outlook represent the most popular email clients. Each program is part of a larger platform of cloud-based software, also known as Software-as-a-Service, which includes additional programs for cloud storage, calendars, and chat, as well as the creation of text documents, spreadsheets, or presentations. If this might be you, don't hook up your email hosting through your host quite yet!
Even though it's somewhat frustrating, these platforms typically aren't included out-of-the-box with most hosting plans. You'll need to invest another few dollars per month for these services, but many are willing to make that investment for the powerful tools. Many providers include G Suite or Microsoft Office 365 as a paid upgrade option, combining it with an easy installation or setup wizard. Even if the Google or Microsoft logos aren't anywhere to be found with your host, you can sign up separately and find several guides instructing you how to connect your domain to your G Suite account.
Running your email through G Suite or Office 365 provides more reliability and stability to your online presence by avoiding server resource issues or blacklisting thanks to a spammy site owner sharing your infrastructure. There will be other caveats and third-party programs that may be more useful for bulk emailing, marketing campaigns, and transactional messages, but we deeply appreciate that ability to hit the ground running with a familiar, mobile-friendly platform like G Suite and Office 365.
Advertiser Disclosure
HostingAdvice.com is a free online resource that offers valuable content and comparison services to users. To keep this resource 100% free, we receive compensation from many of the offers listed on the site. Along with key review factors, this compensation may impact how and where products appear across the site (including, for example, the order in which they appear). HostingAdvice.com does not include the entire universe of available offers. Editorial opinions expressed on the site are strictly our own and are not provided, endorsed, or approved by advertisers.
Our Editorial Review Policy
Our site is committed to publishing independent, accurate content guided by strict editorial guidelines. Before articles and reviews are published on our site, they undergo a thorough review process performed by a team of independent editors and subject-matter experts to ensure the content's accuracy, timeliness, and impartiality. Our editorial team is separate and independent of our site's advertisers, and the opinions they express on our site are their own. To read more about our team members and their editorial backgrounds, please visit our site's About page.