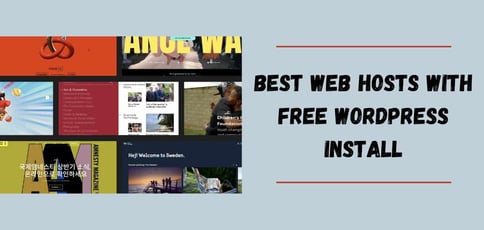 WordPress controls a whopping 63% of the global CMS market share. And that's no surprise, given its versatility and customizability. Creators can make online stores, blogs, and business websites for every industry without coding.
Although the manual installation of WordPress is not complex for experienced developers, most web hosts now offer free "one-click" installations of the script that save time. The best web hosts with a free WordPress install will include bonus offers like custom themes, caching integration, or site builders — major perks for website owners.
Read on to learn more about our recommendations for the best web hosts with free WordPress installs.
WordPress Hosts With Free Installations
Some WordPress hosting plans auto-install the script and database for the owner to start building a new website immediately. Many of these platforms are pre-configured with caching support for WordPress, including free themes, pre-installed WooCommerce, and site builder options.
Other hosting provider platforms only require the owner to add a domain name and email settings for the admin account to install the script. Developers receive a free "one-click" WordPress installation with the purchase of a cPanel hosting plan by using Softaculous, Fantastico, or Webuzo. Most shared WordPress hosting plans with cPanel allow publishers to support unlimited domains. This remains the best value for web developers in the marketplace.
The hosts listed below offer the most development resources on WordPress plans with a free domain name, SSL certificates, professional themes, and other bonus offers.
Recommended by WordPress.org since 2005
Automatic WordPress updates and initial install
FREE WordPress themes in the Bluehost Marketplace
24/7 support via live chat, phone, and email
Get exclusive discounts on WordPress plans
WORDPRESS
RATING 4.9 ★★★★★ Our Review
Bluehost: Our Expert's Review
Ryan Frankel (HostingAdvice.com): Bluehost's WordPress hosting packages are aimed at first-time site owners and personal bloggers. These services come at a premium compared to the standard Bluehost web hosting (basic shared hosting) plans, but the WordPress optimization and platform-specific resources are arguably worth the cost. Go to full review »
| Money Back Guarantee | Disk Space | Domain Name | Setup Time |
| --- | --- | --- | --- |
| 30 days | 50 GB SSD – 100 GB SSD | FREE (1 year) | 7 minutes |
All Bluehost hosting plans include a free WordPress installation, automated updates, and enrollment in WordPress Academy for learning resources. Get a free domain for new website launches and take advantage of Bluehost's 75% faster WordPress speeds.
The Bluehost Marketplace includes custom themes and plugins not found on other hosting provider sites. Free Cloudflare CDN integration allows publishers to cache pages across hundreds of global servers. Its eCommerce store offers include a free $450 set of WooCommerce plugins.
Bluehost remains one of the oldest and most trusted WordPress hosting options.
Officially endorsed by WordPress.org
FREE migration plugin or automated installation
Pre-installed Git, 3 caching levels, and FREE CDN
FREE WP setup wizard, staging, and auto-updates
Fast, 24/7 support via custom chat system
WORDPRESS
RATING 4.9 ★★★★★ Our Review
SiteGround: Our Expert's Review
Alexandra Anderson (HostingAdvice.com): Want a hassle-free, WordPress-optimized hosting service. SiteGround has thought of everything you need to get your site up and running. Go to full review »
| Money Back Guarantee | Disk Space | Domain Name | Setup Time |
| --- | --- | --- | --- |
| 30 days | 10 GB SSD – 40 GB SSD | New or Transfer | 6 minutes |
A free WordPress installation is standard at SiteGround with a managed hosting account. The company provides everything required to run a WooCommerce store on the platform, including a free site migration and SSL certificate for every domain. This perk saves a lot of money over time.
A major advantage of WordPress hosting at SiteGround is its pre-configured caching that will increase page load speeds with the SuperCacher plugin. Developers can also use WP-CLI and version control tools like Git in staging environments with SiteGround's WordPress hosting service. SiteGround is a professional WordPress development platform built for teamwork.
1-click WP install, PHP 7+, HTTP/2, and NGINX
All-in-one security protections from BitNinja
WordPress optimizations boost performance
No price markup for WordPress services
Daily backups and FREE SSL certificate
WORDPRESS
RATING 4.9 ★★★★★ Our Review
Hostinger: Our Expert's Review
Laura Bernheim (HostingAdvice.com): As much as we love WordPress, one of our biggest pet peeves is when hosting providers exploit the popularity of the world's most-used content management system by offering so-called WordPress hosting that, in reality, is exactly the same as the host's shared server plans. Fortunately, Hostinger's ultra-fast infrastructure and easy access to SSL certificates and backups sets up the company to outperform the vast majority of the violators of our admittedly made-up rule. Go to full review »
| Money Back Guarantee | Disk Space | Domain Name | Setup Time |
| --- | --- | --- | --- |
| 30 days | 50 GB SSD – 200 GB SSD | FREE (1 year) | 4 minutes |
Hostinger has built a WordPress hosting platform with staging environments, one-click installation, auto-updates, and new AI tools for design. The platform includes LiteSpeed server acceleration, command line tools including WP-CLI, caching integration, and hardened security.
There are very few WordPress platforms with more options for developers than Hostinger. The platform supports multi-domain publishing for up to 300 websites per account. You also get a free domain name, SSL certificates, daily backups, and CDN integration.
Up to 12x faster WordPress hosting
FREE SSL certificate and SSD storage
Automatic WordPress plugin, theme, and core updates
Features a FREE drag-and-drop WP page editor
Premium themes and plugin subscriptions
WORDPRESS
RATING 4.9 ★★★★★ Our Review
InMotion: Our Expert's Review
PJ Fancher (HostingAdvice.com): InMotion Hosting, long known for affordable and high-performance shared hosting options, entered the WordPress space with a solid option built upon the company's reputation for great support and reliability. Build on an all-SSD infrastructure, InMotion's inherently quick speeds make the infrastructure a perfect fit for delivering rapid WordPress page loads. Go to full review »
| Money Back Guarantee | Disk Space | Domain Name | Setup Time |
| --- | --- | --- | --- |
| 90 days | 100 GB – Unlimited NVMe SSD | FREE (1 year) | 5 minutes |
With InMotion Hosting, you don't need to get involved with FTP or MySQL database installation and can get a new WordPress website up and running in less than an hour with Softaculous. You can also use version control with Git through root server access via SSH connections.
If you are a WordPress expert, choose InMotion Hosting for free BoldGrid support on fast NVMe SSD hardware. If you are a WordPress beginner, the professional development options offered by InMotion Hosting with cPanel are a great way to learn how to use the CMS intuitively.
WordPress hosting for up to unlimited sites
FREE WordPress website migration
Fully managed hosting with DreamPress plan
NEW WordPress website builder tool
1 of 3 providers endorsed by WordPress.org
WORDPRESS
RATING 4.9 ★★★★★ Our Review
DreamHost: Our Expert's Review
Laura Bernheim (HostingAdvice.com): One of only three hosting providers recommended by the WordPress Core team, DreamHost has actively contributed to the WordPress community for more than a decade. The company's platform is optimized for the incredibly popular content management system, and plans include easy setup, automated updates and backups, unlimited bandwidth, and 24/7 specialized support. Go to full review »
| Money Back Guarantee | Disk Space | Domain Name | Setup Time |
| --- | --- | --- | --- |
| 97 days | unlimited | FREE (1 year) | 4 minutes |
Dreamhost is one of the oldest companies in the web hosting marketplace, dating back to 1996. The company manages its own custom distribution of WordPress with DreamPress. This service includes all of the 5-star developer upgrades demanded by professional programmers.
The DreamPress platform includes a prebuilt caching solution, daily backups, free site migration services, and 24/7/365 customer support. WordPress is pre-installed with JetPack and a website builder, with options to run the CMS on elite hardware configurations for performance.
Managed WordPress hosting on shared servers
WordPress is preinstalled on all plans
Unlimited email addresses hosted at your domain
99.9% uptime guarantee for your blog
$150 in Google Ads spend match credit
WORDPRESS
RATING 4.8 ★★★★★ Our Review
HostGator: Our Expert's Review
Ryan Frankel (HostingAdvice.com): HostGator is great for all things shared hosting, and application-specific services — such as the classic one-click-install WordPress hosting — are no exception. The team recently updated its already clean and intuitive HostGator cPanel dashboard, wherein users can find a myriad of free apps and scripts to install, including WordPress. Go to full review »
| Money Back Guarantee | Disk Space | Domain Name | Setup Time |
| --- | --- | --- | --- |
| 30 days | Unlimited | New or Transfer | 4 minutes |
With HostGator plans, you get WordPress hosting at 2.5x the speeds of other options with a simplified control panel. Multi-site plans include one-click WordPress installation with a free domain name, SSL certificates, migration services, and advanced security features.
Single-site plans come with WordPress pre-installed, so you can just log in to the CMS and get to work. HostGator also gives developers a choice of hundreds of free themes for use in web design. You can sign up with a 30-day money-back guarantee to try HostGator at no risk.
Migrate unlimited WP sites using Cloudways plugin
FREE CDN and WordPress staging areas
Caching plugin, Breeze, comes pre-installed
SSD storage for 3x faster WordPress hosting
25% OFF with code HOSTINGADVICE
WORDPRESS
RATING 4.8 ★★★★★ Our Review
Cloudways: Our Expert's Review
Alexandra Anderson (HostingAdvice.com): Cloudways makes it simple to kick-start a WordPress site or app hosted in a cloud environment. During the initial setup, we were given a choice of a single- or multi-site installation of the latest WordPress version — complete with Cloudways optimizations — or a no-frills WP install. Go to full review »
| Money Back Guarantee | Disk Space | Domain Name | Setup Time |
| --- | --- | --- | --- |
| 3-day FREE trial | 20 GB SSD – 4 TB SSD | New or Transfer | 8 minutes |
Cloudways is a brand owned by Digital Ocean that has a completely unique managed cloud platform with support for hardware on public cloud providers. You can choose between AWS, Digital Ocean, or Google Cloud Platform hardware and run managed WordPress on VM plans.
Cloudways sees the small details required for professional WordPress hosting, including a free caching service named Breeze and anti-DDoS protection with Cloudflare on every plan. Free SSL certificates, automated staging environments, backups, and firewalls are extra benefits.
1-click WordPress installs via cPanel or Plesk
FREE domain from the world's #1 registrar
Experience 24/7 expert support
Award-winning security monitoring
FREE year of Office 365 business email services
WORDPRESS
RATING 4.4 ★★★★★ Our Review
GoDaddy: Our Expert's Review
Ryan Frankel (HostingAdvice.com): As champions of low-cost, high-impact hosting, GoDaddy understandably offers a slew of services geared for all levels of WordPress users. Starting with the company's basic shared hosting services, which start at $2.99 per month, each GoDaddy customer who signs up for an annual plan receive a free domain name and the power to control their site via the cPanel or Plesk control panels. Go to full review »
| Money Back Guarantee | Disk Space | Domain Name | Setup Time |
| --- | --- | --- | --- |
| 30 days | 30 GB SSD – Unlimited SSD | FREE (1 year) | 6 minutes |
GoDaddy is a divisive brand in the web hosting industry. People either love or hate the brand, mostly on fundamentals unrelated to their performance as a web host. Since the merger with MediaTemple and the change of management team, GoDaddy has re-emerged with great services.
GoDaddy is still the world's largest domain name registrar, so it makes sense to host with them if your domains are also registered there. GoDaddy includes a free domain, SSL certificate, malware scanning, WAF, and backups, as expected by a world-class hosting company.
GoDaddy engineers are doing some of the most innovative work with AI-driven design for WordPress sites, and its cloud datacenter engineering is also top-notch for eCommerce.
Entirely Free WordPress Hosts
For niche blogs, nonprofit groups, short-term requirements, and learning WordPress, the offers below deliver entirely free web hosting plans that you can use for installing a WordPress site. Most of these offers do not include unlimited bandwidth or website support like the best hosting plans. If you can't work with these limitations, consider a free plan just for blogging.
Although the free WordPress hosts listed below do not include the full suite of bonus offers and professional development tools available from premiere brands, they are still a good option for developers to access WordPress web hosting that publishes your message to the world.
9. WordPress.com
Free WordPress hosting used to be very popular with bloggers in the early days of Web 2.0. Since then, most web hosting companies have developed managed WordPress hosting services at cheap prices that rival the free options available on WordPress.com. Automattic has responded by developing enterprise-grade hosting on managed servers.


The free plans on WordPress.com are still limited to subdomain support only. You will need a credit card or PayPal to upgrade to a plan where you can use your own domain name. Automattic also limits the modules and themes that can be installed based on security screens. For bloggers, you can't do better in free WordPress hosting than using the original platform.
10. 000webhost
With 000webhost, web publishers are venturing into a new sub-brand service from Hostinger. Some of the problems with the free account is that it does not include a free SSL certificate or email support. If you can install Let's Encrypt and host email through A-records on Gmail or Outlook, 000webhost is one of the best totally free WordPress options available.


The free account at 000webhost includes free Cloudflare CDN integration but is throttled for most of the main features available for professional WordPress development.
11. InfinityFree
InfinityFree is the most honest and professional of the free web hosts. Where many companies in this sector appear to "fly by night," InfinityFree has been going strong for more than 10 years. The company offers completely free web hosting for WordPress with Softaculous installation.


InfinityFree currently delivers five GB of storage, support for unlimited websites, the ability to bring your own domains, and free SSL certificates for every site. The platform runs PHP 7.4 with MySQL 5.7. Developers can install up to 400 database instances on InfinityFree at zero cost.
12. ByetHost
ByetHost offers free hosting plans that support WordPress as an upsell method for premium platforms and reseller products. ByetHost has developed its own control panel (VistaPanel), which includes support for Softaculous and one-click WordPress installations with a five-database limit. ByetHost provides a list of subdomains that can be used for hosting free websites.


ByetHost free plans are good for bloggers, hobbyists, SEO promoters, and other niche projects with no budget for web hosting services. However, there is a five-site limit on ByetHost's free hosting plans.
13. x10 Hosting
x10 Hosting is another startup company using the option for free WordPress hosting as an upsell method for premium services. The advantages of x10 Hosting are that the sites will always remain free and support up to three domain names or two databases on LAMP servers. x10 Hosting uses DirectAdmin over cPanel on free accounts for cost savings.


Although the x10 Hosting free hosting plan will only support one or two WordPress sites, the availability of customer support and unthrottled access to services are recommended.
What Is WordPress Hosting?
WordPress hosting refers to a hosting plan made specifically to enhance your WordPress website's performance with features such as a content delivery network, SEO tools, and one-click script installation.
WordPress itself is an open-source CMS developed by Automattic and thousands of coders around the world who volunteer their time to program for the platform. Web publishers can create blogs, web content, articles, forums, profiles, and eCommerce stores with the script's core features or by installing open-source plugins.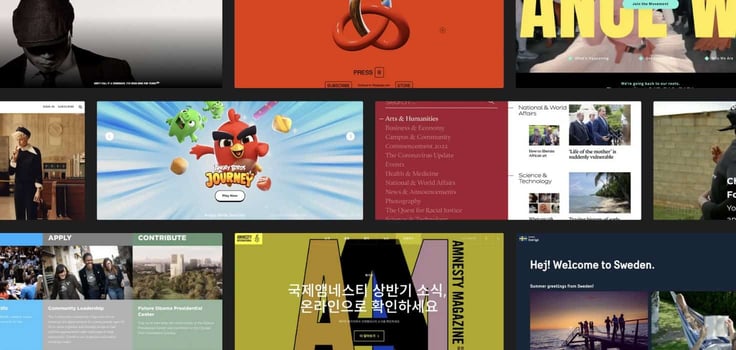 Although WordPress will run on both Linux and Windows servers, most web hosts choose Linux options for the lower cost of licensing. cPanel hosts run on RHEL or CloudLinux operating systems, which support the Apache HTTP web server framework and other features like email server management.
Other requirements for a web server to run a WordPress site include PHP extensions and a MySQL-compatible database framework. Packaging all these elements with an intuitive control panel on a shared web server is an important element of WordPress hosting. For even more features and support, managed WordPress services save publishers the time of installing and maintaining the CMS with security updates and platform upgrades.
How Do I Install WordPress?
There are two ways to install WordPress: manually or automatically. Most users will prefer using the automated method because it saves time and is more user-friendly. But if you are taking a DIY approach, follow these steps.
You may have to build a LAMP stack by installing the operating system with Apache, MySQL, and PHP extension components, as well as an administration panel, on a dedicated server or VPS hosting plan.
Manual Installation of WordPress:
Download the latest release of core files as a .zip file from WordPress.org.
Create a MySQL database and an administrative user with all permissions.
Set a password for the administrative account on the database.
Use FTP or FileManager to upload the WordPress .zip file to the server.
Unpack the files into the folder on the server registered to the domain.
Run the WordPress install script at: https://[your site]/wp-admin/install.php
Enter all the domain, database, email, and admin user information required.
Submit the data and log in as the admin user at: https://[your site]/wp-admin.
If you are using cPanel, the phpMyAdmin utility is pre-installed for database management. You can create new databases and users for the installation using this method as an alternative to a WordPress host with Softaculous or Fantastico, but it is technically more challenging.
An easier option is the MySQL Database Wizard functionality in cPanel. This simplifies new database and user creation while ensuring that you establish the correct security permissions on shared hosting with a WordPress plan.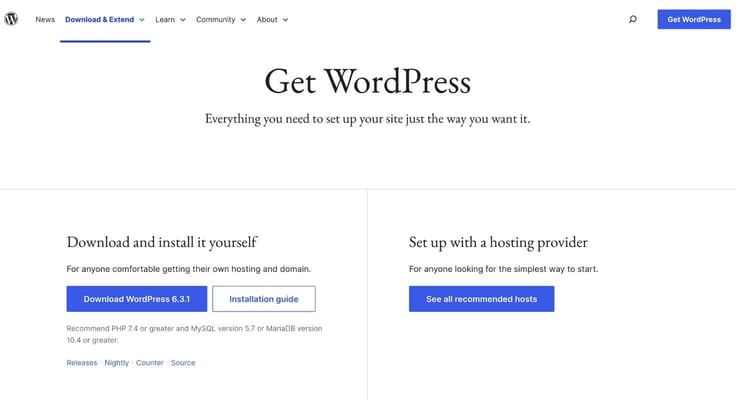 Pro tip: Make sure to keep a record of the information you enter during setup, particularly your admin credentials.
Softaculous is the best way to avoid the hassles of a manual WordPress installation and accomplish all of these steps with "one-click" automation. Some managed WordPress platforms use alternative methods to Softaculous or do not run cPanel server installation software. Use live chat with customer support to find out if your service provider will support all of these options with dedicated hosting for WordPress before committing to a long-term billing contract.
Does WordPress Still Offer Free Hosting?
Automattic offers free WordPress hosting on WordPress.com, although sites are limited to subdomain publishing. If you need to use a custom domain name that you have registered with another company, upgrading to a paid subscription plan is required. It is important to note that WordPress.com limits the use of plugins and themes to ones that have been whitelisted.


Because of these limitations, free hosting on WordPress.com may not be as flexible for website development as a VPS or shared hosting plan. It is mainly used by niche bloggers and hobby sites, while 5-star brands are upgrading to adopt Automattic's managed WooCommerce plans.
Which Free Hosting Is Best for WordPress?
A free hosting plan doesn't usually offer the customizations, storage, and bandwidth of a paid plan. However, there are a few providers that will work well for a small blog or student project.

For free WordPress hosting, we recommend WordPress.com, InfinityFree, or 000webhost. These providers place some common sense limitations on storage and bandwidth. They do not come with a free domain name like many paid plans. But if you're new to WordPress and are looking for a platform to test for free, these providers should do the trick.
Once you outgrow the limitations of your free plan, check out some of our favorite cheap WordPress hosts instead.
Is Free WordPress Hosting Good?
Free WordPress hosting depends on the quality of the hardware, datacenter engineering, and platform tools provided for administration. The imitation to subdomain publishing on most free accounts means your content will appear listed as: https://[username].wordpress.com.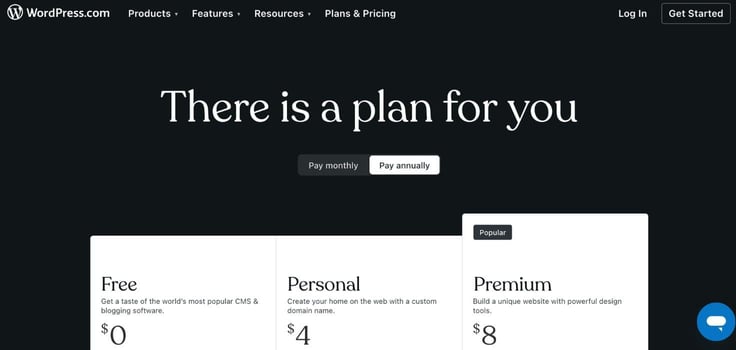 This type of web publishing is designed for blogging but is less effective for eCommerce. You can add pages with products, services, and a payment gateway for credit card processing on free accounts without installing WooCommerce. Some WordPress plugins will also support subscriptions or memberships.
At the end of the day, free hosting is good if you are tolerant of the account limits.
Who Should I Host My WordPress Site With?
Most free publishers should stay on a WordPress.com subdomain until their business or personal resources support an upgrade to a shared hosting account. Automattic has recommended Bluehost for many years as the best of the cPanel hosting companies, but the competitive landscape shifts rapidly. SiteGround and InMotion Hosting are also great options.
Budget cPanel hosts that offer a free domain name remain the best for WordPress hosting, while the provision of free SSL certificates is vital for multi-domain publishing. Look at hosting companies like Dreamhost, GoDaddy, and HostGator for value with unlimited domain plans.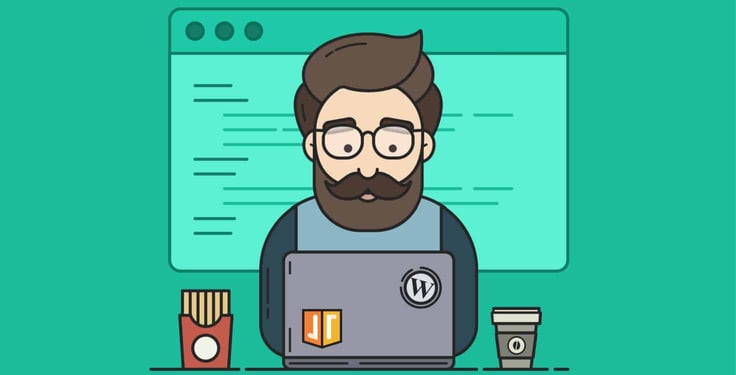 InMotion Hosting has fast NVME SSD servers with BoldGrid. SiteGround has built extensive resources with integrated caching for WordPress that supports developers with a suite of bonus tools like free SSL certificates.
Dreamhost even has its own distribution of WordPress available on managed servers. Who is best depends on whether you are looking for budget costs, development tools, integrated caching, bonus offers, or high-performance hardware speeds.
Choose Value with Managed WordPress on cPanel
WordPress hosting between $5 to $10 per month is the industry standard, and all of the major brands are competing to build the best platforms for developers. The free tools available include automated installation, site-building frameworks, caching modules, and professionally designed WordPress themes. The problem comes when the web hosting provider starts to renew the same plans at $200 or $300 per year.
Free plans sound great but rarely deliver on their promises to users. At a minimum, you will be forced to use a subdomain for publishing. In development, you may be prohibited from installing some plugins or themes because they have not been security-reviewed. In the worst cases, your sites will run on sub-standard hardware at slower performance speeds in production when using a free WordPress hosting provider.
It is usually better to spend a little more per month for a managed WordPress hosting plan. A shared cPanel hosting plan with Softaculous and support for unlimited domains is the best compromise between free hosting and expensive managed WordPress platforms like WP Engine. Look for a WordPress hosting service with a free domain, unlimited bandwidth, free SSL certificates, and "one-click" installation features to get the best overall deal.
Advertiser Disclosure
HostingAdvice.com is a free online resource that offers valuable content and comparison services to users. To keep this resource 100% free, we receive compensation from many of the offers listed on the site. Along with key review factors, this compensation may impact how and where products appear across the site (including, for example, the order in which they appear). HostingAdvice.com does not include the entire universe of available offers. Editorial opinions expressed on the site are strictly our own and are not provided, endorsed, or approved by advertisers.
Our Editorial Review Policy
Our site is committed to publishing independent, accurate content guided by strict editorial guidelines. Before articles and reviews are published on our site, they undergo a thorough review process performed by a team of independent editors and subject-matter experts to ensure the content's accuracy, timeliness, and impartiality. Our editorial team is separate and independent of our site's advertisers, and the opinions they express on our site are their own. To read more about our team members and their editorial backgrounds, please visit our site's About page.