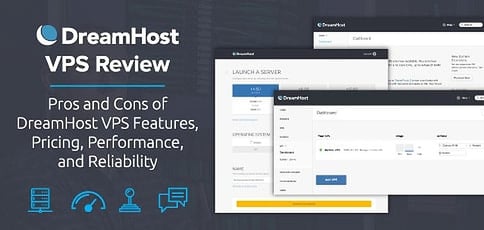 With a company heavily involved in the innovation and development of virtual private servers and cloud hosting, here's our in-depth DreamHost VPS review to help you determine whether the company's prices, performance, and support systems are a good fit for your website.
Moving from your comfortable shared hosting environment to a VPS can be a daunting task — much like a 20- or 30-something exploring the concept of finally leaving their parents' house. Even though you might be saving tons of money while living in a familiar, albeit perhaps crowded, shared space where your parents largely take care of cleaning and maintenance, the arrangement is usually not sustainable for the long haul. Similarly, moving a growing and profitable website to a new VPS hosting plan can be a major process that should be properly timed and thoroughly researched.
Luckily for site owners, DreamHost VPS hosting plans are backed by knowledgeable support technicians who will help you pack up and move to the grown-up, dedicated space of a virtual private server. We recently tested the company's VPS plans for reliability, performance, and support; read on to learn about the results.
DreamHost VPS Hosting Review: 4.7 / 5.0 Rating
Known for high-quality hosting, superb support, and wonderful WordPress assistance, DreamHost delivers the full spectrum of hosting options: shared, VPS, cloud, dedicated, with specialized solutions for WordPress and a website builder. What's more, the company's virtual private servers come in a variety of flavors, as well.
Naturally, the company offers well-priced standard VPS configurations with scalable storage and memory. However, DreamHost flashes some hosting muscle with two VPS options tailored to increase the speed of MySQL databases and WordPress installations. The premium MySQL plan includes an isolated Linux-VServer with dedicated resources for sending large amounts of data, while we've long loved the company's DreamPress platform. The company's fully managed WordPress solution allocates two VPS servers for each customer: one optimized for the frontend, and the other for MySQL.
Regardless of the plan you choose, all VPS plans come with a dedicated IP address, unlimited bandwidth and email accounts, high-performing solid-state drives, around-the-clock support, and a stellar 100% network uptime guarantee. With the bevy of features and perks available, it's easy to see why we ranked the company so well:
Custom web-based control panel
Unlimited MySQL databases
Easily scalable RAM
High-performance SSD drives
5 years of security updates with Ubuntu Long Term Support
VPS
RATING 4.7 ★★★★★ Our Review
DreamHost: Our Expert's Review
Laura Bernheim (HostingAdvice.com): With scalable RAM and SSD storage, DreamHost's VPS plans give customers a powerful, speedy, and stable environment ripe for growth. RAM ranges from 1GB to 8GB, while storage varies between 30GB and 240GB. Go to full review »
| Money Back Guarantee | Disk Space | Domain Name | Setup Time |
| --- | --- | --- | --- |
| N/A | 30 GB - 240 GB SSD | New or Transfer | 6 minutes |
DreamHost VPS Hosting Alternatives
Even though we love DreamHost for performance-driven virtual private servers, investment in open-source development, and overall expertise, the company isn't the only one to offer such positive hosting experiences. The host below is one of a handful of providers that optimize customer experiences by offering user-friendly plans and intuitive management tools to help websites, applications, and online businesses find success. As you'll read, our favorite VPS hosting provider offers many of the same advantages as DreamHost.
Turbo server & cache options for faster page loads
Well-built plans starting with 4GB RAM
FREE CDN plus auto-installs with Softaculous
Multilingual support and up to unlimited databases
Enhanced security with and daily kernel updates
VPS
RATING 4.9 ★★★★★ Our Review
A2 Hosting: Our Expert's Review
Alexandra Anderson (HostingAdvice.com): While A2 Hosting's turbocharged shared hosting platform gives site owners ample room to grow, the company's tech prowess is on full display with its portfolio of VPS options. Ranging from unmanaged, bare-metal environments to stress-free, fully managed space, A2 Hosting is sure to have the perfect option for your expanding online presence. Go to full review »
| Setup Time | Disk Space | CPU | RAM |
| --- | --- | --- | --- |
| 7 minutes | 150 GB SSD - 450 GB SSD | 1 - 8 Cores | 1 GB - 32 GB |
$0.01 for the first month using code HOSTINGADV
Then $6 monthly with no contracts, no changes
Latest of PHP, MySQL, Perl, Python, and Ruby
7 operating system options for Linux or Windows
Full root access and choice of datacenter
VPS
RATING 4.8 ★★★★★ Our Review
InterServer: Our Expert's Review
Laura Bernheim (HostingAdvice.com): InterServer's on-site datacenter and hands-on involvement with configuring and provisioning virtual private servers give customers a level of flexibility not seen with many other hosting providers. InterServer rations VPS and cloud resources through slices. Go to full review »
| Setup Time | Disk Space | CPU | RAM |
| --- | --- | --- | --- |
| 6 minutes | 30 GB SSD - 480 GB SSD | 1 - 16 CPUs | 2 - 32 RAM |
HostingAdvice readers get 73% off the first term
FREE site migrations and 2 hours of Launch Assist
2 - 3 dedicated IP address options
FREE cPanel/WHM licenses included
Highly available servers with real-time redundancy
VPS
RATING 4.8 ★★★★★ Our Review
InMotion: Our Expert's Review
PJ Fancher (HostingAdvice.com): Boasting market-leading VPS hardware, slick management software, and free SSD drives and backups, InMotion Hosting competes to win when it comes to managed VPS hosting packages. The host initiates its VPS customer relationship with free website migrations and up to two hours of launch assistance from an experienced SysAdmin. Go to full review »
| Setup Time | Disk Space | CPU | RAM |
| --- | --- | --- | --- |
| 6 minutes | 45 GB SSD - 300 GB SSD | 2 - 8 cores | 4 GB - 16 GB |
See all DreamHost VPS alternatives »
DreamHost "Cloud" VPS Hosting Review: 4.7 / 5.0 Rating
All cloud servers can be considered virtual private servers, but the reverse scenario doesn't hold true. Combining our case of the grown child needing a good shove to finally leave the nest with the "hosting is like real estate" analogy, a VPS plan is akin to moving into a condo or townhouse — you may share some resources with neighbors, but you are ultimately responsible for maintaining your property. Cloud hosting, meanwhile, would be somewhat closer to staying at a hotel, an Airbnb, or maybe couch surfing; you always have a place to stay, but you'll be moving around and more reliant on the housekeeping service or homeowner.
DreamHost again has two options for cloud hosting: DreamCompute cloud servers engineered around OpenStack and Ceph go live in 30 seconds or less for powerful application hosting, while DreamObjects is an inexpensive, open-source object storage service for hosting static files, storing backups, or augmenting Amazon Web Services S3 functionality.
We've written about and tested both DreamObjects and DreamCompute before, but read on for a more general review of DreamHost's overall cloud services:
Options for cloud computing & object storage
Launch cloud servers in 30 seconds or less
Servers engineered around OpenStack & Ceph
S3-compatible and redundant object storage
Support for MongoDB, Redis, Ruby & Node.js
CLOUD
RATING 4.7 ★★★★★ Our Review
DreamHost: Our Expert's Review
Laura Bernheim (HostingAdvice.com): For cloud storage needs, DreamObjects offers a fully scalable solution for app developers and anyone with big data. DreamObjects is compatible with Amazon S3 and OpenStack Swift APIs and integrates with WordPress to automate several functions. Go to full review »
| Money Back Guarantee | Disk Space | Domain Name | Setup Time |
| --- | --- | --- | --- |
| N/A | 30 GB - 240 GB SSD | New or Transfer | 6 minutes |
DreamHost "Managed" VPS Hosting Review: 4.8 / 5.0 Rating
For our poor 20- or 30-something still living with his or her parents, managed VPS hosting represents the least amount of shock when entering the real world and moving to a grown-up living or hosting arrangement. Managed hosting typically means that the provider will handle most of the nitty-gritty technical details like lawn care or pest control, while you focus on acquiring furniture and decorating your space to your aesthetic.
For DreamHost, managed services include performance optimizations, added security protections, automatic WordPress updates, and ensuring your hosting environment has the most recent versions of the operating system and PHP. Choosing a reputable managed hosting company, such as DreamHost, enables site owners to spend less time maintaining infrastructure and more time concentrating on producing the most vibrant website or application imaginable. Although the company offers roughly the same managed servers across VPS and dedicated server plans, we've opted to show you our review of managed dedicated hosting to compare the various options DreamHost has available:
Unlimited traffic, storage, websites, and email
US-based customer support available 24/7
200% faster performance with SSDs
Industry-leading 97-day money-back guarantee
Enjoy preinstalled WordPress and FREE transfer
MANAGED
RATING 4.8 ★★★★★ Our Review
DreamHost: Our Expert's Review
Laura Bernheim (HostingAdvice.com): A top-notch host for those who know what they're looking for, DreamHost offers nuanced and performant hosting perfect for scaling websites and applications through the ranks of shared, VPS, cloud, and dedicated hosting. We love the company's features but realize that beginners or hobbyist developers might not want to fork over the extra cash to capitalize on the performance, optimization, and managed services that DreamHost offers. Go to full review »
| Money Back Guarantee | Disk Space | Domain Name | Setup Time |
| --- | --- | --- | --- |
| 97 days | Unlimited | FREE (1 year) | 4 minutes |
DreamHost "SSD" VPS Hosting Review: 4.7 / 5.0 Rating
When looking for a place to live, would you prefer central air conditioning or a window AC unit? Both options should adequately cool down your living space, but there are major differences in terms of efficiency, noise, and durability. The same can be said for web hosting storage and the choice between solid-state and hard-disk drives.
Solid-state drives, or SSDs, are a more modern, performant, and durable solution, while hard-disk drives, or HDDs, hold the advantage when it comes to affordability and capacity. DreamHost goes the extra mile and deploys SSDs in all of the company's infrastructure and hosting plans, and configures the component to produce page load speeds that often measure more than 20 times faster than more traditional hardware configurations. DreamHost's SSD drives are a major reason the company is worthy of extra consideration when shopping for a VPS plan. For more information about the perks of SSD-powered VPS hosting, check out our review below:
SSD-powered hardware that moves 20x faster
Industry-leading 100% network uptime guarantee
Additional performance boost with MySQL VPS plan
Unlimited bandwidth, domain hosting, and email
Custom control panel and easily scalable memory
SSD VPS
RATING 4.7 ★★★★★ Our Review
DreamHost: Our Expert's Review
Laura Bernheim (HostingAdvice.com): We love that DreamHost seems to be genuinely built with its customers' experience and success in mind. Beyond unlimited storage and bandwidth, the company's luxurious shared hosting package boasts high-performance SSDs that make your websites perform at least 20 times faster. Go to full review »
| Money Back Guarantee | Disk Space | Domain Name | Setup Time |
| --- | --- | --- | --- |
| N/A | 30 GB - 240 GB SSD | New or Transfer | 6 minutes |
Other DreamHost "VPS Ratings" By Feature
A veteran in the hosting industry for more than two decades, DreamHost started in a Harvey Mudd College dorm room in 1997. The Founders, four undergrads, were among the earliest adopters of web design and hosting, and they have since scaled DreamHost to serve more than 400,000 customers, 1.5 million websites, and 750,000 WordPress installations.
Now, the company is known across the web hosting industry for optimized performance, a love of open-source programs, and knowledgeable customer support. Even though DreamHost's shared hosting plans have a hard time competing with mass-market, bargain-basement competitors, more experienced site owners will appreciate the upgraded features and scalability of the company's VPS plans.
Features: 5.0 / 5.0 Rating
DreamHost provides everything needed to scale your virtual hosting requirements as your website or application attracts more visitors and customers. We are suckers for the accelerated performance that the company's SSDs provide, but the company offers a full slate of features to complement the speedy page loads.
Among our favorites is DreamHost's custom account management portal, which engineers at the company have spent more than 15 years developing. The sleek, minimalist interface gives customers complete control over every aspect of their infrastructure, billing, and support needs. Other services included with DreamHost plans are automatic backups and updates, malware scans, and DDoS protection, but our favorite DreamHost perk is one we're not sure we've seen elsewhere in the hosting industry — domain privacy is included with all eligible domains registered through the company.
Pricing: 4.5 / 5.0 Rating
DreamHost's luxurious features mean shared hosting customers pay a bit more of a premium when compared to the rest of the industry, but the company's services are much more competitively priced at the higher hosting levels, including for virtual private servers. Add in an industry-leading 97-day money-back guarantee, however, and customers will have plenty of time to gauge if the investment is worthwhile.
Performance: 4.7 / 5.0 Rating
The SSDs powering DreamHost VPS plans are just the start of the fine-tuning the company has done to take out every millisecond of page load time. The company's managed services include frequent updates to the operating system, program language, and software behind your website, making sure your site is running at peak performance. RAM is easily scalable from the management portal, and bandwidth is uncapped.
DreamHost is one of the few providers we've seen tout a MySQL-optimized VPS service, and the dedicated resources of a Linux-VServer offer an incredible boost. Site owners can test this out with a weeklong free trial. The company's other specialty service, managed WordPress hosting, contains multiple layers of caching, isolated server resources, and a modern version of PHP.
Reliability & Support: 5.0 / 5.0 Rating
Reliability doesn't get any better than a 100% network uptime guarantee, and that's exactly what DreamHost promises its customers. The company will reimburse site owners the cost of one day's worth of hosting for every hour of unplanned downtime outside of scheduled maintenance.
The company's in-house support teams are based in Southern California and Portland, Oregon. The company does not include a phone number for technical assistance, but customers can request (and pay for) a callback. Support is mainly delivered through email tickets, live chat, and the company's generic contact form. Each support agent is trained to a Tier II level before they can communicate with customers, and DreamHost maintains specialized support teams for WordPress and OpenStack problems.
DreamHost VPS Performance & Reliability Exceed Expectations
With the overdue transition to a more mature and self-reliant living arrangement complete, we hope you enjoy your DreamHost VPS hosting experience — or whichever VPS provider you choose. DreamHost is especially good for WordPress enthusiasts and forward-thinking businesses that appreciate the speed, security, and scalability the hosting provider has to offer.
Once you master living life and get a taste of what dedicated computing resources can do for your website, application, or online business, you'll be looking to expand beyond your starter house and into the best dedicated server options before you know it.
Advertiser Disclosure
HostingAdvice.com is a free online resource that offers valuable content and comparison services to users. To keep this resource 100% free, we receive compensation from many of the offers listed on the site. Along with key review factors, this compensation may impact how and where products appear across the site (including, for example, the order in which they appear). HostingAdvice.com does not include the entire universe of available offers. Editorial opinions expressed on the site are strictly our own and are not provided, endorsed, or approved by advertisers.
Our Editorial Review Policy
Our site is committed to publishing independent, accurate content guided by strict editorial guidelines. Before articles and reviews are published on our site, they undergo a thorough review process performed by a team of independent editors and subject-matter experts to ensure the content's accuracy, timeliness, and impartiality. Our editorial team is separate and independent of our site's advertisers, and the opinions they express on our site are their own. To read more about our team members and their editorial backgrounds, please visit our site's About page.