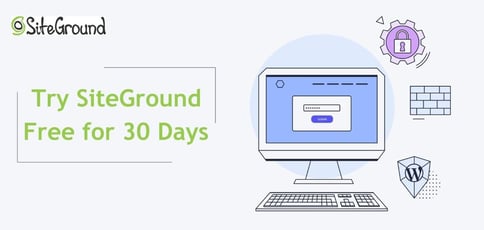 SiteGround was made for website owners who appreciate stellar customer support. Proudly earning two Stevie Awards for customer service, the hosting company knows a thing or two about quality. The popular web host has more than 600 employees and 11 datacenters worldwide. Known for its proprietary, easy-to-use control panel with powerful site tools, SiteGround has become the go-to web host for WordPress users and developers.
In this article, I'll cover everything there is to know about the SiteGround free trial offer. I'll also delve into the details of its hosting plans, highlighting key features, benefits, and any other critical information you need to know to help you decide whether it is the best web hosting solution for your website or application.
Try SiteGround Risk-Free for 30 Days: Choose Your Plan
Let's first take a tour of SiteGround's hosting plans: Basic, Website Builder, WordPress, and VPS. The plan you choose will depend on the size of your site and its function. Beginner bloggers may enjoy a shared hosting plan, whereas established eCommerce sites may benefit more from a VPS.

Take a look below to see what each plan offers.
SiteGround Basic Plan
This SiteGround plan, dubbed Startup, is what you need for a non-resource-intensive website, such as a blog or portfolio with less than 10,000 monthly visits. This was the plan I signed up for when I was starting my web design business. I didn't have many clients or a huge portfolio at the time, so this plan worked perfectly.
FREE website transfer service to get started
99.9% uptime guarantee and unlimited traffic
User-friendly WordPress installation
24/7 support featuring custom systems
4 caching options plus staging and Git
CHEAP
RATING 4.6 ★★★★★ Our Review
SiteGround: Our Expert's Review
Alexandra Anderson (HostingAdvice.com): Providing hosting with the perfect balance of technological innovation and superior customer support, SiteGround offers a range of affordable hosting services to meet your needs. In addition to the expected cheap web hosting perks — a free website builder and unlimited bandwidth — the company specializes in custom-built tools to deliver strong and positive user experiences. Go to full review »
| Money Back Guarantee | Disk Space | Domain Name | Setup Time |
| --- | --- | --- | --- |
| 30 days | 10 GB SSD – 40 GB SSD | New or Transfer | 6 minutes |
SiteGround's generosity begins to show right from the base plan and grows even bigger with higher-tier plans. That's how you know a web host really appreciates its customers. With this shared hosting plan, you'll get a free SSL certificate, fee CDN, unlimited professional emails, and unlimited databases. Even better, SiteGround will back up your website's data for free daily, giving you peace of mind.
SiteGround Website Builder Plan
The next plan, still under shared hosting, lets you host unlimited websites. Named GrowBig, this plan does exactly what its name suggests. It works best if you own several websites and you want them hosted under one roof. That's way cheaper than signing up for a separate plan for each website (unless you're a web designer and need each website to have its own plan per your client's requirement).
FREE Weebly site builder or WordPress setup
Worry-free, automated webiste migrations
User-friendly cPanel interface and staging area
Custom ticket and chat systems for 24/7 support
SuperCacher with static and dynamic caching
WEBSITE BUILDER
RATING 4.4 ★★★★★ Our Review
SiteGround: Our Expert's Review
Alexandra Anderson (HostingAdvice.com): Do you know you need to build a website but don't know where to begin. Well, SiteGround will give you not one, but two extremely popular and user-friendly options to create the online presence of your dream. Go to full review »
| Money Back Guarantee | Disk Space | Domain Name | Setup Time |
| --- | --- | --- | --- |
| 30 days | 10 GB SSD – 40 GB SSD | New or Transfer | 5 minutes |
The GrowBig plan comes with all the features of the StartUp option but is more powerful. For example, the StartUp plan offers 10 gigabytes of storage, while the GrowBig plan offers double that amount. On top of that, it also comes with a 30% faster PHP, staging capabilities, and up to five on-demand backup copies.
SiteGround WordPress Plan
SiteGround is one of the few WordPress-approved hosts, which is why it offers managed WordPress hosting plans specifically designed for WordPress users. Like the shared hosting package, SiteGround's WordPress hosting plan also falls under three categories: the StartUp, GrowBig, and GoGeek plan.
Officially endorsed by WordPress.org
FREE migration plugin or automated installation
Pre-installed Git, 3 caching levels, and FREE CDN
FREE WP setup wizard, staging, and auto-updates
Fast, 24/7 support via custom chat system
WORDPRESS
RATING 4.9 ★★★★★ Our Review
SiteGround: Our Expert's Review
Alexandra Anderson (HostingAdvice.com): Want a hassle-free, WordPress-optimized hosting service. SiteGround has thought of everything you need to get your site up and running. Go to full review »
| Money Back Guarantee | Disk Space | Domain Name | Setup Time |
| --- | --- | --- | --- |
| 30 days | 10 GB SSD – 40 GB SSD | New or Transfer | 6 minutes |
No matter the plan you choose, you can rest assured that it will work with your WordPress website. Even better, if you run an eCommerce website, this plan supports WooCommerce hosting and any essential WordPress plugin you need to get started with your online business.
SiteGround VPS Plan
The VPS hosting plan is perfect if you want more power, control, and room for growth. With servers hosted on the cloud, it offers faster speeds, top performance, and full management, allowing you to focus solely on running your website or application.
Pro tip: Unlike SiteGround's other plans, the VPS plan only has a 14-day money-back guarantee.
Fully managed cloud hosting with ultra-fast performance and scalability
FREE Cloudflare CDN and daily backups
SuperCacher, Git, and 1-click CMS installs
cPanel, SSH access, and private DNS setup
Dedicated IP address and iptables firewall
VPS
RATING 4.2 ★★★★★ Our Review
SiteGround: Our Expert's Review
Alexandra Anderson (HostingAdvice.com): When it comes to VPS hosting, SiteGround does things a little differently. Instead of managing a typical virtual private server network, the company created its very own cloud platform built from the ground up. Go to full review »
| Setup Time | Disk Space | CPU | RAM |
| --- | --- | --- | --- |
| 6 minutes | 40 GB SSD – 160 GB SSD | 4 – 16 cores | 8 – 20 GB |
Regarding growth, the one-click scaling option allows you to add more resources, such as RAM and CPU, to your hosting plan whenever needed. Alternatively, you can choose the automatic scaling option, and this WordPress hosting provider will add more resources to your cloud-based server during unexpected traffic spikes.
I recommend this plan for a resource-intensive website or platform like gaming, eCommerce, or Fintech.
Other Hosting Plans With Free Trials
If SiteGround isn't what you're looking for after all, you still have options. The hosts below offer new users a free trial of their premium hosting services. The free trials range from three to 30 days and allow you to test the platform's features before making a commitment.
Here are some additional hosting plans you should check out.
30-day free trial on all cloud products
User-friendly custom management portal
Instant scalability and server adjustments
Choose from roughly 60 operating systems
All-SSD cloud VPS infrastructure
BEST OVERALL
RATING 4.8 ★★★★★ Our Review
Kamatera: Our Expert's Review
Laura Bernheim (HostingAdvice.com): Billing itself as 'probably the fastest cloud on the planet,' Kamatera created an impressively performant, scalable, and flexible cloud service that can be custom-tailored to customers' exact specifications. The hosting provider's comprehensive cloud services run the gamut from web hosting servers and block storage, to a private cloud network, load balancer, firewall, and managed services. Go to full review »
| Money Back Guarantee | Disk Space | Domain Name | Setup Time |
| --- | --- | --- | --- |
| 30-day FREE trial | 20 GB SSD – 4 TB SSD | New or Transfer | 3 minutes |
Credit Card Required: Yes
Free Trial Period: 30 days
Kamatera is yet another great web host if you're looking to host your website or application on the cloud. One of the best things about this hosting provider is that it offers plans curated for different users, from web and app developers, eCommerce businesses, SaaS providers; you name it, it has it.
That's not all. You can choose from any of its 14 datacenters across the globe and build your cloud server from scratch. This flexibility is what makes Kamatera truly stand out in the world of cloud hosting.
Choose your cloud provider, application, and server location
Easily scale server size, bandwidth, and storage
Launch WordPress or Magento with a single click
FREE CDN, managed backups, and staging areas
Get 25% OFF first 3 months with promo code HOSTINGADVICE
BEST OVERALL
RATING 4.8 ★★★★★ Our Review
Cloudways: Our Expert's Review
Alexandra Anderson (HostingAdvice.com): We appreciate providers that serve cost-competitive, customizable packages to simplify the too-many-choices nature of cloud hosting. Cloudways puts the power of choice in the customer's hands. Go to full review »
| Money Back Guarantee | Disk Space | Domain Name | Setup Time |
| --- | --- | --- | --- |
| 3-day FREE trial | 20 GB SSD – 4 TB SSD | New or Transfer | 8 minutes |
Credit Card Required: No
Free Trial Period: 3 days
If you want to try Cloudways before committing to any of its web hosting plans, I suggest you pick a time you're ready to start exploring it immediately. That's because this feature-rich hosting platform has a shorter free trial period (three days) than others I've discussed here.
That said, you'll have so much to explore when you sign up. To begin with, you can choose servers supported by Digital Ocean, Amazon Web Services, or Google Cloud. Each cloud service provider has its own unique pricing model that varies depending on the web hosting plan you choose. Regardless of your choices, you can rest assured that you'll enjoy lightning-fast speeds, better performance, and high scalability for your website or application on the cloud.
FREE signup with email or Facebook
Drag-and-drop designing is super easy
1-year domain free with most plans
Up to $300-worth of ad credits
Access to 1,000s of templates and additional tools in the App Market
BEST OVERALL
RATING 4.6 ★★★★★ Our Review
Alexandra Anderson (HostingAdvice.com): As a web builder, Wix is an industry leader when it comes to ease of use, setup time, and available features. The browser-based, WYSIWYG (What You See Is What You Get) site-building service is hands down one of the foremost brands in this industry niche, and that's not without just cause. Go to full review »
| Money Back Guarantee | Disk Space | Domain Name | Setup Time |
| --- | --- | --- | --- |
| 14-day FREE trial | 2 GB – Unlimited | FREE (1 year) | 4 minutes |
Credit Card Required: Yes
Free Trial Period: 14 days
Wix is well-known for being a powerful site builder, but it offers more than that. For example, its multicloud hosting technology ensures that users can get the best out of cloud hosting without worrying about downtime.
This technology combines two of the world's most popular cloud hosting providers — AWS and Google Cloud – with Wix's own datacenters to provide powerful client hosting environments. Add that to the drag-and-drop website builder with niche-specific themes, and you'll find the perfect cloud web host with Wix.
What Does SiteGround Do?
SiteGround provides web hosting solutions for individuals, small businesses, and large enterprises.
The company uses Google's cloud-based technology (the same technology that powers Google Workspace) to provide scalable, powerful, and reliable hosting solutions for more than one million clients worldwide.

Endorsed by WordPress and praised by millions for its generous offers and reliable hosting, SiteGround is a leader and role model in the web hosting industry. Its hosting services include shared, VPS, and dedicated server hosting.
Why Is SiteGround So Expensive? Is It Worth It?
Most Reddit reviews I've read cite SiteGround pricing as its biggest drawback (if not the only one, to be fair). But before we judge the price, we must look at the value SiteGround offers to justify its price tag.
This managed WordPress host has hands down the best customer service I've ever experienced in web hosting. It's rare to find a hosting company with a customer support team accessible via live chat within minutes, especially if you're an existing customer, and I salute SiteGround for that.
This host has also invested heavily in its infrastructure, making it one of the fastest and most powerful cloud hosts I know. With servers strategically located throughout the United States, Europe, Asia, and the West Pacific, SSD storage for each plan, a SuperCacher, and a free Cloudflare CDN even for its most basic package, SiteGround's pricing seems entirely justified.
Pro tip: If you want to save money on SiteGround hosting, get a SiteGround coupon code.
Is SiteGround Faster Than Bluehost?
SiteGround is much faster than Bluehost because of its cloud infrastructure. SiteGround uses cloud-based servers, which perform better than traditional bare-metal on-premise servers Bluehost uses. Bluehost stopped offering cloud hosting several years ago.

But I figured that perhaps the best way to end the SiteGround vs. Bluehost speed debate was to do a quick test on their website's speeds via GTMetrix. Naturally, you'd expect a web host's website to be its most essential marketing tool, especially regarding speed. The results showed a stark difference between these two hosts.
SiteGround got a straight "A", while Bluehost bagged a "D." The verdict? Flawless victory for SiteGround.
Still Undecided? Try SiteGround for Free
You won't run out of options if you're looking for a web host for your website or application. The internet has tons of web hosting alternatives. You can even find free hosting if you don't want to spend a penny.
So, when the question of whether SiteGround is worth it pops up, the true answer depends on your needs. Are you looking for an average host or an exceptional one? Do you care about speed and performance? Once you answer these questions, you'll realize why spending a few extra dollars on SiteGround is worth it. And if you're wondering how SiteGround compares with other top web hosting providers, check out our comprehensive SiteGround review.
See Our Full Review of SiteGround
Whatever type of hosting plan you're looking for, SiteGround is a solid choice no matter the scale. Our reviewer Alexandra Anderson recently took SiteGround for a spin, and rated the popular host a 4.6 in the Cheap Hosting category out of a perfect score of 5.0. Here's what Alexandra had to say about SiteGround:
With a reputation for reliable customer support and the leading-edge tech innovations, SiteGround needs to be near the top of your list of potential hosting providers. The premium host enables site owners and WordPress users to operate with performance and reliability in fluidly scalable cloud-powered environments.
Before signing up for SiteGround, it's a good idea to read through Alexandra's full review to learn about all the features SiteGround offers. You can also compare it to other web hosts to ensure you're getting the best deal possible:
If you decide SiteGround is the right choice, keep in mind that it takes just minutes to deploy your SiteGround server space. And at $2.99 per month, it's a bargain considering the many great features that come in any SiteGround plan.
Advertiser Disclosure
HostingAdvice.com is a free online resource that offers valuable content and comparison services to users. To keep this resource 100% free, we receive compensation from many of the offers listed on the site. Along with key review factors, this compensation may impact how and where products appear across the site (including, for example, the order in which they appear). HostingAdvice.com does not include the entire universe of available offers. Editorial opinions expressed on the site are strictly our own and are not provided, endorsed, or approved by advertisers.
Our Editorial Review Policy
Our site is committed to publishing independent, accurate content guided by strict editorial guidelines. Before articles and reviews are published on our site, they undergo a thorough review process performed by a team of independent editors and subject-matter experts to ensure the content's accuracy, timeliness, and impartiality. Our editorial team is separate and independent of our site's advertisers, and the opinions they express on our site are their own. To read more about our team members and their editorial backgrounds, please visit our site's About page.