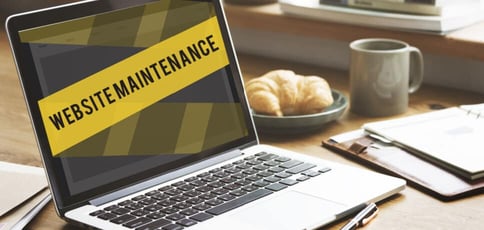 Creating a website can take a lot of time and effort. Before reaching the finish line, you must go through various steps, including registering a domain and building the design. But in the end, it can be so worth it.
When I created my first website, to say I was lost is an understatement. You could say I was winging it, which included spending multiple hours on YouTube trying to find the best website-building approach. After watching hours of tutorials and browsing the internet for tips, I finally landed on the best web host for my endeavor and started creating my website and domain.
Between the web building and many much-needed breaks, I turned to various other resources for assistance with implementing design components, widgets, and other features. At the time, I didn't know much about the available website builders — some that would have shortened and simplified my website creation process twofold.
I have learned a lot since then. And hopefully, with this guide, you won't have to experience the added hassle I did and can find the tools you need to get started right away. We will also explore the best website builders with email integration, which can help you power your email communication and manage your marketing campaigns.
No coding skills needed with drag-and-drop builder
100s of templates with niche-specific designs
Add features via the App Market and Wix Events
Easily create ecommerce functionality easily
Great way to build small sites on a budget
WEBSITE BUILDER
RATING 4.9 ★★★★★ Our Review
Alexandra Anderson (HostingAdvice.com): Website building is where Wix shines. The thousands of templates, the intuitive editor, the industry-leading designs that cater to a variety of specific fields and use cases — all these facets represent a platform that excels at facilitating easy web design for the non-tech-savvy user. Go to full review »
| Money Back Guarantee | Disk Space | Domain Name | Setup Time |
| --- | --- | --- | --- |
| 14-day FREE trial | 2 GB – Unlimited | FREE (1 year) | 4 minutes |
Wix is one of the top website builders in the world, and its success speaks for itself. Wix shows why it's at the top of the list with innovative solutions, including its first-of-its-kind AI-enabled website builder, to its trustworthy reputation, and reliable functionality. Its all-in-one platform offers everything you need to build and establish a web presence. Wix also has a sleek and easy-to-use system, which makes creating a breeze.
Users can find a myriad of well-designed templates and themes to match any website endeavor, from restaurant menus and retail catalogs to blogs and media portfolios. As for its email services, Wix offers paid business email plans and a free email marketing tool that includes multiple useful features. Its email suite has advanced SEO capabilities, data analytics, email template editor, and automation for perfectly timed and personalized email campaigns.
Get started for FREE, no credit-card required
Easy-to-use interface with tons of customization
GoDaddy InSight™ provides tailored action plans
99.9% uptime with an award-winning support team
Built-in marketing tools and expertise
WEBSITE BUILDER
RATING 4.8 ★★★★★ Our Review
GoDaddy: Our Expert's Review
Ryan Frankel (HostingAdvice.com): GoDaddy uses a custom website builder and easy access to dozens of content management systems to offer a user-friendly site-building solution to customers. Most of GoDaddy's hosting plans include these options at no additional cost. Go to full review »
| Money Back Guarantee | Disk Space | Domain Name | Setup Time |
| --- | --- | --- | --- |
| 30 days | Unlimited | New or Transfer | 5 minutes |
GoDaddy reigns at the apex of domain services. It has almost any domain service you can imagine, making everything about domain registration and management simple. But registering a domain is only the first step. GoDaddy's intuitive website-building solution helps you take care of the rest.
GoDaddy provides all the features you need to create and run a successful website, from templates and SEO integrations to built-in marketing and payment solutions. Users can browse hundreds of modern and visually appealing templates tailored to any niche. Its editor also allows users to easily customize the layout to their brand and edit and manage content seamlessly.
If you need email services, there is no shortage of tools. GoDaddy offers email marketing and hosting solutions with various options. With its digital marketing suite, users can create branded content with easy-to-use templates, develop structured email campaigns, and monitor success with email analytics.
Drag-and-drop design from custom tools
FREE access to hundreds of specialized templates
Built-in ecommerce and payment processing
Easily switch among widescreen, desktop, tablet, and mobile previews
Support for 31 languages and 99.9% uptime
WEBSITE BUILDER
RATING 4.6 ★★★★★ Our Review
Hostinger: Our Expert's Review
Laura Bernheim (HostingAdvice.com): Whether you're taking your first foray into website hosting or are a developer looking to save some time, a strong website builder can dramatically streamline the creation process and enable users to launch a website in five minutes or less. Fortunately for customers, Hostinger has invested heavily in crafting an impressive visual editor sure to appeal to users of all levels of experience. Go to full review »
| Money Back Guarantee | Disk Space | Domain Name | Setup Time |
| --- | --- | --- | --- |
| 30 days | 30 GB SSD – 200 GB SSD | FREE (1 year) | 3 minutes |
Hostinger has some of the most affordable plans available that also excel in performance. The hosting company delivers the best quality at low prices without cutting corners. Its website builder plan has tons of features and includes AI integration for simplified development.
The Hostinger website builder has an intuitive drag-and-drop editor with a collection of responsive and sleek designs for eCommerce, landing pages, and blogs, among other things. Hostinger leverages ChatGPT and other AI functionalities to allow users to effortlessly create personalized logos and website content and build websites in seconds.
Its plans also come with free email. Users can add up to 100 domain-based addresses and manage their accounts within a seamless interface. Hostinger also enables users to leverage forwarders, autoresponders, and other email tools.
FREE website builder (powered by WordPress)
Custom themes and easy integration with ecommerce tools
Expert support 24/7 via live chat, phone, and email
Longest-running WordPress.org recommendation
Pro services to design, build, and market your site
WEBSITE BUILDER
RATING 4.5 ★★★★★ Our Review
Bluehost: Our Expert's Review
Ryan Frankel (HostingAdvice.com): With Bluehost, new site owners have the drag-and-drop simplicity of the WordPress website builder at their fingertips. This makes launching a new online brand, store, or personal site from scratch relatively painless. Go to full review »
| Money Back Guarantee | Disk Space | Domain Name | Setup Time |
| --- | --- | --- | --- |
| 30 days | 10 GB SSD – 100 GB SSD | FREE (1 year) | 5 minutes |
Bluehost is one of the few web hosting companies the WordPress community recognizes for its accommodating hosting environment. If you're looking to build a WordPress site, Bluehost will be a great go-to resource. The web host provides a one-click WordPress installation, which allows you to instantly start building with the CMS.
Bluehost provides you with the complete WordPress interface and dashboard which enables you to access its plugin collection, content management system for blog posts, and other solutions. Bluehost also provides custom WordPress themes. The Bluehost control panel is easy to use and makes managing your website and domain a breeze.
As for email services, Bluehost offers webmail and Google Workspace options. Its Google Workspace offering can be easily integrated into your account and includes all the mainstay productivity features.
Plans include a website builder with tons of Shopify themes
Get help with your name, logo, and online presence
Sell unlimited items via social media, a button, or POS
Developers can easily build on the platform via the API
Shopify experts available 24/7 to assist you
WEBSITE BUILDER
RATING 4.5 ★★★★★ Our Review
Shopify: Our Expert's Review
Toby Sembower (HostingAdvice.com): Shopify is a fully hosted web building platform that specifically serves the ecommerce niche. All plans include a free site builder tool and you can browse the Shopify theme store for a design that most closely matches your brand. Go to full review »
| Money Back Guarantee | Disk Space | Domain Name | Setup Time |
| --- | --- | --- | --- |
| 3-Day FREE Trial | Unlimited | FREE Subdomain | 5 minutes |
Shopify is an eCommerce giant, and rightfully so. In 2021, users leveraged Shopify to sell more than $4.6 billion of products and services. People go to Shopify to find the solutions to start and grow their digital businesses, and they have achieved excellent results. If you're looking to create an eCommerce website, Shopify will be the way to go.
The Shopify platform requires zero coding experience and includes a smooth drag-and-drop storefront creator. Users can choose from sleek, industry-specific themes and customize various web sections and content to match their brand. And, of course, the platform has everything eCommerce, from a detailed dashboard for viewing sales and orders to inventory tracking and marketing.
If you need email services, Shopify's email solution makes managing email campaigns and marketing easy. You won't need any experience to create branded email campaigns, which you can deliver to the right customer at the right time with its automation feature. Its email platform has prebuilt templates, automated delivery, analytics, checkout buttons, and a drag-and-drop editor for maximum customizability and convenience.
Other Website Builders
Squarespace is a giant in the web-building industry and has helped millions of users launch their sites online. It has a vast collection of templates with layouts that range from eCommerce and business to blogs and portfolios. Squarespace has been in business since 2003 and has expanded its services over the years to include eCommerce functionality, hosting, and brand marketing.

Squarespace's world-class designers create stunning, award-winning templates with flexible and customizable designs. Users can add as many web sections as they want and leverage its editor to bring their ideas to life. With templates for any use case, Squarespace delivers flexibility and tailored environments, making it a valuable resource for almost anyone.
Squarespace gives users a seamless connection between their websites and email services. Website owners can use existing blog posts, product catalogs, and design elements to populate and configure their email layouts. Squarespace also offers email templates with responsive design for various audiences. Its email suite includes integrated analytics, automation, and mailing list management.
IM Creator has built more than 17 million sites and tailors its environment for creators. Its designer-made templates are modern, elegant, and responsive. And what's even better is that its base plan is completely free. Users receive unlimited hosting, a website builder, and eCommerce functionality free of charge and free of ads. But you do have to purchase your own domain and upgrade to its premium plan for customer support.

Its website builder has prebuilt sets, which users can build atop or customize by adding blocks from other sets. The editor is straightforward and intuitive, allowing customers to develop quickly. IM Creator ensures every design is responsive and adapts smoothly across any device for seamless viewing. Its platform also has built-in SEO with multiple tools to help users boost their site engagement and conversions.
IM Creator has multiple themes for various use cases. Customers can view and browse its theme collection prior to subscribing to a plan. IM Creator also owns a white-label service, which enables creators to leverage its no-code builder to develop unlimited sites for their customers. And any premium customer can create free email accounts using their custom domain name.
These hosts offer intuitive and straightforward website builders that make web building quick and effective. Each provides different features and solutions with their plans and email suites, which gives customers excellent options for their various use cases. Whether you need a complete branding experience or a simple email service for your business, these two hosting providers will give you the tools to power your strategy.
What are the Best WordPress Plugins for Web Building?
Many website owners use WordPress to build their online presence, whether for a personal blog or a digital storefront. The WordPress CMS software serves as a base for users to develop atop and includes multiple features to help them achieve their goals. Plugins are essential WordPress tools that allow people to streamline web building and other facets of their digital journey, including marketing and SEO.
Users can find a specific plugin for almost anything. So, of course, it's no surprise that there are quite a few top-tier plugins for page and web building. Leveraging web builder plugins allows website owners to access various completed designs, templates, and website themes. Plugins simplify the web design process, enhance functionality, and let you edit easily to add customization without using a line of code.
Now, not every plugin has the best track record. But Beaver Builder and Elementor are two of the most popular page-building plugins out there with a trusted reputation. These tools ensure users can build the most responsive and high-quality websites without worrying about page breaking or errors.

Elementor ranks in the top three of the most used WordPress plugins, boasts more than 5 million active users, and averages 4.5 stars on review sites. Its drag-and-drop editor makes it simple to configure landing pages and add personal touches. Elementor also has hundreds of custom themes and widgets to create everything from eCommerce stores to media pages. With its all-in-one interface, users won't need other plugins and can streamline site management.
Another popular plugin for web building is Beaver Builder. More than 1 million sites have used Beaver Builder to develop their digital experience. Users can leverage its drag-and-drop page builder to effortlessly create web pages and edit them in real time on the frontend. It ensures responsive, mobile-friendly designs and includes multiple custom post styles and themes. Beaver Builder also has various integrations for email, forms, and translation.
Can I Use Artificial Intelligence for Website Building?
Artificial intelligence has gained a lot of traction in the last few years. And with the likes of ChatGPT emerging, it has become even more mainstream and usable for the general public. More and more people are leveraging AI for everyday tasks to simplify their routines. Now imagine if you could build a website and develop page content with AI. Well, that's not so out of reach.
Wix and Hostinger are two of the most popular web hosts in the industry, and they also happen to offer AI functionality within their platforms for web building. A pioneer in its own right, Wix long introduced AI into the web-building fold years ago. Launched in 2016, Wix ADI, or Wix Artificial Design Intelligence, pairs AI functionality with website creation for a reimagined approach to web design.
Wix compiles data from millions of users to power its AI tool and combines it with human design sensibility to create algorithms that pull off comprehensive and appealing designs. Getting started is pretty easy as well. Users can answer quick questions about design preferences, personal info, and their site goals. Once that part is completed, Wix will develop your site, which you can also edit with the Wix Editor for personal touch ups after.

Hostinger takes a slightly different approach with its AI-enabled web builder tool. The web hosting provider leverages the use of ChatGPT to power its services. Users can have a fully designed website in seconds by asking AI to generate a template that fits their needs. Hostinger also allows customers to make changes to their websites with its drag-and-drop editor.
Hostinger also powers its SEO tools and logo maker with AI. Its AI writer tool can create website content that is SEO-friendly and converts traffic. Another unique highlight of its platform is its Hotjar integration, which enables users to view their most popular web pages and predict user behavior with an AI heat map tool. Hostinger provides a comprehensive AI-powered environment that tackles web content, images, personalization, and analytics.
Integrating AI into your website journey can definitely make a difference. It can speed up the process and make choosing design placements much easier. Wix and Hostinger both offer excellent AI-enabled web design solutions. You can't go wrong with either.
What Email Tools Should I Look for in a Hosting Plan?
Email is a significant piece of the hosting puzzle for many users, especially for small business owners. Integrated email services allow customers to link their hosting environment with their email management, connect their domain name to their email, and streamline their email workflows with professional features.
Every hosting provider has its own approach to email offerings. Some include advanced feature collections and collaboration suites, such as email marketing, templates, and management solutions. Others only offer a straightforward email hosting service. Users aren't limited to a one-size-fits-all service, which can make finding a solution that matches their preferences and goals easier.

Email suite offerings can be split into two categories: standard email features and email marketing tools. Standard email features include email protocol support, email forwarding, storage, autoresponders, calendar, and security. Many web hosts also provide these features through partnerships with other hosting services, such as Google Workspace and Microsoft 365.
As for email marketing, hosting providers offer various tools, including:
Email templates
Advanced analytics
Layout editor
Campaign and mailing list management
Email automation
But every email hosting service should have this in common: high-quality performance. Users shouldn't overlook this feature because every other feature depends on it. Research your host to see if it offers reliable server performance, guaranteed uptime, and advanced security. These features are essential to the success of your email strategy as they power it.
How Much Should A Website Builder Plan Cost?
Users can find a website builder plan ranging anywhere from free to more than $20 per month. But many base plans start for less than $3, as shown on our top nine web builders recommended list here. Some hosts only offer their site builder without hosting, which can affect the price.
But pricing can also vary depending on hosting type. Many hosts offer web-building solutions with their traditional hosting plans. That means you will receive a website builder with your package whether you buy a shared or VPS hosting plan. Server type plays a considerable role in the resources you get and the price you pay for hosting plans. Below, we discuss the top three hosting types and what each entails.
Shared hosting is the base hosting type and offers users a great introductory point to website management. Users receive limited hosting resources compared to those available with other server types. But shared hosting still offers enough resources to power a small project. Shared hosting has an infrastructure makeup that allows multiple customers to share one server for their hosting environments. That's why it is far cheaper than other hosting types. Shared hosting typically runs from $2 to $5 per month.

VPS hosting ranks a tier above shared hosting because of its server capabilities and increased resource allocation. VPS, which stands for virtual private server, uses virtualization technology to isolate resources and give users their own server space, although they share the same server. Unlike shared hosting, other server tenants can't affect the performance of other users. VPS hosting gives customers more flexibility and control, which is why it costs, on average, between $5 to $17 per month.
Dedicated hosting is at the top of the hosting pyramid. Website owners with increased growth and traffic typically leverage dedicated servers to accommodate their large websites. This type of hosting means a hosting customer can rent a whole server for their needs. Dedicated servers offer maximum computing power, enhanced security, and total control over a server environment for performance optimization and customizations. Since users receive tons of resources and capabilities with dedicated hosting, they pay anywhere from $80 to $200 monthly.
Site builders are essential tools for aspiring website owners without coding or design experience. So knowing the average price of these solutions will help you choose between the providers on your list. Performance is also crucial when researching web hosts. Some budget hosting providers sacrifice performance to cover costs. So prioritizing performance over a low price tag is critical for the best online success.
Why Should You Use a Custom Domain Name for Email?
Finding a web hosting provider that includes domain registration with its plans is not a rare occurrence in today's market. Custom domain names have become a standard in web hosting since owning a domain name is crucial to website management.
A custom domain is a URL that allows users to locate a website online and often represents the owner's brand. That's why a domain name is essential to the website journey. It also plays a role in a business. It markets businesses, and website owners can also use their domain to build email addresses.

Instead of having a traditional based email, such as Gmail or Microsoft Outlook, users can leverage their domain name as their email extension. A domain-based email address enables website owners to connect and showcase their brand through email communication. It boosts credibility, professionalism, and brand recognition. This is why many people create domain-based email addresses for their businesses and websites.
Here are some tips you can follow to create the perfect domain name for your business:
Choose a brandable name. Create a domain name that reflects your brand and website goals. It should be professional and have a nice ring for the best memorability.
Keep it concise. We recommend avoiding long text strings. The best domain names are those with fewer than 10 characters, so it won't be an effort for end users to remember and type. Shorter domain names also look better on mobile address bars.
Use a top-level domain extension. Top-level domain extensions include .com, .net, and .org. These extensions are more popular and look more credible compared to other lesser-known extensions.
It is also best to keep your domain-based email addresses simple to establish brand identity and professionalism. We recommend adding your name, a specified business department, or a team name with your domain name tailing as the email extension. Building email addresses takes only a few steps, and users can typically create their accounts in the control panel of their hosting environment.
Are Free Website Builders a Good Choice?
Everyone loves free things. You don't have to do anything to get them and can enjoy their benefits without taking out your wallet. But some free things can come at an expense. And this can be said of free web hosting and website builders.

You can find many free website builders online. Even some web hosting giants offer a free hosting plan within their platform. But if you want to use these plans, you will need to accept a lesser experience. Most of these plans lack essential features or are limited in performance quality because the web hosts have to make up the costs.
Here are some drawbacks that come with a free website builder:
Ad placements
Little to no customer support
Slow performance or no hosting included
Frequent downtime and little stability
The use of subdomains (A domain name with the web host's name attached to it)
But free website builders can have their perks. Besides being free, they allow novice users or students to play around with hosting and create one-off projects. WordPress.com is a popular free website builder many people use to test drive WordPress or hosting in general. Users can leverage its platform to learn more about web building and experience website management.
WordPress.com offers free hosting with its plans but only provides a subdomain and displays ad placements on those hosted sites. GoDaddy and Wix also provide free website builder plans. But the features on those plans are also limited.
Hosting makes your website reachable to other users over the internet. If you have a small business or are an aspiring blogger, finding a quality web host to power your website is essential. A budget web hosting company can give you top performance while helping you save money with affordable and feature-packed hosting packages.
Choosing the Best Website Builder for You
Now that you have gone through all the top website builders on the market, it is time to make your decision. Still not sure? I've been there before too. Choosing the best site builder can be tricky, even when you have all the facts.
To make the decision easier, start with the feature you would like to prioritize and include your website goals in the discussion. Maybe you want to build an online store, in which case you will need top-notch eCommerce functionality and a suite of effective marketing tools. If you're on a budget, you may need a host on the affordable side that still offers exceptional performance and service.
In the end, the best website-building service will be the one that helps you get online quickly and effectively. A web host with excellent website performance and tools to help you accomplish your website goals is crucial to the success of any website presence. With the right web host, you will feel proud of the finished product.
Further Reading: "7 Best Website Builders With Email Services (Oct. 2023)"
Hopefully, our recommendation of Wix fulfills all your web hosting needs. Starting at just $0.00 per month and rated 4.9 overall, Wix gives users plenty of bang for the buck. Among our favorite features:
No coding skills needed with drag-and-drop builder
100s of templates with niche-specific designs
Add features via the App Market and Wix Events
Easily create ecommerce functionality easily
Great way to build small sites on a budget
If you'd like recommendations similar to Wix and others in 7 Best Website Builders With Email Services (Oct. 2023), check out these popular guides. You'll find comparisons of Wix to other hosts on pricing, features, support and more:
And of course, if Wix is your top choice, you can get started now at just $0.00/month. Wix is easy to set up and scale, no matter the size of your next project.
Advertiser Disclosure
HostingAdvice.com is a free online resource that offers valuable content and comparison services to users. To keep this resource 100% free, we receive compensation from many of the offers listed on the site. Along with key review factors, this compensation may impact how and where products appear across the site (including, for example, the order in which they appear). HostingAdvice.com does not include the entire universe of available offers. Editorial opinions expressed on the site are strictly our own and are not provided, endorsed, or approved by advertisers.
Our Editorial Review Policy
Our site is committed to publishing independent, accurate content guided by strict editorial guidelines. Before articles and reviews are published on our site, they undergo a thorough review process performed by a team of independent editors and subject-matter experts to ensure the content's accuracy, timeliness, and impartiality. Our editorial team is separate and independent of our site's advertisers, and the opinions they express on our site are their own. To read more about our team members and their editorial backgrounds, please visit our site's About page.