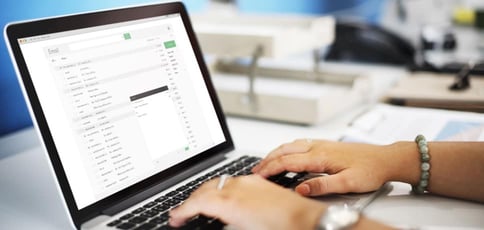 Imagine your pup's Bark Box arrives in the mail and, to your dismay, it's filled with cat toys. You write an email to customer support, but the address is "support@gmail.com" instead of the more professional barkbox.com domain. This faux pas doesn't instill confidence, right?
That's why choosing the right email hosting provider makes all the difference. Matching your email and domain name makes for a more trusted experience for customers — an essential element for businesses.
Because online ventures can require a vast number of email addresses, we combed through the best web hosting plans with unlimited email accounts.
Best Value: Cheap Hosting with Unlimited Emails
Building your online presence is more than just selecting the best web hosting service and creating your website. If you plan to communicate with your visitors, you'll need a web host that provides email services as well.
Email hosting doesn't have to be expensive. Many providers offer unlimited email accounts with shared hosting plans that will fit within your budget. You'll have no problem scaling your communications as your team grows if you have access to unlimited email accounts.
FREE software for webmail, newsletters, contact forms, list management, and spam filtering
Unlimited inboxes, forwarding, and autoresponders
Secure POP3, IMAP, and SMTP messaging
Unlimited storage and transfer with FREE SSL
Get more than 75% off today (was $7.99/month)
EMAIL
RATING 4.9 ★★★★★ Our Review
A2 Hosting: Our Expert's Review
Alexandra Anderson (HostingAdvice.com): Combining the internet's most popular and secure email technologies with high-speed and reliable infrastructure, A2 Hosting ensures your messages are delivered on time. As a recipient, you'll appreciate the company's multiple spam filtering programs, along with autoresponders and forwarding. Go to full review »
| Money Back Guarantee | Disk Space | Domain Name | Setup Time |
| --- | --- | --- | --- |
| 30 days | 100 GB SSD – Unlimited SSD | New or Transfer | 4 minutes |
Known for its cutting-edge servers with blazing-fast performance, A2 Hosting has decades of experience in the web hosting industry and provides great value for its email hosting services.
This email hosting provider's best features include:
Email account limits: Unlimited on ALL shared hosting plans
Dedicated email storage: Unlimited SSD
Other perks: 30 days of free hosted email via Microsoft 365, SpamAssassin protection, and free domain privacy on select plans
This email hosting service is dedicated to providing an all-in-one hosting experience for users, so its suite of plans offers comprehensive services to fulfill the needs of a variety of website owners.
FREE domain registration or no-downtime transfer
Unlimited SPAM Safe™ email with IMAP
1-click app installer and FREE marketing tools
Business-class hardware and eCommerce-ready
SSD storage plus FREE backups and SSL security
EMAIL
RATING 4.5 ★★★★★ Our Review
InMotion: Our Expert's Review
PJ Fancher (HostingAdvice.com): For business-class email hosting, look no further than InMotion Hosting. They offer a free domain name, SSD drive, and secure IMAP email, plus Google app integration with a three-step wizard. Go to full review »
| Money Back Guarantee | Disk Space | Domain Name | Setup Time |
| --- | --- | --- | --- |
| 90 days | 100 GB SSD – Unlimited | FREE (1 year) | 5 minutes |
InMotion sets the bar high for its shared hosting plan. This web host is frequently crowned as one of the top web hosts because of its high-powered features across all four shared hosting plans. Website owners can choose between Core, Launch, Power, and Pro hosting plans depending on their bandwidth and SSD storage needs.
This email hosting service's best features include:
Email account limits: Unlimited on most plans (10 accounts on the lowest-tier)
Dedicated email storage: 100 GB SSD – Unlimited
Other perks: Free inbox migrations, hack and malware protection, and setup guides for Google Workspace and Microsoft's hosted Exchange server
If you need another reason to love this hosting provider, check out their money-back guarantee above.
Unlimited email accounts and storage
FREE migration, domain, and SSL certificate
Webmail access via Horde and Roundcube
FREE SpamAssassin and weekly backups
Seamless G Suite upgrade for more productivity
EMAIL
RATING 4.4 ★★★★★ Our Review
HostGator: Our Expert's Review
Ryan Frankel (HostingAdvice.com): Woven into HostGator's well-appointed web hosting plans is all the email power you'll ever need. Unlimited addresses and storage, coupled with ready-to-go Horde and Roundcube webmail clients, combine with the host's high-class infrastructure to provide reliable and secure sending environments. Go to full review »
| Money Back Guarantee | Disk Space | Domain Name | Setup Time |
| --- | --- | --- | --- |
| 30 days | Unlimited | FREE (1 year) | 4 minutes |
HostGator provides top-notch web hosting for any type of website. We had to include this provider in our list for best hosting with unlimited email accounts because it offers oodles of free features with its shared hosting plans.
Some of HostGator's best email hosting features include:
Email account limits: Unlimited on ALL shared hosting plans
Dedicated email storage: Unlimited
Other perks: Email marketing suite with forms and CRM, plus support for integration with Google Workspace
This Houston-based web host is geared toward users of all skill levels. Plus, HostGator's plans are designed to grow with you, providing maximum scalability for your website — ideal for personal blogs and small businesses expecting future growth.
Unlimited email hosting at your domain
Compatible with multiple webmail and email clients
Secure email protocols and anti-spam solutions
Easy oversight via cPanel and FREE site builder
Ideal for business email hosting with 99.9% uptime
EMAIL
RATING 4.4 ★★★★★ Our Review
SiteGround: Our Expert's Review
Alexandra Anderson (HostingAdvice.com): SiteGround offers excellent email hosting services — compatible with all major webmail and email clients, including RoundCube and Outlook. Email hosting customers get unlimited email accounts at their domain, secure email protocols, and SPAM filters. Go to full review »
| Money Back Guarantee | Disk Space | Domain Name | Setup Time |
| --- | --- | --- | --- |
| 30 days | 10 GB SSD – 40 GB SSD | New or Transfer | 6 minutes |
All of SiteGround's hosting plans include free unlimited email accounts, accessed through a friendly webmail interface. When you sign up for SiteGround, you can create as many email addresses as you need.
Some of SiteGround's best email hosting features include:
Email account limits: Unlimited on ALL shared hosting plans
Dedicated email storage: Unlimited
Other perks: Free email migrator software that securely transfers your messages and inbox structure
Trusted by the owners of more than 2.8 million domains, SiteGround continually proves its value by offering high-speed, scalable cloud-powered infrastructure. Customers rank this web host highly for its features, ease of use, reliability, and support. The sky is the limit with an unlimited email account from SiteGround.
$0.01 first month (coupon code HOSTINGADV)
$2.50/month after. No contracts or increases
Unlimited storage space, data transfers, and email
Register or transfer domains for less than $10
99.9% uptime and price-lock guarantee
EMAIL
RATING 4.5 ★★★★★ Our Review
InterServer: Our Expert's Review
Laura Bernheim (HostingAdvice.com): It's hard to argue with a shared hosting plan that includes unlimited storage, bandwidth, websites, and email — but shared hosting is a crowded industry that turns on name recognition, reputation, and bargain-basement prices. InterServer outperforms some of our higher-rated hosts, but we understand that many first-time site owners are laser-focused on finding the lowest costs. Go to full review »
| Money Back Guarantee | Disk Space | Domain Name | Setup Time |
| --- | --- | --- | --- |
| 30 days | Unlimited SSD | New or Transfer | 4 minutes |
As far as cheap email hosting providers are concerned, InterServer continually impresses us with its quality, affordable email hosting plans. Users don't have to sacrifice performance or features when they choose a hosting plan from SiteGround. This provider offers unlimited email with its shared and VPS hosting, along with WordPress hosting and dedicated hosting plans. No matter which plan you select, you'll have enough email addresses to support your website.
Some of InterServer's best email hosting features include:
Email account limits: Unlimited on ALL shared hosting plans
Dedicated email storage: Unlimited
Other perks: Guaranteed email delivery by sending through a gateway server or Mailbaby SMTP relay
For more than 22 years, InterServer has learned a thing or two about providing a flexible hosting plan. Users customize their plans with optional add-ons for a hosting plan that suits their needs.
1-click install for WordPress, Drupal and 400 others
Unlimited email accounts, databases & bandwidth
24/7 tech support for beginners and pros alike
12-month or 36-month plan at $2.95/month
Anytime unconditional money-back guarantee
EMAIL
RATING 4.7 ★★★★★ Our Review
ScalaHosting: Our Expert's Review
Laura Bernheim (HostingAdvice.com): It's tough to argue with a shared hosting service that comes with all-SSD storage and unlimited bandwidth, databases, and email accounts. ScalaHosting provides all the above and several other premium features for a very affordable price. Go to full review »
| Money Back Guarantee | Disk Space | Domain Name | Setup Time |
| --- | --- | --- | --- |
| 30 days | 10 GB SSD – 2 TB SSD | FREE (1 year) | 6 minutes |
The highly ranked ScalaHosting rounds out the first part of our list thanks to a strong foundation in business-oriented cloud hosting. The web host's low-cost shared hosting comes with superb features and customer support.
Some of ScalaHosting's best email hosting features include:
Email account limits: Unlimited on ALL shared hosting plans
Dedicated email storage: Unlimited
Other perks: Advanced virus and spam protection filters, plus daily offsite backups and a cloud business email platform with enhanced features
ScalaHosting got its start in 2007 with the goal of making hosting technology accessible for anyone to make things on the internet. Join more than 700,000 websites that call ScalaHosting home.
Best Unlimited Email Hosting for Business
Email is the primary method of communication for small to medium-sized businesses (SMBs). In fact, more than 80% of SMBs rely on email for customer acquisition, retention, and content marketing. Not only is email communication a major player in business strategy, but it also has an astounding return on investment of $42 for every dollar spent.
Investing in an email host will ensure your email addresses match your website's domain name, providing a consistent user experience. The importance of consistency in your brand identity should not be understated — it's worth your time to ensure your domain name matches your company's main method of contact.
These unlimited email hosting providers are packed with features to host your business email addresses with robust support and service while maintaining a consistent brand identity. Check out our top recommendations for the best email hosting for business:
7. Google Workspace

Google Workspace, formerly known as G Suite, is the business email hosting service provided by Google. While the plans offered by Google Workspace are on the pricier side, you will be satisfied with the scope of services and features you get in return. Google Workspace provides four tiers of email hosting, each with a higher price tag and more features: Business Starter, Business Standard, Business Plus, and Enterprise.
The enterprise plan provides unlimited storage and advanced security management and support for businesses. This plan is fully customizable and is ideal for larger organizations. Additionally, Google Workspace does not require a minimum or a maximum number of accounts to sign up for this email service, making this the perfect choice for growing organizations.
8. Zoho Mail

Zoho Mail provides unlimited email hosting with perks such as custom domains, email retention, an extensive control panel, and unparalleled security. This email service supports encryption for data in storage and in transit — all while ensuring nearly 100% uptime. Users of this email host can rest easy knowing their business information is secure.
What's more, Zoho Mail makes collaboration easy with file sharing, tagging, and convenient scheduling tools. These operational essentials are easy to learn and use with Zoho's user-friendly interface. You can select from one of three hosting plans for a low monthly cost per user or mix and match plans for different users in your organization.
9. Microsoft Outlook

We know this is a list of the best unlimited email hosting, but hear us out. While it does not provide entirely unlimited email hosting, Microsoft Outlook for business provides ample storage, advanced security capabilities, and data safeguards to keep your business email accounts protected. We've included this host on our list because of the significant value it brings to users.
This email host provides three plans: Business Basic, Business Standard, and Business Premium. The plans come with access to a whole suite of Microsoft Office, such as Word, Powerpoint, Excel, and Teams. If you select a plan that suits the size of your organization, you'll be satisfied.
What's the Difference Between Email Hosting vs Web Hosting?
The difference between web hosting and email hosting is subtle: Web hosting is the act of providing space on a server to store your website's information and connect it to the internet so users can visit your site. Email hosting is similar except that the type of information being stored is different. Instead of housing entire web pages, images, code, and files, an email host just stores emails.
It's common for a web hosting company to offer free email hosting with your plan. This is a great solution to keep all of your services contained to one provider.
Is There Free Email Hosting?
Plenty of hosting plans offer a free trial, which is a great way to test a web host before making your selection. But be wary of completely free hosting. Generally speaking, it's worth it to pay for an affordable provider that will have enough bandwidth and quality features to support your email hosting needs.

We understand that budget constraints can be a major factor in selecting a web host for personal use. So, if you're still interested in free web hosting, check out our recommendations for the best free or low-cost web hosts. You may have to upgrade to a paid plan in the future, but these choices will give you a lot of value for what you pay.
If you're browsing for an email host for professional use, we recommend making the investment in an email and web host that will sufficiently meet your business's needs. You can expect to pay a bit more for this service, but it will be well worth the cost.
Which Email Hosting Provider is Best?
The best email hosting provider will be the one that suits your individual needs. Email and web hosts offer a wide array of services and prices, so before you make your selection, think about the goals and scope of your website. Ask yourself how much you care about features such as unlimited bandwidth, free email, or free domain.
If you're hosting a professional portfolio or personal blog, you may benefit from cheap unlimited hosting or WordPress hosting. But if you're operating on a larger scale for your organization, unlimited email hosts for business should do the trick. There's no shortage of quality, cheap email hosting providers available. As you select an email hosting service, one of our recommended providers will help you move forward with confidence.
See Our Full Review of A2 Hosting
Whatever type of hosting plan you're looking for, A2 Hosting is a solid choice no matter the scale. Our reviewer Alexandra Anderson recently took A2 Hosting for a spin, and rated the popular host a 4.9 in the Email Hosting category out of a perfect score of 5.0. Here's what Alexandra had to say about A2 Hosting:
With an emphasis on performance and an eye for detail, A2 Hosting largely avoids the typical shortcomings of many web hosts out there. The independently owned company balances high-powered infrastructure and developer tools with equally responsive customer support teams, giving experienced customers a highly optimized hosting experience.
Before signing up for A2 Hosting, it's a good idea to read through Alexandra's full review to learn about all the features A2 Hosting offers. You can also compare it to other web hosts to ensure you're getting the best deal possible:
If you decide A2 Hosting is the right choice, keep in mind that it takes just minutes to deploy your A2 Hosting server space. And at $2.99 per month, it's a bargain considering the many great features that come in any A2 Hosting plan.
Advertiser Disclosure
HostingAdvice.com is a free online resource that offers valuable content and comparison services to users. To keep this resource 100% free, we receive compensation from many of the offers listed on the site. Along with key review factors, this compensation may impact how and where products appear across the site (including, for example, the order in which they appear). HostingAdvice.com does not include the entire universe of available offers. Editorial opinions expressed on the site are strictly our own and are not provided, endorsed, or approved by advertisers.
Our Editorial Review Policy
Our site is committed to publishing independent, accurate content guided by strict editorial guidelines. Before articles and reviews are published on our site, they undergo a thorough review process performed by a team of independent editors and subject-matter experts to ensure the content's accuracy, timeliness, and impartiality. Our editorial team is separate and independent of our site's advertisers, and the opinions they express on our site are their own. To read more about our team members and their editorial backgrounds, please visit our site's About page.