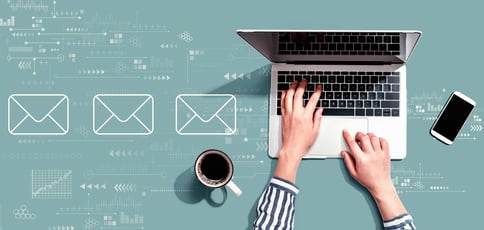 The cheapest email hosting services worthy of sending and storing your messages can be hard to find — after all, low prices don't always mean high-quality service.
And given how many businesses use email to promote products and otherwise connect with customers, finding one of the best email hosts without breaking the bank is doubly impressive. In fact, about 80% of small businesses rely on emails as the primary way to attract and retain customers.
You may have to browse tons of websites to get exactly what you need, but our reviews here aim to provide a more detailed and convenient way of finding an email hosting service that is affordable and powerful. Let's look at some of the most affordable email hosting services available today.
A2 Hosting is known for its supercharged servers and a lengthy list of compatible technologies.
The web host offers four main web hosting plans, each featuring email accounts and ample SSD storage. Most plans come with unlimited storage and automatic backups, with the Turbo Boost and Turbo Max plans promising speeds up to 20 times faster.
Affordability aside, A2 Hosting also comes with the following features:
Key email hosting features to note:
Email account limits: Unlimited
Dedicated email storage: 100 GB SSD - Unlimited SSD
Other perks: Free tools for managing newsletters and email lists, spam protection, email forwarders and auto-responders, and Horde, SquirrelMail, and RoundCube webmail clients are preinstalled
Another A2 Hosting benefit is the Barracuda advanced spam filtering feature, which routes incoming messages to be scanned for potential viruses and spam. If the mail server detects spam or viruses in the email, it redirects the email to a separate storage for retrieval if necessary.
On the other hand, if the email passes the security test, it is then successfully delivered to your inbox. This security feature minimizes the risk of receiving and opening emails that contain malicious attachments, links, and other common threats.
A2 Hosting provides an exhaustive list of one-click software installations that simplify tasks you're looking to accomplish. The company covers all your emailing needs for subscriber list management, email marketing, webmail interfaces, and much more.
Our A2 Hosting review provides more details about this hosting service provider.
To get the best value, we tend to prefer plans that combine email and web hosting. You can easily find affordable plans priced per mailbox, but you don't have to spend any more to bring your website hosting and management under the same umbrella. That being said, Hostinger prices its all-inclusive hosting plan and entry-level email package the same, at just $1.99 per month.
Key email hosting features to note:
Email account limits: 100
Dedicated email storage: 50 GB SSD - 200 GB SSD
Other perks: Free antivirus scans and email spam protection
Hostinger's email hosting service is unbelievably cheap, considering the benefits it comes with. This email host combines a strong suite of email hosting options with fast and reliable website hosting.
Whether you choose the company's Titan email hosting service (available as a standalone product and included with web hosting plans) or opt for a Google Workspace license, Hostinger enables you to boost your sending power and productivity.
Even better, Hostinger's migration tool means you won't lose your previous emails when you subscribe to Hostinger's email hosting service. You can manage all your previous, current, and future emails safely and quickly from the host's easy-to-use webmail platform.
When it comes to security, Hostinger protects your accounts from spam emails, malware, ransomware, and phishing attacks. Learn more in our review.
Bluehost has been around since 2003 and boasts more than 2 million domains under management. Web hosting aside, this giant hosting company also provides email hosting services at affordable rates.
As with many other providers we've covered so far, Bluehost's primary goal is to provide web hosting services that accommodate every aspect of the site owner's needs. The email hosting option comes as part of the many benefits of hosting your website on Bluehost servers.
Key email hosting features to note:
Email account limits: Unlimited
Dedicated email storage: 10 GB SSD - 100 GB SSD
Other perks: 30 days of free hosted email via Microsoft 365, SpamAssassin protection, and free domain privacy on select plans
Each Bluehost account comes with three free webmail platforms and a free trial of Microsoft 365 — which gives you ample opportunity to discover the interfaces and features that are most important to your email workflows.
We're suckers for domain privacy, which protects your personal information from solicitors and potential criminals who may try to scam you for your domain. Bluehost provides this perk for free with its two top plans.
What's more, Bluehost's domain manager and account management tools make it easy to update, transfer, purchase, and manage your domain names, so you can seamlessly connect your professional email addresses.
Learn more about this web hosting service in our detailed Bluehost review.
Email services are commonly bundled into basic web hosting packages, which makes for a killer bargain. Some of the veteran hosting providers, however, have plans specifically targeting email hosting customers. 1&1 IONOS sets the bar high with business email plans starting at $1.00 per month.
Key email hosting features to note:
Email account limits: 500
Dedicated email storage: 10 GB - Unlimited
Other perks: Multiple email client support, email address book, antivirus scans, and email spam protection
The company's business email hosting plans give you plenty of room to grow your customer base and include a wide range of features to keep your business running smoothly. You also get a free domain name for the first year of your subscription — or longer for premium plan holders. While the IONOS email service is ideal for small businesses, the company services mid-size to enterprise clients with Microsoft Exchange and Google Workspace packages.
InMotion Hosting describes itself as "the last host you'll need." For less than $3 per month, which is ideal for beginners and WordPress users, you can create a free email address on this platform.
For that low price, you unlock the full version of the company's shared hosting plan — one of the most technologically advanced in the industry. InMotion Hosting also offers VPS hosting and dedicated server plans.
The free email account, offered on all plans, comes with the following features:
Key email hosting features to note:
Email account limits: 10 to unlimited
Dedicated email storage: 100 GB SSD - Unlimited
Other perks: Free inbox migrations, hack and malware protection, and setup guides for Google and Microsoft's hosted exchange server
Under shared hosting, InMotion Hosting plans come in four categories: Lite, Launch, Power, and Pro. All four plans feature high-powered SSD drives, unlimited bandwidth, and free email addresses — all perfect for running a successful WordPress website.
InMotion optimizes WordPress performance through the NGINX web server, modern versions of PHP, and a complimentary content delivery network to speed up load times. With automatic security patches and updates, plus a free SSL certificate, the host frees you up to focus on running your site.
InMotion's Security Suite comes with automatic backups, hack and malware scans, plus DDoS protection. In layman's language, DDoS protection distinguishes a malware attack from regular traffic.
We regularly rank InMotion among our favorite web and email hosts for its powerful hardware, friendly support, and helpful account management portal that comes with wizards for everything from changing your MX record to connecting a Google Workspace account.
Find out more about InMotion Hosting in our review.
HostGator makes our list as one of the world's most popular web hosts. For less than $3 per month, HostGator's robust email hosting plan comes with a free custom domain and a host of other exciting features — namely a custom-built website builder.
Before we even look at the company's email hosting service, let's check out some of the key features you can expect from this plan.
Key email hosting features to note:
Email account limits: Unlimited
Dedicated email storage: Unlimited
Other perks: Email marketing suite with forms and CRM, plus support for integration with Google Workspace
For those who need extra help on the design front, the company's proprietary drag-and-drop builder, Gator, will help you visually create and customize your site's look and feel.
Use one of HostGator's 4,500 templates to inspire a cohesive design for your brand, one that translates into the integrated email marketing platform.
Users can add lead capture forms and landing pages to your site, then set up automated transactional emails to further attract and engage your audience.
You can create unlimited email accounts on HostGator, but you're restricted to just one domain on the company's base plan. Upgrade to unlock unlimited domains.
If you need a little more oomph with your email, HostGator also sells Google Workspace subscriptions — with all the communication, collaboration, storage, and management tools you'll need.
HostGator, which we've found to be reliable for pretty much everything, offers a longer-than-average 45-day money-back guarantee. More information is available in our review of Hostgator's web hosting service.
SiteGround has been gaining ground over the past few years, thanks to its excellent reputation when it comes to speed and customer service. This web host serves more than 2 million customers worldwide.
The company's shared hosting plan comes in three categories: StartUp, GrowBig, and GoGeek — all of which include unlimited free email accounts.
Before we dig deeper into the details of SiteGround's email service, let's take a look at what $2.99 per month gets you.
Key email hosting features to note:
Email account limits: Unlimited
Dedicated email storage: 10 GB SSD - 40 GB SSD
Other perks: SpamExperts protection and email filtering, 100% renewable energy match, daily backups and free restores, and tons of tutorials for setting up your email account(s)
SiteGround's hosting platform lets you create unlimited email addresses, forwarders, and autoresponders at no extra cost. It also grants you access to a user-friendly webmail interface to manage your messages from one platform.
The top-rated web host pairs excellently with WordPress, even offering managed services for the content management system and WooCommerce-based online stores.
Even better, we adore SiteGround for its approach to customer service. The web hosting company doesn't promise 24/7 support and deliver lengthy delays in getting a response, unlike an unfortunate number of hosting providers.
Instead, SiteGround promises a reply in one minute or less to phone and chat inquiries, with email tickets receiving a response within 15 minutes. Issues are resolved at first contact 90% of the time.
Click here to learn more about SiteGround.
If you own a small business, DreamHost has an email hosting platform specifically tailored for your business needs. This popular web host offers two email hosting options: a web and email hosting combo and a packages for Google Workspace.
While the plans represent solid deals on professional email hosting, DreamHost's web hosting plan has even more affordable capabilities. Customers get unlimited email accounts with the highest tier shared hosting plan, as well as autoresponders and forwarders.
Key email hosting features to note:
Email account limits: Priced per mailbox or unlimited on some plans
Dedicated email storage: Unlimited
Other perks: Choice of Microsoft 365 or Google Workspace plans, free antivirus scans, and email encryption available
The first thing DreamHost promises is a direct path to easily establish email addresses that match domain names. This aspect is crucial if you own a business, whether big or small, and you want to send out transactional emails to clients without losing your identity.
You can attach your unlimited inboxes to multiple domains — and DreamHost will even foot the bill for one of your registrations. Easily integrate with a leading email marketing platform, check your messages on any device, and rely on DreamHost's virus scans to keep your inbox safe.
In addition to the features mentioned above, iPage guarantees 100% uptime for email accounts, including protection from malware and spam emails. This email host also lets you access your email accounts from any web browser.
Check out our comprehensive DreamHost review for more details.
Rackspace has some of the best features you could ever wish for in an email hosting service. Largely trusted by businesses for its premier and powerful cloud solutions, Rackspace lends its dedicated customer support expertise to email hosting.
With this service, you can access your emails from anywhere, anytime, and from any device connected to the internet. Here's a list of some of the best features in their basic plan, which costs $2.99 per month.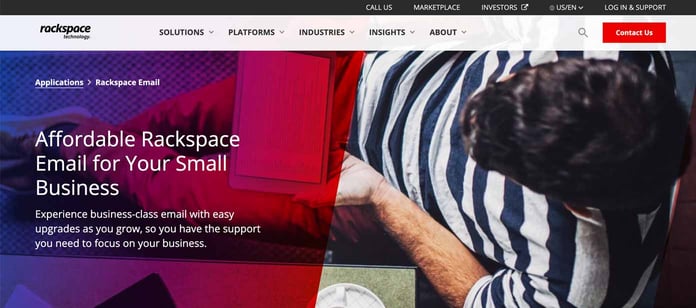 Key email hosting features to note:
Email account limits: None
Dedicated email storage: 25 GB per mailbox
Other perks: 14-day free trial, plus premium spam and virus protection
As do most other email hosts, Rackspace uses Internet Message Access Protocol, or IMAP, for effective and instant cross-platform messaging.
Unlike most email hosting services we have reviewed so far, Rackspace email comes with a free 14-day trial and does not have long-term commitments. You can cancel your subscription anytime and for any reason.
The basic plan comes with a large mailbox and all the basics. You'll have to upgrade to one of the higher-tier plans if you need features such as instant messaging, calendars, contacts, Microsoft Office compatibility, and more storage space.
Windows users will especially appreciate the included ActiveSync across mobile and desktop devices, along with Microsoft-compatible productivity apps. Follow this link to learn more about Rackspace Email.
It's no surprise that one of the world's leading tech companies has found its way onto this list. For just $4.00 a month, Microsoft offers a secure, reliable business-class email service through Exchange that comes with up to 100GB of storage space per user.
With Exchange Online, the most affordable option, users can connect their accounts to the familiar supported versions of Microsoft Outlook applications or rely on the web-based client.
Below are some additional features to expect from Microsoft's email hosting service: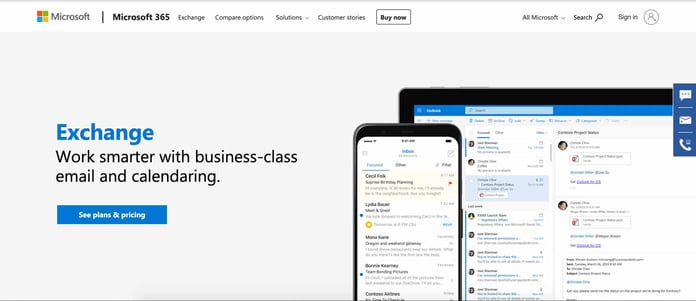 Key email hosting features to note:
Email account limits: None, pay per user
Dedicated email storage: 50 GB per mailbox
Other perks: Extra-large email size capacity (up to 150 MB), advanced email filters and organization, shareable calendars and group lists, premium spam and malware protection, and built-in data loss prevention policies
To secure this low price, however, you'll need to make an annual commitment when you first sign up for Microsoft Exchange. If you are looking for monthly payments, Microsoft's email hosting service may not be the best option for you.
One more thing: The email hosting plan does not inherently come with other Microsoft products such as Office applications, cloud storage, or video conferencing. For that, you'll need to sign up for a full-fledged (and more expensive) Microsoft 365 subscription.
To learn more about hosting with Microsoft Exchange Email, visit this page.
Another tech giant, Google, has one of the best email hosting services offered through its Google Workspace platform, formerly known as G Suite.
The company's email hosting service is just one of the many benefits offered by different plans on this platform, which includes all productivity and collaboration apps on its plans: Business Starter, Business Standard, Business Plus, and Enterprise.
The Business Starter plan costs $6.00 per month — a bit more expensive than others on this list. So what does this plan have to offer? Let's take a look.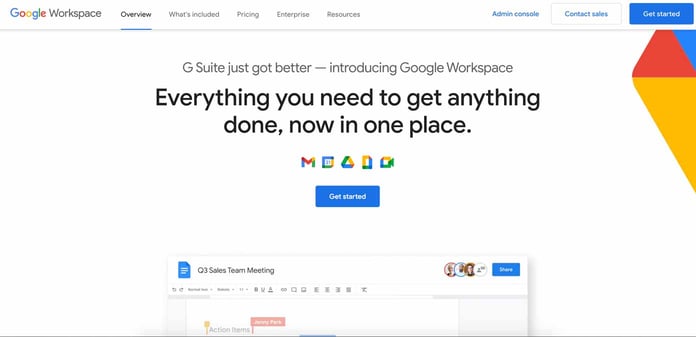 Key email hosting features to note:
Email account limits: None, pay per user
Dedicated email storage: 30 GB – unlimited storage per user
Other perks: Shared calendars with automatic email invites for events, user access and permissions control, smart suggestions for crafting email messages, remote account management, and collaboration tools such as video conferencing and screen sharing
Google needs no introduction when it comes to cloud hosting services, or even email. Gmail cornered 28% of the email client market in 2020, making it by far the most popular browser-based option.
Google's email hosting services may be expensive when compared with the others we have reviewed so far, but the packages come with additional benefits that boost overall value.
Gmail's smooth onboarding process has gained global popularity. Chances are users know a thing or two about Google Workspace and have already interacted with the platform's super-simple interfaces.
We never hesitate to recommend a powerhouse, such as Google, that perfectly blends cutting-edge technologies with incredibly user-friendly experiences.
In simple terms, email hosting refers to a service in which a hosting provider rents out portions of its servers to its customers.
Every email you receive or send must first pass through an email server. When you think about a mail server, it basically works like your neighborhood mailman. Your mail has to go through the mailman to reach its destination.
This is exactly what mail servers do, and the only difference is their actions are faster and invisible. The server can even scan the email for malicious elements and then decide if the mail is incoming or outgoing.
A web server receives browser requests and delivers a website to visitors, while a mail server receives, routes, and delivers email messages.
SMTP, meaning Simple Mail Transfer Protocol, is the method through which mail servers send and receive emails. User-level email clients (like Gmail, Yahoo, or Apple Mail) typically use an SMTP service to get your message to a server for delivery.
Incoming emails, on the other hand, typically use POP3 or IMAP. Post Office Protocol 3 stores an incoming message on a server and then deletes it when an email program downloads the email, meaning you can only access your communication from one device.
Internet Message Access Protocol, however, enables mail servers to store a copy of your email so it can be accessed from a variety of sources. Most hosts support all three protocols: SMTP, POP3, and IMAP.
Email hosting providers manage the servers that contain the email accounts of their clients. Such companies provide powerful tools created to make the transfer of emails from one party to another even more effective.
Emails help in marketing, mobilizing, and triggering a particular reaction from the recipients. Beyond the mail server implementation, the various related features a web hosting service provider offers make a huge difference in the world of digital marketing.
Some high-quality features to keep an eye out for:
Clients: No, not your customers. An email client refers to the interface through which you access your inbox. Many webmail platforms, including Roundcube and Horde, are free. Others, like Google Workspace's Gmail and Microsoft Exchange, usually require a fee.
Dedicated IP address: Most low-cost email hosting relies on shared IP addresses, which means hundreds or thousands of users are sending messages with the same server address. That's generally fine, unless someone becomes a spammer and gets the address blacklisted. A dedicated IP address is just what it sounds like — an identifier only your email traffic can use.
Marketing add-ons: Once you set up your inbox, who will you email? Look for one-click software installations and integrations for tools like forms, subscriber list managers, marketing automation, CRM software, and other related programs.
Productivity and collaboration: Will you want to connect your online calendar to your email? What about videoconferencing, shared documents, and the like? Google Workspace and Microsoft 365 are the obvious choices here, but there are plenty of others out there.
An email hosting service, therefore, is well-equipped with the right tools and technologies to achieve such goals.
This type of hosting provider is also responsible for providing security and other protections for email accounts. As discussed earlier, an email host protects its client's accounts from cybercrimes such as phishing, sending malicious files, and spam.
Email hosting services come with different packages and features. Therefore, it is not easy to conclude that a particular web hosting plan is always going to be the cheapest or best option for everyone's needs.
That being said, here are some of the most affordable options we've found that let you connect your email address to a custom domain name:
Some of these email hosts may appear even cheaper thanks to a promotion. You'll always want to pay attention to renewal prices, of course, because the prices may not be the same once your initial term ends.
However, the fluctuating prices do not necessarily mean that these email hosting services are not affordable; it simply means that given the competition in the market, what may be considered cheapest today could drop to second position tomorrow.
For example, at the moment, Hostinger is the cheapest web host out there. Tomorrow, or maybe a year later, things could be different.
First, you need a cheap email hosting provider to save money. After all, who would turn down the chance to save money without compromising the quality of service?
Second, just because you've found a cheap email hosting provider does not mean you won't need other related services. For example, you may need to register your domain or even buy a theme to build a website.
If you start with a provider that emphasizes affordable emailing, chances are they'll have favorable rates on the other stuff as well.
Check out our list of the largest domain registrars in the world. This should help you get started whenever you need a domain to create your professional email address.
With more than an estimated 4 billion active email users worldwide, email communication is even more popular than social media, which tallies an estimated 3.8 billion users.
The best email hosting package for you depends on several factors. Before choosing a plan, ask yourself the following questions:
What is your budget?
What features do you consider essential to your email hosting needs?
How frequently do you communicate via email?
How many email accounts do you want to create?
How big are the files you wish to transfer via email?
The answers to these questions will guide you in finding the best email hosting plan for your needs.
For example, if you want to create multiple email accounts and have no definite number in mind, you may consider an email hosting plan that offers unlimited email accounts.
Examples of email hosting services that offer unlimited email account packages include Hostgator, Bluehost, and Rackspace, among others. You only need to compare their plans and choose what's best for you.
As discussed above, the cost of hosting an email address varies depending on various factors. The features of the hosting plan, for example, could drastically influence the price.
There is no standard price for email address hosting. You could find something as cheap as $1.99 per month like Hostinger, while others will likely cost more.
However, given the demand for email hosting, anything below $10 per month is relatively cheap — assuming the plan comes with the features to justify the higher price tag.
Therefore, for less than $10 a month, you can always get a cheap email hosting service that doesn't skimp on quality. On the other hand, setting up a private email server can cost hundreds of dollars, plus double figures each month to oversee.
When it comes to the best email hosting for small businesses, Google Workspace takes the crown.
The email hosting provider needs no introduction in this industry. If you know how to use Gmail, you shouldn't have a problem using the business-grade email hosting service.
Google Workspace comes with four pricing plans: Business Starter, Business Standard, Business Plus, and Enterprise.
The best thing about all these plans is that they include the full suite of productivity tools from Google, such as video and voice conferencing, shared calendars, spreadsheets, and more.
In one way or another, you will need the products mentioned above when running your small business.
Hostinger's Business Email Plan is also worth checking out. With 10GB worth of email storage, a free antivirus check, and one-click imports, this plan is our top-recommended cheap email hosting service for small businesses.
Hostinger's basic email plan costs $1.99 per month even after renewal, making it the most affordable email plan for the long haul.
Well… sorta. You need email hosting, but the service often goes hand in hand with web hosting.
Remember: Web hosting involves the tools needed to run your website, while email hosting focuses on sending, receiving, and storing messages.
Nearly 1.5 billion emails are sent each day, with nearly three-quarters of millennials preferring email as their favorite way to interact with a business.
Email hosting is one of the best ways to attain scalability for your email needs. When your small business expands, so does your email hosting plan.
The best part of this expansion is that it can be done with just a few clicks of a button!
One of the best ways to find cheap web hosting is to look for that one web host that provides the kind of services you need, all under one roof.
Finding the cheapest email hosting services is not enough, especially if you spend more money on other products that you need to run your website or blog.
For example, after spending hours or even days looking for a cheap email hosting service and finally finding one, you may also need the following services:
Domain registration
Website theme installation
Premium tools and plugins
Web hosting security
The good news is you can always find cheap web hosting deals on HostingAdvice.com. Our in-depth reviews explain exactly what you need to know about these web hosting companies, their services, pros and cons, and compatibility with your hosting needs.
Hopefully, our recommendation of A2 Hosting fulfills all your web hosting needs. Starting at just $2.99 per month and rated 4.9 overall, A2 Hosting gives users plenty of bang for the buck. Among our favorite features:
FREE software for webmail, newsletters, contact forms, list management, and spam filtering
Unlimited inboxes, forwarding, and autoresponders
Secure POP3, IMAP, and SMTP messaging
Unlimited storage and transfer with FREE SSL
Get more than 75% off today (was $7.99/month)
If you'd like recommendations similar to A2 Hosting and others in 11 Cheapest Email Hosting Services (Oct. 2023), check out these popular guides. You'll find comparisons of A2 Hosting to other hosts on pricing, features, support and more:
And of course, if A2 Hosting is your top choice, you can get started now at just $2.99/month. A2 Hosting is easy to set up and scale, no matter the size of your next project.
Advertiser Disclosure
HostingAdvice.com is a free online resource that offers valuable content and comparison services to users. To keep this resource 100% free, we receive compensation from many of the offers listed on the site. Along with key review factors, this compensation may impact how and where products appear across the site (including, for example, the order in which they appear). HostingAdvice.com does not include the entire universe of available offers. Editorial opinions expressed on the site are strictly our own and are not provided, endorsed, or approved by advertisers.
Our Editorial Review Policy
Our site is committed to publishing independent, accurate content guided by strict editorial guidelines. Before articles and reviews are published on our site, they undergo a thorough review process performed by a team of independent editors and subject-matter experts to ensure the content's accuracy, timeliness, and impartiality. Our editorial team is separate and independent of our site's advertisers, and the opinions they express on our site are their own. To read more about our team members and their editorial backgrounds, please visit our site's About page.