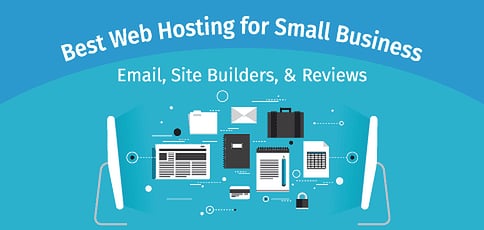 Whether you're a solo act or already have a team of employees in place, the best web hosting for small business helps attract new customers and expands your brand's reach.
Just as businesses and their hosting needs are unique, so are the solutions that web hosting companies provide. Whether you run a million-dollar eCommerce store or want a simple website for your local restaurant, we can help you find the best hosting company.
Affordability is a major factor to consider, along with a strong domain name, design, and email or eCommerce capabilities. You might want unlimited data storage, or prefer stellar customer or technical support. Although it sounds daunting and complicated, setting up a website for your small business doesn't have to be painful. Read on to discover our recommended hosts.
We all get tempted by the notion of free web hosting, but trust us — the flexibility, support, and added features with even bare-bones shared hosting plans are well worth the tiny investment. Most hosts will include a free domain, free email accounts, a boatload of storage, and basic eCommerce functionalities in their shared hosting plans for less than $5 a month. All three of our favorite companies for cheap hosting throw in a bunch of features and free advertising credits that will boost your business:
More recommended cheap web hosts »
A solid email hosting plan will make it easier for your small business to connect with consumers and collaborate internally. A speedy and professional email hosting platform matches your domain and gives you access to your email, contacts, and calendar from any device.
Many hosting plans will include free email in some form, but you should pay attention to features like spam filters, auto-responders, and the number of addresses or inboxes you can have. Here are our top three recommended hosting providers:
More recommended email hosts »
If you have the web hosting but need help getting a site online, don't worry. Many web hosting companies provide helpful tools that give you the ability to produce a stunning site, all on your own. Don't worry about hiring an expensive developer to get your small business online.
Drag-and-drop website builders allow you to upload images, videos, and text, and will show you exactly how your site will look when you're ready to click "publish." Read on for our favorites:
More recommended site builders »
Whether you need to buy a new domain name for your business or transfer an existing domain, the services and support offered by your hosting company can make a big difference. Many providers give you a free domain when you sign up but be sure to read the fine print — some of those deals are for the life of your account, while others expire after the first year. These three hosts will give you a stress-free domain hosting experience:
More recommended domain hosts »
If you plan on selling your wares online, you will need an SSL certificate. The security feature safeguards customers' personal and financial information. Many hosts make these easily available — but not all. Your eCommerce options include payment channel integrations, shopping carts, and inventory controls. Some hosts will also help you with marketing or SEO, and some even give you advertising credits. Here are the three hosts we recommend:
More recommended eCommerce hosts »
As you can see from our list of various business web hosting categories, there are many components that go into creating a successful website. Pick the provider and features that best meet your current expertise — as well as future aspirations.
Whatever options you choose for your small business, a good web hosting provider will play a big part in your success. Whether through support, uptime, or a killer design template you found on their site builder, your web host will help you put your best online foot forward.
As your company grows, you'll want to expand your hosting plan. Cloud or VPS hosting gives you more power, reliability, and flexibility as your business starts to take over the market. When you're ready to scale, check out our recommended business cloud hosting options.