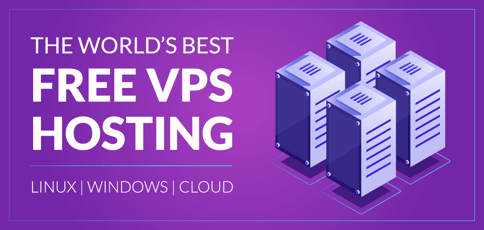 The Beatles may have had it right when they sang about how "the best things in life are free" — but they probably didn't know they'd be harmonizing about web developers' quest for free VPS hosting.
Virtual servers offer a middle ground between shared hosting and a dedicated server, combining added computing resources and control with affordability and convenience. However, the price tag for a top VPS plan can seem a little steep to site owners who want to test a new idea or application.
A free VPS is often less powerful than those from top hosts, but it can be useful for getting a taste of server configuration and management. Steer clear of scams by looking at our list of best deals on VPS hosting — ranging from completely free and free trials to plans with lengthy money-back guarantees.
4 Best "Almost Free" VPS Hosting Services
You know the saying "if it seems too good to be true, it probably is"? You can pretty much apply it to most free web hosting services. At best, you get a tiny bit of space on an outdated server in some overseas datacenter. At worst, you've exposed your personal data or domain name to dangerous people.
We strongly recommend spending a few dollars — just a few, we promise — to unlock a treasure trove of added features, performance boosts, security, and reliability from a highly regarded hosting company.
The hosts listed below offer some of the best, most affordable, virtual private server plans in the industry. Click on our reviews of these hosts below to learn more:


Monthly Starting Price $4.99
Managed or unmanaged, in Windows or Linux
Cloud hosting with hourly or monthly billing
Instant upgrades without downtime
FREE around-the-clock monitoring
Automatic nightly backups available
VPS
RATING 4.9 ★★★★★ Our Review
Hostwinds: Our Expert's Review
Setup time: 6 minutes
Laura Bernheim (HostingAdvice.com): Does any hosting provider have more virtual private server packages than Hostwinds. The company offers 10 configurations — and that's just for managed Linux server partitions. Go to full review »
| Money Back Guarantee | Disk Space | Domain Name | VPS Hosting Plans |
| --- | --- | --- | --- |
| N/A | 30 GB - 750 GB SSD | New or Transfer | www.hostwinds.com/vps |


Monthly Starting Price $3.95
Cloud-based SSD storage for speed and reliability
Double your RAM with burst periods
FREE dedicated IPv4 and IPv6 addresses
Custom control panel for reboots and OS installs
HostingAdvice readers enjoy more than 50% off
VPS
RATING 4.6 ★★★★★ Our Review
Hostinger: Our Expert's Review
Setup time: 6 minutes
Laura Bernheim (HostingAdvice.com): Hostinger's laser focus on providing affordable hosting solutions shines brightest with the company's VPS packages. The company provides six different virtual server plans, including one that costs less than $5. Go to full review »
| Money Back Guarantee | Disk Space | Domain Name | VPS Hosting Plans |
| --- | --- | --- | --- |
| 30 days | 30 GB to 200 GB SSD | New or Transfer | www.hostinger.com/vps |


Monthly Starting Price $4.99
Turbo server & cache options for faster page loads
Well-built plans starting with 4GB RAM
FREE CDN plus auto-installs with Softaculous
Multilingual support and up to unlimited databases
Enhanced security with and daily kernel updates
VPS
RATING 4.7 ★★★★★ Our Review
A2 Hosting: Our Expert's Review
Setup time: 7 minutes
Alexandra Leslie (HostingAdvice.com): While A2 Hosting's turbocharged shared hosting platform gives site owners ample room to grow, the company's tech prowess is on full display with its portfolio of VPS options. Ranging from unmanaged, bare-metal environments to stress-free, fully managed space, A2 Hosting is sure to have the perfect option for your expanding online presence. Go to full review »
| Money Back Guarantee | Disk Space | Domain Name | VPS Hosting Plans |
| --- | --- | --- | --- |
| 30 days | 75 GB SSD - 150 GB SSD | New or Transfer | www.a2hosting.com/vps |


Monthly Starting Price $18.99
2-4 cores and 2-8GB of RAM
Endorsed by the WordPress team
Optional SiteLock security & CodeGuard backups
Seamless migration from Bluehost shared plans
Get 37% off at sign up (was $29.99, now $18.99)
VPS
RATING 4.7 ★★★★★ Our Review
Bluehost: Our Expert's Review
Setup time: 6 minutes
Ryan Frankel (HostingAdvice.com): When comparing the performance versus price of VPS plans, Bluehost brings supreme value to the table. In addition to competitive pricing, the company offers premium support and excellent uptime compared with other VPS options in the industry. Go to full review »
| Money Back Guarantee | Disk Space | Domain Name | VPS Hosting Plans |
| --- | --- | --- | --- |
| 30 days | 30 GB SSD - 120 GB SSD | FREE (1 year) | www.bluehost.com/vps |
9 Best "Free" VPS Hosting Sites
Although you can find a fair number of free web hosting services at the shared server level, site owners can have a harder time looking for a cloud server or VPS solution.
Your best bet, if you don't want to sign up with a hosting provider listed above, is to look for a free VPS trial with a reputable provider.
In addition to a few options in the list below, cloud computing products like Amazon Web Services, Microsoft Azure, Google Cloud Platform, and Digital Ocean offer surprisingly good free options.
Your server resources may be somewhat limited, but the free unmanaged VPS will give you plenty of time to figure out the platform and get a feel for what might work the best for your website or application long term.
Occasionally, legit hosts will dangle a free VPS hosting service offer in the hopes of generating leads for premium services. Usually, though, you get what you pay for — a whole lot of nothing.
Whichever route you choose, be especially cautious with sharing your personal data or payment information. Even though you can strike gold, free VPS hosting is largely considered a scam.
The companies, usually headquartered overseas, often collect your contact information to sell to other companies — all while insisting they're processing your request. We've done our best to verify the hosts listed below are legit, though, so good luck on your quest!
5. Kamatera – Best Overall Free VPS Host


Low-cost cloud VPS hosting doesn't get much better than Kamatera. You'll only have 30 days of a free hosting solution, but you'll have nearly limitless resources at your disposal. Website owners get essentially $100 worth of configurations for their free VPS plan, plus 1000 GB of cloud block storage and 1000 GB of outgoing traffic — no commitment, no hidden fees.


Monthly Starting Price $0.00
Customize your cloud environment for FREE
FREE 1TB of block storage & outgoing traffic
Work with a dedicated account manager
Dozens of Windows & Linux OS choices
Launch in less than 60 seconds
CHEAP
RATING 4.3 ★★★★★ Our Review
Kamatera: Our Expert's Review
Setup time: 3 minutes
Laura Bernheim (HostingAdvice.com): Looking for cheap hosting. How does FREE sound. Go to full review »
| Money Back Guarantee | Disk Space | Domain Name | Cheap Hosting Plans |
| --- | --- | --- | --- |
| 30-day FREE trial | 20 GB - 4 TB SSD | New or Transfer | www.kamatera.com/shared |
CPU cores: 1 – 16
Storage: 20 GB – 1 TB SSD
Bandwidth: 5 TB
RAM: 1 – 32 GB
Operating system: Linux and Windows
IP address: 1 – 4
Even better, each cloud VPS server comes equipped with modern solid-state drives, a simple management console, and 24/7 support — a rare find when it comes to free web hosting.
Kamatera operates in 13 datacenters spread across four continents and promises an above-average 99.95% uptime guarantee.
6. Cloudways – Best Free Cloud VPS


It's not free for long, but Cloudways gives customers a cost-free glimpse into several premium cloud-powered environments. The company unlocks hassle-free managed hosting with the world's top providers: Amazon Web Services, Google Cloud Platform, Digital Ocean, Linode, and others. You'll get increased scalability while decreasing your time spent maintaining your infrastructure.


Monthly Starting Price $0.00
Try managed cloud hosting for FREE for 3 days
Optimize costs with custom server configurations
Scale server resources up and down as needed
FREE SSL certificates, site migrations, and CDN
Use code HOSTINGADVICE for 25% OFF
CHEAP
RATING 4.7 ★★★★★ Our Review
Cloudways: Our Expert's Review
Setup time: 8 minutes
Alexandra Leslie (HostingAdvice.com): Cloudways doesn't offer a dollars-per-month shared hosting plan. But the company still brings a significant bargain to the table — starting with a $0. Go to full review »
| Money Back Guarantee | Disk Space | Domain Name | Cheap Hosting Plans |
| --- | --- | --- | --- |
| 3-Day FREE Trial | 1 GB SSD - 192 GB SSD | N/A | www.cloudways.com |
CPU cores: 1 – 96
Storage: 20 GB – 4 TB
Bandwidth: 1 – 20 TB
RAM: 1 – 384 GB
Operating system: Linux
IP address: 1
Developers can get a three-day free trial at signup — no credit card required. You can configure a server environment to your exact specs and explore the company's platform to see if it's the right fit for your project.
If you want to continue, Cloudways offers multiple low-cost, pay-as-you-go plans in a wide range of computing resources.


Following a post-to-host business model, GigaRocket provides server space to users that join and participate in the company's community forums. To receive a free virtual server account, site owners will join more than 90,000 members in the online message board and submit 25 posts before applying for the service. GigaRocket asks that users continue to post regularly, requiring 15 posts each month to maintain the free service.
CPU cores: 1
Storage: 25GB
Bandwidth: 150GB
RAM: 1GB
Operating system: Multiple Linux choices
IP address: 2
The physical server specs are a little low when compared with those of competitors, and the limited availability may mean you have to wait a bit longer for your free VPS, but we appreciate the range of Linux operating systems available.
GigaRocket aims to support students and developers with opportunities to enhance their skills in Linux server management, and the company provides one of the more trustworthy options.


Formed in 2013, VPSWALA hosts thousands of customer websites from 15 datacenter locations around the world. The company gears its free VPS service toward students and aspiring developers and does not require a credit card number at signup. Backed by Intel SSD storage arranged in RAID-10 arrays, VPSWALA touts its reliability and performance optimizations while promising to never oversell its equipment.
CPU cores: 2
Storage: 30GB SSD
Bandwidth: 1TB
RAM: 2GB
Operating system: Windows or Linux
IP address: 1
In addition to relying on OpenStack and KVM, VPSWALA created a custom control panel that gives users the ability to turn servers on or off, reboot, install a different operating system or software scripts, access server stats, and log into root access.
Linux operating system options include Debian, CentOS, or Ubuntu.


A full-service VPS provider offering customers a chance to sample many of its services for free, ALA VPS features performance-optimized hardware that the company claims loads sites up to three times faster than competitors. Free VPS or cloud VPS servers are available in less than a minute, and the signup process is simple and straightforward. ALA VPS promises to deliver weekly remote backups, DDoS protection, and the choice of Windows or Linux operating systems.
CPU cores: 1 to 4
Storage: 50GB to 800GB SSD
Bandwidth: 300GB
RAM: Up to 16GB
Operating system: Windows or Linux
IP address: 1
Despite assurances of 24/7 support and a stunning 100% uptime guarantee, we encourage potential customers to tread carefully, as the knowledge base and announcements sections of the ALA VPS website remain blank.
That being said, the company does not take any of your payment info at signup and seems to be one of the more trustworthy free VPS providers out there.


As a provider of cloud-based shared and VPS hosting, SolVPS serves customers in nearly 120 countries with supercharged performance, on-demand deployments, and an above-average 99.99% uptime guarantee. The company's free Windows VPS option is a bit of a long shot, but who knows — maybe you'll get lucky. Potential customers must request and be approved for a free account, but highly configurable services from a reputable provider are worth any potential delays.
CPU cores: 1
Storage: 15GB SSD
Bandwidth: 100GB
RAM: 256MB
Operating system: Windows 2008 or 2012
IP address: 1
Windows VPS hosting is particularly difficult to track down, given the licensing fees associated with Microsoft's products. SolVPS, however, offers three different versions of its server operating system.
We're not sure who would want to use Windows Server 2003, but hey, it's an option.


A well-known brand in the realm of free hosting, InstaFree has been providing a no-cost shared, reseller, and VPS hosting plan since 2010. We certainly respect the company's longevity and its inclusion of cPanel and a 99.9% uptime guarantee, but InstaFree allocates very tiny server partitions to free VPS hosting customers. The environments will provide a great trial run of VPS hosting for experienced developers, but don't expect to stay on the free hosting plan for long if you aspire for growth. Beginners or first-time VPS customers should be aware that InstaFree does not support or manage the environments, leaving you completely on your own. InstaFree only troubleshoots network or server outages, leaving support to the community forums.
CPU cores: 1
Storage: 50GB SSD
Bandwidth: 50GB
RAM: 256MB
Operating system: Linux
IP addresses: 2
The company's servers are located in Dallas, Los Angeles, Seattle, and New York. To sign up, customers must first join the forums and submit an application.
Orders are manually reviewed, typically within 24 to 48 hours, but you are at the company's mercy as to when you can get started. InstaFree refuses to give hosting to more than 45 countries, citing past abuse.


Although the free services from x10Hosting remove some of the control and performance features of virtual private servers, the company's cloud-based platform affords users unlimited storage and bandwidth to freely scale your website or application. More experienced users will likely miss root access and some of the fine-grain controls, but beginners will appreciate the familiarity of the cPanel interface, one-click software installations, and flexible resources.
CPU cores: —
Storage: Unlimited
Bandwidth: Unlimited
RAM: 512MB
Operating system: Linux
IP address: 1
Powered by SingleHop architecture, x10Hosting prioritizes speed and simplicity, with rapid deployments and no pressure to upgrade your account. The company has been around for more than 15 years, making it a mainstay of the free hosting industry.
Behind 100% SSD hardware, x10Hosting serves more than 12 million pages a month and hosts upward of 122 million files.


Whether you're looking for shared, cloud, WordPress, or VPS hosting, WoomHost offers a seemingly unlimited number of free hosting accounts. The VPS packages come with two CPU cores, a free domain registration, and live chat support, as well as ample storage and bandwidth. WoomHost allocates a little more disk space and data transfer for the resource-intensive Windows plans, which we appreciate.
CPU cores: 2
Storage: 120GB to 165GB
Bandwidth: 1.5TB
RAM: 2GB to 4GB
Operating system: Windows or Linux
IP address: 1
Although signing up for services was simple and relatively painless, potential customers may want to look out for a few warning signs.
WoomHost has good customer reviews online, but a blank about page and fake address make us a little skeptical.
Look for Value in a VPS Free Trial When Shopping for Hosting Services
As you can see, free VPS hosting plans typically come with a limited number of CPU cores and a small amount of storage. Site owners are typically restricted to free and open-source Linux distributions instead of commercial Windows Server licenses.
Your free VPS server will almost assuredly be of the unmanaged variety, meaning you're entirely in control of configuration, security, backups, updates, patches, and other server maintenance.
Without an included control panel — another expense a free VPS hosting provider typically can't afford — admins must rely on root access and their knowledge of the command line.
This is especially troublesome for those coming from a shared hosting account packed with all those user-friendly features.
While no-cost or temporary service is a good testing ground for first-time VPS users or promising new projects, free VPS hosting shouldn't be in your long-term plans.
Chances are, you'll want all those extra features mentioned above, such as remote desktop functionality and a dedicated IP address.
Plus, you should be able to run your website or application on modern, reliable, and scalable hardware. Even better, what if you had the option to upgrade to dedicated hosting?
Free VPS hosts aren't known for being wildly available when it comes to customer support, so you'll likely be on your own.
For instance, experienced developers can still enjoy root access and fine-tuning a VPS while offloading the tedious and time-consuming maintenance projects to a company offering managed VPS support.
Similarly, beginners will especially appreciate having around-the-clock technical support on standby when something inevitably goes awry.
So, instead of falling into the free VPS hosting trap, you should instead find a trustworthy web host that emphasizes affordability. The small investment will surely pay dividends in the future and usually includes extra perks like a free domain name, automatic backups, and additional security.
Check out our favorite VPS hosts and our collection of hosting deals and coupons to find the provider that meets your technical and budgetary needs.
Advertiser Disclosure
HostingAdvice.com is a free online resource that offers valuable content and comparison services to users. To keep this resource 100% free, we receive compensation from many of the offers listed on the site. Along with key review factors, this compensation may impact how and where products appear across the site (including, for example, the order in which they appear). HostingAdvice.com does not include the entire universe of available offers. Editorial opinions expressed on the site are strictly our own and are not provided, endorsed, or approved by advertisers.
Our Editorial Review Policy
Our site is committed to publishing independent, accurate content guided by strict editorial guidelines. Before articles and reviews are published on our site, they undergo a thorough review process performed by a team of independent editors and subject-matter experts to ensure the content's accuracy, timeliness, and impartiality. Our editorial team is separate and independent of our site's advertisers, and the opinions they express on our site are their own. To read more about our team members and their editorial backgrounds, please visit our site's About page.