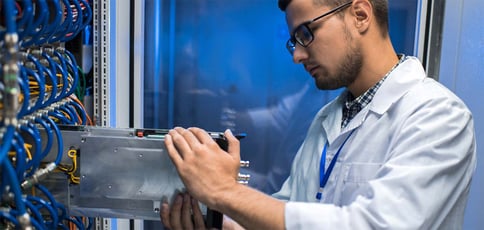 The best managed VPS hosting plans are a lot like the Peter Parker principle made famous in Spiderman: "With great power comes great responsibility." Moving to a virtual private server gives your online business more computing resources, control, and stability.
However, all those improvements typically require you to know how to configure each setting. Some hosting companies provide a VPS management dashboard, while others give you root access and expect you to know how to operate the command line interface. Managed VPS hosting means you don't have to worry about the technical aspects of your site.
Instead of configuring and maintaining your VPS, you can instead focus on running your business and the frontend components of your online presence. Your web host will handle all the daily updates, optimizations, and security tasks. Here's our list of the dozen hosting companies that will enable you to work more efficiently without sacrificing the online operations of your VPS.
Backed by around-the-clock assistance from the "Most Helpful Humans in Hosting," Liquid Web seemingly holds universal appeal and respect. Nuanced server configurations and attention to detail lead the way with Liquid Web, which concentrates on complex cloud, VPS, and dedicated environments. The company touts its industry-leading Net Promoter Score, which measures the frequency with which customers would recommend the company to others — a score that edges out the likes of Rackspace, Bluehost, and many others.
| CPU cores | Memory | Storage | Bandwidth |
| --- | --- | --- | --- |
| 2-8 | 2-16 GB | 40-200 GB SSD | 10 TB |
As the first provider so far on this list to also offer fully managed Windows VPS plans, Liquid Web is amply prepared to meet any customer's specific needs with 100% network and power uptime guarantees. You can choose from among Interworx, cPanel, and Plesk for your control panel for a small fee, or otherwise enjoy hands-free hosting that includes configuration for a content delivery network, firewall, and DDoS protection. As you can see below, Liquid Web gets high marks for its attention to customer service:
For more than 20 years, InterServer has taken an impressive approach to providing affordable, high-powered hosting services backed by hands-on support. The team owns and operates its own datacenter, meaning talented and experienced system administrators and engineers are mere feet away from your VPS environment. In fact, the company's two Founders still respond to support tickets and repair hardware each day.
| CPU cores | Memory | Storage | Bandwidth |
| --- | --- | --- | --- |
| 1-16 | 2-32 GB | 30-480 GB SSD | 1-16 TB |
InterServer's managed services kick in once you purchase a package with four or more slices, or CPUs. In addition to supporting all hardware issues, including parts and labor, InterServer will troubleshoot and repair any issues with your web server, mail server, DNS, SQL server and FTP server. Customers will see automatic security updates, assorted firewalls, brute force protection, and access control. We appreciate the full root access and inclusion of the Webuzo control panel, but you'll pay an extra fee for cPanel.
Incredibly, InterServer technicians will help you examine every inch of your stack for possible performance boosts, from converting to a LiteSpeed or NGINX web server to optimizing MySQL, PHP, or your operating system. There may be a few more fees, but InterServer's in-house expertise is absolutely top rate. Learn more about the company here:
Another fantastic option for site owners looking for massive room to grow and incredibly flexible resources, Hostwinds is a fresh and forward-thinking hosting provider brimming with modern technology and a dedication to customer support. You can find four different flavors of Linux VPS environments, along with pre-built configurations for many of the internet's most popular platforms.
| CPU cores | Memory | Storage | Bandwidth |
| --- | --- | --- | --- |
| 1-16 | 1-96 GB | 30-750 GB SSD | 1-9 TB |
Boasting nightly backups, real-time server monitoring, and enterprise-grade hardware, Hostwinds promises an extremely rare 99.9999% uptime guarantee — covering all but roughly a half-second of potential downtime each week. Otherwise, the company's managed hosting services include diagnosing loading problems, package installations, virus scans, and the configuration of DNS and firewall solutions. By clicking on our review of Hostwinds below, you can learn more about the company's satisfaction guarantee and emphasis on customer service:
One of the many things we love about WordPress is how the massive open-source community attracts involvement from across the board: individual developers just starting out, all the way to global web hosting leaders. Bluehost is one such company taking a leading role in code contributions, WordCamp sponsorships, and other commitments, earning the platform's seal of approval.
| CPU cores | Memory | Storage | Bandwidth |
| --- | --- | --- | --- |
| 2-4 | 2-8 GB | 30-120 GB SSD | Unlimited |
In addition to well-appointed VPS plans that are already expertly configured for high-performance managed WordPress hosting, Bluehost revamped a managed hosting offering, WP Pro, that provides an all-in-one marketing center and dashboard geared for integrating SEO, email marketing, and social media with the already impressive WordPress experience. As part of managed WordPress hosting, customers will get to speak with a trained WordPress expert who will help them pick the right themes and plugins that match their specific needs. Learn more about Bluehost in our review:
Although managed hosting means trusting the web hosting experts with the tedious technology chores, you'll still want to control some of the settings yourself. Control panels offer a simpler, graphical way to navigate your hosting environment without having to venture into the intimidating depths of the command line interface. InMotion Hosting brilliantly pairs luxurious managed services with innovative technologies and the ultra-popular cPanel and WHM interfaces.
| CPU cores | Memory | Storage | Bandwidth |
| --- | --- | --- | --- |
| Unlocked* | 4-8 GB* | 75-260 GB SSD | 4-6 TB |
* — InMotion Hosting automatically scales its processor and memory resources
InMotion tailors its VPS stack for speed behind solid-state drives and a custom combination of CentOS and NGINX configurations that deliver performance up to 10 times faster than those of competitors. We particularly love InMotion managed services for Launch Assist, which entails two hours of one-on-one time with a Tier 3 system administrator that can be used for site migrations, security setup, hardware configurations, or a multitude of other tasks.
Particularly appealing to developers and those seeking multi-core environments, A2 Hosting starts all of its managed VPS hosting customers with at least four virtualized processors, full root access, and ample high-powered computing resources. Customers will have complete control over their fully managed VPS, enjoying the best of both worlds.
| CPU cores | Memory | Storage | Bandwidth |
| --- | --- | --- | --- |
| 4-8 | 4-8 GB | 75-150 GB SSD | 2-4 TB |
Combined with free cPanel and the upgraded Turbo Boost option (that promises 20-times faster page loads), A2 Hosting is a fantastic option for those who understand the importance of speed in web hosting. The company's HostGuard solution for managed support includes immediate and automatic notifications of any network or hardware issues, along with optional priority support that moves your inquiries to the front of the queue. Even better, A2 Hosting practices the same speed it preaches by aiming to swoop in and fix any issues before you even notice them. Read our review for more details:
Behind custom-built software solutions and innovative technologies, SiteGround is already one of our favorites for offering the best web hosting support. The company overstaffs its shifts and evaluates each employee's speed and helpfulness, enabling SiteGround to promise near-instant responses to phone calls and chats, and 10 minutes or less for email tickets.
| CPU cores | Memory | Storage | Bandwidth |
| --- | --- | --- | --- |
| 2-8 | 4-10 GB | 40-120 GB SSD | 5 TB |
When it comes to managed hosting, SiteGround goes a step further than many others in helping investigate application-related issues and questions. The company proactively applies software updates and patches as they become available, while also protecting your environment from attacks, spam, and malicious bot resource usage. There should be no surprise SiteGround appears on the list; our only knock is that we wish the company's prices were a bit more in line with those of competitors. However, we trust the company will make the investment worthwhile for every single customer who wants to make the investment.
With an emphasis on serving web designers, developers, and creative agencies, Media Temple places extraordinary support and managed services at the forefront of everything it does. Over the last few years, the company has expanded into enterprise-grade WordPress and cloud hosting solutions that emphasize unrivaled power, performance, scalability, and security — all without the need to spend hours configuring or handling a server.
| CPU cores | Memory | Storage | Bandwidth |
| --- | --- | --- | --- |
| Flexible* | 2-128 GB | 3oGB-1TB SSD | 2-10 TB |
* — Media Temple automatically scales its processor resources
Like a few others on our list, Media Temple doesn't allocate set numbers of processors to each customer. Instead, computing resources are distributed based on priority — guaranteeing a certain amount of power while ensuring you're covered for traffic spikes. Site owners are originally given a percentage of average CPU units or available cycles to use regularly, but any VPS can use 100% of the CPU cores on the physical machine in bursts if no other user currently needs them. Learn more about the white-glove service you can expect from Media Temple here:
With seemingly endless options available, AccuWebHosting enables customers to craft exactly the managed VPS hosting experience they desire. The company's VPS hosting plans come in Windows or Linux flavors, with multiple versions of the operating systems to choose among. You can also choose whether you'd like your VPS environment to be placed on traditional, cloud-based, or SSD-powered infrastructure — all for incredibly affordable rates.
| CPU cores | Memory | Storage | Bandwidth |
| --- | --- | --- | --- |
| 2-4 | 1-8 GB | 40-128 GB SAN | 500GB-1TB |
For AccuWebHosting's base VPS hosting plans, the company deploys a nimble storage area network (SAN) that captures similar speeds as solid-state drives with additional flexibility and stability. Self-managed support is enabled by default, but those interested in more help can upgrade to a very reasonably priced and fully managed support package that includes proactive server monitoring and management, installation of third-party applications, and two hours of admin time each month. Click below to read about the details:
As one of the most recognizable brands in the web hosting industry, HostGator is a natural fit for affordable managed VPS hosting services. Because the company's plans aren't as well-appointed as some of the others on our list, HostGator represents a soft landing spot for tentative site owners who may be moving to their first VPS environment. As your website grows, whether in terms of traffic or complexity, additional resources can be added in just a few clicks of the mouse.
| CPU cores | Memory | Storage | Bandwidth |
| --- | --- | --- | --- |
| 2-4 | 2-8 GB | 120-240 GB | 1.5-3 TB |
Customers who choose to add cPanel to their account get HostGator's fully managed support, meaning the company will give best-effort assistance with just about any issue or configuration request you may have. The company will make modifications to help you gain PCI compliance, introduce task automation, and help diagnose sluggish servers, as well as troubleshooting firewalls, script configurations, or website errors.
As an industry veteran and vocal proponent of open web platforms, DreamHost has grown from a college dorm room to hosting more than 1.5 million websites and nearly a million WordPress installations. DreamHost provides root access and a custom-built control panel that puts relevant information and insights right at your fingertips; upgrading memory and storage resources, for instance, takes less than 10 seconds.
| CPU cores | Memory | Storage | Bandwidth |
| --- | --- | --- | --- |
| Flexible* | 1-8 GB | 30-240 GB SSD | Unlimited |
* — DreamHost automatically scales its processor resources
Interestingly, the company doesn't track traffic rates or bandwidth consumption and is one of those hosts that allocate scalable CPU resources. Being unlocked from pesky overage fees is great, but business owners may prefer more transparency about DreamHost's capacities if scalability is a concern. Overall, however, we've found DreamHost to be one of our favorite all-around hosting providers that prioritize user experience and open-source development. Don't hesitate to read over our review below to learn more:
Known as one of the most recognizable hosting companies in the world, GoDaddy helps more than 19 million customers grow their online presence. Originally known as the go-to domain name registrar, the company has since expanded over the years to offer a surprisingly robust and multi-faceted portfolio of upscale web hosting services. The company is geared toward serving small business owners, whether they operate an online store or just need an informational landing spot for potential customers.
| CPU cores | Memory | Storage | Bandwidth |
| --- | --- | --- | --- |
| 1-4 | 2-8 GB | 40-200 GB SSD | Unmetered |
As you can see, GoDaddy's plans come with the fewest resources and least amount of scalability. What you get, however, illustrates that good things really do come in small packages. The company's boutique managed VPS plans come with either root access or cPanel, automated backups, software updates, and uptime monitoring. For first-time VPS customers looking for modest environments and lots of hand-holding, GoDaddy has spent more than two decades perfecting the art of customer support on a grand scale.
Now that we've highlighted the best hosting options out there, let's break down "managed VPS hosting" to make sure we're all on the same page. First off, managed hosting means that some or all IT tasks are taken care of for you.
What that means specifically, however, can vary from one provider to the next. For some, the basic server maintenance and security updates are all that are covered, while other providers will help customers optimize their performance settings and help troubleshoot issues with third-party software programs.
VPS, which stands for virtual private server, is the middle point on the web hosting spectrum between shared and dedicated servers. As you may imagine, VPS hosting blends the two extremes. Customers share a physical server but receive dedicated computing resources through a process called virtualization. Because of the separated environments, site owners have far more nuanced control over how their virtual machine is configured.
Backend developers, experienced site owners, and those familiar with secure shell access or the command line typically have no problem taking on the extra responsibility to save money, but designers, small business owners, and those without the tech experience often prefer to pass those chores along to the system administrators and experts at their hosting provider — that is managed VPS hosting.
Evaluating hosting plans covers a ton of features and components, ranging from performance needs and security requirements to budget demands, tech expertise, and the ability to scale. Comparing shared vs. VPS hosting plans unveils some clear differences, but determining which service is better depends on each site owner's specific goals.
Typically, VPS hosting comes with more storage and computing resources, along with high levels of bandwidth or data transfer. With the added control over the software systems serving your site to visitors, you can typically eke out some more advantages on the performance and security side of things. The ability to scale to larger resources increases the value of VPS plans and raises the ceiling of what you can achieve online.
However, those configurations require more work to maintain and more tech-savviness to understand. You'll either need robust managed services and an extremely helpful host (hence this article), or you'll need to brush up on some command line skills — and quick. Managing a VPS environment means you're also responsible for scaling your resources up and down, securing your data, and optimizing your page load times.
Shared hosting gets a clear nod when it comes to easiness and affordability. Cheap web hosting plans that come with all the bells and whistles can be found for less than $5 per month, while VPS plans usually cost $5 or more (usually around $20 per month).
As you can see from some of the VPS hosting plans we highlighted above, prices can fluctuate pretty wildly depending on the amount of computing resources and level of management. The most affordable VPS plans we recommend come in around $5 per month, while there's also a middle tier of great options for roughly $20 each month. Free VPS hosting plans exist, but they are pretty much never worth the headache.
As you move up to the top-shelf, luxury brands of web hosting providers, you can see the costs escalate beyond $50 or more per month. These plans usually come with more computing power, modern innovations, and a higher standard for managed services involvement. Make sure the price tag matches what you expect the provider to provide.
Also, keep an eye out for add-on expenses that can further jack up the price of your VPS. While the large majority of shared hosting providers include the first year of a domain registration as a free perk for customers signing up, the feature rarely extends to the higher levels of hosting. Depending on the name you wish to register, that could add up to $15 or more per year.
While all the managed hosting providers include some basic level of server maintenance, such as security patches and operating system updates, you may be able to purchase additional help in the form of automated backups, proactive monitoring (add-on server management, backups), cPanel license, and sysadmin time.
The best managed VPS hosting plans out there are like that perfect bowl of porridge in the tale of "Goldilocks and the Three Bears" — just the right portion, impeccably satisfying, and surprisingly relaxing.
However, if the nitty-gritty technical details of configuring and running a virtual server intimidate you, site owners can find superb hosting options with similar managed services that offer total peace of mind. Shared hosting plans come with some basic services built-in, while cloud and dedicated server packages unlock similar control and flexibility capabilities as VPS hosting.
Because dedicated servers represent such a significant investment (if you don't sign up with one of our recommended cheap dedicated hosting providers), you'll want to make sure the experts have fine-tuned your machine to peak performance. Popular cloud providers like Amazon Web Services, Microsoft Azure, and Google Cloud Platform feature impressive scalability and technology but are known for lacking customer support.
All in all, don't pretend to know what you're doing with web security and server management if you really don't. By paying for the expertise of managed services, you can protect the data of your business and its customers and spend your time building and marketing new products — unlocking the widest path to growth and success.
Advertiser Disclosure
HostingAdvice.com is a free online resource that offers valuable content and comparison services to users. To keep this resource 100% free, we receive compensation from many of the offers listed on the site. Along with key review factors, this compensation may impact how and where products appear across the site (including, for example, the order in which they appear). HostingAdvice.com does not include the entire universe of available offers. Editorial opinions expressed on the site are strictly our own and are not provided, endorsed, or approved by advertisers.
Our Editorial Review Policy
Our site is committed to publishing independent, accurate content guided by strict editorial guidelines. Before articles and reviews are published on our site, they undergo a thorough review process performed by a team of independent editors and subject-matter experts to ensure the content's accuracy, timeliness, and impartiality. Our editorial team is separate and independent of our site's advertisers, and the opinions they express on our site are their own. To read more about our team members and their editorial backgrounds, please visit our site's About page.