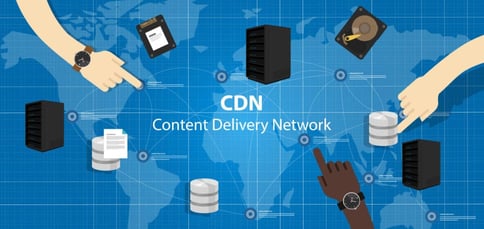 Content delivery networks (CDN) have been around since the late 1990s. The concept was originally employed to accelerate the delivery of static HTML content for users worldwide. These days, CDNs are valuable tools whenever HTTP traffic is served.
My most memorable moment with a CDN was in college. I had recently published a website I had worked on for months. In addition to being a true labor of love, it was also a class project that was a major part of my grade. I had it hosted at a relatively new start-up hosting company.
Unfortunately, a fire destroyed the entire building housing the servers a few days before the assignment was due. The CDN really saved my tush.
I'm not sure if you've endured the heart palpitations and sinking feeling that comes when you think you may have just lost countless hours of potentially irreplaceable work. But my experience tells me that I'd happily engage a CDN to ensure I never encounter those emotions ever again (especially if I don't have to pay for it)!
That's why our team has put together this list of options covering the best hosting with free CDN.
WordPress Hosts with a Free CDN
Whether your WordPress site houses an online retail business, a blog, or a personal page dedicated to hedgehogs, a WordPress CDN is a valuable tool. Research has shown that drop-off rates decrease and interactions with websites grow when the site speed increases. The CDN's efficient placement of servers nearer to your user improves the load time of your WordPress website and can result in an overall higher conversion rate for WordPress users.
If you're selling items on your WordPress site or making money off clicks, using a content delivery network has a quantifiable benefit. If your site is solely informative, you may have an even greater interest in maintaining traffic.
Regardless of your site's intended use, losing potential visitors before they even reach your page on account of slow loading speeds, downtime from attacks, or a complete loss of content after a hardware failure is unacceptable and altogether unnecessary.
1. Bluehost
Cloudflare brings the best free CDN to all Bluehost users. The full integration makes the CDN easy to use as well. To get it up and running, you simply need to access the cPanel, click "Cloudflare" in the Domains section, enter your email, and click to activate. Free and easy? Sounds pretty good!
It's also worth mentioning that Cloudflare is one of the most popular CDN services and has a reputation to back up that popularity.
Recommended by WordPress.org since 2005
Automatic WordPress updates and initial install
FREE WordPress themes in the Bluehost Marketplace
24/7 support via live chat, phone, and email
Get exclusive discounts on WordPress plans
WORDPRESS
RATING 4.9 ★★★★★ Our Review
Bluehost: Our Expert's Review
Ryan Frankel (HostingAdvice.com): Bluehost's WordPress hosting packages are aimed at first-time site owners and personal bloggers. These services come at a premium compared to the standard Bluehost web hosting (basic shared hosting) plans, but the WordPress optimization and platform-specific resources are arguably worth the cost. Go to full review »
| Money Back Guarantee | Disk Space | Domain Name | Setup Time |
| --- | --- | --- | --- |
| 30 days | 50 GB SSD – 100 GB SSD | FREE (1 year) | 7 minutes |
Bluehost repeatedly tops our lists when comparing features among web hosting providers. In fact, Bluehost tops our list of the best web hosting services overall. It's easy to see why!
2. SiteGround
A couple of the most valuable features of a CDN are its added defense against cyber attacks and the backup provided whenever there are system outages. HostingAdvice.com only recommends superior hosting services with the infrastructure and expertise to provide adequate protections to their users and content. Therefore, we name SiteGround as a top choice for hosting with a free CDN.
However, the risks are never zero. Thankfully, whenever there is trouble in paradise SiteGround's customer support is there to save the day via live chat, ticket, or phone 24/7.
Since SiteGround's CDN is an in-house product developed specifically for its users, it has a pulse on everything that happens and the fast track to solving any issues that may arise. This consolidation makes integrating SiteGround's CDN into your website and troubleshooting issues simple and seamless.
Officially endorsed by WordPress.org
FREE migration plugin or automated installation
Pre-installed Git, 3 caching levels, and FREE CDN
FREE WP setup wizard, staging, and auto-updates
Fast, 24/7 support via custom chat system
WORDPRESS
RATING 4.9 ★★★★★ Our Review
SiteGround: Our Expert's Review
Alexandra Anderson (HostingAdvice.com): Want a hassle-free, WordPress-optimized hosting service. SiteGround has thought of everything you need to get your site up and running. Go to full review »
| Money Back Guarantee | Disk Space | Domain Name | Setup Time |
| --- | --- | --- | --- |
| 30 days | 10 GB SSD – 40 GB SSD | New or Transfer | 6 minutes |
SiteGround offers both a free and a premium CDN hosting plan. Whatever you may need, SiteGround has you covered, and its customer support team will be ready to help you day or night.
3. WP Engine: Best Premium Host
When a white-glove approach is best, WP Engine has you covered. WP Engine claims to make your WooCommerce store up to 40% faster and 18% better at driving online sales. Stats like that beg consideration when deciding whether to use a premium web host.
0%

OFF your first payment for our readers
FREE Genesis Framework & StudioPress themes
Fast, scalable, and secure WordPress
FREE SSL certificate and CDN ready
Upgrade for geotargeting and edge security
WORDPRESS
RATING 4.8 ★★★★★ Our Review
WP Engine: Our Expert's Review
Ryan Frankel (HostingAdvice.com): With prices much higher than many WordPress users are accustomed to seeing, we understand that WP Engine may not be for everybody. But for those developers, designers, agencies, and growing businesses passionate about website performance, stability, and cutting-edge WordPress features, WP Engine will be a godsend. Go to full review »
| Money Back Guarantee | Disk Space | Domain Name | Setup Time |
| --- | --- | --- | --- |
| 60 days | 10 GB – 50 GB | New or Transfer | 6 minutes |
If you aren't sure if premium is the way you need to go or if you are deciding between multiple hosts, you'll be happy to know that WP Engine offers a 60-day money-back guarantee on most of its plans. There's no risk in taking it for a spin.
4. Cloudways: Best Cloud Host
Unlike a traditional hosting provider, cloud hosting does not rely on a single server to contain and maintain data. Providers such as Cloudways uses a network of connected virtual and physical servers to make applications and websites accessible. This interconnection lends itself well to greater flexibility and reliability.
CDNs and cloud hosts have similar benefits concerning redundancy and scalability, but they are not the same. CDNs differ in the expansiveness of their geographic distribution, where the resources for a cloud host can be centrally located.
Try managed cloud hosting for FREE for 3 days
Optimize costs with custom server configurations
Scale server resources up and down as needed
FREE SSL certificates, site migrations, and CDN
Use code HOSTINGADVICE for 25% OFF
CHEAP
RATING 4.7 ★★★★★ Our Review
Cloudways: Our Expert's Review
Alexandra Anderson (HostingAdvice.com): Cloudways doesn't offer a dollars-per-month shared hosting plan. But the company still brings a significant bargain to the table, thanks to a (short) free trial. Go to full review »
| Money Back Guarantee | Disk Space | Domain Name | Setup Time |
| --- | --- | --- | --- |
| 3-day FREE trial | 20 GB SSD – 4 TB SSD | New or Transfer | 8 minutes |
Since both the CDN service and cloud hosts excel at data redundancy and load distributions, the combination makes for a powerhouse that can withstand heavy traffic and malicious DDoS attacks. The pair makes for an excellent blend equipped to handle data-heavy sites and will ensure that even your largest video files are transferred seamlessly to the viewer.
5. GoDaddy: Best for Domains
I go out of my way for one-stop shops on a regular basis. I'm not sure if they actually save me any time or money in the long run, but the illusion is enough to keep me invested. This tendency is probably why businesses like Target are so popular.
GoDaddy is a veritable one-stop shop in the hosting service industry. Need a new site designed? No problem! Want marketing help? It's on it. VPS hosting? Sure thing! Need a domain? It's got you. In fact, GoDaddy is the largest domain registrar out there! Of course, CDN services are on that list as well.
Manage your domain and hosting under one roof
Choice of cPanel or Plesk control panels
Up to unlimited bandwidth and storage
Microsoft 365 inboxes included FREE for first year
Get 70% OFF by signing up today
CHEAP
RATING 4.5 ★★★★★ Our Review
GoDaddy: Our Expert's Review
Ryan Frankel (HostingAdvice.com): A major pull factor for GoDaddy's hosting services is certainly the cost. It's hard to beat web hosting for just a few dollars per month, especially when the company includes a free domain name, control panel, impressively fast load times, and unlimited websites with most plans. Go to full review »
| Money Back Guarantee | Disk Space | Domain Name | Setup Time |
| --- | --- | --- | --- |
| 30 days | 25 GB – Unlimited | FREE (1 year) | 4 minutes |
By bringing the content closer, the user experiences improved performance of the web service, which facilitates engagement and retention. CDNs also provide security benefits by distributing and diffusing loads in DDoS attacks.
If nothing else, utilization of a CDN ensures that you won't lose your valuable work due to a hardware failure since your content will be distributed to multiple edge servers, and that alone is worth its weight in gold.
Cheap Hosts with a Free CDN
CDNs are an incredibly useful tool, and they also require significant infrastructure. So, it's easy to think the inclusion of a CDN in a hosting plan would almost always be expensive. Thankfully, hosting companies recognize the importance of a CDN service for their users and many of the best hosting companies have integrated a cheap or free CDN service into their plans.
Don't be misled, though! Just because they are cheap doesn't mean they are inferior. The two hosts presented below are also the ones we consider to be our top two hosts overall. Yes, you can have it all! Don't let anyone tell you otherwise!
Cheap shared hosting from a trusted provider
Ideal for hosting a WordPress website
FREE Weebly website builder and Cloudflare CDN
Unlimited traffic and 24/7 live chat support
Get 70% off today with our Bluehost coupon
CHEAP
RATING 4.7 ★★★★★ Our Review
Bluehost: Our Expert's Review
Ryan Frankel (HostingAdvice.com): Bluehost pricing is about as competitive as the industry offers. Sign up for a shared hosting plan for as little as $2.95 per month, and WordPress hosting packages are consistently priced; a VPS plan starts at around $19.99 per month; and the dedicated hosting rates are as little as $79.99 per month. Go to full review »
| Money Back Guarantee | Disk Space | Domain Name | Setup Time |
| --- | --- | --- | --- |
| 30 days | 10 GB SSD – 100 GB SSD | FREE (1 year) | 5 minutes |
Unlimited everything, from storage to databases
FREE site builder & WP performance upgrades
FREE daily or weekly backups
Custom control panel and auto-installation scripts
SSH access & unlimited FREE SSL certificates
CHEAP
RATING 4.9 ★★★★★ Our Review
Hostinger: Our Expert's Review
Laura Bernheim (HostingAdvice.com): As the shared hosting market becomes increasingly saturated, unlimited storage, bandwidth, and email accounts have become surprisingly average. Hostinger, however, extends the routine, expected metrics to greater lengths — the number of websites, databases, FTP users, subdomains, and parked domains are all unrestricted for most customers. Go to full review »
| Money Back Guarantee | Disk Space | Domain Name | Setup Time |
| --- | --- | --- | --- |
| 30 days | 50 GB SSD – 200 GB SSD | FREE (1 year) | 3 minutes |
We're getting spoiled with all the premium features these excellent hosting companies provide at no additional cost!
What Is a Content Delivery Network?
A CDN is a service that employs servers across many locations, typically globally, to store website content and improve the efficiency of internet content delivery to the end user. When a user opens a webpage, the information comes from a nearby cache edge server, or Point of Presence (PoP), instead of the application origin datacenter. This PoP server is typically one of many in a network connected to the origin.
What Are the Benefits of Using a Content Delivery Network?
The main benefit of a content delivery network is that it improves the site speed, enabling the content you created to reach your user faster and improve the user experience. It does this by employing a network of servers that cache the content in multiple locations around the globe.
The foundational math is pretty simple. It is intuitive to consider how it takes less time for information to travel from a datacenter in Tokyo to a user in the Philippines than it would take for the same information to travel from your home server in Dallas, Texas, to the same user in the Philippines. That's a considerable distance, which can greatly affect the website speed!

In addition to decreasing the distance, using the CDN server is also faster and more efficient because it shares the load of those accessing your site. Without a CDN, several people pinging your server at once may affect its performance. With a CDN, the server in Tokyo is likely handling five people, while the server in London is handling another five people, and the server in Toronto is handling seven people, and so on.
An additional benefit includes DDoS protection. In the same way servers share the load for information distribution, they also share the load of excessive traffic and essentially shield the origin server. It is much more difficult to inundate several globally distributed servers than it would be to overwhelm a single server.

Finally, the redundancy of having your website cached in multiple locations can be a real lifesaver if there is a hardware malfunction. You can rest easily knowing that your information is saved elsewhere.
What Are the Biggest CDN Providers?
The 2022 International Data Corporation's MarketScape for Worldwide Commercial Content Delivery Network Services Vendor Assessment makes it easy to identify the best CDN providers. Its assessment of the best CDN providers that offer commercial CDN services globally shows the leaders as Akamai, Amazon, Cloudflare CDN, and Fastly. Other major players include Alibaba, Lumen, Edgecast, Limelight, and Tata Communications.

Of these, the Cloudflare CDN service is ubiquitous across HostingAdvice.com, as it is commonly integrated with all of our top hosting providers.
Do I Need a CDN for WordPress Hosting?
The technically correct answer to this question is no. You can develop a WordPress website and host it without a CDN. The real question is: Why would you want to?
Content delivery networks are inexpensive and easy to access. WordPress hosting combined with a reputable CDN provider can bring considerable benefits to WordPress users.
Where Can I Find the Best Free CDN?
Navigation of the web hosting industry can sometimes be challenging. The best hosting with free CDN service is easy to find in this article. Additional information about the best hosting service offering CDN can be found in this companion article.
The best hosting options are right at your fingertips whether you need a standard WordPress CDN or will be hosting a major custom-developed eCommerce site.
See Our Full Review of Bluehost
Whatever type of hosting plan you're looking for, Bluehost is a solid choice no matter the scale. Our reviewer Ryan Frankel recently took Bluehost for a spin, and rated the popular host a 4.9 in the WordPress Hosting category out of a perfect score of 5.0. Here's what Ryan had to say about Bluehost:
Bluehost has a rock-solid reputation in the shared and WordPress hosting communities, and the host is a long-time favorite of mine. Today, Bluehost powers more than 2 million websites, and the team touts years of experience. With well-maintained servers, competitive pricing, and excellent customer support, Bluehost is hardly a pick you'll regret.
Before signing up for Bluehost, it's a good idea to read through Ryan's full review to learn about all the features Bluehost offers. You can also compare it to other web hosts to ensure you're getting the best deal possible:
If you decide Bluehost is the right choice, keep in mind that it takes just minutes to deploy your Bluehost server space. And at $2.95 per month, it's a bargain considering the many great features that come in any Bluehost plan.
Advertiser Disclosure
HostingAdvice.com is a free online resource that offers valuable content and comparison services to users. To keep this resource 100% free, we receive compensation from many of the offers listed on the site. Along with key review factors, this compensation may impact how and where products appear across the site (including, for example, the order in which they appear). HostingAdvice.com does not include the entire universe of available offers. Editorial opinions expressed on the site are strictly our own and are not provided, endorsed, or approved by advertisers.
Our Editorial Review Policy
Our site is committed to publishing independent, accurate content guided by strict editorial guidelines. Before articles and reviews are published on our site, they undergo a thorough review process performed by a team of independent editors and subject-matter experts to ensure the content's accuracy, timeliness, and impartiality. Our editorial team is separate and independent of our site's advertisers, and the opinions they express on our site are their own. To read more about our team members and their editorial backgrounds, please visit our site's About page.