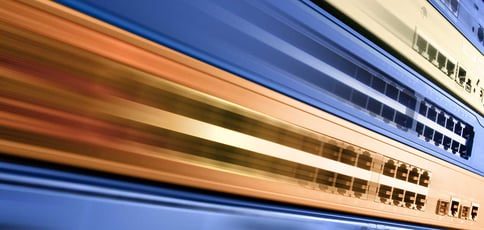 Much like buying a car, shopping for the fastest VPS hosting is all about what's under the hood. Components, such as solid-state drives, caching services, a content delivery network (CDN), and support for modern programming languages and protocols, all fuel a high-octane hosting experience.
Getting that quick jump off the starting line can be a big deal for online businesses, as even minor increases in page load time can negatively affect conversions, page views, SEO, and revenue. According to AB Tasty, a two-second delay can double a website's bounce rate, and 75% of users will likely drop off once page load time reaches three seconds.
Although much of the pressure to get your VPS cruising at top speed falls on how you configure things, fast web hosts are the mechanics that provide the equipment supporting your speed demon dreams. Let's rank the top 13 fastest VPS hosts and answer any questions you may have.
1. InMotion Hosting — SSD VPS Hosting
To rank the fastest VPS hosting provider companies, we identified 10 key factors in website performance — and InMotion Hosting was the only VPS host to check off every box.
Our speed rankings combine the relatively obvious (e.g., free solid-state drives and tools for caching and content delivery networks) to more obscure features such as HTTP/2 support and access to a qualified hosting expert who can lend tailored advice on how to optimize your site's performance. Once that initial round of testing provided us with a list of finalists, we ran each service through Pingdom, Google PageSpeed, and other services to measure performance.
Performance-boosting features: SSDs, proprietary caching controls, CDN, NGINX, and support for PHP 7 and HTTP/2
Also known for: Max Speed Zones (choice of server location), Launch Assist (two hours of dedicated time with a SysAdmin), and Smart Routing optimization
The company's all-SSD infrastructure has been on our radar for a long time. According to InMotion's benchmarks, the host's SAS 15K storage drives push out 95% more data than 1TB Samsung SSDs and process data up to 20 times faster than traditional hard-disk drives.
Learn more about the company's impressive offerings — from hyper-performant servers to uber-responsive live chat support — by clicking on our review below.
HostingAdvice readers get 67% off the first term
FREE site migrations and 2 hours of Launch Assist
2 – 3 dedicated IP address options
FREE cPanel/WHM licenses included
Highly available servers with real-time redundancy
VPS
RATING 4.6 ★★★★★ Our Review
InMotion: Our Expert's Review
PJ Fancher (HostingAdvice.com): Boasting market-leading VPS hardware, slick management software, and free SSD drives and backups, InMotion Hosting competes to win when it comes to managed VPS hosting packages. The host initiates its VPS customer relationship with free website migrations and up to two hours of launch assistance from an experienced sysadmin. Go to full review »
| Setup Time | Disk Space | CPU | RAM |
| --- | --- | --- | --- |
| 6 minutes | 90 GB SSD – 360 GB NVMe SSD | 2 – 8 cores | 4 GB – 16 GB |
2023's best VPS hosting options »
2. Hostinger — Cheap VPS Hosting with Optimal Speed
Hostinger excels at offering an attractive price-to-performance ratio for projects of all sizes and technical difficulties. Providing highly configurable VPS packages, Hostinger puts flexibility and user experience at the forefront. The fast-growing hosting company already serves more than 29 million customers and experiences 15,000 new signups each day.
Performance-boosting features: All-SSD hardware, pre-installed caching, NGINX, and support for PHP 7.1 and HTTP/2
Also known for: Dedicated IPv6 support, free shared hosting via 000webhost
Hostinger isn't yet known for its managed support, but we can certainly appreciate dedicated IP addresses and full root access. Customers can get up to eight CPU cores with 8GB of memory. Offering a price that's hard to beat, Hostinger is an up-and-coming unmanaged VPS hosting provider that sneaks under many people's radar. Consider them for Ferrari-grade hosting on a used-car budget:
Cloud-based SSD storage for speed and reliability
Double your RAM with burst periods
FREE dedicated IPv4 and IPv6 addresses
Custom control panel for reboots and OS installs
HostingAdvice readers enjoy more than 50% off
VPS
RATING 4.6 ★★★★★ Our Review
Hostinger: Our Expert's Review
Laura Bernheim (HostingAdvice.com): Hostinger's laser focus on providing affordable hosting solutions shines brightest with the company's VPS packages. The company provides six different virtual server plans, including one that costs less than $5. Go to full review »
| Setup Time | Disk Space | CPU | RAM |
| --- | --- | --- | --- |
| 6 minutes | 20 GB SSD – 250 GB SSD | 1 – 8 cores | 1 GB – 16 GB |
2023's best VPS hosting options »
3. SiteGround — Fast Cloud VPS Hosting Meets Premium Customer Support
As you can see with SiteGround, performance sometimes comes with a price. However, the company's hefty price tag is a worthy investment for a growing online business that prioritizes high-speed innovation, supreme reliability, and immediately responsive customer support. What's more, SiteGround's VPS platform comes with cloud-based stability that enables customers to automatically scale to handle any traffic spikes.
Performance-boosting features: SSD storage, three levels of caching, CDN, NGINX, and support for PHP 7 and HTTP/2
Also known for: Auto-scalable computing resources, SuperCacher static and dynamic content caching, innovative VIP support via live chat and ticketing system
We were a little surprised to learn that SiteGround doesn't advertise its network speed or guaranteed port connections, but we trust the longtime industry leader to maintain connected infrastructure worthy of the team's innovative in-house developments. The company engineered its own support systems and promises to instantly reply to chat messages and phone calls while responding to email tickets in 10 minutes or less.
Fully managed cloud hosting with ultra-fast performance and scalability
FREE Cloudflare CDN and daily backups
SuperCacher, Git, and 1-click CMS installs
cPanel, SSH access, and private DNS setup
Dedicated IP address and iptables firewall
VPS
RATING 4.2 ★★★★★ Our Review
SiteGround: Our Expert's Review
Alexandra Anderson (HostingAdvice.com): When it comes to VPS hosting, SiteGround does things a little differently. Instead of managing a typical virtual private server network, the company created its very own cloud platform built from the ground up. Go to full review »
| Setup Time | Disk Space | CPU | RAM |
| --- | --- | --- | --- |
| 6 minutes | 40 GB SSD – 160 GB SSD | 4 – 16 cores | 8 – 20 GB |
2023's best VPS hosting options »
4. ScalaHosting — Fully Managed VPS Hosting Service with SSDs
Boasting competitive response times, ScalaHosting is one of the world's fastest shared hosting providers — and its semi-dedicated VPS plans don't disappoint.
Performance-boosting features: SSDs, LiteSpeed Enterprise license add-on, HTTP/3 support, and free website migration
Also known for: Proprietary control panel (SPanel) and security features (SShield)
While your average VPS host will give you the option to add a content delivery network (CDN), ScalaHosting's semi-dedicated plans come with Cloudflare Railgun pre-installed. This technology uses advanced caching techniques to compress data over 150 times faster than conventional methods, which can shave precious milliseconds off your page load times.
For a cloud server hosting service with industry-leading SLAs, ScalaHosting is tough to out-pace.
Fully managed VPS with cloud performance
FREE site migration executed by experts
Enjoy 100% SSD storage and unmetered bandwidth
Custom full-service SPanel administration portal
HostingAdvice readers get

36

% off the first term
VPS
RATING 4.9 ★★★★★ Our Review
ScalaHosting: Our Expert's Review
Laura Bernheim (HostingAdvice.com): ScalaHosting particularly stands out for its portfolio of cloud VPS solutions. Site owners will naturally fin