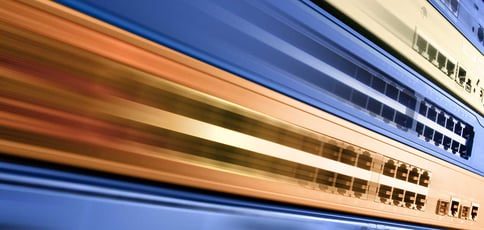 Much like buying a car, shopping for the fastest VPS hosting is all about what's under the hood. Components, such as solid-state drives, caching services, a content delivery network (CDN), and support for modern programming languages and protocols, all fuel a high-octane hosting experience.
Getting that quick jump off the starting line can be a big deal for online businesses, as even minor increases in page load time can negatively affect conversions, page views, SEO, and revenue. According to AB Tasty, a two-second delay can double a website's bounce rate, and 75% of users will likely drop off once page load time reaches three seconds.
Although much of the pressure to get your VPS cruising at top speed falls on how you configure things, fast web hosts are the mechanics that provide the equipment supporting your speed demon dreams. Let's rank the top 13 fastest VPS hosts and answer any questions you may have.
To rank the fastest VPS hosting provider companies, we identified 10 key factors in website performance — and InMotion Hosting was the only VPS host to check off every box.
Our speed rankings combine the relatively obvious (e.g., free solid-state drives and tools for caching and content delivery networks) to more obscure features such as HTTP/2 support and access to a qualified hosting expert who can lend tailored advice on how to optimize your site's performance. Once that initial round of testing provided us with a list of finalists, we ran each service through Pingdom, Google PageSpeed, and other services to measure performance.
Performance-boosting features: SSDs, proprietary caching controls, CDN, NGINX, and support for PHP 7 and HTTP/2
Also known for: Max Speed Zones (choice of server location), Launch Assist (two hours of dedicated time with a SysAdmin), and Smart Routing optimization
The company's all-SSD infrastructure has been on our radar for a long time. According to InMotion's benchmarks, the host's SAS 15K storage drives push out 95% more data than 1TB Samsung SSDs and process data up to 20 times faster than traditional hard-disk drives.
Learn more about the company's impressive offerings — from hyper-performant servers to uber-responsive live chat support — by clicking on our review below.
2023's best VPS hosting options »
Hostinger excels at offering an attractive price-to-performance ratio for projects of all sizes and technical difficulties. Providing highly configurable VPS packages, Hostinger puts flexibility and user experience at the forefront. The fast-growing hosting company already serves more than 29 million customers and experiences 15,000 new signups each day.
Performance-boosting features: All-SSD hardware, pre-installed caching, NGINX, and support for PHP 7.1 and HTTP/2
Also known for: Dedicated IPv6 support, free shared hosting via 000webhost
Hostinger isn't yet known for its managed support, but we can certainly appreciate dedicated IP addresses and full root access. Customers can get up to eight CPU cores with 8GB of memory. Offering a price that's hard to beat, Hostinger is an up-and-coming unmanaged VPS hosting provider that sneaks under many people's radar. Consider them for Ferrari-grade hosting on a used-car budget:
2023's best VPS hosting options »
As you can see with SiteGround, performance sometimes comes with a price. However, the company's hefty price tag is a worthy investment for a growing online business that prioritizes high-speed innovation, supreme reliability, and immediately responsive customer support. What's more, SiteGround's VPS platform comes with cloud-based stability that enables customers to automatically scale to handle any traffic spikes.
Performance-boosting features: SSD storage, three levels of caching, CDN, NGINX, and support for PHP 7 and HTTP/2
Also known for: Auto-scalable computing resources, SuperCacher static and dynamic content caching, innovative VIP support via live chat and ticketing system
We were a little surprised to learn that SiteGround doesn't advertise its network speed or guaranteed port connections, but we trust the longtime industry leader to maintain connected infrastructure worthy of the team's innovative in-house developments. The company engineered its own support systems and promises to instantly reply to chat messages and phone calls while responding to email tickets in 10 minutes or less.
2023's best VPS hosting options »
Boasting competitive response times, ScalaHosting is one of the world's fastest shared hosting providers — and its semi-dedicated VPS plans don't disappoint.
Performance-boosting features: SSDs, LiteSpeed Enterprise license add-on, HTTP/3 support, and free website migration
Also known for: Proprietary control panel (SPanel) and security features (SShield)
While your average VPS host will give you the option to add a content delivery network (CDN), ScalaHosting's semi-dedicated plans come with Cloudflare Railgun pre-installed. This technology uses advanced caching techniques to compress data over 150 times faster than conventional methods, which can shave precious milliseconds off your page load times.
For a cloud server hosting service with industry-leading SLAs, ScalaHosting is tough to out-pace.
Particularly well-known among WordPress hosting circles, DreamHost is another SSD-driven VPS provider that blends optimized user experiences with modern, forward-thinking hardware. As one of only three hosts recommended by the WordPress team, we love that DreamHost is friendly to open-source communities and developers looking to push the boundaries of website speed and innovation.
Performance-boosting features: Free SSDs, built-in caching, Jetpack-powered CDN, NGINX, and support for PHP 7 and HTTP/2
Also known for: Storage and RAM upgrades in less than 10 seconds, along with optimized and isolated MySQL VPS options
In addition to unlimited bandwidth and traffic, DreamHost gives VPS customers easily expandable memory and storage solutions that can quickly adapt to your growing audience. Where the company really makes its mark, however, are the managed MySQL servers that put your databases on their own, isolated VPS environment. Learn more by clicking on our review, below:
2023's best VPS hosting options »
Synonymous with speedy web services, A2 Hosting is all about performance. The company starts with its proprietary, all-SSD SwiftServer platform that features HTTP/2 support, CloudLinux, and free Cloudflare content delivery network. From there, VPS customers can opt to upgrade to Turbo servers, which offer performance up to 20 times faster.
Performance-boosting features: All-SSD hardware, built-in caching, Jetpack-powered CDN, NGINX, and support for PHP 7 and HTTP/2
Also known for: Storage and RAM upgrades in less than 10 seconds, along with optimized and isolated MySQL VPS options
A2 Hosting gets an added thumbs up from us for starting all customers with 4GB of memory, which is more than double what we saw among most competitors. InMotion and SiteGround are the only other hosts who empower customers with such computing firepower right off the bat. If speed is what you're looking for, A2 Hosting is always a great place to start.
2023's best VPS hosting options »
Touting cloud-based VPS plans that are the fastest on the planet, Liquid Web outperforms industry leaders like Amazon Web Services, Rackspace, and Digital Ocean. The company enlisted independent cloud analytics firm Cloud Spectator to benchmark performance and found that Liquid Web outperforms competitors on every element of the LAMP stack.
Performance-boosting features: Ample SSD storage, free Cloudflare CDN, NGINX, and support for PHP 7 and HTTP/2
Also known for: 100% network and power uptime guarantees and top-notch Heroic Support™
We'd like to see more built-in caching options from Liquid Web, but the company's industry-leading technical and customer support teams will easily help you select and implement the proper systems. The company is at the top of the heap when it comes to premium infrastructure and personalized support, ensuring you won't need to hire a SysAdmin to further optimize your environment. When searching for the best deal in high-speed VPS hosting, look no further than Liquid Web.
2023's best VPS hosting options »
As a relative newcomer to the hosting industry, Hostwinds entered the scene in 2010 with a state-of-the-art approach to web hosting from both a technology and a customer service perspective. The company pairs all-SSD infrastructure with an impressive 99.99999% uptime guarantee for its VPS plans — meaning your site will experience just 3.2 seconds of downtime a year.
Performance-boosting features: Free SSDs, CDN integration, available NGINX, and support for PHP 7 and HTTP/2
Also known for: WindSpeed website performance analysis and optimization, as well as a 99.99999% uptime guarantee
We appreciate how Hostwinds provides both managed and unmanaged VPS hosting plan options, along with support for your choice of operating system (i.e., Windows VPS or Linux VPS). Through its proprietary WindSpeed program, the flexible host offers customers a chance to analyze opportunities for CSS, JavaScript, and image optimization, along with application-specific optimization for Apache and MySQL. Check them out below:
2023's best VPS hosting options »
Giving customers the opportunity to experience one month of cloud-based VPS hosting for a penny (yes, you read that right), InterServer is a developer's dream. The company owns and operates its own datacenters, with the Co-Founders regularly answering support tickets and maintaining the technical resources. The web host's flexible platform comes in Linux or Windows server varieties, along with hardware optimized specifically for running WordPress VPS.
Performance-boosting features: All-SSD infrastructure, one-of-a-kind caching platform, CDN, NGINX configurations, and support for PHP 7 and HTTP/2
Also known for: 10Gbps network speed, month-to-month hosting plans, and proprietary solutions for security and caching
InterServer's managed VPS services only kick in if customers order at least four slices for their VPS, which equates to four CPU cores, 120GB of SSD storage, and 8GB of memory — although you get a lot, some site owners may need to start smaller. That being said, we're particularly impressed with Inter-Proxy, the company's automatic caching solution that addresses caching at five different layers of your stack. Take a look at InterServer's cloud VPS plan offerings below:
2023's best VPS hosting options »
For being such a highly regarded host for so long, we were a little surprised to learn that Bluehost doesn't include SSDs with every hosting plan. However, the company really steps up to offer superb VPS plans with upgraded hardware and an enhanced control panel. Instant provisioning means you'll be up and running with your VPS plan in seconds; add more CPUs and memory only when you need them.
Performance-boosting features: SSD storage and optional caching, CDN, NGINX, and support for PHP 7 and HTTP/2
Also known for: Speed powered by OpenStack and KVM, along with guaranteed and dynamic resources
Since launching in 2003, Bluehost has grown to power more than 2 million websites and become one of the most respected brands in the industry. Bluehost joins SiteGround and DreamHost as the three hosts approved by the WordPress Core team, and for good reason — Bluehost managed WordPress plans unlock advanced CDN, caching, and other optimizations. Check out the company's basic VPS offerings below to see if they'll fit your needs:
2023's best VPS hosting options »
Our dark horse in the race for the fastest VPS hosting is HostPapa; the company offers a surprising number of performance-minded features but rarely gets the headlines or attention it deserves. In addition to low-density SSD servers that come with a free integration with Cloudflare, HostPapa offers root access and the latest Intel Xeon processors.
Performance-boosting features: SSDs, custom caching tools, Cloudflare CDN, and support for PHP 7
Also known for: Rocket Fast premium servers, plus free domain and VPS transfers
We love that HostPapa offers a mix of features for those with technical savviness while still making its platform simple enough for beginners. When signing up for HostPapa servers, keep an eye out for Rocket Fast configurations that triple server performance by doubling your RAM and storage space. Even better, VPS customers can use their environments to host unlimited domains and websites.
2023's best VPS hosting options »
We were a little surprised to see such a trusted mainstay in the industry enter our list at such a low position. However, we suspect VPS performance from HostGator is better than our research showed. But here may be one of those cases where those with rich technical experience can really excel by fine-tuning an already impressive configuration to eke out precious milliseconds from website loading times.
Performance-boosting features: Options for caching, CDN, custom software installations, and support for PHP 7
Also known for: Easily scalable computing resources, cutting-edge Intel and AMD equipment
HostGator holds the dubious (or impressive, depending on who you ask) distinction of making this list of fastest VPS hosts without relying on SSDs. Even though HostGator is more expensive than some of the others on our list, however, you'll get way more storage and computing resources. Entry-level VPS customers get 2GB of RAM, two CPU cores, 120GB of storage, two dedicated IP addresses, and more than 1TB of bandwidth. You also have your choice of semi- or fully managed VPS support.
2023's best VPS hosting options »
We tend to support GreenGeeks more for the company's SSD-powered shared hosting, but successful sites will need to scale — why not stay with the web host that got you there? New or continuing customers can benefit from a free migration service and the benefit of knowing that the equipment behind your site is offset by 300% renewable energy credits.
Performance-boosting features: Redundant SSD storage and options for caching, CDN, and support for PHP 7 and HTTP/2
Also known for: Built-in PHP and MySQL optimizations, plus Tier-1 bandwidth on a multiple-Gigabit network and a proprietary management platform
Customers can trust GreenGeeks to draw out as many performance boosts as possible by deploying high-powered SSDs in a RAID-10 array to boost redundancy and data access. Plans are a bit more expensive than we'd like to see, but we'll trust the GreenGeeks experts to know the right configurations for the company's network. Learn more about the VPS host by clicking on our review, below:
2023's best VPS hosting options »
VPS hosting holds the middle ground on the hosting spectrum, between shared and dedicated server hosting. A VPS, which stands for a virtual private server, is essentially a larger portion of a server that is split with maybe a few dozen customers, as opposed to hundreds or thousands of customers on the same shared hosting server.
VPS environments are made possible through virtualization, which enables administrators to run multiple operating systems on a server simultaneously. Each virtualized environment, or virtual machine, acts as its own independent system, complete with dedicated computing resources and software applications.
That resource isolation as part of VPS hosting gives site owners much greater control over the configurations and applications powering their website. Root access gives complete administrative access through the command line interface, while managed hosting support transfers that responsibility to experts with your hosting provider.
Because of the high levels of customization available with most VPS hosting providers, the best packages are often in the eye of the beholder. Developers and site owners with a lot of tech experience will want ample resources, root access, and a wide variety of operating systems, load balancers, security systems, and other tools.
Those new to the VPS hosting ranks, however, may prefer managed VPS hosting services to help take care of the mundane, day-to-day maintenance tasks associated with security patches and operating system updates. Managed VPS hosting plans enable site owners to concentrate on growing their business and working on their online content instead of the technical details of how its underlying infrastructure runs.
When shopping for a VPS host, we typically look for the amount — and quality — of computing resources allocated to each plan. That means SSDs for storage, hopefully configured in a RAID array for added redundancy. You'll want to choose a host that offers a strong uptime guarantee, perhaps with included backups and security protections, along with a company that provides easy-to-use tools for account management. Naturally, you'll want as many perks as you can get, while being sure to keep an eye on the price tag. We've made things easier for you by listing our top three VPS hosting providers below:
Different question, same answer as before. Whether VPS hosting is better than shared hosting depends on a variety of factors such as your current traffic, business goals, technology expertise, and the amount of money you're willing to spend. From a pure performance perspective, VPS hosting is leaps and bounds ahead of shared hosting. Well-configured dedicated resources will make an immediate impact on your page load times.
From there, a lot weighs on the status of your online project. New or small initiatives are probably best suited to test the waters in a shared hosting environment, including personal blogs, portfolios, and brick-and-mortar businesses taking their first steps into the world of eCommerce. The differences between shared and VPS hosting can be summed up below:
All told, VPS hosting is generally better than a shared hosting environment. You have more resources at your disposal and more control over how to disperse them — but you also have more rope with which to hang yourself. If you have any reservations about how to configure, secure, or maintain a VPS, be sure to sign up for a fully managed VPS hosting plan that takes care of the nitty-gritty details for you. Finding a host with 24/7/365 customer support resources via live chat or phone is also a solid path to pursue.
Generally speaking, VPS hosting is more expensive than shared hosting services — but it's still a total bargain compared to even the best dedicated server hosting options. Interestingly, though, we feel like VPS hosting has the widest fluctuation in prices. You can get a high-quality entry-level VPS hosting package for roughly the same price as a high-end shared hosting plan. Or, you could spend upward of $40.
We tend to set the benchmark for VPS hosting prices at around $20 per month. As you'll see, many of our favorite VPS hosting services are at or below that rate, and for good reason — VPS is all about scalability and helping site owners make the leap from shared hosting to dedicated servers. The best hosts give that simple introduction to virtualization and slowly let you add more resources until the time comes to take over an entire server.
That being said, you'll probably see a lot more variance in pricing at the VPS level than either shared or dedicated hosting. Just on HostingAdvice alone, you can find VPS plans for less than $4 monthly or upward of $80 per month — and we seriously like both plans.
Beyond the technical feats of transmitting website data around the world in the blink of an eye, high-performance web hosting can have a tremendous impact on your online business or website's success. Sure, you want to find a VPS server plan with tons of storage and bandwidth, but performance-enhancing systems like ample SSDs, memory, route-optimized networking, CDNs, and caching options will make your good plan even better.
If your hosting company is willing to make the investment in its infrastructure to provide an accelerated hosting experience, chances are your service will be extremely reliable, secure, and well supported. The company's managed services will also likely extend beyond simple operating system updates to specifically target opportunities for your online growth.
When it comes to the importance of a speedy hosting solution, the margin for error is extremely low. According to Pingdom, the world's 100 top retail sites load within an average of 2.51 seconds — and, believe it or not, that leaves lots of room for improvement.
Finding the best VPS hosting provider for your online endeavor is no small feat, which is why we've showcased a dozen of the most respected, trustworthy, and performant virtual server hosts in the industry. Capture the power of sustainable and scalable technology with VPS server plans built for speed.
Hopefully, our recommendation of InMotion fulfills all your web hosting needs. Starting at just $19.99 per month and rated 4.6 overall, InMotion gives users plenty of bang for the buck. Among our favorite features:
HostingAdvice readers get 67% off the first term
FREE site migrations and 2 hours of Launch Assist
2 – 3 dedicated IP address options
FREE cPanel/WHM licenses included
Highly available servers with real-time redundancy
If you'd like recommendations similar to InMotion and others in 13 Fastest VPS Hosting Services (Oct. 2023): Compare Server Speeds, check out these popular guides. You'll find comparisons of InMotion to other hosts on pricing, features, support and more:
And of course, if InMotion is your top choice, you can get started now at just $19.99/month. InMotion is easy to set up and scale, no matter the size of your next project.
Advertiser Disclosure
HostingAdvice.com is a free online resource that offers valuable content and comparison services to users. To keep this resource 100% free, we receive compensation from many of the offers listed on the site. Along with key review factors, this compensation may impact how and where products appear across the site (including, for example, the order in which they appear). HostingAdvice.com does not include the entire universe of available offers. Editorial opinions expressed on the site are strictly our own and are not provided, endorsed, or approved by advertisers.
Our Editorial Review Policy
Our site is committed to publishing independent, accurate content guided by strict editorial guidelines. Before articles and reviews are published on our site, they undergo a thorough review process performed by a team of independent editors and subject-matter experts to ensure the content's accuracy, timeliness, and impartiality. Our editorial team is separate and independent of our site's advertisers, and the opinions they express on our site are their own. To read more about our team members and their editorial backgrounds, please visit our site's About page.