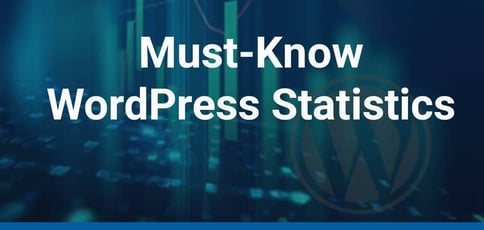 WordPress is the Mount Everest of content management solutions. This CMS giant is revered by bloggers, content managers, and business owners worldwide for its customizations and capabilities. Its tens of thousands of plugins are like the climbing spikes and ropes you need to make your summit. And with the right gear, anyone can be successful with WordPress.
Since its creation in 2003, WordPress has dominated the market and drawn website owners of all interests to its platform. The no-code, open-source CMS works well for a range of sites, from blogs to online stores.
It's no surprise the digital world has taken so much interest in the software. And if you're a WordPress user, you're well aware of its perks. We've compiled a list of must-know WordPress statistics for those like us who have a keen interest in the platform.
Consider us your mountain guide in this list of WordPress facts.
The Big Stuff
If you're short on time and just want the key points about WordPress, check out these quick stats:
43% of websites use WordPress.1
That's more than 455 million websites.
WordPress controls 63% of the CMS market share.2
Now that you have some quick stats to impress other WordPress enthusiasts, let's move on to more in-depth information
4. WordPress Has More Than 26 Million Downloads (And Counting)
It's no surprise that WordPress is the world's most popular content management system. It's versatile, customizable, and boasts a pretty impressive user interface.

Since the platform's launch in 2003, it's amassed more than 31 million downloads.3 Just think about that. WordPress has more downloads than there are people in the entire state of Florida.
At HostingAdvice.com, we are one download in a sea of millions.
5. WordPress Offers More Than 60,000 Free Plugins to Choose From
A plugin is a software add-on in WordPress that you can use to add out-of-the-box functionality to your website. It allows you to easily add customizations, including hamburger menus, contact forms, and design effects, without having to manually code them.4
Plugins are part of the enormous appeal of WordPress because they allow site owners with little experience to take their blogs or online stores to the next level.
6. The Three Most Popular WordPress Plugins are Yoast SEO, Elementor, and WPForms
We compared the most downloaded WordPress plugins with the number of positive reviews, and these three plugins stand out among the rest.5 Each boasts more than 5 million active users and thousands of collective reviews. The WordPress crowd has made it clear: If you're new to WordPress and don't know which plugins to choose, you should start with these.

Those numbers are impressive, but what we like most about these plugins is the value they add to your WordPress site. Here's a rundown of what each of these plugins is best for.
Yoast SEO is your one-stop shop for search engine optimization. The plugin has helped more than 13 million people optimize their content to achieve the best results. Site owners can use the free version or pay a reasonable yearly fee for the premium plan. The plugin gives you insight into your content's readability and keyword strength.
Elementor makes site building a breeze with its drag-and-drop builder that comes with hundreds of custom themes. Dubbed the Swiss army knife of plugins, the software gives site owners hundreds of features, including custom themes, widgets, and advanced security features. With Elementor, you can consolidate your website's functionality into one plugin, simplifying site management.
WPForms is hands down the best form generator plugin for WordPress. Users can create simple contact forms or complex, multipage forms with conditional logic. One of the best features of WPForms is its clean, user-friendly design options, which enhance the aesthetic appeal of your WordPress site.
WordPress makes it incredibly easy to install plugins. Go to your WordPress dashboard and select the Plugins option to use one of the mentioned plugins. Click "Add New" and search for the one you want to install. Click the Activate button, and you're all set.
7. Hello Dolly Was One of the First WordPress Plugins Ever Created
WordPress founder Matt Mullenweg created Hello Dolly as one of the first WordPress plugins.6 More than 20 years later, it still comes preinstalled when you download the software. But what does it do? Nothing particularly practical.

The plugin displays a quote from the 1969 romance musical, "Hello, Dolly!" Although most site owners don't find this particularly useful, if you're a Louis Armstrong fan, you may disagree.
8. 40% of the Top 15 Online Blogging Sites Use WordPress
What's even more impressive than the above statistic is that the top three most popular blogging sites all use WordPress. And chances are, you've visited these sites a time or two.
You may recognize some of these popular blogging sites that use WordPress:
TechCrunch.com
Billboard.com
Wired.com
Perezhilton.com
Aside from these online blogs, other popular sites running on WordPress include TIME, Vogue, and Sony Music.7
Did you know that anyone can check to see if a site is built on WordPress? To do so, type the website's URL into the address bar with the extension /wp-admin. If the site uses WordPress, you'll be presented with the login screen. If it doesn't, you'll get a 404 error message.
9. WordPress is Built with the PHP Coding Language

PHP is ideal for creating dynamic page content and gating user access, which is why it's perfect for a content management system. WordPress site owners can code custom PHP themes and upload them to their sites for greater personalization.8
10. WordPress uses MySQL as its Database
When you create a blog post in WordPress, where is it stored? You can see it in your dashboard, of course, but the CMS stores it in a MySQL database connected to your website.9 When a visitor searches for the latest posts on your blog, WordPress automatically goes into your database to retrieve recent blog posts and display them to your user.
11. WordPress is Open-source
WordPress is open-source, which means that anyone can view the source code.10 A team of developers is responsible for leading the project, but anyone can make suggestions or contributions to the platform. Other popular open-source projects include Drupal, MongoDB, and Python.
12. WordPress.com and WordPress.org are Different Entities
WordPress.org is the website where you can download the CMS and customize it to your liking. This is best for people with technical experience or businesses needing greater personalization than out-of-the-box themes. But the CMS does not come with a hosting plan.

WordPress.com is where you can get a free or paid hosting plan and install WordPress with one click. This option is better for newbies or businesses that don't mind working with preset themes.11
13. The Average Entry-level Cost for WordPress Hosting is $24.00 a Month
That's not a bad price tag to build a WordPress site and put it on the web. Of course, if you want premium features, greater bandwidth, or multiple websites, you'll have to pay more than that. But for a low-traffic personal blog, that's a reasonable price.12
Go Forth and Spread Your Knowledge
There's more to WordPress than meets the eye. At first glance, most people recognize a platform for building a website and hosting content. But the CMS has developed a cult-like following, drawing WordPress enthusiasts from all over the world. True fanatics embrace the platform for what it is: A way to connect people with the tools they need to fulfill their content passions.
And now that you know 13 facts about WordPress, you can impress your coworkers at your next water cooler meeting.
Sources and Further Reading
https://kinsta.com/wordpress-market-share/
https://w3techs.com/technologies/details/cm-wordpress
https://wordpress.org/download/counter/
https://wordpress.org/plugins/
https://wordpress.org/plugins/
https://www.wpbeginner.com/plugins/what-is-the-hello-dolly-wordpress-plugin-should-you-delete-it/
https://blog.feedspot.com/best_blogs/
https://www.hostingadvice.com/how-to/what-is-wordpress-hosting/#php
https://www.wpbeginner.com/glossary/database/
https://wordpress.org/about/
https://www.hostingadvice.com/how-to/wordpress-com-vs-wordpress-org/
https://www.webfx.com/web-design/pricing/wordpress-cost/