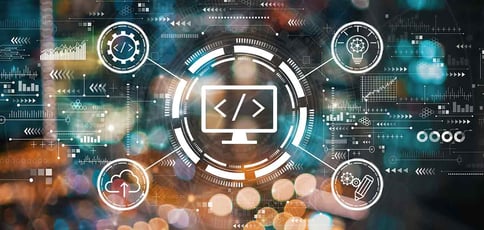 Even without the resurgence of static web hosting, finding the best hosting for HTML websites is an incredibly important endeavor.
As the most essential part of a web developer's toolkit, HTML serves as the markup language for more than 92% of all websites. Whether you're using a PHP-driven content management system, such as WordPress, or writing the code yourself, HTML ultimately provides web browsers with the structure of your website.
Ultimately, the best hosting plan for an HTML website provides the best performance for the lowest price. You won't need the resources of a VPS hosting plan or a dedicated server, so you can enjoy the cost savings of a shared plan.
We've separated the top options into two categories — full-featured shared hosting providers and HTML hosting specialists without all the bells and whistles.
Best Shared Hosting for HTML Websites
Perhaps not surprisingly, the best shared hosting for HTML websites is largely synonymous with the best hosting companies in general. These industry leaders have emerged over the years to provide the best all-around web hosting service packages, regardless of the format.
With the following shared hosting plans, you can choose your level of interaction with HTML coding. Create your site with a drag-and-drop website builder without modifying a thing in the base HTML, or go to the other extreme by coding the whole thing yourself and uploading it to your server via FTP.
Regardless of which route you prefer, these hosting providers connect website owners with the tools and technologies they need to succeed. Quality plans often come with free website builders, 24/7 customer support, and a free domain name for one year.
Cheap shared hosting from a trusted provider
Ideal for hosting a WordPress website
FREE Weebly website builder and Cloudflare CDN
Unlimited traffic and 24/7 live chat support
Get 70% off today with our Bluehost coupon
CHEAP
RATING 4.8 ★★★★★ Our Review
Bluehost: Our Expert's Review
Ryan Frankel (HostingAdvice.com): Bluehost pricing is about as competitive as the industry offers. Sign up for a shared hosting plan for as little as $2.95 per month, and WordPress hosting packages are consistently priced; a VPS plan starts at around $19.99 per month; and the dedicated hosting rates are as little as $79.99 per month. Go to full review »
| Money Back Guarantee | Disk Space | Domain Name | Setup Time |
| --- | --- | --- | --- |
| 30 days | 10 GB SSD – 100 GB SSD | FREE (1 year) | 5 minutes |
Bluehost is well known for its compatibility with WordPress, but did you know that you don't have to use a CMS to host your site with Bluehost?
All you need is an FTP or file manager to build and publish your website. You can create your whole site using a static site generator and still host it with one of the best web hosts in the industry.
If you're not a seasoned web developer, you can also enjoy the time-saving benefits of a fully customizable HTML template and site builder with Weebly.
The user-friendly website builder's code editor provides access to the base HTML behind the lovely website templates and themes, so you can put your own personal touches on the look and functionality of your site.
Unlimited everything, from storage to databases
FREE site builder & WP performance upgrades
FREE daily or weekly backups
Custom control panel and auto-installation scripts
SSH access & unlimited FREE SSL certificates
CHEAP
RATING 4.9 ★★★★★ Our Review
Hostinger: Our Expert's Review
Laura Bernheim (HostingAdvice.com): As the shared hosting market becomes increasingly saturated, unlimited storage, bandwidth, and email accounts have become surprisingly average. Hostinger, however, extends the routine, expected metrics to greater lengths — the number of websites, databases, FTP users, subdomains, and parked domains are all unrestricted for most customers. Go to full review »
| Money Back Guarantee | Disk Space | Domain Name | Setup Time |
| --- | --- | --- | --- |
| 30 days | 50 GB SSD – 200 GB SSD | FREE (1 year) | 3 minutes |
You'll never feel like you're undertaking this journey alone with the wealth of reading materials Hostinger provides on HTML web development.
A quick search of the web hosting company's knowledge base reveals more than 300 resources that cover everything from the basic definition of HTML to the differences between HTML and responsive HTML5. Users can also learn how to create and edit HTML themes, and how to employ a Bootstrap framework, among other topics.
Of course, Hostinger offers more than just tutorials — we've long been impressed with this budget host's approach to high-quality hosting services. Site owners will enjoy a free SSL certificate, domain registration, and unlimited bandwidth and databases.
To further help HTML enthusiasts expand their web presence, Hostinger gives customers 100 email inboxes, high-performance SSD storage, Google advertising credits, and an uptime guarantee.
Host up to unlimited websites on a single plan
FREE SSL certificate included on all plans
Unlimited bandwidth & email addresses
1-click WordPress installs & FREE blog tools
Get 67% OFF by buying 36 months upfront
CHEAP
RATING 4.6 ★★★★★ Our Review
HostGator: Our Expert's Review
Ryan Frankel (HostingAdvice.com): HostGator is a great compromise between performance and price. The company offers unlimited emails, MySQL databases, disk space, and bandwidth, plus one-click installs of popular open-source projects, in addition to a 99. Go to full review »
| Money Back Guarantee | Disk Space | Domain Name | Setup Time |
| --- | --- | --- | --- |
| 30 days | Unlimited | FREE (1 year) | 4 minutes |
Since its inception in 2002, HostGator has seen the evolution of HTML as the primary method of development to a background tool and back again as static HTML sites surge in popularity.
That rich experience means HostGator is perfectly equipped to help website hosting customers build, deploy, and scale their sites. Roughly a third of HostGator's customers are web professionals, which speaks to the company's attention to support and modern technologies.
For starters, HostGator gives users unlimited resources from the start. With no limits on disk space, bandwidth, websites, databases, and SFTP, users will scale as high as they need (including all the way to dedicated hosting). Even better, they get full SSH access to further customize their HTML hosting environment.
For those looking for a website builder that enables HTML modification, the web host's Gator Website Builder — included for free — comes with the ability to embed code anywhere into your website.
Easy setup and superb reliability since 1998
FREE domain and Google marketing included
Unlimited bandwidth, storage, and emails
FREE site builder and shopping cart
Get more than 38% off today (was $7.99/month)
CHEAP
RATING 4.7 ★★★★★ Our Review
iPage: Our Expert's Review
PJ Fancher (HostingAdvice.com): Whether you're a first-time website owner or a web veteran, iPage's excellent hosting services and a fantastic list of extras make the brand one of the best values in web hosting. Unlimited disk space, scalable bandwidth, and emails are just a part of what makes iPage's shared hosting plan a great deal. Go to full review »
| Money Back Guarantee | Disk Space | Domain Name | Setup Time |
| --- | --- | --- | --- |
| 30 days | Unlimited | FREE (1 year) | 5 minutes |
By comparing HTML to the Wizard in The Wizard of Oz, hosting experts at iPage describe the importance of the markup language perfectly.
The wizardry of the internet mystifies many. It's crazy to imagine that behind the visually stunning displays and varied functionalities of the web is nothing more than surprisingly simple text and code behind the curtain.
We're still trying to decide if iPage itself is more like a genie, fairy godmother, or wizard. With its shared hosting plan, you get everything you ever dreamed of in one neat little package.
iPage comes with unlimited websites and storage, plus a free domain, website builder, SSL certificate, and unlimited free email.
iPage is a transparent and trusted hosting option that lays all of its cards out for you to see. The web hosting company's friendly customer support crew is highly capable and always there to help, and will ensure you have every bit of information you desire.
Manage your domain and hosting under one roof
Choice of cPanel or Plesk control panels
Up to unlimited bandwidth and storage
Microsoft 365 inboxes included FREE for first year
Get 70% OFF by signing up today
CHEAP
RATING 4.5 ★★★★★ Our Review
GoDaddy: Our Expert's Review
Ryan Frankel (HostingAdvice.com): A major pull factor for GoDaddy's hosting services is certainly the cost. It's hard to beat web hosting for just a few dollars per month, especially when the company includes a free domain name, control panel, impressively fast load times, and unlimited websites with most plans. Go to full review »
| Money Back Guarantee | Disk Space | Domain Name | Setup Time |
| --- | --- | --- | --- |
| 30 days | 25 GB – Unlimited | FREE (1 year) | 4 minutes |
As perhaps the first mainstream hosting provider, GoDaddy has loads of experience in perfecting the dev tools needed for static and dynamic websites.
For example, the world-famous domain registrar applies its customer-focused mission to offer a built-in file manager accessible through its hosting control center, making HTML file transfers incredibly easy. Site owners can register up to 50 FTP users.
Alternatively, the company's website builder and marketing services allow for HTML integration and include hundreds of customizable templates.
Regardless of your path, GoDaddy customers can rest easy knowing they can rely on 24/7 support, world-class domain tools, and a 99.9% uptime guarantee.
FREE Cloudflare CDN and SSD speed boost
Optimized caching and 1-click installs
Unlimited email, domains, and databases
Advanced security and FREE HackScan
24/7 support via phone, chat & tickets
CHEAP
RATING 4.6 ★★★★★ Our Review
A2 Hosting: Our Expert's Review
Alexandra Anderson (HostingAdvice.com): There are plenty of excellent cPanel shared hosting providers out there, so what sets A2 Hosting apart from the rest. Not only does the company offer a ton of features, but it has custom-built its packages for enhanced performance, speed, and security — putting your priorities above pricing. Go to full review »
| Money Back Guarantee | Disk Space | Domain Name | Setup Time |
| --- | --- | --- | --- |
| 30 days | 100 GB SSD – Unlimited SSD | New or Transfer | 4 minutes |
Page load speed is one main reason people are moving toward static HTML sites. In fact, HTML sites can load up to 10 times faster than dynamic pages.
That makes A2 Hosting a perfect fit for HTML website hosting. The hosting company prioritizes performance, as evidenced by its signature Turbo Server configurations. Turbo Servers load HTML sites up to 20 times faster than competitors thanks to NVMe storage, upgraded processors, and a proprietary blend of caching.
A2 Hosting will migrate your existing HTML site for free and provides step-by-step publishing guides for websites created on the HTML-Kit and PageBreeze editors.
FREE BoldGrid site builder and templates
FREE website, domain, and cPanel migrations
SSD storage makes your site load up to 20x faster
Security suite includes SSL and hack protection
Unlimited bandwidth and email accounts
CHEAP
RATING 4.7 ★★★★★ Our Review
InMotion: Our Expert's Review
PJ Fancher (HostingAdvice.com): InMotion Hosting offers an excellent business-class shared hosting plan — with a price tag lower than several other budget hosts. For the IT crowd in the audience, you'll appreciate SSH access, as well as support for PHP, Ruby, Perl, Python, WP-CLI, and other popular languages. Go to full review »
| Money Back Guarantee | Disk Space | Domain Name | Setup Time |
| --- | --- | --- | --- |
| 90 days | 100 GB SSD – Unlimited | FREE (1 year) | 5 minutes |
InMotion Hosting represents a great spot for your website to call home whether you're dipping your toes into HTML coding for the first time or are an experienced developer looking to live a simpler life.
The company's knowledge base is rife with informative articles and resources for those who want to learn HTML and CSS. Also available are guides on advanced topics such as using server-side includes with an HTML file and how the language is used in WordPress hosting and development.
With InMotion Hosting, you get a wealth of technical resources at a very affordable rate. The web host provides ample SSD storage and bandwidth. Customers also enjoy free SSL certificates, domain registration, and SSH access.
Those with a dynamic website can code in a bevy of supported languages or install one of 400 available applications.
Either way, customers have an impressive 90-day money-back guarantee and 24/7 support to fall back on. The team at InMotion Hosting does a superb job of giving its customers room to grow.
FREE website transfer service to get started
99.9% uptime guarantee and unlimited traffic
User-friendly WordPress installation
24/7 support featuring custom systems
4 caching options plus staging and Git
CHEAP
RATING 4.6 ★★★★★ Our Review
SiteGround: Our Expert's Review
Alexandra Anderson (HostingAdvice.com): Providing hosting with the perfect balance of technological innovation and superior customer support, SiteGround offers a range of affordable hosting services to meet your needs. In addition to the expected cheap web hosting perks — a free website builder and unlimited bandwidth — the company specializes in custom-built tools to deliver strong and positive user experiences. Go to full review »
| Money Back Guarantee | Disk Space | Domain Name | Setup Time |
| --- | --- | --- | --- |
| 30 days | 10 GB SSD – 40 GB SSD | New or Transfer | 6 minutes |
With a platform powered by Google Cloud, SiteGround gives its customers distributed SSD storage for optimal speed and a high level of redundancy. The web hosting company's fast and reliable network also comes with a 100% renewable energy match.
Many of SiteGround's tools revolve around managed WordPress hosting, including a special PHP implementation, a site-building wizard, and a staging environment.
But HTML purists will appreciate automatic daily backups, unmetered traffic, and freebies like a content delivery network, SSL certificate, and email inboxes.
Instead of cPanel, SiteGround users will administer their hosting account through the company's Site Tools portal. The user-friendly dashboard will connect you to all the services you'd expect, including the ability to upload HTML and CSS files directly to your web server.
Best Web Hosting for Static HTML Websites
You're not alone if you're considering staying away from dynamic CMS setups. MailChimp, Nest, Google, and Healthcare.gov rely on static websites, with media outlets at Vox and Vice going as far as creating their own static website generators.
Creating your first static site can take more time to develop than if you used a CMS or site builder with a predesigned website template.
But static sites also come with many benefits: They are less vulnerable to attack, require less regular maintenance, enable the widest range of customization, and are easier to transfer between servers.
With a static website, you don't necessarily need all the bells and whistles included with the plans listed above, but you still want an exceptional web hosting provider.
Each web hosting service below offers fantastic features for HTML developers, with many including a free hosting plan to let you test the waters.
What do Nike, Unilever, Verizon, Peloton, and Mailchimp have in common? They all use Netlify!
With Netlify, you don't have to manage a web server, configure CDNs, or scale server clusters. Using a Git-based workflow and serverless platform, all you have to do is write code.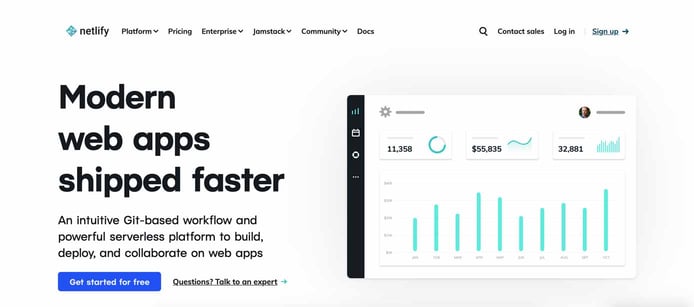 Connect your repository (Netlify supports GitHub, Bitbucket, and GitLab), add your build settings, and deploy your website.
Netlify builds the site every time you push code changes and provides a preview URL for every branch or pull request (hello, staging environments). The platform relies on your repository's master branch as the live site, so any changes there will be published in seconds.
In addition to simplicity, Netlify offers incredible speed through serverless functions, continuous deployment, and impressive security that is SOC 2 Type 2, PCI, GDPR, and CCPA compliant.
Integrating with your Git repository similarly to Netlify, Vercel offers incredibly fast performance, easy deployment, and scalability that is easy to execute.
Formerly known as Zeit, Vercel raised more than $21 million in funding with the goal of empowering developers to deploy their apps easily.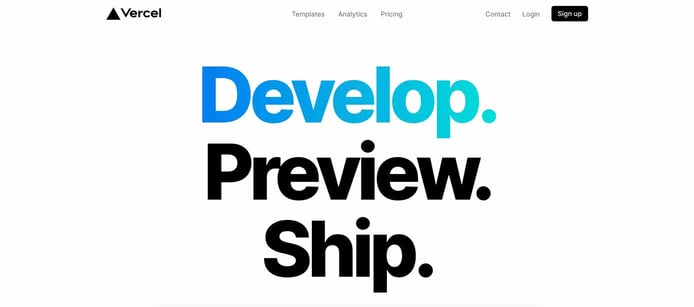 Vercel works with no extra configuration on any web framework, including Svelte, Next.js, Vue.js, React, Gatsby, Angular, or Ember.
The hosting company's global edge network, with locations in 70 cities across the globe, puts your content as close to your audience as possible. Vercel handles configuration tasks such as SSL encryption, image compression, and cache invalidation.
Vercel promises 99.99% uptime and boasts users including Facebook, McDonald's, The Washington Post, and Uber.
With more than 8.2 million frontend applications deployed, Surge boasts perhaps the quickest and simplest publishing process — just six keystrokes in a command line interface.
Every Surge project has many features, including free custom domain support, 404 pages, barrier-free deployment, easy integration into your Grunt toolchain, and cross-origin resource support.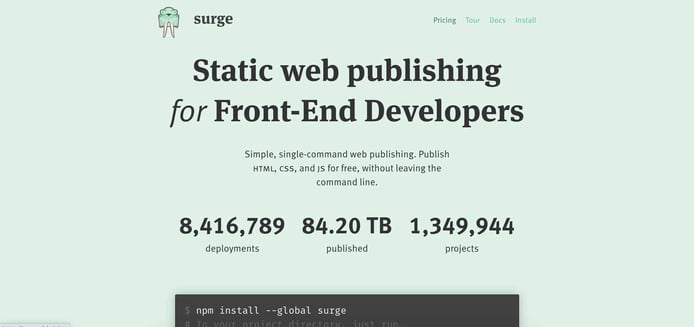 Surge also makes it easy to collaborate with your team. With a simple command, you can add collaborators who can make updates and deploy to your domain.
The free web hosting service cover unlimited publishing, but upgrading to a paid version of Surge supports unlimited projects, custom SSL protections, and HTTPS redirects.
We especially love how Surge ensures your website visitors will see clean URLs without the ugly and outdated .html extension. The platform will save you hours of work and serve the SEO-boosting clean URLs for free.
With Forge, static websites are easy to build, simple to maintain and scale, and offer lightning-fast load times.
The web hosting platform calls itself the "fastest, simplest, and most affordable way to host and deploy static websites." You can put that to the test with Forge's free web hosting plan that provides you with one site with 1GB bandwidth per month.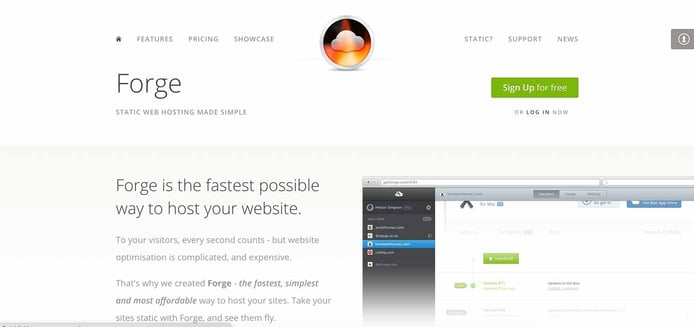 Forge also offers a wider variety of packages than most other static site providers. Instead of a one-size-fits-all premium plan, the host gives customers four options to find just the right fit.
Forge offers some great standard features such as Dropbox integration and a drag-and-drop interface for file syncing.
Plenty of interesting features are in beta, as well, including forms, a custom CLI, and advanced .htaccess features such as rewrites and redirects with Forge Server.
Have big goals for your app or static website? Firebase hosting could fit the bill. The Google platform starts small with a free website hosting service but scales to serve enterprise organizations such as The New York Times, Trivago, Venmo, and Lyft.
You'll get custom domain support, A/B testing, analytics, performance monitoring, file storage, and an auto-configuring SSL certification regardless of which plan you choose.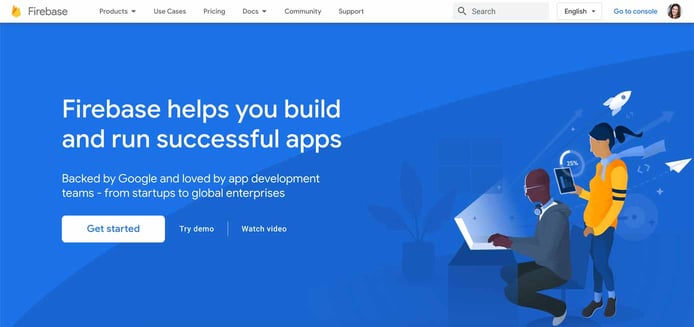 Firebase also integrates with scores of cloud-based tools to enhance your online presence, ranging from Google Ads and Data Studio to Slack and Jira. You'll also be able to serve dynamic content and host microservices in a customizable, autoscaling, and secure serverless environment.
If you need to upgrade from the free hosting plan, Firebase hosting charges in a pay-as-you-go format so that you never spend a penny more for anything other than exactly the services and features you use.
Google even provides a calculator to help you determine exactly how much your site will cost before you start.
How Do I Choose the Best Hosting for HTML Websites?
For most site owners, the shared hosting options at the top of our list will be your best bet. They offer many resources, developer-friendly features, 24/7 support, and hundreds of knowledge base guides.
Ultimately, however, choosing the best web host for your HTML website will depend on the project requirements and your familiarity with online publishing. Here are some questions to ask yourself:
What is my budget?
How large is my target audience?
What are my long-term goals with my site?
What are the most important features for my site to have?
How do I want to access and edit my source code?
How much web server space do I need?
Will I be doing the work myself or hiring a developer?
If ultimate flexibility, high reliability, and fast page load speeds come at the top of your list of features, a static site web host is the way to go.
If you find quick updates and minimal development time to be more important, you may want to go with a hosting plan that offers a dynamic CMS.
A shared hosting provider will serve the widest swath of site owners, while the static site platforms are tougher for beginners to get accustomed to and offer a more bare bones approach to hosting.
Should I Use Free Web Hosting for My HTML Website?
It's always a tough decision to choose between a free versus paid option for anything. After all, even billionaires like saving money.
Free web hosting is undeniably appealing, but what are you giving up for the savings?
Quite a lot, in fact.
A free web host often has limitations that render the services unsuitable for your project. This may be a practical issue, such as bandwidth or disk space restrictions, or the insistence on using the web hosting business's branded subdomain.
Technical concerns — such as performance and security or unsupported programming languages or publishing platforms — are always substantial with free hosting services.
Paid plans from a shared web hosting service remove these limitations for a surprisingly small fee. If you are hosting a simple site with simple goals, your best bet will be to find a paid plan that scales well with your needs.
How Much Does it Cost to Host an HTML Website?
Prices for hosting an HTML site can vary greatly based on your needs.
You'll typically get a better price, faster speeds, and greater reliability with static site hosts. However, you'll need to be able to develop the site yourself or hire someone to do it.
If you believe time is money, you may not come out ahead with this route.
Shared web hosting from a quality service provider typically costs $5 or less, depending on the plan's features. Expect to spend between $35 and $70 per year for a brand-name host with services and support you can trust.
Once you get the server space, however, keep an eye on the features that could bump up the price slightly:
Custom domains and registration
Security measures
eCommerce capabilities
Premium themes or templates
App integration
Backups
Email requirements
Disk space and unlimited bandwidth resources
Whatever you need, web hosting doesn't have to break the bank. Check out our list of the best cheap web hosting providers to learn more.
WordPress vs. HTML: How Should You Build Your Site?
Design programs, such as Adobe Dreamweaver, and static site generators, such as Jekyll, are used to create fixed-content websites with a foundation of HTML, CSS, and JavaScript.
Because your site is fully assembled in a way visitors' web browsers can understand, your audience can quickly access your content.
Advantages of HTML websites:
Full range of customizability
Minimal maintenance and backups
Less expensive to host
Lightning-fast page load speeds
High reliability and uptime
Disadvantages of HTML websites:
Hefty learning curve
Content and pages must be updated manually
No built-in security protections
Dynamic website models, such as WordPress hosting, work when a browser fetches PHP template files and builds the HTML pages from a connected database.
This approach provides a way to separate your WordPress website's content from design elements so that site owners don't have to manually create and modify each page individually.
This method has been popular for decades because of the drag-and-drop editors that enable rookies to create a site using visual interfaces instead of lines of code.
The simplicity of site builders and content management systems has opened up web development to more than professionals and passionate amateurs.
Advantages of WordPress hosting:
Minimal learning curve
Quick to update content and pages
Visually appealing and intuitive
Simple to customize
Freely available plugins to extend the functionality
Disadvantages of WordPress hosting:
Customizations limited without knowledge of HTML
Must keep up with updates and security
Requires greater server resources
Choosing the best hosting for HTML websites or making the decision to use a dynamic approach, will ultimately be based on what best fits you and your website's needs.
That's why we recommend the hosts listed at the top of this article — they give you the room and resources to try both.
Basic HTML Pages Still Need High-Quality Web Hosting
Developing a site using HTML, CSS, and JavaScript is no longer considered old-fashioned. StaticGen's list of static site generators is long and continually growing.
The open-source directory reports that the number of generators doubled in less than a year and earned more than 100,000 stars on GitHub.
Finding the best hosting for HTML websites gets even more challenging when you look beyond Hugo, Gatsby, and other static website generators to include frameworks and website templates.
Many top theme repositories feature ready-to-go HTML templates, much in the same way as the bevy of available WordPress themes. You can also explore HTML or JavaScript frameworks, such as Bootstrap and React, for more design freedom.
With so many methods available to build your HTML website, you'll want to make sure that your web hosting is up to the task. Look for a web hosting provider that emphasizes speed, security, and support to take full advantage of HTML sites' perks.
Further Reading: "13 Best Hosting for HTML Websites (Oct. 2023)"
Hopefully, our recommendation of Bluehost fulfills all your web hosting needs. Starting at just $2.95 per month and rated 4.8 overall, Bluehost gives users plenty of bang for the buck. Among our favorite features:
Cheap shared hosting from a trusted provider
Ideal for hosting a WordPress website
FREE Weebly website builder and Cloudflare CDN
Unlimited traffic and 24/7 live chat support
Get 70% off today with our Bluehost coupon
If you'd like recommendations similar to Bluehost and others in 13 Best Hosting for HTML Websites (Oct. 2023), check out these popular guides. You'll find comparisons of Bluehost to other hosts on pricing, features, support and more:
And of course, if Bluehost is your top choice, you can get started now at just $2.95/month. Bluehost is easy to set up and scale, no matter the size of your next project.
Advertiser Disclosure
HostingAdvice.com is a free online resource that offers valuable content and comparison services to users. To keep this resource 100% free, we receive compensation from many of the offers listed on the site. Along with key review factors, this compensation may impact how and where products appear across the site (including, for example, the order in which they appear). HostingAdvice.com does not include the entire universe of available offers. Editorial opinions expressed on the site are strictly our own and are not provided, endorsed, or approved by advertisers.
Our Editorial Review Policy
Our site is committed to publishing independent, accurate content guided by strict editorial guidelines. Before articles and reviews are published on our site, they undergo a thorough review process performed by a team of independent editors and subject-matter experts to ensure the content's accuracy, timeliness, and impartiality. Our editorial team is separate and independent of our site's advertisers, and the opinions they express on our site are their own. To read more about our team members and their editorial backgrounds, please visit our site's About page.