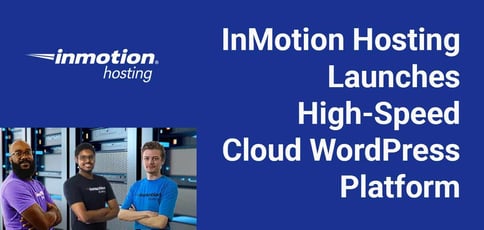 TL; DR: Website speed is a top concern for many website owners, especially those who own online businesses. The success of an online presence heavily relies on end-user experience, and speed is one of the driving factors in creating a satisfying web session for visitors. WordPress users needing more speed can look to InMotion Hosting's new platform, Platform InMotion, to meet their requirements. Its new WordPress hosting plans leverage fully isolated cloud VPSes to give users dedicated resources, stability, and high performance. InMotion also added in this release a new dashboard that allows users to create, manage, and deploy sites from one location. Some features to watch out for include playground environments, server-side caching profiles, and automatic updates.
If you've ever played Mario Kart, Need for Speed, or any car racing game, you would know that choosing a vehicle with great speed and acceleration would be the way to go. While various other factors, such as avoiding tar traps and enemy shells, play into the final ranking, the main goal is to arrive at the finish line first. And that requires going faster than the other competitors.
Google has a similar ranking system for website competitors. Sites must have certain qualities, including SEO and relevance, to move up the Google search rankings. And one of those components is page loading speeds. Page speed is a direct ranking factor and plays a significant role in boosting website SEO quality.

With the importance of page speed in mind, InMotion Hosting created a new WordPress platform called Platform InMotion to help users enhance their website experiences. InMotion combines a high-performance VPS-optimized environment with an easy-to-use dashboard to increase speeds by 40x. It's like getting a mushroom boost at the end of a race, propelling you ahead of your opponents and leaving them in the dust.
"Keeping WordPress sites fast and stable under heavy traffic loads requires sophisticated infrastructure," said Todd Robinson, President and Co-Founder of InMotion Hosting. This is why the InMotion Hosting team chose to power its new plans with fully isolated cloud VPS. So every user receives dedicated resources and doesn't have to worry about unstable environments.
Experience WordPress in a New Way
InMotion Hosting has long prioritized speed and high performance within its offerings. In 2022, the hosting company became one of the first to provide NVMe storage at a standard price. Although NVMe is more of a premium component, the InMotion team was set on making it an affordable and accessible option for everyone.
"We wanted to find a way to rebuild the platform, with that in mind, and keep it the same price," said Trey Faison, Director of Systems and Software Development at InMotion Hosting, in our HostingAdvice interview last year. "Let the NVMe drive be the norm, not just the premium. NVMe is the next generation of drives in general. And that's what we released in early May."

At the time, InMotion Hosting had added NVMe storage to its WordPress plans. That allowed it to upgrade website performance for its shared users and maintain pricing. While its shared WordPress plans pack a performance punch, its new VPS-powered plans take it to another level. The InMotion Hosting team calls it a "new way to WordPress."
Users now have dedicated resources and a robust VPS infrastructure for better reliability, security, and improved speeds. Platform InMotion leverages custom UltraStack configuration, server-side caching profiles, Redis, and high-performance cloud servers to provide these WordPress-optimized sites.
Users don't need to worry about stability either. Not only do its WordPress plans have automatic backups and updates, which are crucial for site security, but they also have real-time redundancy. So, each production server has a triple failover redundancy to keep the site online around the clock. The InMotion Technical Support and System Administration teams are also always there to provide expert assistance and manage the hosting infrastructure.
Platform InMotion is Ideal for Businesses
Websites are the lifeblood of online businesses. They are the hub of their sales, marketing, and customer interactions. So it's no surprise that website speed is a top concern for business owners. Page loading speeds play a massive role in establishing a satisfying end-user experience. Customers don't want to be kept waiting, and the online equivalent of that is watching a page spin up endlessly instead of loading in a second.
"Site owners are looking for a solution that keeps websites operating at peak performance — no matter what. We made the commitment to put every production environment on a cloud VPS server to provide each user with stability, security, and speed," said Todd.
Platform InMotion allows website owners to provide a stable web experience year-round. This way, they can please their visitors and convert them into customers, even during busy holiday seasons. Its high-availability servers also guarantee 99.99% uptime and offer caching profiles to ensure the best performance for eCommerce users.
The new WordPress dashboard cannot go without mention. The dashboard serves as a single point of contact for users to create, manage, and deploy websites to its highly optimized VPSes. InMotion also included a range of features within the dashboard, offering website owners various capabilities to meet their needs. Whether you're a web developer or a bakery shop owner, Platform InMotion has the tools to optimize your online presence and operations.
Platform InMotion increases business productivity and collaboration by providing multi-user access permissions so teams can work together without hassle. Developers can also design and prototype new sites with playground environments. Its one-click playgrounds allow users to build new sites or work on a copy of an existing site without breaking the live site. This multienvironment hosting helps shorten production timelines and facilitate rapid workflows.
An Affordable and Accessible Option for WordPress Users
InMotion Hosting has remained committed to developing valuable and affordable products for its customers. Although Platform InMotion costs more than its other WordPress plans, it offers way more flexibility, power, and reliability. These plans are purpose-built with businesses in mind, so they check off many essential features that can improve operations.
Its Platform InMotion plans start at $5 a month but also have yearly subscriptions with a discount of two months free. Each production plan runs one site and is eligible for InMotion's industry-leading money-back guarantee. Users also get all the bells and whistles, including a free dedicated IP address, SSL, and playground environments.
When you're ready to move, InMotion Hosting makes site migration simple. Its intuitive site-to-site migration tool copies a WordPress site's files, plugins, themes, and database to the new server. For larger sites, users can leverage their favorite migration plugin or SSH access for more control over the process. InMotion will have your site ready to deploy with minimal downtime.