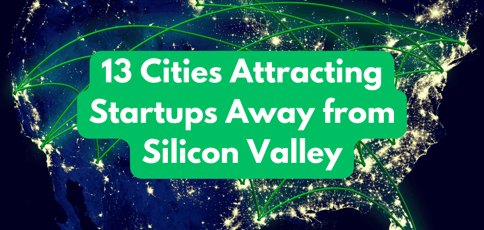 If I were to build a startup in the US today, the world's leading startup hub, Silicon Valley, would come to mind as the best place to start. But as some of the world's top technology companies, including Apple, Alphabet, Meta, HP, and Intel call Silicon Valley home, the region is notorious for its long commutes, ludicrous operational costs, high cost of living, and lack of work-life balance.
The initial goal of a startup is to get the operation off the ground with as few resources as possible, especially if it's bootstrapped. Even if an entrepreneur secures substantial funding, the annual operational costs of a lean AI startup team of six in Silicon Valley could easily exceed $1 million, considering the necessary strategic investments in an early-stage startup.
Additionally, the average one-bedroom rental cost in Silicon Valley is more expensive than Dubai (12.43% cheaper), London (16.47% cheaper), and New York (19.89% cheaper). While rentals are more affordable in the suburbs, Silicon Valley workers still contend with long and tiresome commutes to work.
Competition is also cutthroat, and stress levels are high in the region. But Silicon Valley is no longer the only option to start a tech business. Many tech founders are starting to look elsewhere. Here are 13 cities luring startups away from Silicon Valley.
1. Boulder, Colorado
It is no surprise that Boulder made it on our list: It's the largest city in Colorado and has the highest density of tech startup companies per capita in the US. With its strong emphasis on the IT industry, particularly in data storage, software, and mobile application development, this city has become a magnet for tech entrepreneurs.

Some of the most influential tech firms, including Bonterra, Zoom, and Trustpilot, all started in the Denver-Aurora metropolitan area. If you're looking for startup accelerators, then Boulder has no shortage. There's Techstars, a three-month program that provides mentorship, resources, and funding to early-stage startups. Another great resource is Boomtown Accelerators, which helps develop new products and services.
More About Boulder
Cost of Living Score: 143
Median Household Income: $92,466
Unemployment Rate: 3.6%
Boulder is more expensive than the national average, which is partly because of its stunning landscape. At the base of the Rocky Mountains, residents have easy access to outdoor activities like hiking, camping, skiing, snowboarding, and river rafting. The closeness with nature has something to do with the inspiring startups that come out of Boulder every year.
2. Salt Lake City, Utah
Salt Lake City gives Silicon Valley a run for its money with its new nickname, the Silicon Slopes. But it's more than a cheeky nickname: Silicon Slopes is a nonprofit, community-led organization that brings tech founders and entrepreneurs together to empower the community and create opportunities.

Salt Lake City (SLC, for short), offers breathtaking views, affordable prices, and plenty of big city amenities to attract top talent. Salt Lake City has a young, highly educated workforce with roughly 50% holding at least a bachelor's degree, compared to the US average of 33.7%. Top talent flocks to the area for its attractive opportunities and work-life balance.
More About Salt Lake City
Cost of Living Score: 108
Median Household Income: $65,880
Unemployment Rate: 2.6%
Salt Lake City is a nature lover's dream. Nestled between the Great Salt Lake and Uinta-Wasatch-Cache National Forest, locals can swim, hike, bike, and ski depending on the time of year.
3. Raleigh, North Carolina
Raleigh, North Carolina, is a vibrant and welcoming city renowned for its beauty, diversity, and thriving community. Among its many features are several colleges, green spaces, and a vibrant restaurant scene. Over the years, Raleigh's IT sector witnessed exponential growth, with prominent tech companies like Red Hat and CentOS hailing from the City of Oaks.

Raleigh was also ranked as the fourth-best city in the US for fostering entrepreneurship. It's home to 500+ startups, thanks in no small part to the talent pool from nearby universities, including North Carolina State, Meredith College, William Peace University, and Saint Augustine's University.
More About Raleigh
Cost of Living Score: 100
Median Household Income: $72,996
Unemployment Rate: 2.9%
Raleigh also has a great support system for launching your own business. It has North Carolina-specific resources like EDPNC Small Business Advisors, Wake Tech SBC, and the Small Business & Technology Development Center.
Raleigh also brings local accelerator programs to the table. For example, Launch Raleigh provides funding, business training, and a valuable network. And if you're diving into science, IT, or the medical field, First Flight Ventures is a great place to start.
4. Baltimore, Maryland
Baltimore is the most populous city in the small state of Maryland, whose tech industry has been growing over the past few years. This is unsurprising since Baltimore is only 40 miles north of Washington, DC, best known for its technical, healthcare, and hospitality industries. Naturally, the startup scene is also taking charge.
Its most popular sector is fintech and health-tech, with startups such as Delfi Diagnostics, Whitebox, and Americana hailing from the Charm City. It's also home to major companies, including Under Armour, OpenText, and Constellation Energy.

Among many of the startups in Baltimore are plenty of early-stage business accelerators. Conscious Venture Lab specializes in aiding startups focusing on cybersecurity, technology, hospitality, and consumer goods and apps. ETC Baltimore provides seed money to businesses and partners in the consumer and life science sectors.
More About Baltimore
Cost of Living Score: 99
Median Household Income: $54,124
Unemployment Rate: 2.4%
One of the best parts about this East Coast city is there's no shortage of things to do — from historical tours and science centers to taking a water taxi across the Inner Harbor to trying out the ethnic food scene throughout the downtown area.
5. St. Louis, Missouri
St. Louis, Missouri, offers big-city amenities at affordable prices. That may sound surprising as the city is home to three professional sports teams, three national research universities, a world-famous symphony orchestra, and seven Fortune 500 companies, including Emerson Electric, Post Holdings, and Centene.

It is no surprise that 4,178 organizations call the city home, and that number is ever-growing. Startup founders flock to St. Louis for its vibrant startup ecosystem, which fosters community engagement, growth, and support for new small businesses. St. Louis is particularly appealing for women-owned businesses, as roughly 45% of new startups in St. Louis are run by women.
More About St. Louis
Cost of Living Score: 85
Median Household Income: $70,189
Unemployment Rate: 3.0%
When it comes to education, Saint Louis University and Washington University in St. Louis are among the best university options for prospective students. Overall, St. Louis offers everything you need to launch a startup and is worth consideration.
6. Detroit, Michigan
Detroit, Michigan, is home to some of the most recognizable brand names in the US, including General Motors, Bank of America, and Quicken Loans. It's a bustling metropolitan area that's booming in the manufacturing, finance, and IT industries. Local startups benefit from its strong workforce of 2.6 million people and a business-friendly tax environment.

Detroit has made an impressive recovery from the 2008 financial crisis, which is a testament to the city's economic resiliency. The Motor City was even ranked as the number one emerging tech ecosystem in the world.
More About Detroit
Cost of Living Score: 84
Median Household Income: $72,724
Unemployment Rate: 3.8%
Detroit has something for everyone. Motown music enthusiasts can visit the Motown Museum to immerse themselves in Detroit's rich musical history. If you prefer sports, you can visit one of three stadiums to watch hockey, football, baseball, or basketball.
7. Knoxville, Tennessee
Knoxville offers the perfect combination of city and country living. Imagine looking through your office window in downtown Knoxville during sunset and soaking in the surreal view of the Tennessee River. Local businesses are thriving in Knoxville because of its growing economy and size.

The US Department of Energy and top companies such as GRIDSMART Technologies, NellOne Therapeutics, Scripps Networks Interactive, ARC Automotive, and Dura-Line call Knoxville home. Many others are jumping on the bandwagon, with fantastic support provided by Startup Knox, a Knoxville-based startup community.
More About Knoxville
Cost of Living Score: 82
Median Household Income: $62,592
Unemployment Rate: 3.3%
If you need a break from city life, the Great Smoky Mountains National Park is just a 54-minute drive away. Additionally, the University of Tennessee is among the best educational facilities in the state. Add all of that to the city's affordable living provisions, and it is hard to overlook Knoxville as one of the next startup epicenters.
8. Jacksonville, Florida
Jacksonville is a beautifully diverse city located in Northeast Florida that combines fast-paced city life with beach access and miles of waterways. The "bold new city of the south" was ranked as one of the top five fastest-growing boomtowns following the COVID-19 pandemic.

It's the largest city in the US with a population of more than 949 million people. Startups flock to Jacksonville for its lower-than-average cost of living and ample resources for small businesses. The city offers dozens of programs and resources to help startup founders, including a full-service business incubator from the Beaver Street Enterprise Center.
More About Jacksonville
Cost of Living Score: 92
Median Household Income: $58,263
Unemployment Rate: 3.0%
Groundwork Jacksonville is leading a multi-million dollar project called the Emerald Trail to build 29 miles of biking and walking paths through the city. The completed project will link local parks, neighborhoods, and schools through a pedestrian-friendly walking path.
9. Oklahoma City, Oklahoma
Oklahoma City is the capital of Oklahoma, and according to research, a $100,000 salary goes a long way in the city. Considering the average base salary for a developer in the US is nearly $100,000, that makes Oklahoma City a fantastic option to build your startup.

The metro area is home to 1.4 million people and offers many big city attractions, including the National Softball Hall of Fame and Museum, a philharmonic orchestra, and the Oklahoma City Thunder NBA team. It is safe to say professionals who love sports will be more than happy in the city.
More About Oklahoma City
Cost of Living Score: 88
Median Household Income: $61,815
Unemployment Rate: 3.0%
Major companies in the city include Amazon, Devon Energy, and SandRidge Energy, with plenty of room for startups to stake claims. In fact, the city has many startup accelerators and incubators. You can apply to the best ones here. The cost of renting an office space in Oklahoma City is $22.04 per square foot, so it's quite affordable.
10. Huntsville, Alabama
With a population of more than 221,000, Huntsville is an inspiring up-and-comer in the Southeast. It is a charming city that offers all the ingredients for a startup to launch without breaking the bank. Recently, Cerrowire, a leading US manufacturer of copper building wire, invested $100 million in an expansion project in Hartselle, a suburb of Huntsville. More than 130 jobs will be created as a result.

This is the beginning of a thriving startup space in and around the region. Visit the Huntsville Botanical Garden or tour the University of Alabama's Huntsville campus, known for its engineering and science programs.
More About Huntsville
Cost of Living Score: 93
Median Household Income: $60,959
Unemployment Rate: 2%
Huntsville is a must-visit. It is one of the South's leading tech hubs, famous for its thriving aerospace industry and contributions to space exploration. The "Rocket City," as it's called, is home to the state's top tourist attraction, the US Space and Rocket Center.
11. Des Moines, Iowa
Des Moines has a multifaceted and robust economy, with a low cost of living, major universities, and a vibrant cultural scene. Organizations such as TMC Transportation, Kemin, MidAmerican Energy, LCS Holdings, and Ruan are among the many bustling companies in the city, covering a variety of sectors.

It is best known for being an insurance and financial services hub. Logistics, manufacturing, and healthcare are the other key pillars of the local economy. A large student population is driven by institutions of higher learning, including Mercy College of Health Sciences, Grand View University, and the popular Drake University.
More About Des Moines
Cost of Living Score: 85
Median Household Income: $74,208
Unemployment Rate: 3.0%
Botanical gardens, a zoo, an outdoor sculpture park, art venues, and museums make for fun places to visit during the weekend.
12. Augusta, Georgia
Augusta, Georgia, is a haven for golf enthusiasts, thanks to the Augusta National Golf Club, which hosts The Masters Tournament each year. The metro area is a cybersecurity hub as well, and is home to the nearby Fort Eisenhower, the current home of the US Army Cyber Command and the Cyber Center of Excellence.

The city is also a regional hub for biotechnology and medical companies, supported by the state's only public health sciences graduate institution, Augusta University. It is worth noting that the state of Georgia offers numerous tax credits, which can eliminate up to 100% of a small business's income tax liability.
More About Augusta
Cost of Living Score: 81
Median Household Income: $56,515
Unemployment Rate: 4.0%
Housing costs, utilities, healthcare, and transportation are all available at prices well below the national average. That makes Augusta one of the best all-around places to live in the US. If you love hiking, make sure to travel to Phinizy Swamp National Park, which is only a few minutes away.
The city also offers 14 miles of awe-striking hiking trails, perfect for startup team building.
13. Jackson, Mississippi
Jackson, Mississippi, is a city of wide-ranging tastes, and it appeals to ballet fans, blues music aficionados, and history buffs. Jackson hosts the two-week-long US International Ballet Competition every four years, with dancers from all around the world flocking to its metro area.

Jackson houses a whopping 649 organizations, with a cumulative funding amount of nearly $1 billion. Innovate Mississippi is a stellar startup acceleration program headquartered in Jackson. It helps startups develop business strategies, secure early-stage funding, discover collaboration opportunities, and network.
Jackson provides magnificent educational facilities as well. Jackson State University, Millsaps College, and Belhaven University are the best educational institutions in the city.
More About Jackson
Cost of Living Score: 76.1
Median Household Income: $54,123
Unemployment Rate: 3.0%
Additionally, Jackson is one of the best places for retirees due to its affordability, healthcare practitioners, caregiving options, and senior facilities. Overall, living costs are much cheaper than the national average, led by affordable housing, utilities, and transportation expenses.
Methodology
While there isn't a "new Silicon Valley" in the country at the moment, the next wave of flourishing startups is likely to stem from smaller or less densely populated cities. Our list includes cities that offer a mix of affordable office space, attractive cost of living, low taxes, a wide talent pool, easy commute, good market potential, and vibrant societies.
We first determined cities with a cheaper cost of living than established tech hubs and their median household income. We supplemented our research with data from the Council for Community and Economic Research (C2ER), the U.S. Bureau of Labor Statistics, the U.S. Census Bureau, World Population Review, AreaVibes, and Forbes Advisor.
By cross-referencing these lists and factoring in the educational facilities in and near these cities, we narrowed down our choices. Next, we identified the established startups in these cities, looking at local support for small businesses and startups. We took advantage of resources from Zippia and Crunchbase to accomplish that.
We also considered the cultural vibrancy in and around these cities, because workers still need balance and culture in their lives.