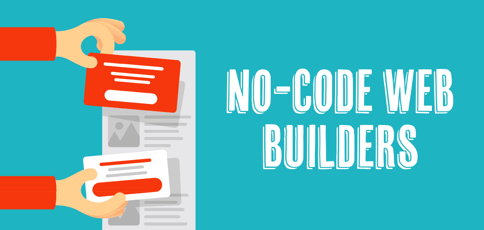 Low-code site building solutions claim to make web design without coding easy for citizen developers building Software-as-a-Service (Saas) applications. However, these solutions require advanced knowledge in APIs, database management, and datacenter configuration to use effectively. It is easier to publish with a no-code website builder, but first, designers must understand the differences between the many professional options in the marketplace.
The Gutenberg editor for WordPress is one of the most popular ways to do no-code web design without any requirements to write HTML, CSS, JavaScript, or PHP. Many users prefer the WYSIWYG features of the Classic Editor for user experience. In most instances, WordPress is the most advanced and cheapest no-code website builder to rely on over the long run.
Install a free open-source theme for WordPress to take advantage of the core functionality of the CMS. Integrate a site builder solution like Elementor, Divi, or BoldGrid into UX design workflows to create complex landing pages and eCommerce stores without any requirement to code. Your coding knowledge should not limit website creation or professional website building anymore.
Keep reading for our top web hosting choices for no-code design solutions.
1. Wix — Suite of No-Code Web Development Tools for Businesses
The Wix site builder is based on ADI (Artificial Design Intelligence) which allows the platform to automate web tasks to create new themes for any type of project. Alternatively, publishers can use the Wix Editor with drag-and-drop tool options to arrange assets with a custom theme.
No coding skills needed with drag-and-drop builder
100s of templates with niche-specific designs
Add features via the App Market and Wix Events
Easily create ecommerce functionality easily
Great way to build small sites on a budget
WEBSITE BUILDER
RATING 4.9 ★★★★★ Our Review
Alexandra Anderson (HostingAdvice.com): Website building is where Wix shines. The thousands of templates, the intuitive editor, the industry-leading designs that cater to a variety of specific fields and use cases — all these facets represent a platform that excels at facilitating easy web design for the non-tech-savvy user. Go to full review »
| Money Back Guarantee | Disk Space | Domain Name | Setup Time |
| --- | --- | --- | --- |
| 14-day FREE trial | 2 GB – Unlimited | FREE (1 year) | 4 minutes |
The Wix platform includes free TLS/SSL encryption for enterprise-grade security. As a NASDAQ-listed company, its platform experts are often more reliable for security testing than open-source add-ons in the WordPress community. Each Wix account can also run an email campaign. Wix supports the graphic design requirements of art galleries and photographers.
2. IONOS — Advanced Cloud Platform for CMS Web Hosting
IONOS offers a no-code website builder plan for $1 that will support a single domain name. Web publishers benefit from taking advantage of its hosting plans and cloud computing resources to run an open-source CMS website with a WYSIWYG editor for no-code support.
No coding skills necessary with MyWebsite Creator
Free domain name or transfer your existing site
FREE social media and marketing widgets
Pro templates with pre-filled text and images
Multilingual support and tools for SEO
WEBSITE BUILDER
RATING 4.8 ★★★★★ Our Review
1&1 IONOS: Our Expert's Review
Alexandra Anderson (HostingAdvice.com): If you're in need of a one-stop shop for designing and launching a website, you should be pleased to hear that 1&1 IONOS offers its own custom website building tools for both desktop and mobile devices. In addition to a free domain and email address, along with unlimited storage space, the 1&1 IONOS MyWebsite platform includes all the essentials for starting a site from scratch. Go to full review »
| Money Back Guarantee | Disk Space | Domain Name | Setup Time |
| --- | --- | --- | --- |
| 30 days | 10 GB – Unlimited | FREE (1 year) | 5 minutes |
A web hosting plan at IONOS will allow developers to install WordPress, Drupal, Joomla, and other no-code options on superior hardware that will scale as your website grows. Whatever your needs, IONOS is a smart choice for no-code website design.
3. Hostinger — Budget cPanel Accounts for Multi-Domain Publishers
Hostinger has a proprietary AI Site Builder with a free domain and hosting plans that can support up to 100 websites. Unlimited bandwidth and free SSL certificates for each site make this a powerful option for multi-domain publishers who can also access hPanel resources.
Drag-and-drop design from custom tools
FREE access to hundreds of specialized templates
Built-in ecommerce and payment processing
Easily switch among widescreen, desktop, tablet, and mobile previews
Support for 31 languages and 99.9% uptime
WEBSITE BUILDER
RATING 4.6 ★★★★★ Our Review
Hostinger: Our Expert's Review
Laura Bernheim (HostingAdvice.com): Whether you're taking your first foray into website hosting or are a developer looking to save some time, a strong website builder can dramatically streamline the creation process and enable users to launch a website in five minutes or less. Fortunately for customers, Hostinger has invested heavily in crafting an impressive visual editor sure to appeal to users of all levels of experience. Go to full review »
| Money Back Guarantee | Disk Space | Domain Name | Setup Time |
| --- | --- | --- | --- |
| 30 days | 30 GB SSD – 200 GB SSD | FREE (1 year) | 3 minutes |
The Hostinger AI Site Builder has drag-and-drop functionality, pre-designed themes, customizable templates, ChatGTP integration, and supportive tools for an eCommerce store. What's more, Hostinger is one of the most user-friendly hosts on the market, making it easy to get started. Remember to keep building over time to advance your domain presence with new content.
4. HostGator — Build a New Website in Less than 5 Minutes
HostGator has a site builder solution that allows business owners, bloggers, and designers to get their websites published in minutes rather than weeks. There are more than 150 pre-designed template options, as well as a free domain, SSL certificates, and payment processing tools included in the offer. HostGator includes a large suite of developer add-ons.
Drag-and-drop design with the Gator™ site builder
Hundreds of mobile-friendly templates
FREE hosting, domain name, and SSL certificate
Easily add a blog, store, and social media
Analytics portal helps gauge site performance
WEBSITE BUILDER
RATING 4.6 ★★★★★ Our Review
HostGator: Our Expert's Review
Ryan Frankel (HostingAdvice.com): Setting itself apart from the scores of competitors that rely on white-labeled website builder solutions, HostGator spent the time to painstakingly craft its own platform. Gator provides a frustration-free experience that pairs the simplicity of drag-and-drop design with the company's powerful and respected web hosting services. Go to full review »
| Money Back Guarantee | Disk Space | Domain Name | Setup Time |
| --- | --- | --- | --- |
| 30 days | Unlimited | FREE (1 year) | 4 minutes |
HostGator is also one of the most reliable cPanel web hosting companies. The choice between its site builder and the many open-source script options provided by Softaculous gives developers multiple no-code solutions to choose from when using the HostGator platform.
5. Bluehost — Best WordPress Hosting Platform for eCommerce
Bluehost has been the #1 recommended hosting solution in WordPress for more than 15 years. You can run WordPress sites with Gutenberg, the Classic Editor, or any of the third-party plug-in solutions, including BoldGrid, Elementor, or Divi. The hosting packages are optimized for WordPress performance.
FREE website builder (powered by WordPress)
Custom themes and easy integration with ecommerce tools
Expert support 24/7 via live chat, phone, and email
Longest-running WordPress.org recommendation
Pro services to design, build, and market your site
WEBSITE BUILDER
RATING 4.5 ★★★★★ Our Review
Bluehost: Our Expert's Review
Ryan Frankel (HostingAdvice.com): With Bluehost, new site owners have the drag-and-drop simplicity of the WordPress website builder at their fingertips. This makes launching a new online brand, store, or personal site from scratch relatively painless. Go to full review »
| Money Back Guarantee | Disk Space | Domain Name | Setup Time |
| --- | --- | --- | --- |
| 30 days | 10 GB SSD – 100 GB SSD | FREE (1 year) | 5 minutes |
If you want a cheap cPanel account for web publishing and industry-leading WordPress hosting, choose Bluehost. The platform is designed for the requirements of small businesses, making it the perfect solution for entrepreneurs building an online presence.
6. SiteGround — Managed WordPress with Integrated Caching
SiteGround has engineered its web servers for managed WordPress hosting and WooCommerce store support. The company offers plans that scale with business growth and deliver a managed WordPress platform that competes with Bluehost, HostGator, & WP Engine.
FREE Weebly site builder or WordPress setup
Worry-free, automated webiste migrations
User-friendly cPanel interface and staging area
Custom ticket and chat systems for 24/7 support
SuperCacher with static and dynamic caching
WEBSITE BUILDER
RATING 4.4 ★★★★★ Our Review
SiteGround: Our Expert's Review
Alexandra Anderson (HostingAdvice.com): Do you know you need to build a website but don't know where to begin. Well, SiteGround will give you not one, but two extremely popular and user-friendly options to create the online presence of your dream. Go to full review »
| Money Back Guarantee | Disk Space | Domain Name | Setup Time |
| --- | --- | --- | --- |
| 30 days | 10 GB SSD – 40 GB SSD | New or Transfer | 5 minutes |
SiteGround does not offer cPanel hosting. Instead, it offers a proprietary control panel called Site Tools for easy plan management. The company also specializes in datacenter engineering with caching to make WordPress websites run faster in production with security and uptime.
7. BoldGrid — 100+ Professional Themes for WordPress Sites
BoldGrid has become one of the most popular no-code site builder solutions for WordPress. It is commonly found on managed WordPress plans pre-installed. The plugin competes with Elementor, Divi, Beaver Builder, and other third-party solutions. What's most impressive is that BoldGrid includes more than 100 professional-grade themes designed for common use-cases.
Fotolia and Flickr image databases
Pre-built and customizable content with GridBlocks
Responsive themes with tablet and mobile editing
Generates clean, efficient, and compliant HTML
SEO, gallery, and forms plugins
WEBSITE BUILDER
RATING 4.2 ★★★★★ Our Review
BoldGrid: Our Expert's Review
Laura Bernheim (HostingAdvice.com): After taking the BoldGrid suite of plugins for a test drive, we experienced how the company makes WordPress more accessible for beginners and much more efficient for professional developers. Because BoldGrid requires a separate hosting account and WordPress installation, it is a little more challenging for wide-eyed beginners to get started than it is for other website builders. Go to full review »
| Money Back Guarantee | Disk Space | Domain Name | Setup Time |
| --- | --- | --- | --- |
| 90 days | 90 GB SSD – Unlimited SD | FREE (1 year) | 5 minutes |
BoldGrid does not provide any hosting support, but companies that include it for free on their plans are saving publishers the $5 monthly subscription fee charged for independent licenses. We recommend pairing BoldGrid with InMotion Hosting to unlock the platform's full potential.
8. Nexcess — Run WordPress with Cloud Acceleration & Compliance
Nexcess is now a subdivision of Liquid Web and continues its tradition of providing high-performance hardware solutions for managed WordPress hosting requirements. Its cloud acceleration is based on datacenter engineering, caching, load balancing, and hardware.
Code-free design tools for eCommerce stores
Templates for retail, food, clothing, and services
Custom WordPress integrations and optimizations
24/7/365 support via phone, chat, and email
Try StoreBuilder for 75% OFF for 3 months
WEBSITE BUILDER
RATING 4.2 ★★★★★ Our Review
Nexcess: Our Expert's Review
Laura Bernheim (HostingAdvice.com): Already boasting a powerful platform for running WordPress and WooCommerce, Nexcess makes creating and growing your online store even easier with StoreBuilder system. Billed as an "intelligent website assistant," StoreBuilder asks entrepreneurs about their company's products, services, industry, experience, and content to help formulate a custom storefront. Go to full review »
| Money Back Guarantee | Disk Space | Domain Name | Setup Time |
| --- | --- | --- | --- |
| 30 days | 15 GB – 800 GB | New or Transfer | 7 minutes |
The Nexcess and Liquid Web solutions primarily revolve around providing optimized hardware and web server stack configurations for CMS website hosting where no-code tools are used. If you're looking for a premium website design platform, Nexcess is worth your attention.
9. Web.com — DIY Builder Leads the Industry in AI Innovation
Web.com has a proprietary site builder solution with drag-and-drop functionality that it also licenses to other web hosting companies. The folks at Web.com are working to integrate the site builder with AI design tools and ChatGPT for easier content creation for web publishers.
Dedicated expert support helps you get started
Social media scheduling and email marketing
100s of templates for sites, blogs, and online stores
Unlimited storage for photos, videos, and music
FREE domain name registration
WEBSITE BUILDER
RATING 4.0 ★★★★★ Our Review
Web.com: Our Expert's Review
Ryan Frankel (HostingAdvice.com): Aimed at first-time users and customers seeking simplicity, Web. com offers a very quick and easy solution for getting a website online. Go to full review »
| Money Back Guarantee | Disk Space | Domain Name | Setup Time |
| --- | --- | --- | --- |
| N/A | Unlimited | FREE (1 year) | 5 minutes |
The DIY Builder at Web.com is a standalone solution that scales from a single website to an eCommerce store or online marketplace. It is one of the best no-code options on the market. With a fair price-to-value ratio, you are in good hands with this trusted platform.
What Is a No-Code Site Builder?
A no-code site builder solution will usually provide a WYSIWYG editor for assembling web pages. It tends to be as simple to use as a word processor, such as the Classic WordPress editor. Gutenberg adopts a block solution to make adding widgets, menus, and other automated content to a WordPress website easy through integration with millions of third-party plugins.
A no-code solution like WordPress can expand to support custom PHP, JavaScript, CSS, and HTML code for advanced use. In contrast, low-code solutions usually require a minimal knowledge of programming to assemble microservice applications with APIs or GraphQL.


No-code solutions, including Wix, Weebly, BoldGrid, Divi, and Elementor, use a template system where the GUI elements (menus, blocks, images, and ads) have placements based on professional design templates that are pre-coded with the theme. Web publishers can use the templates with their own content and avoid programming language hassles with no code.
Can You Design a Website Without HTML?
If they're in WordPress, users do not need to manually write HTML to publish websites. Whether you choose the Classic Editor or Gutenberg, the CMS will automatically generate the required code. JAMstack solutions pack HTML into JavaScript where you could run an app with just one file on a custom website or mobile app, but most LAMP and Windows servers require HTML for HTTP.
The best way to design a website without writing the HTML manually is to use a site builder like Weebly or Wix and a page template system based on the type of site you need to publish.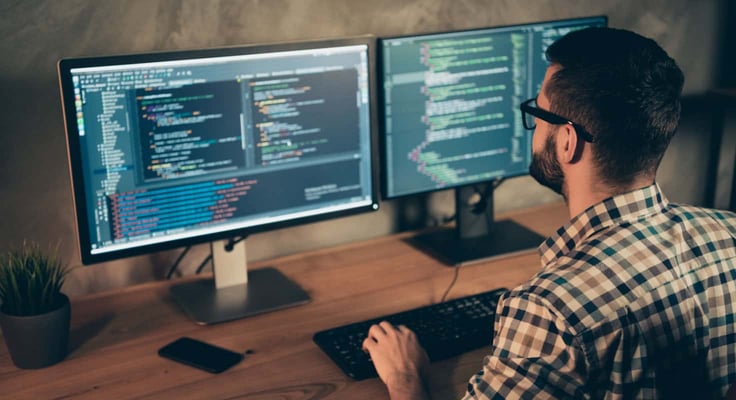 Plugins such as 10Web for WordPress use AI to convert any page design into a new theme without any coding. Divi makes it simple to publish a beautiful website. No-code solutions also deliver SEO tool options for custom domain use that are superior to Yoast and JetPack.
With open-source CMS scripts like WordPress, Drupal, and Joomla, you can install free or paid themes, then use a WYSIWYG editor script that generates the HTML code automatically for simple website page construction. CMS sites support images, text, links, menus, blocks, and other design elements with prebuilt website template options. Use no-code tools to give your website a professional look and save money on the costs of contracting a design team.
Which Is the Easiest Site Builder to Use?
Because of the need to install, program, and maintain a complex administration system, site builder frameworks tend to be easier to use than a Content Management System (CMS).
When compared head-to-head, Wix is the easiest website builder, although it has limited features for building web applications or mobile apps. Weebly is also a great web design tool for a responsive website. WordPress is the cheapest option with the most flexibility for designers.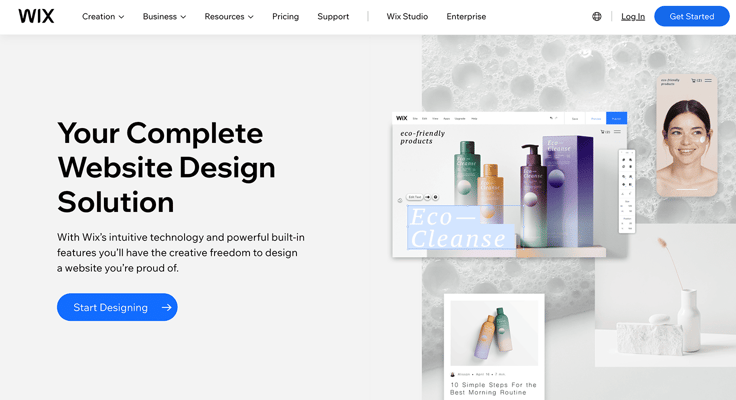 Wix has thousands of free themes that can be used as a customizable template to begin the design of a website. You can change the colors, images, buttons, menus, and blocks on every webpage to dial in the exact design you want.
The Wix platform includes free SEO tools, Core Web Vitals (CWV) reports, and enterprise-grade platform security. Wix artificial intelligence (AI) will help anyone generate logos, site names, and web app designs with the same skill as a professional web designer. But without the high cost of boutique services.
Can I Design and Build a Website for Free?
Free websites are best for building demo sites where the main users are the development team. A web developer can look for free options for web hosting, but many are likely to encounter services with outdated hardware, HDD storage facilities, lack of support for version control, and substandard security. In most cases, you get what you pay for in website hosting plans.
Site builders Weebly, Wix, and WordPress offer free hosting options with a subdomain. GoDaddy, Google, and Tumblr will also allow for free site building with useful templates. The disadvantages of a subdomain account are minimal for a hobby, nonprofit, or support sites.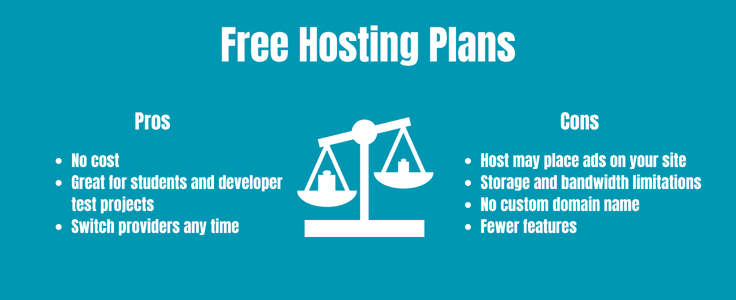 Adobe XD is currently free to use through GitHub, but it requires expert programming language and coding experience. Stick with a free account for hobby, niche, and nonprofit websites.
WordPress.com is the best of the free options for most users, as it is operated and developed by Automattic, the company that builds the CMS core. Weebly and Wix are the top free site builder options with subdomain limitations.
All of these free plans can be upgraded anytime with a custom domain and other professional web development features. Google Analytics support is provided on all accounts. In each instance, your site will be locked into the vendor you choose.
Use Site Builders With Templates for No-Code Solutions
No-code solutions such as Wix, Weebly, and Shopify provide unique website-building platform capabilities to millions of users with proprietary site builders. Designers can use prebuilt templates and AI-optimized themes for different common use cases in web publishing.
These platforms offer SEO tools that can outperform WordPress options with pre-installed data analytics. Such solutions are easier to use than low-code solutions like Webflow, FireBase, or Hasura.
BoldGrid, Elementor, Divi, and 10Web are no-code design solutions for WordPress that greatly expand the theme display options available for publishers. The open-source WordPress CMS has a massive collection of ecosystem software (Plugins, Themes, & Widgets) available that can be installed in "one click" to add other new feature sets for your community or online store.
Wix, Weebly, and Web.com are the best independent no-code site builder options. You can manage free sites to demo the platform features, then choose from theme designs that are produced by AI scripts. These solutions anticipate and deliver the best GUI experience to website browsers and eCommerce store shoppers with SEO tools, platform analytics, and social media integration. In many instances, these platforms are more secure than other options.
Nexcess, SiteGround, and Bluehost provide the best pre-installed performance runtime environments on their managed WordPress plans. Choose the solution with the best datacenter engineering, hardware specifications, and SSD storage for top performance speeds for your web application. For multisite publishing, managed WordPress plans are cheaper overall than Weebly & Wix. No-code site builders have fewer features than cPanel but are easier to use.
Ultimately, the no-code platform you choose should be simple and affordable, and make web design without coding a pleasant experience. Good luck and happy designing!
Further Reading: "9 Best Platforms: Web Design Without Coding (Oct. 2023)"
Hopefully, our recommendation of Wix fulfills all your web hosting needs. Starting at just $0.00 per month and rated 4.9 overall, Wix gives users plenty of bang for the buck. Among our favorite features:
No coding skills needed with drag-and-drop builder
100s of templates with niche-specific designs
Add features via the App Market and Wix Events
Easily create ecommerce functionality easily
Great way to build small sites on a budget
If you'd like recommendations similar to Wix and others in 9 Best Platforms: Web Design Without Coding (Oct. 2023), check out these popular guides. You'll find comparisons of Wix to other hosts on pricing, features, support and more:
And of course, if Wix is your top choice, you can get started now at just $0.00/month. Wix is easy to set up and scale, no matter the size of your next project.
Advertiser Disclosure
HostingAdvice.com is a free online resource that offers valuable content and comparison services to users. To keep this resource 100% free, we receive compensation from many of the offers listed on the site. Along with key review factors, this compensation may impact how and where products appear across the site (including, for example, the order in which they appear). HostingAdvice.com does not include the entire universe of available offers. Editorial opinions expressed on the site are strictly our own and are not provided, endorsed, or approved by advertisers.
Our Editorial Review Policy
Our site is committed to publishing independent, accurate content guided by strict editorial guidelines. Before articles and reviews are published on our site, they undergo a thorough review process performed by a team of independent editors and subject-matter experts to ensure the content's accuracy, timeliness, and impartiality. Our editorial team is separate and independent of our site's advertisers, and the opinions they express on our site are their own. To read more about our team members and their editorial backgrounds, please visit our site's About page.