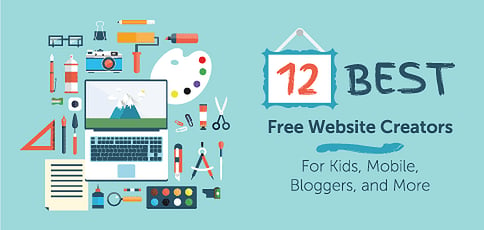 Building an online presence is incredibly daunting to many, but scores of website creator programs simplify and streamline the process — no matter your age or technical experience.
In fact, I recently asked my 8-year-old son if he was interested in web design. He looked up from his video game just long enough to shrug his shoulders and roll his eyes. I turned to his older brother to gauge his enthusiasm for the subject, and I was in luck.
Creating a complete website seems like a time-consuming and expensive endeavor. But free website builders help any user (from kids to pros) tackle any project. Whether you're looking to launch an eCommerce store or personal portfolio, let's take a look at the 12 best free website creators to get your projects off the ground.
Best Web Hosting With Free Website Builders
For those who want more flexibility and control alongside an easy editing interface, signing up with an affordable hosting provider is a great way to get started. Many of the top-rated providers include one — if not more — drag-and-drop website builder tools, in addition to the virtually unlimited options available through WordPress and other open-source content management systems.
Aspiring site owners will have to weigh whether they want a hosted site builder, where you have no access to the inner workings of your hosting account, or a self-hosted website creator that you can install as part of your domain, email, and web hosting package. There are pros and cons to either route, and we list the various options side-by-side in our reviews.
Here is a quick look at a few of the top-rated hosts that provide web builder services and unique domains as part of their low-priced plans.
No coding skills needed with drag-and-drop builder
100s of templates with niche-specific designs
Add features via the App Market and Wix Events
Easily create ecommerce functionality easily
Great way to build small sites on a budget
Wix: Our Expert's Review
Setup time: 4 minutes
Go to full review

»
Website building is where Wix shines. The thousands of templates, the intuitive editor, the industry-leading designs that cater to a variety of specific fields and use cases — all these facets represent a platform that excels at facilitating easy web design...
| Money Back Guarantee | Disk Space | Domain Name | Website Builder Hosting Plans |
| --- | --- | --- | --- |
| 14 days | 500 MB - 20 GB | Transfer | www.wix.com/site-builder |
Choice of Weebly or WebsiteBuilder by iPage
Mobile-optimized options and easy-to-use setup wizards
100s of professionally designed, customizable themes
FREE online store, shopping cart, and blogging platform
Get +75% off your first month
iPage: Our Expert's Review
Setup time: 4 minutes
Go to full review

»
Do you want your website built today? If you answered "yes," you should look no further than iPage. In fact, it's possible for you to be online before you even finish reading this article. Thanks to iPage's user-friendly interface, instant provisioning, and...
| Money Back Guarantee | Disk Space | Domain Name | Website Builder Hosting Plans |
| --- | --- | --- | --- |
| 30 days | Unlimited | FREE (1 year) | www.ipage.com/site-builder |
Drag-and-drop design with the Gator™ website builder
Hundreds of mobile-friendly, industry-specific templates
FREE hosting, domain name, and SSL certificate
Easily add a blog, ecommerce, and social media marketing
Analytics portal helps you gauge your site's performance
HostGator: Our Expert's Review
Setup time: 4 minutes
Go to full review

»
Setting itself apart from the scores of competitors that rely on white-labeled website builder solutions, HostGator spent the time to painstakingly craft its own platform. Gator provides a frustration-free experience that pairs the simplicity of drag-and-drop...
See other top web hosts with website builders »
Best of the Rest: Free Website Creators
Now, let's drill down into just the website building platforms themselves. Some of these are available through a variety of channels, while others are only available through the specific provider. All, however, promise top-notch user experiences and professionally designed templates. Let's get started!
1. Weebly: Website Creator Software Most Trusted By Hosts
The website builder world has a few giants, and Weebly is one of them. The platform boasts more than 40 million users who are attracting upward of 325 million visitors to their sites each month.
Weebly offers a free plan for basic site creation that includes a drag-and-drop builder, 500MB of storage, SEO features, lead capture, and chat and email support. If you take advantage of this plan, you will have to use a Weebly.com subdomain, and your site will display Weebly ads.
Weebly's premium plans range from $8 to $25 per month when paid annually, and the features stack up as you move through the different price tiers. The highest tier, Weebly Business, comes complete with unlimited storage, a free unique domain name, HD video and audio, and a comprehensive eCommerce and marketing suite, among other features.
Perhaps the best way to get the most value out of your Weebly site, however, is to go through a hosting provider. Many hosts provide Weebly's premium services for free as part of their basic hosting packages.
Weebly Free Site Features
Drag-and-Drop Builder
500MB Storage
SEO
Lead Capture
Community Forum
Chat and Email Support
Weebly.com subdomain
Displays Weebly Ads
Weebly for Hosts became popular in the hosting industry because it allows providers to expand their offerings to clients who need a trusted web builder. Even though Weebly offers a free plan, you can get a much more feature-rich version of the web builder by going through a host. And many providers offer hosting packages well below the $8 per month basic Weebly plan.
If you'd like to delve deeper into Weebly features and fully hosted plan options, see below.
Direct access to the popular drag-and-drop site builder
Fully hosted, drag-and-drop site-building and marketing
Choose from 100s of customizable, professional themes
Add contact forms and take RSVPs via apps
Ecommerce-ready and SEO-friendly with built-in tools
Weebly: Our Expert's Review
Setup time: 3 minutes
Go to full review

»
Weebly is in the elite clique of drag-and-drop website builders that includes WordPress and Wix.com. The platform is known for its feature-rich functionality that can be easily controlled by novices and seasoned site owners. Our favorite part is that many of...
| Money Back Guarantee | Disk Space | Domain Name | Website Builder Hosting Plans |
| --- | --- | --- | --- |
| 30 days | 500 MB - Unlimited | FREE (w/ paid plans) | www.weebly.com/site-builder |
2. WordPress: Website Creator Software Most-Picked By Bloggers
Weebly is big, but WordPress is arguably the most popular platform bloggers rely on to build their sites. Powering more than 27% of sites on the web, WordPress allows for the easy creation of websites with hundreds of themes from which to choose.
At WordPress.com, you can find plans ranging from free to $24.92 per month. The free plan offers a choice of customizable themes, 3GB of storage, and community support. As with Weebly's free tier, if you opt for WordPress's no-cost option, you'll have to use a WordPress.com subdomain.
Once again, a better bang for your buck with WordPress will be to go through a hosting provider. Site owners can build their websites for free with the publishing software at WordPress.org and then find a host to get their sites live.
WordPress Free Site Features
Drag-and-Drop Builder
3GB Storage
Customizable Themes
WordPress Subdomain
Top-rated hosts, like InMotion, offer packages that include unique domain names, unlimited storage, email, and security. You'll get all the functionality of a premium WordPress account at a very low price point. WordPress is hands down one of our developers' favorite platforms for managing site content — so much so that it's the software that powers HostingAdvice.com. Read our thoughts in full in our comprehensive WordPress hosting review below.
WordPress powers +26% of websites
The #1 platform for blogging
FREE to download; install in 1 click
The top hosts offer WP-specific perks
Custom, elegant themes ease design
WordPress: Our Expert's Review
Setup time: 5 minutes
Go to full review

»
Good news, website owners: The software that powers upward of 25% of websites is free and open for public enjoyment and customization! WordPress is ready for download at WordPress.org, and the team is actively maintaining its core code. So long as you stay...
3. Wix: Website Creator Software for Any Industry or Site Type
Whatever the goal of your website, Wix can help you achieve it. The web builder provides a drag-and-drop environment to build out your site and provides 500MB of storage, 1GB of bandwidth, security, and mobile responsiveness — all at no cost.
With Wix's free plan, site owners employ a URL address with a Wix.com subdomain and must display Wix branded advertisements. The real value site owners and businesses find in Wix is its versatility. The platform offers more than 100 templates covering multiple industries and purposes.
For entrepreneurs, Wix's eCommerce and business templates offer stunning storefronts to showcase your products. Creatives can highlight their work with one of Wix's photography, video, or music themes. And Wix's restaurant themes give restaurateurs the ability to present menus and their star dishes center stage.
Wix Free Site Features
Drag-and-Drop Builder
500MB Storage
100+ Customizable Themes
Wix Subdomain
1GB Bandwidth
Mobile Responsive
Wix-branded Ads
To enjoy the full functionality of a Wix site, it's better to go with one of the platform's premium plans. Subscriptions run from $5 per month for the basic plan to $25 per month for the VIP plan. With the highest-tiered VIP plan, site owners get 20GB of storage, a free unique domain, $300 in ad vouchers, and a comprehensive eCommerce suite, among many other features.
No coding skills needed with drag-and-drop builder
100s of templates with niche-specific designs
Add features via the App Market and Wix Events
Easily create ecommerce functionality easily
Great way to build small sites on a budget
Wix: Our Expert's Review
Setup time: 4 minutes
Go to full review

»
Website building is where Wix shines. The thousands of templates, the intuitive editor, the industry-leading designs that cater to a variety of specific fields and use cases — all these facets represent a platform that excels at facilitating easy web design...
| Money Back Guarantee | Disk Space | Domain Name | Website Builder Hosting Plans |
| --- | --- | --- | --- |
| 14 days | 500 MB - 20 GB | Transfer | www.wix.com/site-builder |
4. Joomla: Website Creator Software for Devs Who Want Flexibility
Joomla! offers a free, open-source content management system (CMS) and website builder to easily get sites up and running in a matter of seconds. To get started, users choose a Joomla.com subdomain, pick a template that correlates with the look of their brand, and begin customizing their content.
The free-hosted option at Joomla.com is great for people who want an easy way to quickly get their message online. For seasoned developers, however, the open-source software package available at Joomla.org, provides a scalable architecture to build self-hosted custom websites.
Developers find content creation a breeze with the tool's intuitive CMS. This provides flexibility that allows developers to quickly build out sites without spending hours coding, which comes in handy when managing multiple client projects.
Joomla! Free Site Features
Intuitive CMS
Authentication Protocols
PHP 7 Support
Microdata Incorporation
Joomla! allows devs to configure a registration system with nine user groups and grant varying permissions and access types. Authentication protocols, such as LDAP, OpenID, and Gmail, are supported as part of user management.
Microdata can also be incorporated with Joomla!, which can work to boost SEO efforts. And, with PHP 7 support, developers have found site performance rises significantly with Joomla!. Browse the best hosting plans for Joomla users to get started.
5. Magento: Top Free eCommerce Website Creator Software
More than 250,000 merchants are running their sites on Magento's eCommerce platform — and for good reason. Magento offers complete services for businesses selling products online.
Depending on the size and goals of your business, Magento's eCommerce solutions can range in cost from free for its Community Edition to more than $250,000 for giant enterprise-level corporations. Shero Designs provided a comprehensive look at the different price tiers, but, for our purposes, we'll just take a glimpse into the free offering.
Magento's Community Edition is an open-source eCommerce platform perfect for SMBs. The free platform offers a store template for businesses that want to quickly get sites online without the need to code. Better still, many of the best hosting providers offer Magento-specific plans that feature single-click installations for the popular software, making it super easy to get your online store up and running.
Magento Free Site Features
eCommerce Templates
Open-Source
Marketplace of Extensions & Themes
Community Support
The Magento Marketplace provides a wide array of extensions and plugins to enhance your store's functionalities — many of which are offered free. The platform's community forums also provide a community of developers and merchants from whom site owners can learn best practices and how to best improve their sites.
6. Wix (Again): The New "Kids Website Creator"
If you're like me and trying to get your kids interested in web development, you may have heard of kidswebsitecreator.com. The platform helped more than 2 million users (many of them kids) get sites online. Kids Website Creator no longer provides site-building services; however, the site has partnered with Wix to endorse the platform as an easy way children can create the websites of their dreams.
Using Wix's free site builder plan, children can choose a template and drag-and-drop their way into the web. With Wix, there are no technical skills needed. The intuitive environment makes it easy to customize pages.
Wix Free Site Features
Drag-and-Drop Builder
500MB Storage
100+ Customizable Themes
Wix Subdomain
1GB Bandwidth
Mobile Responsive
Wix-branded Ads
Wix comes highly recommended by the online magazine Kids, Code, and Computer Science, which published a complete tutorial kids can follow to get their sites live. Whatever the topic your kids want to broadcast, Wix has the tools to help.
7. Corel: Website Creator Software for Interactive Sites
Corel offers code-free website design software that gives users the ability to easily design and develop interactive websites. The software will set you back $199; however, a 30-day trial version of Corel Website Creator is available for free.
The trial version grants all the functionality of the full version so users can determine if the software is a fit for their purposes. The software allows site owners to add interactive features, such as audio, video, and other embedded applications, onto their pages.
With an intuitive CSS3 design grid and professionally designed templates, users find it simple to produce the sites they've envisioned. Everything is done in an easy-to-use drag-and-drop environment, from text to images and Flash videos.
Corel Free Site Features
HTML5 Video
HTML Audio
CSS3 Design Grid
Image Carousel
JavaScript and XML Widgets
Cloud Burst
Timeline Editor
Site Wizard
Corel's builder employs a collection of JavaScript and XML widgets to facilitate the simple creation of dynamic page elements. If you're looking to provide visitors with interactive experiences, give Corel's trial a shot to see if it's right for you.
8. Google Sites: An Easy Website Creator With a Familiar Interface
You heard that right. Google now offers a website builder! It's free and everything you'd expect from the search engine giant.
Google Sites allows G Suite administrators to create both public- and private-facing sites. According to Google, this makes site creation "as easy as editing a document."
How it works: G Suite admins have the ability to turn Google Sites on or off in the administration console. Users with sites turned on can create and manage the websites within the admin's domain. From there, the admin can decide who gets what permissions to view and access sites and determine whether a site is public or viewable only to those in the user group.
Google Free Site Features
Drag-and-Drop Environment
Intuitive Visual Editor
Customizable Templates
Simple Administration
Setting up the actual site couldn't be easier. When you click on the Create button in the New Sites area of the console, a drag-and-drop environment is loaded. Once you're there, it's time to add content. Pages are easily customizable, and the visual editor makes it simple to embed different apps such as video and other dynamic content.
9. Homestead: Website Creator Software Aimed at Attracting Customers
If you're looking to broadcast your brand and attract a targeted customer base, Homestead might be the web builder for you. Homestead offers hundreds of professionally designed templates in 100 different business categories. The templates can be customized to fit your brand with its visual editor, and users are given access to a library containing more than 1 million photos.
Users who make a home on the platform enjoy personalized domain names to make finding sites a breeze, and Homestead's SEO experts can even recommend the best name to boost your search rankings. Branded email addresses are also included in Homestead accounts.
What makes Homestead so valuable for online businesses is the platform's all-inclusive marketing suite. The suite's tools were built to improve business presence in search sites, including Google, Google Maps, Yahoo! Local, and Bing Maps.
Forms can be added to sites to collect valuable visitor information that can be used in promotional campaigns. The goal is to convert customers, and Homestead delivers.
Homestead Free Site Features
Hundreds of Templates
100 Business Categories
Access to Image Gallery of 1M+ Photos
30-Day Free Trial
Homestead plans range from $7.99 for the basic package to $62.99 for the Business Plus plan. The platform offers free 30-day trials for all its plans, so sign up at no risk to see if it's a good fit for your business.
10. Jimdo: An Easy Website Creator Tool for Beginners
If you have a great online business idea but don't know a thing about web development, Jimdo has your back. All you have to do is pick out one of the platform's professional templates, customize it with images relating to your brand, and add your message. It's really that simple.
Jimdo's templates are easily customizable and built to work for businesses of any kind. The web builder includes themes to showcase portfolios, highlight products, and house blogs, among an array of other use cases.
All Jimdo templates are responsive so your site will look its best no matter the device on which it's being viewed. Site owners can also edit their websites from any location and on any mobile device using the Jimdo app.
Jimdo Free Site Features
Professionally Designed Templates
Mobile Responsive
Management App
500MB Storage
The platform's free plan gives beginners a Jimdo.com subdomain, 500MB of storage, and 2GB of bandwidth. The paid plans range from $7.50 per month for JimdoPro to $20 per month for JimdoBusiness. These premium plans are feature-heavy, so, depending on your site's goal, moving up to one of the paid options might be a good choice.
11. The Knot: The #1 Wedding Website Creator Platform
Not very long ago, after the big question was answered with a "Yes," couples would send out hardcopy announcements of their nuptial plans, complete with registry information. Now, it's almost a prerequisite to have a complete wedding website in place before your big day.
Couples have found a easy way to send the news of their engagement and wedding plans with The Knot. The platform has more than 100 themes from which to choose to get their wedding sites online. The good news? It's completely free!
The bride and groom can keep all their registry items in a central location. So, Aunt Mary is sure to buy the right blender, and Uncle Dave will get you the toaster oven you've been pining over.
The Knot Free Site Features
Professionally Designed Templates
Drag-and-Drop Editor
Guest and Registry Lists
Budgeting Tools
Guest lists can be formatted in a drag-and-drop editor, which makes it simple to organize addresses and RSVPs. And with The Knot's Budgeter tool, couples can plan their wedding based on their budgets.
12. Duda: Best Mobile Website Creator Software
It's not news that more and more people are using their phones to surf the web to find products, which is why it's so important for businesses to have effective mobile sites. In fact, 57% of users will leave a site if it takes longer than three seconds to load.
Luckily, Duda provides a solution. Duda offers a vast library of mobile website templates to use as the foundation for optimal mobile experiences.
The platform's reliable hosting and use of Google PageSpeed ensure high availability and quick load times, which work to prevent customer drop offs. Duda's free plan offers analytics and tracking, web hosting on Amazon, and community support. With the free service, site owners can choose a URL with a Duda subdomain (mobile.dudamobile.com/site/mysite), and must include Duda-branded ads on their pages.
Duda Free Site Features
Professionally Designed Templates
Google PageSpeed
High Availability
Analytics
Amazon Web Hosting
Community Support
Duda Subdomain
Duda-branded Ads
Premium plans range from $7.20 to $9.99 per month. The paid options come with additional features and include a custom domain name.
Are The Creative Juices Flowing Yet? Let Your Host Help
While we're still in the inspirational phase of our site, my 10-year-old son and I plan on using one of these easy-to-use options to build out his idea.
My son's obviously not concerned with cost, but I know I am. That's why I'll be going through a hosting provider that offers the premium functionalities of some of the web builders covered here as part of a hosting package.
Fortunately, I've been able to get my hands on dozens of the top platforms as part of HostingAdvice reviews and articles, but you should certainly take your time and make sure your design program is a good fit for what you aim to do with your site.
We're confident one of these options listed above will be up to whatever test you have in mind!
Advertiser Disclosure
HostingAdvice.com is a free online resource that offers valuable content and comparison services to users. To keep this resource 100% free, we receive compensation from many of the offers listed on the site. Along with key review factors, this compensation may impact how and where products appear across the site (including, for example, the order in which they appear). HostingAdvice.com does not include the entire universe of available offers. Editorial opinions expressed on the site are strictly our own and are not provided, endorsed, or approved by advertisers.
Our Editorial Review Policy
Our site is committed to publishing independent, accurate content guided by strict editorial guidelines. Before articles and reviews are published on our site, they undergo a thorough review process performed by a team of independent editors and subject-matter experts to ensure the content's accuracy, timeliness, and impartiality. Our editorial team is separate and independent of our site's advertisers, and the opinions they express on our site are their own. To read more about our team members and their editorial backgrounds, please visit our site's About page.