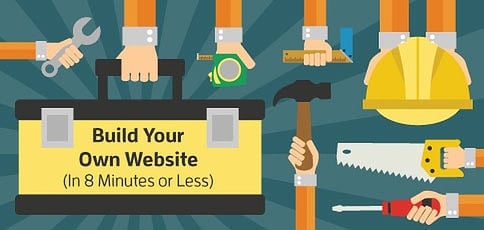 Believe it or not, learning how to build your own website is not all that different from constructing your brick-and-mortar store. Assuming you have the capital or investors, you'll need to lease or buy a space, fill it with inventory, and customize a marketing plan to build your brand.
Creating an online presence is no different — and getting started is actually even easier. These days, you can build your own website in 8 minutes or less. It costs you just a few dollars per month, and customization can be done in a few clicks of your mouse.
We'll walk you through the process, minute by minute, of how to build your website from scratch.
1. Get Hosting With a Free Website Builder — (Minutes 1-3)
Like renting office space or buying a warehouse for your offline business, the very first step to building a site is paying for its "home" on the internet. Web hosting counts as your lot, while a domain name is your address. Many hosting providers include that latter part for free, including the ones we list below.
If you're still worried about making your website, pick a host that provides easy-to-use setup wizards, 24/7 support, or additional materials to help you succeed. Let us act as your real estate agent and show you some charming options for hosting companies with easy, online website builders. We tested the top website builders, and here are three of our favorites:
No coding skills needed with drag-and-drop builder
100s of templates with niche-specific designs
Add features via the App Market and Wix Events
Easily create ecommerce functionality easily
Great way to build small sites on a budget
Wix: Our Expert's Review
Setup time: 4 minutes
Go to full review

»
Website building is where Wix shines. The thousands of templates, the intuitive editor, the industry-leading designs that cater to a variety of specific fields and use cases — all these facets represent a platform that excels at facilitating easy web design...
| Money Back Guarantee | Disk Space | Domain Name | Website Builder Hosting Plans |
| --- | --- | --- | --- |
| 14 days | 500 MB - 20 GB | Transfer | www.wix.com/site-builder |
Choice of Weebly or WebsiteBuilder by iPage
Mobile-optimized options and easy-to-use setup wizards
100s of professionally designed, customizable themes
FREE online store, shopping cart, and blogging platform
Get +75% off your first month
iPage: Our Expert's Review
Setup time: 4 minutes
Go to full review

»
Do you want your website built today? If you answered "yes," you should look no further than iPage. In fact, it's possible for you to be online before you even finish reading this article. Thanks to iPage's user-friendly interface, instant provisioning, and...
| Money Back Guarantee | Disk Space | Domain Name | Website Builder Hosting Plans |
| --- | --- | --- | --- |
| 30 days | Unlimited | FREE (1 year) | www.ipage.com/site-builder |
Drag-and-drop design with the Gator™ website builder
Hundreds of mobile-friendly, industry-specific templates
FREE hosting, domain name, and SSL certificate
Easily add a blog, ecommerce, and social media marketing
Analytics portal helps you gauge your site's performance
HostGator: Our Expert's Review
Setup time: 4 minutes
Go to full review

»
Setting itself apart from the scores of competitors that rely on white-labeled website builder solutions, HostGator spent the time to painstakingly craft its own platform. Gator provides a frustration-free experience that pairs the simplicity of drag-and-drop...
2. Choose a Template & Customize — (Minutes 4-7)
You've selected a location for your small business website or blog, and now it's time to paint the walls, add some art, and hang your curtains. With thousands of pre-made themes and templates to choose from, you can customize the look of your site as much or as little as you'd like.
Some website builders use a drag-and-drop interface, where you can move an icon or placeholder onto the screen to signify where you want an image or text to appear.
A souped-up version of the drag-and-drop platform is called WYSIWYG, which stands for What You See Is What You Get. A WYSIWYG site builder will show exactly what your site will look like before you publish, relieving any potential anxiety. Neither editor requires any coding.
A few site builders, including iPage, enable small business owners to create an online store, integrate with payment methods such as PayPal, and access online marketplaces such as eBay or Amazon.
3. Launch Your New Site — (Minute 8)
Once your storefront is all stocked and decorated, it's time to open the doors! Just like you might advertise your business, you need to make sure people know your website is open and ready for visitors. But rather than holding a cheesy ribbon-cutting event, your online grand opening strategy should be all about SEO.
Most of our top site builders will give you at least $100 toward search engine marketing, and some even provide online marketing guides. Pro tip: Look for analytics and SEO tools, as well as social media integration, to make sure you get the most out of your marketing bucks.
With Tools In Hand — Begin Building!
Now that we've given you the blueprints to successfully starting your personal or business website, start playing around. The most successful site builder is the one that best fits your specific needs, so invest a few hours toward peering in the windows and gauging what will help you the most.
When you've mastered drag-and-drop and WYSIWYG site builders, consider scaling up to WordPress. All the hosts we covered here offer 1-click installations of a variety of platforms that might offer even more features and capabilities. Strap on your digital tool belt and get to work — luckily for you, there won't be any heavy-lifting.