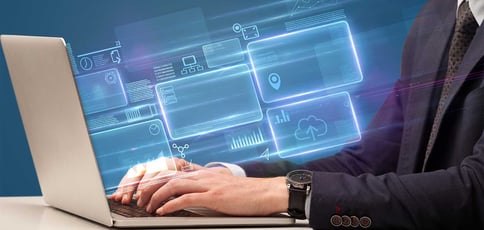 Whether you're creating a personal blog or a business-critical app, the best free database hosting services will help scale and process requests with lightning-fast speed and trustworthy reliability.
Simply put, databases store, organize, and retrieve a website or application's data. They are often paired with software programs (like WordPress, Drupal, and Joomla) or code (like PHP, C, and Java) to display content and other user-friendly designs.
Because of the critical role databases play, you need to trust the hosting service you select. Free web hosting is rife with peril, so we're here to evaluate your most promising options — and out the best bargains that bring upgraded features and database tools.
Expert's Pick: Free Database Hosting With Kamatera
Although we're somewhat conditioned to be wary of most free hosting services, we utterly adore Kamatera's free cloud server options. The hosting provider supports seemingly every type of database server configuration and enables developers to easily optimize performance for relational data.
In addition to the flexible, scalable cloud server, Kamatera also provides low-cost cloud block storage that is ideal for large databases. The fully-redundant environments rely on high-performance SSDs, ensuring optimal speed an reliability for all your database needs. You can sign up for free database hosting with Kamatera by clicking the links in our review below:
Customize your cloud environment for FREE
Work with a dedicated account manager
Dozens of Windows & Linux OS choices
Complimentary live chat support open 24/7
Launch in less than 60 seconds
CHEAP
RATING 4.9 ★★★★★ Our Review
Kamatera: Our Expert's Review
Laura Bernheim (HostingAdvice.com): That's right, Kamatera gives new customers FREE access to high-quality VPS hosting for 30 days. Upgrade your bargain-basement shared hosting to a cloud server configured to your exact specifications for no cost. Go to full review »
| Money Back Guarantee | Disk Space | Domain Name | Setup Time |
| --- | --- | --- | --- |
| 30-day FREE trial | 20 GB SSD – 4 TB SSD | New or Transfer | 3 minutes |
5 Best "Almost-Free" Database Hosting Services
Because SQL (structured query language) and many related database systems are open-source, it's extremely easy and cost-effective to implement. In fact, the M in hosting's ubiquitous LAMP stack stands for MySQL.
Whether you're seeking ultra-popular MySQL hosting services or have more complex databases that require PostgreSQL hosting, the following hosts are a great place to start (and likely end) your search. In addition to great database services for next to nothing, these providers throw in a ton of upgraded features and expertise.
These top-notch companies provide much greater storage and bandwidth resources, along with incredibly low prices, 24/7 support, and trustworthy reputations in the database hosting industry. Check out our reviews below:
Pay just $1/month for 12 months
Unlimited databases available on most plans
2GB of storage per MariaDB or MySQL database
Upgraded PHP memory and up to 19 GB RAM
Georedundant ISO-certified datacenters
MYSQL
RATING 4.4 ★★★★★ Our Review
1&1 IONOS: Our Expert's Review
Alexandra Anderson (HostingAdvice.com): Offering full support for MySQL, MariaDB, and even Microsoft SQL Server, 1&1 IONOS takes data management seriously. The company will automatically set up MariaDB for you, but enables you to manually control MySQL databases if you choose. Go to full review »
| Money Back Guarantee | Disk Space | Domain Name | Setup Time |
| --- | --- | --- | --- |
| 30 days | 10 GB – Unlimited | FREE (1 year) | 4 minutes |
As one of the most globally trusted web hosting brands in the industry, 1&1 IONOS leads the way in affordable, user-friendly database hosting. The full-service hosting experts know how to optimize infrastructure for daily I/O requests and peak traffic — even beating the likes of Bluehost, GoDaddy, and HostGator when it comes to page load time.
Half of the 1&1 IONOS cheap web hosting plans come with unlimited storage and bandwidth, along with free domain name registration, a customized cPanel experience, and unlimited MySQL database support.
Most notably, HostingAdvice readers can pay just $1.00 per month for one year of unlimited databases, with no tricks or hidden fees.
Each free MySQL database can be managed via phpMyAdmin, and you can upgrade to VPS and dedicated server plans for enhanced PostgreSQL database support.
Unlimited databases with generous 3GB maximum
Support for remote MySQL access and InnoDB
Custom control panel for easy database oversight
GitHub integration plus phpMyAdmin
LiteSpeed caching and WordPress acceleration
MYSQL
RATING 4.9 ★★★★★ Our Review
Hostinger: Our Expert's Review
Laura Bernheim (HostingAdvice.com): Although Hostinger's low prices make it seems the company is best serving beginners and site owners without advanced requirements, developers will be impressed with the level of advanced features available on most plans. Hostinger gives users tons of administrative access to perfectly tailor their database hosting plan as needed. Go to full review »
| Money Back Guarantee | Disk Space | Domain Name | Setup Time |
| --- | --- | --- | --- |
| 30 days | 50 GB SSD – 200 GB SSD | FREE (1 year) | 3 minutes |
Website owners who prioritize long-term affordability should consider Hostinger, which regularly appears on our rankings with the lowest prices. But don't confuse affordability with subpar services.
The hosting provider gives customers ample computing power to grow their online presence, ranging from unlimited bandwidth and databases to remote MySQL access, phpMyAdmin, and the InnoDB storage engine database software.
Hostinger remains affordable throughout the hosting ranks, so you can be comfortable scaling to VPS, cloud, and managed WordPress hosting packages.
Unlimited databases on high-class servers
FREE cPanel license for easy management
Optimized configurations for WordPress
All-SSD solution for your files, OS, and databases
FREE HackScan, SSL, and 99.9% uptime guarantee
MYSQL
RATING 4.5 ★★★★★ Our Review
A2 Hosting: Our Expert's Review
Alexandra Anderson (HostingAdvice.com): A2 Hosting caters to performance-minded folks across all hosting disciplines. The provider's MySQL-focused plans allow users to host five databases on the most basic package — up to unlimited DBs for just a few dollars more. Go to full review »
| Money Back Guarantee | Disk Space | Domain Name | Setup Time |
| --- | --- | --- | --- |
| 30 days | 100 GB SSD – Unlimited SSD | New or Transfer | 4 minutes |
A2 Hosting remains one of our favorite recommendations thanks to its finely tuned infrastructure, emphasis on performance, and wide support for a variety of developer-friendly technologies. Database hosting is no different.
The web host supports MySQL, MariaDB, Percona, MongoDB, PostgreSQL, and CockroachDB on its shared, WordPress, and VPS hosting plans. Although some large datasets may require the added resources of a VPS or dedicated server, A2 Hosting's prices remain reasonable.
Give A2 Hosting a try if you're looking for a high-performance plan that concentrates on efficient data processing and retrieval.
MySQL hosting crafted for superior performance
Separate disk for MySQL and in-house query cache
Support for unlimited databases
Easy management with cPanel and phpMyAdmin
Custom optimizations for performance and security
MYSQL
RATING 4.5 ★★★★★ Our Review
SiteGround: Our Expert's Review
Alexandra Anderson (HostingAdvice.com): SiteGround sets the standard for MySQL server hosting with support for unlimited databases, a free cPanel license, and hardware and software optimizations that deliver excellent performance and security. All MySQL files are housed on a separate disk. Go to full review »
| Money Back Guarantee | Disk Space | Domain Name | Setup Time |
| --- | --- | --- | --- |
| 30 days | 10 GB SSD – 40 GB SSD | New or Transfer | 6 minutes |
SiteGround gives customers world-class infrastructure with Google Cloud Platform environments perfectly tailored for performance, scalability, and reliability. The hosting provider supports both MySQL and PostgreSQL data storage.
The host is one of a select few to earn the recommendation of the WordPress leadership team, making SiteGround an excellent option for looking to pair the world's most popular content management system with a powerful database.
Even better, SiteGround's custom support solutions ensure more than 90% of issues are solved at first contact — which often happens in less than 15 minutes for email tickets.
Highly compatible LAMP stack with MySQL support
FREE website transfer from WordPress or cPanel
Zero-downtime MySQL migration when you start
Unmetered bandwidth and a FREE SSL certificate
Automatic weekly off-site data backups
MYSQL
RATING 4.4 ★★★★★ Our Review
HostGator: Our Expert's Review
Ryan Frankel (HostingAdvice.com): We love HostGator for its flexible, modern support of important technologies customers use as foundations of their online presence. MySQL hosting is no different, evidenced by the company's expert-level support and assistance with migrations and setup. Go to full review »
| Money Back Guarantee | Disk Space | Domain Name | Setup Time |
| --- | --- | --- | --- |
| 30 days | Unlimited | FREE (1 year) | 4 minutes |
HostGator offers scores of tutorials and resources for how to access, manage, and optimize your database resources. The web host is another great place to find unlimited websites, disk space, bandwidth, and memory, making HostGator a tremendous value for aspiring website owners.
HostGator is that perfect middle-ground option that appeals to both tech-savvy developers and those looking to build their first website.
8 Best Free Database Hosting Services
We say it a bunch, but here it goes again: If something seems too good to be true, it probably is. That proverb applies to most free online services you'll encounter, for one reason or another.
Some organizations just want to gather your personal information for some sort of scam or spam mission, while others simply have a shoestring budget, seriously old equipment, outdated security measures, and a shoddy internet connection.
However, we do realize there are some shining beacons of web hosting altruism out there. Free trials or scaled-back free database hosting services can help developers quickly test a concept without breaking the bank.
You can take your time getting comfortable with a host's management tools and make sure the hosting company is the right fit for your data.
You're better off hosting a long-term database server or projects with the hosts above, but those looking for a temporary home for their data can find promising alternatives with one of the companies below.


You won't get free hosting for life, but Kamatera gives database owners a high-class chance to test out its enterprise-grade cloud environments for an entire month. Users can make $100 of configurations, adding exactly as much storage, bandwidth, and processing power as your project demands.
if you're looking for unlimited MySQL databases, Kamatera is for you. This hosting service is incredibly flexible when it comes to support for various technologies, offering more than 59 operating systems and countless database systems. Add in the 1000GB of free block storage and 1000GB of outgoing traffic, and Kamatera simply blows the other options away.
Storage: 20 GB – 1 TB SSD
Bandwidth: 5TB
Number of databases: Unlimited
Other free perks: Instant scalability, customizable environments, 1000GB of cloud block storage, 24/7 support, and a user-friendly management console
Customize your cloud environment for FREE
Work with a dedicated account manager
Dozens of Windows & Linux OS choices
Complimentary live chat support open 24/7
Launch in less than 60 seconds
CHEAP
RATING 4.9 ★★★★★ Our Review
Kamatera: Our Expert's Review
Laura Bernheim (HostingAdvice.com): That's right, Kamatera gives new customers FREE access to high-quality VPS hosting for 30 days. Upgrade your bargain-basement shared hosting to a cloud server configured to your exact specifications for no cost. Go to full review »
| Money Back Guarantee | Disk Space | Domain Name | Setup Time |
| --- | --- | --- | --- |
| 30-day FREE trial | 20 GB SSD – 4 TB SSD | New or Transfer | 3 minutes |


Your free trial won't last long — just three days — but Cloudways will give you complete access to its managed cloud hosting platform to see if the web host will be a good long-term fit for your project.
Cloudways takes cloud instances from the world's top providers: Amazon Web Services, Google Cloud Platform, Digital Ocean, Vultr, and Linode, and specially configures and manages them to be far more user-friendly. The hosting company supports MariaDB by default but also provides MySQL support and remote access, along with an extensive knowledge base to learn how to best leverage your cloud resources.
Storage: 20 GB – 3.8 TB
Bandwidth: 1 TB – 20 TB
Number of databases: Unlimited
Other free perks: Pay-as-you-go pricing, built-in MySQL manager, 24/7 customer support, free SSL certificate, a database migration service, and automated backups
Try managed cloud hosting for FREE for 3 days
Optimize costs with custom server configurations
Scale server resources up and down as needed
FREE SSL certificates, site migrations, and CDN
Use code HOSTINGADVICE for 25% OFF
CHEAP
RATING 4.7 ★★★★★ Our Review
Cloudways: Our Expert's Review
Alexandra Anderson (HostingAdvice.com): Cloudways doesn't offer a dollars-per-month shared hosting plan. But the company still brings a significant bargain to the table, thanks to a (short) free trial. Go to full review »
| Money Back Guarantee | Disk Space | Domain Name | Setup Time |
| --- | --- | --- | --- |
| 3-day FREE trial | 20 GB SSD – 4 TB SSD | New or Transfer | 8 minutes |
9. Gigarocket


Although the company has scaled back its popular free VPS hosting plan availability, Gigarocket still very much shines with a smaller plan based around cPanel and MySQL databases.
The fully-featured web host resonates with both inexperienced site owners and developers, with the user-friendly interfaces of cPanel and MySQL administration tool phpMyAdmin, along with support for MariaDB databases. Power users will also appreciate the speed boost from NGINX and Cloudflare's content delivery network.
Storage: 5GB
Bandwidth: 50GB
Number of databases: 10 (MySQL or MariaDB)
Other free perks: cPanel, phpMyAdmin, 25 email accounts, Softaculous app installer, SSL certificate, and DDoS protection
10. InfinityFree


Encouraging site owners to forget about the stereotypes of most free hosting plans, InfinityFree offers an eye-raising amount of computing power for no cost. When it comes to MySQL, the company's unlimited storage and bandwidth provide plenty of firepower to back up the 400 allotted databases you can use.
InfinityFree has some of the fastest free hosting you'll find, and the hosting solution actually comes through on its 99.9% uptime guarantee.
Storage: Unlimited
Bandwidth: Unlimited
Number of databases: 400 (MySQL)
Other free perks: 10 email accounts, SSL certificate, Cloudflare CDN, Softaculous app installer
11. HelioHost


Grassroots web hosting at its finest, HelioHost is a nonprofit organization dedicated to serving a global community of developers, hobbyists, and site owners. The organization, which owns its own hardware and operates it out of a Silicon Valley datacenter, crowdfunds all of its server upgrades by asking for voluntary donations.
We wish the platform could give users more storage, but we adore how HelioHost supports multiple popular database systems for the full spectrum of site owners.
Windows users should take note that HelioHost is one of very few free hosting options that offers ASP.NET, as well.
Storage: 1GB
Bandwidth: Unlimited
Number of databases: Unlimited (MySQL, PostgresQL, and SQLite)
Other free perks: Unlimited email, cPanel, ASP.NET, and the Softaculous app installer
12. GoogieHost


When undercutting India's hosting market from the typical $10 per month all the way to $1 per month wasn't enough, GoogieHost Founder Rajesh Chauhan decided to slash prices to zero and transform his company into a nonprofit organization. Featuring cloud-based, SSD-driven infrastructure, GoogieHost wows users with a ton of included features and high availability.
The restriction on the number and types of databases seems tight, but most users won't need anything other than one or two MySQL databases. Plus, they'll be too busy playing with GoogieHost's included website builder.
Storage: 1GB SSD
Bandwidth: 100GB
Number of databases: 2 (MySQL)
Other free perks: Zyro website builder, DirectAdmin, Softaculous app installer, SSL certificate, Cloudflare CDN, and two email addresses
13. FreeHosting.com


One of the few free web hosting providers to offer domain name registration, FreeHosting.com ups the ante by breaking users free of the chains of using a provider's odd slew of subdomains. From there, the company blends the line between its free and premium hosting plans by offering well-rounded features like offering cPanel and a drag-and-drop website builder.
Users are limited to only one MySQL database, but 10GB of storage means you can still develop a complex website.
FreeHosting.com's free account can handle roughly 30,000 daily visitors for a PHP-based website like those on WordPress, or virtually unlimited visitors of HTML websites.
Storage: 10GB
Bandwidth: Unmetered
Number of databases: 1 (MySQL)
Other free perks: Website builder, cPanel, app installer, and one email account
14. Awardspace


Having provided hassle-free, no-cost web hosting for more than 15 years, Awardspace is a veteran company focused on delivering reliable user experiences.
In addition to developing its own website builder, control panel, account dashboard, and app installer, Awardspace promises 99.9% uptime and offers around-the-clock customer support.
Site owners are limited to just one MySQL database solution but are allowed to host up to four websites (one domain and three subdomains) on plenty of storage space.
Storage: 1GB
Bandwidth: 5GB
Number of databases: 1 (MySQL)
Other free perks: One-click installer, phpMyAdmin, website builder, custom control panel, plus firewall and virus protection
Which is the Best Free SQL Database?
We completely trust all of these hosts and their free MySQL databases, but you may want to keep an eye out for which ones support the more obscure platforms.
Going back to the basics, SQL is a programming language for managing data in a relational database management system.
MySQL, which is open-source, is an extremely popular free database software that comes standard with most web hosting plans. But it's not the only option — in fact, it's not even the only type of database management system.
NoSQL, which stands for "not only SQL," is an up-and-coming database management system popularized by corporations like Google, Amazon, and Facebook that have to deal with massive amounts of data.
The system doesn't adhere to relational database requirements and enables organizations to scale horizontally across multiple hosts and servers. Here are some of the most popular sqlSQL and NoSQL databases:
As you can imagine, picking the best one is like picking a favorite child. Each has good days and bad days, strengths and weaknesses.
A NoSQL database tends to excel when it comes to scalability and performance of large datasets, while many may find SQL more readily available and easy to use.
Nearly 60% of web developers use MySQL databases, according to a StackOverflow survey of developers, followed by several other relational databases: MS SQL Server, PostgreSQL, and SQLite.
Which Database is Best for Cloud Computing?
Anytime you hear about cloud computing, your mind probably goes straight to the Big Three: Amazon Web Services, Microsoft Azure, and Google Cloud Platform.
Naturally, all three have pretty stellar database options ready to store, organize, process, and secure your data with on-demand resources and by-the-minute billing:
Surprisingly, each of the Big Three offers scaled-back versions of their database hosting services for free.
The AWS free tier, in particular, offers a great onramp to the full-fledged Amazon RDS service, also known as Amazon Relational Database Service.
Conversely, Microsoft Azure's free plan is a natural fit for those who want to give Windows Server or MS Access a try.
But as powerful and massive as those services are, your dataset or comfort level with a cloud database may warrant taking your database hosting needs off the beaten path.
For instance, Oracle Cloud seems like an obvious candidate to host your Oracle database, and IBM Cloud has multiple database solutions for various use cases. Microsoft aficionados may appreciate an option that includes MS Access.
Even better, many of those services have free database hosting packages, as well. MongoDB Atlas, Heroku Postgres, and Redis Labs are all built to help you focus on building your app instead of managing databases.
Which is the Easiest Database to Learn?
Before diving straight into the database itself, start with the very basics and build your foundation around a good working knowledge of the SQL language that will help you move, find, and manage your database efficiently.
W3Schools is always a fantastic resource, and SQL-Easy features a handy and interactive place to practice your programming.


MySQL is always a safe next bet, given its prevalence in web hosting plans. It's typically paired with phpMyAdmin, a free and open-source administration tool written in PHP that helps manage MySQL and MariaDB databases.
Generally speaking, there's a tradeoff between which database is easiest to learn and which one you'll actually want to use.
By most accounts, SQLite is generally considered to be among the easiest to learn and set up, but it probably won't be the best option for you if you have lofty ambitions for your website.
Given most people's familiarity with the Microsoft suite of productivity tools in Office, a Microsoft SQL database might represent the best path for you — especially if you're a fan of Microsoft Access. The Microsoft Access system allows you to manage your database in a graphical user interface, which many users find easier than other database management systems.
If your goal is to scale, consider starting off with MongoDB or PostgreSQL.
As Your Database Grows, So Will Your Hosting
Many website owners will never directly interact with their database.
WordPress users who use their host's one-click installer, for instance, never have to venture into phpMyAdmin to create a new database or table — they simply rely on an installation script and the WordPress software to make the changes as needed.
Even those most basic interactions, however, will cause your database to grow. Every blog post you write, image you upload, or comment you receive adds to your database size.
Inevitably, it'll expand beyond the restrictions of your hosting plan. Free hosting users will find that ceiling awfully quickly, while those who opt to pay for affordable shared hosting will fare much better.
Once you start outgrowing your plan, you'll need to find services that can handle your large database. Sometimes that just means upgrading your shared hosting plan, but other times you'll need to jump into VPS or cloud hosting.
Mercifully, however, these platforms are much more scalable and flexible to customers' needs.
The transition to a new hosting plan can be rough, but we've gone ahead and vetted the top providers for you. Most of these companies will help you migrate your database and relevant website files to their infrastructure and can even help you find ways to better optimize your resource usage.
Be sure to check out our list of the best VPS hosting providers if you think you may fall into this category.
See Our Full Review of Kamatera
Whatever type of hosting plan you're looking for, Kamatera is a solid choice no matter the scale. Our reviewer Laura Bernheim recently took Kamatera for a spin, and rated the popular host a 4.9 in the Cheap Hosting category out of a perfect score of 5.0. Here's what Laura had to say about Kamatera:
Offering an astounding 30-day free trial of its cloud computing and storage hosting plans, Kamatera is a great choice for developers who value performance and scalability. Beginning site owners may be a bit overwhelmed at first, but the web host's managed cloud services and always-there support team will help you through any issues.
Before signing up for Kamatera, it's a good idea to read through Laura's full review to learn about all the features Kamatera offers. You can also compare it to other web hosts to ensure you're getting the best deal possible:
If you decide Kamatera is the right choice, keep in mind that it takes just minutes to deploy your Kamatera server space. And at $0.00 per month, it's a bargain considering the many great features that come in any Kamatera plan.
Advertiser Disclosure
HostingAdvice.com is a free online resource that offers valuable content and comparison services to users. To keep this resource 100% free, we receive compensation from many of the offers listed on the site. Along with key review factors, this compensation may impact how and where products appear across the site (including, for example, the order in which they appear). HostingAdvice.com does not include the entire universe of available offers. Editorial opinions expressed on the site are strictly our own and are not provided, endorsed, or approved by advertisers.
Our Editorial Review Policy
Our site is committed to publishing independent, accurate content guided by strict editorial guidelines. Before articles and reviews are published on our site, they undergo a thorough review process performed by a team of independent editors and subject-matter experts to ensure the content's accuracy, timeliness, and impartiality. Our editorial team is separate and independent of our site's advertisers, and the opinions they express on our site are their own. To read more about our team members and their editorial backgrounds, please visit our site's About page.