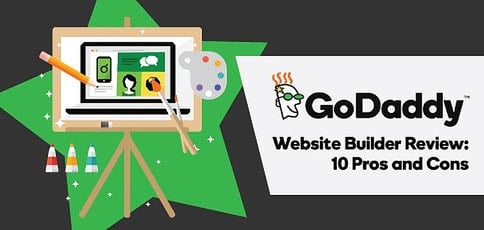 You likely already relied on the company for registering your domain name, why not trust the GoDaddy website builder, too?
As the largest domain name registrar in the world, GoDaddy is extremely popular. The company boasts a ridiculously low price for hosting and a 1-month free trial for its custom site builder, making web design easier than you ever imagined.
However, is it right for you? Let's take a look at the results of our team's test drive of the GoDaddy website builder, as well as our list of potential alternatives and the biggest pros and cons you might encounter as a user.
GoDaddy Website Builder Overall Review: 4.5 / 5.0
Building a website today is all about who you know — not necessarily the most experienced and expensive developer who can do the job for you, but rather the reliable and affordable web host who will help you do it yourself.
We took GoDaddy hosting for a test drive and tried out the host's popular website builder. The platform has been revamped in recent years and now does much better at integrating modern designs and an intuitive interface alongside the ecommerce, SEO, and marketing features we've all come to expect. Read our in-depth review below:
FREE site builder included with most hosting plans
Easy-to-use interface with tons of customization options available
24/7 expert support via phone, email, and ticketing system
99.9% uptime with an award-winning team monitoring your site and server
Step-by-step walkthroughs
GoDaddy: Our Expert's Review
Setup time: 5 minutes
Go to full review

»
GoDaddy uses a custom website builder and easy access to dozens of content management systems to offer a user-friendly site-building solution to customers. Most of GoDaddy's hosting plans include these options at no additional cost. Plus, if you sign up for an...
| Money Back Guarantee | Disk Space | Domain Name | Website Builder Hosting Plans |
| --- | --- | --- | --- |
| 30 days | 100 GB - Unlimited | FREE (1 year) | www.godaddy.com/site-builder |
See our highest-rated website builders »
3 Alternatives to the GoDaddy Website Builder
Although GoDaddy has its strengths and is trusted by more than 16 million customers around the world, the website builder is not as robust or feature-rich as some competing platforms. The lack of snap-to-grid functionality makes perfecting design a tedious process, particularly for non-developers or designers (the bulk of the GoDaddy customer base). We prefer to recommend a host with a more nuanced website builder, and you'll find a few of our favorites below.
No coding skills needed with drag-and-drop builder
100s of templates with niche-specific designs
Add features via the App Market and Wix Events
Easily create ecommerce functionality easily
Great way to build small sites on a budget
Wix: Our Expert's Review
Setup time: 4 minutes
Go to full review

»
Website building is where Wix shines. The thousands of templates, the intuitive editor, the industry-leading designs that cater to a variety of specific fields and use cases — all these facets represent a platform that excels at facilitating easy web design...
| Money Back Guarantee | Disk Space | Domain Name | Website Builder Hosting Plans |
| --- | --- | --- | --- |
| 14 days | 500 MB - 20 GB | Transfer | www.wix.com/site-builder |
Choice of Weebly or WebsiteBuilder by iPage
Mobile-optimized options and easy-to-use setup wizards
100s of professionally designed, customizable themes
FREE online store, shopping cart, and blogging platform
Get +75% off your first month
iPage: Our Expert's Review
Setup time: 4 minutes
Go to full review

»
Do you want your website built today? If you answered "yes," you should look no further than iPage. In fact, it's possible for you to be online before you even finish reading this article. Thanks to iPage's user-friendly interface, instant provisioning, and...
| Money Back Guarantee | Disk Space | Domain Name | Website Builder Hosting Plans |
| --- | --- | --- | --- |
| 30 days | Unlimited | FREE (1 year) | www.ipage.com/site-builder |
Drag-and-drop design with the Gator™ website builder
Hundreds of mobile-friendly, industry-specific templates
FREE hosting, domain name, and SSL certificate
Easily add a blog, ecommerce, and social media marketing
Analytics portal helps you gauge your site's performance
HostGator: Our Expert's Review
Setup time: 4 minutes
Go to full review

»
Setting itself apart from the scores of competitors that rely on white-labeled website builder solutions, HostGator spent the time to painstakingly craft its own platform. Gator provides a frustration-free experience that pairs the simplicity of drag-and-drop...
See other website builder options »
Top 5 Pros of GoDaddy's Website Builder
All that said, there are a lot of things the GoDaddy website builder gets right. The integrations with social media, online stores, marketing, and other functionalities like managing appointments and in-depth analytics are just a few reasons to consider GoDaddy's site builder. Here are a few others:
1. It's Free to Get Started
The company's site builder is an exclusive offering of GoDaddy's website builder plans. The three tiers of website builder hosting plans are extremely reasonable, making the included site builder a steal — and with a 1-month free trial, you can get started today with zero cost.
The tool's drag-and-drop interface is incredibly easy to use and lets users of the two higher-end plans seamlessly switch between desktop and mobile versions of their site. The highest-tier Business Plus plan also includes a one-click social media manager and SEO tools to get your newly built site noticed.
2. More Than 300 Themes and Templates
Like many of the best site builder hosts, GoDaddy bundles hundreds of theme options with their site builder plans, all tailored to your specific needs. Seriously, there are multiple templates for plumbers. Sort the themes by categories, such as education, food, personal, photography, and travel, to find your favorite.
Once you select a theme, GoDaddy will automatically populate the theme with the information you enter. You can edit text, change colors and fonts, add or delete pages, and upload your own pictures or videos.
3. Step-By-Step Tutorials Included
GoDaddy's beginner-friendly website builder offers step-by-step explanations of how to set up and fine-tune your website. Whether you're adding a button or making a photo gallery, GoDaddy has a guide for that.
4. Get Help from Support 24/7
Yet another perk of going with a hosting company as well-known as GoDaddy, their support team is one of the most reputable in the industry. If you get stuck at any point, you can contact their experts 24 hours a day, seven days a week via phone, email, or live chat.
5. Hosting is Only $1
Let's say the site builder isn't your cup of tea. If you want to take the regular hosting route and build your site with a platform, such as WordPress, Drupal, or Joomla, it really doesn't get more cost-effective than Go-Daddy's $1 web hosting. With a domain name included for free with the purchase of an annual plan, you can still create your site for next to nothing by using a free theme.
Top 5 Cons of GoDaddy's Website Builder
While we love GoDaddy for their perks, no host is perfect at everything. Here are five potential drawbacks we'd like to change:
1. Clunky Ecommerce Tools
GoDaddy has spent a lot of time bringing its site builder platform up to date with competitors on this front, but there's a still a little more work to be done. The main site builder doesn't include anything for ecommerce, but you can use a separate online store builder — for twice as much as the premium site builder plan. If you're looking for a site builder host that's a little more friendly to online businesses, check out our favorite ecommerce site builders.
2. Very Basic Design
Even though you have so many themes from which to choose, they all kind of blend together after a while. While very clean and modern, GoDaddy's website builder interface is best for very basic designs. That's good for many, but try one of 2020's best website builder plans if you want something a little more intricate.
3. You Can't Switch Between Themes
One unfortunate caveat to GoDaddy's 300+ themes is that you can't switch between them without losing your content. This might be more annoying than a deal-breaker, so be sure to choose your theme carefully before you fully commit.
4. Their Uptime Guarantee Isn't Great
GoDaddy leads the web hosting industry in a lot of things: domain hosting, affordability, and page loads, but their uptime guarantee of 99.9% isn't quite up to par with some of our top hosts. For many users, however, that extra tenth of a percent won't make much of a difference.
5. No Password Protection
Not being able to password-protect certain pages of your website is a major faux pas in the web hosting world these days, so GoDaddy's lack of password-protected pages functionality is the only other thumbs-down feature we can think of — but again, this won't matter much to many users.
Bottom Line: We Like It, But Don't Love It
Like we said at the beginning, it pays to know a host that's so prominent and respected in the industry. It's hard to go wrong by trusting your website needs to GoDaddy's hosting and website building interface.
Many of the faults we found with GoDaddy's tool might be quite inconsequential to you, making them an excellent option. If you want to keep shopping, you could compare GoDaddy to our top 10 recommended builders.