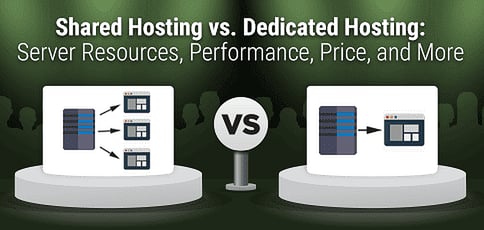 Comparing shared hosting vs. dedicated hosting is more than the obvious difference of how much each service costs — it entails guaranteeing the long-term success of your online presence as it gains traction with your target audience.
Back in the day, before the cloud and server virtualization, shared hosting and dedicated servers were your only options. With so many options emerging that help bridge the hosting gap, the transition from shared to dedicated hosting is much smoother. However, finding the right-sized hosting plan is key, whether you have special security needs, need to run complex database systems, or just have a straightforward and informational website.
Here, we'll highlight the top hosting providers of each type of service, along with some of the key similarities and differences when it comes to price, performance, security, and computing resources. Read on!
6 Best Shared & Dedicated Hosting Providers
Instead of diving straight into the technical definitions and differences, let's start with a primer coat by looking at the top hosting plans in each category. You'll notice the differences in price and performance, and get a sense of which companies excel with each type of server configuration.
If you need dedicated hosting and know it, managed services packages are often well worth the cost if only for the security patches and updates. However, if you don't need that kind of horsepower or a dedicated server is beyond your financial means, shared hosting plans will save you a bundle and are known for serving the vast majority of web hosting customers. Comparing plans with unlimited storage and bandwidth is a great place to start.
Top 3 Shared Hosting Providers Overall
There are a lot of shared hosting providers out there. Some have adopted a niche-specific approach by specializing in hosting services that cater to applications, industries, or domain and email needs. The best shared hosting providers overall will offer a laundry list of popular features at the most competitive price points. Below are the shared hosting plans we recommend:
High-quality hosting, no matter the format
FREE SSD storage packs 20x the performance
FREE SSL certificate and 24/7 support
1-click installs for WordPress and popular CMSes
Get started with FREE website transfer service
SHARED
RATING 4.8 ★★★★★ Our Review
InMotion: Our Expert's Review
PJ Fancher (HostingAdvice.com): InMotion Hosting offers an excellent business-class shared hosting plan — with a price tag lower than several other budget hosts. For the IT crowd in the audience, you'll appreciate SSH access, as well as support for PHP, Ruby, Perl, Python, WP-CLI, and other popular languages. Go to full review »
| Money Back Guarantee | Disk Space | Domain Name | Setup Time |
| --- | --- | --- | --- |
| 90 days | 100 GB SSD - Unlimited | FREE (1 year) | 5 minutes |
Get 67% off monthly pricing
A perfect blend of price and performance
Intuitive control panel with 1-click CMS installs
Unlimited everything — from domains to databases
Around-the-clock expert support
SHARED
RATING 4.6 ★★★★★ Our Review
HostGator: Our Expert's Review
Ryan Frankel (HostingAdvice.com): HostGator is a great compromise between performance and price. The company offers unlimited emails, MySQL databases, disk space, and bandwidth, plus one-click installs of popular open-source projects, in addition to a 99. Go to full review »
| Money Back Guarantee | Disk Space | Domain Name | Setup Time |
| --- | --- | --- | --- |
| 30 days | Unlimited | FREE (1 year) | 4 minutes |
FREE CDN, email, and daily backups
Hassle-free website and email migrations
Unlimited traffic, databases, and email
Industry-leading customer support response times
HostingAdvice readers get 86% off
SHARED
RATING 4.6 ★★★★★ Our Review
SiteGround: Our Expert's Review
Alexandra Anderson (HostingAdvice.com): Providing hosting with the perfect balance of technological innovation and superior customer support, SiteGround offers a range of affordable hosting services to meet your needs. In addition to the expected cheap web hosting perks — a free website builder and unlimited bandwidth — the company specializes in custom-built tools to deliver strong and positive user experiences. Go to full review »
| Money Back Guarantee | Disk Space | Domain Name | Setup Time |
| --- | --- | --- | --- |
| 30 days | 10 GB SSD - 40 GB SSD | New or Transfer | 6 minutes |
Top 3 Dedicated Server Providers Overall
Shopping for dedicated hosting means you probably have big plans for your online business. So we've compiled this list of the best dedicated hosting providers based on performance, reputation, and reliability.
You will want to consider included services and price in your decision-making, but the most valuable services to look for, other than the three already mentioned, are scalability and security. If you review the technical options of each and there is no clear winner, it may come down to the price. These dedicated server providers dominate the industry:
Explore server deals to find the best rates
High powered modern AMD and Intel processors
Unlimited traffic and 1 Gbit/s network connectivity
8-minute deployment with full API control
Auto backups, DDoS protection, and RAID-1 storage
DEDICATED
RATING 4.9 ★★★★★ Our Review
1&1 IONOS: Our Expert's Review
Alexandra Anderson (HostingAdvice.com): If you need blazing-fast speed, optimum uptime, top-notch flexibility, and full control over the fate of your website the dedicated servers from 1&1 IONOS have you covered. The company offers an assortment of entry-level, performance-focused, and business-class server options. Go to full review »
| Setup Time | Disk Space | CPU | RAM |
| --- | --- | --- | --- |
| 7 minutes | 480 GB SSD - 2 TB HDD | 4 - 32 cores, 8 - 64 threads | 16 GB - 256 GB |
Bare-metal or managed servers available
1-on-1 time with a server administrator
99.99% uptime via Smart Routing™ technology
Tier 1 network with redundant bandwidth
SSH root access and DDoS protection on all servers
Upgrade for cPanel, migration, and auto backups
DEDICATED
RATING 4.8 ★★★★★ Our Review
InMotion: Our Expert's Review
PJ Fancher (HostingAdvice.com): InMotion Hosting offers amazingly fast and reliable dedicated hosting on market-leading hardware — making it an easy choice for anyone seeking a premium dedicated server host. From free SSDs to a fanatical support team, InMotion has all the bases covered for both small-scale and large-scale operations. Go to full review »
| Setup Time | Disk Space | CPU | RAM |
| --- | --- | --- | --- |
| 7 minutes | 1 TB SSD - 4 TB SSD | 4 - 8 cores, 8 - 16 threads | 16 GB DDR3 - 128 GB DDR4 |
Linux or Windows with choice of 3 control panels
100% network and power uptime guarantees
Custom configurations and instant provisioning
Auto-migrations, backups, and real-time monitoring
Block/object storage and load balancer add-ons
DEDICATED
RATING 4.8 ★★★★★ Our Review
Liquid Web: Our Expert's Review
Alexandra Anderson (HostingAdvice.com): Liquid Web's strong suit is managed dedicated server hosting. The company owns and operates five state-of-the-art datacenters in the US and Europe works tirelessly to build and maintain custom solutions for added performance and security. Go to full review »
| Setup Time | Disk Space | CPU | RAM |
| --- | --- | --- | --- |
| 8 minutes | 250 GB - 500 GB SSD (+ 1 TB HDD) | 4 - 12 cores | 16 GB - 32 GB |
See more dedicated server hosts »
Overview: What is Shared Hosting vs. Dedicated Hosting?
In a nutshell, dedicated hosting means you have an entire server — the whole machine — all to yourself. Just like renting a car and having total control over who rides with you, how fast you go, and the radio stations you blast or skip, no other websites are hosted on your server. Unlike public transportation, or in this case, shared hosting, a dedicated server is all yours. Everything is under your control — from the machine-level configurations to your control panel dashboard settings.
In contrast, shared hosting means your website is located on the same server and hard drive as a whole lot of other websites. Just as when you ride the bus, you have no actual control over the machine, and you must share space with a bunch of other people.
If dedicated hosting is like renting your own car — which means you can trick it out and get where you want to go on your timetable — then shared hosting is like taking the bus and having very little control over your environment. That being said, public transportation will get you where you want to go cost-effectively. So let's examine the options.
1. Server Resources, Configuration, and Management
With dedicated hosting, you're renting the physical machine and not sharing hardware or bandwidth with any other websites. You can scale the server resources and adjust them instantly to your website traffic or application needs. You can access the server resources, review the performance, and optimize the settings as you see fit. Having a dedicated server also allows you to adjust the amount of storage and bandwidth you need on the fly, as well as access the server root. Having access to the server root and configuration is a huge benefit if you're running applications and need to modify the environment for your application's specific needs.
Dedicated servers give you maximum control over the server software and the services it runs. In addition, you are in control of and responsible for the updates and patches to your server software. Let's say your website is running an application that is known to have issues supporting the latest version of the web server software, but it's compatible with the previous version. With a dedicated server, you could install any version of the software and micro-manage its individual resources.
With dedicated hosting, you also have the option of selecting managed, semi-managed, or self-managed services with certain providers. These services determine how involved in your server maintenance and security you want the hosting provider to be. Each management level comes at a different price with varying services provided depending on your chosen host.
Shared hosting means you're sharing server space with other websites and individuals, providing a reliable and cost-effective way to get where you're going at a fraction of the price. However, it doesn't provide any of the above-mentioned custom configuration options. A shared hosting account comes with access to a control panel for your website folders, files, and applications such as WordPress or PrestaShop. From there, you can manage the most common website needs, including databases, email accounts, server logs, and (limited) server analytics. You can also create subdomains and enjoy various benefits of a standard control panel, depending on which features your host makes available.
2. Scalability
The scalability of a dedicated server is its most attractive feature for a lot of businesses. Scalability means the opportunity and room for future growth in terms of software packages, incoming and outgoing bandwidth usage, disk storage needs, database growth, and processing power. The ability to handle more traffic, transaction processing, or data storage while maintaining performance is a must-have feature for many businesses, especially when dealing with Software-as-a-Service (SaaS) or large-scale eCommerce endeavors.
Most dedicated hosting services can be scaled up or down very quickly, and some hosting providers offer automated or dynamic scalability wherein your server monitors itself and adjusts the required resources based on your immediate needs. That type of scalability prevents site downtime that can be caused by a sudden influx of traffic or application usage beyond your normal bandwidth or processor needs.
Typically, scalability of a shared hosting account is, at best, limited to assets such as disk storage space and database size. Most shared hosting providers offer unlimited file storage, databases, and email accounts, and some offer unlimited bandwidth for a slightly higher monthly fee. But for the most part, the expansion of your website and resources it requires to run will be limited by the shared hosting environment because you are sharing those resources with hundreds or thousands of other customers.
3. Performance
With dedicated hosting, you determine the performance level — from the server you chose to the way in which you manage it. As the only user on the server, you dictate the system resources distribution and hardware configuration. Typically, you can choose HDD or SSD storage, the number of processors, and the operating system (CentOS, Debian, Windows, etc.) you prefer. Server performance on a dedicated hosting plan is highly customizable and desirable for those who need the extra horsepower.
With shared hosting, performance cannot be customized at the machine level. The difference is dramatic when it comes to performance features and options. Granted, a large number of websites do not need optimized performance to achieve their goals. Most site owners will do well with a 99.9% uptime guarantee and up-to-date hardware and software, which most prominent hosting companies offer. Still, it never hurts to ask about server specs when signing up for a new hosting account.
4. Security
Dedicated servers are the most secure of the three main hosting varieties: shared, virtual, and dedicated hosting. Dedicated hosting often includes DDoS protection, as well as IP address blocking, among other server-level features. In addition, you will never have the threat of server issues caused by the security holes in another hosting customer's website code or site visitors that could affect the entire shared server hosting environment. Most dedicated hosting services also include RAID storage, or a redundant array of independent disks. Otherwise known as disk mirroring, RAID further ensures your data is safe and can be recovered from more than one location.
Unfortunately, shared hosting security is far inferior compared with the security on dedicated hosting, but most business and personal websites do fine with a shared host. Most hosting providers will tell you your data is as safe as it can be in any shared hosting environment. The truth is that you are only renting a small piece of a hard disk, so you are responsible for your own website and hosting control panel security, but there is nothing you can do to prevent issues possibly caused by other users on the same server. As for the shared hosting account itself, your experience will typically be uneventful if you choose a well-known, high-rated hosting provider.
Most hosting providers offer at least a 99.9% uptime guarantee, and issues caused by other users are rare outside of bandwidth hogging. Most security issues will come from within your own account — located within your own website code, a control panel setting, or both. A number of web hosts now offer a 30-day rollback, or restore, for a small fee if the unthinkable were to happen and you lose some or all of your data.
5. Cost
Now for the question of the hour: How much does web hosting cost? Sure, it would be great to have the fastest, most secure server in the whole wide world, but there's what we'd like and what we can afford. Am I right?
Dedicated hosting is 15 to 20 times more expensive than shared hosting. You can purchase shared hosting for just a few dollars per month and get better deals if you sign up for an annual plan — or snag an online coupon for a recommended hosting plan. But the hefty price tag on dedicated hosting is well worth it when you're investing serious capital and time into your business. When you need dedicated hosting, you'll know it, and be ready to pay for it
Shared Hosting vs. Dedicated Server: Bookends of the Hosting Spectrum
While shared hosting serves as the launch pad for first-time site owners and dedicated servers are reserved for those who have been around the hosting block, one thing remains the same: A web host's support is paramount.
You want to feel as if the company you choose cares about you and the successful operation of your business, no matter how small. To find a company that values your time and invests in the quality of service it's delivering — choose from the semi-short list of hosting providers that care.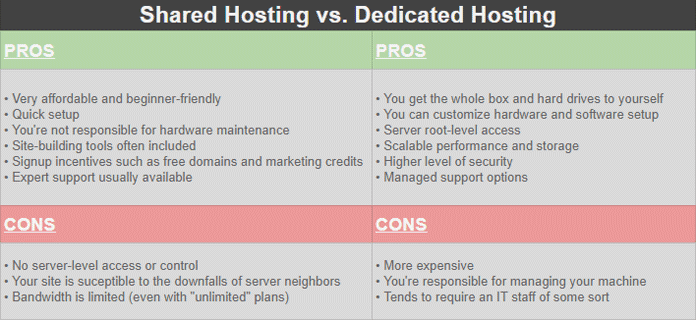 Finally, the image above is that list of pros and cons I promised you. As you can tell, the two services are at opposite ends of the spectrum but are no less critical to site owners.
If you haven't already, don't forget to check out our shared hosting and dedicated hosting reviews, too. Best of luck in whichever route you choose!
See Our Full Review of InMotion
Whatever type of hosting plan you're looking for, InMotion is a solid choice no matter the scale. Our reviewer PJ Fancher recently took InMotion for a spin, and rated the popular host a 4.8 in the Shared Hosting category out of a perfect score of 5.0. Here's what PJ had to say about InMotion:
InMotion Hosting is consistently one of the best hosting providers you'll find. You pay a bit of a premium for great support, powerful hardware, and supreme reliability, but the value of the product is market-leading. Whether you need SSD-powered VPSs or are ready to build your first site with its BoldGrid web builder, InMotion should be a top contender for your host.
Before signing up for InMotion, it's a good idea to read through PJ's full review to learn about all the features InMotion offers. You can also compare it to other web hosts to ensure you're getting the best deal possible:
If you decide InMotion is the right choice, keep in mind that it takes just minutes to deploy your InMotion server space. And at $2.29 per month, it's a bargain considering the many great features that come in any InMotion plan.
Advertiser Disclosure
HostingAdvice.com is a free online resource that offers valuable content and comparison services to users. To keep this resource 100% free, we receive compensation from many of the offers listed on the site. Along with key review factors, this compensation may impact how and where products appear across the site (including, for example, the order in which they appear). HostingAdvice.com does not include the entire universe of available offers. Editorial opinions expressed on the site are strictly our own and are not provided, endorsed, or approved by advertisers.
Our Editorial Review Policy
Our site is committed to publishing independent, accurate content guided by strict editorial guidelines. Before articles and reviews are published on our site, they undergo a thorough review process performed by a team of independent editors and subject-matter experts to ensure the content's accuracy, timeliness, and impartiality. Our editorial team is separate and independent of our site's advertisers, and the opinions they express on our site are their own. To read more about our team members and their editorial backgrounds, please visit our site's About page.