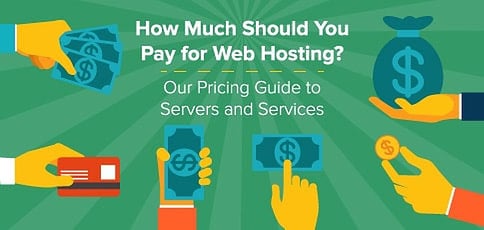 With all the plans and technologies swirling around the marketplace, those looking to start their first website may be left wondering: How much should I pay for web hosting?
Fortunately, hosting services are probably cheaper than you might expect. Even though you can find free hosting services online, the trick is finding the provider that offers the most value. You'll definitely want to shop around for the hosting company that provides the most useful features, helpful support, stringent security, and high-powered performance for the most reasonable price.
Whether you're setting up your first website or your 50th, you're smart to compare your options across the marketplace. In this ultimate guide to web hosting expenses, we'll look at some of the most competitive pricing structures, plus additional costs to be aware of and opportunities to save.
First, we have the cheapest of the hosting types. Shared hosting is a service in which the company owns X number of servers and hosts multiple client websites on each physical machine. Users share server resources and enjoy lower prices as a result. Rather than covering all costs of operating your server and its supporting infrastructure, customers can typically expect to pay around $5 per month for a solid shared hosting plan.
We took the liberty of reviewing the most popular shared hosting providers based on their affordability. Take note of the hosts that deliver utmost price-vs-quality value to users below.
See more cheap shared hosting plans »
Aside from the costs of hosting your website, someone has to orchestrate its design and development. There are several ways to skin this cat, but one of the latest trends is to use some sort of drag-and-drop interface that allows you to visually plan and construct your site layout without fussing with HTML, CSS, or programming languages. The aptly named site builders strip away the coding component of web development and deliver a what-you-see-is-what-you-get (WYSIWYG) experience instead. Web builders tend to come in two flavors.
Option #1: There are editing environments you access at a website, such as Weebly.com or Wix.com, that are hosted by a company you have zero interaction with. You mock up, customize, and publish your own site directly from your browser. These builders typically start off free, but you'll quickly become annoyed by the storage and traffic limitations, the ads that appear on your site, and the lack of flexibility in general. Should you choose to upgrade to a paid plan, it may cost you anywhere from $8 to $28 per month.
Option #2: There are similar site-building tools offered as a free perk to signing up with a host. You pay the monthly hosting fee and enjoy the design simplicity the likes of Weebly or another WYSIWYG interface have to offer.
We recommend choosing a hosting plan that includes a powerful site builder in its feature list. These website builder packages typically fall in the $5 to $10 ballpark, and you'll find reviews of our favorite website builder services from either option below.
See more website builder plans »
While the first three sections of this behemoth guide outline the traditional hosting avenues — shared, virtually private, or dedicated servers — the 2000s brought on a new wave of marketing these options. Application-specific hosting is more commonly known as WordPress hosting, Joomla hosting, Magento hosting, and so on.
On the surface, these services are no different than conventional shared hosting (unless specifically labeled as VPS, dedicated, etc.), but deeper inspection will reveal features that cater to whichever platform you're hoping to use to manage your web project. The companies that excel in delivering application-specific hosting don't just push the buzzwords that appeal to those audiences to the top of the landing page (e.g., shoving "one-click installations" and "automatic plugin updates" down our throats). The best WordPress, Joomla, Magento, or other platform hosting providers customize plans to include exclusive features that benefit these application users. Let's take a look at what you can expect to pay for plans of this class and caliber.
Best Deals on WordPress Website Hosting
First, we have the queen of blogging and all-around website management. WordPress powers almost one-third of the world's websites, and hosting companies have been wise to capitalize on this popularity. Basic WordPress hosting plans typically offer single-click installations for the software, unlimited disk storage and traffic allowances for your WordPress site, and perhaps a free domain name registration to get you started. Sound familiar? Yes, the basic plans described are remarkably similar to generic shared hosting offerings, which can be had for $2 to $10 per month, as discussed above.
Preferred WordPress hosts go above and beyond with bonus features such as complementary software installations, WP-optimized caching tools, staging environments, and updates to the core and/or plugins conducted by experts. These are the premium WordPress hosting features we look for — and they can still be had for as little as $5 per month. Sure, you'll pay extra for advanced management features, but we'll get to that later. First, check out our favorite hosts to recommend to WordPress users.
See more hosts for WordPress »
Best Deals on Joomla Website Hosting
Developers love Joomla, a content management system (CMS) that owns the second-largest share of the market. As is the case with WordPress, we look for Joomla-specific perks, such as optimized hardware configurations or official partnership with the Joomla development team, when recommending a host to this user base.
Many of the leading Joomla hosts work hand in hand with the open-source community of developers actively working on the platform. The companies develop custom tools to meet the ever-evolving needs of Joomla users.
On average, you can expect to pay what you would for any shared hosting plan — but be sure to vet the features list to ensure the service is truly Joomla-optimized (or as much so as you're hoping for). Our favorite Joomla hosting plans are outlined below.
Best Deals on Drupal Website Hosting
Third on the list of well-known CMS platforms, Drupal is favored by technically savvy users for its robust security. The learning curve may be steep, but those who love it have specific aspirations in mind for their hosting provider.
Drupal hosting is not as commonly advertised as WP hosting or other niches, but we've found these plans to still fall within the same ballpark: $5 to $10 per month. Be sure to read our reviews of the following expert-approved hosts before signing up for a Drupal hosting plan.
Best Deals on Magento Website Hosting
Magento is unique to this application-specific hosting section because it's geared toward eCommerce site owners. If you're looking to display and sell products online, Magento should certainly be on your short list of tools to help you do so. Many of our favorite eCommerce hosting providers cater to online store owner needs with free shopping carts, PayPal integrations, and marketing credits.
We find eCommerce hosting to be on the more expensive end of the shared hosting price spectrum, given the performance and security requirements when dealing with customers' personal and financial information. You also may find yourself paying for add-on services to customize your online marketplace.
All that said, you don't need to pay $15 per month for a premium service like Shopify. Choose a shared hosting plan that will support your growing customer base and give you options to customize your Magento-powered store. See reviews of the top Magento hosts below.
Merging the concepts of shared and dedicated server hosting, a virtual private server (VPS) is a machine that's been partitioned to act as several independent server units. While multiple accounts may be hosted on a single physical machine, your VPS and its allotted resources are yours to use as needed. It's essentially a happy medium between the frugality and scaling limitations of shared hosting and the robust performance potential and financial burden of hosting a dedicated server
The average costs fall where expected — just north of shared hosting but way below the cost of a dedicated server — at around $20 per month for a basic VPS. We frequently explore VPS plans to compare the best value propositions in the industry. Check out our top host recommendations below.
The exact opposite of shared hosting, dedicated hosting means exactly what you think. Your server is yours to do with as you please (within reason), and all the hard disk storage, RAM, bandwidth, and other resources are exclusive to your hosting needs. You can host one or multiple accounts on the server you lease or own, and this hosting type is typically suited to customers who are expecting upward of 100,000 site visitors per month.
As you can imagine, dedicated servers are the most expensive of the three traditional hosting types (shared, virtual, and dedicated) — with monthly rates ranging from $100 to $2,000. Even when assessing the most costly of hosting company offerings, we take price, performance, security, and all-around bang for your buck into consideration. Check out our picks for affordable, powerful, and reliable dedicated hosting services below.
See more dedicated hosting plans »
Getting deeper into the weeds of premium hosting features, managed services involve the hosting company overseeing some, most, or all aspects of your hardware and infrastructure. The host acts as your IT department while you focus on your blog content, web design, and/or product roadmap. It's a white-glove service that can provide ultimate peace of mind, so naturally, it ups the price.
FYI: Shared hosting is inherently managed. Do not fall prey to a marketing ploy that upcharges for managed hosting on a shared server account!
Depending on the base cost of the hosting, the level of management offered (semi- vs. fully managed), and the acts of service the company chooses to include, managed hosting can cost anywhere from just under $100 to upward of $250 per month for a dedicated managed server. Do your homework before signing up for managed services, added fees, and the comfort of knowing someone more knowledgeable than you is handling the hardware nonsense. Our experts have reviewed the most popular managed server plans, and you can see our top picks listed below.
See more managed hosting plans »
While managed hosting means the host handles the hardware while you handle the software, design, and content, managed WordPress hosting means the host handles the software. Just as there are various levels of management services (self-, semi-, and fully) and each company may do the three types differently, the description of managed WordPress hosting services varies dramatically from host to host.
Typically, we like to see complementary WordPress updates, plugin management, and other troubleshooting and support services. And you can expect to pay north of $10 to $15 per month for such luxuries. The potential for human error is the biggest security risk involved with WordPress, so being able to kick those dev needs over the wall is an increasingly popular choice. Fret not, however, because many hosts are working hard to make managed WP hosting more affordable, and a few top-recommended plans are reviewed below.
See more managed WordPress hosting plans »
The consensus: Web hosting doesn't have to leave you on a diet of Ramen noodles and PB&Js. It's actually rather affordable, so long as you know which features to look for and when you're being taken advantage of. Web hosting is an investment, however, especially since most companies bill annually, and we're here to set you and your business up for success.
We've negotiated special deals with many of the most trusted hosts on the market today. Click here to sort by category and find the largest discounts on shared, VPS, dedicated server, WordPress, and site builder hosting services, or click to activate any one of the coupons below. For convenience, we've selected a few of our most popular bargains:
Technology continues to amaze. All around the world, companies are coming out with new developments that render humans obsolete, and it's kind of awesome. For example, companies like Wix are leveraging artificial intelligence to automate web design. Search engine advertising makes your company's name appear on the radar of potential customers all around the globe without the need for one-on-one marketing efforts. Pre-made templates cut design and development time in half, and the list goes on.
Of course, these futuristic innovations can't all be free. Other costs of creating and scaling a website include:
Domains: Registering a .COM domain is typically around $15 per year; many domain hosts offer a one-year registration for free, but be wary of renewal fees!
Design and Development: Whether you hire a graphic design and web development team or select a theme and adopt a DIY attitude, design has to be factored into your budget. A website designer or developer might charge $50 to $150 an hour, or you can work out a contract that meets both parties' needs. Alternatively, free and premium themes for WordPress, Joomla, and Drupal abound on the web. These may cost as little as $25 for a one-site license.
Marketing: As is the case with any business launch, you have to get your brand out there. Whether you choose pay-per-click (PPC) advertising or a more organic approach, it's an investment. Some hosts, such as iPage or Bluehost, will start you out with free marketing credits to be applied toward Google AdWords, Yahoo, or Bing.
As your website needs grow, so do the maintenance costs involved. Fortunately (or hopefully), your brand's reach and revenues should be growing alongside. For more on which hosting type is best for your next project and how to know when to scale to a more expensive infrastructure, click here. Did you find a statistic I may have missed? Let me know below!
Whatever type of hosting plan you're looking for, Hostinger is a solid choice no matter the scale. Our reviewer Laura Bernheim recently took Hostinger for a spin, and rated the popular host a 4.9 in the Cheap Hosting category out of a perfect score of 5.0. Here's what Laura had to say about Hostinger:
A champion of affordable hosting, Hostinger is a popular pick for site owners looking for beginner-friendly shared servers. More than 29 million customers call Hostinger home as they scale websites through site builder, VPS, and WordPress hosting plans. When searching for a new plan, Hostinger is among the best at balancing high quality with low prices.
Before signing up for Hostinger, it's a good idea to read through Laura's full review to learn about all the features Hostinger offers. You can also compare it to other web hosts to ensure you're getting the best deal possible:
If you decide Hostinger is the right choice, keep in mind that it takes just minutes to deploy your Hostinger server space. And at $1.99 per month, it's a bargain considering the many great features that come in any Hostinger plan.
Advertiser Disclosure
HostingAdvice.com is a free online resource that offers valuable content and comparison services to users. To keep this resource 100% free, we receive compensation from many of the offers listed on the site. Along with key review factors, this compensation may impact how and where products appear across the site (including, for example, the order in which they appear). HostingAdvice.com does not include the entire universe of available offers. Editorial opinions expressed on the site are strictly our own and are not provided, endorsed, or approved by advertisers.
Our Editorial Review Policy
Our site is committed to publishing independent, accurate content guided by strict editorial guidelines. Before articles and reviews are published on our site, they undergo a thorough review process performed by a team of independent editors and subject-matter experts to ensure the content's accuracy, timeliness, and impartiality. Our editorial team is separate and independent of our site's advertisers, and the opinions they express on our site are their own. To read more about our team members and their editorial backgrounds, please visit our site's About page.