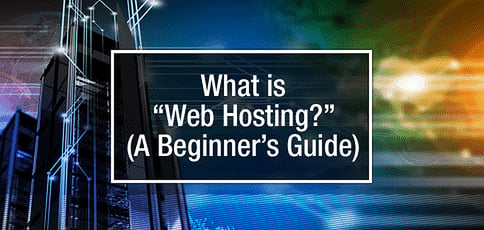 What is web hosting? If you're like many web users, you look around at friends' websites or the Internet in general and think: How are they doing this? How do they just know this stuff?
There's no secret potion or magic behind these engaging websites. Each starts with some form of web hosting, or essentially the process of renting out or buying server space to house your website. That server, housed in a datacenter, connects other web users to your site from anywhere in the world.
In essence, a web host is an accommodating computer that's giving your site a place to stay and will present the content of your site to anyone who visits your web address. While web hosting can take some beginners years of trial and error and research to fully grasp, here we'll cut through that confusion. Below is everything you'll need to get started with web hosting — in one concise, sometimes witty, and hopefully helpful guide:
Best Overall Hosts by Category
A hosting service (or simply, a host) is just a company that has tons of servers, and rents out that server space to people who want their websites to appear on the Web. Renting server space from a host takes just a couple of minutes and you can do so online in just a few clicks.
Besides the easy setup, hosts specialize in keeping servers running 24/7, and they provide you with the technical support needed to get your site up and running smoothly. Best yet, you can get all of this for as low as $3 a month.
To determine which host is best for you, the first thing to note is that there are several categories of web hosting to choose from: shared, dedicated, and VPS hosting being the three main types. Each type of hosting has its pluses and minuses, so you'll want to take a minute to understand what each offers before signing up with a web host. In the following sections, we'll cover a breakdown of the main hosting types, along with our top-rated hosts in each category.
Best Shared Hosting
Shared hosting is essentially housing your website on a server shared by other sites. If you're expecting less than 30,000 monthly visitors coming to your site each month, shared web hosting is probably the way to go. These providers tend to offer a free domain name, as much storage and bandwidth as you could possibly need for a small or medium site, and unlimited email accounts. Plus, you get all of this for about $3 to $10 per month.
By far, the majority of websites fit into the shared hosting bucket. Sharing a server is a great option for first-timers, small business owners, personal sites, and even popular web properties. It's also the most affordable option to boot. Here are the top hosts we'd trust for shared hosting based on our tests of their hosting platforms, their ease of setup, their support staff, and their overall low costs:
Unlimited everything, from storage to databases
FREE site builder & WP performance upgrades
FREE daily or weekly backups
Custom control panel and auto-installation scripts
SSH access & unlimited FREE SSL certificates
CHEAP
RATING 4.9 ★★★★★ Our Review
Hostinger: Our Expert's Review
Laura Bernheim (HostingAdvice.com): As the shared hosting market becomes increasingly saturated, unlimited storage, bandwidth, and email accounts have become surprisingly average. Hostinger, however, extends the routine, expected metrics to greater lengths — the number of websites, databases, FTP users, subdomains, and parked domains are all unrestricted for most customers. Go to full review »
| Money Back Guarantee | Disk Space | Domain Name | Setup Time |
| --- | --- | --- | --- |
| 30 days | 50 GB SSD - 200 GB SSD | FREE (1 year) | 3 minutes |
$1/month for 12 months
No hidden costs - pay just $12 at checkout
Easy setup and 24/7 expert support
FREE domain or transfer, plus FREE SSL certificate
Unlimited storage and databases with most plans
CHEAP
RATING 4.8 ★★★★★ Our Review
1&1 IONOS: Our Expert's Review
Alexandra Anderson (HostingAdvice.com): If budget is the main factor on your mind when searching for your next web host, search no more. 1&1 IONOS has an impressive range of robust web hosting and website building packages for what may be the best price we've ever seen in the world of hosting. Go to full review »
| Money Back Guarantee | Disk Space | Domain Name | Setup Time |
| --- | --- | --- | --- |
| 30 days | 10 GB - Unlimited | FREE (1 year) | 4 minutes |
FREE cPanel integration and Softaculous apps
Auto daily backups and web application firewall
Reliable and redundant cloud servers
FREE SSL encryption and website migration
99.99% uptime guarantee
CHEAP
RATING 4.8 ★★★★★ Our Review
HostArmada: Our Expert's Review
Lynn Cadet (HostingAdvice.com): HostArmada's cloud network spans four continents, with datacenters in Europe, the US, Asia, and Australia. Its server redundancy and website optimization features allow users to run stable and performant sites for end users across the globe while running a simplified hosting environment. Go to full review »
| Money Back Guarantee | Disk Space | Domain Name | Setup Time |
| --- | --- | --- | --- |
| 45 days | 15 GB SSD - 40 GB SSD | FREE (1 year) | 3 minutes |
See More Shared Host Reviews »
Best VPS Hosting
The mid-range hosting type is the most difficult to explain. If you've outgrown the shared hosting environment, but are not quite ready for the cost of a dedicated server, VPS hosting is an option that gives you tons of resources and lots of control over them.
In this instance, your site is renting space from multiple virtual servers in the cloud. This type of hosting is great for seamless scaling as your site grows. Think of VPS hosting as a huge network of mega-powerful computers that are working together to host tons of sites. What's great about the Cloud is that VPS hosts usually charge by the hour, and usually only for the resources you actually use, rather than a flat monthly fee. The cost works out to about $5 to $25 per month. We've tested all the top VPS hosts and highly recommend this service as the #1 choice:
Cloud VPS that's more flexible and affordable
Load balancer, firewall, and managed services
Premium Intel CPUs with 300% more power
Choose between monthly or hourly billing
Sign up today for a 30-day FREE trial
VPS
RATING 4.9 ★★★★★ Our Review
Kamatera: Our Expert's Review
Laura Bernheim (HostingAdvice.com): Backed by cutting-edge cloud computing technology, Kamatera adds instant and limitless scalability to the VPS hosting marketplace. Each cloud or virtual server is equipped with blazing-fast SSD storage and Intel Xeon Platinum CPUs. Go to full review »
| Setup Time | Disk Space | CPU | RAM |
| --- | --- | --- | --- |
| 5 minutes | 20 GB SSD - 4 TB SSD | 1 - 104 cores | 1 GB - 525 GB |
Best Dedicated Hosting
On the flip side of the server spectrum is dedicated hosting. This subset of hosting is intended for sites that are expecting so much traffic (more than 100,000 monthly visitors) or need so much storage and RAM that they require a server solely dedicated to their hosting.
This type of hosting can get costly — about $80 to $2,000 per month — but it is worth it if you're getting a ton of web traffic and need your own server to meet that much demand. Here is our #1 choice for dedicated server hosting based upon our tests of multiple dedicated hosts:
Explore server deals to find the best rates
High powered modern AMD and Intel processors
Unlimited traffic and 1 Gbit/s network connectivity
8-minute deployment with full API control
Auto backups, DDoS protection, and RAID-1 storage
DEDICATED
RATING 4.9 ★★★★★ Our Review
1&1 IONOS: Our Expert's Review
Alexandra Anderson (HostingAdvice.com): If you need blazing-fast speed, optimum uptime, top-notch flexibility, and full control over the fate of your website the dedicated servers from 1&1 IONOS have you covered. The company offers an assortment of entry-level, performance-focused, and business-class server options. Go to full review »
| Setup Time | Disk Space | CPU | RAM |
| --- | --- | --- | --- |
| 7 minutes | 480 GB SSD - 2 TB HDD | 4 - 32 cores, 8 - 64 threads | 16 GB - 256 GB |
See More Dedicated Host Reviews »
And Many Other Hosting Types
While shared, virtual, and dedicated server hosting are the three main leagues of web hosts, many subsets have spiraled off of them. Let's take a look at some of the most popular offshoots of standard web hosting:
Why You Need a Host
While it is physically possible to host your site on your own server if are especially tech-savvy, to do so would be signing yourself up for a laundry list of headaches.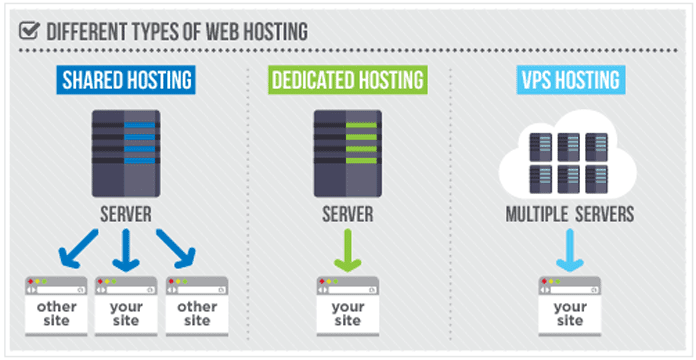 Hosting a website yourself requires an expensive server with a constantly-running power supply, power backups in case of outages, a static IP address (your home computer's IP is always changing or dynamic), and regular hardware maintenance.
This all requires a tremendous amount of technical know-how and hardware that's both costly and complicated to maintain. Since you are new to the world of web hosting and likely lack the technical chops needed to set up and maintain a server, we strongly advise that you opt for a hosting service instead.
Features of a Good Host
When I started writing this, I thought I'd put some perspective on the table. I wanted to look at how many web hosts there are in the world and then dive into how to weed out the amaze-balls hosts from the duds. As it turns out, I couldn't find a definitive stat on the number of hosting providers worldwide — there are that many — which perhaps supports my point even more.
With the ridiculous volume of hosts to choose from, we need some metrics for narrowing down the list. Some key buzzwords to look for are uptime, disk space, money-back guarantee, and reviews.
Uptime
Don't over-think this. Uptime is exactly what it sounds like: the amount of time your site will be up (or online) on average when hosted by a given provider. So if a host touts 100% uptime, they're saying that your site will never go down. Now, realistically this is improbable. At the very least, hosts actually have to schedule downtime for maintenance, plus accidents and system shortages happen. In reality, 99.9% is pretty much an industry standard and five nines (99.999%) is considered very, very, very good for an uptime guarantee.
Disk Space
Disk space is the amount of storage space you're allotted with a host. The amount of disk space you need depends on the amount of content, files, and overall data you plan on storing on the server. Typically, shared users are going to be fine with a minimum of 20 gigabytes of storage. Many shared hosts will actually promise unlimited storage too.
A Note About "Unlimited" Storage
Note that while this sounds über appealing, "unlimited" or "unmetered" storage actually has a limit. Yes, this is what one might call the fine print of the hosting world: unlimited hosting really means you can use as many resources as you want — to a point — which varies from host to host.
Think coupons for a minute. Shoppers see a sign for Buy One, Get One FREE and they go bananas. Who doesn't love BOGO? Well, just because my dark chocolate peanut M&Ms are BOGO doesn't mean I can buy as many bags as it takes to fill my 1-bedroom apartment. That would be over-doing it. My cat would complain. This is why limits exist.
Usually, if you exceed whatever said limit is with your host, it's a sign that your site is starting to outgrow its current environment. Really good hosts will point this out to you and walk you through the scaling process — whether you're a shared user who's ready for a VPS or a cloud customer in need of dedicated resources.
What are SSDs?
It's worth noting that there are also two types of hard drives that your host could provide you with for storage purposes: standard hard drives and solid-state drives (SSDs). Both of these drives are just the disks (of the aforementioned "disk space") that house the content, files, and data your website will need stored. SSDs are a highly-performant type of drive that use what's called flash memory — but all you need to know is that they help websites load (show up in your browser) really really quickly.
What is RAID?
Last thing on storage: Your hard drives can be configured so that one drive's failure doesn't take down your entire system. As you're perusing web hosts, you may come across the terms "advanced configuration" or "RAID" with various numerals to follow. Don't fret. You don't really need to know about this when picking a host at the beginner level, but if you're curious, read on.
The advanced configuration options are done using a technology known as RAID (redundant array of inexpensive disks). RAID groups many drives into one. Three popular configurations are RAID 0, RAID 1, and RAID 5, outlined in the image below.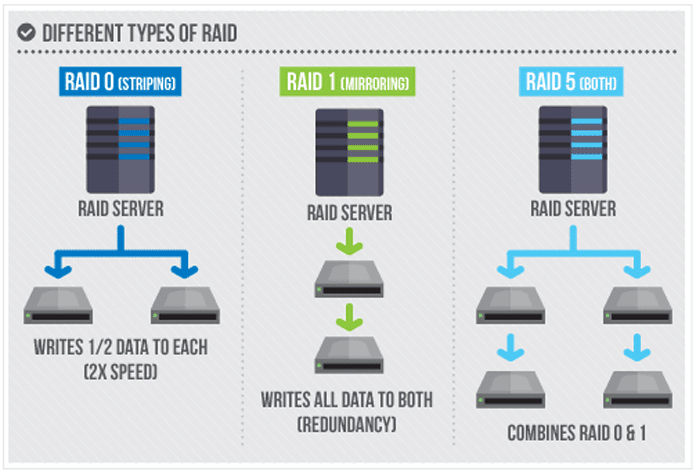 These RAID configurations affect the speed and manner in which the drives read and write the data they exchange. Advanced configurations with RAID can optimize your drive's read and write speeds, but it should hold very little bearing on which host is the right fit for you. At least now you can say you recognize the random array of letters if they come up in your research.
Money-Back Guarantee
This is pretty self-explanatory, but money-back guarantees are key in web hosting.
When you sign up with a host, you're embarking on the start of what will hopefully turn into a fruitful partnership. A host that doesn't offer a money-back guarantee is more of a gamble than a host that is so confident in their services that they're willing to reimburse you if you're dissatisfied in the beginning.
That being said, a host with no applicable money-back offering isn't necessarily of poor quality. Hosts that do offer this feature just come with a zero risk for signup appeal.
Good Reviews
When pulling the trigger on a web host, do your research. What's being said about them? It's well worth your while to check out their reviews online, but be aware that customer reviews are essentially hearsay and not always the most reliable. Remember that the loudest voice in the room is often negative. When was the last time you were really happy with your bank teller and decided to hop online and rave about their customer service on Yelp? If the answer is anything other than "never," you're a really great person, but you're also the exception.
As in any other case where you're seeking guidance or direction, you should turn to someone who knows a lot more about hosting than you do for assistance when choosing a web host. For example, a team with over 50 years combined experience in hosting and tech-related fields would be an excellent confidant.
In case it wasn't obvious, that's us! Check out our reviews of web hosts here. We signed up for accounts with each of the best hosts to do our testing, and we've considered everything from cost to uptime in putting together our ratings.
Will a Host Build My Site?
Hosts generally don't build websites for their customers. Instead, they focus on the technology and support needed to keep websites up and running.
However, some hosts offer very simple drag-and-drop website builders. These website builders are easy-to-use tools that allow you to construct a site without any coding knowledge. Their drag-and-drop, or WYSIWYG (What You See Is What You Get), interfaces allow you to simply move around site elements with your mouse using any of a number of beautiful templates. You can also type in wording, change fonts, and place pictures very easily without being tech savvy.
Want to build your own site in minutes with a drag-and-drop tool? These are our top recommendations for hosts with amazing website builders:
No coding skills needed with drag-and-drop builder
100s of templates with niche-specific designs
Add features via the App Market and Wix Events
Easily create ecommerce functionality easily
Great way to build small sites on a budget
WEBSITE BUILDER
RATING 4.9 ★★★★★ Our Review
Alexandra Anderson (HostingAdvice.com): Website building is where Wix shines. The thousands of templates, the intuitive editor, the industry-leading designs that cater to a variety of specific fields and use cases — all these facets represent a platform that excels at facilitating easy web design for the non-tech-savvy user. Go to full review »
| Money Back Guarantee | Disk Space | Domain Name | Setup Time |
| --- | --- | --- | --- |
| 14-day FREE trial | 2 GB - Unlimited | FREE (1 year) | 4 minutes |
No coding skills necessary with MyWebsite Creator
Free domain name or transfer your existing site
FREE social media and marketing widgets
Pro templates with pre-filled text and images
Multilingual support and tools for SEO
WEBSITE BUILDER
RATING 4.8 ★★★★★ Our Review
1&1 IONOS: Our Expert's Review
Alexandra Anderson (HostingAdvice.com): If you're in need of a one-stop shop for designing and launching a website, you should be pleased to hear that 1&1 IONOS offers its own custom website building tools for both desktop and mobile devices. In addition to a free domain and email address, along with unlimited storage space, the 1&1 IONOS MyWebsite platform includes all the essentials for starting a site from scratch. Go to full review »
| Money Back Guarantee | Disk Space | Domain Name | Setup Time |
| --- | --- | --- | --- |
| 30 days | 10 GB - Unlimited | FREE (1 year) | 5 minutes |
Drag-and-drop design from custom tools
FREE access to hundreds of specialized templates
Built-in ecommerce and payment processing
Easily switch among widescreen, desktop, tablet, and mobile previews
Support for 31 languages and 99.9% uptime
WEBSITE BUILDER
RATING 4.6 ★★★★★ Our Review
Hostinger: Our Expert's Review
Laura Bernheim (HostingAdvice.com): Whether you're taking your first foray into website hosting or are a developer looking to save some time, a strong website builder can dramatically streamline the creation process and enable users to launch a website in five minutes or less. Fortunately for customers, Hostinger has invested heavily in crafting an impressive visual editor sure to appeal to users of all levels of experience. Go to full review »
| Money Back Guarantee | Disk Space | Domain Name | Setup Time |
| --- | --- | --- | --- |
| 30 days | 30 GB SSD - 200 GB SSD | FREE (1 year) | 3 minutes |
See More Website Builder Reviews »
Additionally, many of these hosts will offer 1-click installations for popular platforms like Drupal, WordPress, Joomla, or Magento, which I'd say are one step up from the host's native web builders. They can be a bit more challenging — not impossible, you just have to be willing to learn — but they can also offer more flexibility and functionality when constructing your dream site.
Get Started — Set Up Hosting In 4 Minutes
Now that you know web hosting inside and out, you're ready to fire up a server to host your new website. What's even better is that you can actually be up and running in as little as four minutes! Hopefully the deer-in-headlights look has faded from your eyes as you're browsing the Web and/or pondering your fate as a future website owner.
Equipped with the simply-put expertise of this article, you can do this — and I wish you all the best of luck on your journey toward website ownership.
Get Started With One of 2023's Best Hosts »
While this beginner's guide has hopefully cut down on the number of question marks floating through your brain, I know there are sure to be more down the road. I'd implore you to check out our self-proclaimed-but-aptly-so World's Best Basics Guide to Web Hosting for a more advanced understanding of web hosting. Plus, you'll get to meet our beloved mascot: Hosty!
Further Reading: "What is Web Hosting? A True Beginner's Guide (June 2023)"
Hopefully, our recommendation of Hostinger fulfills all your web hosting needs. Starting at just $1.99 per month and rated 4.9 overall, Hostinger gives users plenty of bang for the buck. Among our favorite features:
Unlimited everything, from storage to databases
FREE site builder & WP performance upgrades
FREE daily or weekly backups
Custom control panel and auto-installation scripts
SSH access & unlimited FREE SSL certificates
If you'd like recommendations similar to Hostinger and others in What is Web Hosting? A True Beginner's Guide (June 2023), check out these popular guides. You'll find comparisons of Hostinger to other hosts on pricing, features, support and more:
And of course, if Hostinger is your top choice, you can get started now at just $1.99/month. Hostinger is easy to set up and scale, no matter the size of your next project.
Advertiser Disclosure
HostingAdvice.com is a free online resource that offers valuable content and comparison services to users. To keep this resource 100% free, we receive compensation from many of the offers listed on the site. Along with key review factors, this compensation may impact how and where products appear across the site (including, for example, the order in which they appear). HostingAdvice.com does not include the entire universe of available offers. Editorial opinions expressed on the site are strictly our own and are not provided, endorsed, or approved by advertisers.
Our Editorial Review Policy
Our site is committed to publishing independent, accurate content guided by strict editorial guidelines. Before articles and reviews are published on our site, they undergo a thorough review process performed by a team of independent editors and subject-matter experts to ensure the content's accuracy, timeliness, and impartiality. Our editorial team is separate and independent of our site's advertisers, and the opinions they express on our site are their own. To read more about our team members and their editorial backgrounds, please visit our site's About page.