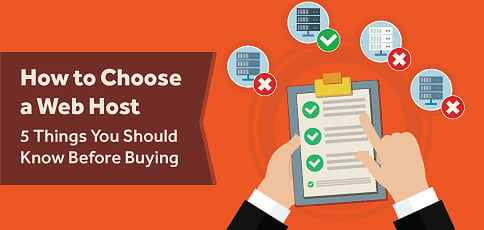 For developers, bloggers, small business owners, and others, learning how to choose a web host is like searching for Mr. Right. It's a familiar question: Which hosting provider should I trust with my heart (er, websites)?
If done right, you can spend a lifetime of happiness with a reliable and high-performing host who is always available through phone, chat, or email to answer your burning late-night questions. However, rushing into a hosting relationship without doing your research could lead to feeling trapped, misled, or extorted. Choosing the wrong host often ends with headaches and a messy, expensive divorce — and you again alone, holding on to all the files you used to share.
We consider ourselves hosting matchmakers and have put together a step-by-step guide to share how to look for hosts and highlighted some of the hosts with the most attractive features — all in the name of helping you find a host you will love for a lifetime.
Before you start looking for a hosting mate, take a moment to think about what you're looking to get out of your next relationship. Just like light sleepers probably shouldn't date people who snore, your needs will affect your compatibility with certain hosting providers and services.
A personal portfolio website doesn't need a dedicated server, just like a high-traffic, high-volume online store shouldn't cut corners with the cheapest shared hosting plan.
Shared Hosting is Great for Small to Medium Sites
In shared hosting, several customers and websites share the same server. On one hand, shared hosting is classic first-boyfriend material — simple and uncomplicated. Most first-time hosting customers should turn to a shared package when entering the web hosting world, then decide when it's time to upgrade to a VPS or dedicated plan to meet your increasing needs.
From a different perspective, however, a shared host is cheating on you with hundreds or thousands of others. Because server resources are split among so many sites, performance sometimes suffers as your website grows. If you're ready to get serious and really boost your traffic, you probably won't want to settle down with a shared hosting plan.
Price, support, storage, and performance are all important features to consider when shopping for a shared hosting service. Other differentiators include eCommerce offerings and free domain options, along with perks like advertising credits, a website builder, and upgraded hardware.
VPS Hosting Offers More Flexibility for Fast-Growing Sites
VPS, which stands for virtual private server, is a happy middle ground between the casual dating of shared hosting and the commitment of a dedicated server. The server is divided into virtual machines, which act as independent dedicated servers. VPS customers still share a server, but they each have much larger portions and greater control than those with a shared hosting plan.
Because you can add or remove additional computing resources as needed, VPS hosting plans are akin to dating around — you might have a relatively serious relationship with your main server squeeze, but that doesn't mean you can't have someone else on standby for when you have an itch you need scratching.
Our favorite VPS hosts usually include storage with high-speed SSDs, or solid-state drives, along with managed services for software updates and patches. Depending on your comfort level with the technical side of things, you'll want to look for a free cPanel license or full root access. You will also see top VPS hosts include monitoring, security, and CDN services to keep you around.
Dedicated Hosting Offers Maximum Server Resources and Security
Finally, you've found The One. High-performing sites need dedicated hosting, which entails using an entire server to power your website or applications. As the name implies, dedicated servers are ready to wait on you hand and foot and meet your every configuration need. Customers have complete control over the doting architecture, meaning they can customize security systems, operating systems, load balancers, and more.
The dedicated kind of love doesn't come cheaply, however. Dedicated hosting plans are among the most expensive, given the top-notch hardware, managed services, and around-the-clock support. High-end hosting, however, comes with a number of luxury features, including automatic migrations and backups, dedicated IP addresses, and choice of operating system.
See more top dedicated server hosts »
Just as how the amount of expected traffic or server load affects which type of hosting plan you'll want to find, your type of website will determine which features are most important to have. Some hosting providers, for example, promote eCommerce functionality while others concentrate on blogging and search engine optimization.
Blog: Consider a WordPress Web Host
With WordPress recently crossing the 28% mark and powering more than a quarter of all websites on the internet, the content management system is an easy pick for writers looking to share their thoughts online. Seemingly every host offers streamlined one-click installations of WordPress, but the best providers include upgraded hardware, unlimited storage and bandwidth, pre-installed programs, and dedicated WordPress expertise and support.
See more top WordPress hosts »
Online Store: Consider an eCommerce Hosting Service
For more than just marketing your brand, an online store is a must-have for business owners. In 2016, analytics firm comScore found that consumers buy more things online than in stores. More than half of the US population shops online, so businesses should find a web host with strong eCommerce options.
The top hosts take care of the added security requirements associated with protecting customer and payment information while also providing beautifully designed templates, access to shopping cart software, and integrations with services such as PayPal and email marketing tools.
See more top eCommerce hosts »
Online Portfolio or Résumé: Consider a Website Builder
Job seekers are finding it increasingly important to have an online presence, even if the desired industry has nothing to do with web design or marketing. For those job applicants without any technological know-how — or, let's be honest, tech-savvy folks who just don't feel like going through the motions of developing a site — website builders are the fastest way to produce a professional online presence that showcases your work.
Many hosts partner with a website builder program, such as Weebly, to provide customers with drag-and-drop tools to create a website, but we really appreciate hosts who craft their own custom solution. InMotion Hosting even went as far as creating a one-of-a-kind website builder, BoldGrid, which eases the stress of first-time site owners who are struggling to design something on WordPress. Still other website builders, including Wix and Squarespace, offer standalone services and customized themes to help you land an interview.
See more top website builders »
Personal Site: Consider a Low-Cost, High-Value Host
Whether you're sharing snapshots from a recent trip to the beach or giving friends and family information about your upcoming event, personal websites still need to convey information in a visually appealing way. Hosting customers don't need to break open the piggy bank to create a stunning site — hosts attract beginners and hobbyists by making web hosting extremely affordable and easy to use.
Just because you see bargain-basement prices, however, don't assume that services will be subpar. Many offer unlimited storage, bandwidth, and email accounts to go with 24/7 support and online marketing credits. To get the best deal, keep an eye out for hosting providers that include high-speed solid-state drives or a content delivery network.
New web hosting customers naturally flock to the providers and plans that offer the most features for the fewest dollars. Instead of just seeking out the most attractive partner, however, you can find greater hosting happiness by looking for a service that is compatible with your specific needs. Businesses might prioritize email functionality over storage, for example, while a developer might prefer high bandwidth rates and stringent security.
The technical features of web hosting might be confusing to beginners, and hosts sometimes use confusing lingo to market their services. You don't need to be wary of mythical plans offering unlimited storage, bandwidth, and email accounts, but you should understand the various hosting components and limitations providers might impose.
Domain Name Registrations
Even though they commonly get lumped together, domain registration and web hosting are two different services. Your domain name serves as your website's address and can be registered and hosted with a different company than the one hosting your site's files. I prefer to keep all my hosting resources in the same account, and many of the best domain hosts include free transfers and migrations. Some providers even include free domain hosting for the first year of newly registered addresses.
Email addresses and inboxes
Email hosting appeals particularly to business owners who want the notoriety and name recognition of including the domain name in email addresses. Hosting providers often include advanced email features, such as forwarding and filtering services, autoresponders, and enhanced security, for clients who need several inboxes or marketing tools.
Storage and RAM
Storage, or disk space, is probably the easiest hosting feature to understand, as well as the component you probably have to worry about the least. Many shared hosting providers offer unlimited storage; while that might not be technically possible, most personal or small business site owners won't come close to reaching the limits. As you move to VPS and dedicated plans, storage can be configured as you go.
The biggest thing to look for when it comes to web hosting storage is a little acronym: SSD. Solid-state drives are much faster and more reliable, but they come at a higher price. Traditional hard-disk drives, on the other hand, are more common in the unlimited plans because they typically come with higher capacities.
As with your personal computer, RAM in web hosting serves a similar purpose: quickly processing stored data. The hardware interacts with your storage drives to accelerate page load times, and many consider RAM to be among the most important features to consider when choosing a host.
Bandwidth and Data Transfer
Also impacting your site performance, bandwidth accounts for the amount of data downloaded or uploaded from a website. Also called data transfers, bandwidth is all about how quickly visitors can access your site's information — the higher the bandwidth, the higher number of people who can view your site at the same time. Again, most hosting customers will receive much more bandwidth than they'll use in a given month, but boosting your data transfer limits is a surefire way to grow your site's traffic without losing performance.
Uptime Rates and Reliability
As entrepreneurs know, time is money. Every second your site is inaccessible can mean hundreds of missed sales opportunities, damaged brand reputation, and lost productivity. The Amazon Web Services outage in early 2017 cost companies an estimated $150 million during three to four hours of interrupted service.
Most hosts guarantee a certain amount of uptime and will reimburse you for any unplanned outages beyond the service-level agreement. Guarantees typically range from 100% to as low as 99%, although most shared hosting customers will find themselves perfectly happy with the ultra-common 99.9% uptime threshold. Larger businesses, however, might prefer to pay a premium for a few extra nines.
Security and Support
Although a website's security is largely dependent on an administrator's behavior and password strength, among other characteristics, the hosting company's infrastructure can represent one of the largest weaknesses. More than 40% of websites are compromised because of a host's vulnerability, so be sure to look for the providers that include firewalls, monitoring services, and other security add-ons. Bonus points for automatic backups and hands-free WordPress updates.
Hosting customers would be hard-pressed to find a provider that doesn't offer 24/7 support through multiple channels, but actual execution varies wildly. Whether you have a billing question or need technical help getting unhacked, customer service should be responsive and ready to assist. Unfortunately, this critical aspect of hosting is hard to discern until you are already signed up for a plan and find yourself needing help. Definitely do your research to tell if a host's support stacks up.
We know, price usually reigns supreme when shopping for a new web host. I've even been sucked into the low-cost hosting scavenger hunt. While your costs should definitely factor into your decision, don't sacrifice support and performance.
Also, don't forget to budget for services such as domain name registration and any themes or plugins you might need to add. Hosting itself can cost as little as a few bucks per month, and most providers will give you a discount for signing up for a year or longer — and that's in addition to the deals our favorite hosts allow us to pass on to you.
Why Free Hosting Isn't Always a Great Idea
We've covered the free and nearly free hosting options before, and our advice remains the same: proceed with caution. The convenience and savings are attractive, but the added features, support, and security you can gain by signing up with a reputable hosting provider are well worth the slight cost.
Wix, for example, offers one of our favorite site building platforms on top of vibrant themes and secure eCommerce tools. You can design and deploy your site for free, but you'll be restricted to a Wix.com subdomain. Upgrading to one of the economical plans removes email, domain, and eCommerce restrictions. Best of all, you can start designing for free with Wix!
Why Cheap Hosting Providers Have More Value to Give
Because hosting companies can pack thousands of hosting customers onto a shared server, providers can afford to include dozens of value-added services with hosting plans. By signing up for an affordable hosting plan, you can experiment with luxury options, such as content delivery networks, automatic backups, website builders, and eCommerce tools, to explore different avenues of online success.
Don't be afraid to daydream about the bright, busy futures of your websites. Some of the more budget-driven web hosts concentrate solely on shared hosting, meaning you'll have to part ways and take your chances out in the hosting dating pool when you're ready to move forward with VPS or dedicated services.
We strongly prefer hosts we can stick with for the long haul. HostGator, our top choice with which to scale, makes VPS provisioning and deployment a breeze. Flexible software options, coupled with powerful hardware and award-winning support, make the company a great choice to usher your website from the shared to dedicated hosting ranks. HostGator offers unlimited free cPanel migrations and up to 90 manual migrations based on which VPS plan you choose.
Finally, what we've all been waiting for — now that we've explained the different types and benefits of hosting services, here are the providers we consider the best of the best.
1. Best Value
Here at HostingAdvice, we prefer to think of plans and providers in terms of value instead of simply following what is printed on the price tag. Between time spent waiting for shoddy support teams, and ultimately transferring your site elsewhere, those free or ultra-affordable plans often end up costing more in the long run. Take the time to find the plan that, for a few extra dollars, unlocks a bevy of useful tools and services that ensure your long-term success.
See more top affordable hosts »
2. Best VPS Hosting
Once you leave the safety nets of shared hosting behind, the quality of infrastructure, managed services, and software tools become supremely important. VPS hosting offers customers more computing power and control than shared hosting without the expenses of running a dedicated server. Flexible VPS scalability means you should find a top-tier host to help you ride out the traffic waves and prepare for the next hosting step.
3. Best Dedicated Server
Once you've reached the top of the hosting universe, you don't want to trust your booming business website with just any hosting provider. The best dedicated servers come with performant architecture and luxurious managed services for a price that won't cripple your organization. Our top choice prioritizes reliability, security, speed, and support no matter how you choose to configure your server.
See more top dedicated server hosts »
4. Best for Blogs / WordPress
As we've said before, WordPress can be tricky to host. Some of the burden falls on hosting providers' hardware and software solutions, while customers can derail their website by improperly editing PHP files, using shoddy themes and plugins, and not updating the content management system frequently enough.
The popularity of WordPress, however, has inspired a few hosting companies to rise above the rest; our pick for the best blogging and WordPress host combines technical expertise with user-friendly features and support.
See more top WordPress hosts »
5. Best for eCommerce
A tech-savvy developer can create a lot of custom solutions from scratch, but even they know to look elsewhere for help when it comes to hosting an online storefront. Given the security demands with processing payments and storing credit card information, not to mention the difficulty coordinating inventory management, order processing, and shipment services, there's no wonder a strong eCommerce host can make a huge impact on your business. The best hosts focus on usability so you can focus on the products and passions behind your business.
See more top eCommerce hosts »
6. Best Website Builder Hosting Service
Following the usability thread, site builders break users out of the cookie-cutter template mold by adding drag-and-drop content blocks that guarantee a website that showcases your personality, brand, and design aesthetic. The WYSIWYG approach, or what you see is what you get, bodes well for inexperienced, first-time site owners. Once your design is built, extend your website by upgrading your integrations with eCommerce, marketing, and events tools.
See more top website builders »
Don't feel lonely or intimidated on your quest for finding Mr. Right. Skip the blind dates and, instead, choose to start a relationship with a web host your friends at HostingAdvice will vouch for.
When reviewing hosting providers and their specific services, we weigh the importance of cost versus quality and how certain features will help your site succeed. We go through support channels to ensure our recommended web hosts will be there to help troubleshoot any issues in a timely manner.
Your hosting soulmate should stick by your side no matter what's in store, whether it's a night of bar-hopping or a quiet night in spent sinking into the couch.
If you find yourself stuck between two hosting suitors, our host versus host reviews show how the two services stack up against each other. Here's to finding your hosting love of a lifetime!
Whatever type of hosting plan you're looking for, InMotion is a solid choice no matter the scale. Our reviewer PJ Fancher recently took InMotion for a spin, and rated the popular host a 4.8 in the Shared Hosting category out of a perfect score of 5.0. Here's what PJ had to say about InMotion:
InMotion Hosting is consistently one of the best hosting providers you'll find. You pay a bit of a premium for great support, powerful hardware, and supreme reliability, but the value of the product is market-leading. Whether you need SSD-powered VPSs or are ready to build your first site with its BoldGrid web builder, InMotion should be a top contender for your host.
Before signing up for InMotion, it's a good idea to read through PJ's full review to learn about all the features InMotion offers. You can also compare it to other web hosts to ensure you're getting the best deal possible:
If you decide InMotion is the right choice, keep in mind that it takes just minutes to deploy your InMotion server space. And at $2.29 per month, it's a bargain considering the many great features that come in any InMotion plan.
Advertiser Disclosure
HostingAdvice.com is a free online resource that offers valuable content and comparison services to users. To keep this resource 100% free, we receive compensation from many of the offers listed on the site. Along with key review factors, this compensation may impact how and where products appear across the site (including, for example, the order in which they appear). HostingAdvice.com does not include the entire universe of available offers. Editorial opinions expressed on the site are strictly our own and are not provided, endorsed, or approved by advertisers.
Our Editorial Review Policy
Our site is committed to publishing independent, accurate content guided by strict editorial guidelines. Before articles and reviews are published on our site, they undergo a thorough review process performed by a team of independent editors and subject-matter experts to ensure the content's accuracy, timeliness, and impartiality. Our editorial team is separate and independent of our site's advertisers, and the opinions they express on our site are their own. To read more about our team members and their editorial backgrounds, please visit our site's About page.