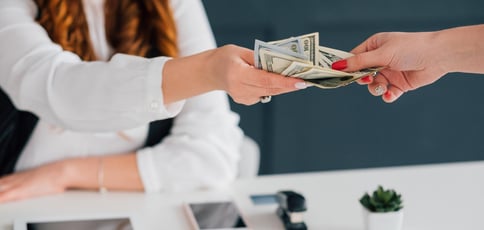 Paired with strong refund policies and uptime guarantees, the best web hosting money-back guarantees give site owners a lifeline in case a plan isn't quite up to snuff.
In addition building consumer trust and remove any concerns about committing to a long-term plan, the policies are just some of the differentiators web hosting brands use to stand out from the crowd. They're as important to online consumers as is the convenience of bypassing crowded shopping malls, cluttered dressing rooms, and slow-moving checkout counters.
We have scoured the internet for the best money-back guarantees, ranging from the relatively standard one-month trial to the truly risk-free 90-day grace period, that are sure to comfort even the most timid of web hosting shoppers. Take a look at our findings below and rest easy knowing you've got plenty of time to make sure your hosting provider is the right fit.
90-Day Money-Back Guarantees
Even though it sounds somewhat backward, a strong refund policy or money-back guarantee can actually increase sales — potentially by as much as 300%. Spending money is painful, and these promises that the customer will be pleased help make the transactions less intimidating.
During the money-back guarantee period, customers can receive a full refund on their purchase, even if they've been using the service for a few weeks. This gives site owners a chance to make sure that a hosting provider's performance, security, and support is up to snuff. After the guarantee expires, customers may only receive a pro-rated refund — or none at all.
That's why the longer a money-back guarantee, the stronger the confidence a customer should have in a product. In an industry where companies rarely stray outside the norms, these hosts' money-back guarantees are three times longer than what you'll typically find for shared web hosting. Be sure to take a deep look at their good reviews:
FREE BoldGrid site builder and templates
FREE website, domain, and cPanel migrations
SSD storage makes your site load up to 20x faster
Security suite includes SSL and hack protection
Unlimited bandwidth and email accounts
CHEAP
RATING 4.6 ★★★★★ Our Review
InMotion: Our Expert's Review
PJ Fancher (HostingAdvice.com): InMotion Hosting offers an excellent business-class shared hosting plan — with a price tag lower than several other budget hosts. For the IT crowd in the audience, you'll appreciate SSH access, as well as support for PHP, Ruby, Perl, Python, WP-CLI, and other popular languages. Go to full review »
| Money Back Guarantee | Disk Space | Domain Name | Setup Time |
| --- | --- | --- | --- |
| 90 days | 100 GB SSD - Unlimited | FREE (1 year) | 5 minutes |
Unlimited storage, bandwidth, and email accounts
FREE website builder with ecommerce tools
FREE site transfers and personalized onboarding
$150 in Facebook, Google, and Bing ad credits
400+ Softaculous 1-click app installers
CHEAP
RATING 4.4 ★★★★★ Our Review
Web Hosting Hub: Our Expert's Review
PJ Fancher (HostingAdvice.com): For those on a budget looking for a first-time host, and for those who would like a few extras to go along with it, Web Hosting Hub has a plan for you. With a whole lot of features, the company is a great value — so long as you are willing to sign up for a longer plan. Go to full review »
| Money Back Guarantee | Disk Space | Domain Name | Setup Time |
| --- | --- | --- | --- |
| 90 days | Unlimited | FREE (1 year) | 6 minutes |
45-Day Money-Back Guarantees
Companies have tons of options to guarantee customer satisfaction (though, to be fair, they're all rather similar). Most hosting providers tend to stick to the tried-and-true money-back guarantee that's limited to a set number of days, as opposed to free trials or promises based on low prices or satisfaction.
Don't get us wrong, though: Hosting providers are quite keen on making sure you're happy with the services you're getting. Customer service and technical assistance teams are usually on standby around the clock to answer any questions or help alleviate any issues you may have, and you can typically reach them via one of many convenient options, such as live chat, phone, email tickets, or even Twitter.
That's why a money-back guarantee that extends beyond the usual 30 days really stands out. HostGator, which boasts a 45-day guarantee, has long enjoyed a stellar reputation when it comes to pairing forward-thinking technologies with personable, friendly support. Learn more below:
Host up to unlimited websites on a single plan
FREE SSL certificate included on all plans
Unlimited bandwidth & email addresses
1-click WordPress installs & FREE blog tools
Get 67% OFF by buying 36 months upfront
CHEAP
RATING 4.7 ★★★★★ Our Review
HostGator: Our Expert's Review
Ryan Frankel (HostingAdvice.com): HostGator is a great compromise between performance and price. The company offers unlimited emails, MySQL databases, disk space, and bandwidth, plus one-click installs of popular open-source projects, in addition to a 99. Go to full review »
| Money Back Guarantee | Disk Space | Domain Name | Setup Time |
| --- | --- | --- | --- |
| 30 days | Unlimited | FREE (1 year) | 4 minutes |
30-Day Money-Back Guarantees
Think of all you can accomplish in a month. Within those first four weeks of a new web hosting plan, there's ample time to design, build, and run a website — or to take advantage of the free site migration your new host may offer. You could also move your website to the new host manually. You can set up your custom email addresses, register add-on domains, install a different content management system, set up analytics to track site metrics… the list goes on and on.
Beyond the basics of hosting a website, this introductory period also lets you become familiar with the company's account management tools, billing system, and web hosting control panel. Are these platforms easy to navigate? Can you see yourself using them effectively for a year or more? If you keep finding yourself getting lost in backend interfaces and rolling your eyes at outdated icons, you may want to consider checking out some other hosting providers.
These hosts offer top-notch services and straightforward money-back guarantees. There are no gimmicks here or phony marketing messages, like supposedly "anytime" money-back guarantees that really cover the same 30 days as the companies listed below — just modern hardware, affordable prices, and user-friendly features.
Cheap shared hosting from a trusted provider
Ideal for hosting a WordPress website
FREE Weebly website builder and Cloudflare CDN
Unlimited traffic and 24/7 live chat support
Get 70% off today with our Bluehost coupon
CHEAP
RATING 4.8 ★★★★★ Our Review
Bluehost: Our Expert's Review
Ryan Frankel (HostingAdvice.com): Bluehost pricing is about as competitive as the industry offers. Sign up for a shared hosting plan for as little as $2.95 per month, and WordPress hosting packages are consistently priced; a VPS plan starts at around $19.99 per month; and the dedicated hosting rates are as little as $79.99 per month. Go to full review »
| Money Back Guarantee | Disk Space | Domain Name | Setup Time |
| --- | --- | --- | --- |
| 30 days | 10 GB SSD - 100 GB SSD | FREE (1 year) | 5 minutes |
Unlimited everything, from storage to databases
FREE site builder & WP performance upgrades
FREE daily or weekly backups
Custom control panel and auto-installation scripts
SSH access & unlimited FREE SSL certificates
CHEAP
RATING 4.8