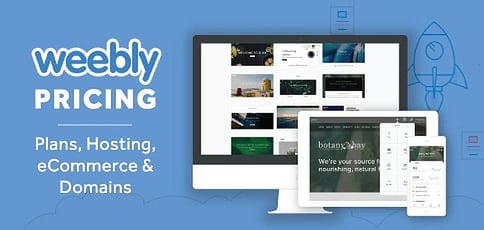 Before spending money on a new website builder platform, be sure to check out our guide on Weebly pricing. The drag-and-drop website builder is one of the more affordable and accessible platforms out there, but how does the cost compare with the features you'll need to launch your site?
Whether you're a budding entrepreneur or are simply looking to share your passion with the world, Weebly offers an inexpensive means to broadcast your message to the masses.
Here, we'll take a look at the different price points of Weebly's plans and compare them with other top web builders. Read on for more information!
Weebly.com Pricing – Overall Rating
When it comes to cost, Weebly ranks near the top of our list for marrying intuitive usability with a wide array of features and templates offered at low price points. Both novice and professional web builders alike consistently rate Weebly highly when it comes to cost, number of features, eCommerce options, and overall value.
Offering plans from basic website creation to comprehensive eCommerce storefronts, Weebly's pricing ranges from free to $38 per month. Whichever plan you choose, it's easy to get up and running. All site owners have to do is choose one of the numerous pre-designed themes and start personalizing pages in the easy-to-use drag-and-drop environment.
Another bonus — many hosting providers offer the Weebly software for free with their hosting plans. This is the ideal way to go, as it will save you the most money long-term. If you're not quite ready for full-fledged web hosting, Weebly's $8 monthly fee for the entry-level plan will give you everything you need to design a beautiful site.
If you're looking for a large return on a minimal investment, Weebly could be right for you. Be sure to check out our comprehensive review of the site builder. We outline pricing, ease of use, features, and reliability, among other factors, below.
Design your site with the popular drag-and-drop site builder
Fully hosted, drag-and-drop site-building and marketing
Choose from 100s of customizable, professional themes
Add contact forms and take RSVPs via apps
eCommerce-ready and SEO-friendly with built-in tools
WEBSITE BUILDER
RATING 4.8 ★★★★★ Our Review
Weebly: Our Expert's Review
Alexandra Anderson (HostingAdvice.com): Weebly is in the elite clique of drag-and-drop website builders that includes WordPress and Wix. com. Go to full review »
| Money Back Guarantee | Disk Space | Domain Name | Setup Time |
| --- | --- | --- | --- |
| 30 days | 500 MB - Unlimited | FREE (w/ paid plans) | 3 minutes |
Best Weebly Alternatives
Obviously, we think Weebly is pretty great. But how does it compare to the other options out there? As you can imagine, there are tons of other companies looking to simplify web design for its users.
Here's our collection of three top providers, ranging from low-cost, hosted builders to self-hosted plans that give users much more flexibility. Read through our reviews here:
No coding skills needed with drag-and-drop builder
100s of templates with niche-specific designs
Add features via the App Market and Wix Events
Easily create ecommerce functionality easily
Great way to build small sites on a budget
WEBSITE BUILDER
RATING 4.9 ★★★★★ Our Review
Alexandra Anderson (HostingAdvice.com): Website building is where Wix shines. The thousands of templates, the intuitive editor, the industry-leading designs that cater to a variety of specific fields and use cases — all these facets represent a platform that excels at facilitating easy web design for the non-tech-savvy user. Go to full review »
| Money Back Guarantee | Disk Space | Domain Name | Setup Time |
| --- | --- | --- | --- |
| 14-day FREE trial | 2 GB - Unlimited | FREE (1 year) | 4 minutes |
No coding skills necessary with MyWebsite Creator
Free domain name or transfer your existing site
FREE social media and marketing widgets
Pro templates with pre-filled text and images
Multilingual support and tools for SEO
WEBSITE BUILDER
RATING 4.8 ★★★★★ Our Review
1&1 IONOS: Our Expert's Review
Alexandra Anderson (HostingAdvice.com): If you're in need of a one-stop shop for designing and launching a website, you should be pleased to hear that 1&1 IONOS offers its own custom website building tools for both desktop and mobile devices. In addition to a free domain and email address, along with unlimited storage space, the 1&1 IONOS MyWebsite platform includes all the essentials for starting a site from scratch. Go to full review »
| Money Back Guarantee | Disk Space | Domain Name | Setup Time |
| --- | --- | --- | --- |
| 30 days | 10 GB - Unlimited | FREE (1 year) | 5 minutes |
Drag-and-drop design from custom tools
FREE access to hundreds of specialized templates
Built-in ecommerce and payment processing
Easily switch among widescreen, desktop, tablet, and mobile previews
Support for 31 languages and 99.9% uptime
WEBSITE BUILDER
RATING 4.6 ★★★★★ Our Review
Hostinger: Our Expert's Review
Laura Bernheim (HostingAdvice.com): Whether you're taking your first foray into website hosting or are a developer looking to save some time, a strong website builder can dramatically streamline the creation process and enable users to launch a website in five minutes or less. Fortunately for customers, Hostinger has invested heavily in crafting an impressive visual editor sure to appeal to users of all levels of experience. Go to full review »
| Money Back Guarantee | Disk Space | Domain Name | Setup Time |
| --- | --- | --- | --- |
| 30 days | 30 GB SSD - 200 GB SSD | FREE (1 year) | 3 minutes |
See other top website builders »
Weebly Website Pricing
Weebly offers four plans to build websites for personal use, blogs, organizations, and businesses. As the prices increase, so do the add-ons. But even Weebly's starter plan is feature-rich and will allow you to build a stunning site.
With an entry-level free plan, Weebly provides a drag-and-drop builder, 500MB of storage, and a Weebly.com subdomain. Sites set up through this plan also enjoy free SEO, lead capture, and online support. Because the plan is offered at no cost, site pages will include Weebly display ads.
A jump to Weebly's Starter plan at just $8 per month when paid annually almost exponentially boosts the number of features of the free offering. The Starter plan allows site owners to connect their own domains, includes unlimited storage, and provides advanced site stats. If you're selling merchandise online, Weebly allows the display of up to 10 products, with checkout done through Weebly.com, and only charges a 3% transaction fee.
| Weebly Website Plan | Pricing Breakdown |
| --- | --- |
| Weebly "Free" Pricing | Cost Implied |
| Weebly "Starter" Pricing | $6/month |
| Weebly "Pro" Pricing | $12/month |
| Weebly "Business" Pricing | $26/month |
For organizations and groups, Weebly offers a Pro plan at $12 per month if paid annually. This plan includes everything offered in the Starter plan with the addition of site search functionalities, password protection, video backgrounds, and the ability to add up to 25 products to merchandise pages. Pro users also enjoy the perk of enhanced technical support from Weebly team members.
Small businesses can take advantage of Weebly's Business plan for just $25 per month when paid annually. The Business plan comes complete with expanded eCommerce tools, including checkouts on the domain, digital goods, inventory management, tax and shipping calculators, coupons, and SSL security, among others.
Weebly eCommerce Pricing
For just $8 per month, users can sign up for Weebly's Starter eCommerce plan and start selling products online. This package includes the same intuitive site-building functionality as all Weebly's offerings. The plan also gives site owners unlimited storage, the ability to connect domain names, site analytics, and a 10-product display limit. Customer checkouts are facilitated through Weebly.com with a 3% transaction fee.
The Pro eCommerce plan is the next in Weebly's tiered offerings. This plan runs $12 per month when paid annually, and includes everything in the Starter package with the addition of site search, video backgrounds, and HD audio and video capabilities, among other features. With the Pro plan, site owners can list up to 25 products on their sites and are able to conference with Weebly's support team at no cost.
| Weebly Website Plan | Pricing Breakdown |
| --- | --- |
| Online Store "Starter" Pricing | $6/month |
| Online Store "Pro" Pricing | $12/month |
| Online Store "Business" Pricing | $26/month |
Businesses looking to build brands and sell merchandise online can enroll in Weebly's Business eCommerce plan for $25 per month. Merchants enrolled in this plan enjoy 0% transaction fees on purchases, unlimited product displays, in-domain checkouts, inventory management tools, and SSL security. The ability to generate coupons for deals on products is also included, which helps promote customer loyalty.
The Cadillac of Weebly's offerings, the Performance plan gives online businesses a comprehensive eCommerce platform to showcase, market, and sell their products. For $38 per month, merchants benefit from real-time shipping rates, auto-generated abandoned cart emails, and gift cards. The Performance plan's marketing suite includes the ability to create up to five email campaigns per month that send messages to 500 contacts per email.
Weebly Domain Pricing
Weebly provides domain purchase and registration for its users with plan options ranging from one to 10 years. Fortunately, Weebly recently dropped its rates to a much more reasonable level.
Weebly Domain Pricing
1 Year
$19.95/year
2 Years
$16.95/year
5 Years
$14.96/year
10 Years
$12.57/year
Instead of charging nearly $40 for a one-year domain registration, users will only pay about half of that. Weebly's domain pricing is still high compared to many other top domain hosts, however, so you may want to look for another registrar.
We do, however, especially appreciate the ability to reserve a domain name for a much longer period. By removing the annoying yearly renewals, you can simple purchase your domain and get to work.
Though the prices seem a bit above the average, site owners have found it beneficial to use Weebly as a one-stop shop for the entire web-building experience, from domain registration to site design and marketing. WebNots provides a pretty good breakdown of Weebly's domain registration process and its advantages and drawbacks.
WordPress vs. Wix vs. Squarespace vs. Weebly Price Comparison
Arguably, the biggest players in the web-building game are WordPress, Wix, Squarespace, and Weebly. All four come with various pros and cons, but, for our purposes, we'll look at how they shake down in relation to cost.
WordPress is probably the most well-known of the big four web builders, powering a whopping 27% of sites on the web. It's an effective platform to quickly get up and running online at seemingly low price points.
WordPress offers a free plan, a Personal plan at $2.99 per month, a Premium plan at $8.25 per month, and a Business plan for $24.92 per month all billed annually. These look pretty good on paper; however, if you're looking to add certain functionalities, such as eCommerce, you'll have to search for plugins. A cheaper alternative would be to build a site with the free open-source WordPress software and purchase hosting separately.
| WordPress Starter Plan | Wix Starter Plan | Squarespace Starter Plan | Weebly Starter Plan |
| --- | --- | --- | --- |
| $2.99/month | $5/month | $12/month | $8/month |
Another popular "W" in the industry, Wix offers a free plan with a Wix domain and branded ads. The builder's premium plans start at $5 per month for a basic domain connection and run up to $25 per month for its VIP plan. Wix sites paid at monthly premiums of $17 or more also include online stores.
Squarespace is the most expensive of all the site builders with an entry plan at a $12 per month price point when billed annually. On the next tier, Squarespace's Business plan runs $18 per month, followed by its plans for eCommerce sites, which run between $26 and $40 per month billed annually. While Squarespace is pricey, even its basic plans are feature-heavy.
When stacked up against Weebly, the other site builders all come pretty close in regard to the cost of the basic starter plans offered. What's difficult to beat, however, is the free Weebly service offered by so many hosting providers.
Weebly Web Hosting Prices Present the Best Deal
Whether you're looking to start a personal blog or an online store, Weebly has a plan for you. Cindy and John's site, Bad Pickle Tees, is a nice example of a well-put-together eCommerce site built at a relatively low premium.
Though the $8 cost of Weebly's beginning plan doesn't seem like much, the price of admission to the site builder goes way down when going through a host that offers the service as part of a hosting package. Expert-recommended iPage is a great place to start. The hosting provider gives the option of using Weebly for your website creation at no cost, your domain name registration is included, and the low hosting price point will save you a bundle long-term.
Choice of Weebly or WebsiteBuilder by iPage
Mobile-optimized and easy-to-use setup wizards
100s of professionally designed themes
FREE online store, shopping cart, and blogging
Get 38% off your first month
WEBSITE BUILDER
RATING 4.9 ★★★★★ Our Review
iPage: Our Expert's Review
PJ Fancher (HostingAdvice.com): Do you want your website built today. If you answered "yes," you should look no further than iPage. Go to full review »
| Money Back Guarantee | Disk Space | Domain Name | Setup Time |
| --- | --- | --- | --- |
| 30 days | Unlimited | FREE (1 year) | 4 minutes |
See Our Full Review of Weebly
Whatever type of hosting plan you're looking for, Weebly is a solid choice no matter the scale. Our reviewer Alexandra Anderson recently took Weebly for a spin, and rated the popular host a 4.8 in the Website Builder Hosting category out of a perfect score of 5.0. Here's what Alexandra had to say about Weebly:
Weebly is one of my favorite website builders to recommend to newbies, not only because of the welcoming, intuitive interface but also because many of the top hosts have elected to offer Weebly for free with their plans. It's easy to love Weebly's drag-and-drop simplicity and commerce-friendly themes, and the learning curve is virtually non-existent.
Before signing up for Weebly, it's a good idea to read through Alexandra's full review to learn about all the features Weebly offers. You can also compare it to other web hosts to ensure you're getting the best deal possible:
If you decide Weebly is the right choice, keep in mind that it takes just minutes to deploy your Weebly server space. And at $10.00 per month, it's a bargain considering the many great features that come in any Weebly plan.
Advertiser Disclosure
HostingAdvice.com is a free online resource that offers valuable content and comparison services to users. To keep this resource 100% free, we receive compensation from many of the offers listed on the site. Along with key review factors, this compensation may impact how and where products appear across the site (including, for example, the order in which they appear). HostingAdvice.com does not include the entire universe of available offers. Editorial opinions expressed on the site are strictly our own and are not provided, endorsed, or approved by advertisers.
Our Editorial Review Policy
Our site is committed to publishing independent, accurate content guided by strict editorial guidelines. Before articles and reviews are published on our site, they undergo a thorough review process performed by a team of independent editors and subject-matter experts to ensure the content's accuracy, timeliness, and impartiality. Our editorial team is separate and independent of our site's advertisers, and the opinions they express on our site are their own. To read more about our team members and their editorial backgrounds, please visit our site's About page.