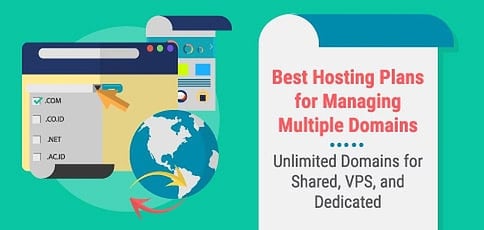 With more than 355 million domain name registrations all over the world, where do you turn for the best hosting for multiple domains?
Naming a website or online business can be daunting, with the pressure to get it just right. The name has to be creative and unique — but not too creative or unique. And once you find it, you want to make sure its yours forever. Whether you're naming a furbaby, business, boat, or website, the perfect name should be short, meaningful, and relevant to the subject. Domain names are no different. As you add names and critters (or domains and websites) to your pack, you'll have to make sure you have plenty of room in your house (or hosting account).
A hosting company's domain policies can vary widely, with some placing strict limits and others offering unlimited domains. Still others will give you a free domain for the first year, and a few will even pay your renewal fees for the life of the account. We've handpicked a variety of providers that stand out for hosting multiple domain names, no matter the server situation.
Best Overall: "Unlimited Domain" Hosting
Choosing the right domain name for your website or online business is critical for your success. In fact, many argue that registering a domain should come before creating any design or branding elements. With more than 330 million domains already registered and roughly 10 million more reserved every three months, options are not getting easier to find.
Not only is identifying and registering a relevant domain name crucially important, but the company you select to record your domain purchase plays a key role in your success. Not only are there hundreds of accredited registrars, but services, prices, and options to transfer domains can range drastically. We recommend looking for a hosting company that can both register and host your domain. Bonus points for free registrations, unlimited websites, and high marks for storage and bandwidth.
Our top three picks will all pick up the tab for your first domain registration (renewals will eventually cost about $15 per year). All of the iPage hosting plans allow for an unlimited number of domains names, while InMotion and Bluehost save that perk for the higher tiers of shared hosting.
FREE domain registration and transfer
Unlimited disk space, domains, and MySQL databases
$200 toward Google AdWords and Bing advertising
Unlimited bandwidth and email addresses
FREE online store and website builder
iPage: Our Expert's Review
Setup time: 5 minutes
Go to full review

»
With iPage domain hosting, users get a free domain name registration or a free domain transfer, and can host unlimited domains. The company offers unlimited bandwidth and emails, plus $200 in advertising credits to help get your website launched…
| Money Back Guarantee | Disk Space | Domain Name | Domain Hosting Plans |
| --- | --- | --- | --- |
| 30 days | Unlimited | FREE (1 year) | www.ipage.com/domain |
FREE domain name registration and site-building tools
Get up to unlimited domains, emails, and bandwidth
Up to $200 in offers with Google, Bing, and Yahoo!
1-click WordPress install and WordPress's endorsement
24/7 customer support and online tutorials
Bluehost: Our Expert's Review
Setup time: 4 minutes
Go to full review

»
Bluehost offers all the freebies you need to get started with domain hosting. The company includes a free domain or transfer, plus unlimited bandwidth and storage. With 24/7 support and up to $200 in PPC credits, Bluehost offers excellent, reliable domain...
| Money Back Guarantee | Disk Space | Domain Name | Domain Hosting Plans |
| --- | --- | --- | --- |
| 30 days | 50 GB - Unlimited | FREE (1 year) | www.bluehost.com/domain |
World's largest domain registrar with 17+ million domains under management
FREE domain included with annual plans
Manage your domains via cPanel or Plesk
FREE email hosting at your domain
99.9% website uptime guaranteed
GoDaddy: Our Expert's Review
Setup time: 4 minutes
Go to full review

»
We'd be remiss not to include GoDaddy on this list of the top domain name hosting providers. Perhaps the most well-known name in the domain space, GoDaddy is widely recognized as the world's top registration services company, and the $1 hosting is...
| Money Back Guarantee | Disk Space | Domain Name | Domain Hosting Plans |
| --- | --- | --- | --- |
| 30 days | 100 GB - Unlimited | FREE (1 year) | www.godaddy.com/domain |
See more domain hosting services »
Best Hosting for Multiple Domains & Emails
Many online business or website owners opt to find domain hosting plans with strong email services. The custom domain name lends more credibility, professionalism, and authority than the standard Gmail or Yahoo email address.
If a name-brand email address is important to you or your business, be sure to look for a hosting plan that includes unlimited email addresses, plenty of space, web-based access, and tools for forwarding and autoresponders, along with spam filters, an antivirus program, and the various supported protocols. This host is our favorite for email hosting:
FREE software for webmail, newsletters, contact forms, list management, and spam filtering
Unlimited addresses with forwarding & autoresponders
Secure POP3, IMAP, and SMTP messaging
Unlimited storage and transfer with FREE SSL
Get more than 50% off today (was $7.99/month)
A2 Hosting: Our Expert's Review
Setup time: 4 minutes
Go to full review

»
Combining the internet's most popular and secure email technologies with high-speed and reliable infrastructure, A2 Hosting ensures your messages are delivered on time. As a recipient, you'll appreciate the company's multiple spam filtering...
| Money Back Guarantee | Disk Space | Domain Name | Email Hosting Plans |
| --- | --- | --- | --- |
| 30 days | Unlimited SSD | New or Transfer | www.a2hosting.com/email |
See more email hosting services »
Best Hosting for Multiple Domains with Website Builder
Maybe, instead of email, your key to hosting happiness lies in a professional or visually appealing website. If your artful eye outpaces your web design and coding skills, you may be best served by a domain and web hosting account that comes with a free site builder.
These tools typically come with hundreds of customizable templates that can be adjusted through a drag-and-drop interface. Templates are almost always responsive or mobile-friendly, and the best site builders enable users to easily add an eCommerce store, calendar system, or other add-ons that boost functionality and interactivity for your business website. Our pick accomplishes all of these metrics with aplomb:
FREE domain name and seamless site transfer
Includes 1-click installer with over 310 apps
FREE SSDs for shared business hosting plans
Easy installs for WordPress, Joomla, and PrestaShop
FREE data backups and complimentary SSL certificate
InMotion: Our Expert's Review
Setup time: 5 minutes
Go to full review

»
Looking for leading-edge technology and fully reliable support? InMotion may be the host for you. Their domain hosting includes a free domain name registration, zero-downtime website transfers, and your choice of datacenter, with free SSDs…
See more website builder hosting services »
Best "Shared" Hosting for Multiple Domains
Domain services are perhaps the most varied — and marketed — at the ultra-competitive shared hosting level, which is where most customers will probably want to start. Shared hosting is the least expensive option because a server's resources are divvied up among hundreds or sometimes thousands of customers. Most major shared hosting providers will include a free domain registration when you sign up, but you will definitely want to read the fine print when it comes to transfers, renewals, and refunds.
When looking for a strong shared hosting plan for your domain names, our most recommended provider includes plenty of disk space and data transfers for housing multiple websites and withstanding the traffic they receive. Be sure to keep an eye out for upgraded features, such as a content delivery network, advertising credits, site builder, or solid-state drives.
Known for performance at a low price
Endorsed by WordPress.org team
FREE Weebly site builder
FREE Cloudflare CDN
Get 63% off today (was $7.99/month)
Bluehost: Our Expert's Review
Setup time: 4 minutes
Go to full review

»
If you're looking for an affordable host, Bluehost is a solid, reputable choice; The company's low costs, coupled with its supremacy in the shared hosting arena, is what makes this provider such a valuable deal. The Bluehost name is listed toward the top of...
| Money Back Guarantee | Disk Space | Domain Name | Cheap Hosting Plans |
| --- | --- | --- | --- |
| 30 days | 50 GB - Unlimited | FREE (1 year) | www.bluehost.com/shared |
See more shared hosting services »
Best "VPS" Hosting for Multiple Domains
As you move up the hosting ladder, information on domain hosting can become more scarce. Customers who have grown a business or website to a level where virtual servers make the most sense, many hosts prefer to tout the advantages found in their infrastructure, rather than the relatively extraneous add-on services.
That being said, domain-friendly VPS hosts typically want to hold onto their most successful customers and offer the same registration and transfer services. With more computing resources available, unlimited domain names and websites become more commonplace. Here's where free migrations become super important, as many of our top hosts offer hassle-free transfers with little to no downtime. We picked the following host for its service, support, security, and scalability:
Managed or unmanaged virtual servers available in Windows or Linux
Cloud hosting instances with hourly or monthly billing
Instant upgrades without downtime
FREE around-the-clock monitoring
Automatic nightly backups available
Hostwinds: Our Expert's Review
Setup time: 6 minutes
Go to full review

»
Does any hosting provider have more virtual private server packages than Hostwinds? The company offers 10 configurations — and that's just for managed Linux server partitions. Hostwinds provides 10 additional plans each for managed Windows VPS and unmanaged...
| Money Back Guarantee | Disk Space | Domain Name | VPS Hosting Plans |
| --- | --- | --- | --- |
| N/A | 30 GB - 750 GB SSD | New or Transfer | www.hostwinds.com/vps |
See more VPS hosting services »
Best "Dedicated" Hosting for Multiple Domains
If you're paying around $100 or more per month for server space, a $15-per-year domain name seems rather trivial. Those needing top-notch performance, security, and reliability, however, certainly don't want to scrimp on domain hosting features. Because of the customizable, built-to-order nature of dedicated server configuration, multiple domains are typically a cinch to register and host. The added perks you'll want to look for include dedicated IP addresses and premium DNS services. Here's our go-to resource for all things dedicated hosting:
100% network and power uptime guarantees
Custom configurations, SSDs, and instant provisioning
Auto-migrations, backups, and real-time monitoring
Block/object storage and load balancer add-ons
Windows or Linux servers with 100% uptime guarantee
Liquid Web: Our Expert's Review
Setup time: 8 minutes
Go to full review

»
Liquid Web's strong suit is managed dedicated server hosting. The company owns and operates five state-of-the-art datacenters in the US and Europe works tirelessly to build and maintain custom solutions for added performance and security.Liquid Web offers...
See more dedicated hosting services »
Host One or More Domains, Emails, and Sites on a Single Account
Even though I occasionally call my dogs by the wrong name — a trait I inherited from parents who sometimes swapped my name for my sister's — you can rest assured that the hosting providers listed here will do a much better job of keeping your domain names organized and secure as they deliver visitors to your website with speed.
Spreading your hosting and website bets across multiple domains increases your chance of success while ensuring you get the most out of your money. Rather than paying for separate accounts for each domain, prospective hosting customers ruled by strict budgets need not fret: Affordable and free domains are readily available on hosting plans that serve a variety of needs.