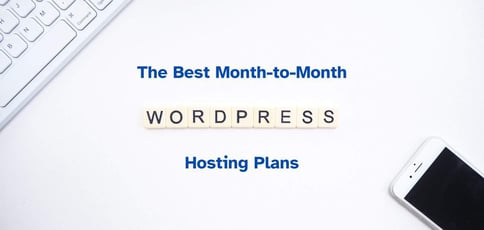 You've got your website all polished and ready to go, but there's a catch — you're not quite ready to commit to a long-term relationship with a web hosting provider. That's where the magic of month-to-month web hosting comes into play.
You can test the waters, experiment with different hosting features, and even flirt with multiple hosting providers without feeling tied down by a lengthy contract. In other words, a month-to-month plan gives you the freedom to adapt, whether you're a passionate blogger, budding eCommerce entrepreneur, or an artist showcasing your work.
So, if you're the type who loves a hassle-free, "let's see where this goes" approach to hosting your online presence, the following best month-to-month WordPress hosting options are guaranteed to pique your interest.
Best Month-to-Month WordPress Hosts
When running a site, arguably no platform can match the versatility and user-friendliness of WordPress. Accordingly, there is no shortage of flexible WP hosting solutions as seemingly countless hosting providers offer a month-to-month web hosting plan that will likely suit every type of user.
In a digital landscape where adaptability is key, a WordPress month-to-month web hosting plan gives you options to navigate your online journey at your own pace, budget, and preference. In that regard, here are some web hosts that offer affordable prices without compromising on quality.
Officially endorsed by WordPress.org
FREE migration plugin or automated installation
Pre-installed Git, 3 caching levels, and FREE CDN
FREE WP setup wizard, staging, and auto-updates
Fast, 24/7 support via custom chat system
WORDPRESS
RATING 4.9 ★★★★★ Our Review
SiteGround: Our Expert's Review
Alexandra Anderson (HostingAdvice.com): Want a hassle-free, WordPress-optimized hosting service. SiteGround has thought of everything you need to get your site up and running. Go to full review »
| Money Back Guarantee | Disk Space | Domain Name | Setup Time |
| --- | --- | --- | --- |
| 30 days | 10 GB SSD – 40 GB SSD | New or Transfer | 6 minutes |
Thanks to its WordPress Starter site-building wizard, SiteGround will get your digital real estate up and running in no time. The automated installation is supplemented by managed auto-updates of the core software and plugins, expert support, and a commendable amount of freebies such as Cloudflare CDN, WP migration, and email.
SiteGround's WordPress plans come with:
User-friendly installation
Free SSL, auto-migration, updates, and backups
Fast, 24/7 customer support
The end result is a fully functional website in only a few minutes, without any mandatory technical knowledge. Those willing to pay more will gain access to perks that include 30% faster PHP, on-demand backup, staging, and pre-installed Git, to name a few. With in-house security solutions that will protect your site, SiteGround has built a service guaranteed to satisfy any hosting need.
1-click WP install, PHP 7+, HTTP/2, and NGINX
All-in-one security protections from BitNinja
WordPress optimizations boost performance
No price markup for WordPress services
Daily backups and FREE SSL certificate
WORDPRESS
RATING 4.9 ★★★★★ Our Review
Hostinger: Our Expert's Review
Laura Bernheim (HostingAdvice.com): As much as we love WordPress, one of our biggest pet peeves is when hosting providers exploit the popularity of the world's most-used content management system by offering so-called WordPress hosting that, in reality, is exactly the same as the host's shared server plans. Fortunately, Hostinger's ultra-fast infrastructure and easy access to SSL certificates and backups sets up the company to outperform the vast majority of the violators of our admittedly made-up rule. Go to full review »
| Money Back Guarantee | Disk Space | Domain Name | Setup Time |
| --- | --- | --- | --- |
| 30 days | 50 GB SSD – 200 GB SSD | FREE (1 year) | 4 minutes |
Streamlined installation and setup, affordable rates, unlimited bandwidth, and free SSL — these are just some of the features that Hostinger offers right from the bat. Throw in the LiteSpeed servers that use server-level cache for improved site loading times, and you get a comprehensive package among the best month-to-month WordPress hosting offers out there.
Hostinger also has:
Automatic site migration and one-click installation
Optimized WordPress hosting performance
Comprehensive security features
The hosting provider seems to have particularly beefed up its security aspect with Cloudflare's DDoS protection, malware scanner, access management tool, and free domain privacy protection. For even more WordPress features, you can pay an additional dollar per month and get a WordPress staging tool, object caching, on-demand backups, and in-house developed AI tools that generate content specific to your website.
Up to 12x faster WordPress hosting
FREE SSL certificate and SSD storage
Automatic WordPress plugin, theme, and core updates
Features a FREE drag-and-drop WP page editor
Premium themes and plugin subscriptions
WORDPRESS
RATING 4.9 ★★★★★ Our Review
InMotion: Our Expert's Review
PJ Fancher (HostingAdvice.com): InMotion Hosting, long known for affordable and high-performance shared hosting options, entered the WordPress space with a solid option built upon the company's reputation for great support and reliability. Build on an all-SSD infrastructure, InMotion's inherently quick speeds make the infrastructure a perfect fit for delivering rapid WordPress page loads. Go to full review »
| Money Back Guarantee | Disk Space | Domain Name | Setup Time |
| --- | --- | --- | --- |
| 90 days | 100 GB – Unlimited NVMe SSD | FREE (1 year) | 5 minutes |
There's a lot to like about the WordPress package from InMotion, starting with an enterprise-level SSD infrastructure that promises significantly faster speed and performance. From there on, each plan features free lifetime 2048-bit encrypted SSL, unlimited bandwidth, security and marketing tools, plus backend tools like SSH access and GIT version control to power your frontend apps.
InMotion Hosting also offers customers:
Speedy and reliant WordPress hosting
Lots of security and marketing tools
Feature-packed WP Pro plan
It's worth noting you'll have to pay a premium for the WP Pro plan (the only available monthly hosting plan), but you do get quite a bit in return. Besides more than 200 templates, cPanel, WordPress optimized stack, and optional automatic updates of WordPress, plugins, and themes, there are more advanced features. These include a dedicated IP address and caching for faster loads and live chat and phone support.
WordPress hosting for up to unlimited sites
FREE WordPress website migration
Fully managed hosting with DreamPress plan
NEW WordPress website builder tool
1 of 3 providers endorsed by WordPress.org
WORDPRESS
RATING 4.9 ★★★★★ Our Review
DreamHost: Our Expert's Review
Laura Bernheim (HostingAdvice.com): One of only three hosting providers recommended by the WordPress Core team, DreamHost has actively contributed to the WordPress community for more than a decade. The company's platform is optimized for the incredibly popular content management system, and plans include easy setup, automated updates and backups, unlimited bandwidth, and 24/7 specialized support. Go to full review »
| Money Back Guarantee | Disk Space | Domain Name | Setup Time |
| --- | --- | --- | --- |
| 97 days | unlimited | FREE (1 year) | 4 minutes |
As one of only two hosting providers recommended by the WordPress Core team, DreamHost starts you off with a shared hosting plan that includes free automated WP migration, pre-installed WordPress, unlimited traffic, and the option to customize your site with zero coding knowledge. Whether you're a novice, a seasoned site owner, or somewhere in between, the company offers a variety of WordPress-optimized plans and solutions with 24/7 available specialized customer support in case there's a hiccup.
DreamHost at a glance:
Endorsed by WordPress.org
Customizable and scalable plans
100% uptime guarantee (compared to the 99.9% standard)
You also get an SSL certificate, email, and domain and privacy protection for free, together with 200+ site templates covering a wide array of industries. If you require more, the provider's managed WordPress solution is a bonafide highlight (more on that later on), plus there are four VPS hosting plans. These contain scalable RAM and SSDs, along with no limit on bandwidth, MySQL databases, and emails. In the event you need more convincing, DreamHost offers a 100% uptime guarantee.
Managed WordPress hosting on shared servers
WordPress is preinstalled on all plans
Unlimited email addresses hosted at your domain
99.9% uptime guarantee for your blog
$150 in Google Ads spend match credit
WORDPRESS
RATING 4.8 ★★★★★ Our Review
HostGator: Our Expert's Review
Ryan Frankel (HostingAdvice.com): HostGator is great for all things shared hosting, and application-specific services — such as the classic one-click-install WordPress hosting — are no exception. The team recently updated its already clean and intuitive HostGator cPanel dashboard, wherein users can find a myriad of free apps and scripts to install, including WordPress. Go to full review »
| Money Back Guarantee | Disk Space | Domain Name | Setup Time |
| --- | --- | --- | --- |
| 30 days | Unlimited | FREE (1 year) | 4 minutes |
"The easy way to WordPress" is HostGator's motto, and it's difficult to find fault in that statement. For starters, the company's team of experts will migrate your site for you free of charge, while WordPress comes pre-installed. HostGator's ready-to-go platform makes creating and running a WordPress website quick and painless, courtesy of a smart builder and a simplistic control panel. You can perform one-click installs and restores, set up auto-backups, and manage your account with minimum hassle — just as it should be.
More on HostGator:
Quick and easy setup with pre-installation
Simplified control panel
High level of security via SiteLock
Shared web hosting clients get a $500 Google Ads credit after spending $500 on Google Ads. On the other hand, managed WordPress hosting users (a.k.a. the more serious ones) get 2.5x the speed as the cloud-based infrastructure is optimized for performance. Other features include multiple layers of caching tools, complimentary CDN, and beefed-up security via SiteLock Fix (malware protection) and CodeGuard (daily backups) to go with a free SSL certificate.
Migrate unlimited WP sites using Cloudways plugin
FREE CDN and WordPress staging areas
Caching plugin, Breeze, comes pre-installed
SSD storage for 3x faster WordPress hosting
25% OFF with code HOSTINGADVICE
WORDPRESS
RATING 4.8 ★★★★★ Our Review
Cloudways: Our Expert's Review
Alexandra Anderson (HostingAdvice.com): Cloudways makes it simple to kick-start a WordPress site or app hosted in a cloud environment. During the initial setup, we were given a choice of a single- or multi-site installation of the latest WordPress version — complete with Cloudways optimizations — or a no-frills WP install. Go to full review »
| Money Back Guarantee | Disk Space | Domain Name | Setup Time |
| --- | --- | --- | --- |
| 3-day FREE trial | 20 GB SSD – 4 TB SSD | New or Transfer | 8 minutes |
What makes Cloudways one of the best month-to-month WordPress hosting options is the fact it simplifies the entire process. With the click of a button, you can easily install and then make virtually any tweak — from cloning fully configured servers to push and pull changes during staging and production with zero downtime. Of particular note is Cloudways' uniquely optimized PHP stack (Nginx, Varnish Cache, Apache, etc.) that does a great job improving site speeds, in some cases tenfold.
A look at Cloudways:
Speedy performance
Highly scalable and elastic cloud servers
3-day free trial, no credit card required
What's more, Cloudways lets you scale your servers as your site grows. To sweeten the deal, the provider throws in many built-in features, such as WP-CLI, bot protection, app and server-level monitoring, and so on — alongside free stuff like site migration, Object Cache Pro, and SSL. As if that wasn't enough, you can enjoy a 3-day free trial without any charges (no need to add a credit card) to give the desired hosting plan a spin before paying up.
1-click WordPress installs via cPanel or Plesk
FREE domain from the world's #1 registrar
Experience 24/7 expert support
Award-winning security monitoring
FREE year of Office 365 business email services
WORDPRESS
RATING 4.4 ★★★★★ Our Review
GoDaddy: Our Expert's Review
Ryan Frankel (HostingAdvice.com): As champions of low-cost, high-impact hosting, GoDaddy understandably offers a slew of services geared for all levels of WordPress users. Starting with the company's basic shared hosting services, which start at $2.99 per month, each GoDaddy customer who signs up for an annual plan receive a free domain name and the power to control their site via the cPanel or Plesk control panels. Go to full review »
| Money Back Guarantee | Disk Space | Domain Name | Setup Time |
| --- | --- | --- | --- |
| 30 days | 30 GB SSD – Unlimited SSD | FREE (1 year) | 6 minutes |
As an all-in-one solution provider that delivers WordPress-optimized managed hosting, GoDaddy caters to all levels of WordPress users. Beginners can take advantage of prebuilt sites and startup support, while more advanced users can leverage a host of features such as WP-CLI, SSH and SFTP access, staging site, and developer access. The implementation of NVMe SSDs, Object Cache Pro, and Cloudflare CDN promises faster load times, supported by automatic WordPress core software and security updates.
GoDaddy's WordPress hosting includes:
High-performance features
24-hour malware scans and removal
Extensive eCommerce support
The hosting provider's 24-hour security monitoring via malware scans and removal is commendable and a big factor contributing to the 99.9% uptime guarantee. For online store owners, GoDaddy also has a separate managed WordPress hosting with a pre-installed WooCommerce plug-in, complete with premium extensions for store customization, domain, SEO optimizer, daily backups, daily malware scans, removal, and hack repair.
Best Month-to-Month Managed WordPress Hosts
Though WordPress is relatively easy to use, it requires a teensy bit of technical knowledge to manage it for maximum effect. For those who lack such expertise or simply can't be bothered to tinker under the hood, managed WordPress hosting is ideal. It's a type of WP hosting specifically designed for WordPress websites that takes care of all the technical aspects, leaving you free to focus on creating content and growing your business.
Since this is a specialized service, that means you get improved performance and security, automatic updates and backups, expert support, WordPress-specific features, and overall peace of mind knowing that your WordPress site is in good hands. For a hassle-free WordPress affair, these companies check all the boxes and then some.
Fully managed, stress-free WordPress hosting
More than 5x faster than traditional shared hosting
Advanced site backup and security features
Now includes Jetpack pre-installed
Easily scale to handle traffic spikes
MANAGED WORDPRESS
RATING 4.9 ★★★★★ Our Review
DreamHost: Our Expert's Review
Laura Bernheim (HostingAdvice.com): Managed WordPress hosting with DreamHost is the crème de la crème of concierge services for the popular platform. We appreciate that DreamHost doesn't cap your bandwidth, so your WordPress site is free to scale and can accommodate unexpected spikes in traffic. Go to full review »
| Money Back Guarantee | Disk Space | Domain Name | Setup Time |
| --- | --- | --- | --- |
| 97 days | unlimited | FREE (1 year) | 4 minutes |
Under the label DreamPress, Dreamhost has created a fully managed WordPress solution that isolates server resources, meaning your website's performance won't be affected at any time. By default, DreamPress plans have access to a quick start wizard, 200+ design themes, and a drag-and-drop editor. Regarding the performance side of things, you get a custom-built control panel, built-in caching, no cap on bandwidth, and dynamic auto-scaling of memory to grow with your traffic, resulting in five times faster performance than shared hosting.
More about DreamPress:
5x faster than shared hosting
Jetpack comes pre-installed
Custom WordPress plan to fit your goals and budget
DreamPress Plus and Pro include Jetpack Professional, arguably the most powerful WordPress plugin that boosts your site with various enhancements, including unlimited CDN for additional redundancy protection and the fastest possible content loads. To top it all off, DreamHost offers the option to design the optimal managed WordPress solution for those who have high traffic levels or are managing multiple sites.
Fully managed WordPress hosting for 1 to 100 sites
Get started quickly with Qubely Pro for Gutenberg
1-click staging and unlimited email accounts
Built-in image compression, caching, and CDN
24/7/365 support via phone, email, and live chat
MANAGED WORDPRESS
RATING 4.9 ★★★★★ Our Review
Nexcess: Our Expert's Review
Laura Bernheim (HostingAdvice.com): Unlock the peace of mind that comes with premium managed services delivered by WordPress experts. The Nexcess team bundles performance, security, and always-available support into high-value hosting. Go to full review »
| Money Back Guarantee | Disk Space | Domain Name | Setup Time |
| --- | --- | --- | --- |
| 30 days | 15 GB – 800 GB | | 6 minutes |
Whether you need it for one site or 250 of them, Nexcess has a managed WordPress hosting plan that will hit the sweet spot. The in-house team takes a hands-on approach when it comes to site migration (it's free), but you can also do the work yourself with provided page builder plugins. From there on, it's a veritable bonanza of performance, security, and scalability features that make you feel your money is put to great use. We're talking free access to staging, SSLs, daily backups, unlimited email, premium plugins, and a curated WordPress stack, to begin with.
The Nexcess WordPress offering includes:
Professional-grade managed WordPress
Built-in image compression, caching, and CDN
Multi-site management
Nexcess (part of the Liquid Web family) provides built-in image compression, Nginx and Redis caching, nifty page-level monitoring that automatically detects performance changes whenever you add a WordPress plugin, and 24 hours per month of free PHP autoscaling to keep scaling costs under control. Then, there are Hubspot-powered marketing tools with Yoast SEO, language translation, and multi-site management with iThemes Sync Pro — we could go on. Suffice it to say that you get everything you need to design your site, grow your audience, and keep it secure at all times.
High-touch managed WordPress hosting
FREE speed boost via built-in CDN and custom FlyCache technology
One-click sandbox environment for staging
In-house WP expertise and support available 24/7
FREE 14-day demo site
MANAGED WORDPRESS
RATING 4.7 ★★★★★ Our Review
Flywheel: Our Expert's Review
Laura Bernheim (HostingAdvice.com): It seems rather obvious (and repetitive) to say that a web host that solely hosts WordPress sites excels at hosting WordPress — but it's true. In addition to revamped infrastructure optimized for the world-famous content management system, Flywheel offers several proprietary, one-of-a-kind services that extend WordPress hosting beyond traditional norms. Go to full review »
| Money Back Guarantee | Disk Space | Domain Name | Setup Time |
| --- | --- | --- | --- |
| 60 days | 5 GB – 50 GB | N/A | 4 minutes |
What makes Flywheel worthy of your hard-earned cash is the fact that the company put considerable effort into crafting fine-tuned WordPress hosting. For instance, the easy-to-use custom dashboard is designed to speed up the workflow and can be further customized to your liking. Flywheel's proprietary custom server-side caching technology is optimized for the most popular WordPress themes and plugins, automatically applying caching exclusions.
Flywheel customers get:
Custom WordPress management dashboard
Custom caching technology
FREE 14-day trial for demo sites
The company's built-in CDN provides a performance boost through full-page caching, while automated nightly backups and WordPress upgrades help manage your site(s) for you. Developers and designers will especially appreciate workflow tools like Blueprints, which saves your themes and plugins as a pre-installed package, eliminating the need for manual installation. If any of the four available plans aren't working for you, you can get a custom-built WordPress plan. Furthermore, you can set up demo sites for free on Flywheel for 14 days.
Premium WP hosting with unlimited data transfer
Proprietary caching ekes out extra performance
FREE Genesis framework and StudioPress themes
Automatic backups with 1-click restore
20% discount for HostingAdvice readers
MANAGED WORDPRESS
RATING 4.2 ★★★★★ Our Review
WP Engine: Our Expert's Review
Ryan Frankel (HostingAdvice.com): When you're investing in your business website, you can spare no expense. Every second of downtime costs you, and you can't afford a security breach or a bug due to an outdated plugin. Go to full review »
| Money Back Guarantee | Disk Space | Domain Name | Setup Time |
| --- | --- | --- | --- |
| 60 days | 10 GB – 50 GB | New or Transfer | 6 minutes |
Much like Flywheel, WP Engine is replete with cutting-edge WordPress features that bring exceptional speeds and stability. The provider has an in-house built EverCache caching solution that, when paired with CloudFlare CDN, facilitates sharp and thoroughly enjoyable performance. Daily backups, one-click staging, and automatic WP and PHP updates all make for easy site management while your website stays secure through proactive threat blocking and security measures.
WP Engine WordPress plans deliver:
Fast performance
Customizable themes and workflows
Scalable plans
You can easily customize your website with Genesis, one of the most popular WordPress theme frameworks, by using pre-build or creating custom content sections and full-page layouts. SEO and performance-optimized premium themes are included with every WP Engine plan, as is Local, a WordPress local development tool that allows you to build, test, and deploy sites faster by making changes in your local environment and testing them offline or online. To make matters more interesting, WP Engine allows you to customize any plan with additional features like more sites, extra security, and site monitoring.
12. Kinsta
In the truest sense, Kinsta's managed WordPress hosting takes care of everything for you, leaving you to add the finishing touches. All of the plans are equipped with Kinsta CDN, a high-performance content delivery network powered by Cloudflare, designed to provide the best WordPress performance and reliability at any given time. Every install also includes a free staging environment for testing plugins, themes, and updates.

Kinsta's highlights include:
High-performance hosting
Cloudflare integration
Flexible plans
You'll have to pay a bit more for multi-site support, site cloning, and optional add-ons such as premium staging environments, Redis, and Nginx, but Kinsta makes it up (for the most part) with its high-performance, Google Cloud Platform-powered infrastructure. Due to its Cloudflare integration, the provider's built-in Edge Caching saves your Kinsta site to any of Cloudflare's global network of 260+ datacenters. As a bonus, you get free DDoS protection and HTTP/3 support to boot.
What Is WordPress Hosting?
WordPress hosting is tailor-made for websites built on the WordPress platform, which is massively popular for creating blogs, online stores, and all kinds of business sites.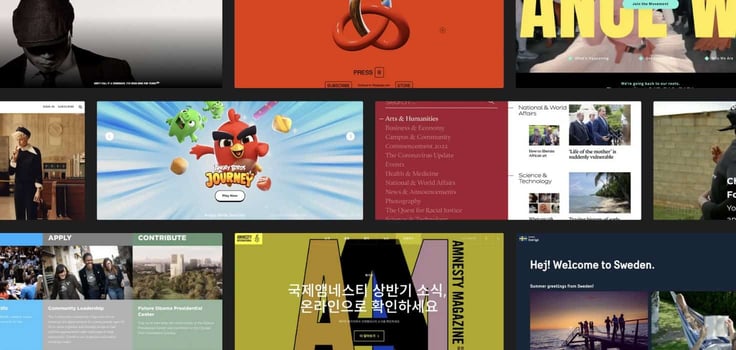 A WordPress hosting provider offers a variety of features and services that are designed to meet the needs of WordPress users. Some of these features include optimized servers and software, automatic updates and backups, staging sites, collaboration tools, and so on.
Because it's specifically optimized to host the world's most popular open-source content management system, WordPress hosting generally leads to notable improvements in speed and performance. It also has the latest security measures to protect from hackers and malware — all to ensure your website runs like a well-oiled machine.
Can I Buy Hosting for One Month?
You absolutely can. Whether you should is another story, as buying hosting for one month has distinct advantages and disadvantages compared to annual hosting plans.
Month-to-Month Hosting Plans
Pros: flexibility to easily switch or cancel; low initial cost; no long-term commitment, so you can change providers or upgrade/downgrade your plan as you please.
Cons: higher hosting fees compared to long-term plans; limited features and resources such as storage, bandwidth, and support; less reliable as hosting providers may prioritize their annual customers.
When it comes to buying hosting for a full year or more, the situation changes.
Annual Hosting Plans
Pros: cost savings as annual plans are cheaper on a per-month basis (plus providers often offer discounts); additional perks and features like priority support; more stable option for individuals and businesses with a long-term online presence.
Cons: significant upfront payment, less flexibility, limited refund options in case you decide to opt out of a plan.
As you can see, month-to-month hosting plans are a good WordPress hosting option for short-term needs or when you're just starting and want the flexibility to test and cancel a plan anytime. However, if you plan to use hosting services for an extended period, it's more cost-effective to go with an annual or multi-year plan, which typically comes with discounts and added benefits.
Which WordPress Hosting Provider Is the Cheapest?
Ah, cheap WordPress hosting providers. The price tag is always going to be a consideration, but so should the length and the type of hosting, as they play a major role in the final tally. For instance, Hostinger offers a dirt cheap WordPress hosting plan for as little as $1.99 per month if you commit to a four-year deal, while HostGator has the lowest price at $2.64 for a three-year deal if you prefer a shorter contract.

Moreover, VPS hosting is inherently more expensive than its shared version, as is dedicated hosting. For example, InMotion Hosting has a monthly hosting starting price of $14.99 for its managed WordPress hosting package on a three-year plan. If you want a month-to-month option, it's going to cost you $23.99.
So, there's no definitive answer, as many variables dictate the rules. That said, Hostinger, InMotion Hosting, and HostGator are routinely featured on HostingAdvice as some of the most affordable providers for different types of hosting. To get a more detailed breakdown, I recommend you check out our article on cheap month-to-month plans.
Which WordPress Hosts Offer a Money-Back Guarantee?
The vast majority of WordPress hosts offer a money-back guarantee of varying lengths as part of their customer satisfaction policies. It's a great way to try out a service for a certain period and get a refund if everything is not up to par. Almost every web host will oblige with no questions asked.
The specific terms and durations of these guarantees differ from one provider to another. When it comes to the latter, DreamHost offers a full refund on shared hosting fees if your plan is canceled within the first 97 days of opening the account, while DreamPress hosting fees can be refunded within the first 30 days of opening the account.

InMotion Hosting offers a 90-day guarantee for any plan 12 months or longer, and purchases of month-to-month payment terms include a 30-day guarantee. WP Engine offers a 60-day money-back guarantee, while SiteGround, Hostinger, and HostGator all offer a 30-day version, which is the industry standard.
Always take the time to read the terms of service and refund policies carefully in order to understand the details of the guarantee and how to initiate a refund if needed.
Can I Get WordPress Hosting for Free?
Yes, you can, though it's not recommended for the most part.
Generally speaking, free WordPress hosting can be a good choice for personal sites or small, non-commercial projects with low traffic and resource requirements. Anything beyond that, and you're making a big gamble due to the fact that free hosting comes with strings attached in the form of limitations on storage, bandwidth, and processing power, among other things.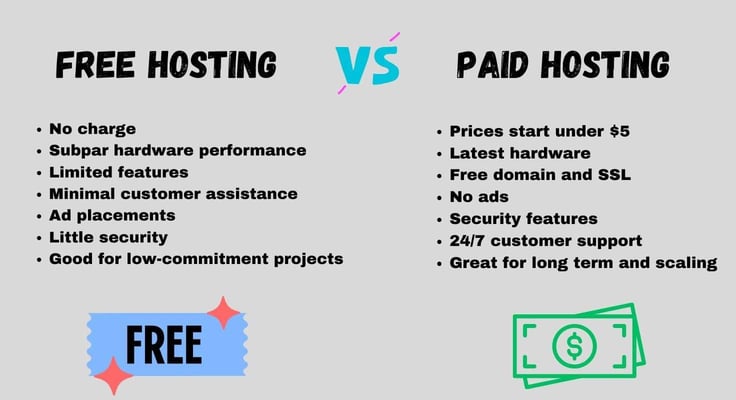 Then, there's the matter of reliability. Free hosting providers usually don't guarantee uptime percentages, which can lead to frequent downtimes. For any kind of business and professional website worth its salt, this is unacceptable — not to mention there's a lack of control over servers and security, imposed branding (as a trade-off for free stuff), and other drawbacks.
Besides using the money-back guarantee as a testing method, the web hosts on this list that offer free trial hosting, such as Cloudways and Flywheel, are much better options if you want to get a taste for free.
How Do You Build a WordPress Site?
Here are the basic steps to build a WordPress site:
Sign up for a web hosting service that supports WordPress. Some also allow you to register a domain name.
Install WordPress. Most web hosting providers offer one-click installation for WordPress, making it super easy to get started.
Choose a theme and plugins. This is where you decide how your site will look and feel, along with how functional it's going to be through plugins. There are hundreds of free and premium WordPress themes and plugins available.
Fill the site with content. Add specific pages (e.g. Contact, About), posts, images, and videos, then organize everything through categories and tags.
Test and launch. Check for broken links, formatting issues, and mobile responsiveness. Once you're satisfied, you can officially launch your site for the public to see.
Even though you've done the heavy lifting at this point, remember that building a WordPress site is an ongoing process. This means you have to frequently update your content, monitor performance, and make improvements to ensure your website continues to meet your goals. For more in-depth instructions, check out our how-to here.
What Features Do I Need in a WordPress Hosting Plan?
The features you need in a WordPress hosting plan largely depend on your specific objectives and requirements. However, there are some general features that are essential for all WordPress websites:
Custom Design Tools
To stand out, you need to create a unique, visually appealing, and user-friendly website that accurately and effectively conveys your brand identity. Custom design tools allow you to tailor the website's look and feel, as well as customize the design elements, layout, and navigation for optimal user experience.

Here are a few tools worth looking into (in no particular order):
With custom design, your website isn't locked into the limitations of pre-made templates. You have the flexibility to adapt and change as your business or project evolves.
Performance
You need adequate server resources to run all that custom work smoothly. Hence, choose a plan that has enough processing power, RAM, and storage to load your site quickly.
Security
Look for robust security features, such as malware scanning, DDoS protection, firewalls, SSL certificates, and regular security updates to protect your site from threats.
Scalability
Ideally, you want a plan that allows you to easily scale your resources as your website grows to accommodate increased traffic.
Support
The hosting provider of your choice should offer 24/7 support through various channels (live chat, phone, email) in case you need help with anything. This is especially important if you are not familiar with WordPress or web hosting.
Pro tip: If you're not sure which features are right for you and which are unnecessary to pay for, it's a good idea to contact a hosting provider and discuss your needs. They can help you choose the best plan for your business.
Embrace Hosting Freedom
You can never be too careful when picking the right web host partner, which is why the flexible month-to-month approach works for some. It's not easy dishing out serious moolah upfront and being locked in for a year or more.
Then again, it's equally difficult to dismiss the long-term savings you get on annual plans. It's a tough choice, but whether you pick month-to-month or longer-term plans, the key is to find the right balance between freedom and affordability.
After you strike gold with a WordPress hosting service, only then can you confidently embark on your WordPress journey, knowing you have the flexibility to grow and thrive in the ever-changing digital landscape.
Do your due diligence and compare the features and pricing of different providers. You'd also do well to read reviews of different hosting providers to see what other customers have to say about their experience. I know it takes time, but ultimately, it's going to be worth it.
See Our Full Review of SiteGround
Whatever type of hosting plan you're looking for, SiteGround is a solid choice no matter the scale. Our reviewer Alexandra Anderson recently took SiteGround for a spin, and rated the popular host a 4.9 in the WordPress Hosting category out of a perfect score of 5.0. Here's what Alexandra had to say about SiteGround:
With a reputation for reliable customer support and the leading-edge tech innovations, SiteGround needs to be near the top of your list of potential hosting providers. The premium host enables site owners and WordPress users to operate with performance and reliability in fluidly scalable cloud-powered environments.
Before signing up for SiteGround, it's a good idea to read through Alexandra's full review to learn about all the features SiteGround offers. You can also compare it to other web hosts to ensure you're getting the best deal possible:
If you decide SiteGround is the right choice, keep in mind that it takes just minutes to deploy your SiteGround server space. And at $2.99 per month, it's a bargain considering the many great features that come in any SiteGround plan.
Advertiser Disclosure
HostingAdvice.com is a free online resource that offers valuable content and comparison services to users. To keep this resource 100% free, we receive compensation from many of the offers listed on the site. Along with key review factors, this compensation may impact how and where products appear across the site (including, for example, the order in which they appear). HostingAdvice.com does not include the entire universe of available offers. Editorial opinions expressed on the site are strictly our own and are not provided, endorsed, or approved by advertisers.
Our Editorial Review Policy
Our site is committed to publishing independent, accurate content guided by strict editorial guidelines. Before articles and reviews are published on our site, they undergo a thorough review process performed by a team of independent editors and subject-matter experts to ensure the content's accuracy, timeliness, and impartiality. Our editorial team is separate and independent of our site's advertisers, and the opinions they express on our site are their own. To read more about our team members and their editorial backgrounds, please visit our site's About page.