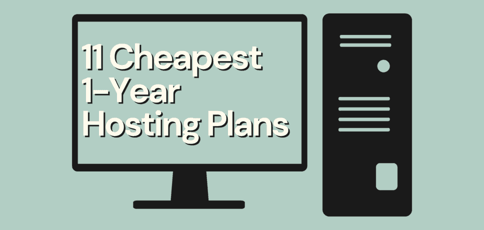 Finding the cheapest hosting plan is like being a contestant on "The Price Is Right." As you navigate through the plethora of cheap hosting providers, you may feel a sense of anticipation similar to that of waiting for the host to reveal the winning price. And when you finally uncover the best deal, there's an undeniable feeling of triumph.
In today's competitive digital world, finding the right price is crucial in establishing your online presence. But whether you're starting a personal blog, launching a small business website, or expanding your online portfolio, securing a cheap hosting plan that doesn't skimp on the essentials can feel impossible.
We're in the business of understanding this, so we've compiled a list of the 11 cheapest 1-year hosting plans. Gone are the days of long-term contracts. With these 1-year plans, you can test the waters without committing to something you're uncertain about. So get ready to spin the hosting wheel of fortune and find the perfect plan that offers both affordability and value.
1. IONOS — $12 for 1 Year ($96 Renewal)
IONOS reigns at the top of our list for several reasons. For a mere $1.00/mo, IONOS' Essential hosting plan includes an array of features that are far more than what other providers might typically offer. With IONOS, you can enjoy unlimited websites, storage, databases, and 50 GB of storage. It also provides a free SSL certificate, a professional email account, and daily backups.
$1/month for 12 months
No hidden fees, pay just $12 at checkout
Easy setup and 24/7 expert support
FREE domain or transfer, plus FREE SSL certificate
Unlimited storage and databases with most plans
CHEAP
RATING 4.8 ★★★★★ Our Review
1&1 IONOS: Our Expert's Review
Alexandra Anderson (HostingAdvice.com): If budget is the main factor on your mind when searching for your next web host, search no more. 1&1 IONOS has an impressive range of robust web hosting and website building packages for what may be the best price we've ever seen in the world of hosting. Go to full review »
| Money Back Guarantee | Disk Space | Domain Name | Setup Time |
| --- | --- | --- | --- |
| 30 days | 10 GB – Unlimited | FREE (1 year) | 4 minutes |
IONOS continues to sway its customers with its Grow plan at only $1.00/mo and renews at $8.00/mo after the first year. But we think it's worth it given IONOS' long-standing reputation as a trailblazer in the industry for more than three decades.
IONOS offers budget-friendly hosting plans with reliable uptime, excellent customer support, and easy WP integration.
Since its establishment in 1988, IONOS has consistently prioritized affordability, round-the-clock customer support, seamless integration with managed WordPress hosting, a diverse range of shared, VPS, and dedicated server hosting options — and, most importantly, lightning-fast speeds.
2. Hostinger – $24 for 1 Year ($48 Renewal)
Hostinger is always high on our list, and it continues to blow us away with low monthly hosting prices, high-end features, and excellent customer support. Starting around $2.00/mo, its starter plan begins with the essentials, including 50 GB of storage, 100 GB of bandwidth, malware scanning, access to their website builder, easy WordPress hosting integration and management, and 24/7 support with a 99.99% uptime guarantee.
Unlimited everything, from storage to databases
FREE site builder & WP performance upgrades
FREE daily or weekly backups
Custom control panel and auto-installation scripts
SSH access & unlimited FREE SSL certificates
CHEAP
RATING 4.9 ★★★★★ Our Review
Hostinger: Our Expert's Review
Laura Bernheim (HostingAdvice.com): As the shared hosting market becomes increasingly saturated, unlimited storage, bandwidth, and email accounts have become surprisingly average. Hostinger, however, extends the routine, expected metrics to greater lengths — the number of websites, databases, FTP users, subdomains, and parked domains are all unrestricted for most customers. Go to full review »
| Money Back Guarantee | Disk Space | Domain Name | Setup Time |
| --- | --- | --- | --- |
| 30 days | 50 GB SSD – 200 GB SSD | FREE (1 year) | 3 minutes |
Hostinger's basic plan is perfect for individuals looking for a home for their websites, portfolios, or small businesses with little traffic. Although you'll want to upgrade to one of their more expensive plans for anything more, there's no denying that Hostinger is perfect for beginners with its variety of features and low yearly costs.
Thanks to its user-friendly interface and bare essentials, Hostinger is perfect for beginners just starting their web hosting journeys.
Hostinger also boasts an all-SSD infrastructure and speed boosts, so you know you're not compromising on reliability with such a steal.
3. InterServer — $30 for 1 Year ($84 Renewal)
InterServer was founded by two people who grew up in the age of dial-up internet and were tired of the lack of hosting options available throughout the years. Today, InterServer is a one-stop for those seeking cheap hosting, 24/7 support, unlimited storage, sites, and email, all without ever changing the price or trapping you into lengthy contracts.
$0.01 first month (coupon code HOSTINGADV)
$2.50/month after. No contracts or increases
Unlimited storage space, data transfers, and email
Register or transfer domains for less than $10
99.9% uptime and price-lock guarantee
CHEAP
RATING 4.5 ★★★★★ Our Review
InterServer: Our Expert's Review
Laura Bernheim (HostingAdvice.com): It's hard to argue with a shared hosting plan that includes unlimited storage, bandwidth, websites, and email — but shared hosting is a crowded industry that turns on name recognition, reputation, and bargain-basement prices. InterServer outperforms some of our higher-rated hosts, but we understand that many first-time site owners are laser-focused on finding the lowest costs. Go to full review »
| Money Back Guarantee | Disk Space | Domain Name | Setup Time |
| --- | --- | --- | --- |
| 30 days | Unlimited SSD | New or Transfer | 4 minutes |
With their chosen plan, novice users can enjoy the web builder, whether starting a personal portfolio or an eCommerce store. Note that domain registration and WHOIS privacy are add-ons that cost a few extra dollars per year — so you'll have to do some math and add these features to your 1-year subscription.
InterServer boasts unlimited storage, sites, and emails without ever surprising you with price hikes or unwanted contracts.
But InterServer's starter deal is too good to pass up: Its 1-year offer is more than 60% off its original price!
4. DreamHost — $35 for 1 Year ($72 Renewal)
DreamHost has some of the best deals we've yet to see. Its Shared hosting plan offers the quintessential basic features for just a few dollars a month. In addition to a single website, you get a free domain, unlimited traffic support, WordPress pre-installation, a free SSL certificate, unmetered bandwidth, and relatively decent SSD storage. This DreamHost plan is perfect for small businesses and individual websites, from personal portfolios to small eCommerce stores.
Automated malware scans
Unlimited domain hosting
Unlimited email accounts with POP/IMAP/SMTP
FREE eCommerce store tools and PCI compliance
Streamlined proprietary control panel
CHEAP
RATING 4.3 ★★★★★ Our Review
DreamHost: Our Expert's Review
Laura Bernheim (HostingAdvice.com): While DreamHost's price might be a little steep compared to other high-value hosting providers, the company gives customers ample time and reasons to get hooked and stick around. The company, which started in the founders' dorm room in 1997, offers an industry-leading 97-day money-back guarantee. Go to full review »
| Money Back Guarantee | Disk Space | Domain Name | Setup Time |
| --- | --- | --- | --- |
| 97 days | Unlimited | FREE (1 year) | 4 minutes |
A major selling point for DreamHost is its 97-day money-back guarantee — because that's just how confident the company is about its service. DreamHost has also been around for more than 25 years, so there's no doubt that the experts behind the company know what consumers want.
DreamHost has a strong reputation for its commitment to privacy, making it perfect for those who value security above all else.
There's also an extensive community forum where you can pop in and get answers to your technical issues or questions, and if you can't find a solution, the in-house support team is available 24/7.
5. Bluehost — $35 for 1 Year ($132 Renewal)
Bluehost stands out as a trusted name in the hosting game. With its long-standing reputation and official endorsement from WordPress, it has established itself as one of the industry leaders.
Cheap shared hosting from a trusted provider
Ideal for hosting a WordPress website
FREE Weebly website builder and Cloudflare CDN
Unlimited traffic and 24/7 live chat support
Get 70% off today with our Bluehost coupon
CHEAP
RATING 4.8 ★★★★★ Our Review
Bluehost: Our Expert's Review
Ryan Frankel (HostingAdvice.com): Bluehost pricing is about as competitive as the industry offers. Sign up for a shared hosting plan for as little as $2.95 per month, and WordPress hosting packages are consistently priced; a VPS plan starts at around $19.99 per month; and the dedicated hosting rates are as little as $79.99 per month. Go to full review »
| Money Back Guarantee | Disk Space | Domain Name | Setup Time |
| --- | --- | --- | --- |
| 30 days | 10 GB SSD – 100 GB SSD | FREE (1 year) | 5 minutes |
From basic plans to dedicated self-managed servers, Bluehost has something for everyone. Its shared plans are integrated into WordPress, starting with 10 GB SSD storage, a free CDN, access to custom WordPress themes, and free domain and SSL for a year. And the integration between Bluehost and WordPress ensures a smooth and hassle-free experience.
Bluehost offers affordable plans for bloggers, small businesses, and WordPress websites thanks to its user-friendly interface and Weebly web builder.
Building and managing your website has also never been easier. Bluehost gives its users access to the well-known drag-and-drop web builder Weebly, which simplifies creating and maintaining your website. Bluehost allows you to manage your domain, handle your Google My Business account, and effortlessly run your eCommerce website through its marketplace. Or you can easily switch to WooCommerce, WordPress's leading eCommerce tool. Needless to say, the options are endless.
6. GoDaddy — $36 for 1 Year ($120 Renewal)
GoDaddy has been around since 1997, just a couple of years after the internet became a worldwide phenomenon — so you know you're dealing with a team who understands the ever-evolving needs of web hosting.
Manage your domain and hosting under one roof
Choice of cPanel or Plesk control panels
Up to unlimited bandwidth and storage
Microsoft 365 inboxes included FREE for first year
Get 70% OFF by signing up today
CHEAP
RATING 4.5 ★★★★★ Our Review
GoDaddy: Our Expert's Review
Ryan Frankel (HostingAdvice.com): A major pull factor for GoDaddy's hosting services is certainly the cost. It's hard to beat web hosting for just a few dollars per month, especially when the company includes a free domain name, control panel, impressively fast load times, and unlimited websites with most plans. Go to full review »
| Money Back Guarantee | Disk Space | Domain Name | Setup Time |
| --- | --- | --- | --- |
| 30 days | 25 GB – Unlimited | FREE (1 year) | 4 minutes |
For just a couple of dollars a month, you can get a generous 25 GB of storage, access to 10 databases, unmetered bandwidth, daily backups, a free domain, an SSL certificate, and easy 1-click WordPress installation.
GoDaddy provides a beginner-friendly website builder and domain registration package for those who want their domain and hosting done in one place.
GoDaddy is crystal clear when explaining what you're getting with your package. As GoDaddy explains, its newest feature is a one-year free SSL certificate, ideal for SEO rankings. You can also choose from content management systems like Joomla and still get easy, 1-click integration, making GoDaddy's Economy plan a perfect option for even the least tech-savvy individuals.
7. A2 Hosting — $36 for 1 Year ($149 Renewal)
A2 Hosting always makes it onto our lists, whether because of its service, features, or price. In this case, A2 has one of the cheapest 1-year hosting plans with various features worth every penny. The Startup plan boasts a whopping 100 GB of SSD storage, free site migration, access to five databases, and an exclusive in-house tool called Perpetual Security.
FREE Cloudflare CDN and SSD speed boost
Optimized caching and 1-click installs
Unlimited email, domains, and databases
Advanced security and FREE HackScan
24/7 support via phone, chat & tickets
CHEAP
RATING 4.6 ★★★★★ Our Review
A2 Hosting: Our Expert's Review
Alexandra Anderson (HostingAdvice.com): There are plenty of excellent cPanel shared hosting providers out there, so what sets A2 Hosting apart from the rest. Not only does the company offer a ton of features, but it has custom-built its packages for enhanced performance, speed, and security — putting your priorities above pricing. Go to full review »
| Money Back Guarantee | Disk Space | Domain Name | Setup Time |
| --- | --- | --- | --- |
| 30 days | 100 GB SSD – Unlimited SSD | New or Transfer | 4 minutes |
We want to give the Perpetual Security tool a shoutout: While some other hosting providers make you pay extra for protection, A2's basic plan provides users with free daily HackScan protection, KernelCare, and reinforced DDoS protection.
A2 Hosting is an affordable hosting solution that guarantees mega-fast speeds and performance. A2 also prides itself on customer satisfaction with 24/7 customer support.
There are even more features worth looking into. With an easy-to-read comparison chart, you can see what you're getting with a basic plan compared with what you get on its higher-level plans. In short, you're still getting a lot of value for such a low monthly cost.
8. SiteGround — $36 for 1 Year ($180 Renewal)
To say that we love SiteGround would be an understatement. SiteGround is one of the cheapest hosting plan options and offers many essential features that other providers don't include in their base plans.
Get 10 GB of space, access to unlimited databases, and unmetered traffic that can support up to 10,000 visitors per month. Feel secure with free daily backups, a free SSL certificate, CDN, and enhanced security via SiteGround custom-made WAF (web application firewall). A cool bonus feature is that SiteGround also offers a 100% renewable energy match guarantee.
FREE website transfer service to get started
99.9% uptime guarantee and unlimited traffic
User-friendly WordPress installation
24/7 support featuring custom systems
4 caching options plus staging and Git
CHEAP
RATING 4.6 ★★★★★ Our Review
SiteGround: Our Expert's Review
Alexandra Anderson (HostingAdvice.com): Providing hosting with the perfect balance of technological innovation and superior customer support, SiteGround offers a range of affordable hosting services to meet your needs. In addition to the expected cheap web hosting perks — a free website builder and unlimited bandwidth — the company specializes in custom-built tools to deliver strong and positive user experiences. Go to full review »
| Money Back Guarantee | Disk Space | Domain Name | Setup Time |
| --- | --- | --- | --- |
| 30 days | 10 GB SSD – 40 GB SSD | New or Transfer | 6 minutes |
SiteGround also deserves attention because of its incredible customer support. You can choose from instant self-help or live customer support via phone, email, or chat. SiteGround also only hires those who are in for the long haul: Each member who joins the team receives training, mentorship, and frequent feedback and evaluations to enhance customer assistance and update the company's Knowledge Base articles.
SiteGround is about practicing what it preaches. It offers a full staff of trained web host experts and affordable hosting plans with a free email account, CDN, and SSL backups.
If you're looking for an easy-to-use web host with incomparable customer service, SiteGround may be for you.
9. InMotion Hosting — $42 for 1 Year ($120 Renewal)
InMotion Hosting is known for many things, but its incredible reliability and speed are most impressive. InMotion is one of the hosts we frequently review that uses NVMe SSDs, which are up to 10x faster than traditional SATA SSDs.
Boasting a 99.99% uptime guarantee and in-house speed enhancers Ultrastack and Max Speed Zones™, you get the utmost reliability even with its most basic plan.
FREE BoldGrid site builder and templates
FREE website, domain, and cPanel migrations
SSD storage makes your site load up to 20x faster
Security suite includes SSL and hack protection
Unlimited bandwidth and email accounts
CHEAP
RATING 4.7 ★★★★★ Our Review
InMotion: Our Expert's Review
PJ Fancher (HostingAdvice.com): InMotion Hosting offers an excellent business-class shared hosting plan — with a price tag lower than several other budget hosts. For the IT crowd in the audience, you'll appreciate SSH access, as well as support for PHP, Ruby, Perl, Python, WP-CLI, and other popular languages. Go to full review »
| Money Back Guarantee | Disk Space | Domain Name | Setup Time |
| --- | --- | --- | --- |
| 90 days | 100 GB SSD – Unlimited | FREE (1 year) | 5 minutes |
The base plan, Core, offers up to two websites, 100 GB of SSD storage, unlimited bandwidth, 10 email accounts, and one-click installs on more than 400 applications. It also comes with free SSL, malware, and spam protection, and access to a free website builder that even the most tech-challenged can learn to use.
With NVMe SSDs, round-the-clock support, a user-friendly interface, and free website migration services, InMotion Hosting is perfect for small to medium-sized businesses in the US.
InMotion is also 18-Year CNET Certified and has an A+ rating from the Better Business Bureau. Its two datacenters in the United States makes it a perfect option for those who prioritize speed in their US-based websites.
10. HostArmada — $43 for 1 Year ($119 Renewal)
HostArmada is a managed cloud hosting solution that provides all the basic bells and whistles with even the most basic plan. This includes a free SSL certificate, domain, website transfer, and complimentary website optimization.
Since HostArmada offers shared WordPress hosting, this is another one of our recommendations for those who want to work out of a WordPress website. HostArmada's plans are also powered by NGINX, an open-source web server that can handle many concurrent requests, making it ideal for websites with high traffic.
FREE cPanel integration and Softaculous apps
Auto daily backups and web application firewall
Reliable and redundant cloud servers
FREE SSL encryption and website migration
99.99% uptime guarantee
CHEAP
RATING 4.8 ★★★★★ Our Review
HostArmada: Our Expert's Review
Lynn Cadet (HostingAdvice.com): HostArmada's cloud network spans four continents, with datacenters in Europe, the US, Asia, and Australia. Its server redundancy and website optimization features allow users to run stable and performant sites for end users across the globe while running a simplified hosting environment. Go to full review »
| Money Back Guarantee | Disk Space | Domain Name | Setup Time |
| --- | --- | --- | --- |
| 45 days | 15 GB SSD – 40 GB SSD | FREE (1 year) | 3 minutes |
Let's get into the HostArmada specifics. Its most basic plan is just a few dollars a month and offers up to 15 GB of SSD storage, 2 GB RAM, seven daily backups, and lots of security features, including malware scan, malware removal, and WAF and IP firewalls.
HostArmada may be relatively new to the web hosting space, but it offers competitive pricing and a range of hosting solutions while prioritizing performance.
And when you're ready to scale, you can choose from many hosting options — from reseller hosting, VPS hosting, dedicated hosting, open-source web app hosting, and much more.
11. HostGator — $47 for 1 Year ($120 Renewal)
HostGator puts the finishing touch on our list thanks to its high-end yet affordable hosting plans. HostGator may be the right option if you're looking for top-notch performance without breaking the bank. We also like HostGator because it's incredibly intuitive: Each plan has more than 4,500 drag-and-drop templates, an in-house cPanel interface, and 1-click software installations.
Host up to unlimited websites on a single plan
FREE SSL certificate included on all plans
Unlimited bandwidth & email addresses
1-click WordPress installs & FREE blog tools
Get 67% OFF by buying 36 months upfront
CHEAP
RATING 4.6 ★★★★★ Our Review
HostGator: Our Expert's Review
Ryan Frankel (HostingAdvice.com): HostGator is a great compromise between performance and price. The company offers unlimited emails, MySQL databases, disk space, and bandwidth, plus one-click installs of popular open-source projects, in addition to a 99. Go to full review »
| Money Back Guarantee | Disk Space | Domain Name | Setup Time |
| --- | --- | --- | --- |
| 30 days | Unlimited | FREE (1 year) | 4 minutes |
The Hatchling Plan comes with 10 GB of disk space, unmetered bandwidth, simple WordPress installs, and a free email and domain for the first year.
HostGator is perfect for small to medium-sized websites, blogs, and businesses because it offers affordable hosting plans with a user-friendly interface and unmetered bandwidth.
Thanks to its array of WordPress-compatible plugins and tools, we highly recommend HostGator for all WordPress hosting users who want to set up their site without worrying about the behind-the-scenes details.
What Is Web Hosting?
Web hosting is a service that allows you to publish a website on the internet. But before you do this, you first have to sign up for a web host provider, which lets you rent a space on a physical or cloud server to store all your data and files. When other people want to visit your website, they type in your domain name in the web address bar, and the server will automatically direct them to your website.
How Does Web Hosting Work?
Think of the internet as a neighborhood without any houses. Like in the real world, if you want to live in this neighborhood, you must buy a house there. That's where web hosting comes in: Web hosting is like buying or renting a house in a virtual neighborhood, creating a space for you on the internet so you're accessible to others.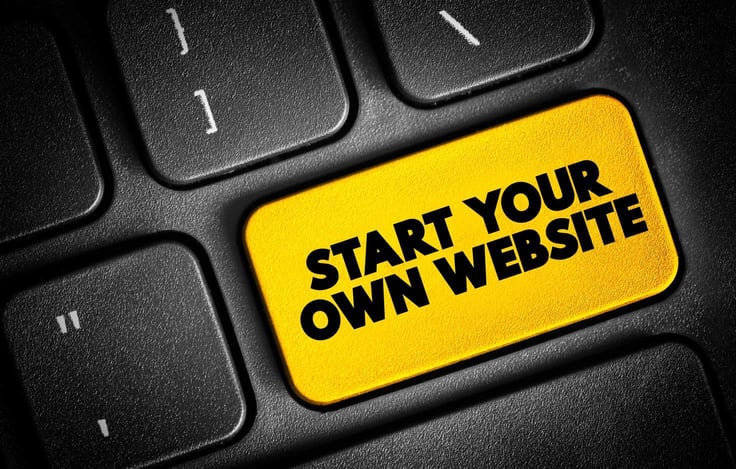 Web hosting providers act like real estate agents: They own and maintain the servers — so when you sign up for a web hosting service, you're renting space on one of these servers to store all the files that make up your website. And once you have a web hosting plan, you'll receive the "keys" to your site to get started.
If you want other people to visit your website, you'll need to give them your web address. They can type in your domain name into their web browser, which sends a request to the server where your website is hosted — just as a GPS would give directions to your house when a friend types your address into a navigation system.
How Do You Choose the Best Cheap Web Hosting Service?
Money is the name of the game when searching for a cheap web hosting provider, but there are a few features you should prioritize to ensure you get the right value for your money. Here's a handy checklist:
Always consider reliability and uptime to avoid frequent downtime that can harm your site's performance
Look for scalability options that allow your website to grow and handle increased traffic
24/7 customer support available through various channels is crucial — especially for beginners
Opt for a user-friendly control panel to quickly manage your website and hosting settings
Don't overlook essential features like SSL certificates for security, WHOIS privacy for personal information protection, and regular backups
If you can't easily compare several hosts and plans against each other, a great place to start is researching customer reviews. You'll also want to check whether the hosting service offers a money-back guarantee or an opportunity to try their services risk-free. Many cheap web hosting providers — including the 11 hosts mentioned above — will offer an introductory discount.
What Should You Expect From Cheap Web Hosting?
Setting realistic expectations based on the price is essential when considering cheap web hosting. But don't worry because "cheap" isn't synonymous with "bad." In actuality, you can expect some perks from affordable web hosting:
It's a cost-effective solution. Cheap hosting plans are a budget-friendly option for getting your website up and running without breaking the bank.
Benefit from a shared server environment. Most cheap hosting plans are shared hosting plans, which means you share servers with other website owners. In other words, opting for a shared hosting plan means you're saving money long term!
Get all the basic features. Cheap hosting plans cover the essentials, such as email accounts, FTP access, and a control panel for managing your site. These features are perfect for getting started and establishing an online presence while you become familiar with the ins and outs of web building.
You don't miss out on support options. Most hosting providers see the value in affording you with customer support, so many offer email, chat, and ticket support options. A few names on our list also have forums, knowledge bases, and tutorials that help you troubleshoot.
First-time customers get promotional rates. Many of the best cheap web hosting providers offer introductory promotional rates, which allow you to enjoy savings before upgrading and committing to another long contract.
There's always room for growth. Cheap hosting plans often provide scalability options that allow you to upgrade your resources as your website grows, ensuring you can accommodate increased traffic and expand your online presence.
But it's important to know where cheap hosting may be lacking. For example, you may receive smaller storage options, more downtime, and limited customer support. That's why you should always take your time to research and compare different options, read customer reviews, and make sure you understand the specific features and limitations of the hosting plan you choose.
Opting for cheap hosting can be a valuable learning experience, especially if you're new to website management. It allows you to experiment, learn, and refine your website without a major financial commitment.
What Types of Cheap Web Hosting Plans Are There?
Let's go back to our house analogy. Web hosting plans come in different types, similar to different types of housing:
Shared hosting is like living in an apartment building where multiple websites share the same server's resources. It's the most affordable option, especially for individuals or small businesses on a budget.
Virtual private servers (VPSes) are like living in a neighborhood with a homeowner's association. While there are some restrictions on what you can and can't do, such as resource allocation and software limitations, you still have much more flexibility and freedom to customize your website than you would with shared hosting.
Dedicated hosting is like having your own house in the neighborhood. This means you have complete control over the server's resources without other tenants sharing them or HOAs telling you what to do. It offers higher performance and can handle more significant amounts of traffic or websites with specific requirements, making this the most expensive option.
Most of the hosting services on our list are shared hosting options because they're the cheapest. Shared hosting doesn't require 100% dedicated server space or resources, so providers can offer low prices if you're willing to be more flexible about speed, security, and resources.
What Is the Best and Cheapest Web Hosting?
The words "best" and "cheapest" often don't go together, but there is an exception regarding web hosting. Value is crucial for many beginning web builders or business owners, and you can get the best of both worlds if you look for the right features and read the fine print.
From our list of the 11 cheapest 1-year hosting plans, IONOS is the most affordable web hosting provider that also offers some of the best features for its price. DreamHost has a super low annual renewal cost, and InMotion Hosting is a top favorite for those needing speed and reliability at an affordable price.
Is It Cheaper to Host Your Own Website?
You may be wondering, "Wait, I can host my own website? Then why do I have to go through a web hosting service?" While you can host your own website, knowing what it first entails is important.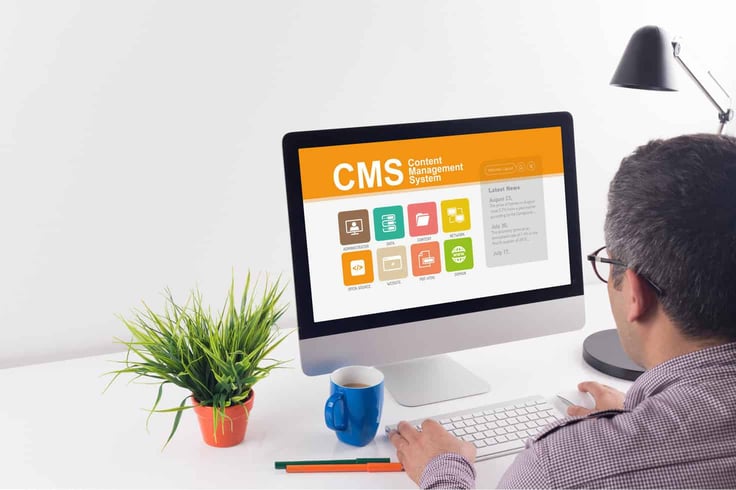 For starters, you'll be responsible for every aspect of its operation, including setting up and maintaining the server, configuring the network infrastructure, and ensuring a secure environment that is proofed against spam, hackers, and cyberattacks. You may also have to manage software installations manually, upgrade security protocols, perform daily or weekly backups, and conduct performance tests to ensure your site isn't buggy for your users.
So while hosting your website grants you complete control over your website and configurations, it requires significant time, effort, and money. For example, the server hardware isn't cheap, nor is internet service, power supply, and potentially outsourcing aspects of your IT infrastructure. So while there are costs associated with web hosting providers, they're usually much cheaper than the cost of hosting your own website.
Can I Get Free Hosting?
Yes and no. In many cases, web hosting providers that also register domains will give you free hosting if you buy a domain name. But there's hardly such a thing as 100% free hosting unless it's web hosting providers like Tinkerhost, who place ads on your websites for revenue.
And while free hosting is tempting, it's important to read through the fine print and decide whether the limitations align with your goals and website's requirements. Unfortunately, free hosting plans often don't provide the same reliability, performance, or support as paid hosting plans — so cheap plans are the next best thing for those looking to save some cash.
What Factors Affect Your Web Hosting Costs?
Regardless of your hosting provider, set factors determine your plan's overall cost, even if you choose from some of the cheapest 1-year hosting plans. These include:
Bandwidth: Bandwidth refers to the amount of data transferred between your server and the website per second — so the faster the bandwidth, the higher the cost.
Server and datacenter location: You'll want to choose a server or datacenter close to your target audience for optimal speeds. So if you operate out of the US but cater to Australian customers, you'll want an offshore host with a datacenter in Australia.
Security: Security measures such as firewalls, SSL certificates, and DDoS protection aren't always standard in every basic plan, and further advanced security features usually come at a higher cost.
Type of storage: Web hosting plans often offer different types of storage, such as traditional hard drives or faster solid-state drives (SSDs). SSDs are becoming the norm but are more expensive (especially if you opt for NVMe SSDs).
Domain: Some hosting providers offer a free domain name registration or transfer as part of their hosting packages, while others may charge an additional fee.
Managed versus unmanaged hosting: Managed hosting leaves the nitty-gritty details of the backend of your website (server maintenance, updates, technical support), while unmanaged hosting requires more technical expertise, although you can configure your server and website how you want.
Learn more about managed and unmanaged hosting >>
Just keep in mind that you probably won't get the top-of-the-line features like unmetered bandwidth, NVMe SSDs, or multilayered security — but many cheap host plans still offer standard basics. Some hosts may also let you customize your plan, where you can pay a few extra dollars to build exactly what you're looking for.
Is Cheap Web Hosting the Right Option For You?
The answer to this entirely depends on what your preferences are. If you don't mind compromising on high-end features — but still receive all the basics — for a lower cost, then cheap web hosting could be the perfect way to start your web journey.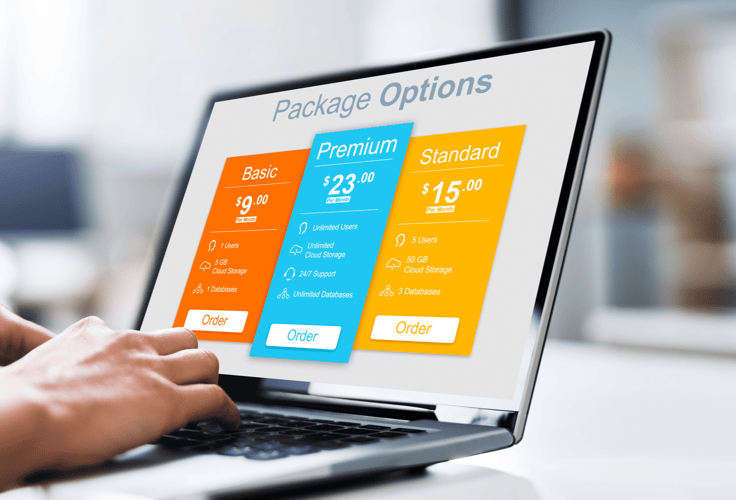 If you'd rather try out a host with a low initial cost and don't mind higher renewal rates, then IONOS, SiteGround, or A2 Hosting might be a great fit. But if you prefer to maintain cost-effectiveness throughout your hosting journey, options like Hostinger, InterServer, or HostArmada may be better.
Finally, The Price Is Right
While some hosting providers may frown upon getting the best of both worlds in terms of price and value, the providers mentioned on our list are among the best cheap web hosting providers, proving it is possible to have both. These hosts are among the best in the business because they understand that everyone deserves a quality website without taking any financial risks. So come on down — the price is right!
Advertiser Disclosure
HostingAdvice.com is a free online resource that offers valuable content and comparison services to users. To keep this resource 100% free, we receive compensation from many of the offers listed on the site. Along with key review factors, this compensation may impact how and where products appear across the site (including, for example, the order in which they appear). HostingAdvice.com does not include the entire universe of available offers. Editorial opinions expressed on the site are strictly our own and are not provided, endorsed, or approved by advertisers.
Our Editorial Review Policy
Our site is committed to publishing independent, accurate content guided by strict editorial guidelines. Before articles and reviews are published on our site, they undergo a thorough review process performed by a team of independent editors and subject-matter experts to ensure the content's accuracy, timeliness, and impartiality. Our editorial team is separate and independent of our site's advertisers, and the opinions they express on our site are their own. To read more about our team members and their editorial backgrounds, please visit our site's About page.