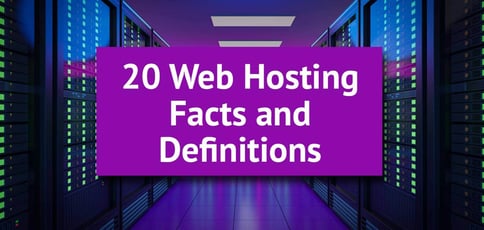 If you feel overwhelmed while shopping for a web hosting service, you're not alone. There are so many companies to choose from, with most offering similar features. But what makes it even more daunting is the complex language.
As a novice, I felt like I needed a dictionary on hand to decipher the complicated terminology of web hosting. Eventually, after a mountain of Google searches, I grasped the meaning behind the features I was purchasing.
No one wants to buy something without fully understanding its use, especially when it's tied to a monthly contract. So if web hosting terminology seems like a foreign language to you, we have you covered. Below, is a glossary of web hosting terms we have defined to help you make an informed buying decision.
1. In 1995, the Idea of Web Hosting Was Born With the Launch of GeoCities
GeoCities made it possible to build and host websites for free. Site owners could view other users' websites and browse different categories based on themes. Since then, the web hosting industry has grown immensely and has a saturated market, so users have a wide selection.
Definition: Web hosting is a service that allows websites to be reachable online. Web hosts own servers and allow customers to rent server space to host their website's files for a monthly fee. It's the power behind all the websites you visit on the internet1.
2. There Are Approximately 8,000 Datacenters In the World
And the US has the highest concentration, with 33% of the world's datacenters2. Choosing a good datacenter location is essential if users want to avoid high latency. Latency is the time it takes for data to travel from one point to another and can be measured by the distance between a datacenter and a user's device.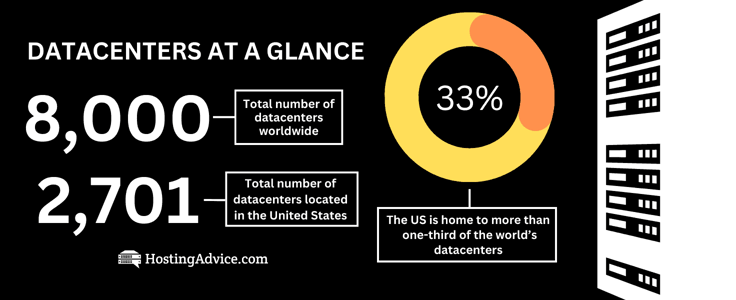 Definition: A datacenter is a physical facility that houses the equipment and systems needed to run web hosting services and applications. These components include servers, storage systems, routers, and security solutions.
3. Shared Hosting Plans Typically Cost Between $2 and $5 Per Month
Shared hosting plans are the most affordable of the hosting types, and even its higher tiers usually don't go over $103. More expensive plans come with additional storage space, bandwidth, and features such as marketing and SEO tools.
Definition: Shared hosting is a hosting service where multiple users share the same server and resources to host their websites. With a shared server, web hosts can power multiple sites and offer cheaper plans.
4. The VPS Hosting Market is Projected to Reach $8.16 Billion By 2026
Although shared hosting is a more popular hosting type, VPS hosting is steadily gaining market share. VPS hosting has the highest compounded annual growth rate (CAGR) of 15.4%, compared to shared hosting's 10%4.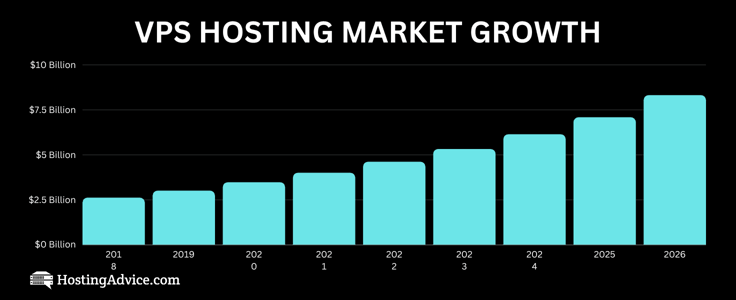 Definition: VPS stands for virtual private server. VPS hosting is when users share a single server but receive dedicated resources. Web hosts use virtualization technology to isolate server space and give users access to their own resources.
5. About 85% of Companies Will Embrace Cloud Hosting by 2025
Cloud hosting has seen significant adoption since the COVID-19 pandemic and doesn't seem to be slowing down any time soon5.
Its pay-as-you-go pricing model appeals to individuals and enterprises alike. Individuals can pay as little as a few dollars each month for a basic cloud hosting plan, whereas enterprises with large websites will pay much more.
Definition: Cloud hosting uses a distributed network of virtual and physical servers to power websites or applications. This provides users with more scalability and flexibility for their resources since they have multiple servers to fall back on.
6. Dedicated Hosting Has a 26.7% Global Market Share
Dedicated hosting is still relevant in today's global hosting market. And that market share is expected to expand significantly at an 11.1% CAGR from 2021 to 20266.
A dedicated server appeals to organizations that need control and security, such as those in the finance and healthcare sectors.
Definition: Dedicated hosting gives users an entire server to leverage for their needs. Users don't share any resources and have access to a physical server. For this reason, dedicated server hosting is typically more expensive.
7. WordPress Hosting Powers a Whopping 43% of All Websites
There is no doubt that WordPress is a powerful and popular choice among website owners. The CMS powers nearly half of the internet. It's safe to say that WordPress has moved past the days of being seen as only a blogging platform. But it is still king in the genre, with 40% of the top 15 blogging sites leveraging its use7.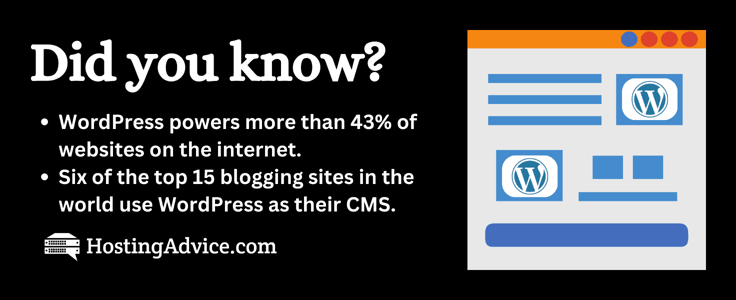 Definition: Since WordPress is a primary web-building operating system, many web hosting companies offer services dedicated to its platform. WordPress hosting is designed to optimize the hosting experience for WordPress use.
8. Managed VPS Is Expected to Grow 16.5% Per Year Through 2026
One of the top web hosting challenges is the lack of help and support. Many small businesses don't have the IT staff, technical expertise, or time to manage their web hosting administration.
Managed hosting is an excellent solution to those woes and has the highest CAGR for hosting types. Managed VPS alone is expected to see a CAGR of 16.2% between 2019 and 20268.
Definition: Managed hosting is when a web host manages the technical aspects of a server on a user's behalf. This can include handling security patches, software updates, and any other type of server maintenance. Hosting customers usually have to pay extra for this service.
9. Nearly 40% of Domain Names Have a .com Extension
Domain names are an essential piece to your website's brand recognition. The average length of a domain name is nine characters, so it is good practice to keep your name concise.
Also, 37% of domain names have a .com extension. So if you want a memorable name, .com is the way to go9.
Definition: A domain name is a string of characters used to identify a website associated with an IP address. It's also the part of a web address that people mostly remember — because it showcases the brand's name. Subdomain is another URL section that sometimes appears before the domain name. For instance, the word "blog" in blog.yourname.com would be the subdomain of the domain name "yourname."
10. More Than 83% of Websites Use Valid SSL Certificates
So many websites use SSL certificates because they are vital to security and are pretty easy to acquire. Let's Encrypt, a nonprofit certificate authority, issues free certificates for anyone who needs one for their site10.
An SSL certificate is a must if you want to establish trust between your website and your end user.
Definition: SSL certificates are digital certificates that authenticate a website's identity and provide it with encryption. SSL stands for secure sockets layer and is crucial to website security. It encrypts sensitive information while in transmission for safe browsing and enables websites to use HTTPS.
11. The First SSD Storage Drive Was Introduced in 1976
The first SSD, a 19-inch 2MB drive, was released by Dataram in 1976. But it took quite some time for these drives to go commercial. Probably because, like many other technological products back then, it wasn't so portable. In 2006, Samsung released one of the first mass-market flash SSDs, a 2.5-inch 32GB drive, followed by SanDisk in 200711.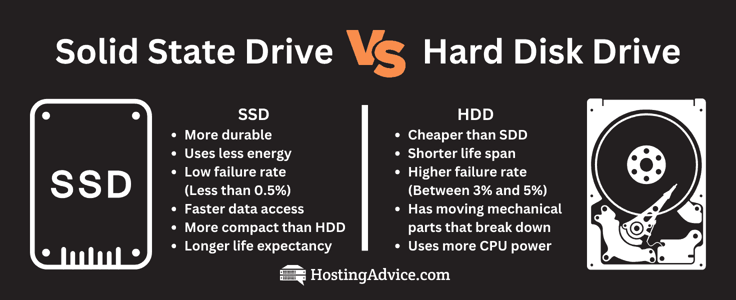 Definition: SSDs, or solid-state drives, store data permanently using flash memory. They are responsible for reading and writing permanent data and can serve as secondary storage space. SSDs are also much faster than their predecessors, hard disk drives (HDDs).
12. Most Websites Use Less Than 5GB Bandwidth Monthly
Many web hosting companies offer unlimited bandwidth because they know that 99% of websites only use 5GB of bandwidth monthly12. However, this doesn't mean your resources are endless. It only means the web host provides a massive amount of bandwidth to help you accommodate your website's traffic.
Reading the fine print can help you better understand how much bandwidth your web host will truly offer and the regulations that come with it.
Website owners can use this formula to calculate the bandwidth they will need:
Visitors per Month x Page Size x Pages Per Visit = Bandwidth Needed
Definition: Bandwidth, also referred to as traffic, is the amount of data that can be sent from your server to a client's browser.
13. Random Access Memory (RAM) Was Created in 1966
In 1966, Robert H. Dennard created the first dynamic random access memory, which was later commercialized by Honeywell in 196913.
Random access memory has a complex history, with various predecessors and inventors in the mix. But to summarize, RAM descends from a lineage of bulky magnetic cores that could fill up a room. Today, the technology has shrunk to become minuscule, pocket-sized hardware.
Definition: Unlike SSDs, Random Access Memory stores temporary data. It allows applications to store and access data on your computer for a short period of time. RAM can also read and write data instantly, making the retrieval process for your computer faster than SSDs and HDDs.
14. DDoS Attacks Are Expected to Increase By 300%
Ransom and application-layer DDoS attacks have become the most popular vectors among bad actors. Both attack types are on the rise, with ransom threats seeing a 67% increase and application-layer attacks up by 165%.
These statistics prove the importance of DDoS protection in today's digital landscape14.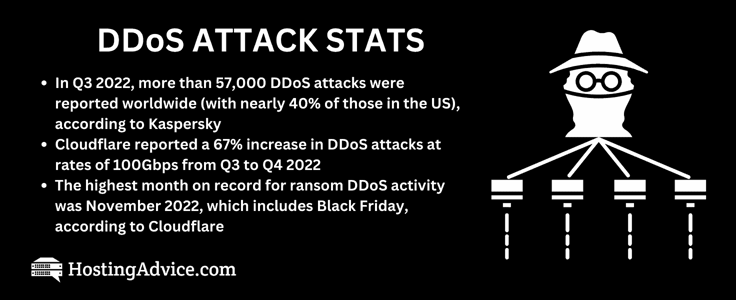 Definition: A Distributed Denial of Service (DDoS) attack is when a hacker uses multiple machines to flood a server with malicious traffic. DDoS attacks overwhelm a server to the point of affecting the availability of that server, causing significant downtime. Users can leverage DDoS protection to combat and shut down these threats.
15. eCommerce Is Expected to Produce 22% of Global Retail Sales
Shopify and WooCommerce are the two most used eCommerce platforms, and people can leverage them to open online storefronts, an industry projected to produce 22% of retail sales worldwide in 202315.
eCommerce has been a viable and profitable opportunity for many businesses in today's age. And its sales continue to grow, amassing a large share of the global retail market.
Definition: eCommerce, or electronic commerce, is the buying and selling of goods and services over the internet with the transfer of funds included. Many web hosts offer eCommerce solutions and functionality with their plans to help users build online storefronts.
16. More Than 18 Million Sites Have Used a Simple Website Builder to Launch
Wix, Squarespace, and GoDaddy were the most popular builders to launch those websites16. With just a few clicks, website owners can use a site builder to build an online store for their businesses.
The eCommerce functionality of site builders has grown in recent years, making it easier than ever to make money online.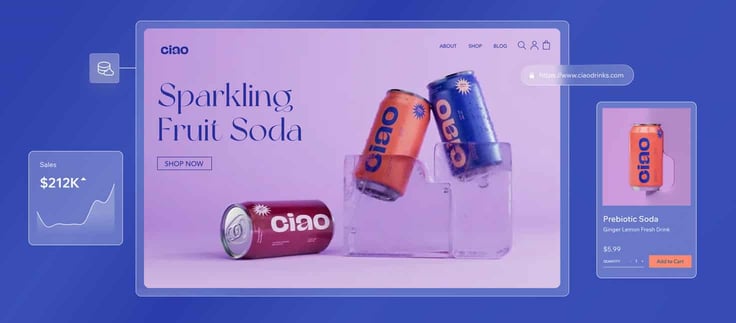 Definition: A website builder allows users to create websites without coding. These builders typically include design templates, drag-and-drop functionality, and other customization features.
17. IP Addresses Are Made Up of a Set of 4 Numbers
Every device connected to the internet has an IP Address. Each IP address has a set of four numbers, which can range from zero to 25517. The Internet Assigned Numbers Authority (IANA) mathematically produces and distributes these numbers through its parent corporation, Internet Corporation for Assigned Names and Numbers (ICANN). So whenever a person registers a domain name with ICANN, they receive a corresponding IP address.
Definition: An Internet Protocol (IP) address is a unique, numerical address used to identify a device connected to the internet or local area network. Every device on the internet has an IP address and uses the Internet Protocol to communicate with and send information between other devices.
18. 99.9% Uptime Is the Standard In the Hosting Industry
The industry standard for uptime is at least 99.9%, but web hosts don't always meet this goal18. Many things can cause downtime, including scheduled maintenance, hardware failure, and cyberattacks.
So if your website suffers more than 0.1% of downtime, your web host should compensate you if it's specified in the service level agreement.
Definition: Uptime refers to the amount of time a website is available to end users. If a web host offers a 99% uptime guarantee, they promise that your website will be up and running 99% of the time.
19. More Than 2.2 Million Websites Use Plesk As Their Control Panel
Plesk sits at the top of the control panel list, and 50% of the top 100 global service providers leverage it as a go-to solution. Plesk's dominance is so established that there is an 81.1% divide in market share between it and its next competitor, cPanel19.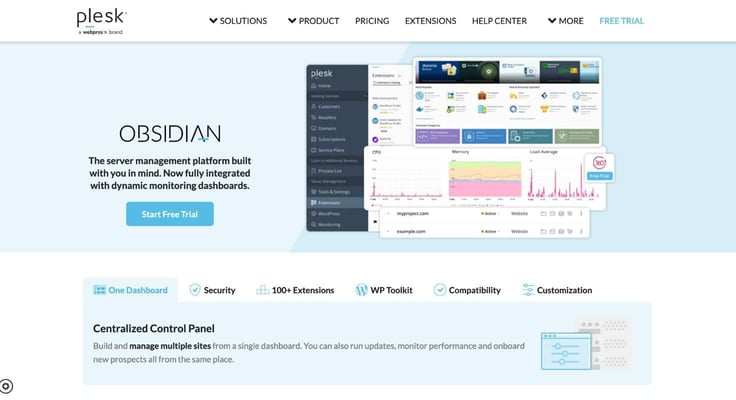 Definition: A control panel is an interface or dashboard where users can manage their servers, track resource metrics, and complete other hosting-related duties. Two of the most popular control panels are Plesk and cPanel.
20. About 41% of the Top 100,000 Websites Use a Content Delivery Network (CDN)
A content delivery network, or CDN for short, makes your website's content load faster. Websites in North America are the top CDN consumers.
Although only 3.4% of websites use a CDN, the CDN market is expected to grow, with a CAGR of 27.3%20.
Fact: A content delivery network (CDN) is a group of servers distributed across various geographical locations to cache content close to end users. CDNs allow a quick transfer of content to load pages and can help boost performance for website owners.
Ready to Take on Web Hosting?
You've made it to the end! This glossary covered everything you need to know when purchasing a hosting plan. Now, you can pick a solution that fits your needs, whether that's shared hosting with a CDN or managed dedicated hosting.
Just know with these web hosting terms, you will be ready to take on hosting in no time. Happy web host hunting!
Sources and Further Reading
1. https://www.icdsoft.com/blog/a-brief-history-of-hosting/
2. https://techjury.net/blog/data-center-statistics/
3. https://www.hostingadvice.com/how-to/shared-vs-reseller-hosting/#price
4. https://www.scalahosting.com/blog/vps-hosting-statistics/
5. https://www.gartner.com/en/newsroom/press-releases/2021-11-10-gartner-says-cloud-will-be-the-centerpiece-of-new-digital-experiences
6. https://www.wpbeginner.com/research/ultimate-web-hosting-statistics-and-market-share-report/
7. https://www.hostingadvice.com/how-to/wordpress-statistics/
8. https://www.prnewswire.com/news-releases/virtual-private-server-market-to-reach-8-38-bn-globally-by-2026–at-16-2-cagr-allied-market-research-300959893.html
9. https://www.hostingadvice.com/how-to/domain-registration-statistics/
10. https://w3techs.com/technologies/details/ce-httpsdefault
11. https://www.pcworld.com/article/472983/evolution-of-the-solid-state-drive.html
12. https://www.bluehost.com/blog/what-is-web-hosting-bandwidth-a-guide-to-understanding-bandwidth-for-website-owners
13. https://hybrid.co.id/post/history-of-random-access-memory
14. https://www.getastra.com/blog/security-audit/ddos-attack-statistics/
15. https://www.searchlogistics.com/learn/statistics/ecommerce-statistics/
16. https://mycodelesswebsite.com/website-builder-statistics/
17. https://usa.kaspersky.com/resource-center/definitions/what-is-an-ip-address
18. https://www.techradar.com/web-hosting/web-hosting-uptime-guarantee-what-does-it-really-mean
19. https://firstsiteguide.com/plesk-stats/
20. https://thrivemyway.com/cdn-stats/
Advertiser Disclosure
HostingAdvice.com is a free online resource that offers valuable content and comparison services to users. To keep this resource 100% free, we receive compensation from many of the offers listed on the site. Along with key review factors, this compensation may impact how and where products appear across the site (including, for example, the order in which they appear). HostingAdvice.com does not include the entire universe of available offers. Editorial opinions expressed on the site are strictly our own and are not provided, endorsed, or approved by advertisers.
Our Editorial Review Policy
Our site is committed to publishing independent, accurate content guided by strict editorial guidelines. Before articles and reviews are published on our site, they undergo a thorough review process performed by a team of independent editors and subject-matter experts to ensure the content's accuracy, timeliness, and impartiality. Our editorial team is separate and independent of our site's advertisers, and the opinions they express on our site are their own. To read more about our team members and their editorial backgrounds, please visit our site's About page.