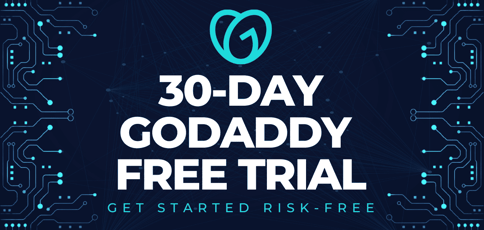 Choosing a web hosting provider is like buying a car. You never know if it's right for you unless you take it for a test drive. That explains why car dealerships offer a free test drive to let you feel how the car drives and establish whether it has any issues that could influence your purchase decision.
Web hosting companies use the same concept but with a different approach, typically in the form of a free trial. So instead of locking yourself into a lengthy contract, some web hosts, including GoDaddy, allow you to try it out risk-free for a specified period.
Although this host will charge your card when you first sign up, yearly plans are eligible for a refund if you cancel within 30 days with no questions asked. In other words, you can try GoDaddy for a month without the obligation of committing to its web hosting services. Let's dive into the details.
Try GoDaddy Risk-Free for 30 Days — Choose Your Plan
GoDaddy breaks down its hosting services into different packages, allowing you to choose exactly what works best for you. Each package offers something unique regarding pricing and features.
Some of our favorite GoDaddy hosting perks include its online store builder, SEO tools, free domain name, and its latest addition of unlimited free SSL certificates.
Keep reading to find out what you get with a GoDaddy basic plan and beyond.
GoDaddy Basic Plan
The GoDaddy basic plan (referred to as Economy) is best if you want to create a simple and non-resource-intensive website. It could be a blog, a portfolio, or even a small business website.
If you're starting from scratch, GoDaddy will throw in a free domain name to keep you going for a year. No wonder it is the world's largest domain registrar, boasting more than 79 million domains registered.
Manage your domain and hosting under one roof
Choice of cPanel or Plesk control panels
Up to unlimited bandwidth and storage
Microsoft 365 inboxes included FREE for first year
Get 70% OFF by signing up today
CHEAP
RATING 4.5 ★★★★★ Our Review
GoDaddy: Our Expert's Review
Ryan Frankel (HostingAdvice.com): A major pull factor for GoDaddy's hosting services is certainly the cost. It's hard to beat web hosting for just a few dollars per month, especially when the company includes a free domain name, control panel, impressively fast load times, and unlimited websites with most plans. Go to full review »
| Money Back Guarantee | Disk Space | Domain Name | Setup Time |
| --- | --- | --- | --- |
| 30 days | 25 GB – Unlimited | FREE (1 year) | 4 minutes |
To protect your website and its data, this host gives you a free SSL certificate for the first year when you choose this basic hosting plan. It also offers daily automated backups, allowing you to restore your website to a previous version if anything goes wrong with the current version.
For a cheap hosting plan, its web security options are strong. The most basic plan includes 24/7 network monitoring and DDoS protection.
GoDaddy WordPress Plan
Because WordPress is the world's largest and most popular content management system, there's a special package for anyone who wants to build a WordPress website on its servers.
The fully managed GoDaddy WordPress plan comes with built-in web security options and features, automated daily backups, and regular software updates to keep your WordPress site in top shape.
1-click WordPress installs via cPanel or Plesk
FREE domain from the world's #1 registrar
Experience 24/7 expert support
Award-winning security monitoring
FREE year of Office 365 business email services
WORDPRESS
RATING 4.4 ★★★★★ Our Review
GoDaddy: Our Expert's Review
Ryan Frankel (HostingAdvice.com): As champions of low-cost, high-impact hosting, GoDaddy understandably offers a slew of services geared for all levels of WordPress users. Starting with the company's basic shared hosting services, which start at $2.99 per month, each GoDaddy customer who signs up for an annual plan receive a free domain name and the power to control their site via the cPanel or Plesk control panels. Go to full review »
| Money Back Guarantee | Disk Space | Domain Name | Setup Time |
| --- | --- | --- | --- |
| 30 days | 30 GB SSD – Unlimited SSD | FREE (1 year) | 6 minutes |
If you run a small business, you can easily turn your WordPress website into an online store through the cPanel dashboard on your GoDaddy account.
By offering a free domain for the WordPress plan, GoDaddy once again shows why it is the go-to destination for anyone looking to register a domain. The security is also top-notch. Your website will receive 24-hour malware scans to protect its content and a free SSL certificate — the ultimate mark of security on the internet.
GoDaddy Website Builder
Gone are the days when you needed serious technical skills to build a website. With GoDaddy's AI website builder, you can create a great website from scratch within minutes, saving you money, especially if you're on a budget. You won't need to hire a professional website designer to get your website off the ground.
Get started for FREE, no credit-card required
Easy-to-use interface with tons of customization
GoDaddy InSight™ provides tailored action plans
99.9% uptime with an award-winning support team
Built-in marketing tools and expertise
WEBSITE BUILDER
RATING 4.8 ★★★★★ Our Review
GoDaddy: Our Expert's Review
Ryan Frankel (HostingAdvice.com): GoDaddy uses a custom website builder and easy access to dozens of content management systems to offer a user-friendly site-building solution to customers. Most of GoDaddy's hosting plans include these options at no additional cost. Go to full review »
| Money Back Guarantee | Disk Space | Domain Name | Setup Time |
| --- | --- | --- | --- |
| 30 days | Unlimited | New or Transfer | 5 minutes |
Get started with your free custom domain name and decide what kind of site you want to build. Whether it's an online store or a website for your small business, GoDaddy has a premade template for you. Once you build your site, explore the search engine optimization and Google Analytics tools at your disposal.
The GoDaddy website builder, also called the Website and Marketing plan, gives you advanced email marketing features, social media tools, and eCommerce functionality to build the online store of your dreams — free for seven days. After your trial, you can decide to pay for a plan or cancel.
The GoDaddy website builder tool doesn't stop at building websites. You can also use it to create a digital marketing strategy, which includes social media, to showcase your products or services to the whole world.
GoDaddy VPS Hosting
If you want more control over your website right from the root, this host's VPS hosting plan comes in handy. To give you a perspective of the kind of control you'll have with this plan, GoDaddy VPS hosting lets you choose your preferred datacenter in the United States, Europe, Singapore, or India.
Designed to handle traffic with Linux or Windows
Admin access via root access, cPanel, and Plesk
High-speed SSDs and 99.9% uptime guarantee
Unlimited bandwidth and lots of processing power
Fully or semi-managed servers with optional control panel
VPS
RATING 4.2 ★★★★★ Our Review
GoDaddy: Our Expert's Review
Ryan Frankel (HostingAdvice.com): If you're looking to grow and scale your website, GoDaddy has you covered. Developers and web enthusiasts will be pleased to hear that GoDaddy offers root access, making it easy to install PHP modules, applications, stacks, and various customizations to fine-tune your virtual server for peak performance via the command line or remote desktop. Go to full review »
| Setup Time | Disk Space | CPU | RAM |
| --- | --- | --- | --- |
| 7 minutes | 20 GB – 400 GB NVMe SSD | 1 – 8 cores | 1 – 16 GB |
I know VPS hosting is more expensive than a shared hosting plan, but GoDaddy makes it affordable. The secret? Breaking down VPS hosting plans into small, custom packages. For example, you can choose the number of CPU cores you want (from 1 to 16), each with its own pricing.
With GoDaddy's VPS hosting plan, you can connect with the world, enjoy faster speeds, better performance, and, importantly, more control. Whether you want to play Minecraft with your friends in India or host a more powerful online store, the possibilities are endless with this VPS hosting plan.
GoDaddy Dedicated Hosting
The GoDaddy dedicated hosting plan best suits a resource-intensive website. I'm talking about a popular eCommerce website, or maybe a government website that provides services directly through an online portal. A healthcare and telemedicine website or application, and anything along those lines, would also benefit from this plan.
Dedicated resources provisioned in minutes
Maximum performance and data protection with RAID-1 disk mirroring
Admin control via root access, cPanel, or Plesk
Choose from semi- or fully-managed services
Get

22

% off of your first term
DEDICATED
RATING 4.6 ★★★★★ Our Review
GoDaddy: Our Expert's Review
Ryan Frankel (HostingAdvice.com): GoDaddy dedicated server hosting plans feature managed support options, on-demand resources, and the intuitive user control of cPanel and Plesk. The company offers plans for Linux and Windows users, with a variety of options for operating systems, RAM, processing power, disk space, and hardware choices. Go to full review »
| Setup Time | Disk Space | CPU | RAM |
| --- | --- | --- | --- |
| 7 minutes | 500 GB SSD – 16 TB HDD (RAID-1) | 4 – 16 cores, 8 – 32 threads | 32 – 256 GB |
Such websites or applications often require a lot of powerful resources, and that's exactly what GoDaddy's dedicated hosting plans offer.
This popular host is quite considerate regarding its pricing, even for its dedicated hosting plans. For instance, you can choose SSD NVMe storage, which is more expensive but faster, or traditional hard disk drive storage. Regardless of your choice, you can rest assured of great speeds, more power, and total control.
Other Hosts With Free Trials
If GoDaddy isn't what you're looking for, it's not the end of the world. You have more hosting options, as discussed below. These hosting companies offer traditional free trial periods and don't charge your card until your trial ends.
30-day free trial on all cloud products
User-friendly custom management portal
Instant scalability and server adjustments
Choose from roughly 60 operating systems
All-SSD cloud VPS infrastructure
BEST OVERALL
RATING 4.8 ★★★★★ Our Review
Kamatera: Our Expert's Review
Laura Bernheim (HostingAdvice.com): Billing itself as 'probably the fastest cloud on the planet,' Kamatera created an impressively performant, scalable, and flexible cloud service that can be custom-tailored to customers' exact specifications. The hosting provider's comprehensive cloud services run the gamut from web hosting servers and block storage, to a private cloud network, load balancer, firewall, and managed services. Go to full review »
| Money Back Guarantee | Disk Space | Domain Name | Setup Time |
| --- | --- | --- | --- |
| 30-day FREE trial | 20 GB SSD – 4 TB SSD | New or Transfer | 3 minutes |
Credit card required: Yes
Kamatera will let you test its services for 30 days, all for free. That's more than enough time to decide whether you want to keep the host or explore other options. The table above shows what to expect from this powerful cloud hosting provider.
If you decide that Kamatera, for one reason or another, isn't what you need, you can resume your search for another hosting provider.
Choose your cloud provider, application, and server location
Easily scale server size, bandwidth, and storage
Launch WordPress or Magento with a single click
FREE CDN, managed backups, and staging areas
Get 25% OFF first 3 months with promo code HOSTINGADVICE
BEST OVERALL
RATING 4.8 ★★★★★ Our Review
Cloudways: Our Expert's Review
Alexandra Anderson (HostingAdvice.com): We appreciate providers that serve cost-competitive, customizable packages to simplify the too-many-choices nature of cloud hosting. Cloudways puts the power of choice in the customer's hands. Go to full review »
| Money Back Guarantee | Disk Space | Domain Name | Setup Time |
| --- | --- | --- | --- |
| 3-day FREE trial | 20 GB SSD – 4 TB SSD | New or Transfer | 8 minutes |
Credit card required: No
Like Kamatera, Cloudways also offers cloud hosting services with many powerful features to keep your website up and running in the cloud. But there's a catch; the free trial is way shorter than what Kamatera offers. You only have three days from the date of signing up to enjoy the free trial.
But don't let that put you off; Cloudways won't ask for your credit card information. This option is ideal if you want to take the host for a quick test drive. It's more like a hop-in-and-out option.
FREE signup with email or Facebook
Drag-and-drop designing is super easy
1-year domain free with most plans
Up to $300-worth of ad credits
Access to 1,000s of templates and additional tools in the App Market
BEST OVERALL
RATING 4.6 ★★★★★ Our Review
Alexandra Anderson (HostingAdvice.com): As a web builder, Wix is an industry leader when it comes to ease of use, setup time, and available features. The browser-based, WYSIWYG (What You See Is What You Get) site-building service is hands down one of the foremost brands in this industry niche, and that's not without just cause. Go to full review »
| Money Back Guarantee | Disk Space | Domain Name | Setup Time |
| --- | --- | --- | --- |
| 14-day FREE trial | 2 GB – Unlimited | FREE (1 year) | 4 minutes |
Credit card required: Yes
I'll throw Wix into the mix because it deserves it. This drag-and-drop website builder and host makes building a website easy, even for beginners. What I love the most about it is the beautiful templates for almost every niche under the sun.
Its free trial is also quite generous. Since you can build a decent website within minutes with Wix, two weeks is more than enough time to explore its features and decide whether to keep it or swipe left in your search for the best host with free trials.
What Is the Difference Between a Free Trial and a Money-Back Guarantee?
Wondering why some hosts offer free trials while others offer money-back guarantees? They're both similar, but there's one major difference.
A free trial is when a web host gives you access to its platform with no upfront purchase. Although the host may ask for your credit card, it won't charge you if you cancel your trial before the last day.
Money-back guarantees give you a full refund if you cancel within a particular time frame if you're not satisfied with the hosting service. For instance, a 30-day money-back guarantee means you'll get your money back if you cancel the service within 30 days of signing up.
Technically, a money-back guarantee is like a free trial. The only difference is that the web hosting company will charge your credit or debit card once you sign up. If the service is not up to your standards or does not have what you need to power your site or application, you can cancel and request a refund within the specified time frame.
How Long is GoDaddy's Money-Back Guarantee?
As mentioned, GoDaddy has a 30-day money-back guarantee for new customers. A 30-day money-back guarantee is fairly standard for most hosting providers, but the time frame can range from three days to almost three months.

The clock begins to count down from the moment you first sign up for the host. To get the most out of GoDaddy's hosting, consider signing up when you're ready to get started with building your website or application on the platform. This ensures you make the best of every day. It also gives you enough time to test every feature that's relevant to your hosting needs.
How Do I Make a Free Website with GoDaddy?
GoDaddy harnesses the power of Artificial Intelligence to help users build incredible websites from scratch and within minutes.


To build a website with GoDaddy:
Sign up for a hosting plan, and head over to the free website builder tool
Next, select your goals for the website from the provided options, click "Continue"
Choose the kind of website you want to build from the options
Enter a name for the website followed by your contact information, and then click "Continue"
GoDaddy's AI website builder will create a sample website for you. Once you have the bones of your site complete, you can use editing tools to improve and customize it.
When you're happy with the look of your site, choose a new domain name or transfer an existing one to your new site
Once you've completed these steps, you're ready to publish. GoDaddy walks you through the site-building process in greater detail when you sign up for a plan, so don't feel intimidated to get started.
Experience the World's Largest Domain Registrar For Free
GoDaddy truly stands out in the world of web hosting. But that's not surprising, given it is the world's biggest domain registrar and home to more than 79 million domains. With so many hosting plans to explore, you won't fail to find what's best for your website or application.
During your 30-day trial period, you can familiarize yourself with GoDaddy's hosting plan features, control panel, and customer support. Remember, you have 30 days to take it on a test drive. So, make sure every mile counts.
Further Reading: "30-Day GoDaddy Free Trial: Get Started Risk-Free (Oct. 2023)"
Hopefully, our recommendation of GoDaddy fulfills all your web hosting needs. Starting at just $2.99 per month and rated 4.5 overall, GoDaddy gives users plenty of bang for the buck. Among our favorite features:
Manage your domain and hosting under one roof
Choice of cPanel or Plesk control panels
Up to unlimited bandwidth and storage
Microsoft 365 inboxes included FREE for first year
Get 70% OFF by signing up today
If you'd like recommendations similar to GoDaddy and others in 30-Day GoDaddy Free Trial: Get Started Risk-Free (Oct. 2023), check out these popular guides. You'll find comparisons of GoDaddy to other hosts on pricing, features, support and more:
And of course, if GoDaddy is your top choice, you can get started now at just $2.99/month. GoDaddy is easy to set up and scale, no matter the size of your next project.
Advertiser Disclosure
HostingAdvice.com is a free online resource that offers valuable content and comparison services to users. To keep this resource 100% free, we receive compensation from many of the offers listed on the site. Along with key review factors, this compensation may impact how and where products appear across the site (including, for example, the order in which they appear). HostingAdvice.com does not include the entire universe of available offers. Editorial opinions expressed on the site are strictly our own and are not provided, endorsed, or approved by advertisers.
Our Editorial Review Policy
Our site is committed to publishing independent, accurate content guided by strict editorial guidelines. Before articles and reviews are published on our site, they undergo a thorough review process performed by a team of independent editors and subject-matter experts to ensure the content's accuracy, timeliness, and impartiality. Our editorial team is separate and independent of our site's advertisers, and the opinions they express on our site are their own. To read more about our team members and their editorial backgrounds, please visit our site's About page.