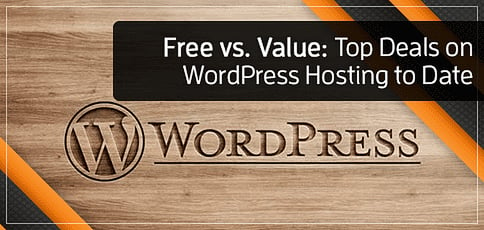 The phrase free WordPress hosting has a magnetism that's hard to fight. The four-letter word regularly causes rational human beings to lose all sense of reason at the prospect of scoring the bargain of a lifetime.
But is it ever really worth it?
In the case of WordPress, the popular open-source content management system is a stellar community-driven product without a price tag (you'll probably end up spending some money on themes or plugins, but not necessarily). Free hosting, though especially alluring, can sometimes be deceptive, in the world of web hosting. We've covered your top free site builders and free domain registrations, and today we'll cover the best services for hosting your site on the fantastic platform WordPress platform — both the marketing ploys to watch out for and the opportunities to save.
I wouldn't be doing my job as an avid WordPress advocate if I didn't caution you against the perils of free web hosting. Often times, the service comes with more headaches than the $0 price tag is worth. Especially if you're launching a site for your professional brand and livelihood, we highly recommend investing — and I use the word lightly, as we're talking about the cost of a cup of coffee per month — in a low-cost, high-quality hosting service.
On average, a shared hosting plan will cost $5 to $10 monthly, which is a mere $60 to $120 annual investment in your business. And for that, you get to eliminate the ads that plague the sites of free hosting customers, you're awarded a more reliable infrastructure that's probably backed by a seasoned support staff, and you're likely to be thanked with a few free perks as well.
We've found that some of our favorite cheap hosts back out their customers' costs by including free domain names, site builders, and marketing credits — maybe even assistance with WordPress updates and plugin maintenance — as standards. Take a look at what some of the most valuable and trusted WordPress hosts have to offer below.
See more cheap WordPress hosts »
If you weren't already sold by the premium reliability, marketing and SEO tools, customer support, and WordPress-specific features itemized above, we'd like to sweeten the deal. We know you came here for a bargain, so be sure to capitalize on one of the current promotions happening with some of the top WordPress hosts.
Find more deals for WordPress users »
We tend to do a lot of free hosting bashing — but we're not alone! All around the web, experts share words of wisdom and newbies share horror stories illustrating why skimping on your web hosting is just not a great idea.
Knowing the walls you're likely to run into down the road, we have a hard time selling readers on 100% free hosting, but that doesn't mean we don't love it when a quality paid host offers their services for free. We love this particular F word, and one of our friends in the hosting industry is known for offering free hosting to new customers for up to a year.
I mean, who better to host your WordPress site than WordPress itself? The free account comes with some limitations that my turn off some more experienced site owners, but you can guarantee the infrastructure, security, and support will be perfectly optimized to the popular CMS.
#1 CMS hosted by the team that built it
Hassle-free updates and global community of support
Pre-installed SSL certificate
FREE for life with WordPress subdomain
Affordable upgrades add ecommerce, custom domain, and 24/7 support
Compare with the top WordPress hosts »
To recap: The best hosting providers that offer WordPress services are dirt cheap; the software itself is 100% free and easy to install and set up; and you're likely to be welcomed into your new hosting family with other free rewards. Does it get any better? Yessiree.
Enter BoldGrid — the first-of-its-kind website builder software that lays on top of the WordPress platform to bring a drag-and-drop, what-you-see-is-what-you-get experience to the interface. Originally created by the InMotion Hosting development team, BoldGrid has become one of my favorite life hacks to recommend to friends, family, and clients. Oh, and did I mention it's also free?
You can download BoldGrid for free, and while we recommend pairing it with parent company InMotion, the builder's list of compatible hosting companies is growing. InMotion, Web Hosting Hub (sister host of InMotion), and A2 Hosting are among our top picks for BoldGrid-powered WordPress hosting. Get started below:
Find more website builder plans for WordPress fans »
As an admitted shopaholic, a wannabe coupon queen, and a former mathlete, I can say with confidence that the only thing better than free is a killer discount. If one of the exceptional hosts we've discussed here today has caught your eye and you just need a little nudge, would a coupon code help seal the deal for your business?
We've negotiated special pricing tiers with various hosts so we can offer exclusive discounts to HostingAdvice readers. Check out some of the best deals to be had in the WordPress realm below:

See more great hosting deals »
Go ahead — give in to the seductive powers of "free." You're in a safe space, and the free and almost-free options we've discussed here today are well worth the minimal investment.
Check back often, as we've made it our mission to keep our finger on the pulse of the industry. That includes finding the best opportunities to save on hosting needs. 'Til next time, hosting shoppers!