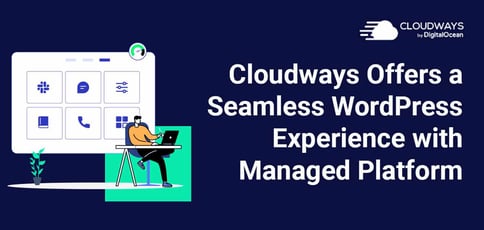 TL; DR: WordPress is the foundation of millions of websites on the internet. Its open-source framework has helped users create customized online spaces, but that doesn't mean it's always easy to use or manage. This is where Cloudways steps in. Cloudways simplifies the WordPress experience by offering a managed cloud platform and top-notch support. We spoke to Suhaib Zaheer, SVP and GM at Cloudways, about the CMS' future, AI and ML integration, and how Cloudways streamlines the user journey for SMBs.
Since 2003, millions of people have used WordPress' open-source framework to develop an online space unique to their brand and functionality. And the CMS platform's growth has been a sight to see. WordPress has come a long way from its humble beginnings. This is evident in the fact that its use has skyrocketed in the past decade, placing it at the top of website-building software.
In 2011, WordPress's web market share sat at 13.1%. Now it powers almost half of the internet's websites, with a market share of 43%. And its dominance doesn't seem to be slowing down anytime soon. WordPress is open, flexible, and accessible, making it a top choice for various users, from small businesses and personal bloggers to well-known publishing houses and news sites. And it continues to evolve to meet user needs.


"I've seen the way it's transformed the lives of so many small businesses across the many companies I've worked with. WordPress is a powerful CMS that powers almost half of the websites in the world. So seeing how it's grown and the impact it's had for millions of users around the globe has been exciting," said Suhaib Zaheer, SVP and GM at Cloudways.
Although WordPress was built to help democratize the web, it has become a more complex system as it has onboarded more features.
Good thing there's a web hosting provider that knows a thing or two about web simplification. Cloudways has helped make the cloud more accessible for SMBs and offers streamlined WordPress hosting with its managed platform. This way, users don't have to go it alone.
Maximizing the Cloud Experience for SMBs
Cloudways' mission is to empower everyday website owners to achieve their dreams online. Its managed cloud platform helps small businesses tackle web hosting while staying on top of operations and focusing on their business.
"We realized that small and medium-sized businesses don't have the same level of resources that enterprises do. So we wanted to make sure that we built a product that would simplify that experience and enable everyone to get the maximum value out of the cloud," said Suhaib.
The Cloudways team sees itself as a partner rather than a vendor. Since many SMBs don't have the internal IT staff or technical expertise to run a hosting platform, Cloudways acts as an extension of their team to help these businesses manage their web hosting.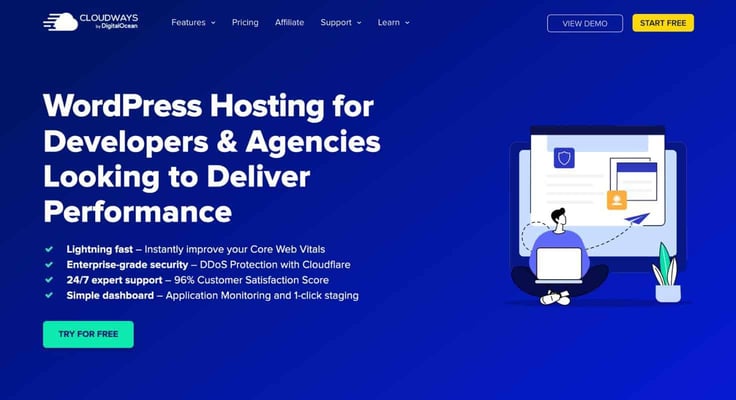 "The speed and performance that we deliver at the price point we offer is second to none. We also provide application-level support for customers. Many other companies, especially hyperscalers, charge a significant premium for the level of support we provide," said Suhaib.
Users can reach out to the Cloudways team for assistance on various issues. With its application-level support, businesses can ask Cloudways to help them troubleshoot problems that may come up within their applications.
The Cloudways team understands that not everyone will have the resources of top enterprises and seeks to make the flexibility of the cloud accessible to everyone. By offering its managed cloud platform, smaller businesses not only are able to afford these cloud services but also have the capabilities to operate them efficiently.
Taking the Complexity Out of WordPress Management
WordPress is currently celebrating its 20th anniversary. Over these 20 years, the CMS software has grown in use and complexity. Users now navigate more plugins and updates to maintain functionality and security, which can be tricky for novices. Fortunately, as it does with its cloud resources, Cloudways also makes WordPress more manageable for users.
"We offer a WordPress-optimized stack that simplifies the experience and allows you to harness the power of WordPress even if you don't have an extensive technical background. By preconfiguring Apache and Nginx for server caching, and Varnish, Redis and PHP-FPM for web app caching, we're able to deliver phenomenal performance out of the box. And that's just one of the things that sets our platform apart from some of the other companies in our space," said Suhaib.
Suhaib also said that most Cloudways customers use WordPress for their website needs, which is why streamlining the WordPress experience is integral to Cloudways' service offerings. Small businesses don't usually have the time or expertise to understand and learn the platform's nuances. So Cloudways takes care of it for them.
Introducing Automation
The Cloudways team plans on introducing additional automation to its platform to help further simplify WordPress management for customers. For instance, if a user hosts multiple WordPress sites, updating plugins across dozens or hundreds of sites manually can be difficult. So Cloudways has launched a feature called SafeUpdates that can automatically update these plugins or perform the updates in a sandbox environment so users can review them before pushing them into production.
"Those are the types of products that we're bringing to market that will eliminate laborious tasks for business owners and make things simpler, giving them more time to grow their business versus managing infrastructure or applications," said Suhaib.
WordPress is open, flexible, and affordable, making it a viable option for various users. Compared to other platforms, WordPress allows users to do more for less and add customization and unique functionality along the way. Suhaib said this is why many small businesses gravitate toward the platform.
"As your business gains momentum and you need to add new functionality, deploy new features, or leverage increased scalability, these are all things you can do easily when leveraging our managed WordPress hosting platform at Cloudways," said Suhaib.
Leveraging AI to Solve Customer Problems
Suhaib told us that WordPress has been leveraging AI and machine learning for a few years now, with its latest tool exploring AI-generated content possibilities. Cloudways seeks to integrate AI to further adapt the user experience and create a more engaging and personalized presence for web visitors.
"We're excited to explore the use of AI to further simplify the user experience, whether it's with things like content and image optimization or automating repetitive tasks within WordPress that will give more time back to business owners," said Suhaib.
Managing updates can be a tedious and time-consuming process. Not doing updates in a timely way can also affect a user's website from a security standpoint. If users don't maintain updates, their websites can become more susceptible to vulnerabilities and cyber attacks.
"The blessing and the curse of WordPress being open-source is that it's infinitely flexible, but that requires vigilance when it comes to keeping everything up to date," said Suhaib.
Cloudways is all about simplifying the web management workflow for users, whether that's for WordPress or just cloud hosting. AI will only be another tool in its toolkit to help it enhance and streamline its customer experience, as the company has done so many times over the years.
"It's amazing to hear from our users who successfully grow their customer base shortly after joining us. We're proud of the work our teams are doing to simplify the WordPress experience, and we'll continue taking steps to make things even simpler going forward. Our goal is to give time back to customers so they can focus their time and energy on what's most important, growing their business," said Suhaib.