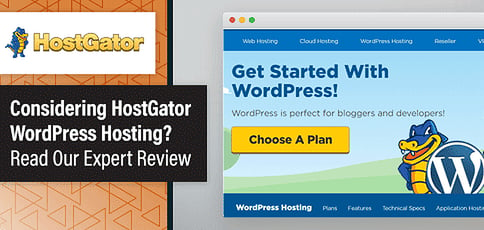 Looking for a HostGator WordPress review? You've come to the right place!
Serving beginner to advanced WordPress users for more than a decade with its cheap, powerful, and widely chosen Hatchling plan, HostGator has been a big help for late-night bloggers like me. I think I called the support team four times that fateful night when I first signed up for HostGator hosting, and the reps had all the time in the world.
Since then, we've regularly run HostGator's WordPress suite of tools through the wringer and are here to share the results. The host is among the top WordPress hosts out there, but every blog is different, and you ultimately have to pick the best service for your own needs.
HostGator's WordPress Hosting Review Overall: 4.8 / 5.0 Rating
There's no place like WordPress to call home. With an easy-to-use dashboard any beginner can use and more than 40,000 themes from which to choose, WordPress's popularity should come as no surprise. What amazes most folks, however, is how easy it is to set up the WordPress.org software on a host (self-hosted WordPress).
The setup takes place through a one-click install of the WordPress.org platform, which essentially puts WordPress onto your hosting space with no downloads or coding required. Most top web hosts have this sort of tool. The difference: Few meet HostGator's mega-high standard of support and customer care. Even web veterans fumble at times, and it helps to have the experts on the receiving end of HostGator's Live Chat tool to explain any part of a blog or website 24/7/365 while making you feel smart, not belittled.
Additionally, HostGator recently revamped its cPanel (the control panel from which you initiate the one-click install) to the new Paper Lantern theme to make navigating your HostGator dashboard even easier. Let's take a look at the details involved in making a WordPress site with HostGator.
Managed WordPress hosting on shared servers
WordPress is preinstalled on all plans
Unlimited email addresses hosted at your domain
99.9% uptime guarantee for your blog
$150 in Google Ads spend match credit
WORDPRESS
RATING 4.8 ★★★★★ Our Review
HostGator: Our Expert's Review
Ryan Frankel (HostingAdvice.com): HostGator is great for all things shared hosting, and application-specific services — such as the classic one-click-install WordPress hosting — are no exception. The team recently updated its already clean and intuitive HostGator cPanel dashboard, wherein users can find a myriad of free apps and scripts to install, including WordPress. Go to full review »
| Money Back Guarantee | Disk Space | Domain Name | Setup Time |
| --- | --- | --- | --- |
| 30 days | Unlimited | FREE (1 year) | 4 minutes |
See alternative WordPress hosts »
HostGator was also among the first large-scale web hosts to pioneer managed WordPress hosting for users who want more robust features out of the box in terms of security, speed, and scalability. It's a little pricier, but if it's for your business, remember that web hosting expenses are also a tax write-off.
While I use the managed WP option for a few sites that require higher levels of security (up to 3 sites on the business install), I find it to have more features than I need at times; it's like ordering a Venti Mocha Frappuccino with caramel drizzle when all you wanted was a quick cup of coffee. Tastes great, but the latter would work just fine. I run my most serious sites on a HostGator shared hosting plan. Let's dive into some everyday use features in this HostGator WordPress review.
Up to 2.5x faster WordPress hosting
FREE site migration to help you get started
Multiple caching layers for optimal performance
Advanced security and 99.9% uptime guaranteed
$100 in Google Adwords credit for marketing
MANAGED WORDPRESS
RATING 4.3 ★★★★★ Our Review
HostGator: Our Expert's Review
Ryan Frankel (HostingAdvice.com): While HostGator may be a known force to be reckoned with in the shared hosting space, the provider has taken its WordPress plans to the cloud. Featuring a free CDN, multiple levels of caching, and low-density servers, HostGator's WordPress hosting is bound to bring you the ultimate performance and security for your WP blog or site. Go to full review »
| Money Back Guarantee | Disk Space | Domain Name | Setup Time |
| --- | --- | --- | --- |
| 30 days | Unlimited | FREE (1 year) | 4 minutes |
See alternative managed WordPress hosts »
How Does HostGator WordPress Hosting Compare With Others?
We obviously think HostGator is among the best options out there when it comes to WordPress hosting, but there are other fish in the sea. Because WordPress is so popular, many of the top hosting providers are clamoring to optimize their infrastructure for the legions of WP users. Take a look at some of our favorites and see how the cost, storage, bandwidth, and other features stack up to HostGator.
Recommended by WordPress.org since 2005
Automatic WordPress updates and initial install
FREE WordPress themes in the Bluehost Marketplace
24/7 support via live chat, phone, and email
Get exclusive discounts on WordPress plans
WORDPRESS
RATING 4.9 ★★★★★ Our Review
Bluehost: Our Expert's Review
Ryan Frankel (HostingAdvice.com): Bluehost's WordPress hosting packages are aimed at first-time site owners and personal bloggers. These services come at a premium compared to the standard Bluehost web hosting (basic shared hosting) plans, but the WordPress optimization and platform-specific resources are arguably worth the cost. Go to full review »
| Money Back Guarantee | Disk Space | Domain Name | Setup Time |
| --- | --- | --- | --- |
| 30 days | 50 GB SSD - 100 GB SSD | FREE (1 year) | 7 minutes |
Officially endorsed by WordPress.org
FREE migration plugin or automated installation
Pre-installed Git, 3 caching levels, and FREE CDN
FREE WP setup wizard, staging, and auto-updates
Fast, 24/7 support via custom chat system
WORDPRESS
RATING 4.9 ★★★★★ Our Review
SiteGround: Our Expert's Review
Alexandra Anderson (HostingAdvice.com): Want a hassle-free, WordPress-optimized hosting service. SiteGround has thought of everything you need to get your site up and running. Go to full review »
| Money Back Guarantee | Disk Space | Domain Name | Setup Time |
| --- | --- | --- | --- |
| 30 days | 10 GB SSD - 40 GB SSD | New or Transfer | 6 minutes |
1-click WP install, PHP 7+, HTTP/2, and NGINX
All-in-one security protections from BitNinja
WordPress optimizations boost performance
No price markup for WordPress services
Daily backups and FREE SSL certificate
WORDPRESS
RATING 4.9 ★★★★★ Our Review
Hostinger: Our Expert's Review
Laura Bernheim (HostingAdvice.com): As much as we love WordPress, one of our biggest pet peeves is when hosting providers exploit the popularity of the world's most-used content management system by offering so-called WordPress hosting that, in reality, is exactly the same as the host's shared server plans. Fortunately, Hostinger's ultra-fast infrastructure and easy access to SSL certificates and backups sets up the company to outperform the vast majority of the violators of our admittedly made-up rule. Go to full review »
| Money Back Guarantee | Disk Space | Domain Name | Setup Time |
| --- | --- | --- | --- |
| 30 days | 50 GB SSD - 200 GB SSD | FREE (1 year) | 4 minutes |
See alternative WordPress hosts »
HostGator's WordPress "Features" Rating: 4.6 / 5.0
Where do we begin? As a huge top 3 web host, HostGator can afford to offer a ton of features for free — tools and perks which may cost you elsewhere. This isn't even including the massive support department you get access to when you sign up (seven support teams for things like billing, domains, and tech support). From someone who spends a lot of time in their hosting dashboard, here are a few of my favorite HostGator features:
Intuitive cPanel dashboard: Simply log into cPanel to install WordPress sans coding!
Money-back guarantee: You have 45 days to reconsider your choice.
Email perks: Create custom email addresses, such as hello@yourbusiness.com, in cPanel.
Very transparent offers: HostGator offers competitive prices clearly outlined upfront.
Free Google Adwords credits: Use a complimentary $100 Adwords token to attract visitors!
Addon domains: You're free to create additional domains if you get a Baby plan.
Subdomains: You can create subdomains like blog.yoursite.com.
HostGator was founded by Brent Oxley in his dorm room in October of 2002, just in time for the creation of WordPress in 2003. The company manages to cut through all the flashy WordPress offers out there and remains one of the largest WordPress blog hosts on the market. HostGator packages also come pre-installed with several plugins, such as Mojo Marketplace, so you can shop for WordPress themes, and Akismet, to stop spam from the start. Finally, unmetered bandwidth and data transfer gives your site room to grow. In fact, when my site's traffic spikes, HostGator recommends new WordPress plugins to help it run even better.
HostGator's WordPress "Performance" Rating: 4.8 / 5.0
HostGator offers all customers unmetered bandwidth, meaning your site won't slow down or crash during periods of high traffic. Bandwidth is like the doors through which people enter a sports arena. If these doors are narrow or obstructed, you can only let in a handful of people (low traffic), the process will take forever (slow site), and many will miss the event (site down).
A good example of this level of care is when my little old college blog was mentioned unexpectedly by Huffington Post one day, sending in about 1000x my usual traffic. Nothing broke, phew, and the lasting increases in organic traffic kind of made my career. If my blog had crashed that day, you can imagine HuffPost would have un-mentioned it.
It doesn't stop there: HostGator also offers unmetered storage so you can bring a ton of images, videos, logos, links, and whatever else you need to run a growing website or blog, or both!
HostGator recently invested in a 300,000-square-foot world-class datacenter in Houston, Texas as well. The team has built-in redundancies in the software, which means that in the small chance one thing doesn't work, a few other pieces of infrastructure will fill in to ensure no gaps in coverage. These sorts of technology improvements may seem irrelevant to bloggers, but with more than 8 million domains hosted on its servers, HostGator has to keep innovating. At the end of the day, it gives me added peace of mind knowing they're working on difficult stuff while I'm sitting here blogging.
HostGator's WordPress "Pricing" Rating: 4.3 / 5.0
In the world of web hosting, you get what you pay for. HostGator is not a free web host by any means, but the provider manages to offer premium services at affordable prices. On the site, you'll notice different pricing tiers for any type of new hosting customer:
Even the cheapest plan grants full access to cPanel, where you can begin your WordPress blog creation journey. Also worth noting: The prices listed are for 36-month registrations. If you'd like a 12-month registration, I'd recommend you find a valid HostGator coupon, unless you want to wait until a flash sale happens around Thanksgiving or Black Friday. That's a long wait, though, so get yourself a coupon and bring that cost of hosting a WordPress blog down.
HostGator's WordPress "Reliability" Rating: 5.0 / 5.0
As is the case with many of the best web hosts, HostGator promises a 99.9% uptime guarantee, which means your site will potentially experience a mere 42 minutes of downtime per month. After managing WordPress blogs for more than five years, I've come to realize bad things can happen. A plugin can go rogue and cause your WordPress site to throw what is known as a 500 internal server error. When you first connect your domain to your hosting, there's something called DNS propagation, which means servers in your area are updating to show people your site. Switching your domain to new nameservers is not an instant process, and people might see a 404 error or some weird browser error page. These are only temporary issues.
Things can happen, but when asked whether I rely on HostGator to keep my online businesses and livelihood moving forward, the answer is a resounding "yes." In terms of support, I've used the Live Chat for questions involving:
Changing my domain
Setting up an SSL green padlock
Creating custom WordPress pages
Getting a refund on additional services
Using a file manager (FTP)
Removing parts of my theme
Importing/exporting a client website to a new hosting account
And more
Don't just take our word for it. Evidence of HostGator's support and reliability can be seen in online video tutorials. Take this eCommerce website video as an example, or check out the video below of HostGator's Live Chat getting the job done and solving my problem (you will have problems as you grow your site) in real time:
Also, HostGator recently built in an intuitive search bar, in case you don't want to talk to a real person. With all the support available as you build a blog, along with our expert opinions here at HostingAdvice, you should never be without an answer to any hosting question, regardless of where and why you're stuck!
We're Longtime HostGator Fans & Die-Hard WordPress Lovers
Hosting is a big commitment, especially for a those budget-minded site owners who try to grow a business on a free blog hosting site like Blogger. But once you sign up for hosting and pick your perfect host, you'll know it was well worth it.
With HostGator, you'll pay about as much as a trip to Starbucks per month for a safe and secure home for your business to flourish. The company offers some of the best performance, reliability, and support you'll find elsewhere in the industry. Even better, HostGator offers ample room to grow, whether you choose to go the managed WordPress, cloud, or VPS routes.
The best hosts, in fact, often go unnoticed as you operate your day-to-day business tasks. They handle the tech stuff while you sit back and simply create great content.
See Our Full Review of HostGator
Whatever type of hosting plan you're looking for, HostGator is a solid choice no matter the scale. Our reviewer Ryan Frankel recently took HostGator for a spin, and rated the popular host a 4.5 in the Best Overall Hosting category out of a perfect score of 5.0. Here's what Ryan had to say about HostGator:
Consistently innovating across multiple platforms, HostGator offers a modern hosting service for those looking for unmetered bandwidth and unlimited domain registrations. Whether you're looking for a shared hosting plan, cloud services, or the HostGator website builder, the hosting company will have whatever you need. Read on for our detailed HostGator reviews to learn more.
Before signing up for HostGator, it's a good idea to read through Ryan's full review to learn about all the features HostGator offers. You can also compare it to other web hosts to ensure you're getting the best deal possible:
If you decide HostGator is the right choice, keep in mind that it takes just minutes to deploy your HostGator server space. And at $2.64 per month, it's a bargain considering the many great features that come in any HostGator plan.
Advertiser Disclosure
HostingAdvice.com is a free online resource that offers valuable content and comparison services to users. To keep this resource 100% free, we receive compensation from many of the offers listed on the site. Along with key review factors, this compensation may impact how and where products appear across the site (including, for example, the order in which they appear). HostingAdvice.com does not include the entire universe of available offers. Editorial opinions expressed on the site are strictly our own and are not provided, endorsed, or approved by advertisers.
Our Editorial Review Policy
Our site is committed to publishing independent, accurate content guided by strict editorial guidelines. Before articles and reviews are published on our site, they undergo a thorough review process performed by a team of independent editors and subject-matter experts to ensure the content's accuracy, timeliness, and impartiality. Our editorial team is separate and independent of our site's advertisers, and the opinions they express on our site are their own. To read more about our team members and their editorial backgrounds, please visit our site's About page.