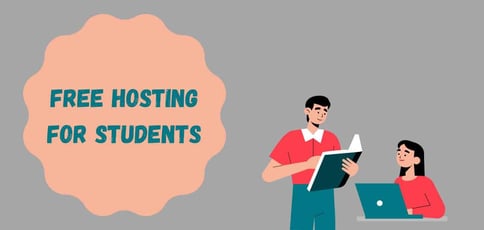 When my web design students ask for free hosting, the problem is usually that they don't have a budget to support big projects. Many are international students just transitioning to the university environment. Others can't afford the upfront payment for a web hosting plan priced at $100 to $200 per year.
While I used to recommend that students sign up on WordPress.com to get experience blogging their research or hobbies, there are better options on the marketplace. The Free Tier at AWS is best, but many of the same students cannot verify their accounts on the cloud platform.
The best free hosting for students should be hassle-free, available immediately on sign-up, and operate with full platform functionality over significant timeframes. Most hosting companies do not target this sector, but few quality options remain.
Read on to see our reviews of the best free hosting for students below.
Our Expert Pick: Kamatera
Kamatera is a great choice for students because it offers a free trial of its premium hosting services. Even though the offer is only valid for one month, that should be enough to access the required software resources for a student assignment. Since the free trial offer requires a credit card on sign-up, it is still limited as a free hosting option for some college students at universities located outside of the USA.
Customize your cloud environment for FREE
Work with a dedicated account manager
Dozens of Windows & Linux OS choices
Complimentary live chat support open 24/7
Launch in less than 60 seconds
CHEAP
RATING 4.9 ★★★★★ Our Review
Kamatera: Our Expert's Review
Laura Bernheim (HostingAdvice.com): That's right, Kamatera gives new customers FREE access to high-quality VPS hosting for 30 days. Upgrade your bargain-basement shared hosting to a cloud server configured to your exact specifications for no cost. Go to full review »
| Money Back Guarantee | Disk Space | Domain Name | Setup Time |
| --- | --- | --- | --- |
| 30-day FREE trial | 20 GB SSD – 4 TB SSD | New or Transfer | 3 minutes |
After signing up for a 30-day free trial offer, each student must confirm the billing address, email address, and mobile number through an SMS code. Then, with a valid credit card, you can use the code "1MONTH300" to get the 30-day free trial offer started with one cloud server.
For free hosting, you get $100 of credits for your cloud server on the 30-day free trial. That is the max-out capacity for add-on services. Each cloud server includes 1000 GB of cloud block storage and 1000 GB of outgoing internet traffic for bandwidth. You have to finish credit card verification to access the platform on the free plan, which allows you to custom configure a cloud server with any programming language, web server framework, and database format.
Pro tip: Some students may be required to upload additional documents like a photo ID and photocopy of their credit card to verify their account and get started on the platform. When you email these documents to customer support, make sure to mention the details of your student research and request a long-term free web hosting account. This is the best way to get a completely free plan.
A Kamatera cloud server will support everything from WordPress hosting to the requirements of data science with SQL, but you will need to consider another cloud service for projects requiring GPU hardware. This is best managed through grant writing, i.e., when you need GPUs/TPUs on Google Cloud for LLMs or Generative AI for research in neural nets for computer science.
The Best Almost-Free Hosting Plans for Students
Students can benefit by blogging snippets of their research online, socializing on media topics, reviewing entertainment or hardware, and monetizing their political reactions on personal websites. Further, if you develop a side hustle and want to sell products online, you can use a shared web hosting plan to host your eCommerce site.
The hosting plans listed below are "almost-free" and provide everything required for hosting a blog, review site, or an online store. Consider these options when your entrepreneurial spirit rises and you devise a great idea for a side hustle. The best is when you get a free domain name included with the hosting plan on sign-up, as this saves about $12 per year on average.
Unlimited everything, from storage to databases
FREE site builder & WP performance upgrades
FREE daily or weekly backups
Custom control panel and auto-installation scripts
SSH access & unlimited FREE SSL certificates
CHEAP
RATING 4.9 ★★★★★ Our Review
Hostinger: Our Expert's Review
Laura Bernheim (HostingAdvice.com): As the shared hosting market becomes increasingly saturated, unlimited storage, bandwidth, and email accounts have become surprisingly average. Hostinger, however, extends the routine, expected metrics to greater lengths — the number of websites, databases, FTP users, subdomains, and parked domains are all unrestricted for most customers. Go to full review »
| Money Back Guarantee | Disk Space | Domain Name | Setup Time |
| --- | --- | --- | --- |
| 30 days | 50 GB SSD – 200 GB SSD | FREE (1 year) | 3 minutes |
With Hostinger, students can get free hosting for one website with 300 MB SSD storage and 3 GB of monthly bandwidth. The plan includes the ability to manage the web server with hPanel. This plan is ideal for students who need to host their resumes and portfolios online.
The basic Hostinger plan includes one database, one FTP account, one active cron job, and free Cloudflare CDN integration. Is this an ideal configuration for a WordPress account? Technically, it's not because of resource allocation, but it should be fine if you don't have many images. The core installation of WordPress is only around 50 MB with a theme and plugins.
$1/month for 12 months
No hidden fees, pay just $12 at checkout
Easy setup and 24/7 expert support
FREE domain or transfer, plus FREE SSL certificate
Unlimited storage and databases with most plans
CHEAP
RATING 4.8 ★★★★★ Our Review
1&1 IONOS: Our Expert's Review
Alexandra Anderson (HostingAdvice.com): If budget is the main factor on your mind when searching for your next web host, search no more. 1&1 IONOS has an impressive range of robust web hosting and website building packages for what may be the best price we've ever seen in the world of hosting. Go to full review »
| Money Back Guarantee | Disk Space | Domain Name | Setup Time |
| --- | --- | --- | --- |
| 30 days | 10 GB – Unlimited | FREE (1 year) | 4 minutes |
IONOS is one of the cheapest and best-value hosting providers on the market. Plus, getting a 30-day free trial via a money-back guarantee is easy if you decide the host isn't right for you. However, given the host's stellar reputation and service, that's unlikely.
When you purchase a hosting plan from IONOS, you get all of the standard bells and whistles of a shared hosting plan. These include access to a free website builder, a free domain name for your first year, and a free SSL certificate. Plus, the host uses SSDs, meaning your site will enjoy up to three times faster speeds.
FREE cPanel integration and Softaculous apps
Auto daily backups and web application firewall
Reliable and redundant cloud servers
FREE SSL encryption and website migration
99.99% uptime guarantee
CHEAP
RATING 4.8 ★★★★★ Our Review
HostArmada: Our Expert's Review
Lynn Cadet (HostingAdvice.com): HostArmada's cloud network spans four continents, with datacenters in Europe, the US, Asia, and Australia. Its server redundancy and website optimization features allow users to run stable and performant sites for end users across the globe while running a simplified hosting environment. Go to full review »
| Money Back Guarantee | Disk Space | Domain Name | Setup Time |
| --- | --- | --- | --- |
| 45 days | 15 GB SSD – 40 GB SSD | FREE (1 year) | 3 minutes |
HostArmada hosting plans are full of free offers. Customers get a free website migration, free SSL certificates, a free cPanel license, daily backups, and website caching — all for less than a Starbucks Pumpkin Spice Latte. The HostArmada basic plan is a genuine bargain for students.
HostArmada has risen to the top of the web hosting industry in a few short years by building a cloud hosting platform on SSD-driven hardware. HostArmada cloud server hardware is specifically optimized for WordPress, open-source scripts, web developers, and resellers.
Cheap shared hosting from a trusted provider
Ideal for hosting a WordPress website
FREE Weebly website builder and Cloudflare CDN
Unlimited traffic and 24/7 live chat support
Get 70% off today with our Bluehost coupon
CHEAP
RATING 4.8 ★★★★★ Our Review
Bluehost: Our Expert's Review
Ryan Frankel (HostingAdvice.com): Bluehost pricing is about as competitive as the industry offers. Sign up for a shared hosting plan for as little as $2.95 per month, and WordPress hosting packages are consistently priced; a VPS plan starts at around $19.99 per month; and the dedicated hosting rates are as little as $79.99 per month. Go to full review »
| Money Back Guarantee | Disk Space | Domain Name | Setup Time |
| --- | --- | --- | --- |
| 30 days | 10 GB SSD – 100 GB SSD | FREE (1 year) | 5 minutes |
With the shared hosting and managed WordPress plans at Bluehost, new customers will get a free domain name for the first year. This offer does not apply to its VPS and dedicated server plans, even though the plans will support unlimited domain names with cPanel.
Bluehost does have a 30-day money-back guarantee on hosting plans. WordPress hosting on shared hardware is cheaper than most textbooks sold for college courses on campus and includes an extensive set of knowledge base resources for learning web development online.
FREE BoldGrid site builder and templates
FREE website, domain, and cPanel migrations
SSD storage makes your site load up to 20x faster
Security suite includes SSL and hack protection
Unlimited bandwidth and email accounts
CHEAP
RATING 4.7 ★★★★★ Our Review
InMotion: Our Expert's Review
PJ Fancher (HostingAdvice.com): InMotion Hosting offers an excellent business-class shared hosting plan — with a price tag lower than several other budget hosts. For the IT crowd in the audience, you'll appreciate SSH access, as well as support for PHP, Ruby, Perl, Python, WP-CLI, and other popular languages. Go to full review »
| Money Back Guarantee | Disk Space | Domain Name | Setup Time |
| --- | --- | --- | --- |
| 90 days | 100 GB SSD – Unlimited | FREE (1 year) | 5 minutes |
The InMotion Hosting free domain registration offer is similar to Bluehost, although InMotion Hosting also includes a free website migration with every plan. InMotion Hosting maintains platform services for shared, managed WordPress, VPS, dedicated, and reseller hosting.
The free offers for students at InMotion Hosting are the same as for other customers. You get a free domain name registration with support for PHP development, as well as Python, Node.js, Ruby, and GIT version control. The upgrade to NVMe SSD storage is also included in the price.
Host up to unlimited websites on a single plan
FREE SSL certificate included on all plans
Unlimited bandwidth & email addresses
1-click WordPress installs & FREE blog tools
Get 67% OFF by buying 36 months upfront
CHEAP
RATING 4.6 ★★★★★ Our Review
HostGator: Our Expert's Review
Ryan Frankel (HostingAdvice.com): HostGator is a great compromise between performance and price. The company offers unlimited emails, MySQL databases, disk space, and bandwidth, plus one-click installs of popular open-source projects, in addition to a 99. Go to full review »
| Money Back Guarantee | Disk Space | Domain Name | Setup Time |
| --- | --- | --- | --- |
| 30 days | Unlimited | FREE (1 year) | 4 minutes |
HostGator is another cPanel-based hosting company where you get a free domain name and a suite of bonus offers on signing up for a new account. The company maintains the same tiered pricing structure on shared, dedicated, VPS, managed WordPress, and reseller plans as other companies in the industry. Some HostGator plans include free Cloudflare CDN integration.
HostGator, Bluehost, and InMotion Hosting all provide similar platform services. Students seeking free hosting or special discounts for their projects will have to contact customer service with any requests for project support. HostGator includes as much as $600 in ad credits on plans and other developer tools to distinguish their services from industry competitors.
FREE website transfer service to get started
99.9% uptime guarantee and unlimited traffic
User-friendly WordPress installation
24/7 support featuring custom systems
4 caching options plus staging and Git
CHEAP
RATING 4.6 ★★★★★ Our Review
SiteGround: Our Expert's Review
Alexandra Anderson (HostingAdvice.com): Providing hosting with the perfect balance of technological innovation and superior customer support, SiteGround offers a range of affordable hosting services to meet your needs. In addition to the expected cheap web hosting perks — a free website builder and unlimited bandwidth — the company specializes in custom-built tools to deliver strong and positive user experiences. Go to full review »
| Money Back Guarantee | Disk Space | Domain Name | Setup Time |
| --- | --- | --- | --- |
| 30 days | 10 GB SSD – 40 GB SSD | New or Transfer | 6 minutes |
SiteGround does not offer cPanel hosting or any free plans for customers on their platform. The best you can do is a 30-day money-back guarantee. Instead, students will receive a highly optimized WordPress development platform with a custom AMP to manage their websites.
SiteGround customers get free SSL certificates, free WordPress installation, free email, CDN services, and developer tools. You also get a free website migration to the platform. Managed WordPress plans include auto-updates and daily backups, with the price for a single website currently listed at bargain rates for new users. Unlimited domain name plans cost a bit more.
Other Free Hosting Plans for Students
The plans listed below offer completely free hosting but may be limited to subdomain support, include fewer platform security features, insert ads on pages, and require restrictive bandwidth or storage limitations. They still function favorably compared to budget cPanel plans for student projects and managed WordPress hosting requirements.
We recommend students use these solutions for the best completely free hosting plans.
9. 000webhost
Enter the luxury zone of completely free website hosting with 000webhost. Students do not even need a credit card to sign up and start building free websites. The free plan is limited to a single website with 300 MB of storage space and 3 GB of monthly bandwidth.


Although you will have to bring your domain to 000webhost, all customers get a free cPanel license with an account valued at more than $15 per month. You also get instant activation and a pledge that the site will not inject ads onto your web pages. 000webhost is a reliable first choice for student hosting when you need to publish a website fast with 100% free billing.
10. InfinityFree
If you are developing with LAMP scripts, InfinityFree hosting is arguably the best free service in the marketplace for student projects. The platform is always free and does not limit the number of domain names you can support. You can install up to 400 MySQL databases on the plan.


With InfinityFree hosting, you don't need to fret about the expiration of the free trial period or try to explain why you are requesting a refund after 30 days. With 5 GB of storage, customers get access to more than 400 open-source scripts with Softaculous. Students can use the "one-click" installation facilities to gain experience using WordPress, Drupal, and Joomla for job training.
11. x10 Hosting
The x10Hosting motto is "Free hosting for the masses!" If you want a free student account, consider x10 Hosting one of the best. The company allows clients to use the DirectAdmin control panel for multi-domain publishing on managed LAMP servers.


The x10Hosting free plan will only support three domains and two databases. Otherwise, it is not time-limited and will remain billed as "always-free." Students can use a free site builder with 100s of themes or use Softaculous to install WordPress, Drupal, Joomla, and other popular CMS scripts. x10Hosting delivers a suite of professional development tools that are industry standard. This is recommended to learn web design.
12. GitHub Pages
If you really want to impress your professor with a website backed by free hosting, choose GitHub Pages for the presentation. The service is increasingly being used in academia in support of papers with code. GitHub pages link directly to and run from your GitHub archive.


Proving to employers that you are already using Git version control in teams and publishing original code to a GitHub repository will score the highest marks in job interviews. Although GitHub Pages has none of the features of cPanel, you can build great sites easily with Jekyll.
13. ByetHost
ByetHost has a website that is a bit dated. It looks like it has not been updated since 2014. The company has been offering free hosting services on LAMP servers since 2005. If it's 2 AM and you desperately need access to a free account for a student project, these details don't matter. ByetHost plans include VistaPanel and Softaculous to launch new websites in minutes.


If the 1 GB of storage on the free hosting plan at ByetHost is not enough for you, contact the customer support department and pitch your project to them. You can host five domains with database support on the free plan with 50 GB of monthly bandwidth, sufficient for publishing student portfolios and resumes or getting started with an eCommerce site to earn money.
How Do You Get a Free Domain and Hosting for Students?
Students need to start with the computer science department at their university and use the resources provided by their program. Students usually receive ISP access and free email services from their university but no web hosting support, free WordPress, or domain name registration services. For hosting, computer science and humanities students may have different requirements. Consider whether ease-of-use or complexity of configuration is more important.
Most students are able to blog on WordPress.com for free but will need to pay to register a new domain name and upgrade to a subscription account to use it. Students can register a new domain name (i.e., .com, .org, .net, or hundreds of others) for free on many budget, shared hosting, and cloud VPS plans. Determine how much computing resources your project needs to decide what plan is right for you.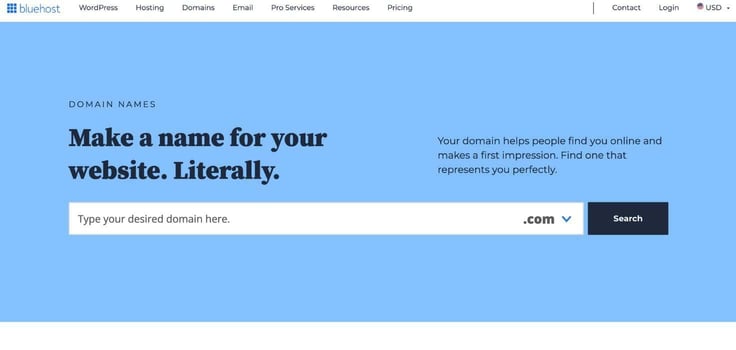 When you are developing academic research outside of university resources, the requests for GPU/TPU hardware services should be organized under a formal grant program. Independent research can appeal through private communication and pitch decks to cloud hosts for free website hosting. You will have the most support from AWS, Google, and Microsoft if you can prove your academic credentials. Otherwise, try contacting customer support and billing agents.
If you are just getting into eCommerce as a side hustle or major business plan, join the crowd. You are not likely to get any special discounts for students when operating as an independent entrepreneur. Monetizing blogs with free WordPress hosting and Google AdSense can help you cover the costs of other projects. Make sure you get free SSL certificates for every domain.
How Can I Get Free Hosting After Graduation?
Free hosting is available from many companies with the caveat that publishers often need to use a subdomain with their content. You can blog at WordPress.com with a URL structure of https://[username].wordpress.com, and many companies offer a variety of this methodology on the best free web hosting platforms. Most people prefer to remove third-party branding and pay for a custom domain.


HostingAdvice has compiled extensive lists of the best completely free, almost free, and budget web hosting companies with resources to support millions of page views per month on a WordPress website when properly configured with page caching. Look for sites with free Cloudflare CDN offers for the best web hosting for higher Google PageSpeed test scores.
Pro tip: If you get a shared hosting account with support for custom domain names, free domain name registration, preconfigured PHP, MySQL, and WordPress options, the cost is only $3 to $5 per month. If you are serious about your web presence, skip a single Pumpkin Spice Latte at Starbucks once a month and upgrade a free account to a more reputable web hosting plan.
Shared web services with open-source software like A2 Hosting are cheap and level the playing field with large corporations dominating the marketplace. In comparison, public cloud hosting is expensive and allows you to scale to Netflix, Pinterest, or GoDaddy traffic levels. Use the free tier at AWS until your site gains traffic to get access to the best tools, otherwise take a look at InfnityFree, ByetHost, 000webhost, and X10 Hosting for always-free LAMP server plans.
How Do I Choose a Hosting Plan?
The best way to choose a web hosting plan is by looking at the value of the complete package, which includes:
The hardware configuration
Managed web server stack software
Database services
Web development tools
You should prioritize NVMe SSD storage with companies like InMotion Hosting for the fastest page load speeds when hosting scripts in production. Most free hosting plans can't afford this option, so you'll get slower speeds.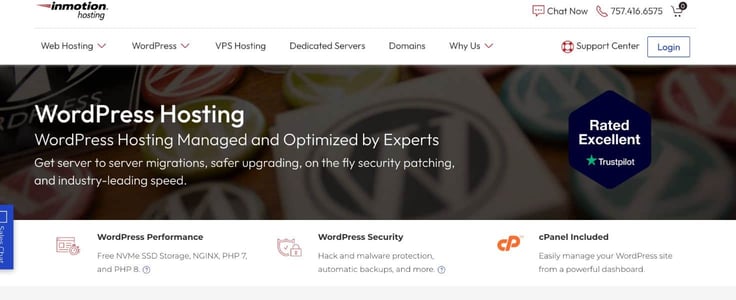 In other instances, the project requirements determine the choice of a web hosting plan. You need to run Python, develop on ASP.NET, or install Varnish Cache for a high-traffic WordPress site. On these projects, you may be better off choosing a VPS hosting plan over shared hosting platforms because of the level of custom programming or planned development.
Pro tip: It is best to prepare a preliminary audit of the resources required for a project and then choose the hosting plan with the best value after reviewing the marketplace options.
PHP, Python, Node.js, Ruby, and ASP.NET are all specialized hosting environments that you should plan for specifically by choosing the best hosting provider for the project. This means the first choice for hosting services will be Windows versus Linux servers.

Keep reading to see the steps to choose a host and plan.
Set Goals for Your Website
Your audit should be independent of the wireframe or mock-up designs created for a website or eCommerce store. The audit should emphasize the resources required for the website's goals. If you choose to run an eCommerce store on a free hosting plan, there are thousands of open-source options already available. The same applies to blogs, wikis, project management, and forum software.
With web hosting, you independently own and manage scripts, databases, and user information. Setting the goals for your website in advance will assist the most in determining the need for shared, VPS, or cloud hosting accounts. Your audit will include estimates for the level of web server hardware required to support the web traffic or data processing in production.


Pro tip: Make sure to include a path for upgrading features and adding new functionality to your web/mobile apps with a free hosting service. Don't overlook the requirements for cloud compliance in eCommerce and social networking, which include GDPR standards for data.
Determine Your Budget
While the best values in shared hosting plans with a free 1-year domain name registration hover in the $2.95 to $4.95 per month range, you can still host a single site for $1 per month. Free hosting is best for personal blogs, nonprofit projects, short-term promotions, SEO campaigns, and niche sites. We recommend nearly free plans billed at less than a cup of coffee over the Google Cloud Platform. They are usually easier to use and maintain over time.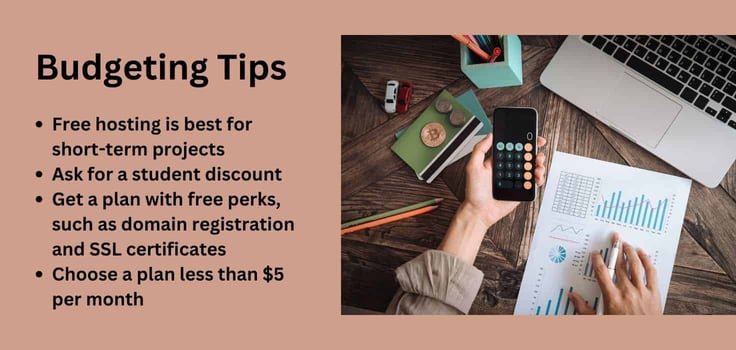 Web hosting may cost more than $500 per month if you purchase a dedicated server, which isn't usually necessary. Make sure to use your site audit to plan for cloud hosting resources instead, and don't pay for excess hardware capacity until you need it to support traffic.
Upgrading from shared hosting to a VPS plan is a $5 to $20 monthly commitment. You can dial up new resource configurations for VPS & VMs in real-time until they support more vCPUs/RAM than a dedicated web server.
Pro tip: Ask for a student discount on website builder and managed WordPress hosting services. Don't expect a free web hosting plan to outperform Amazon Web Service accounts, but cloud VPS hosting should function equivalently to AWS LightSail. Free student hosting on Google Sites is an alternative to a WordPress host for portfolio websites, where GitHub Pages is another option.
Compare Features
Web caching, load balancing, and global datacenter support through edge networks or a CDN are important "behind the scenes" aspects of datacenter management that will distinguish web host quality. Usually, the level of the hardware configuration is most important, i.e., faster CPUs and more RAM with NVMe SSD storage. Any platform still on HDD will perform 20x slower.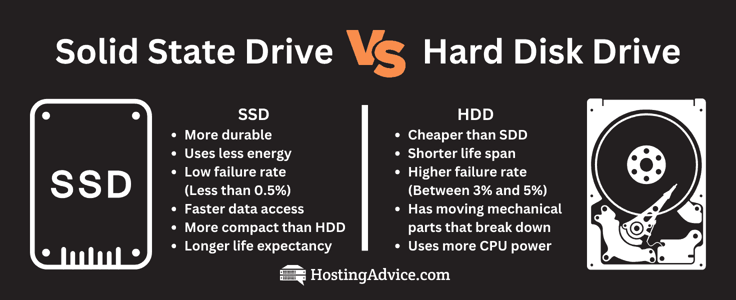 Turbo servers guarantee low-density account allocations to hardware and include integrated caching. Web servers will perform processing of I/O requests more quickly if fewer domains are running on the same hardware. Caching ensures the server can resend pages without making complex database queries on every render. Other features relate to the control panel options and unlimited bandwidth.
Know your level of experience and choose a hosting plan accordingly.
Is Free Hosting as Good as Paid Hosting Plans?
The free hosting plans at AWS, Kamatera, IONOS, and InfinityFree are not limited or throttled as to which services can be used but are limited by how much web traffic or data processing they will support.
The other options for student web hosting are subscription-based or pay-as-you-go approaches. Free hosting is not as good as paid hosting, or most hosting companies would fail. Some of the free sites listed above have viably equivalent services.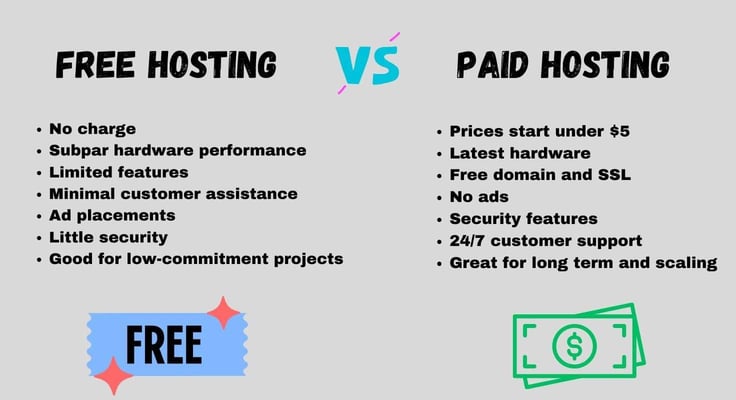 You won't get the latest, elite web server configurations with free hosting plans because this hardware is reserved for premium accounts. But the platform resources are the same if you are running on WordPress.com, IONOS, Kamatera, Google Sites, or AWS Free Tier. Students can benefit the most by applying for free hosting with a personal appeal showcasing research value.
A free web hosting service from established brands can be trusted as an easy way to jump-start projects. Using a completely free account lets anyone get access to powerful publishing tools.
Match Hardware Resources to Project Requirements
Students have different needs for web hosting resources. Some just want to learn development with GitHub and the latest frameworks. Others have professional research to present or are engaging in statistical analysis with machine learning. Many students want a personal blog to express their thoughts or a cheap eCommerce site to sell goods for extra income. Knowing the project requirements is the key to deciding on a hosting plan.
Free hosting is great for personal blogs and promoting events. Using a free host with a cPanel equivalent, it is easy to deploy open-source scripts with database support using Softaculous to learn web development. For eCommerce plans, ensure you get a free domain name registration and SSL certificate with the account, or the costs will be higher.
Students are recommended to scrape together $5 for professional multi-site hosting and start building on a shared hosting account. Make sure the web host has reliable customer support to work through any issues with free website hosting platforms when you are in development.
Budget $20 to $50 monthly if you need a VPS plan with more hardware resources. It is around $12 per domain registration per year for most TLDs. A dedicated server will cost between $129 and $550 per month. Cloud hosting costs at AWS, Google Cloud, or Azure can easily exceed these levels. The cost of a web server and cloud hosting resources is related to your project requirements, so rely on an audit to plan your website development affordably.
Further Reading: "13 Best: Free Hosting for Students (Oct. 2023)"
Hopefully, our recommendation of Kamatera fulfills all your web hosting needs. Starting at just $0.00 per month and rated 4.9 overall, Kamatera gives users plenty of bang for the buck. Among our favorite features:
Customize your cloud environment for FREE
Work with a dedicated account manager
Dozens of Windows & Linux OS choices
Complimentary live chat support open 24/7
Launch in less than 60 seconds
If you'd like recommendations similar to Kamatera and others in 13 Best: Free Hosting for Students (Oct. 2023), check out these popular guides. You'll find comparisons of Kamatera to other hosts on pricing, features, support and more:
And of course, if Kamatera is your top choice, you can get started now at just $0.00/month. Kamatera is easy to set up and scale, no matter the size of your next project.
Advertiser Disclosure
HostingAdvice.com is a free online resource that offers valuable content and comparison services to users. To keep this resource 100% free, we receive compensation from many of the offers listed on the site. Along with key review factors, this compensation may impact how and where products appear across the site (including, for example, the order in which they appear). HostingAdvice.com does not include the entire universe of available offers. Editorial opinions expressed on the site are strictly our own and are not provided, endorsed, or approved by advertisers.
Our Editorial Review Policy
Our site is committed to publishing independent, accurate content guided by strict editorial guidelines. Before articles and reviews are published on our site, they undergo a thorough review process performed by a team of independent editors and subject-matter experts to ensure the content's accuracy, timeliness, and impartiality. Our editorial team is separate and independent of our site's advertisers, and the opinions they express on our site are their own. To read more about our team members and their editorial backgrounds, please visit our site's About page.