Many folks who need web hosting these days want the simplest method for managing servers. Many just expect that graphical-user-interfaces (GUIs) are provided with their hosting account. The good news is that many of the best hosts offer top-rated control panels in their plans.
Hosting control panels are web-based interfaces allowing administrators and/or users to manage various server functionalities from the comfort of a web browser instead of the command line.
While each hosting control panel should offer the same fundamental features — management for domains, email, FTP, app installs, and so on — the actual feature sets, layout, and level of control offered can vary widely from panel to panel. Below, we discuss each of the top web hosting control panels independently.
cPanel & WHM Review
As the most widely used hosting control panel, cPanel & WHM includes both a user-level interface (cPanel) and a server management interface (WHM). The two interfaces pair seamlessly to offer intuitive hosting and site management for end-users and resellers, as well as server administration tools for hosting providers. cPanel is trusted by some of the biggest names in the hosting industry, including GoDaddy, 1&1, Bluehost, LiquidWeb, and HostGator. Take a look at our favorite hosts that leverage cPanel:
Intuitive cPanel hosting for personal sites
FREE SSL and Cloudflare DDoS protection
1-click installer for popular apps like WordPress
Automated, daily backups and integrated caching
Launch a site in minutes, backed by 24/7 support
CPANEL
RATING 4.7 ★★★★★ Our Review
Hostinger: Our Expert's Review
Laura Bernheim (HostingAdvice.com): Hostinger has always impressed us with the intuitiveness of its control panel and easy user experience. If you're in the market for classic cPanel hosting, Hostinger offers it at a price that's tough to beat. Go to full review »
| Money Back Guarantee | Disk Space | Domain Name | Setup Time |
| --- | --- | --- | --- |
| 30 days | 50 GB SSD - 200 GB SSD | FREE (1 year) | 3 minutes |
Cheap, secure, and powerful hosting with cPanel
1-click installs for dozens of popular apps
Host up to unlimited website on a single account
Advanced security features and FREE HackScan
FREE SSL certificates and 24/7 expert support
CPANEL
RATING 4.5 ★★★★★ Our Review
A2 Hosting: Our Expert's Review
Alexandra Anderson (HostingAdvice.com): There are plenty of excellent cPanel shared hosting providers out there, so what sets A2 Hosting apart from the rest. Not only does the company offer a ton of features, but it has custom-built its packages for enhanced performance, speed, and security — putting your priorities above pricing. Go to full review »
| Money Back Guarantee | Disk Space | Domain Name | Setup Time |
| --- | --- | --- | --- |
| 30 days | 100 GB SSD - Unlimited SSD | New or Transfer | 4 minutes |
Secure logins for cPanel and WebMail
1-click WordPress installation and ad credits
FREE domain and FREE site-building tools
Expert support available 24/7
Easy access to email tools and site statistics
CPANEL
RATING 4.4 ★★★★★ Our Review
Bluehost: Our Expert's Review
Ryan Frankel (HostingAdvice.com): Powering more than two million websites, Bluehost has trusted experts and simple-to-use features to help get your website running and thriving. From a free domain name to 1-click WordPress installation, the company offers everything you want from a cPanel host…. Go to full review »
| Money Back Guarantee | Disk Space | Domain Name | Setup Time |
| --- | --- | --- | --- |
| 30 days | 10 GB SSD - 100 GB SSD | FREE (1 year) | 5 minutes |
cPanel's mission is to empower hosting providers of all sizes. One of the ways cPanel ensures hosts, server administrators, site owners, and web professionals get what they need is through education. In addition to the information found in the knowledgebase, documentation, and video tutorials, cPanel has a dedicated team of trainers who manage a free online training program, cPanel University, that is open to anyone.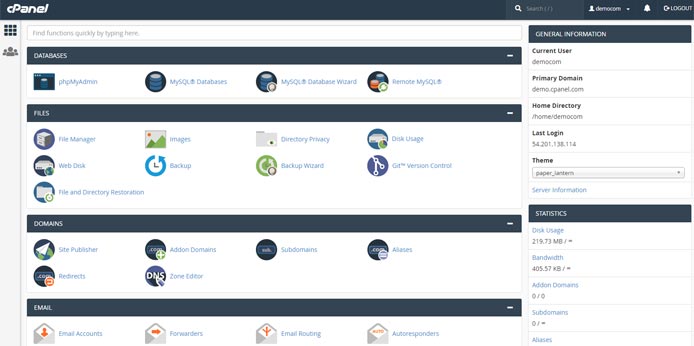 Manager of Community Engagement benny Vasquez is firm in her commitment not to sell people on something they don't want or need. She instead asks potential clients to name tasks they hate doing but have to do regularly. Inevitably, tedious or mundane chores, like managing software updates or malware scans, come up as responses.
"I never try to convince them they need something they don't want, but I do show them where cPanel & WHM can solve the problems they're encountering and give them back some of their precious time," she said.
Helping users overcome hosting hurdles — tactfully helping hosts make more money and giving site owners a pleasant management experience — is where the cPanel team shines. They work tirelessly on "incremental motions" that add value and move the product toward becoming the most modularized, flexible panel on the web, according to benny. Though cPanel and WHM are only supported on Linux, Windows support can be achieved using a virtualization setup.
Features

Fastest PHP and Ruby Websites: PHP7, combined with PHP-FPM and HTTP/2, means your websites will fly. Upgrading from PHP5.6 will give you a 70% boost, benny said, while MultiPHP enables site owners to easily manage the PHP, PHP-FPM, and pool option configurations of virtual hosts. cPanel has also made cPanel & WHM 90% faster and reduced the server resources required by another 30%.
Free SSL Certificate for Every Website: With AutoSSL, every website hosted on a cPanel & WHM server can be automatically issued a free SSL certificate in minutes. End users can certificates in the cPanel interface, meaning hosting providers won't need to install a service SSL. Whether you want to use Comodo, Let's Encrypt, or another provider, the SSL encryption is free and the certificates will be kept current for the life of the cPanel account.
Block Malicious Visitors Automatically: Protect your site from attackers without preventing legitimate users from accessing your sites with cPHulk, which lets site owners whitelist or blacklist entire countries, IP addresses, or accounts. The tool is included as part of all cPanel & WHM installations and can be used to monitor and block all login attempts to cPanel, WHM, FTP, email, and SSH.
Automated Backups and Restorations: Maintain peace of mind by keeping backups of your account and enjoying the ability to restore a single file from any backup on your server. In addition, users can take incremental backups of files and folders using Rsync, which ensure the fastest possible backups to a remote destination.
Easy PCI Compliance: With a strong default configuration and easy-to-use editor, and cPanel & WHM server can be PCI compliant within minutes, thanks to WHM's user-friendly interface.
The cPanel API is the tool hosts use most when integrating cPanel features with their own support systems, benny told us, so the cPanel dev team ensures proper documentation. The team sits down quarterly to determine what's next for cPanel & WHM and releases security patches six times a year, in addition to regular feature updates. cPanel Inc., which recently celebrated its 20th anniversary, doesn't show signs of slowing. In 2018, the company is focused on making deployments to the most popular cloud providers, including AWS and Azure, as easy as possible. According to benny, the team's collective eye is always turned to their North Star — doing what's best for their users.
Plesk Review
Plesk is a leading control panel in the US that also captures roughly 75 to 80 percent of the European market. Featuring support for a breadth of Linux versions, as well as Windows compatibility, the panel comes in several editions, each tailored for specific hosting use cases.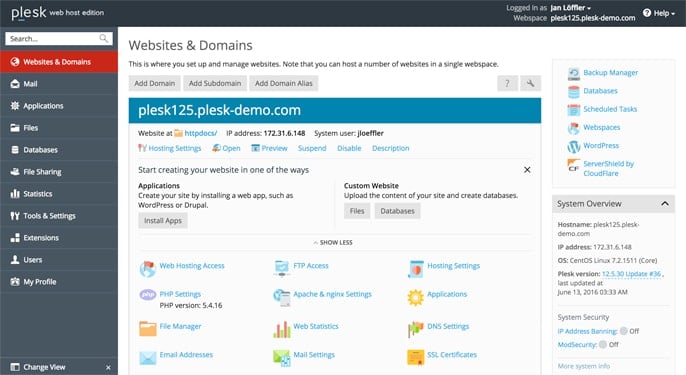 The user interface is regarded as a bit cleaner than cPanel, but in terms of features, Plesk and cPanel don't differ much. Both are in use by big hosting companies (often in a branded form) and many other customers. Because Plesk is most commonly associated with Windows hosting environments, here's a list of our top hosts known for strong Plesk hosting:
Strong hosting to launch your ASP.NET site
Install apps with a single click via Plesk
FREE domain and unlimited bandwidth included
Award-winning support from the HostGator team
Support for ASP.NET, PHP, Python, and MVC
WINDOWS
RATING 4.7 ★★★★★ Our Review
HostGator: Our Expert's Review
Ryan Frankel (HostingAdvice.com): HostGator is a legacy host in just about every niche of the shared hosting space. The company's powerhouse Windows hosting solutions bring everything you need to quickly launch a Windows application or ASP. Go to full review »
| Money Back Guarantee | Disk Space | Domain Name | Setup Time |
| --- | --- | --- | --- |
| 30 days | Unlimited | FREE (1 year) | 4 minutes |
ASP.NET, ASP, MSSQL, Silverlight, and MVC6
FREE RAID-10 storage and SSD caching servers
Unlimited storage, websites, transfer, and email
Automated weekly backups and FREE CDN
NO contracts and price is guaranteed for life
WINDOWS
RATING 4.7 ★★★★★ Our Review
InterServer: Our Expert's Review
Laura Bernheim (HostingAdvice.com): Built for speed, InterServer is a perfect solution for developer-friendly Windows shared hosting. In addition to offering a free site migration, the company uses only 50% of its server capacity to guarantee resources are available as your site grows. Go to full review »
| Money Back Guarantee | Disk Space | Domain Name | Setup Time |
| --- | --- | --- | --- |
| 30 days | Unlimited SSD | New or Transfer | 4 minutes |
Windows Server with 24/7 security monitoring
Recommended for ASP.NET, ASP, and SQL users
Unlimited MySQL or MS SQL databases
1-click installs for 50+ FREE apps
FREE domain from the world's top registrar
WINDOWS
RATING 4.6 ★★★★★ Our Review
GoDaddy: Our Expert's Review
Ryan Frankel (HostingAdvice.com): The web's leading domain registrar also tops the charts when it comes to Windows shared hosting. These GoDaddy plans come equipped with a state-of-the-art Windows server, 200MB of MSSQL database storage, and easy installations for popular Windows-friendly scripts. Go to full review »
| Money Back Guarantee | Disk Space | Domain Name | Setup Time |
| --- | --- | --- | --- |
| 30 days | 25 GB - Unlimited | FREE (1 year) | 4 minutes |
Recently, Plesk became an independent company, and they're passionately focused on keeping up with the ever-evolving Web. The panel's creators target both hosting newbies and hardcore developers by making server management easy and efficient. The company is also investing heavily on the educational end of things — with content marketing to teach web professionals best practices for running a business online, marketing, and even storytelling.
Features

Host/OS Agnostic: Plesk can be installed on a wide variety of operating systems and is virtually host agnostic. If you are running any form of a popular Linux version (CentOS, Ubuntu, CloudLinux, etc) or even Windows, you can run Plesk. As an added bonus, you can even run Plesk inside a Docker container found on Docker Hub. This is a strong pull factor differentiating Plesk from cPanel, which only runs on CentOS.
Git Integration: In response to a complaint that many web panels don't offer support for Git, a popular version control system used to track changes and site updates, Plesk added their Gitman extension. The extension is available for Plesk 12.5 and up, with full Git support being pulled into the core in an upcoming Plesk release.
Docker Integration: The October 2016 release will also update Plesk's core to include Docker support — featuring a catalog of over 200,000 Docker images. This lets you launch Docker images straight from Plesk without touching the command line.
1-Click SSL Security: Even those who are new to hosting tend to understand the need for SSL security. Unfortunately, it can be a pain to set up and keep up to date. With new services like Let's Encrypt making it easier and easier to get SSL (TLS) on your site, there is no reason to leave your pages unsecured. Plesk will automatically handle obtaining a certificate and configuring database files to accommodate https-only access for you, so both your web panel and all sites you're hosting on your server are secured. This will also include niceties like renewing your certificate, running HTTP2, or providing you with security details when your server is under attack.
1-Click WordPress Hardening: An upcoming extension release will allow WordPress hosting customers to entrust their security management to Plesk with one click. Plesk will then manage plugin updates, bug fixes, and security patches for you.
For the more dev savvy, the panel features support for numerous PHP versions out of the box, with Ruby, Python, and NodeJS support available via Phusion (or out of the box with Plesk Onyx release). Among the popular Linux distros supported are Ubuntu, CentOS, RHEL, Debian, and CloudLinux, with upgrade support for Ubuntu and Debian.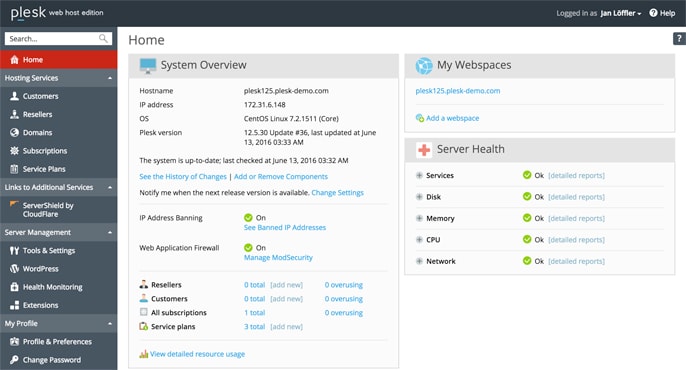 DirectAdmin Control Panel Review
DirectAdmin is a relatively lightweight control panel that supports Linux. It has all of the basic features of a control panel, including support for multi-customer setups. All of the sold licenses are "unlimited domain" licenses.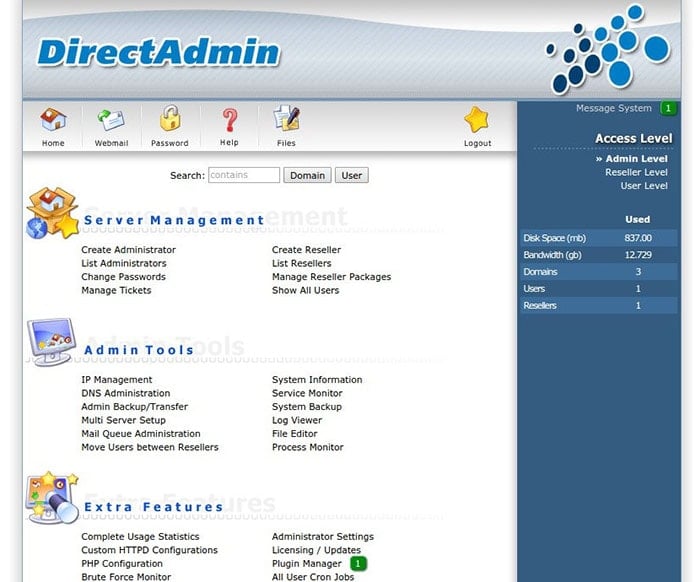 STORM Control Panel Review
Responding to customer pleas for an easier server management platform, Nimbus Hosting spent two years developing the proprietary STORM platform to emphasize performance and usability. Because the UK host's clientele skews toward web design and development agencies, STORM enables users to quickly and simply set up and manage their clients' websites from an intuitive interface.
Nimbus Hosting spent considerable time streamlining deployments from Git repositories, such as GitHub or Bitbucket. Once an account is connected to STORM, users can mirror a repository and branch directly within a website or folder on the server. Changes can be deployed automatically or by a single click, depending on which setting you choose — much faster than using FTP or SSH.
This clean, modern control panel operates differently from cPanel and Plesk because it isn't installed on each server it manages. Instead, STORM resides on several Nimbus Hosting management servers that connect to a customer's server whenever a change is requested. As such, you'll have to host your website or applications with Nimbus Hosting to be able to use STORM. Despite the extra step, updates happen nearly instantaneously.
By managing STORM centrally, Nimbus Hosting increases the overall speed, security, and stability of its hosting services. According to the company, 82% of customers see performance upgrades when moving to STORM. Users can install the latest version of WordPress in less than 10 seconds, and STORM's G10 HPE servers enable Nimbus Hosting to guarantee 99.995% server uptime.
Regularly deployed new features do not require customers to update their control panel. STORM simplifies user management and permissions by allowing administrators to set when a whitelisted IP address's access expires. Similarly, Let's Encrypt SSL certificates and PCI compliance can be enabled with just one click. Users can choose to reboot the whole server or restart MySQL, Apache, NGINX, or PHP separately.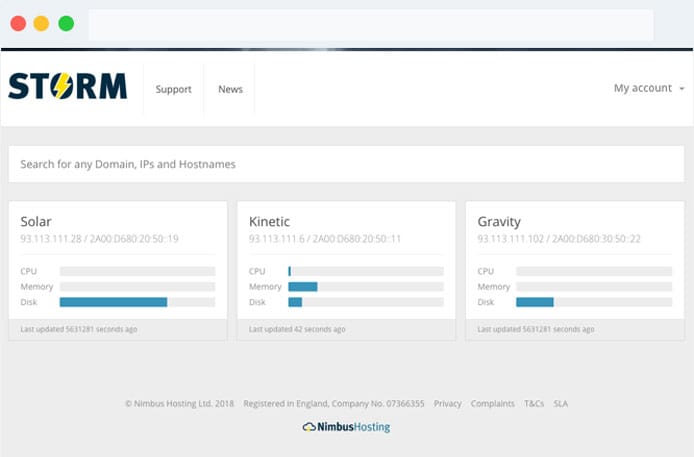 Core-Admin Control Panel Review
Core-Admin was designed as a centralized and highly connected solution that provides support for managing multi-servers using a single web administration console. This includes an advanced permission system and monitoring system. There is a "Free Web Edition" that is limited to handle 10 domains.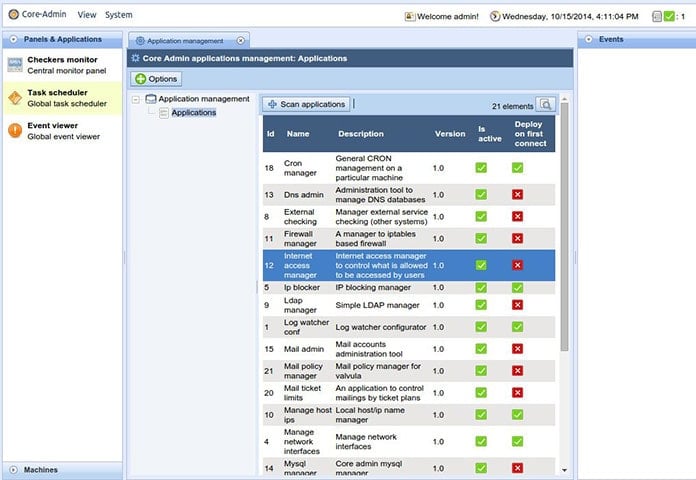 InterWorx Control Panel Review
InterWorx comes in two package versions: NodeWorx (to manage a server) and SiteWorx (to manage a site). Interworx has a nice plugin system, which allows for quick installs of applications, much like the Softaculous web package manager. InterWorx also has a command line interface.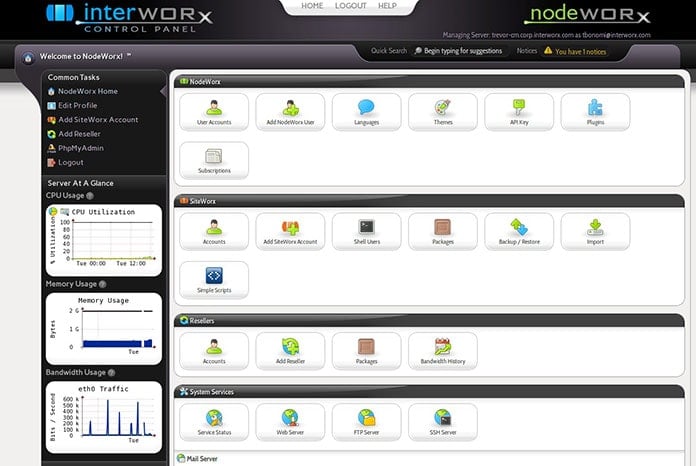 ispmanager Control Panel Review
ispmanager is a Linux-based, flexible control panel made for developers, admins, and website owners. For nearly two decades, ispmanager has grown to become one of the most popular web control panels in Eastern European nations, with rising popularity in other territories. This powerful panel is offered in two editions; both are equipped to handle unlimited domains and users, and can be customized to meet your branding needs.
ispmanager Lite is designed for individual developers and marketing teams working on a single project.
ispmanager Pro lets developers and in-house marketing teams work on multiple projects.
Ispmanager Host is for web studio managers with many websites.
ispmanager Business is ideal for reseller hosting and managing internal traffic.
ispmanager is a commercial product with features similar to premium control panels, however, the price point is on the lower end of the spectrum comparatively, so many end users find this option to be a better value. ispmanager's rich feature set and affordable cost combination are what make us proud to help introduce the software to the US market.

i-MSCP Control Panel Review
i-MSCP is open-sourced and aims to be a good multi-server control panel for both personal and professional (i.e., hosting providers) usage. There is no one particularly outstanding facet of this web panel, but there is an active community around it.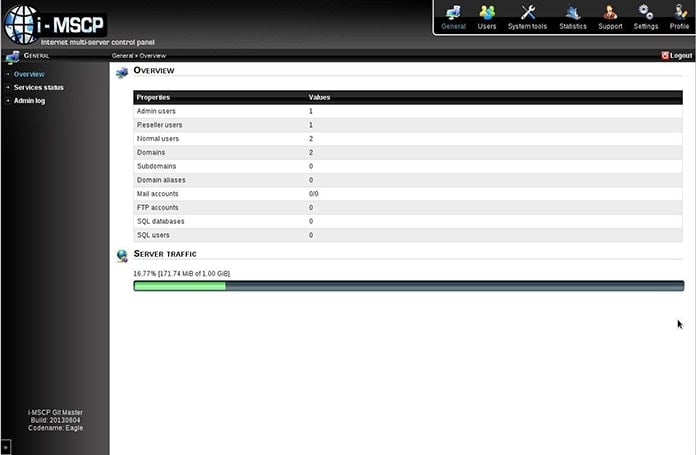 Froxlor Control Panel Review
Froxlor is an open-source web control panel with a very clean interface. There is IPv6 support, a ticketing system, and an integrated reseller-customer messaging system. It is ideal for ISPs and similar organizations.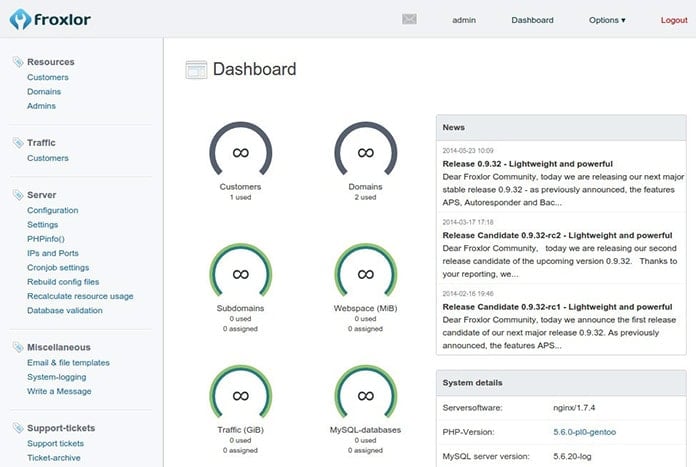 Vesta Control Panel Review
Vesta is open-sourced and aims to be a simple and lightweight web control panel. It does not support the more enterprise-like features (like multi-server setups), but it does try to place an emphasis on performance by using Nginx for the web panel frontend and Apache for the application backend.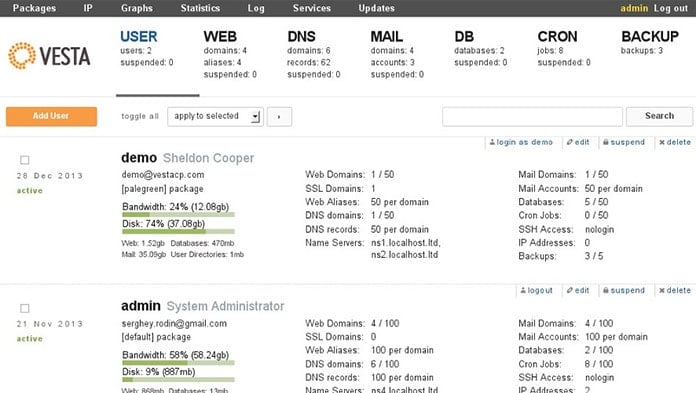 ZPanel Control Panel Review
Zpanel (hasn't been updated since March 3, 2014 and may no longer be maintained) is open-sourced and aims to be an "enterprise-class web hosting control panel with support for unlimited resellers." The interface is compact and highly functional. Zpanel has support for many operating systems, including Linux, Windows, MacOS, and FreeBSD.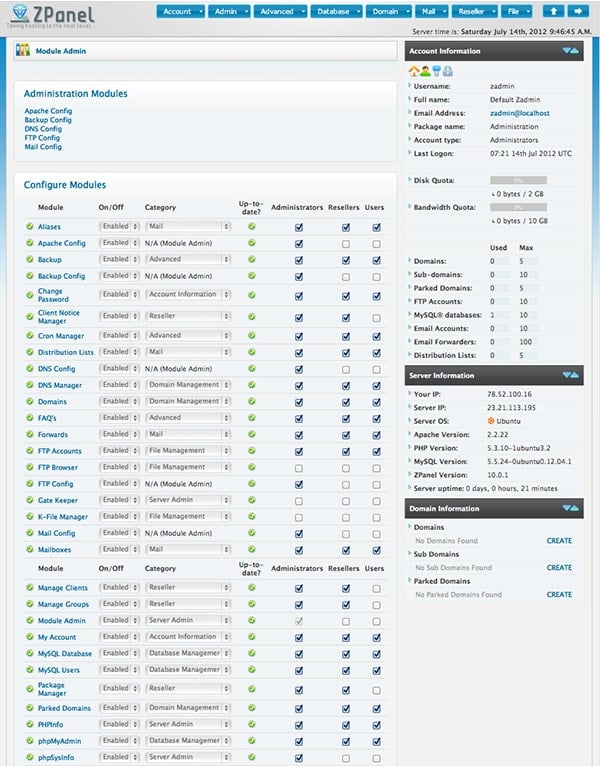 Sentora Control Panel Review
Sentora is a fork of ZPanel. This fork happened after Zpanel's sale to a US-based company. Sentora brands itself as the "community version" of ZPanel. The team behind Sentora also offers subscription-based, premium support.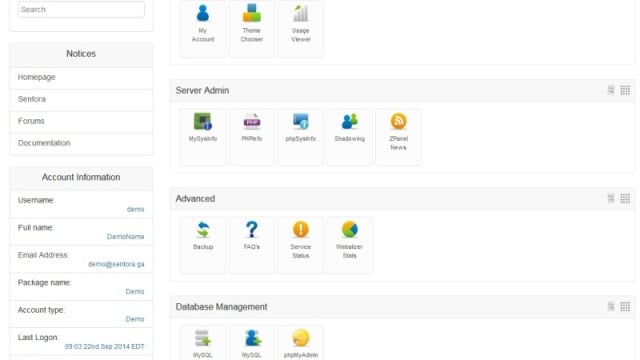 Webmin Control Panel Review
Webmin an open-source web control panel for system administration on Linux/Unix. It has dozens of modules for configuring server services. Their Cloudmin tool is a Webmin-based interface for managing virtual systems, including Xen, KVM, and OpenVZ.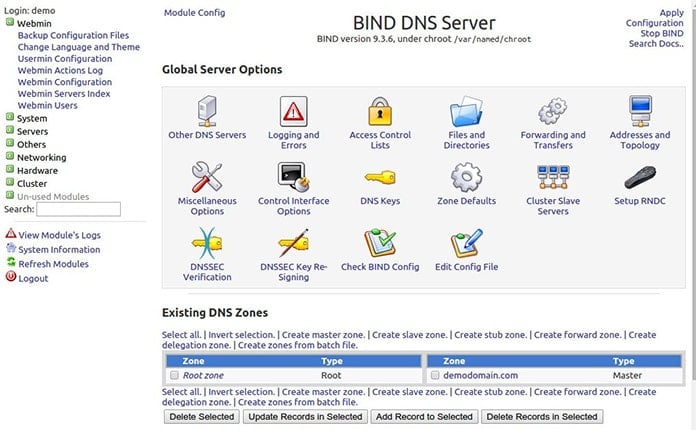 ISPConfig Control Panel Review
ISPConfig is a popular, open-source web control panel system with good enterprise support. The project claims to have more than 40,000 downloads per month. There is good multi-server, IPv6, and virtualization (OpenVZ) support, which is ideal for ISPs or other corporate environments.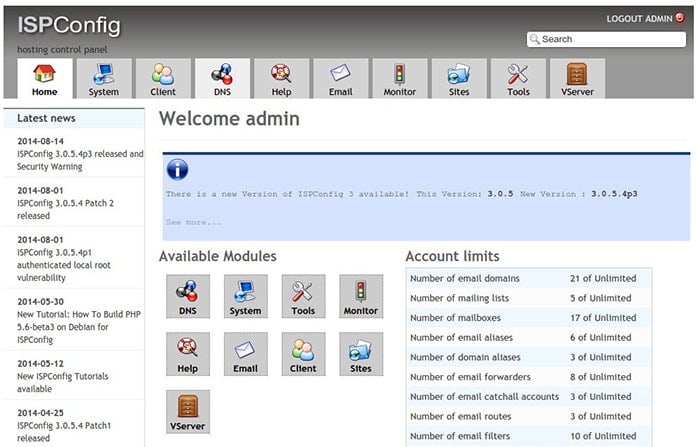 Ajenti Control Panel Review
Ajenti is a Python-based web control panel system, which makes it stand out from all PHP-based panels. Its website claims there are more than 55,000 active users of Ajenti. The interface is very well-designed. Ajento runs on various Linux distributions and FreeBSD.

BlueOnyx Control Panel Review
BlueOnyx is an open-source web control panel that only runs on the CentOS and Scientific Linux distributions. Its interface may show its age a bit, but there is good support for multi-user setups among many other features.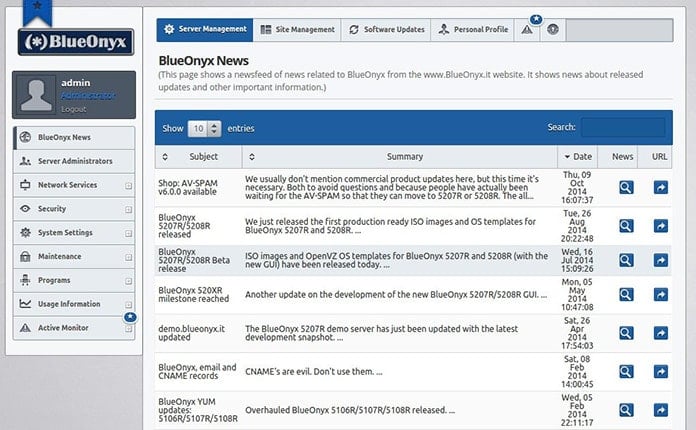 CentOS Web Panel Review
CentOS Web Panel is an open-source web panel for the CentOS Linux distribution. It has a solid feature set that can match most of the other web panels, though it lacks multi-server support.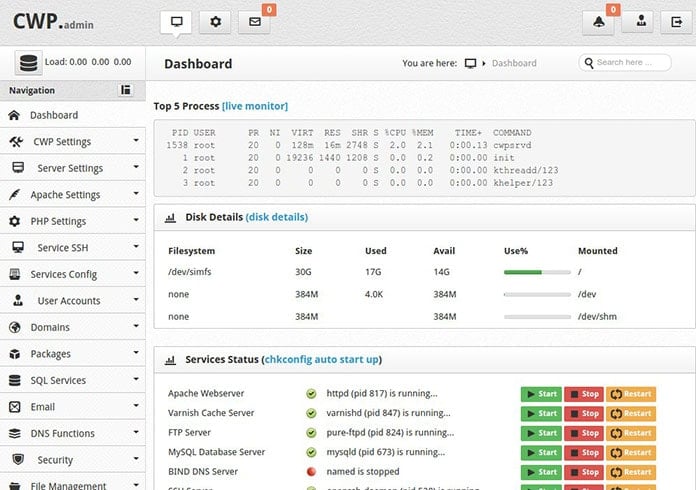 Virtualmin Control Panel Review
Virtualmin is a popular and (mostly) open-source control panel offered in three product versions:
Virtualmin GPL is the core web control panel software with a solid feature set and a pleasant user interface. This product is also available in Webmin module form. Virtualmin offers four methods for managing your server: from the Web, mobile, command line, and through a remote HTTP API.
Virtualmin Professional makes it easier to install and update many other applications (e.g. WordPress, Joomla, Magento, NodeJS) and comes with commercial support.
Cloudmin Professional is a multi-server control panel based on Virtualmin, to enable the building of cloud services for use by enterprises and service providers. Cloudmin has support for Xen, vserver, Solaris Zones, and Amazon EC2 instances.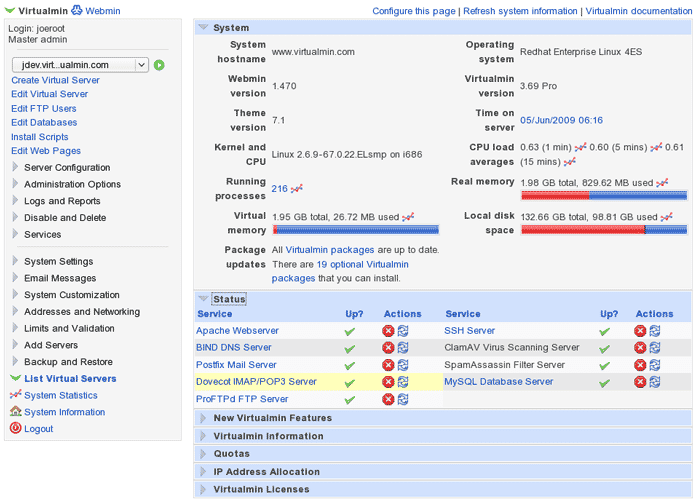 Virtualmin Professional has more advanced application install support features: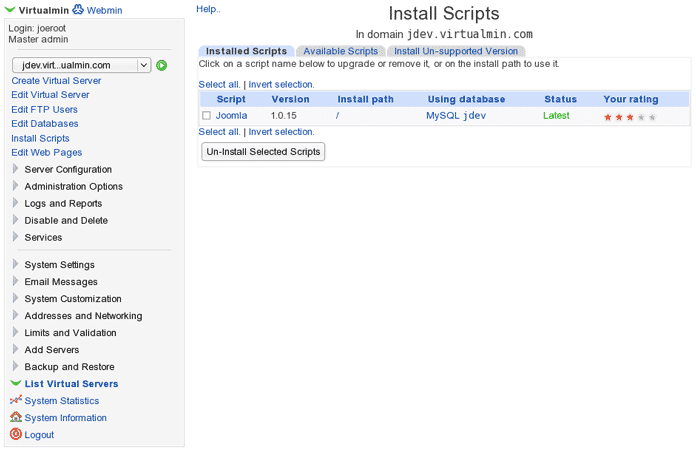 Common Control Panel Features
In general, most control panels implement a common set of features. While most will implement some subset of these, there are a few that include them all. Web hosting control panel software may provide access to:
Domain name system management (web domains, mail domains, etc.)
Email system management (email addresses, email quotas, spam prevention, etc.)
FTP management (user accounts, password management, file system quotas)
Web-based file system access
SSH user/key management
Database management (MySQL, PostgreQSL, and sometimes other database systems)
Backup management
Logfile access and reporting
Plugin system for configuring additional services and installing apps (e.g., WordPress)
As is with virtually any other product market, there are upgrades and premium versions to be had in web panels. Some control panels also have enterprise-grade features geared for businesses like:
Manage multiple servers from one control panel interface
(For Hosts) Allow multiple customers to run the control panel software in parallel on a server
Service monitoring and alerting
A ticketing system for customers
IPv6 support
These options are fantastic for large-scale, growing businesses and hosters.
Control Panel Features Comparison
We all know it is easier to see things visually, so we put together a nice table for you to compare all of the control panels and their features quickly. Below the table, we provide some commentary on each piece of software and links to help you investigate further.
These panels' features are varied. Some panels may be best suited for shared hosting customers, while others are very popular among cloud hosting users. Still, whether you're running your site on dedicated servers, a VPS, or a shared hosting environment, the usefulness of being able to manage your files, email, apps, et cetera from one intuitive interface is invaluable.
Final Note
Hopefully, this quick overview of the top 17 actively-maintained web panels has left you feeling fully prepared to make the best selection when searching for a web panel to meet your personal or professional website management needs.
Before you pick a panel, you'll need to know what "bucket" of hosting (shared vs. dedicated vs. virtual) best fits your hosting needs. Our Basics Guide will get newbies familiar with what web hosting is and what they need to get started.
Remember, a web panel is just the website owner's online dashboard for managing apps, files, software add-ons, and more for their site — and many of our experts' favorite hosting services include fantastic control panels in their packages.
See Our Full Review of GoDaddy
Whatever type of hosting plan you're looking for, GoDaddy is a solid choice no matter the scale. Our reviewer Ryan Frankel recently took GoDaddy for a spin, and rated the popular host a 4.7 in the Best Overall Hosting category out of a perfect score of 5.0. Here's what Ryan had to say about GoDaddy:
GoDaddy has long been a reliable host — world-renowned as the #1 domain registrar. With some of the best longevity in the industry, the hosting company is a trustworthy provider we confidently recommend to beginners, developers, and entrepreneurs. Read our GoDaddy reviews below to see which hosting package will be the best fit.
Before signing up for GoDaddy, it's a good idea to read through Ryan's full review to learn about all the features GoDaddy offers. You can also compare it to other web hosts to ensure you're getting the best deal possible:
If you decide GoDaddy is the right choice, keep in mind that it takes just minutes to deploy your GoDaddy server space. And at $2.99 per month, it's a bargain considering the many great features that come in any GoDaddy plan.
Advertiser Disclosure
HostingAdvice.com is a free online resource that offers valuable content and comparison services to users. To keep this resource 100% free, we receive compensation from many of the offers listed on the site. Along with key review factors, this compensation may impact how and where products appear across the site (including, for example, the order in which they appear). HostingAdvice.com does not include the entire universe of available offers. Editorial opinions expressed on the site are strictly our own and are not provided, endorsed, or approved by advertisers.
Our Editorial Review Policy
Our site is committed to publishing independent, accurate content guided by strict editorial guidelines. Before articles and reviews are published on our site, they undergo a thorough review process performed by a team of independent editors and subject-matter experts to ensure the content's accuracy, timeliness, and impartiality. Our editorial team is separate and independent of our site's advertisers, and the opinions they express on our site are their own. To read more about our team members and their editorial backgrounds, please visit our site's About page.