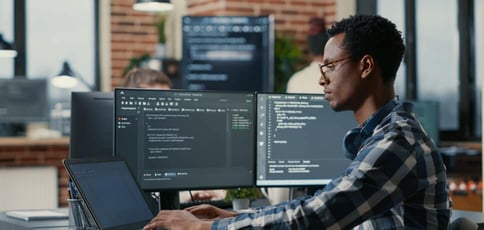 Careers in web development will grow roughly 25% over the next decade, meaning future tech leaders are currently honing their coding skills. No matter how they learn to code, one commonality these aspiring programmers have is the need for web hosting.
Even as programmers enter the workforce, the constant changes in technology require them to be lifelong learners. And a free web hosting service is one of the best ways to practice new coding skills.
With a free hosting plan, developers can test new frameworks and code without paying a monthly fee. Plus, since test projects typically don't get the same traffic as a typical website, you don't have to worry about bandwidth and storage restrictions.
Below, we'll walk you through some of our favorite free web hosting services for developers, plus some cheap alternatives.
Customize your cloud environment for FREE
Work with a dedicated account manager
Dozens of Windows & Linux OS choices
Complimentary live chat support open 24/7
Launch in less than 60 seconds
CHEAP
RATING 4.9 ★★★★★ Our Review
Kamatera: Our Expert's Review
Laura Bernheim (HostingAdvice.com): That's right, Kamatera gives new customers FREE access to high-quality VPS hosting for 30 days. Upgrade your bargain-basement shared hosting to a cloud server configured to your exact specifications for no cost. Go to full review »
| Money Back Guarantee | Disk Space | Domain Name | Setup Time |
| --- | --- | --- | --- |
| 30-day FREE trial | 20 GB SSD – 4 TB SSD | New or Transfer | 3 minutes |
Kamatera offers one of the longest free trials. For 30 days, new customers can sign up for a plan at no cost. If you stick with this host, you can get a monthly shared plan for as little as $0.00. Even though you can't get an entirely free website with Kamatera, the extra features and performance it offers outweigh its low monthly price.
Some of our favorite perks of this almost-free website hosting provider include the range of choices it offers customers. Kamatera is well-known for its flexibility and gives users complete control to customize their cloud infrastructure. Users can arrange almost every aspect of their server, from their operating system to CPU and disk space.
Some of our favorite Kamatera features include:
Around-the-clock live customer support
99.95% uptime guarantee
Cloud-based VPS plans with increased scalability
The provider's cloud-based VPS hosting plans are ideal for developers who need a higher degree of performance, speed, and security than a free website hosting plan can give them.
Best Almost-Free Hosting
There may come a time when you decide paying a small price is worth having the extra functionality. After all, a free website will only take you so far. If you ever plan to launch your test project into a fully functional operation, it's easier if you don't have to migrate your website from a free host to a new provider.
Don't get us wrong; a free web host doesn't make your website illegitimate. But if you want your site to handle a decent amount of traffic without slowdowns, you will need something more robust than a free shared hosting plan.
These providers offer the best price-to-performance ratio and can give visitors speedy access to your site.
Unlimited everything, from storage to databases
FREE site builder & WP performance upgrades
FREE daily or weekly backups
Custom control panel and auto-installation scripts
SSH access & unlimited FREE SSL certificates
CHEAP
RATING 4.9 ★★★★★ Our Review
Hostinger: Our Expert's Review
Laura Bernheim (HostingAdvice.com): As the shared hosting market becomes increasingly saturated, unlimited storage, bandwidth, and email accounts have become surprisingly average. Hostinger, however, extends the routine, expected metrics to greater lengths — the number of websites, databases, FTP users, subdomains, and parked domains are all unrestricted for most customers. Go to full review »
| Money Back Guarantee | Disk Space | Domain Name | Setup Time |
| --- | --- | --- | --- |
| 30 days | 50 GB SSD – 200 GB SSD | FREE (1 year) | 3 minutes |
Hostinger is one of the most affordable providers on the market. Its shared hosting plans start at just $1.99 per month and include tons of perks, including a free domain name, backups, and a free SSL certificate.
This hosting service doesn't hold back on performance with its shared plans either. Its packages have features optimized for WordPress hosting, including one-click installations and security protection from BitNinja.
If your site grows beyond the resources of a shared hosting plan, you can upgrade to one of Hostinger's VPS plans for a much lower cost than the industry standard price. Although the host's VPS plans include fewer managed services, an experienced developer won't mind putting in a little extra time managing their server in exchange for a lower price tag.
Cheap shared hosting from a trusted provider
Ideal for hosting a WordPress website
FREE Weebly website builder and Cloudflare CDN
Unlimited traffic and 24/7 live chat support
Get 70% off today with our Bluehost coupon
CHEAP
RATING 4.7 ★★★★★ Our Review
Bluehost: Our Expert's Review
Ryan Frankel (HostingAdvice.com): Bluehost pricing is about as competitive as the industry offers. Sign up for a shared hosting plan for as little as $2.95 per month, and WordPress hosting packages are consistently priced; a VPS plan starts at around $19.99 per month; and the dedicated hosting rates are as little as $79.99 per month. Go to full review »
| Money Back Guarantee | Disk Space | Domain Name | Setup Time |
| --- | --- | --- | --- |
| 30 days | 10 GB SSD – 100 GB SSD | FREE (1 year) | 5 minutes |
Bluehost is a provider best known for its shared and WordPress hosting plans. When customers sign up with Bluehost they can expect nothing but the best user-friendly service. The host recently reworked its web host dashboard, giving users easy access to all of their website management tools.
With plans starting as low as $2.95, you may be wondering what perks you get. Even on the cheapest website builder plan, Bluehost tosses in access to its free site builder, unlimited bandwidth, and a free email account. If you run out of space, you can upgrade to VPS hosting or a dedicated server, for which Bluehost also excels.
Although Bluehost doesn't currently offer a free trial, it does have a 30-day money-back guarantee. If you're unhappy with your hosting plan, you can request a full refund, which is almost like a free trial.
Host up to unlimited websites on a single plan
FREE SSL certificate included on all plans
Unlimited bandwidth & email addresses
1-click WordPress installs & FREE blog tools
Get 67% OFF by buying 36 months upfront
CHEAP
RATING 4.6 ★★★★★ Our Review
HostGator: Our Expert's Review
Ryan Frankel (HostingAdvice.com): HostGator is a great compromise between performance and price. The company offers unlimited emails, MySQL databases, disk space, and bandwidth, plus one-click installs of popular open-source projects, in addition to a 99. Go to full review »
| Money Back Guarantee | Disk Space | Domain Name | Setup Time |
| --- | --- | --- | --- |
| 30 days | Unlimited | FREE (1 year) | 4 minutes |
HostGator is another hosting platform that doesn't disappoint. Its plans are fairly priced for the performance and features you get. Plus, the provider offers impressive customer support if you run into any issues.
In addition to unlimited bandwidth and a free domain with its Baby plan, Hostinger also provides a free SSL certificate, website builder, and email account.
When you grow beyond the constraints of a shared plan, you can upgrade to VPS hosting or a dedicated server. Folks who make this leap get to choose between a Linux or Windows server and have the option of managed or semi-managed solutions.
FREE BoldGrid site builder and templates
FREE website, domain, and cPanel migrations
SSD storage makes your site load up to 20x faster
Security suite includes SSL and hack protection
Unlimited bandwidth and email accounts
CHEAP
RATING 4.7 ★★★★★ Our Review
InMotion: Our Expert's Review
PJ Fancher (HostingAdvice.com): InMotion Hosting offers an excellent business-class shared hosting plan — with a price tag lower than several other budget hosts. For the IT crowd in the audience, you'll appreciate SSH access, as well as support for PHP, Ruby, Perl, Python, WP-CLI, and other popular languages. Go to full review »
| Money Back Guarantee | Disk Space | Domain Name | Setup Time |
| --- | --- | --- | --- |
| 90 days | 100 GB SSD – Unlimited | FREE (1 year) | 5 minutes |
InMotion Hosting is a long-time favorite of ours. The host has a feature-rich shared hosting plan that costs less than a cup of coffee each month. When you sign up with InMotion, you get free site migration and data backups. Plus, it offers customers an astounding 90-day money-back guarantee.
FREE RVsitebuilder & 400 templates
Unlimited domains and databases
Scalable shared cloud server option
CloudLinux OS and LiteSpeed server
Multiple DDoS protections
CHEAP
RATING 4.0 ★★★★★ Our Review
AccuWebHosting: Our Expert's Review
Laura Bernheim (HostingAdvice.com): The Swiss Army knife of shared hosting providers, AccuWebHosting showcases diversity and flexibility at the basic level of hosting. The provider offers three flavors each of Windows and Linux hosting services, plus additional configurations for applications such as WordPress, Node. Go to full review »
| Money Back Guarantee | Disk Space | Domain Name | Setup Time |
| --- | --- | --- | --- |
| 30 days | 10 GB SSD – 50 GB SSD | FREE (1 year) | 4 minutes |
AccuWebHosting has a unique cloud-based shared hosting solution that gives customers 100% uptime — a huge advantage over the industry standard of 99.9%.
The folks at AccuWeb prioritize customer support and security, offering multiple DDoS protections. When you sign up with AccuWeb, you get access to a free domain name for your first year of service and a site builder with more than 400 templates.
Plans come with a range of storage and bandwidth, ensuring you'll find a package that's right for your project.
High-speed hosting that's faster than AWS, Rackspace, and Digital Ocean
FREE backups, CDN, and DDoS protection
Up to 16 processors with all-SSD storage
Choice between cPanel, Plesk, or InterWorx
Real-time monitoring and 100% uptime guarantee
VPS
RATING 4.5 ★★★★★ Our Review
Liquid Web: Our Expert's Review
Alexandra Anderson (HostingAdvice.com): It's no secret by now that Liquid Web is known for best-in-class technology and reliability that exceeds expectations. The company's cloud VPS environments embody that reputation to its fullest — including managed WordPress and WooCommerce products. Go to full review »
| Setup Time | Disk Space | CPU | RAM |
| --- | --- | --- | --- |
| 7 minutes | 40 GB SSD – 200 GB SSD | 2 – 8 cores | 2 GB – 16 GB |
If you want the best web hosting for a higher monthly cost, Liquid Web is worth your attention. For $15.00 per month, Liquid Web's VPS hosting customers get SSD-powered servers backed by the host's impressive 100% uptime guarantee.
Liquid Web offers managed WordPress hosting too, which is perfect to showcase your professional portfolio or coding blog.
Even though you won't get an entirely free hosting service from our list above, the feature sets and performance these providers offer are worth their low monthly cost. But if you're set on a free web hosting service anyway, read on to see which providers have the best performance at no cost.
Best Hosts with a Free Trial
If you're expecting your test project to become a live, functional site, you may want to consider a web host that offers a free trial instead of an always-free plan. This will prevent you from switching providers when you're ready to launch your website.
These top hosts have some of the best reputations in the industry for giving customers scalable, reliable cloud hosting. With a free trial from one of these providers, you can test the performance and features of your host before you pay a dime.
Try managed cloud hosting for FREE for 3 days
Optimize costs with custom server configurations
Scale server resources up and down as needed
FREE SSL certificates, site migrations, and CDN
Use code HOSTINGADVICE for 25% OFF
CHEAP
RATING 4.7 ★★★★★ Our Review
Cloudways: Our Expert's Review
Alexandra Anderson (HostingAdvice.com): Cloudways doesn't offer a dollars-per-month shared hosting plan. But the company still brings a significant bargain to the table, thanks to a (short) free trial. Go to full review »
| Money Back Guarantee | Disk Space | Domain Name | Setup Time |
| --- | --- | --- | --- |
| 3-day FREE trial | 20 GB SSD – 4 TB SSD | New or Transfer | 8 minutes |
Cloudways is another HostingAdvice favorite that delivers variety and security to its customers. This web host is ideal for developers building a startup and wanting to grow with their web hosting service.
The web host backs its plans with hardware from the top cloud providers, including DigitalOcean, AWS, Linode, Vultr, and the Google Cloud platform. Once you select a provider, you can configure your server to your specifications, so you're not overpaying for resources you don't need.
Some of our favorite Cloudways features include:
A free SSL certificate, CDN, and site migration
Pay-as-you-go pricing with no long-term contracts
Security patching and real-time monitoring
Your free trial with Cloudways lasts for three days. It's not the longest free trial on the market, but it is enough time to decide if this hosting provider is right for your project. Once your trial is over, you can pay as little as $9 per month, depending on the server configurations you chose during setup.
Always-Free Hosting for Developers
If you're still set on an entirely free web hosting service, these platforms offer the best services at no cost. Whether you're new to coding or an experienced programmer, you're sure to find a plan that suits you well from the choices below.
9. GitHub Pages

GitHub Pages is a simple way to deploy your code right from your online repository. To publish your live site, all you have to do is edit your code, save your changes, and push them.
Users with the URL to your GitHub site can see a fully-functional version of your website. This works perfectly for coding homework and collaboration with other developers.
One of the drawbacks to this free hosting service is the inability to customize your domain name. Because the service is free, you have to use the .github.io extension. This isn't typically a deal breaker for experimental projects or practice. But having a custom domain looks more polished if you plan to use your website professionally or as a portfolio piece.
GitHub offers a paid version of its free web hosting service, so if you want more storage and a custom domain name, you can pay a monthly fee to unlock these features. The platform offers a Team and Enterprise plan, so you can choose the package that suits you best.
10. GitLab Pages

GitLab Pages is another free hosting service that developers can use to work on test websites and personal projects. The platform lets you publish static websites with HTML, CSS, or JavaScript.
Getting started with GitLab is easy. All you need to do is upload your code files to the repository and move them into the public folder. You can publish your website's files by triggering the built-in GitLab CI/CD tool.
As with most free hosting plans, your default domain name is a non-custom extension, which may be an issue if you plan to use your website professionally. But the platform gives you detailed instructions on configuring these settings, allowing you to set up a new domain extension or custom 404 pages.
11. AWS Free Tier

Amazon's free tier offers students and developers a range of free web hosting solutions. Users can choose from hundreds of free trials and always-free plans to find a service that suits them.
The cloud-based offerings from AWS are best for experienced developers looking to refine their skills or work with machine learning and databases. The platform's solutions extend far beyond the capabilities of your typical free static website hosting service, so take your time browsing all the options.
Which Is the Best Free Web Hosting Provider?
The best free web hosting provider is the one that checks all of your boxes. If you plan to practice basic HTML, CSS, or JavaScript, an always-free hosting service from GitHub or GitLab pages can easily meet your needs.

But suppose you're considering turning your test project into a portfolio piece or a fully functional business website. In that case, you may want to choose a hosting plan from one of our favorite cheap hosting providers instead. This will alleviate the need to migrate your website, which is a hassle and can cause downtime.
For more experienced developers experimenting with databases, APIs, or cloud computing, you can't go wrong exploring your options with AWS. The sheer range of plans is sure to give you more than one suitable option to choose from.
What's the Difference Between a Free Trial and Always-Free Hosting?
A free trial lets you test your hosting provider before paying. Most free trials will give you full access to the host's features for at least three days, but some offer two weeks or more. A free trial is an excellent option for customers who plan to turn their test websites into real projects at some point.
Always-free hosting is a plan that's always free, hence the name. You never have to pay a dime for your service unless you upgrade to a level with more features. These services typically limit what you can customize in your environment and how much storage and bandwidth you get. But this usually isn't a deal breaker for a student or developer working on test projects.
What are the Limitations of a Free Plan?
Your free plan will always have limitations. After all, web hosting costs money to provide, and your hosting company can't offer unlimited resources without recouping the operation costs.
Most free hosting plans limit the amount of storage and bandwidth you get. They may also place advertisements on your website to offset the cost of providing you with server space.
Another limitation you can almost always count on is the need to use the platform's domain extension. For example, instead of www.mywebsite.com, you'll have to use www.mywebsite.github.io.
This is a small detail for many users, but for some who have bigger plans for their projects, it may be worth investing in a cheap web hosting provider that gives you the option of a custom domain instead.
When you're browsing your options, remember your site's goals, and you'll choose the right host.
See Our Full Review of Kamatera
Whatever type of hosting plan you're looking for, Kamatera is a solid choice no matter the scale. Our reviewer Laura Bernheim recently took Kamatera for a spin, and rated the popular host a 4.9 in the Cheap Hosting category out of a perfect score of 5.0. Here's what Laura had to say about Kamatera:
Offering an astounding 30-day free trial of its cloud computing and storage hosting plans, Kamatera is a great choice for developers who value performance and scalability. Beginning site owners may be a bit overwhelmed at first, but the web host's managed cloud services and always-there support team will help you through any issues.
Before signing up for Kamatera, it's a good idea to read through Laura's full review to learn about all the features Kamatera offers. You can also compare it to other web hosts to ensure you're getting the best deal possible:
If you decide Kamatera is the right choice, keep in mind that it takes just minutes to deploy your Kamatera server space. And at $0.00 per month, it's a bargain considering the many great features that come in any Kamatera plan.
Advertiser Disclosure
HostingAdvice.com is a free online resource that offers valuable content and comparison services to users. To keep this resource 100% free, we receive compensation from many of the offers listed on the site. Along with key review factors, this compensation may impact how and where products appear across the site (including, for example, the order in which they appear). HostingAdvice.com does not include the entire universe of available offers. Editorial opinions expressed on the site are strictly our own and are not provided, endorsed, or approved by advertisers.
Our Editorial Review Policy
Our site is committed to publishing independent, accurate content guided by strict editorial guidelines. Before articles and reviews are published on our site, they undergo a thorough review process performed by a team of independent editors and subject-matter experts to ensure the content's accuracy, timeliness, and impartiality. Our editorial team is separate and independent of our site's advertisers, and the opinions they express on our site are their own. To read more about our team members and their editorial backgrounds, please visit our site's About page.