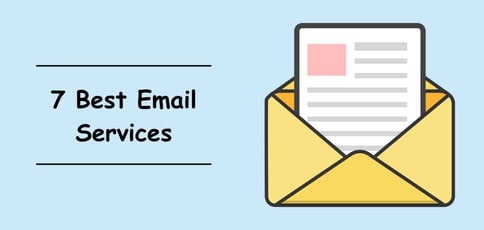 When Ray Tomlinson sent the first email in 1971, he probably didn't know how massive and essential email communication would become. Today, emails rank third in leading forms of communication in the United States, per Statista. The study shows that more than 92% of people in the US use email to communicate.
Behind the scenes, email service providers support the infrastructure that makes email communication possible. This article reviews seven of the best email services, highlighting their key features and functionalities.
1. A2 Hosting: Best for Speed
Speed is one of the most important things to look for in an email service provider. It's like choosing a package delivery service. You'll likely want one that guarantees the fastest delivery.
Regarding speed, it all boils down to the infrastructure the email service provider has implemented. Here's why A2 Hosting tops our list.
FREE software for webmail, newsletters, contact forms, list management, and spam filtering
Unlimited inboxes, forwarding, and autoresponders
Secure POP3, IMAP, and SMTP messaging
Unlimited storage and transfer with FREE SSL
Get more than 75% off today (was $7.99/month)
EMAIL
RATING 4.9 ★★★★★ Our Review
A2 Hosting: Our Expert's Review
Alexandra Anderson (HostingAdvice.com): Combining the internet's most popular and secure email technologies with high-speed and reliable infrastructure, A2 Hosting ensures your messages are delivered on time. As a recipient, you'll appreciate the company's multiple spam filtering programs, along with autoresponders and forwarding. Go to full review »
| Money Back Guarantee | Disk Space | Domain Name | Setup Time |
| --- | --- | --- | --- |
| 30 days | 100 GB SSD – Unlimited SSD | New or Transfer | 4 minutes |
A2 Hosting's key features:
Offers a 100% guaranteed email uptime
Backs up all emails for free
Allows senders to unsend a delivered email
Uses Turbo-charged email servers and NVMe SSD storage for maximum speed
Provides unlimited emails
Besides speed, convenience is my second favorite thing about A2 Hosting's email services. For starters, you can access your emails on Android and iOS, which is perfect for email users on the go. On top of that, if you're on a desktop, you can simply download A2 Hosting's email app for desktop, pin it to the taskbar, and access your emails right under your nose.
2. Hostinger: Best for Businesses
If you run a business, whether big or small, its profitability will depend on how well you manage your business expenses. Professional emails are very much part of these expenses since they charge monthly per user.
These small expenses can quickly pile up if left unmonitored. If you want to spend less on emails and still get top-notch service, Hostinger is up there with the best email service providers for businesses.
Easily import contacts, messages, and calendars
FREE domain name with annual plan
1-click integrations with 50+ productivity tools
Collaborate with polls, shared to-do lists
Less than $1 per mailbox per month!
Get started on Hostinger now.
EMAIL
RATING 4.8 ★★★★★ Our Review
Hostinger: Our Expert's Review
Laura Bernheim (HostingAdvice.com): Showing major value, Hostinger email plans come complete with all the collaboration and productivity tools you'd expect from higher-priced hosts. We especially love the easy integrations with platforms like Twitter, Google Drive, and others. Go to full review »
| Money Back Guarantee | Disk Space | Domain Name | Setup Time |
| --- | --- | --- | --- |
| 30 days | 50 GB SSD – 200 GB SSD | FREE (1 year) | 3 minutes |
Hostinger's key features:
Offers up to 50 GB of email storage
Features mobile applications for iOS and Android
Allows you to set up follow-up reminders, schedule emails, and create unlimited contact groups
Sets up two-factor authentication
Lets you recall sent emails, giving you another chance to correct errors
What I love the most about this email provider is that despite its numerous benefits and features, it still manages to keep its prices very reasonable after renewal. That way, you can get the most out of your email hosting services while keeping your business expenses low.
It's also worth mentioning that this host has gone out of its way to provide some of the best security features for its email services, which is also good for business. I'm talking about data encryption, advanced anti-spam and anti-virus protection, and the ability to keep unwanted senders out of your inbox.
3. Bluehost: Best for WordPress Users
Bluehost is one of the few WordPress-approved web hosting providers out there. If you want to build a WordPress website or already have one, this host has everything you need to hit the runway, all under one roof.
Its hosting plans are perfect for an individual, small business, or even an agency that runs on WordPress or WooCommerce. Below is a summary of what to expect.
FREE domain and unlimited emails
Secure email with 3 webmail solutions
$200 in advertising credits with Google and Bing
Google app integration available
FREE Office 365 mailbox for your first 30 days
EMAIL
RATING 4.8 ★★★★★ Our Review
Bluehost: Our Expert's Review
Ryan Frankel (HostingAdvice.com): For email hosting with security and tons of available features, Bluehost is one of our favorites. The company includes a free domain name for a year, POP3 and IMAP security for unlimited emails, plus email forwarding and three web-based email solutions. Go to full review »
| Money Back Guarantee | Disk Space | Domain Name | Setup Time |
| --- | --- | --- | --- |
| 30 days | 10 GB SSD – 100 GB SSD | FREE (1 year) | 5 minutes |
Bluehost's key features:
Allows you to create unlimited email accounts
Has built-in security technologies, including protection against viruses, spam, and phishing
Compatible with Google Workspace, ideal for team collaboration
Comes with an integrated calendar, address book, and tasks
Accessible on mobile and desktop
The standalone email hosting option is what we recommend for heavy email users. It comes with up to 80 GB of email storage, almost four times more than you get for a regular (free) Gmail account.
Alternatively, the email hosting service that comes attached to a shared hosting plan is perfect for basic email use.
4. IONOS: Best for Small Budgets
Working with a tight budget? That's not a problem; the world of email hosting doesn't discriminate. There's always something for everyone. That's where IONOS comes into the picture.
This is one of the most affordable web hosting providers on the market, and the affordability extends to its email services. The web host offers wildly low rates when you sign up for a year of hosting with email services.
Business email with a personal consultant
Choice of IONOS mail, Microsoft 365, or Google Workspace mailboxes
FREE domain or transfer included
Create up to 500 email accounts
Premium tools for email marketing available
EMAIL
RATING 4.6 ★★★★★ Our Review
1&1 IONOS: Our Expert's Review
Alexandra Anderson (HostingAdvice.com): If the budget factor is on your mind when searching for a web host, rest easy. 1&1 IONOS has a wide range of packages, including reduced rates for the first few months (or year) and starter plans for all of their web hosting and website building services. Go to full review »
| Money Back Guarantee | Disk Space | Domain Name | Setup Time |
| --- | --- | --- | --- |
| 30 days | 10 GB – Unlimited | FREE (1 year) | 4 minutes |
IONOS' key features:
Enjoy real-time synchronization on all of your devices (IMAP)
Get a free custom domain when you first sign up
Support for at least 2 GB of storage
Top-notch security pack, including spam filter and virus protection
Collaboration tools, such as calendar, contacts, and tasks (for Mail Business plan only)
Besides affordability, one of the best things about hosting your emails with IONOS is that this host will assign a dedicated personal consultant to your account. You can contact them via phone or email anytime with questions or concerns about your account.
The standard email service aside, IONOS also supports Microsoft Office 365 and Microsoft Exchange, ideal for collaboration and compliance (think HIPAA, GPDR, and the like).
5. InMotion Hosting: Best Money-Back Guarantee
You haven't seen the best money-back guarantee until you've tried InMotion Hosting. While most hosting providers offer a 30-day money-back guarantee, InMotion provides three times more — 90 days, to be precise.
This lengthy free trial period says everything you need to know about InMotion. It proves that this host is confident in the quality of its services. Let's take a quick look at its key features.
FREE domain registration or no-downtime transfer
Unlimited SPAM Safe™ email with IMAP
1-click app installer and FREE marketing tools
Business-class hardware and eCommerce-ready
SSD storage plus FREE backups and SSL security
EMAIL
RATING 4.5 ★★★★★ Our Review
InMotion: Our Expert's Review
PJ Fancher (HostingAdvice.com): For business-class email hosting, look no further than InMotion Hosting. They offer a free domain name, SSD drive, and secure IMAP email, plus Google app integration with a three-step wizard. Go to full review »
| Money Back Guarantee | Disk Space | Domain Name | Setup Time |
| --- | --- | --- | --- |
| 90 days | 100 GB SSD – Unlimited | FREE (1 year) | 5 minutes |
InMotion Hosting's key features:
Create up to unlimited email addresses
Get up to 20 GB of email storage
Sync your email accounts with your mobile phone and other compatible mobile devices
Top-notch security for web and email hosting, including a free SSL certificate, hack, malware and DDoS protection, and automatic backups
Get access to customer support via live chat 24 hours a day, seven days a week
These email features may seem basic compared to other email providers. For example, InMotion's base shared hosting plan only comes with one gigabyte of email storage.
But that doesn't make this host inferior in any way. On the contrary, it splits its hosting services into smaller packages, allowing you to choose what you need. That's how it stays affordable. Remember, as your email needs grow, you can upgrade your plan directly from your control panel.
6. HostGator: Best to Grow With
Email consumption doesn't usually go from zero to 100 instantly. It's a gradual process. Let's say you've just launched your freelance writing career and want to present yourself professionally when potential clients contact you.
In that case, having a business email makes sense. But, choosing a plan with massive storage space and other enterprise-level features would be overkill and expensive. Thankfully, with HostGator, you can start from the very bottom and rise to the top without spending money on resources you don't need.
Unlimited email accounts and storage
FREE migration, domain, and SSL certificate
Webmail access via Horde and Roundcube
FREE SpamAssassin and weekly backups
Seamless G Suite upgrade for more productivity
EMAIL
RATING 4.4 ★★★★★ Our Review
HostGator: Our Expert's Review
Ryan Frankel (HostingAdvice.com): Woven into HostGator's well-appointed web hosting plans is all the email power you'll ever need. Unlimited addresses and storage, coupled with ready-to-go Horde and Roundcube webmail clients, combine with the host's high-class infrastructure to provide reliable and secure sending environments. Go to full review »
| Money Back Guarantee | Disk Space | Domain Name | Setup Time |
| --- | --- | --- | --- |
| 30 days | Unlimited | FREE (1 year) | 4 minutes |
HostGator's key features:
Support for unlimited email addresses
Free domain name for one year
Up to 40 GB of web storage, which includes storage for your email accounts
Access to top-notch customer support, including phone and chat
Anti-spam protection to keep your emails safe from spammers
HostGator offers a sense of simplicity right from its hosting packages to its traditional control panel, making it the perfect email service provider for a minimalistic and growth-oriented user.
On top of that, with HostGator, you can also create unlimited email aliases, autoresponders, and up to 25 mailing lists. Add that to the fact that you can access your emails via phone, and you'll notice just how easy growth is with this email hosting provider.
7. SiteGround: Best 24/7 Customer Support
The quality of customer support is one of those things I always look for when choosing an email service provider. And that's coming from someone who knows a thing or two about the technical aspects of web hosting.
That's why SiteGround takes the crown for the email service provider with the best 24/7 customer service. With this host, you can rest assured that if things go off the rails, you'll have someone in your corner ready to steer you back on track.
Unlimited email hosting at your domain
Compatible with multiple webmail and email clients
Secure email protocols and anti-spam solutions
Easy oversight via cPanel and FREE site builder
Ideal for business email hosting with 99.9% uptime
EMAIL
RATING 4.4 ★★★★★ Our Review
SiteGround: Our Expert's Review
Alexandra Anderson (HostingAdvice.com): SiteGround offers excellent email hosting services — compatible with all major webmail and email clients, including RoundCube and Outlook. Email hosting customers get unlimited email accounts at their domain, secure email protocols, and SPAM filters. Go to full review »
| Money Back Guarantee | Disk Space | Domain Name | Setup Time |
| --- | --- | --- | --- |
| 30 days | 10 GB SSD – 40 GB SSD | New or Transfer | 6 minutes |
SiteGround's key features:
Create unlimited email accounts at no extra cost
Set up autoresponders, forwarders, and rules
Get up to 10 GB of storage per email account
Access your email from a clean, easy-to-use proprietary control panel
Read and reply to emails directly from your mobile devices
Many web hosting providers claim to offer reliable customer support services, but only a handful live up to their promises. Some will keep you waiting for too long or not provide the kind of help you need to solve that particular problem you're dealing with.
But SiteGround is different. Its award-winning customer support team responds to chats within minutes. And when they do, they are knowledgeable and helpful.
What Are Email Services?
Email services are online platforms and systems that allow you to send, receive, and manage emails. These services usually have the infrastructure and tools you need to communicate via email.
An email service will assign you a unique email, such as YourUsername@YourDomainName.com. This unique email address is your digital mailbox or destination for incoming emails.
It works the same way as your physical mailbox. The mail service (for example, USPS) sends the mail to your physical address. With this service, you can compose, send, and receive emails. You can even send messages to one or multiple recipients, just like you would with a physical mailing service.

Emails services will also let you attach files, documents, images, and other types of content to emails. But keep in mind that some may have attachment limits, so it's important to consider that factor when choosing the right email service provider for you.
Some may provide features to organize emails into folders or with labels. This way, you can categorize and manage your emails, making it easier to find specific threads when needed.
Other common features and characteristics of email services include:
Search function to help users locate specific emails or content within their mailboxes
Email filters and rules to automatically categorize and sort incoming emails
Spam filtering mechanisms to automatically detect and move unwanted or unsolicited emails
Integration with calendars, chat applications, and other productivity tools
Security features such as encrypted email, two-factor authentication, and virus scanning
Compatibility with mobile apps or mobile-friendly web interfaces for convenience
Remember that the features I've highlighted above are inconclusive. Some email service providers have more to offer at an additional cost. For example, some will charge you an extra fee for email backup services. Others will only back up your email data to a specific limit and then begin charging extra for additional storage. You shouldn't ignore those details when choosing an email service provider.
Web Hosting vs. Email Hosting: What's the Difference?
Web hosting and email hosting have one thing in common: both are hosting services. Other than that, everything else is different. For context, let's look at the definitions, characteristics, and differences between these two, starting with web hosting.
Web hosting is what you need to host your website files and make them accessible on the internet. Here, you're essentially renting server space to store your website's content. By website content, I mean things like HTML files, images, videos, and databases. The web host provides the hosting environment, which comprises the infrastructure, server maintenance, and necessary software to keep your website online.

Now, let's define email hosting. Email hosting only focuses on managing your email communication. With this kind of hosting, you can send and receive emails using your custom email address, which is usually a combination of the username and domain name, something like: YourUserName@YourDomainName.com.
Here's what to expect from a typical email hosting service provider:
Customizable email addresses
Spam filtering
Calendars
Contact lists
Integration with third-party email clients (more on email clients below)
Note that some web hosts may provide web and email hosting services under one package. HostGator and SiteGround are good examples.
Other hosts, such as Bluehost and A2 Hosting, offer separate email services. You can either sign up for a standalone email service or choose a hosting package that provides email and web hosting services under one roof.
What Is an Email Client?
The term "email client" sounds like a client who uses emails to communicate. But it's a bit of a misnomer. An email client is a software tool or application to manage and interact with your email accounts. If you're reading this article from your smartphone, you may already have an email client installed.
Some people call it an email application. Others know it as an email program. Either way, these terms all mean the same thing. You can use it as a digital mailbox to send, receive, organize, and store your emails. It comes in the form of desktop applications, web-based services, or mobile apps.

These are a few examples of popular desktop email clients:
Microsoft Outlook: Offers robust email management, calendar sharing, and integration with other Office applications.
Mozilla Thunderbird: Provides a range of features, including email organization, tabbed email, and add-on support.
Apple Mail: Works with macOS and iOS devices, providing seamless integration with Apple's ecosystem.
Regarding web-based email clients, here are the most popular:
Gmail: World's second-most popular email client. It offers excellent spam filtering, search capabilities, and integration with other Google services.
Outlook: Created by tech-giant Microsoft, it includes features like a calendar, contacts, and file attachment integration with OneDrive.
Yahoo Mail: Not as popular today as it was in the early 2000s. Many people believe Google drove the last nail into Yahoo's coffin. It offers customizable themes, spam filters, and integrated instant messaging.
Proton Mail: Mainly focuses on privacy and end-to-end encryption and is available both as a web-based client and mobile app.

And finally, mobile app-based email clients:
iOS Mail: The email client of choice for many iPhone users. The app comes pre-installed on every newly purchased iPhone.
Microsoft Outlook for Mobile: A familiar email client for career-oriented folks on the go
Gmail mobile app: One of the most popular mobile-based email clients. It comes pre-installed on Android devices.
The whole point of having an email client is to access multiple email accounts from various providers, such as Gmail, Outlook, or Yahoo, all in one place. Most of these clients come with a user-friendly interface where you can compose, read, and organize emails. In addition, some may support email protocols, like IMAP or POP3, allowing you to access your emails online or offline.
Is There a Service Better Than Gmail?
It's no doubt that Gmail is a popular and reliable email service. But it's not the only option out there. The right email service provider will ultimately depend on your unique needs.
For example, if you're looking for advanced security features, Proton Mail works best, thanks to its strong encryption standards. On the other hand, let's say you need an email service that's compliant with various regulations and standards, including but not limited to:
General Data Protection Regulation (GDPR)
Health Insurance Portability and Accountability Act (HIPAA)
Children's Online Privacy Protection Act (COPPA)
California Consumer Privacy Act (CCPA)
In that case, Yahoo Mail and Microsoft Outlook are great alternatives.
Which Email Client Is the Most Popular?
Apple Mail has the largest percentage of the email market share (58%), according to multiple studies. It is followed closely by Gmail (28%) at the second spot and the Microsoft duo of Outlook (4%) and Yahoo Mail (3%) at the third and fourth spots, respectively. Google Android seals the top five email clients in the world (1.5%).

Apple Mail's popularity is undoubtedly due to its automatic installation on all iPhones. But that's not to say it doesn't hold a candle to other email clients. It comes with all the standard features, such as sorting and filtering, customizable notifications, undo send, and event reminders.
Is Gmail an Email Service or an Email Client?
Gmail wears many different hats, including being an email service and a client simultaneously. As an email service, Gmail hosts email servers and infrastructure to send, receive, and store email messages on behalf of its users.
When you create a Gmail account, you sign up for an email address with the "@gmail.com" domain. Gmail then takes care of the backend processes of email delivery, storage, spam filtering, and security for your emails.
On the other hand, Gmail also identifies an email client by operating as a software application or interface for users to access, read, compose, and manage their email messages. It provides a web-based email client to access through your web browser and offers mobile apps for smartphones and tablets. These interfaces allow users to interact with their Gmail email accounts and send/receive messages.
Pro tip: you can use Gmail to access emails from other email service providers with a few settings. For example, here's how to forward your SiteGround emails to Gmail.
Which Is the Safest Email Provider?
You'll find tons of safe email providers out there. Of all the options, Proton Mail particularly stands out because it offers end-to-end encryption, meaning only the sender and recipient can read the email.

It's also worth pointing out that Proton Mail has its headquarters in Switzerland. If you didn't know, Switzerland has some of the strictest data privacy laws in Europe.
Tutanota is another name that always appears in conversations about secure email service providers. Based in Germany, this secure email provider provides end-to-end encryption and is known for its commitment to user privacy.
Which Is the Most Popular Free Email Service Provider?
Apple Mail holds the greatest market share for email services (58.67%), but it's only accessible if you have an Apple ID. Given that you need to sign up for paid services or Apple devices to get an Apple ID, it's not truly free for folks without an iPhone.
Gmail holds the second-leading market share at 27.96% and is entirely free for personal use. It works well with devices like iPhones, Androids, Macs and PCs.

Gmail's popularity can be attributed to its many user-friendly features. To begin with, Gmail is quite generous with its email storage space. Each free Gmail account comes with 15 gigabytes worth of storage space. The email service provider also does a great job at spam protection and integrates with other Google services such as Google Docs, Google Sheets, Google Forms, and the like.
But note you should avoid using the free version of Gmail for a business. Instead, opt for the paid service with a custom domain name. In this age of internet scams, most people won't trust professional emails from free accounts.
Think about it this way: would you trust someone claiming to be a Comcast employee when they contact you with an email ending with "@gmail.com?" That's where premium email providers come in. They make you look more professional and have tons of other features you'll need to stand out when communicating via email.
Unlock Your Digital Mailbox With the Best Email Hosting Services
While email is an essential part of modern communication, the type of email service or client you choose will leave a sweet or sour taste in your mouth. That's why choosing the right email host or client is critical.
Remember to also consider your unique needs when choosing an email client or service provider. That's because each client or service in this list offers unique benefits, and what works for you may not work for someone else. Fortunately, you don't have to search far and wide. Any of these seven best email services should get you started.
See Our Full Review of A2 Hosting
Whatever type of hosting plan you're looking for, A2 Hosting is a solid choice no matter the scale. Our reviewer Alexandra Anderson recently took A2 Hosting for a spin, and rated the popular host a 4.9 in the Email Hosting category out of a perfect score of 5.0. Here's what Alexandra had to say about A2 Hosting:
With an emphasis on performance and an eye for detail, A2 Hosting largely avoids the typical shortcomings of many web hosts out there. The independently owned company balances high-powered infrastructure and developer tools with equally responsive customer support teams, giving experienced customers a highly optimized hosting experience.
Before signing up for A2 Hosting, it's a good idea to read through Alexandra's full review to learn about all the features A2 Hosting offers. You can also compare it to other web hosts to ensure you're getting the best deal possible:
If you decide A2 Hosting is the right choice, keep in mind that it takes just minutes to deploy your A2 Hosting server space. And at $2.99 per month, it's a bargain considering the many great features that come in any A2 Hosting plan.
Advertiser Disclosure
HostingAdvice.com is a free online resource that offers valuable content and comparison services to users. To keep this resource 100% free, we receive compensation from many of the offers listed on the site. Along with key review factors, this compensation may impact how and where products appear across the site (including, for example, the order in which they appear). HostingAdvice.com does not include the entire universe of available offers. Editorial opinions expressed on the site are strictly our own and are not provided, endorsed, or approved by advertisers.
Our Editorial Review Policy
Our site is committed to publishing independent, accurate content guided by strict editorial guidelines. Before articles and reviews are published on our site, they undergo a thorough review process performed by a team of independent editors and subject-matter experts to ensure the content's accuracy, timeliness, and impartiality. Our editorial team is separate and independent of our site's advertisers, and the opinions they express on our site are their own. To read more about our team members and their editorial backgrounds, please visit our site's About page.