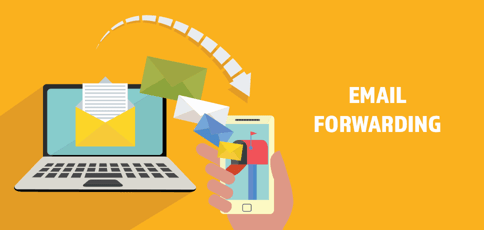 I remember my very first email account with Yahoo in the early 2000s. It was back when you clicked the Yahoo logo to let out its signature yodel, and email was used to send chain mail to your friends (if you know, you know). Over the last 20 or so years, email has become an integral part of modern communication — and not just for spamming your contacts.
The millennium brought significant changes to the way we use email, including an increase in email marketing strategies, branded emails, and customer support. And it's not surprising that email is one of the most used forms of digital communication, accounting for 290 billion daily messages. It's effective, easy to use, and nearly everyone has an email address.
Businesses rely on email to perform simple and complex tasks. An email with a custom domain can help companies establish brand authority and trust with their customers. It's also an invaluable tool for internal communication and technical support. No matter how you intend to use your email hosting service, you'll need a web host that prioritizes function and customization.
The best hosting with email forwarding will allow you to consolidate your company's communications and streamline your processes. We've reviewed seven of the best email hosts to bring you this comprehensive list of top hosting providers.
FREE software for webmail, newsletters, contact forms, list management, and spam filtering
Unlimited inboxes, forwarding, and autoresponders
Secure POP3, IMAP, and SMTP messaging
Unlimited storage and transfer with FREE SSL
Get more than 75% off today (was $7.99/month)
EMAIL
RATING 4.9 ★★★★★ Our Review
A2 Hosting: Our Expert's Review
Alexandra Anderson (HostingAdvice.com): Combining the internet's most popular and secure email technologies with high-speed and reliable infrastructure, A2 Hosting ensures your messages are delivered on time. As a recipient, you'll appreciate the company's multiple spam filtering programs, along with autoresponders and forwarding. Go to full review »
| Money Back Guarantee | Disk Space | Domain Name | Setup Time |
| --- | --- | --- | --- |
| 30 days | 100 GB SSD – Unlimited SSD | New or Transfer | 4 minutes |
A2 Hosting is a powerhouse when it comes to speed and reliability. The web host spared no expense in upgrading its server infrastructure to highly performant NVMe SSDs, giving customers a competitive edge over their competition.
Its email hosting plans are the same. Customers get the fastest speeds combined with one of the simplest email forwarding services. Through the intuitive cPanel dashboard, you can set up email forwarding in minutes. So you're covered whether you need an out-of-office forwarder or to reorganize your support staff's emails.
Easily import contacts, messages, and calendars
FREE domain name with annual plan
1-click integrations with 50+ productivity tools
Collaborate with polls, shared to-do lists
Less than $1 per mailbox per month!
Get started on Hostinger now.
EMAIL
RATING 4.8 ★★★★★ Our Review
Hostinger: Our Expert's Review
Laura Bernheim (HostingAdvice.com): Showing major value, Hostinger email plans come complete with all the collaboration and productivity tools you'd expect from higher-priced hosts. We especially love the easy integrations with platforms like Twitter, Google Drive, and others. Go to full review »
| Money Back Guarantee | Disk Space | Domain Name | Setup Time |
| --- | --- | --- | --- |
| 30 days | 50 GB SSD – 200 GB SSD | FREE (1 year) | 3 minutes |
Hostinger is one of those providers that just gets it. And it's no surprise why it's so popular with the beginner crowd. Its affordable, user-friendly plans make site management and setup a breeze.
An email hosting plan with Hostinger will give you all the essentials plus some bells and whistles. The host also has a proprietary control panel software that makes it simple to set up email forwarding in just a few clicks.
Best of all, it starts at an ultra-low price.
FREE domain and unlimited emails
Secure email with 3 webmail solutions
$200 in advertising credits with Google and Bing
Google app integration available
FREE Office 365 mailbox for your first 30 days
EMAIL
RATING 4.8 ★★★★★ Our Review
Bluehost: Our Expert's Review
Ryan Frankel (HostingAdvice.com): For email hosting with security and tons of available features, Bluehost is one of our favorites. The company includes a free domain name for a year, POP3 and IMAP security for unlimited emails, plus email forwarding and three web-based email solutions. Go to full review »
| Money Back Guarantee | Disk Space | Domain Name | Setup Time |
| --- | --- | --- | --- |
| 30 days | 10 GB SSD – 100 GB SSD | FREE (1 year) | 5 minutes |
Bluehost may be best known for its WordPress hosting plans, but it also does a pretty bang-up job at email hosting. Its email plans don't give you as much range when it comes to storage space, but if you're a small to midsize operation, that shouldn't sway you.
When you sign up for the host's email service, you can choose between Roundcube or Horde as your email client.
Business email with a personal consultant
Choice of IONOS mail, Microsoft 365, or Google Workspace mailboxes
FREE domain or transfer included
Create up to 500 email accounts
Premium tools for email marketing available
EMAIL
RATING 4.6 ★★★★★ Our Review
1&1 IONOS: Our Expert's Review
Alexandra Anderson (HostingAdvice.com): If the budget factor is on your mind when searching for a web host, rest easy. 1&1 IONOS has a wide range of packages, including reduced rates for the first few months (or year) and starter plans for all of their web hosting and website building services. Go to full review »
| Money Back Guarantee | Disk Space | Domain Name | Setup Time |
| --- | --- | --- | --- |
| 30 days | 10 GB – Unlimited | FREE (1 year) | 4 minutes |
1&1 IONOS knows how to appeal to its customers. The provider offers competitive features in its email hosting plans, which have the lowest starting price of any other provider on this list. But just because its price is low doesn't mean you aren't getting loads of value.
Its plans are excellent for personal and professional use. Customers can choose a custom domain name, extension, and premium privacy tools. But that's not to say IONOS doesn't come with rigid security features out of the box. Its ISO-certified email servers are backed by TLS and SSL encryption.
Unlimited email accounts and storage
FREE migration, domain, and SSL certificate
Webmail access via Horde and Roundcube
FREE SpamAssassin and weekly backups
Seamless G Suite upgrade for more productivity
EMAIL
RATING 4.4 ★★★★★ Our Review
HostGator: Our Expert's Review
Ryan Frankel (HostingAdvice.com): Woven into HostGator's well-appointed web hosting plans is all the email power you'll ever need. Unlimited addresses and storage, coupled with ready-to-go Horde and Roundcube webmail clients, combine with the host's high-class infrastructure to provide reliable and secure sending environments. Go to full review »
| Money Back Guarantee | Disk Space | Domain Name | Setup Time |
| --- | --- | --- | --- |
| 30 days | Unlimited | FREE (1 year) | 4 minutes |
This prehistoric, scaly host is a monster in the hosting industry — and we mean that lovingly. HostGator's email hosting plans are a safe bet for midsize to large organizations because it doesn't place storage limitations on its plans.
Just like an alligator's tough exterior protects it from predators, HostGator will protect your messages with Secure Sockets Layer encryption. Hackers may as well hunt for easier prey. With tough security features, customers also get the standard free domain name and unlimited email addresses.
FREE domain registration or no-downtime transfer
Unlimited SPAM Safe™ email with IMAP
1-click app installer and FREE marketing tools
Business-class hardware and eCommerce-ready
SSD storage plus FREE backups and SSL security
EMAIL
RATING 4.5 ★★★★★ Our Review
InMotion: Our Expert's Review
PJ Fancher (HostingAdvice.com): For business-class email hosting, look no further than InMotion Hosting. They offer a free domain name, SSD drive, and secure IMAP email, plus Google app integration with a three-step wizard. Go to full review »
| Money Back Guarantee | Disk Space | Domain Name | Setup Time |
| --- | --- | --- | --- |
| 90 days | 100 GB SSD – Unlimited | FREE (1 year) | 5 minutes |
InMotion Hosting doesn't mess around with speed and performance. This host is one of the few that offers upgraded NVMe SSDs with its email hosting plans. Although you don't get this feature with its base plan, its second-tier option comes with all the bells and whistles.
InMotion also offers unlimited emails and storage, making it a smart choice for growing teams. If you're unhappy with your services for any reason, you can use the host's industry-leading 90-day money-back guarantee. You have nothing to lose by choosing InMotion as your provider.
Unlimited email hosting at your domain
Compatible with multiple webmail and email clients
Secure email protocols and anti-spam solutions
Easy oversight via cPanel and FREE site builder
Ideal for business email hosting with 99.9% uptime
EMAIL
RATING 4.4 ★★★★★ Our Review
SiteGround: Our Expert's Review
Alexandra Anderson (HostingAdvice.com): SiteGround offers excellent email hosting services — compatible with all major webmail and email clients, including RoundCube and Outlook. Email hosting customers get unlimited email accounts at their domain, secure email protocols, and SPAM filters. Go to full review »
| Money Back Guarantee | Disk Space | Domain Name | Setup Time |
| --- | --- | --- | --- |
| 30 days | 10 GB SSD – 40 GB SSD | New or Transfer | 6 minutes |
SiteGround offers reliable email hosting solutions for individuals and smaller businesses. Although it doesn't provide as much storage as some of the other email hosting providers on this list, it does pull through with excellent uptime, security features, and customizations.
One of this host's shining features is its customer support. The company has received awards and accolades for its customer service, which is a huge perk. If you're a small business owner, you know how essential it is to work with vendors that offer reliable support and technical assistance.
What Is Email Forwarding with Hosting?
Email forwarding is exactly as it sounds. It's when you forward emails sent to one address to another (or multiple). You may be wondering how this is helpful, but it offers an advantage to businesses that need to shift employee resources or reorganize their communication channels. For example, if a customer sends your coworker an email while out of the office, they can configure their inbox settings to forward emails to your inbox instead.
The person who sent the email will never know their message was forwarded, so the user experience is the same. And the sender doesn't have to wait for a response until your coworker returns from their vacation at Dollywood. That's a win-win.
What Is the Difference Between Email Hosting and Web Hosting?
These hosting types are similar but differ in the content that's being hosted. With web hosting, your provider is hosting your website's files, images, and content on a server. And with email hosting, the provider is hosting the contents of your messages, contacts, and calendar.
If you're looking for a web hosting provider, check out some of our favorite plans:
High-quality hosting, no matter the format
FREE SSD storage packs 20x the performance
FREE SSL certificate and 24/7 support
1-click installs for WordPress and popular CMSes
Get started with FREE website transfer service
SHARED
RATING 4.8 ★★★★★ Our Review
InMotion: Our Expert's Review
PJ Fancher (HostingAdvice.com): InMotion Hosting offers an excellent business-class shared hosting plan — with a price tag lower than several other budget hosts. For the IT crowd in the audience, you'll appreciate SSH access, as well as support for PHP, Ruby, Perl, Python, WP-CLI, and other popular languages. Go to full review »
| Money Back Guarantee | Disk Space | Domain Name | Setup Time |
| --- | --- | --- | --- |
| 90 days | 100 GB SSD – Unlimited | FREE (1 year) | 5 minutes |
Get 67% off monthly pricing
A perfect blend of price and performance
Intuitive control panel with 1-click CMS installs
Unlimited everything — from domains to databases
Around-the-clock expert support
SHARED
RATING 4.6 ★★★★★ Our Review
HostGator: Our Expert's Review
Ryan Frankel (HostingAdvice.com): HostGator is a great compromise between performance and price. The company offers unlimited emails, MySQL databases, disk space, and bandwidth, plus one-click installs of popular open-source projects, in addition to a 99. Go to full review »
| Money Back Guarantee | Disk Space | Domain Name | Setup Time |
| --- | --- | --- | --- |
| 30 days | Unlimited | FREE (1 year) | 4 minutes |
FREE CDN, email, and daily backups
Hassle-free website and email migrations
Unlimited traffic, databases, and email
Industry-leading customer support response times
HostingAdvice readers get 86% off
SHARED
RATING 4.6 ★★★★★ Our Review
SiteGround: Our Expert's Review
Alexandra Anderson (HostingAdvice.com): Providing hosting with the perfect balance of technological innovation and superior customer support, SiteGround offers a range of affordable hosting services to meet your needs. In addition to the expected cheap web hosting perks — a free website builder and unlimited bandwidth — the company specializes in custom-built tools to deliver strong and positive user experiences. Go to full review »
| Money Back Guarantee | Disk Space | Domain Name | Setup Time |
| --- | --- | --- | --- |
| 30 days | 10 GB SSD – 40 GB SSD | New or Transfer | 6 minutes |
It's easy to find a shared hosting plan that comes with free email hosting. Thanks to market competition, hosting providers are incentivized to include extras at no cost, which appeals to people who don't want to shop around for multiple plans. Plus, when you bundle services, you save on hosting costs.
See more cheap hosting plans >>
How Do I Set Up Email Forwarding?
The answer to this question depends on your email hosting provider and its forwarding service. But this should give you a general idea of the process, using cPanel as an example:
Sign into cPanel
Select the Tools or Email option (this depends on which version of cPanel you have)
Click "Forwarders," then "Create Email Account Forwarder," and "Add Forwarder"
From here, follow the prompt. It will ask where you want to forward the emails and present you with advanced options. It's up to you how you want to configure the rest.
For a full tutorial on email forwarding from each of these hosts, reference their guides here:
These hosts each have a comprehensive knowledge base for customers to reference, so if you get stuck, help is available to you.
What Are the Benefits of Using Email Forwarding?
A company may have many reasons to use email forwarding. In fact, most organizations use it in some form to streamline their communication channels and save time. In addition to the previously mentioned out-of-office example, email forwarding is also great for:
Saving time with automatic replies: Companies can auto-respond to customer service inquiries by setting up an email forwarding service that replies with answers to frequently asked questions.
Organizing customer support teams: Managers are able to forward customer support inquiries to specific departments or agents. This is a popular strategy to direct emails to the right person for resolution. You can also set up email forwarding to have inquiries sent to your main customer service email delivered to individual support agents.
Staffing changes: If a team member leaves the company, you can set their emails to forward to another inbox so nothing gets missed.
You can set up mail forwarding in many ways to save your business time and money. Or maybe you just want to set it up for personal reasons, such as forwarding messages from an email you no longer want to check.
Regardless of the reason, the options for improving your email's efficiency are endless.
What Is an Email Alias?
An email alias is a unique name you apply to your email address that disguises it. But that's not to say it's only used for privacy reasons. If your email is jane@email.com, your alias could be sales@email.com. This would allow you to use a professional-looking email address to put on sales brochures and slide decks without having to manage a separate email account.

Your email host may allow you to create dozens (or even hundreds) of email aliases, which helps create the impression that your company has multiple departments. And what's better is that you don't have to pay for dozens of separate accounts.
The only downside to relying on email aliases for your business is that it may become difficult to manage if you have too many. If one person is checking emails routed from a sales, marketing, fraud, and support email alias, that could get out of hand quickly. Aliases work best when you have a plan to organize them, so approach with caution.
What Is a Custom Email Domain?
A custom email domain is when the address that comes after the "@" symbol is unique to your personal brand or company's name. So instead of your corporate email saying "jane@gmail.com" it says "jane@hostingadvice.com."

Custom email domains are an effective way to increase professionalism and establish authority in your brand. People are more likely to trust your business when you have a custom domain that matches your company's name. Plus, most email hosting plans provide you with this feature for free, so it doesn't cost you anything extra.
Did you know that Raymond Tomlinson, the programmer who invented email, was the first person to use the "@" symbol for something other than pricing? More than 50 years later, we still use his naming convention.
What Are the Best Features of An Email Host?
Obviously, email forwarding is one of the key features you should look for in an email hosting provider, but there are plenty of other perks that will make your job easier. We're personally keen on these add-ons:
Security features such as IMAP, POP3, and SMTP
A free SSL certificate and free domain name registration
Custom email domains
Premium marketing tools
While this list isn't comprehensive, it should give you an idea of what perks to keep an eye out for. It's common for email hosts to toss extras into their hosting plans to stand out from the competition, which is great for you as the customer.
What Is an Email Client?
When people say "email client" they're referring to the software that is used to store and send emails. Email clients can be web-based or desktop-based, but many clients offer both. Gmail is an example of an email client that offers users the ability to access their email from the browser or from a desktop application.

The most popular email clients that come with hosting packages include Horde, Roundcube, ProtonMail, and Google Workspace.
Forward This Guide to 10 People or Get Seven Years of Bad Luck
We're joking. We won't pressure you to forward this guide to all your friends and family. It's been nearly 20 years since email chain forwarding was a thing, so you're safe for now. But if you found this guide useful, we hope you share it with someone.
When choosing a host with email forwarding, you should keep in mind how much email storage you may need and how many users you will have. While most email hosting plans come with ample storage, a free domain, and other enticing perks, email hosting is not necessarily a one-size-fits-all approach.
Individuals and small businesses can save money by choosing an inexpensive host with less storage space or a limited number of email accounts. But midsize to large organizations are better off with unlimited space and emails so they can avoid switching providers down the line.
If you're still hunting for the best hosting with email forwarding, check out another list of top email hosts.
Other top email hosting providers >>
See Our Full Review of A2 Hosting
Whatever type of hosting plan you're looking for, A2 Hosting is a solid choice no matter the scale. Our reviewer Alexandra Anderson recently took A2 Hosting for a spin, and rated the popular host a 4.9 in the Email Hosting category out of a perfect score of 5.0. Here's what Alexandra had to say about A2 Hosting:
With an emphasis on performance and an eye for detail, A2 Hosting largely avoids the typical shortcomings of many web hosts out there. The independently owned company balances high-powered infrastructure and developer tools with equally responsive customer support teams, giving experienced customers a highly optimized hosting experience.
Before signing up for A2 Hosting, it's a good idea to read through Alexandra's full review to learn about all the features A2 Hosting offers. You can also compare it to other web hosts to ensure you're getting the best deal possible:
If you decide A2 Hosting is the right choice, keep in mind that it takes just minutes to deploy your A2 Hosting server space. And at $2.99 per month, it's a bargain considering the many great features that come in any A2 Hosting plan.
Advertiser Disclosure
HostingAdvice.com is a free online resource that offers valuable content and comparison services to users. To keep this resource 100% free, we receive compensation from many of the offers listed on the site. Along with key review factors, this compensation may impact how and where products appear across the site (including, for example, the order in which they appear). HostingAdvice.com does not include the entire universe of available offers. Editorial opinions expressed on the site are strictly our own and are not provided, endorsed, or approved by advertisers.
Our Editorial Review Policy
Our site is committed to publishing independent, accurate content guided by strict editorial guidelines. Before articles and reviews are published on our site, they undergo a thorough review process performed by a team of independent editors and subject-matter experts to ensure the content's accuracy, timeliness, and impartiality. Our editorial team is separate and independent of our site's advertisers, and the opinions they express on our site are their own. To read more about our team members and their editorial backgrounds, please visit our site's About page.