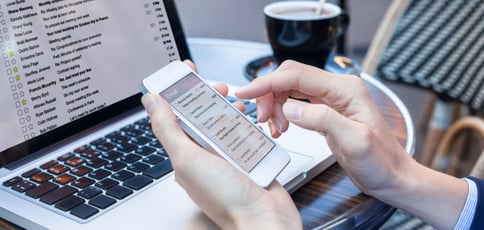 Emails are an essential part of modern-day communication. The business world has one of the biggest market shares regarding email use. In fact, studies have shown that at least 81% of small businesses rely on email to attract new customers.
Gone are the days when email was merely a means of communication. Nowadays, it also doubles as a powerful marketing tool. Email hosting providers offer affordable packages tailored just for businesses, including collaboration and calendar management tools.
Keep reading if you're looking for the best business email service providers to take your business communications to the next level.
The Best Web and Email Hosting Providers
Plenty of low-cost hosting providers bundle email and web hosting together for no extra cost. Others let you choose your preferred standalone email host. Personally, I prefer having my email and web hosting services all under one roof. That way, I can access everything on one platform.
This option is also convenient when I need help troubleshooting email-related problems. Above all, hosting companies that also provide email services usually offer fantastic discounts.
And if you're a business owner, you understand the importance of reducing overhead costs. The whole goal of doing business is to make profits, and that's what you get by choosing one web host to handle all of your hosting needs.
Below, I've covered some of the best email and web hosting providers worth signing up for. Each host offers something unique, and I hope you'll find one that perfectly aligns with your goals.
FREE software for webmail, newsletters, contact forms, list management, and spam filtering
Unlimited inboxes, forwarding, and autoresponders
Secure POP3, IMAP, and SMTP messaging
Unlimited storage and transfer with FREE SSL
Get more than 75% off today (was $7.99/month)
EMAIL
RATING 4.9 ★★★★★ Our Review
A2 Hosting: Our Expert's Review
Alexandra Anderson (HostingAdvice.com): Combining the internet's most popular and secure email technologies with high-speed and reliable infrastructure, A2 Hosting ensures your messages are delivered on time. As a recipient, you'll appreciate the company's multiple spam filtering programs, along with autoresponders and forwarding. Go to full review »
| Money Back Guarantee | Disk Space | Domain Name | Setup Time |
| --- | --- | --- | --- |
| 30 days | 100 GB SSD – Unlimited SSD | New or Transfer | 4 minutes |
A2 Hosting is the king of speed, thanks to its turbo-charged servers. But speed isn't its only strength. It offers powerful email features and functionalities designed to help businesses grow. That's what makes this host a one-of-a-kind in the email hosting world. A quick look at its key features and functionalities reveals why A2 Hosting is a smart choice for your business.
Support for multiple email clients, including Mozilla Thunderbird, Microsoft Outlook 365, Apple Mail, Mailbird, Postbox, Opera Mail, Airmail, Spark Mail, Mailspring, and Spike
Multi-device compatibility allows you to access your emails on desktop and mobile devices
Powerful email migration tools to preserve your previous emails as you migrate to A2 Hosting
Email revision and undo capabilities allow you to recall and revise an email after sending
Support for IMAP, SSL, and POP
A2 Hosting's compatibility with numerous email clients makes it an exceptional hosting provider. In addition, the fact that users can access emails on Android, Windows, and iOS makes this host the perfect choice for business owners on the go.
You'd expect such a robust email provider to cost an arm and a leg, but it doesn't. On the contrary, A2 Hosting is incredibly affordable compared to many other email hosting providers.
Easily import contacts, messages, and calendars
FREE domain name with annual plan
1-click integrations with 50+ productivity tools
Collaborate with polls, shared to-do lists
Less than $1 per mailbox per month!
Get started on Hostinger now.
EMAIL
RATING 4.8 ★★★★★ Our Review
Hostinger: Our Expert's Review
Laura Bernheim (HostingAdvice.com): Showing major value, Hostinger email plans come complete with all the collaboration and productivity tools you'd expect from higher-priced hosts. We especially love the easy integrations with platforms like Twitter, Google Drive, and others. Go to full review »
| Money Back Guarantee | Disk Space | Domain Name | Setup Time |
| --- | --- | --- | --- |
| 30 days | 50 GB SSD – 200 GB SSD | FREE (1 year) | 3 minutes |
Hostinger offers business owners generous web and email hosting packages. How it manages to keep its prices low and quality high is impressive. Hostinger sets the bar with its business email hosting. Here's why.
Support for Microsoft Outlook, Thunderbird, and Apple Mail
Support for up to 10 email addresses with its basic plan
Advanced security features, such as two-factor authentication, anti-virus, and anti-spam
Supports for IMAP and POP3 protocols
At least 10 gigabytes of storage for the basic plan
The above features barely skim the surface of what Hostinger's email service offers. For example, if you want enterprise-level email hosting, this host will give you at least 50 gigabytes of storage.
On top of that, with enterprise emails, you can set up reminders, schedule emails, set up priority inboxes, create unlimited contact groups, read receipts, and email templates. Hostinger is a feature-rich yet affordable email hosting provider, perfect for any business that wants to cut costs while getting the most out of professional email services.
FREE domain and unlimited emails
Secure email with 3 webmail solutions
$200 in advertising credits with Google and Bing
Google app integration available
FREE Office 365 mailbox for your first 30 days
EMAIL
RATING 4.8 ★★★★★ Our Review
Bluehost: Our Expert's Review
Ryan Frankel (HostingAdvice.com): For email hosting with security and tons of available features, Bluehost is one of our favorites. The company includes a free domain name for a year, POP3 and IMAP security for unlimited emails, plus email forwarding and three web-based email solutions. Go to full review »
| Money Back Guarantee | Disk Space | Domain Name | Setup Time |
| --- | --- | --- | --- |
| 30 days | 10 GB SSD – 100 GB SSD | FREE (1 year) | 5 minutes |
Bluehost is the perfect email hosting provider for a business or organization using Google Workspace for collaboration. Here, you'll find all your favorite Google applications under one roof.
This veteran web host splits its email hosting plans into three categories, Starter, Standard, and Plus, to fit the unique needs of each business. Let's take a quick tour of its key features and functionalities.
Supports Roundcube and Horde email clients
Integrates with a host of Google's collaboration tools and applications, such as Google Workspace
Offers at least 30 gigabytes of cloud storage per user
Supports video conferencing for up to 100 participants
Comes with a chat platform for real-time collaboration and communication
Quite honestly, I've seen more affordable business email hosting providers than Bluehost. After its introductory offer, the price jumps significantly higher than other options. But if you're looking for reliability and compatibility with powerful collaborative tools, this web hosting provider is up there with the best.
Bluehost also has a good reputation in the web hosting industry, having been around since 2003. With that kind of longevity, you can rest assured that your emails are in the right hands.
Business email with a personal consultant
Choice of IONOS mail, Microsoft 365, or Google Workspace mailboxes
FREE domain or transfer included
Create up to 500 email accounts
Premium tools for email marketing available
EMAIL
RATING 4.6 ★★★★★ Our Review
1&1 IONOS: Our Expert's Review
Alexandra Anderson (HostingAdvice.com): If the budget factor is on your mind when searching for a web host, rest easy. 1&1 IONOS has a wide range of packages, including reduced rates for the first few months (or year) and starter plans for all of their web hosting and website building services. Go to full review »
| Money Back Guarantee | Disk Space | Domain Name | Setup Time |
| --- | --- | --- | --- |
| 30 days | 10 GB – Unlimited | FREE (1 year) | 4 minutes |
IONOS breaks down its email hosting services into three packages: Mail Basic 1, Mail Basic 1+, and Mail Business. Choosing a package with only the features your business needs helps keep your email hosting plan affordable.
As the name suggests, the Mail Business plan is specifically tailored to your business needs. Let's break down what it entails.
Support for Microsoft Outlook, Mozilla Thunderbird, Apple Mail (for Mac), Windows 8 Mail, and Postfix (for Linux).
Offers up to 50 gigabytes worth of storage space per user, which can support up to 500,000 emails
Provides a free custom domain for new users
Syncs email data across mobile devices in real-time, allowing you to access your emails anywhere, anytime
Compatible with collaborative tools for tasks, contacts, and calendars
IONOS is highly scalable; it won't tie you down to your current hosting plan. You can upgrade or downgrade anytime to meet your email hosting needs.
IONOS is also compatible with the most popular collaboration tools, Microsoft Office and Google Workspace. So, if you work with a team and want to improve communication and collaboration, this host gets the job done.
FREE domain registration or no-downtime transfer
Unlimited SPAM Safe™ email with IMAP
1-click app installer and FREE marketing tools
Business-class hardware and eCommerce-ready
SSD storage plus FREE backups and SSL security
EMAIL
RATING 4.5 ★★★★★ Our Review
InMotion: Our Expert's Review
PJ Fancher (HostingAdvice.com): For business-class email hosting, look no further than InMotion Hosting. They offer a free domain name, SSD drive, and secure IMAP email, plus Google app integration with a three-step wizard. Go to full review »
| Money Back Guarantee | Disk Space | Domain Name | Setup Time |
| --- | --- | --- | --- |
| 90 days | 100 GB SSD – Unlimited | FREE (1 year) | 5 minutes |
InMotion Hosting takes security seriously, making it a preferred choice for businesses that communicate sensitive information via email, such as consulting and advisory firms, law firms, and financial institutions.
Regarding security, InMotion comes equipped with spam protection, backup management, SSH access, a free SSL certificate, and hack and malware protection technologies. Security aside, here's why you should host your business email with InMotion:
Supports Outlook 2003 to 2013, Mozilla Thunderbird, Windows Live Mail, and Mac Mail.
Users can create unlimited email addresses (Core plan users can only create up to 10 email addresses)
Up to one gigabyte of storage per email inbox for core plans and between five and 20 gigabytes for Launch, Power, and Pro plans (this will count toward the total disk space for your hosting plan)
Access to your emails from your mobile devices anywhere, anytime
InMotion is also quite affordable. It's actually cheaper than what some autonomous email providers offer. For example, its most basic plan allows you to host two websites and create up to 10 email addresses.
It also comes with 100 gigabytes of storage, advanced marketing tools to promote your business, and unlimited bandwidth. While at it, don't forget to grab your free SSL certificate.
Unlimited email accounts and storage
FREE migration, domain, and SSL certificate
Webmail access via Horde and Roundcube
FREE SpamAssassin and weekly backups
Seamless G Suite upgrade for more productivity
EMAIL
RATING 4.4 ★★★★★ Our Review
HostGator: Our Expert's Review
Ryan Frankel (HostingAdvice.com): Woven into HostGator's well-appointed web hosting plans is all the email power you'll ever need. Unlimited addresses and storage, coupled with ready-to-go Horde and Roundcube webmail clients, combine with the host's high-class infrastructure to provide reliable and secure sending environments. Go to full review »
| Money Back Guarantee | Disk Space | Domain Name | Setup Time |
| --- | --- | --- | --- |
| 30 days | Unlimited | FREE (1 year) | 4 minutes |
HostGator offers web and email hosting plans to suit various business needs. Each hosting plan comes with unlimited email accounts to suit a growing business. Once you've signed up, you can access the free email account via HostGator's control panel. Here's what to expect from this seasoned web host.
Support for a range of email clients, including but not limited to Microsoft 365, Google Mail, Thunderbird, Mac Mail, and KMail
Up to 40 gigabytes of storage space
Support for POP3 and IMAP protocols
A free SSL certificate
Access on mobile and desktop devices, perfect for busy entrepreneurs
HostGator hasn't changed that much in recent years, but that's not necessarily a bad thing. I know I'm not the only one who loves its simplicity and the trademark retro vibes it brings. Like Bluehost, HostGator has stood the test of time, having been around since 2002. Today, it is home to more than two million websites — proof you can trust your emails with HostGator.
Unlimited email hosting at your domain
Compatible with multiple webmail and email clients
Secure email protocols and anti-spam solutions
Easy oversight via cPanel and FREE site builder
Ideal for business email hosting with 99.9% uptime
EMAIL
RATING 4.4 ★★★★★ Our Review
SiteGround: Our Expert's Review
Alexandra Anderson (HostingAdvice.com): SiteGround offers excellent email hosting services — compatible with all major webmail and email clients, including RoundCube and Outlook. Email hosting customers get unlimited email accounts at their domain, secure email protocols, and SPAM filters. Go to full review »
| Money Back Guarantee | Disk Space | Domain Name | Setup Time |
| --- | --- | --- | --- |
| 30 days | 10 GB SSD – 40 GB SSD | New or Transfer | 6 minutes |
SiteGround was under fire in the web hosting community in 2019 for getting rid of the traditional control panel. Personally, I find its new Site Tools panel cleaner and easier to use. You should give it a try, especially if you're clutter-phobic.
Like Bluehost and InMotion, SiteGround does not offer email hosting alone (it comes wrapped in a web hosting package). Although this host is a little bit more expensive when it auto-renews, another bone critics love to pick on, it offers tons of features, some of which I've highlighted below.
Access to your email via SiteGround's Webmail, Microsoft Outlook, or Mac Mail
At least 10 gigabytes of storage (your email accounts will contribute to this storage space)
Ability to create autoresponders and forwarders for each email
Support for unlimited email accounts, ideal for a business that's hugely email-dependent
Top-notch security features such as an anti-bot system, SSL certificates, and custom Web Application Firewall to protect your emails
When SiteGround made the bold decision to move on from the traditional control panel to Site Tools, the result, in my opinion, was a clean and easy-to-use platform. This should be your top pick if you want a clutter-free control panel to manage your emails.
This host makes accessing emails quick and easy. You won't have to navigate a crowd of icons or buttons to get to that important email you've been waiting for.
Automated malware scans
Unlimited domain hosting
Unlimited email accounts with POP/IMAP/SMTP
FREE eCommerce store tools and PCI compliance
Streamlined proprietary control panel
EMAIL
RATING 4.6 ★★★★★ Our Review
DreamHost: Our Expert's Review
Laura Bernheim (HostingAdvice.com): While DreamHost's price might be a little steep compared to other high-value hosting providers, the company gives customers ample time and reasons to get hooked and stick around. The company, which started in the founders' dorm room in 1997, offers an industry-leading 97-day money-back guarantee. Go to full review »
| Money Back Guarantee | Disk Space | Domain Name | Setup Time |
| --- | --- | --- | --- |
| 97 days | Unlimited | FREE (1 year) | 4 minutes |
DreamHost gives you the freedom to choose how you want to host your email. You can choose a web hosting plan with email hosting or opt for standalone email hosting. Keep in mind that all hosting plans except for DreamCompute, Starter Shared, and DreamObjects come with email hosting. Here's what makes DreamHost's email hosting stand out.
Support for Microsoft Outlook 2007 and 2010, Mac Mail (only for MacOS 10.11 or older), Mozilla Thunderbird, and any Microsoft mail client that runs on Windows 7
Access to emails on Android, iOS, and Windows devices
At least 25 gigabytes of email storage per mailbox for the standalone email service
Automatic synchronization for mobile and desktop
Smart anti-spam system that automatically detects and blocks potential threats, protecting your emails from viruses and phishing attacks
Although DreamHost offers monthly plans with no commitments or contracts, you can opt for the yearly option to save money. Alternatively, you can choose a web hosting package with free email accounts.
For example, the Shared Unlimited plan lives up to its promise. Although it costs more than you'd pay for standalone email hosting, it allows you to create unlimited email accounts. This option is perfect for large, growth-oriented enterprises relying primarily on email for communication.
Best Email Clients for Businesses
While hosting your email and website under one roof has benefits, you may want to separate them for one reason or another. Say, for example, you need specialized email infrastructure, better performance, scalability, and industry-specific compliance standards; you'll likely get these and so much more from a separate email host. Here are some of the best options to choose from.
9. Google Workspace
Google Workspace, a product of tech giant Google, rules the cloud. Formerly known as G Suite, Google Workspace offers more than email hosting.

Besides creating a custom email, I've signed up for Google Workspace to access its collaborative tools, such as Google Chat, Google Drive, and Google Docs, to name a few. Here's an insider's view of Google Workspace in summary.
Storage space ranges between 30 gigabytes to five terabytes, depending on the package
Send attachments of up to 25 megabytes attachments
Receive attachments of up to 50 megabytes
CC up to 2,000 recipients per message
Advanced security features such as junk mail filtering and virus blocking, custom filtering, and enforced-compliance footers
Gmail holds a 27.96% market share in the email industry. That alone should give you an idea of what to expect when you sign up for a hosting plan with Google Workspace. From high-performance, cloud-based servers and highly collaborative tools to advanced security features, Google Workspace is perfect for any organization with growth in mind.
10. Rackspace
Rackspace has two of the most important things a small business needs: affordability and reliability. This host offers a 100% uptime guarantee, something that's not easy to find in the world of web hosting.

On top of that, you'll get access to a whole host of features listed below.
Advanced security features, such as premium spam and anti-virus protection
Access to your emails via Outlook, webmail, or through your mobile devices
At least 25 gigabytes worth of storage space
Easy email migration and forwarding
Unlimited group lists and aliases
This popular email client also uses cloud-based storage technology to keep your emails safe. In addition, the Cloud Drive system means you can access your emails from anywhere in the world and on any device.
The cloud storage system has a 30-gigabyte storage limit per user, which is decent, even for heavy email users. Rackspace's storage and security features give you peace of mind, knowing your emails are safe in the cloud.
11. Zoho Mail
Zoho Mail offers email hosting solutions for individuals, SMBs, and large enterprises. This feature-rich email host is also affordable, making it a popular choice for businesses on a budget.

A quick look at its features reveals why Zoho Mail competes with some of the top email clients, including Yahoo Mail, Outlook, and Gmail. Let's look at what you can do with Mail Lite, its base email hosting plan.
Support for multiple domains and domain aliases
Recall emails after delivery and set up passcodes for confidential emails
Create tasks, notes, and bookmarks within your email
Attach up to 250 megabytes of files with your email
Share contacts, calendars, and appointments
Zoho is affordable yet very feature-rich — the perfect combination for an email host client for businesses.
We also appreciate how it casts a wide net, offering features that benefit businesses of all sizes. For example, the Mail Mile plan comes with five gigabytes of storage, ideal for a light email user like a freelancer. If your needs change, you can scale up or down with the click of a button.
12. Titan
Titan Mail is indeed a titan in the world of email hosting for businesses. This email client gives you all the tools to send an email that converts recipients into customers.

Titan makes sending emails easy, convenient, and, most importantly, effective. With Titan Mail, you can take advantage of the valuable features below.
Draft emails during off hours, schedule them, and send them at the right time, maximizing your open rate
Create reusable templates from your most common replies
Set up follow-up reminders to increase conversions
Create smart filters and folders to organize your emails
Create and share calendars with your team
Titan's email service helps build relationships. With its custom domain support, business owners can create brand recognition and trust with potential customers.
This host goes the extra mile to ensure that each email that goes out the door has a high chance of conversion. From beautiful templates and feature-rich editing tools to custom signatures, Titan is truly a giant in the email hosting space.
13. Microsoft Outlook
If you're looking for a HIPAA-compliant email host, Microsoft Outlook is the best email hosting provider for that role. Outlook's business email plan comes with secure cloud services from Microsoft to help healthcare organizations grow.

Other notable features and functionalities include the following.
Set up a live event with up to 300 attendees
Create and manage customer appointments
Up to one terabyte of cloud storage per user
Advanced security and compliance standards (including HIPAA) to protect your emails
Multi-device email access, anywhere, anytime
Reliable HIPAA-compliant email hosting isn't that easy to come by in the crowded email hosting sphere. Only a handful of hosts offer HIPAA-compliant email hosting.
Businesses that need HIPAA-compliant emails include private medical practices, healthcare consulting firms, medical billing and coding services, and telehealth providers. If your business falls in one of these categories, consider Microsoft Outlook a top choice.
Email Hosting vs. Web Hosting: What's the Difference?
Email and web hosting are two different services that fall under the hosting umbrella. As a business owner, you likely need both to operate online.

Email Hosting: Email hosting is when you purchase space on a server that holds your emails and related attachments. Email hosting plans also come with added features, including marketing and collaboration tools.
Web Hosting: Web hosting is when you purchase space on a server that holds your website's files. Without web hosting, users can't access your website online. Some web hosts bundle web and email hosting into one package for a discounted price.
As the names imply, the key difference between web hosting and email hosting is that the former hosts websites while the latter hosts emails.
What Is an Email Client?
An email client is the software used for sending, receiving, and managing your emails. Pause for a moment and think about how you usually access your emails. Is it through Zoho, Outlook, Rackspace, or any other application? All these applications are email clients.


When you purchase email hosting from a web hosting company, you'll typically get to choose which email client you want to use. The clients mentioned above are popular, but some companies may also offer proprietary solutions.
How Much Does It Cost to Have a Business Email Address?
Many factors will determine the cost of a business email address, including the size of your organization and the features you choose. Below is a summary covering some factors impacting your monthly cost.
Number of users: Some clients, such as Microsoft Outlook and Google Workspace, charge per user.
Storage amount: The more storage you need, the more you'll pay for email hosting.
Security and compliance features: Certain security features, such as HIPAA compliance, tend to cost more.
Add-on services: You may pay for more add-ons, such as data backup and recovery.
Contract length: In most cases, the longer the hosting contract, the cheaper your plan will be.
Understanding your email needs can help you plan your budget. Writing everything down before email shopping always works for me. That way, I'll sign up for a plan that aligns with my needs.
How Do I Choose an Email Host for My Business?
Reliability is the most critical factor when you choose an email host for your business. To be precise, you need a host with no downtime to ensure uninterrupted communication.
You should also consider these factors:
Security: Security is crucial. I usually start by checking basic features such as encryption and spam filters to protect sensitive information exchanged via email. But if your business is an industry that requires specific compliance standards, such as HIPAA, make sure the host meets this requirement. Otherwise, you'll find yourself in a situation where you'll have to migrate to another host.
Scalability: Think about your long-term plans. If you want your business to grow, you need an email host that can accommodate growth without causing disruptions.
Storage: Storage capacity and file attachment size limits matter, too. The higher the limit, the better. You can share and receive files without worrying about running out of storage space.
Software compatibility: Consider compatibility with your preferred email client and devices, such as mobile and desktop. This ensures that you don't miss any important emails due to compatibility issues.
Price: Check the pricing plans and hidden fees to find an email hosting provider you can comfortably afford, even during slow months. Even better, make sure the plan is scalable, allowing you to adjust when necessary.
Customer support: An email hosting provider with reliable, responsible, and knowledgeable customer support can be a lifesaver, especially if you're not tech-savvy. That could be the difference between closing an important business deal or getting a negative client review.
Compliance: If your business has specific compliance requirements, such as PCI or HIPAA, make sure the host can accommodate them.
Other equally important factors include the availability of data backup and recovery options and integration with other business tools. If you take your time searching, you'll find an email provider that serves your communication and collaboration needs while staying within your budget.
What Is the Best Email Hosting Service Provider for Small Businesses?
Small businesses need budget-friendly, always-there email hosting. A2 Hosting is the right pick for affordable, reliable, and user-friendly services. Features such as email draft auto-save, undo send, and support for multi-email accounts make this host stand out among its competitors.
FREE software for webmail, newsletters, contact forms, list management, and spam filtering
Unlimited inboxes, forwarding, and autoresponders
Secure POP3, IMAP, and SMTP messaging
Unlimited storage and transfer with FREE SSL
Get more than 75% off today (was $7.99/month)
EMAIL
RATING 4.9 ★★★★★ Our Review
A2 Hosting: Our Expert's Review
Alexandra Anderson (HostingAdvice.com): Combining the internet's most popular and secure email technologies with high-speed and reliable infrastructure, A2 Hosting ensures your messages are delivered on time. As a recipient, you'll appreciate the company's multiple spam filtering programs, along with autoresponders and forwarding. Go to full review »
| Money Back Guarantee | Disk Space | Domain Name | Setup Time |
| --- | --- | --- | --- |
| 30 days | 100 GB SSD – Unlimited SSD | New or Transfer | 4 minutes |
This email host is even more affordable when you sign up for a longer contract, preferably the 36-month option. If you're not ready for long-term commitments, don't worry; you can still opt for the monthly payment option, but it will cost slightly more.
What Email Service Do Most Companies Use?
Gmail is the most popular option among companies. It dominates the market, with a whopping 60% of businesses using the email client for their operations. Among startups, this number jumps to 90%.

Gmail's affordability and features make it stand out amongst its competitors. The range of communication and collaboration tools it offers are simple, easy to use, and help organizations stay connected in the remote work era.

Other top business email clients include Microsoft Outlook, Proton Mail, and AOL.
Is Google's Business Email Service Free?
Google does not offer a free business email service. You'll need to sign up for a Google Workspace account to get a business email from this tech behemoth. The Google Workspace email service has a 14-day free trial, giving you enough time to explore its platform and features.
That said, it is worth noting that Google offers free email accounts via Gmail, with a 15-gigabyte storage limit, 25 megabytes of email attachment limit, and the popular ".gmail.com" extension. This is a great option for personal use, but we recommend an email account with a custom domain name for your business.
Pro tip: After your 14-day free trial, Google will charge you monthly. Discounts are applied to yearlong plans.
Elevate Your Business With the Right Email Hosting Provider
Gone are the days when emails only helped with communication. Nowadays, they help with collaboration, record keeping, file sharing, and marketing — you name it.
For this reason, choosing your email hosting provider could make or break your business. Fortunately, the team at HostingAdvice.com has tried and tested all the email providers listed in this article, helping you make the right choice.
Whether you own a small online retail business or an enterprise, you will find an email host that caters to your unique needs and budget.
See Our Full Review of A2 Hosting
Whatever type of hosting plan you're looking for, A2 Hosting is a solid choice no matter the scale. Our reviewer Alexandra Anderson recently took A2 Hosting for a spin, and rated the popular host a 4.9 in the Email Hosting category out of a perfect score of 5.0. Here's what Alexandra had to say about A2 Hosting:
With an emphasis on performance and an eye for detail, A2 Hosting largely avoids the typical shortcomings of many web hosts out there. The independently owned company balances high-powered infrastructure and developer tools with equally responsive customer support teams, giving experienced customers a highly optimized hosting experience.
Before signing up for A2 Hosting, it's a good idea to read through Alexandra's full review to learn about all the features A2 Hosting offers. You can also compare it to other web hosts to ensure you're getting the best deal possible:
If you decide A2 Hosting is the right choice, keep in mind that it takes just minutes to deploy your A2 Hosting server space. And at $2.99 per month, it's a bargain considering the many great features that come in any A2 Hosting plan.
Advertiser Disclosure
HostingAdvice.com is a free online resource that offers valuable content and comparison services to users. To keep this resource 100% free, we receive compensation from many of the offers listed on the site. Along with key review factors, this compensation may impact how and where products appear across the site (including, for example, the order in which they appear). HostingAdvice.com does not include the entire universe of available offers. Editorial opinions expressed on the site are strictly our own and are not provided, endorsed, or approved by advertisers.
Our Editorial Review Policy
Our site is committed to publishing independent, accurate content guided by strict editorial guidelines. Before articles and reviews are published on our site, they undergo a thorough review process performed by a team of independent editors and subject-matter experts to ensure the content's accuracy, timeliness, and impartiality. Our editorial team is separate and independent of our site's advertisers, and the opinions they express on our site are their own. To read more about our team members and their editorial backgrounds, please visit our site's About page.