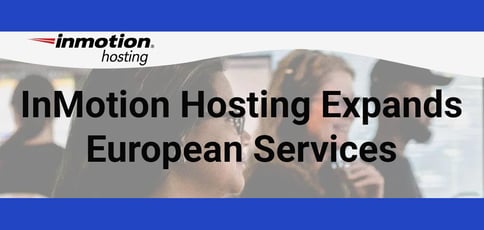 TL; DR: InMotion Hosting recently expanded its datacenter locations to Amsterdam, Netherlands, starting with offering Shared hosting services. InMotion has expanded its options to include VPS, Cloud WordPress, Reseller, and Dedicated hosting services. Erik Soroka, Director of Information Technology & Datacenter Operations for InMotion Hosting, shares what these expanded services mean for its European customers.
Most people who work in or around hosting know Amsterdam serves as one of the most famous datacenter locations in the European Union (EU). Amsterdam is nestled in the heart of Europe and, therefore, serves as "the Digital Gateway."
Amsterdam earned this moniker due to its strategic central location and the EU government's commitment to facilitating co-locations for providers with hyperconnectivity as a business requirement.

These factors drove InMotion Hosting to establish its first European datacenter in Amsterdam earlier this year. Now, the company has taken it a step further, officially extending its entire suite of hosting services in the EU.
InMotion Hosting's Director of Information Technology & Datacenter Operations, Erik Soroka, took HostingAdvice behind the scenes. "The new Amsterdam datacenter will help us better serve our customers, meet their evolving demands, and further solidify our place as a leading global web hosting provider," he said.
It's a move that solidifies InMotion Hosting's standing as a web hosting giant — and soon to be internationally — as it continues to meet the evolving demands of lightning-fast connectivity for customers everywhere.
InMotion's VPS, Cloud, Reseller, and Dedicated Hosting Solutions Are Now in Europe
InMotion Hosting has been a leader in the hosting services industry for more than two decades — but for a long time, it only had two datacenters in the US: Virginia and Los Angeles.
In 2023, InMotion officially opened its first international datacenter in Amsterdam, Netherlands, offering Shared hosting services. Now, InMotion offers its entire product catalog, encompassing VPS, Cloud WordPress, Reseller, and Dedicated hosting services.

What's even more impressive is that InMotion is ahead of schedule. (Anyone who works in tech knows that this hardly ever happens.) The growing European market prompted InMotion's speedy timeline, as it now partners with a nearby Digital Realty facility to house its Amsterdam datacenter.
"It's exciting to enter this new phase of our expansion ahead of schedule and enhance our presence in Europe," said Erik.
Digital Realty is a trusted partner of InMotion but also has an incredible reputation in the Amsterdam community, with 720+ customers, several locations, and PlatformDIGITAL® solutions.
More Plans and Cutting-Edge Technology to Choose From for International Customers
InMotion is already one of our consistently top-rated hosting providers in the US, and its decision to expand its services to Amsterdam and the rest of the EU is just another testament to its customer dedication.
"We're committed to giving our clients the most reliable and innovative hosting services," said John Joseph, Director of Customer Success at InMotion. "Our state-of-the-art EU datacenter is one example of how we are fulfilling that commitment."
Here's what EU customers can expect with InMotion being close to home.
Enhanced Data Security and Privacy
InMotion Hosting's expansion into Europe is a testament to the company's dedication to General Data Protection Regulation (GDPR) compliance.
John shared with HostingAdvice earlier this year that data and privacy solutions are no stranger to InMotion — but adhering to the GDPR law only takes it a step further. Many hosting providers have opened datacenters in Amsterdam because it provides a competitive edge among those prioritizing data security.

"Cutting-edge backup solutions and complete control over data privacy are also standards in our web hosting plans," explained John.
Customers can be confident in safeguarding their sensitive data, knowing that InMotion Hosting is fully committed to upholding stringent privacy standards.
Increased Reliability and Uptime
A European datacenter means speeding up data exchanges and significantly reducing network disruptions and latency concerns.
While InMotion has always prided itself on lightning-fast speeds, thanks to its NVMe SSDs, European customers can now get the same benefits that US customers have enjoyed for years.

"Datacenters and servers closer to a customer's home base means better performance and speed," Matt Bell, Senior Manager, Sales and Affiliate Marketing, told HostingAdvice in another interview.
The average ping time between Virginia and Amsterdam stands at 103 milliseconds (m/s), which is less than the ideal 30-50 m/s, but now, users can look forward to even lower latency times. This means users can revel in a hosting experience that's exceptionally stable and uninterrupted, ensuring seamless online operations.
Improved Content Delivery and Web Performance
Customers using InMotion Hosting's Amsterdam datacenter can expect the same high-quality hardware and software found in its other hosting services.
Most of InMotion's servers impressively feature NVMe drives for speed, the UltraStack configuration, and other open-source technologies to enhance content delivery and optimize resources.
If you don't know about InMotion's core features, NVMe SSDs are up to 10x faster than traditional SATA SSDs. InMotion also uses UltraStack, its in-house caching system that enhances website performance.
Why Amsterdam? InMotion Shares Its Decision — And What's Next
According to Matt, the decision to open a datacenter in Amsterdam was simple.
"Without a European datacenter, we were handcuffed in offering our full product offering suite to certain organizations and individuals within the EU due to their applications being required to be hosted in the EU as specified by the GDPR guidelines," he said.

But what's next for InMotion? "Because we have customers worldwide, we'll start offering locations closer to them," Matt said. He went on to say the plan is to open more datacenters internationally, but InMotion won't make any decisions until its team completes more market research.
One study suggests Almere and South Holland would be the logical next steps for co-located datacenters, but Matt hints the Middle East may be higher on InMotion's list.
"InMotion has many Middle Eastern customers who can benefit from the new European datacenter," he said. "Even though it is not specifically in their region, it will still improve their speed and latency."
If you have international customers or live in the EU and want to give InMotion Hosting a chance, take the risk-free plunge and try its highly reliable, shared, dedicated, VPS, or cloud hosting solutions.
And if you're not yet convinced, check out HostingAdvice's 4.9-star review for InMotion Hosting.