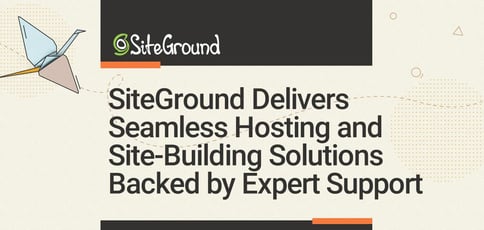 TL; DR: Since 2004, SiteGround has been devoted to helping customers build fast and secure sites for their personal, business, and enterprise needs. In addition to being focused on top-notch technology crafted for performance, the company is intensely devoted to customer satisfaction. Through fast, competent, and friendly support, SiteGround helps customers overcome the challenges inherent in building a successful online presence.
The COVID-19 pandemic may be relentless in its capacity to devastate communities across the globe, but that doesn't mean we can't fight back.
The hosting industry, in particular, has a unique opportunity to cushion the economic blow by helping businesses seek refuge online. In this new environment, companies like SiteGround are stepping up to the challenge, welcoming new clients and actively supporting existing ones.
Reneta Tsankova, Chief Operations Officer at SiteGround, told us her team has successfully onboarded new clients and taken on increased demand for customer support since March.
"Our team had to handle an unprecedented load on all support channels, as well as increased hold times, which made us fear that the quality of our service might drop," Reneta said. "So, we initiated a series of measures to mitigate and overcome the challenge. During the peak of the quarantine, we hired roughly 70 new people for our customer service departments, and we also revised our support flows to improve efficiency and reduce resolution times."
To help new clients launch sites quickly, SiteGround turned to its WordPress Starter, an automated wizard that guides users through curated themes, common site features, and plugins.
"We are glad that we had the tools to onboard everyone who needed to go online during these challenging times," Reneta told us.
Rapid and effective responses like this have helped SiteGround stand out from the competition since the company's founding in 2004. Over the years, the company has built a reputation for its innovative technologies, unique in-house solutions, and hands-on customer service approach. Moving forward, SiteGround will use feedback-fueled improvements and visionary tools to further its mission to help customers build a successful online presence.
Helping Clients Build Online Presence Since 2004
As evidenced by the company's glowing customer reviews, SiteGround has always set the bar high for its hosting service.
"We aim to offer extremely high-value hosting packages that include knowledgeable and fast support, powerful and frequently upgraded infrastructure for ultimate performance and reliability, and tons of features for a smooth webmaster experience," Reneta said. "All of that translates into various benefits, but maybe the most important one for businesses specifically is that we save them work and time."
Last year, the company unveiled a new client area and site tools designed to provide a unified and efficient user experience.
"SiteGround has always been first and foremost a service company," SiteGround CTO Nikolay Todorov said at the time. "However, for many years, our business growth has been tightly correlated with our technical evolution. The more software we developed in-house, the more the quality of our service was rising."
When the SiteGround team realized that its underlying platform's limitations slowed down many of its business ideas, the company dared to think bigger than the market, recreating hosting and site management tools from the ground up.
The company's highly customized solutions suite includes collaboration tools, white-label client access, options for one-click backups and restorations, custom plugins for WordPress migration and startup, and a one-click staging tool.
SiteGround's infrastructure also delivers speed-boosting solutions through innovations such as SuperCacher, a robust in-house caching tool based on the Nginx reverse proxy and Memcached module; and the unique SG Optimizer plugin, which WordPress users can use to boost site speed even more.
Fast, Proficient, and Friendly Customer Support
The importance of customer service in the hosting industry cannot be understated considering that some analysts place annual churn rates among shared hosting customers at as high as 35%.
Realizing that one negative experience can send a customer packing, the SiteGround team aims to provide consistent and effective assistance via multiple help channels, including live chat, phone support, and helpdesk tickets. Users can also resolve issues through the company's handy self-help tools, smart AI-powered chatbot, and automated service solutions.
"We believe we are in the service business; our products are various base configurations that only become unique through our service layer," Reneta said. "Over the years, clients have shown that they appreciate this philosophy and have rewarded us with many positive reviews."
SiteGround's customer service strategy includes intensive training, mentorship, and evaluations of customer support representatives. The company strives to hire capable, well-prepared people who have helpful and positive attitudes — even when times get tough.
The support team is also trained to empower clients to solve problems using the SiteGround Knowledge Base, and other resources, when convenient.
"I think the most important aspect of our culture is that we genuinely care; this has become a core value for our team," Reneta said. "We care about how the things we do impact our clients, employees, the environment, and everything around us."
She said team members overthink everything to ensure they've reviewed all angles and have chosen the best course of action, maximizing benefits and minimizing inconveniences.
Development via Feedback and an Internal Vision
SiteGround uses customer feedback to fuel ongoing development in accordance with its customer-centric philosophy.
"It usually starts with a client need, which we take very seriously, and if we can't respond to it in the short term, we would plan to accommodate it in the long run," Reneta said. "For example, our SG Optimizer plugin for WordPress initially started as a plugin that allowed the WordPress application to enable our server caching. But, over time, it turned into a performance solution, driven largely by user demand."
As experts in hosting and web creation, the SiteGround team also uses its years of experience to determine whether trends are worth adopting or better left alone.
"After registering specific demands, we have to make a judgment call," Reneta told us. "We evaluate how the different groups of clients would use, interact with, and benefit from a potential new feature."
If there's a real benefit to an idea that many customers could take advantage of, the SiteGround team prioritizes the concept in its development queue. The team members also implement other changes based on their vision for the future of the company.
"Examples of this strategy include moving our platform to Google Cloud or introducing our new site management interface, Site Tools, which is gradually replacing cPanel on all our servers," Reneta said. "We upgraded our platform from bare metal to Google Cloud and are moving away from cPanel — not because clients are not happy with these services as they were — but because we see opportunities for growth."
These opportunities include introducing features and functionalities that the team either cannot develop or won't be the same within the old, cPanel-based framework.
Making the Move from cPanel to In-House Site Tools
The future looks bright for SiteGround and its customers, who can expect this year's Black Friday hosting sales to be as valuable as the last.
Beyond holiday discounts, Reneta told us she's personally excited to complete the company's migration from cPanel to Site Tools.
"It's a very complicated migration, and we are working on it very slowly trying to spare our clients any inconveniences," she said. "Once that is over, all clients will get access to our greatest work so far, and we believe that will result in even higher client satisfaction rates."